Sweets for your sweetie… The Strawberry Mascarpone Tart, just in time for Valentine's Day!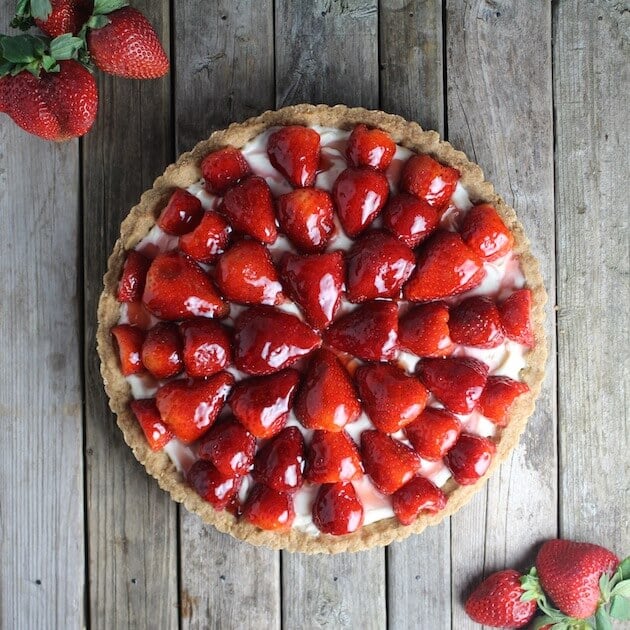 Love is in the air!  Well, that and some cold, fluffy white stuff.  It's early February and this is only our second or third snowfall this winter.  It's a big change from our 52 degree sunny weather last week.  For now, I'm enjoying the change of winter scenery.  There's a season for everything – right?  Like the season for love!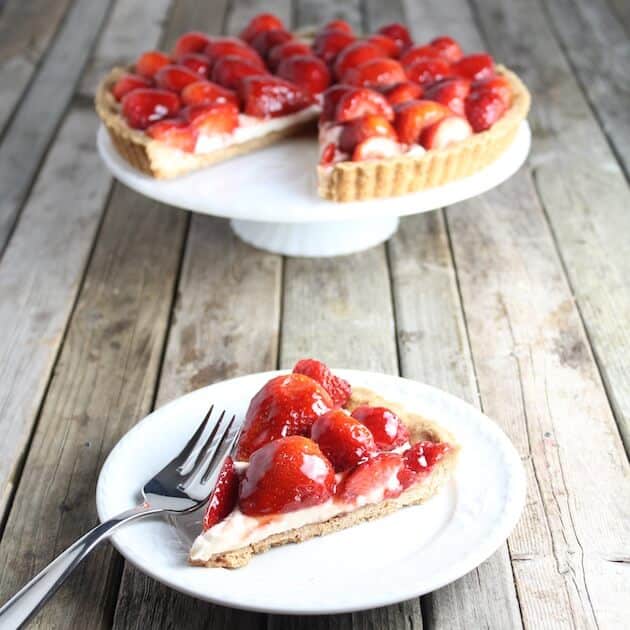 In case you live in a cave and haven't seen all the advertisements for Valentine's Day – it's less than a week away.  I know some people think it's a holiday Hallmark made up to sell cards, or that FTD created to sell flowers and while that is all probably true, it's still a great opportunity to celebrate those you love.
  Whether that's your main squeeze, a best friend, your precious cherubs or your dog Larry (best dog name ever BTW), we can all join in the festivities.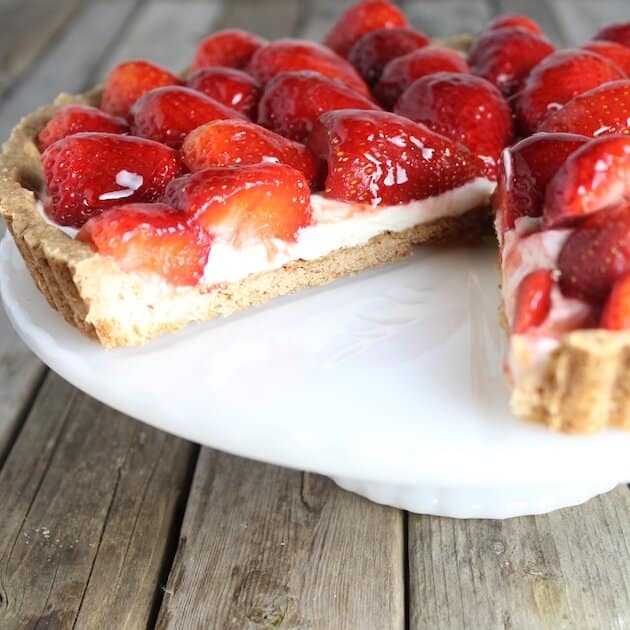 There are so many ways to say, "I Love you." And not all of them have to cost you a year's salary.
 For example…you could pick up some flowers at the local grocery store – most times they will even help you make an arrangement with no extra cost, you could recycle a card from last year (LOL just jokes – don't do that), you could write a poem and make your own card, clean the house or just the bathroom (acts of service are very high on my love language list), make your loved one's favorite meal (or any meal really), or you could bake them a yummy dessert.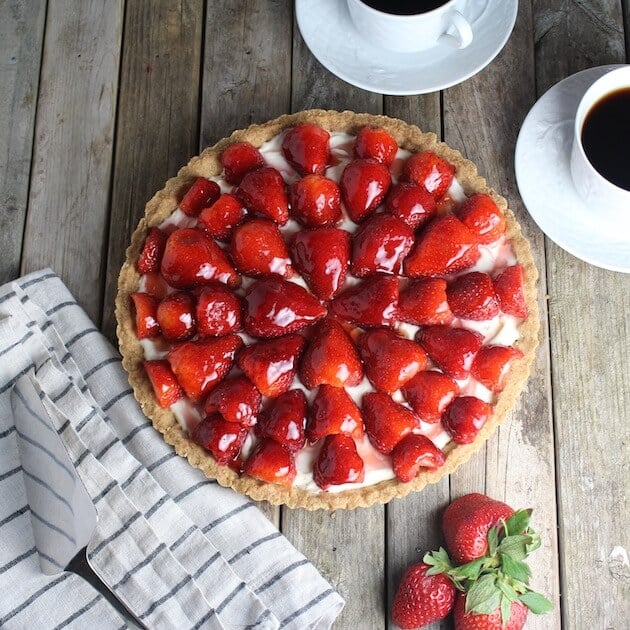 Speaking of making things, once I got really crazy and made B some homemade "Shaving Buttah" out of coconut oil, shea butter and some essential oils.  He swears he gets the best shave with it and his skin is silky smooth.  Just a word of caution… if you make them something they really like, most likely you will have to keep making it for them.  But hey, it's all In the Name of Love, a Higher Love really, unless
You've Lost That Lovin' Feelin' or you're a Part-Time Lover… then in that case I would have to ask you Where is the Love? … and tell you that you should just Love Yourself.
  Sorry – I couldn't resist.  I guess I'm just Addicted to Love.  Moving on.  I promise!!!✌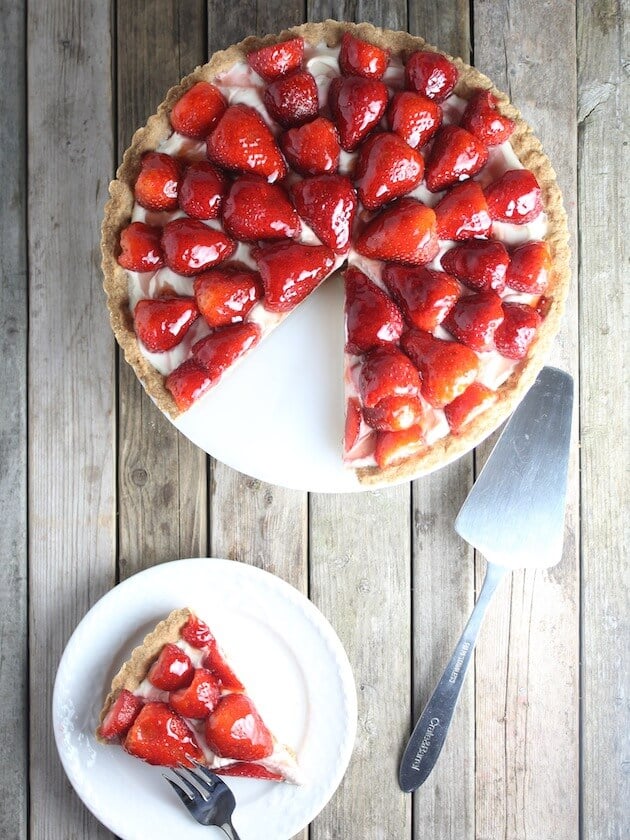 Back to making and baking some sweets for your sweetie.  I've got the perfect Valentine's Day dessert and it screams – well maybe not screams cause that's not very loving – but sweetly says "I love you."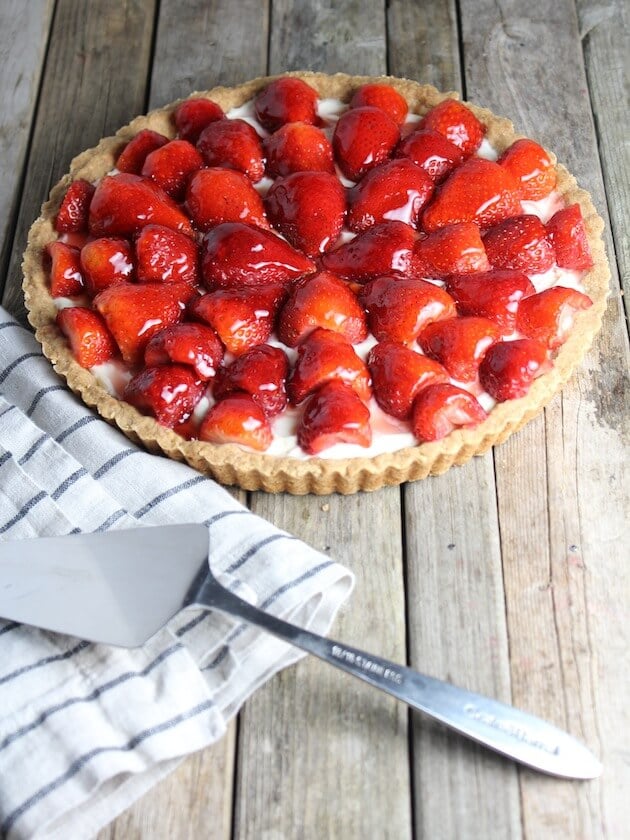 A beautiful and luscious Strawberry Mascarpone Tart.  It's smooth and creamy and berry sweet.
 It has a shortbread crust, which I could just eat all by itself – all buttery and good.  Then you layer on the velvety mascarpone cheese mixture.  Gently place the sweet and juicy strawberries in a pretty pattern.  Glaze the berries with just a little melted strawberry jam.  And tahdah… the most beautiful and delicious Valentine's Dessert!
There's just nothing like the yummy strawberries and cream flavor – it's truly the perfect match.  Totally swoon-worthy!!
Take it from me, whether you're buying flowers, going out for dinner, staying in for take-out, your Valentine's Day will be a whole lot sweeter if you serve this Strawberry Tart!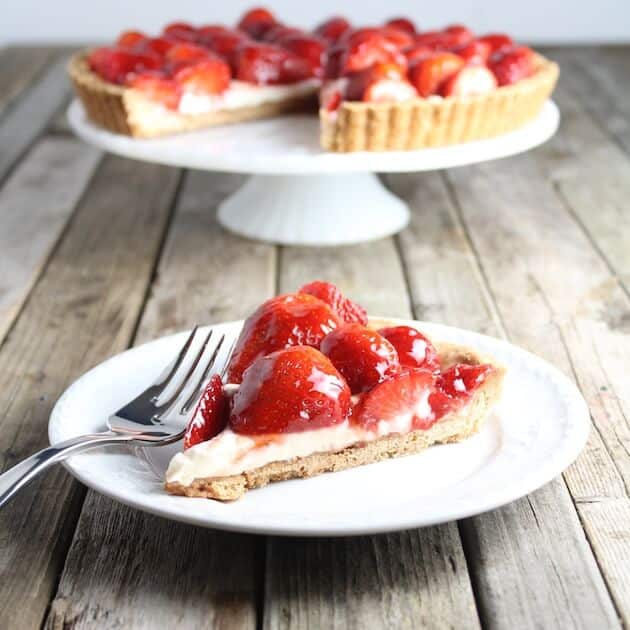 Oh Strawberry Mascarpone Tart, I
you!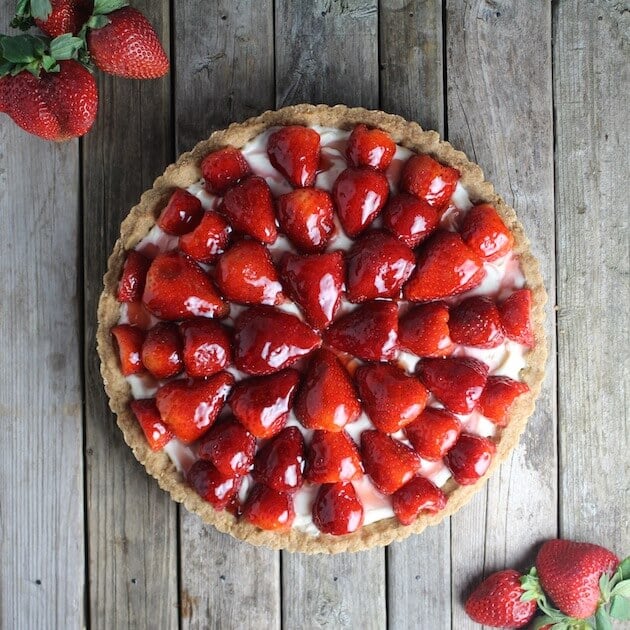 Strawberry Mascarpone Tart
Beautiful & luscious Strawberry Mascarpone Tart. Shortbread crust w/velvety mascarpone cheese mixture, topped w/glazed strawberries. Creamy & berry sweet.
Ingredients
For The Crust:
1 1/2

cups

all-purpose flour

1/2

cup

PLUS 1½ tablespoons cold unsalted butter,

cut into small pieces

1/3

cup

sugar

1/4

teaspoon

salt (rounded teaspoon)
For The Filling:
12

ounces

mascarpone cheese

1

tablespoon

sugar

2

pounds

strawberries,

rinsed, dried, hulled and halved lengthwise

1/3

cup

seedless strawberry jelly,

no seeds and no pulp
Instructions
For The Crust:
In a food processor, blend the flour, butter, sugar, and salt until crumbs form (this may take up to 1½ minutes). Transfer the dough to a 10½ -inch round tart pan with a removable bottom.

Press the dough evenly into pan and up the sides. Use a measuring cup to press the dough firmly into the bottom and against the sides of the pan. Freeze the crust until firm, about 15 minutes.

Preheat the oven to 350 degrees with the rack in the middle.

Using a fork, prick the crust all over. Bake for 20 to 25 minutes, until lightly golden. Cool the tart completely in the tart pan.
For The Filling:
In a medium bowl, mix the mascarpone and 1 tablespoon of sugar together until smooth. Spread the mixture evenly on bottom of the baked crust.

Starting from the center, arrange strawberry halves (bottom ends touching), on the cheese mixture.

In a small saucepan, heat the jelly on medium-low until liquefied. Gently brush the strawberries with the jelly. Chill the tart in the pan for 1 hour; remove it from the pan just before serving.