Turkey Stuffing is the corner stone of any Thanksgiving meal. This recipe has it all, with turkey drippings, fresh sage, onion, celery, Asiago, artisan whole wheat and cornbread.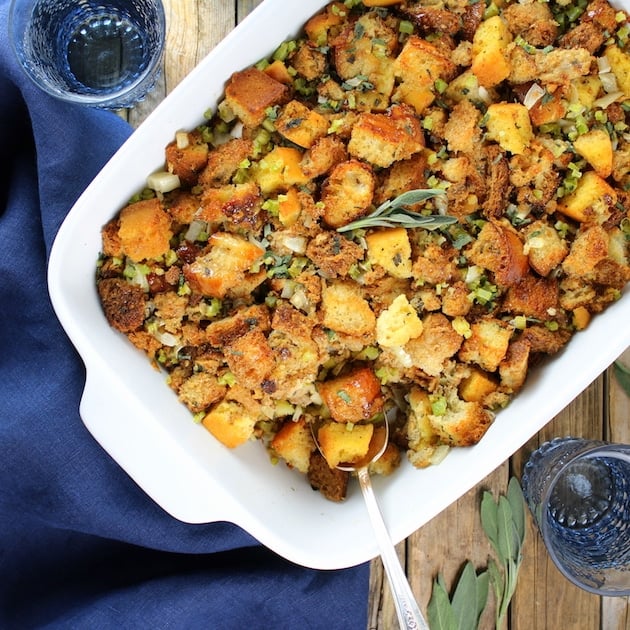 This Turkey Stuffing is one of those yummy family side dish recipes that my mom would always make! After I graduated from college I was living in Tulsa, OK , some friends of mine were cooking Thanksgiving together and I was in charge of the stuffing. So, of course I had to call my mom to get the family recipe. I actually still have the original piece of paper I jotted down the recipe on.
Apparently I was very detailed oriented back in the day because it reads like this…
Lay out Bread
Celery
Onion
Sage
Turkey juice
What can I say... I was a Communications major!✌️ LOL
My mom always made her cornbread for the stuffing from scratch. I think it always tastes better that way, and plus it super-easy. (You can find the corn bread recipe below.)
You can also purchase it pre-made at your local grocery store to cut down on prep time.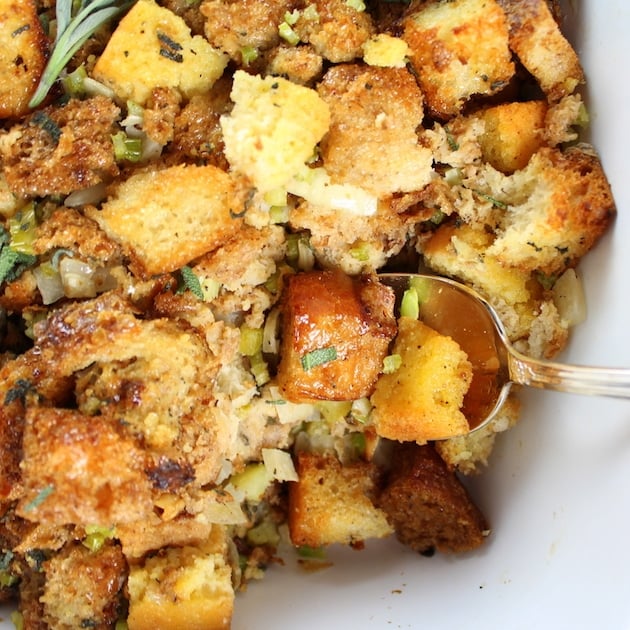 I remember my mom laying out slices of bread on cookie sheets a day or two before so they would dry out. That method is tried and true but a quick alternative is drying the cubed bread out in the oven on 350 degrees for 15-20 minutes.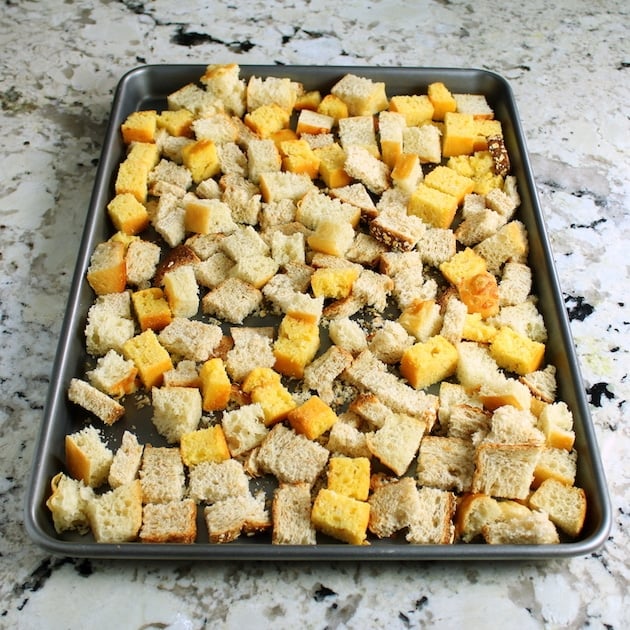 She would have used basic white bread but I took it up a notch with sliced artisan whole wheat bread. And, because everything is better with cheese I added "roughly" 14 ounces of Asiago focaccia bread. There may have only been 10ish ounces of Asiago bread, I really couldn't say for sure. I needed to make sure the taste profiles matched up so some taste-testing was in order.😂
I'm sure you understand.👍
And what would stuffing be without celery, onion and fresh sage (from the garden of course!) But, we all know who the belle of the ball is in this recipe, now don't we?...
... turkey drippings and butter of course! It's literally the secret sauce!✨ There's also a few eggs added to the mix as well.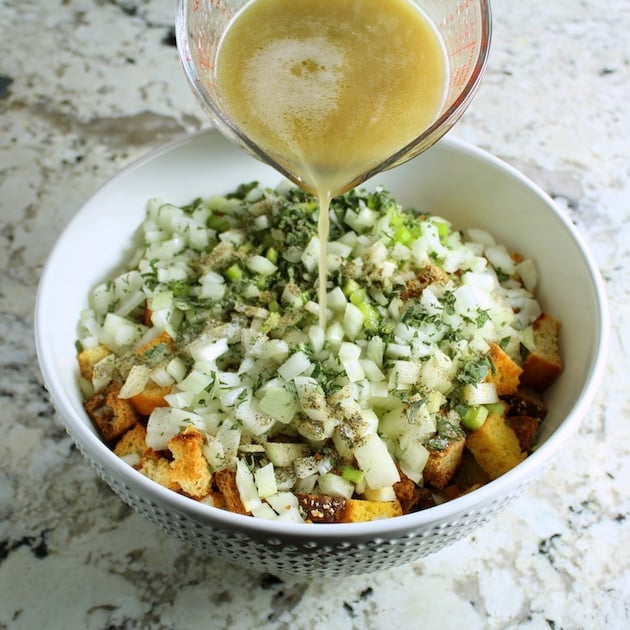 Give it a good stir and it's ready for the oven.👇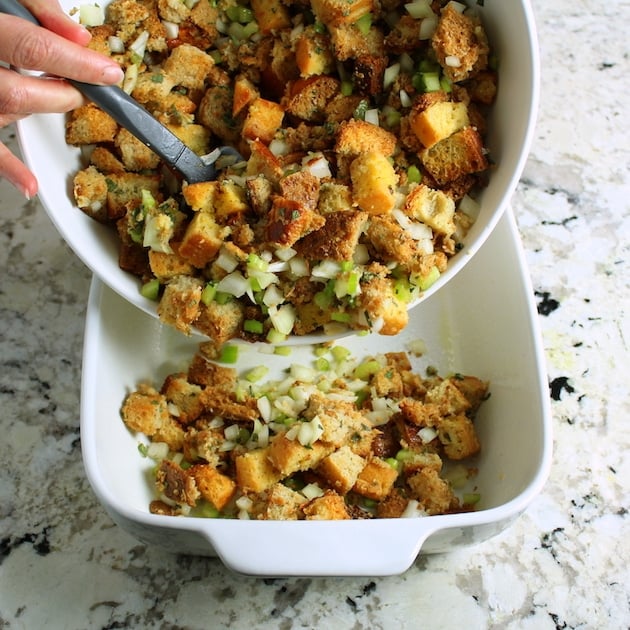 I love all the flavors and textures from the different types of bread, the veggies and the fresh sage. And I love that it it takes me back home in just one bite.❤ Thanks Mom!💕
Oh and if you're looking for everything else that goes along with the Turkey stuffing, and a bit of entertainment, check out our Friendsgiving Supper Club post!
I would love to connect with you! Leave a comment and follow me on Instagram, Twitter, Facebook, & Pinterest!
Yield: 9 servings
Edith's Homemade Cornbread
Just like mom used to make it!!
Ingredients
¼ cup of Canola Oil, plus 2 tablespoons to oil the pan
1 cup milk
1 egg
¼ cup sugar
½ teaspoon salt
2 teaspoons baking powder
¾ cup corn meal
1 ¼ cup flour
Instructions
Preheat the oven to 400 degrees.
Combine flour, corn meal, baking powder, sugar and salt into a medium size bowl and mix together.
In another bowl combine egg, milk and ¼ cup canola oil, mix until smooth.
Combine the dry ingredients and the wet ingredients and gently mix together. Don't overwork the batter. Allow the mixture to rest in the bowl for about 2-3 minutes.
Meanwhile, add 2 tablespoons of canola oil to your pan and place in the hot oven for 2-3 minutes.
Remove the pan from the oven and pour the batter into the heated pan and bake for 15-20 minutes, until a toothpick inserted in the center comes out clean.
Notes
Cut into pie-shaped wedges for best results, and of course this is best served when it's warm!!
Nutrition Information
Yield
9
Serving Size
4 ounce piece
Amount Per Serving
Calories

225
Total Fat

11g
Saturated Fat

1g
Trans Fat

0g
Unsaturated Fat

9g
Cholesterol

23mg
Sodium

252mg
Carbohydrates

28g
Fiber

1g
Sugar

6g
Protein

4g
This nutrition card uses an estimate provided by an online nutrition calculator. This estimate is not a substitute for a professional nutritionist's advice!
Yield: 12 people
Turkey Stuffing (aka Dressing)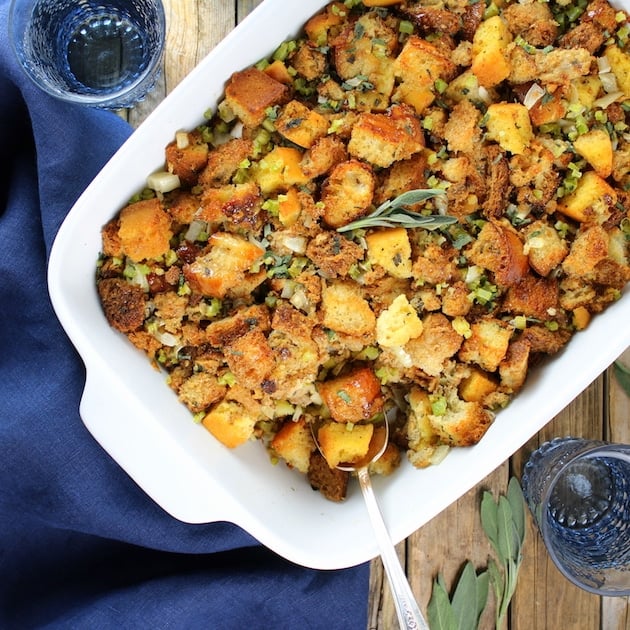 Classic turkey stuffing like my mom used to make it!! I like to double this recipe and made two 9x13 pans of stuffing. We like to make extra so we have plenty of leftovers!
Total Time
1 hour
20 minutes
Ingredients
12 ounces Artisan whole wheat bread or similar, dried and cut up into 1x2 inch pieces
7 ounces Asiago foccacia bread, cubed into 1 inch pieces and dried
11 ounces cornbread, cubed into 1 inch pieces and dried, see recipe above
3 celery sticks, finely chopped
1 large onion, finely chopped
15 large fresh sage leaves or 30 small leaves, finely diced
½ cup of butter, melted (1 stick)
1 teaspoon Salt and pepper
2 eggs, beaten
2 cups turkey stock or turkey drippings
Instructions
Preheat the oven to 350 degrees.
In a large bowl combine the dried bread, celery, onion, sage, salt and pepper.
In a separate small bowl, combine butter, turkey drippings, stock and gentle stir into the bread mixture. You want all the bread to be moist but still leaving some of the cubes intact.
Next, add the beaten eggs to the stuffing mixture and fold the mixture together.
Liberally spray a 9" X 13" dish with cooking spray, then add the stuffing mixture.
Cover with foil and bake 45 minutes. Remove foil and bake another 15 minutes, until golden brown on top but still moist in the center.
Notes
This recipe works best if you thoroughly dry out all the bread for at least 24-48 hours before cooking.  Cut the bread into 11/2 inch cubes and place on baking sheets on the counter until completely dry, firm and crunchy.  If you need to speed things up you can dry the bread on cookie sheets in a 350 degree oven for 15-20 minutes as long as you keep a close eye on it so it doesn't burn.
You can use more turkey stock (or drippings from the roasted turkey) in place of the chicken stock if preferred.
I buy my Asiago focaccia bread at Panera Bread.
Nutrition Information
Yield
12
Serving Size
4 ounces
Amount Per Serving
Calories

312.67
Total Fat

13.36g
Saturated Fat

6.66g
Unsaturated Fat

0g
Cholesterol

64.81mg
Sodium

748.58mg
Carbohydrates

38.06g
Fiber

3.54g
Sugar

8.61g
Protein

10.28g