Happy Thanksgiving from all of us (me & B) at Taste and See!
Whether you're spending the day with family or friends, watching the Macy's parade or football, eating turkey and stuffing or Chinese food, take a moment and give thanks. Giving thanks has always been the primary reason for this Turkey Day celebration. Originally it was for our nation's founders to give thanks to God for a bountiful harvest after a year of sickness and scarcity... this was their joyous outpouring of gratitude. Things have changed some over the years but Thanksgiving is still a time to give thanks!
In order to help you enjoy your holiday as much as possible we've compiled our Thanksgiving Menu recipes and timeline for you. Just click the pictures or the links throughout to get to the individual recipes.
Hopefully by now your Turkey is safely defrosting in the refrigerator. If not you could always order pizza! (And of course there is the option of purchasing a fresh turkey - it's a little more expensive but you're totally worth it!)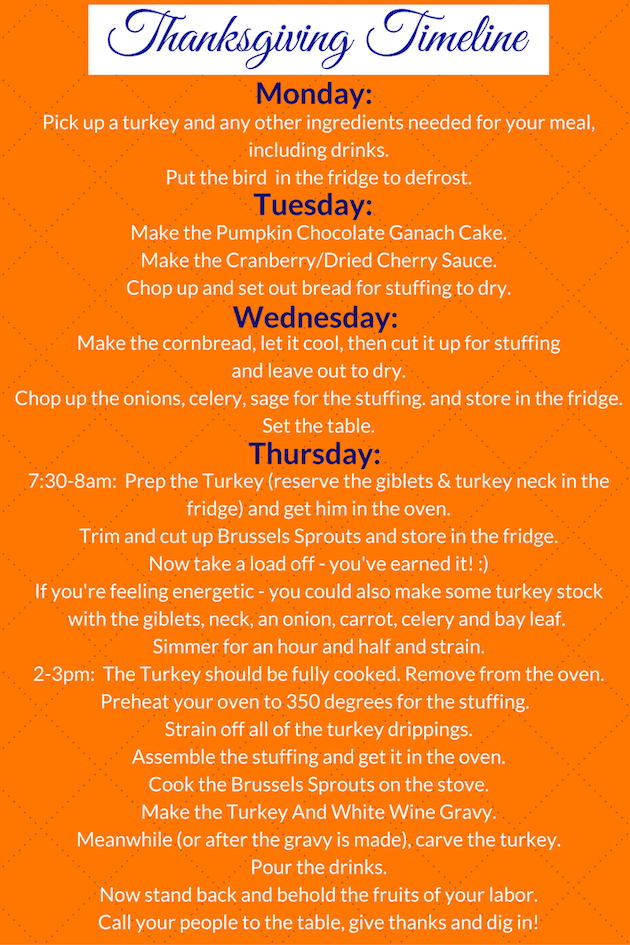 COT TURKEY:
This Closed Oven Turkey recipe has been passed down through my husband's family for many years. So it is tried and true my friend!
It turns out super moist, even the breast... the skin is golden and crisp... and there's plenty of turkey juice for making heaven's elixir AKA gravy.
It's actually a pretty simple recipe…Cover and cook Tom for an hour at 500 degrees, then turn the oven off. And just let it sit there for another 5 hours or so. I know what you're thinking. Yes, really. I was a skeptic too, but I have tried to tamper with this recipe and the results were not good. Stay the course my friend…it will all work out I promise!
TURKEY AND WHITE WINE GRAVY:
Of course, gravy is absolutely essential to finish any classic Turkey dinner. Do me a huge solid? For the love of Christopher Columbus, don't buy gravy from the store!! Seriously, think about it…Tom just spent 6 hours in the sauna with all his veggie and herb friends, roasting away to provide you with the foundation for heaven's elixir (AKA gravy). WHY WOULD YOU NOT USE IT???? I promise you can do this!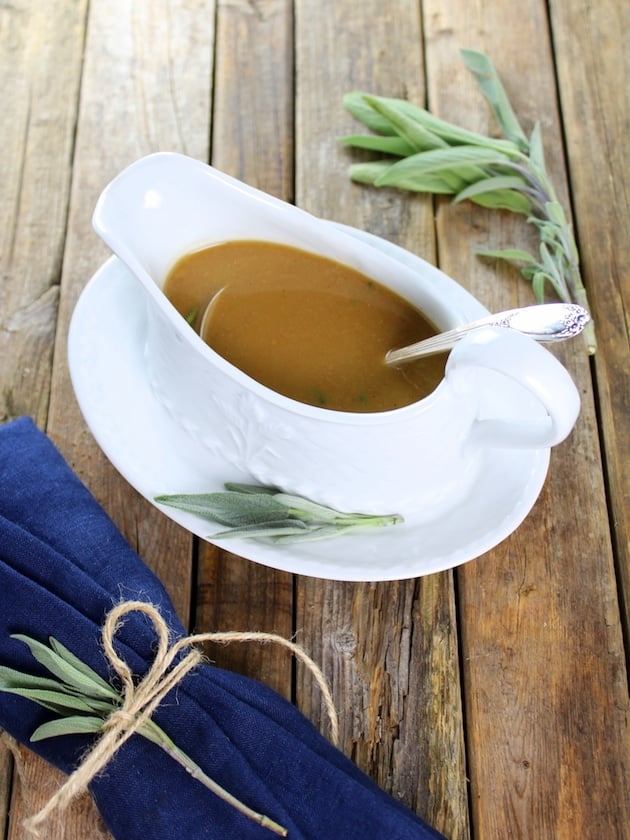 This gravy is so ridiculously delicious!!
Don't be surprised if suddenly your friends and family proclaim you as all-time designated Thanksgiving dinner cook! You're welcome, and I'm sorry!
CLASSIC TURKEY STUFFING:
This Turkey Stuffing is one of those yummy family recipes that my mom would always make!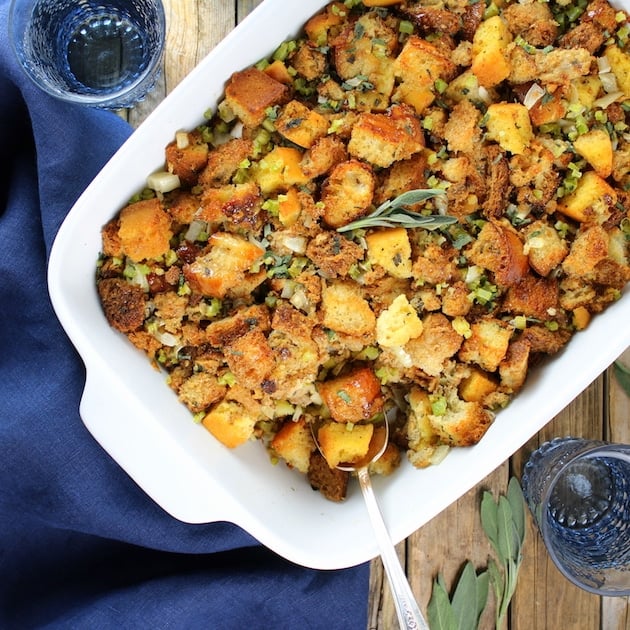 I love all the flavors and textures from the different types of bread, the veggies and the fresh sage. And I love that it it takes me back home in just one bite.❤ Thanks Mom!!
CRANBERRY AND DRIED TART CHERRY SAUCE:
ALERT:⚠ Foolproof cranberry recipe coming your way!! I used to not even like cranberries until I found this recipe. Thank you Tiana for sharing the love, and the recipe with me many years ago!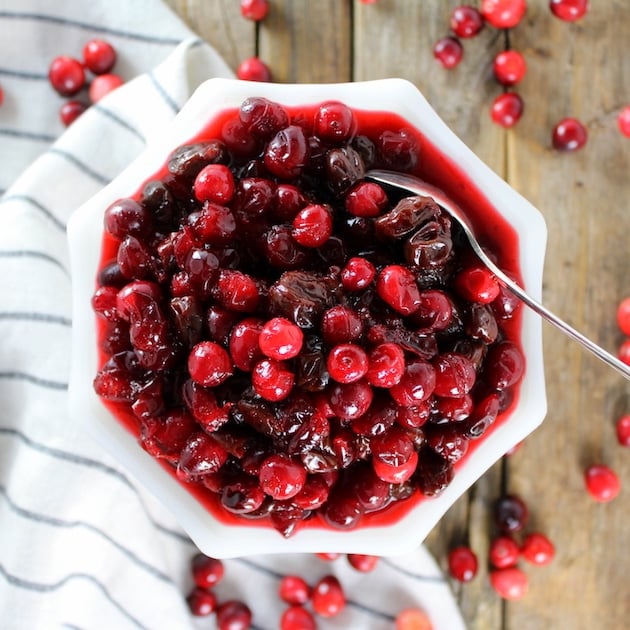 Dried Tart Cherries, fresh cranberries, allspice, a cinnamon stick, cranberry concentrate, a little water and you've got yourself the best cranberry recipe since the pilgrims celebrated their first successful harvest in 1621! No joke, people! I don't play.
ASIAGO CHEESE BRUSSELS SPROUTS:
There's just nothing quite like Sautéed Brussels Sprouts with salty yummy Asiago cheese!! Cheese + anything = awesome sauce!✨
I urge you to give these Sautéed Brussels Sprouts with Asiago Cheese a try. After one bite you will definitely consider the possibility of becoming a vegetarian or at least adding them to your veggie side dish line up every week!
PUMPKIN CHOCOLATE GANACHE CAKE:
It's the season for all things pumpkin, and I'm finding inspiration in one of my favorite flavor combos: pumpkin and chocolate. So I give you the Pumpkin Chocolate Ganache Cake!
It's an easy recipe that the whole family can pitch in and make together, and then gobble up together as well. It's hard to believe something so special can be so effortless. And not only does it look fancy, but it tastes scrumptious as well.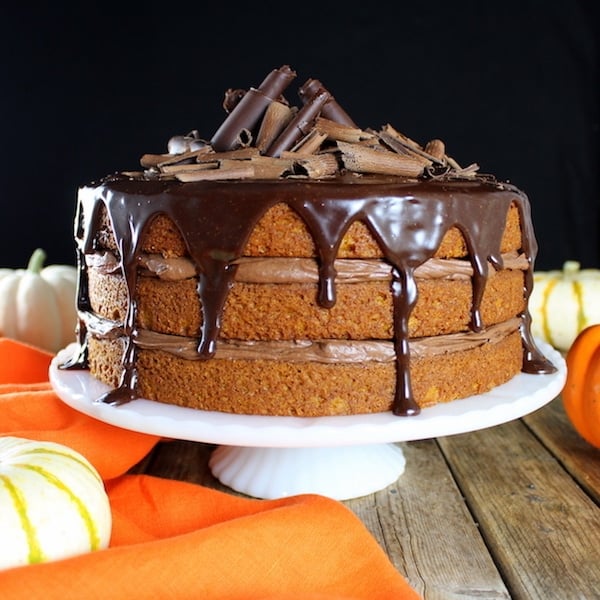 Not only will your family love making this festive Pumpkin Chocolate Ganache Cake they will also love eating it! Happy Fall, happy Halloween and happy eating!
... And that should pretty much give you a marvelous Thanksgiving dinner! If you try out any of our Thanksgiving recipes, share a few pics with us on Facebook or comment here on the blog to let us know how it went. I know our readers would be interested!
Thanks for supporting Taste And See and we wish you a Happy Thanksgiving!🍂🍁
I would love to connect with you! Leave a comment and follow me on Instagram, Twitter, Facebook, & Pinterest!