Apple Crisp Energy Bites – the perfect healthy no-bake snack that tastes like homemade apple pie. With energy-boosting ingredients like quick oats, lemon juice, cinnamon, ginger, almonds and dates, they will give you the steam you need to finish your day strong!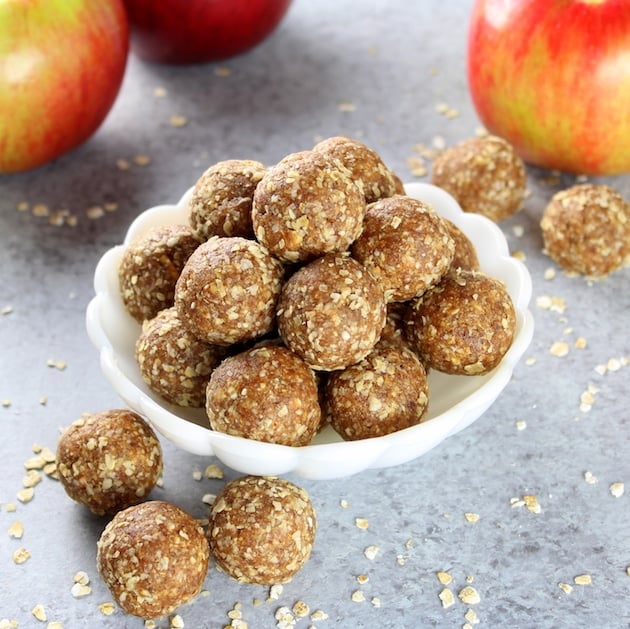 How are those New Year resolutions going? I'm sure you're slaying it like a boss.💪
If you're like me, you're looking for ways to cut calories and add some nutrition to your diet.
And I'm not talking about sacrificing yummy flavor in the midst of it – oh no. I'm talking about eating certain things that provide health benefits and still taste amazing!👏
Whatcha think? Are you in!?
Me too!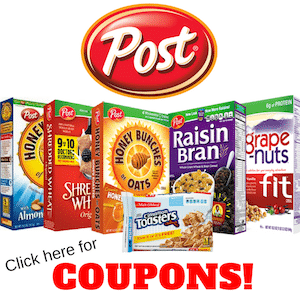 Today's recipe aligns perfectly with this way of eating. I give you - Apple Crisp Energy Bites!👇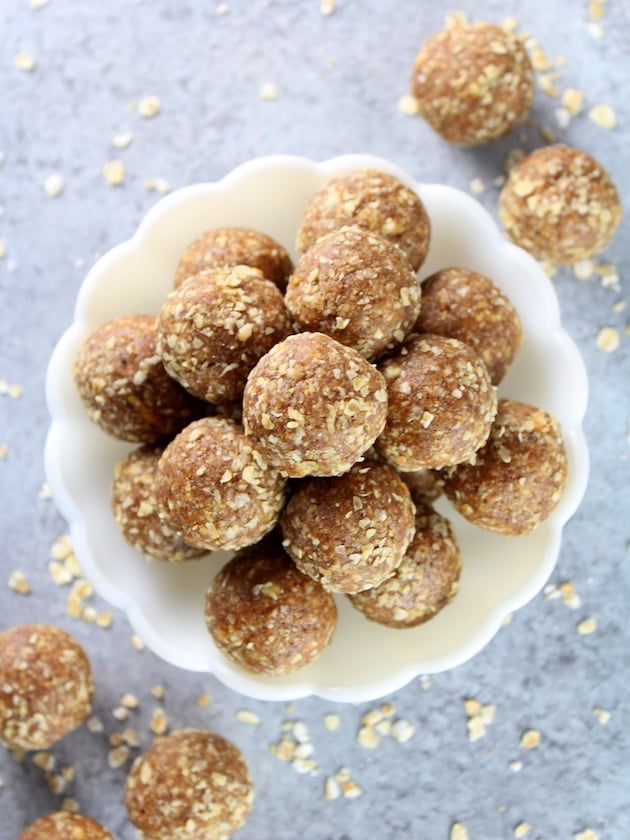 If you're craving some yummy homemade apple crisp but could do without all the calories, then these energy bites are just the ticket. These yummy bites are only 55 calories each and packed with that same warm cinnamon-y apple flavor. Sans all the unnecessary sugar and carbs.🙌
We all need a little pick-me-up… maybe in the middle of the afternoon, or say post-workout?💪🏋 I recommend keeping these apple energy bites on hand for just such a time.👌
Not only are they great for us adults, the kiddos will love them too!💙 They're the perfect size for those little fingers and they will be so excited for this yummy treat. AND since they're actually nutritious, it's a snack you can feel good about giving them.🤗 Win- win!🏆
Here are just a few of the benefits from the ingredients:
Cinnamon stabilizes blood sugar and helps control appetite.
Ginger aides in digestion, reduces soreness in muscles, and cuts down on bloated tummies.
Then there are the almonds… full of heart-healthy fats, fiber, protein, magnesium, and vitamin E. They also reduce blood pressure, lower cholesterol levels, lessen hunger, and promote weight loss. WOA! Crazy healthy I tell ya!
Oats are a good source of carbs and fiber. Carbs are the body's primary source of energy, and they're not the enemy! Whole grains, like oatmeal, are absorbed slower, giving you a longer-lasting boost. Oats also contain B-vitamins like niacin, thiamin, and folate which work together to help your body metabolize energy. Making them the perfect companion for our next ingredient…
Dates! Date are not only fun to go on, they also taste like candy. They've been around since the Garden of Eden and offer many health benefits since they're full of fiber, potassium, and magnesium. They're also filled with natural sugars that boost energy. Which makes them the perfect snack when you're starting to drag mid-day, and the perfect ingredient for our Apple Crisp Energy Bars!
All of this amazingness rolled up into one fruity bite? That's what I'm talking' about!👍👊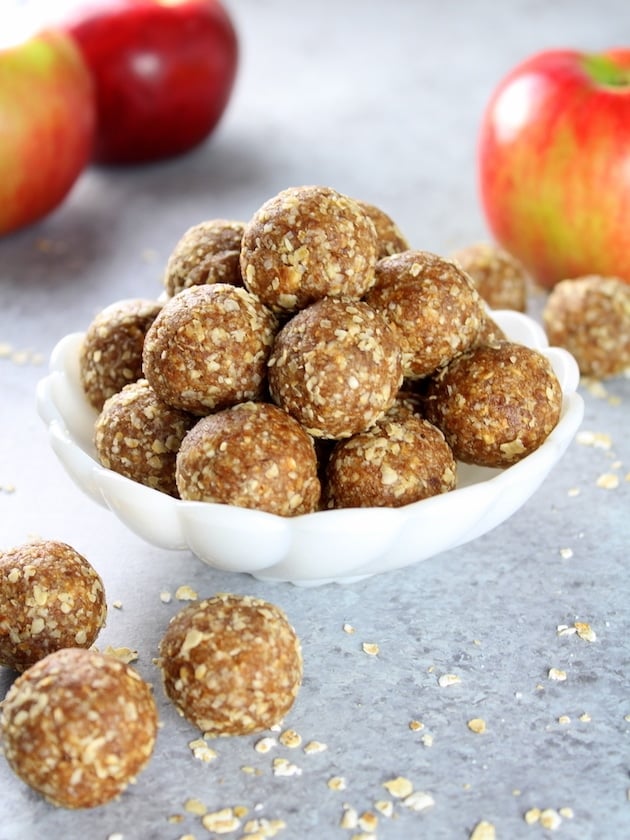 Not only are they way healthier than a big ole' slab of apple crisp, they are just as tasty. Plus they're the perfect bite. Aww aren't they cute?😊💕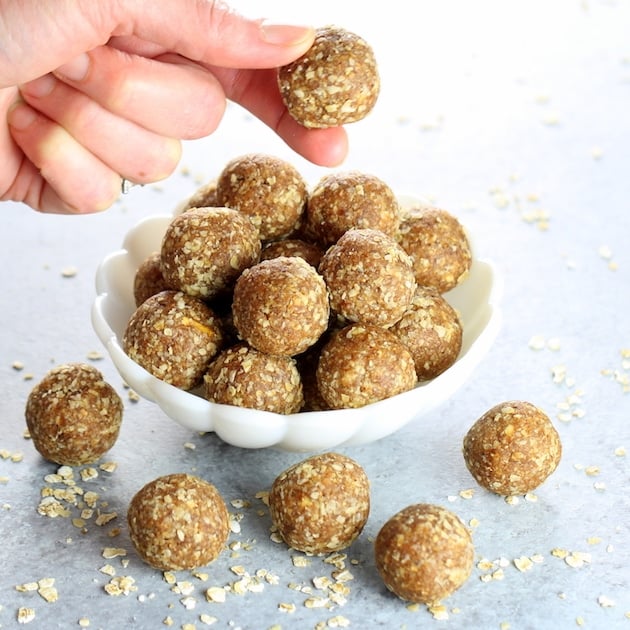 These bites are free of artificial flavors and preservatives thanks to these Quick Oats from Post® Mom's Best®, and they're super-quick to make. Literally less than 5 minutes and no baking required.🚫♨️ Hallelujah!🙏
These Apple Crisp Energy Bites are quick, easy, super nutritious and always delicious!😋
Yield: 24 servings
Apple Crisp Energy Bites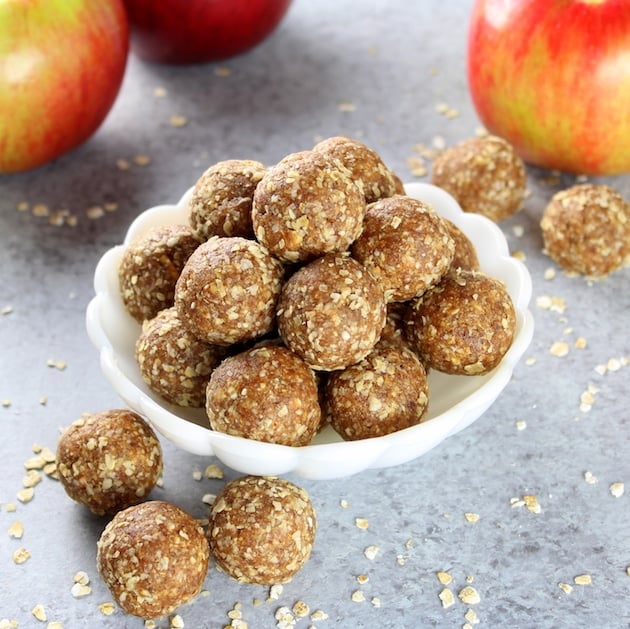 Apple Crisp Energy Bites – the perfect healthy no-bake snack that tastes like homemade apple pie.
Ingredients
1 cup oats
½ cup almonds
3 ounces pitted dates (or ⅓ cup)
1 ½ teaspoon cinnamon
¼ teaspoon ground ginger
3 ounces dried apple slices
2 tablespoons fresh lemon juice
⅛ teaspoon sea salt
Instructions
Blend almonds in food processor for 1 minute or until almonds are well-ground. Add the rest of the ingredients and blend until mixture comes together almost as a dough.
Roll out balls in your hand and enjoy. Energy bites stay fresh for a week in an air-tight container in the refrigerator.
Notes
If the mixture is hard to form the bites add a little water ( 1 tablespoon at a time) to the mixture, until they come together.
Nutrition Information
Yield
24
Serving Size
1 bite
Amount Per Serving
Calories

49
Total Fat

1g
Unsaturated Fat

0g
Sodium

15mg
Carbohydrates

8g
Fiber

1g
Sugar

4g
Protein

1g
Need any more convincing that oats are amazing? Check out these articles:
Looking for more nutrient-filled recipes?
Healthy Kale & Egg Breakfast Cups: