Although this post is sponsored by Nature's TouchTM Frozen Foods, all opinions are my own. This Tropical Blueberry Mango Coconut Crumble is bursting with fruit filled flavor and layered with a crumbly almond coconut topping. One bite of this tropical delight and you'll feel like "everyting be irie!"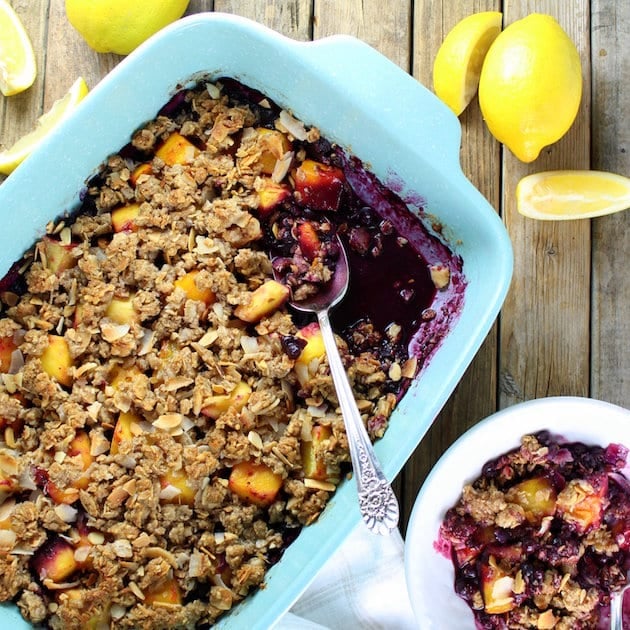 I love to travel! Seeing new places, experiencing new cultures, and trying new things. And if there's a sandy beach involved somewhere in there, well, that's the cherry on top of my piña colada!🍒
We love adventure and we love basking in all that the tropics have to offer, especially on a warm sunny beach near some crystal clear, blue water.☀️🏊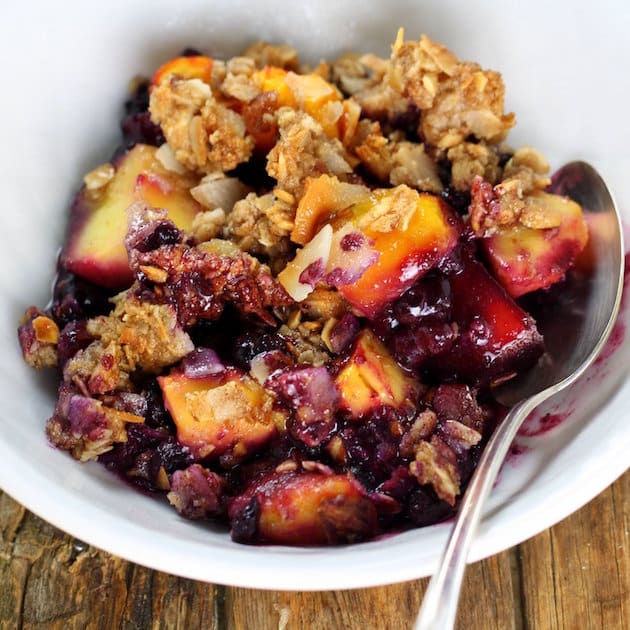 For our honeymoon we made a trip to St. Lucia. A gorgeous island with amazing topography, diverse terrain with lush foliage, steamy hot springs, picturesque rainfalls, and flowering jasmine aromas lingering in the air. Truly a tropical paradise.🌴
Through the years we've been fortunate to explore many other lovely locales like Maui, Grand Cayman, The Bahamas, Turks and Caicos, St. Martin, a "boat" tour through the British Virgin Islands, and probably our very favorite tropical paradise, Anguilla. Big swoon.😍
It's a small island - only 16 miles long - just north of St. Martin. There are no cruise ships or jets in sight. No busloads of camera-ready tourists descending on the beaches like ants at a picnic.⛱
Just beautiful turquoise waters, sandy beaches, and the occasional baby goat.🏝 Oh and delicious cuisine!😋
You didn't think I could go too long without mentioning food now did you?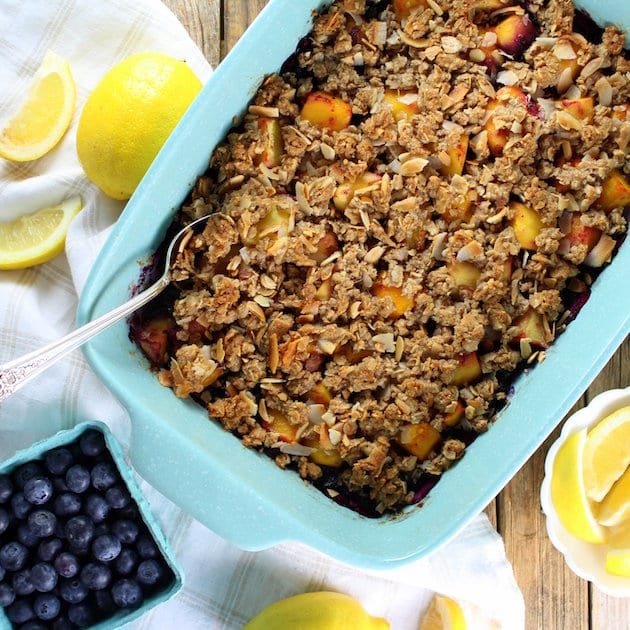 We've had some amazing meals in Anguilla prepared by renowned chefs, cooks, and captains alike.👌 We've enjoyed fresh-caught lobster cooked on a small private boat excursion, red snapper grilled, roasted, or ceviche style. Barbeque lobster, snapper, crayfish, chicken, and ribs, grilled and smoked over homemade-crated Indigenous hardwoods like sea grape, tamarind, cedar, and wild mango.
And as expected, the island-grown fruit is always superb.💯 The mangos, the coconuts – just so fresh and delicious! Oh and all the yummy creations they produced with them… like the famous Cracked Coconut with Irish cream and chocolate sauce, Mango Coladas, and Rum Punch!🍹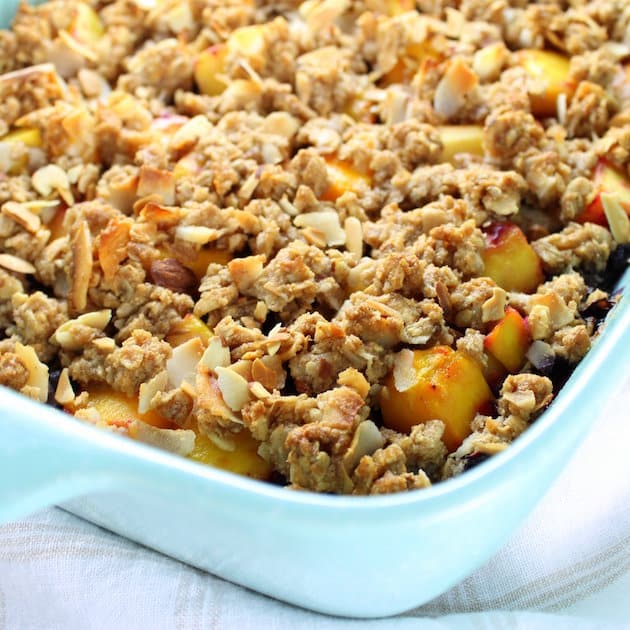 All of this tropical talk has me longing for an island adventure and some delicious tropical fare.
I think I'll transport myself somewhere lush and steamy with this Tropical Blueberry Mango Coconut Crumble!👇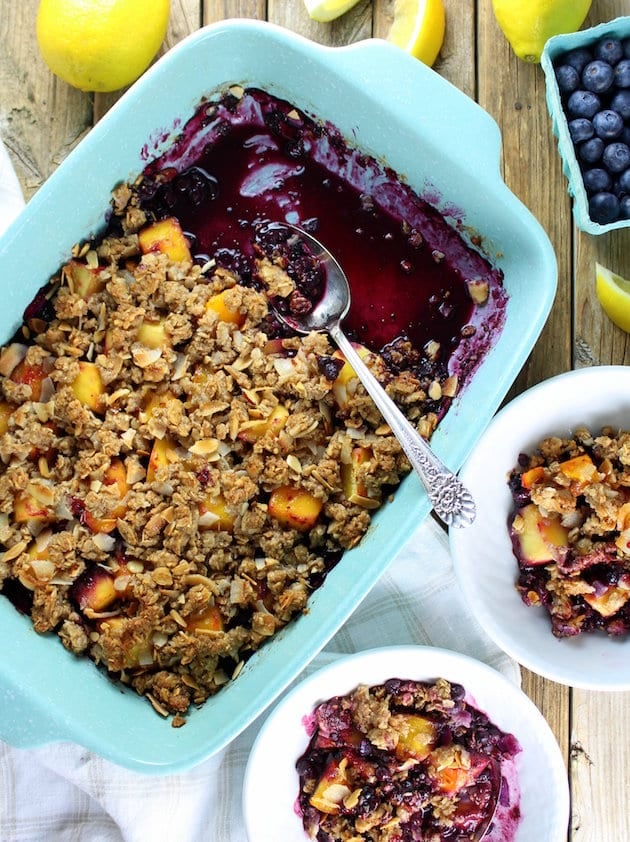 This yummy crumble is full of delicious ingredients like sliced almonds, rolled oats, shaved coconut, and Nature's Touch frozen organic mangos and blueberries.
Nature's Touch frozen fruits and veggies are picked at the peak of freshness and preserves nutrition so they can be enjoyed all year round!
Their frozen produce is pesticide-free, organic, and sourced from some of the best farms around the world. Products you can feel good about cooking with and serving those you love most.🙌❤️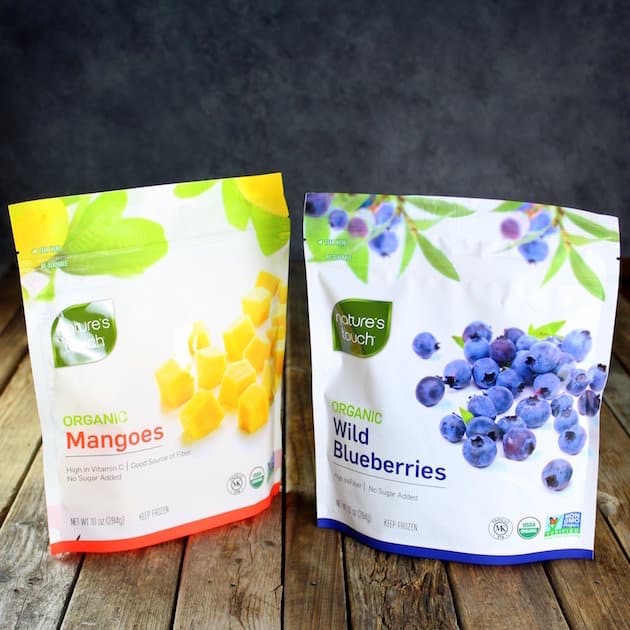 Like the frozen organic wild blueberries and mangos in this yummy Tropical Crumble!💕 It's just the thing for those times when you're craving something sweet and need to be reminded that the water is warm, the sun is shining, and adventure awaits.🏖
I love the ease of this fruit-filled dessert. It requires very little effort and produces a warm, inviting pan of yumminess.
The process is simple: mix together the frozen fruit, lemon juice, ground ginger, flour and brown sugar.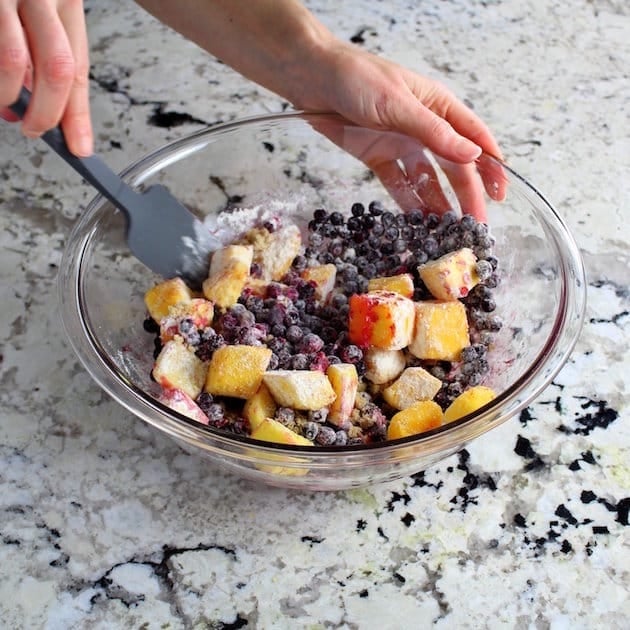 Then combine all the ingredients for the crumble, mix well with your hands and form dime size pieces.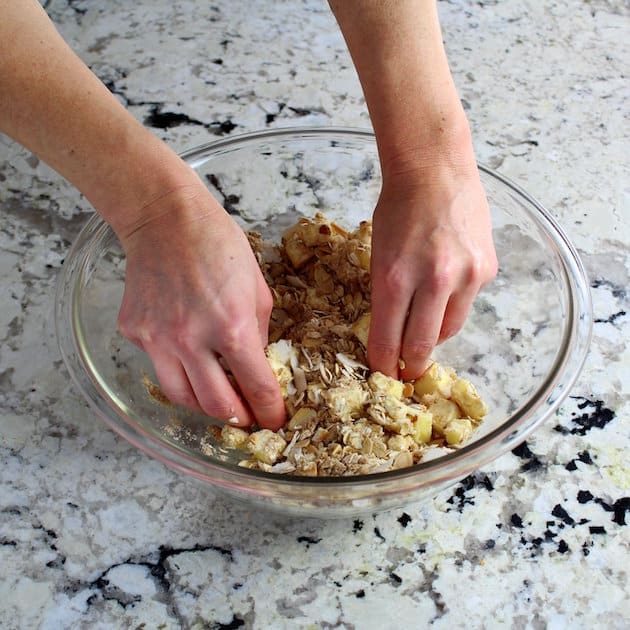 Layer the crumble over the fruit in a 9x13 baking dish.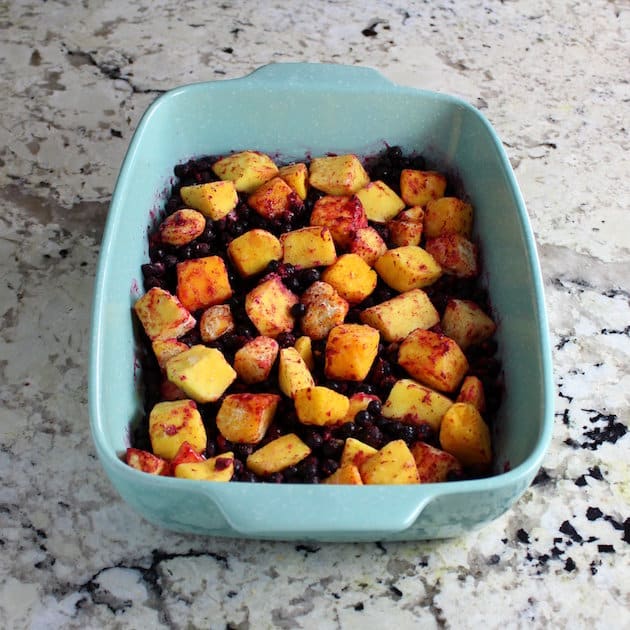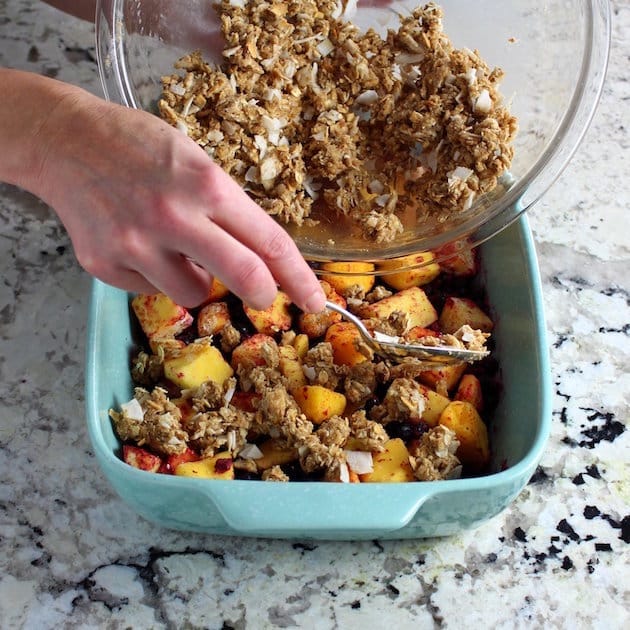 Bake for 40-45 minutes and enjoy.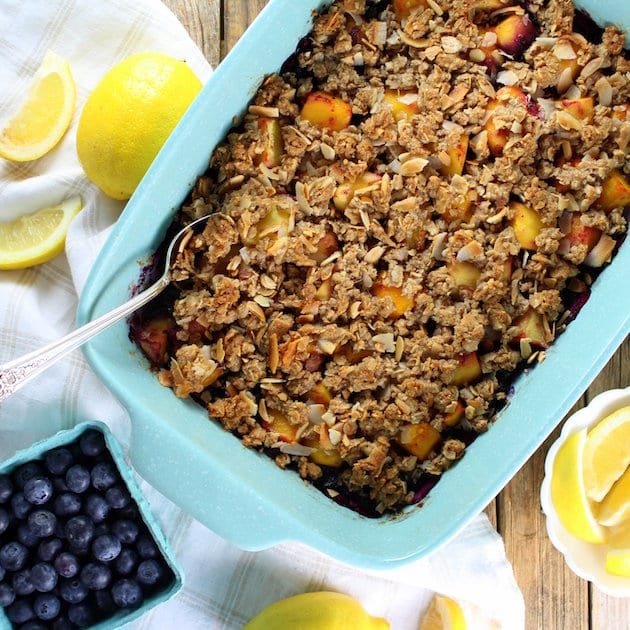 Truly a no-fuss, lush, sweet treat you can create whenever you're craving something delicious - or possibly a warm weather excursion.👍
Trust me, this delightful dessert will transport you to your happy place… or possibly on a Foodie Trip Adventure!! No – for real – with this Nature's Touch Instagram Contest you can seriously "Get a Taste of Adventure."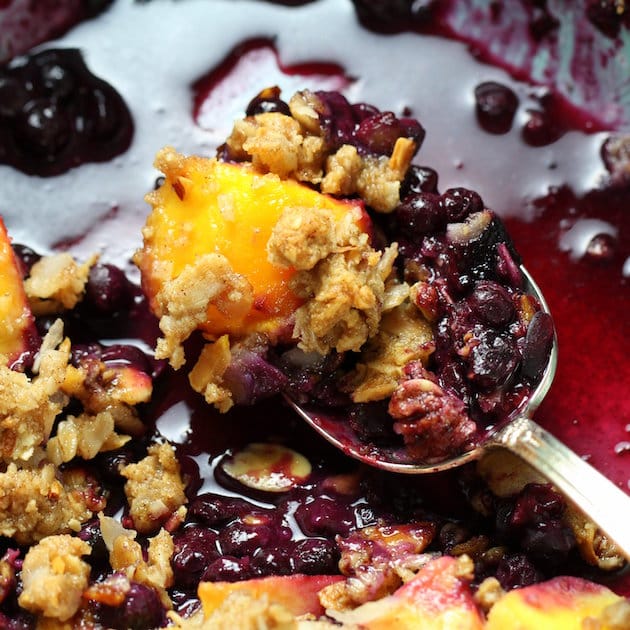 👉Create your own recipe with Nature's Touch frozen fruits or vegetables to get a chance to win a Foodie Trip Adventure of your choice (either Chile, Belgium, or Canada), plus other great prizes such as a free NutriBullet® or grocery gift cards. And while you're off exploring you'll get to visit a farm where Nature's Touch sources its product from around the globe!👈
Here's how to enter the contest:
Post a photo on Instagram of your favorite recipe creation using Nature's Touch products… AND
Tag @NaturesTouchContest with #FlavorAdventure
For more info: visit NaturesTouchContest.com
This contest runs 3/20 - 5/31, so tap into your inner adventurist and whip up your own unique and delicious dish!✨
And if you're looking to transport your taste buds to the tropics, mix up this tasty Tropical Blueberry Mango Coconut Crumble!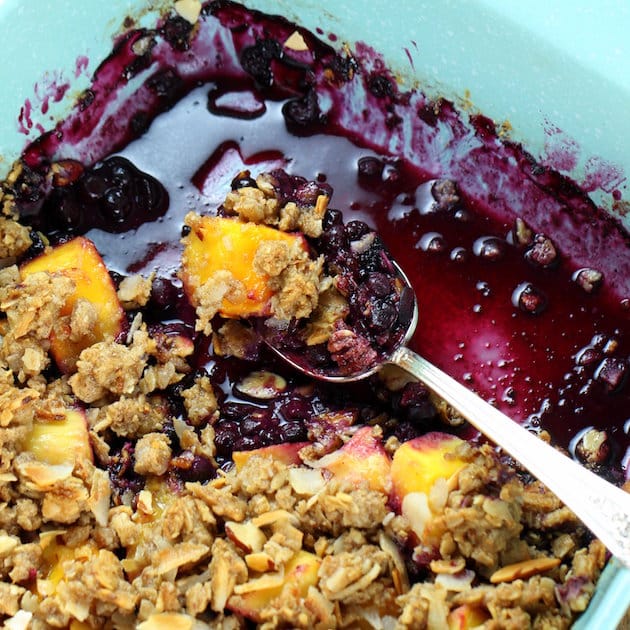 We purchased our Nature's Touch organic frozen fruit products at Shaw's, but you can find them at ShopRite or Big Y (only organic veggies available) or check their website to find a retailer near you.
And if you're not in a fruity mood, you can check out their frozen organic broccoli and kale, grown and harvested with the same tender lovin' care.💚
I would love to connect with you! Leave a comment and follow me on Instagram, Twitter, Facebook, & Pinterest!
Yield: 10 Servings
Tropical Blueberry Mango Coconut Crumble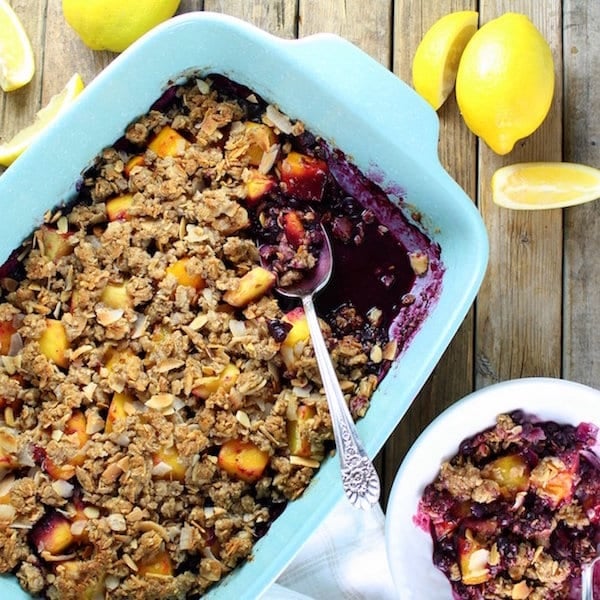 Tropical Blueberry Mango Coconut Crumble... bursting with fruit filled flavor and layered with a crumbly almond coconut topping!!
Ingredients
For The Crumble Topping:
¾ cup almond meal
⅓ cup rolled oats
¾ cup coconut flakes
½ cup sliced toasted almonds
½ cup packed light brown sugar
1 teaspoon cinnamon
½ teaspoon salt
½ cup cold unsalted butter, diced into ½-inch cubes
For The Fruit Mixture:
2 tablespoons brown sugar
¼ cup almond flour (or all-purpose flour if preferred)
2 tablespoons lemon juice
½ teaspoon ground ginger
20 ounces Nature's Touch frozen organic wild blueberries
20 ounces Nature's Touch frozen organic mangos
Instructions
Preheat the oven to 350 degrees.
In a large bowl, mix 2 tablespoons brown sugar, ¼ cup flour, ginger, lemon juice, wild blueberries, and mangoes. Set aside.
Combine almond meal, rolled oats, coconut flakes, sliced almonds, ½ cup brown sugar, cinnamon, ½ teaspoon salt, and cold unsalted butter. Mix the ingredients and work them together between your hands until it forms big crumbles.
Pour fruit mixture into 9x13 baking dish, and evenly sprinkle the crumble topping over the fruit. Bake for 40-45 minutes, or until crumble topping is nicely toasted and fruit mixture is bubbling.
Nutrition Information
Yield
10
Serving Size
8-10 ounces
Amount Per Serving
Calories

346
Total Fat

22g
Saturated Fat

10g
Unsaturated Fat

0g
Cholesterol

24mg
Sodium

125mg
Carbohydrates

37g
Fiber

5g
Sugar

27g
Protein

5g