This Parmesan Polenta Bolognese is the perfect low maintenance meal with big Italian flavors. The hearty meat sauce is layered over creamy Parmesan polenta and topped off with fresh parsley and grated Parmesan. A delicious and effortless meal the whole family will love!
How do you feel about a Bolognese sauce?
I adore it.💕 If we're eating dinner at an Italian restaurant and it's on the menu, I almost always order it. I just love those hearty, rich and meaty flavors. It's less tomato-ey than spaghetti sauce, with a creamy note to it. Think slow-cooked, comforting ragu. In fact, in Italy, the sauce is referred to as ragù alla Bolognese or ragù Bolognese or just ragu.
Traditionally the dish has some onion, carrots, and celery sautéed with ground or chopped meat, which adds to the rich flavor and helps us with our veggie intake.👍
Bolognese is usually served over tagliatelle pasta or some kind of flat pasta like pappardelle or fettuccine. But of course, anything goes nowadays.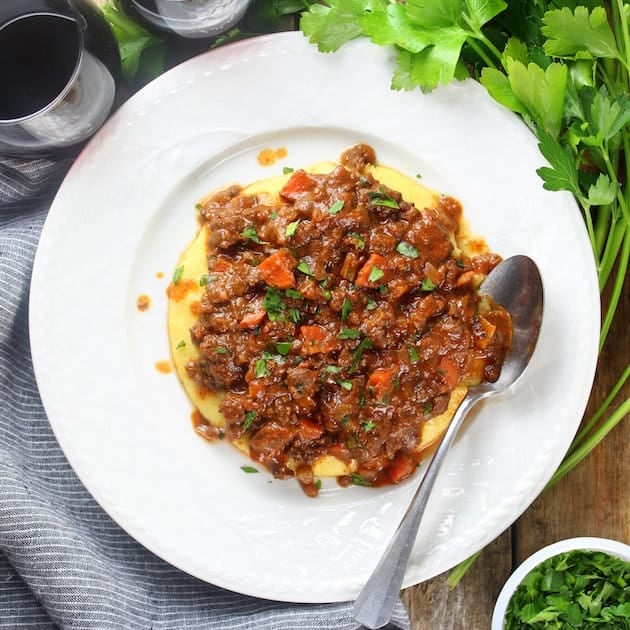 To cut down on those carbs and amp of the veggie factor, you can enjoy this meaty sauce as a healthy spaghetti squash bolognese. And if you want even more extra credit in the "healthy" department, you could always go for "Turkey Bolognese Spaghetti Squash" instead… just substitute ground turkey for ground beef and you're all set!
Today we're mixing it up with yet another easy and delicious version of Bolognese...
creamy Parmesan Polenta Bolognese.✨
It's the perfect soft and creamy side dish to soak up all that ragu sauce – yum!💯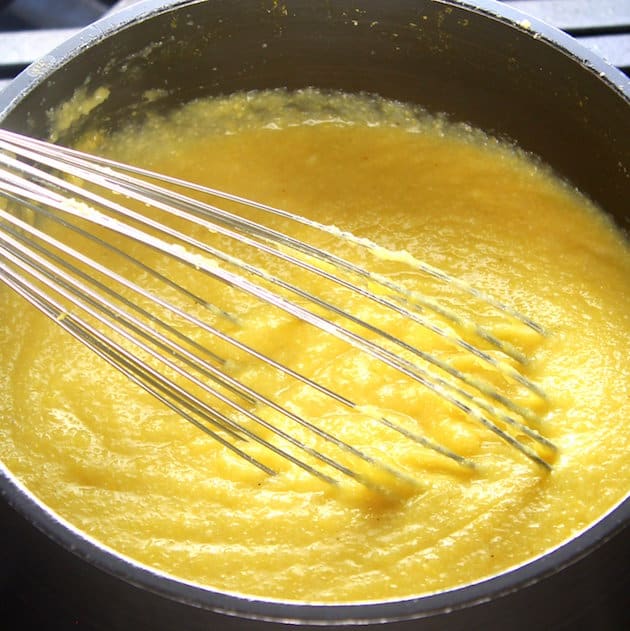 I like to think of Polenta as Italian-style mashed potatoes. It's lush and savory and so satisfying.
It's also pretty versatile… you can serve it freshly cooked while it's warm and soft, or cool it down and slice it up for frying, grilling, & baking.
Today we're going with smooth and creamy Parmesan Polenta!😋
This Parmesan Polenta is like a cheesy sponge that absorbs all the yumminess it comes in contact with. It's the perfect accompaniment for almost any Italian dish, whether it's Veal Osso Buco, Chicken Cannelloni, or just your favorite meatballs and marinara.👌
And in keeping with the "easy weeknight dinners" theme of this recipe... it is very straightforward to make!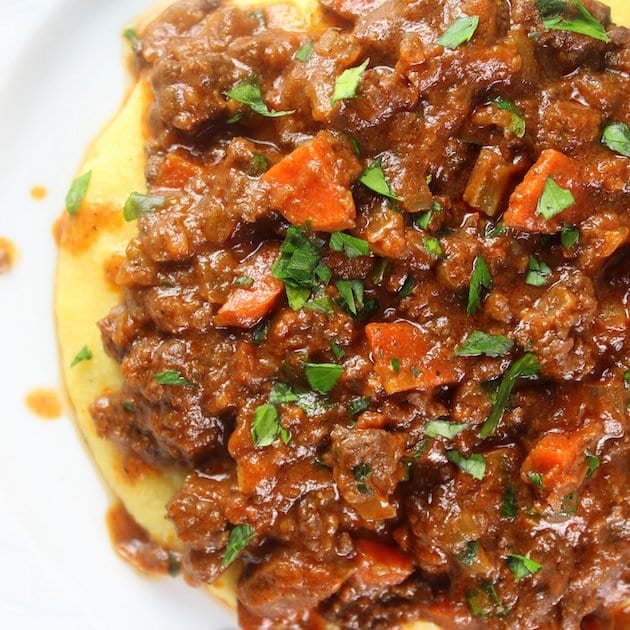 The process is really two-part.
How to make Bolognese sauce:
Sauté carrots, onions, celery and garlic in a little olive oil.
Then in the ground beef goes, using a spatula to break it apart as it cooks.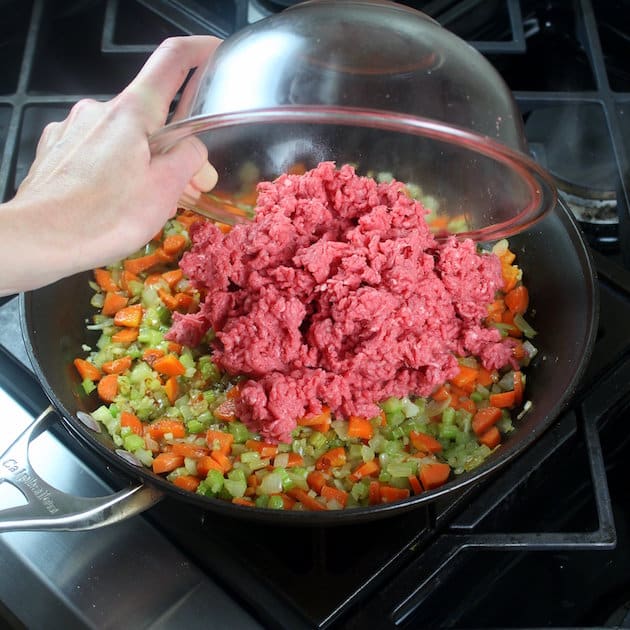 Next, you add a little tomato paste, crushed tomatoes, and red wine.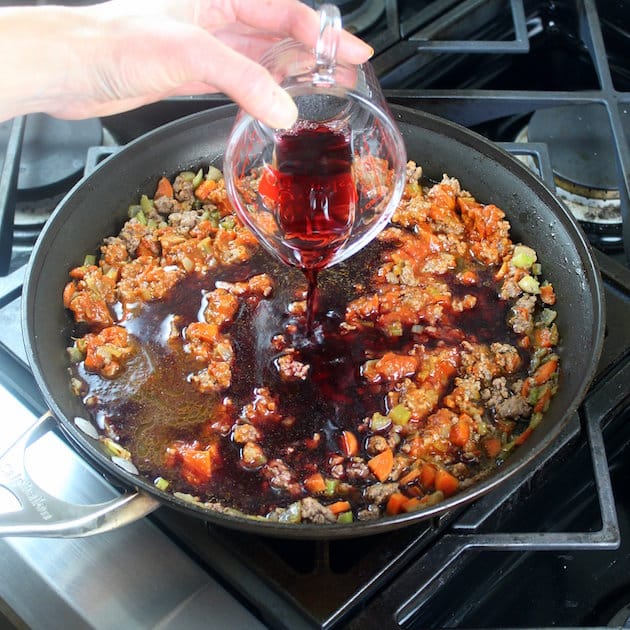 Allow that to simmer for 15 minutes uncovered, then stir in your milk and cook for 15 more minutes while you whip up some creamy Parmesan polenta.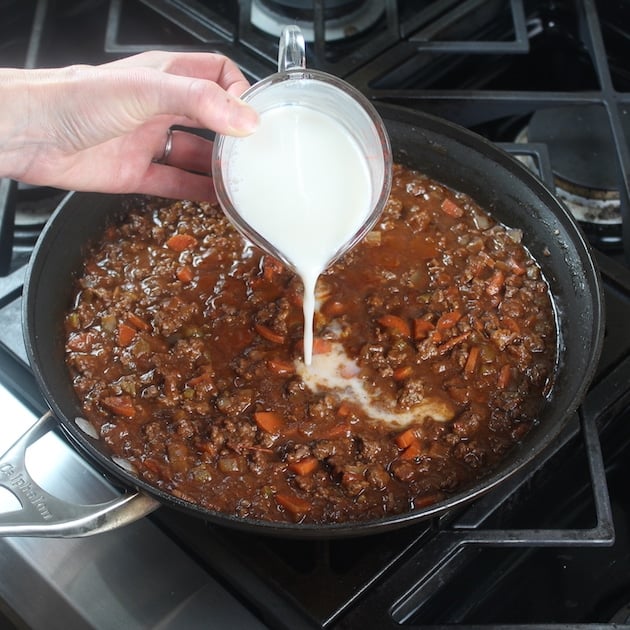 The polenta is a simple affair: bring some stock to a boil, add polenta, whisk like it's your job for five minutes, then fold in your Parmesan cheese and salt to your taste. To keep the polenta from setting, keep it on very low heat until you're ready to plate up your Bolognese (whisk in a little more stock if needed).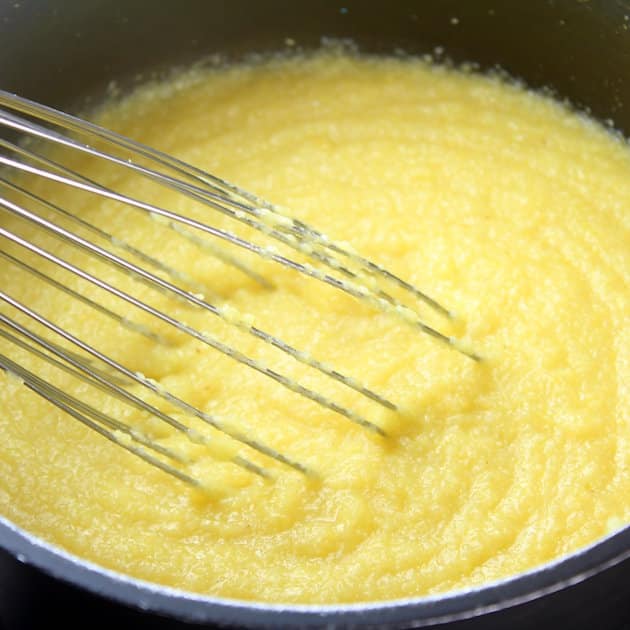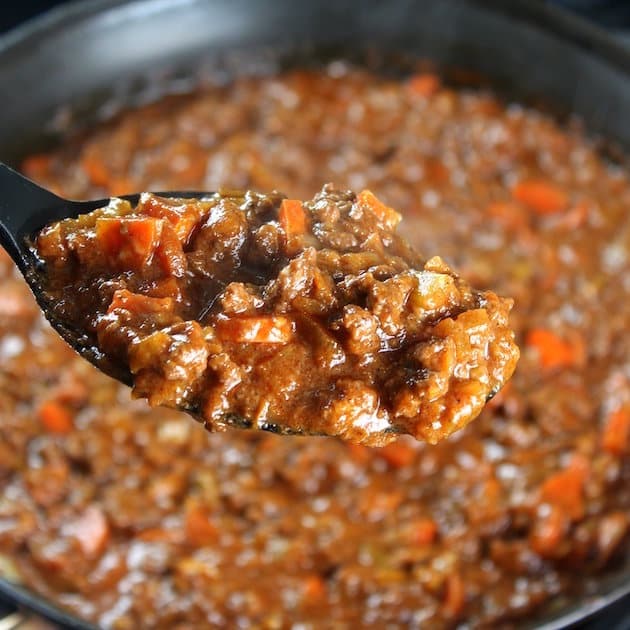 Now you can assemble all this yumminess.
Place a big scoop of the polenta on the plate and top with your hearty Bolognese sauce. Then sprinkle on a little Parmesan cheese and parsley.👇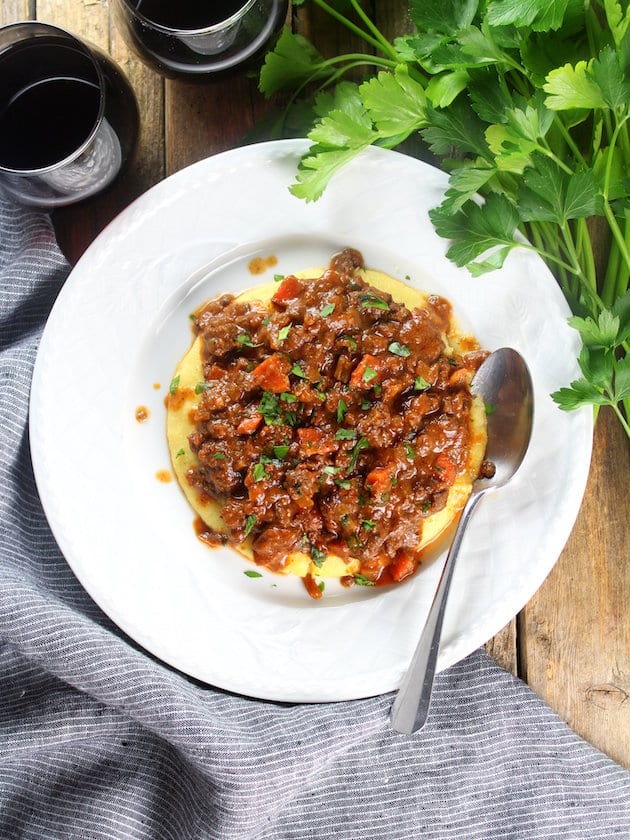 Now grab a spoon and enjoy this comforting and oh so delizioso Polenta Bolognese dinner! Buon appetito friends!🍴
I would love to connect with you! Leave a comment and follow me on Instagram, Twitter, Facebook, & Pinterest!
Yield: 4 servings
Easy Parmesan Polenta Bolognese Recipe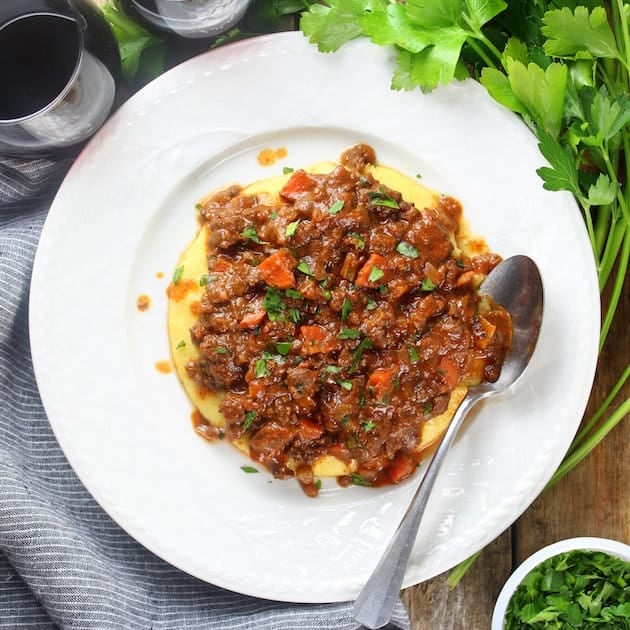 Parmesan Polenta Bolognese Recipe: Hearty meat sauce layered over creamy Parmesan polenta and topped off with fresh parsley and grated Parmesan.
Ingredients
2 tablespoons olive oil
1 medium onion, finely diced
2 carrots, finely diced
2 celery stalks, finely diced
3 garlic cloves, minced
1 pound ground beef (90% lean)
Salt
Pepper
3 tablespoons tomato paste
1 cup dry red wine
1 cup canned crushed tomatoes
1 cup almond milk, unsweetened (or regular milk if preferred)
¼ teaspoon nutmeg
4 tablespoons grated Parmesan + more for garnish
Chopped Italian parsley for garnish
Instructions
Sautee onions, carrots, celery, and garlic in a skillet with olive oil for 10 minutes over medium heat. Stir the veggies a few times.
Add ground beef, and ½ teaspoon salt and pepper. Crumble the meat with a heatproof spatula and cook until the beef is no longer pink.
Add tomato paste, wine, and crushed tomatoes then simmer for 15 minutes uncovered.
Add milk and let the sauce come to a gentle simmer, stirring frequently. Add nutmeg, then continue cooking at a gentle simmer for another 20 minutes, uncovered.
Stir in 4 tablespoons Parmesan, and salt and pepper to taste. Serve over Polenta Parmesan, and garnish with chopped parsley and grated Parmesan.
Nutrition Information
Yield
4
Serving Size
10-12 ounces
Amount Per Serving
Calories

481
Total Fat

31g
Saturated Fat

10g
Unsaturated Fat

0g
Cholesterol

84mg
Sodium

365mg
Carbohydrates

15g
Fiber

3g
Sugar

7g
Protein

23g
Looking for more delicious Italian dinners?