This Cauliflower with Asiago Cheese and Golden Raisins is hearty and delicate, salty and sweet, cheesy and meaty, and just so delicious! It's a really impressive side dish to serve for a weeknight diner or even a holiday meal. Just a quick warning… I'm extremely passionate about this recipe!
I'm just coming straight out of the gate with this: this cauliflower recipe will change your life.
Not kidding.
If you love roasted cauliflower then you will make it once a week from now to eternity. Why, you ask? Because it is better than whatever other food you thought you loved the most.
I know, it's a veggie and it's white, but it was created to be the star of the show… the Cauliflower Asiago Cheese Show!!✨
It's meaty and cheesy and salty and sweet. Not much can compare.
If you gave me the choice between my favorite dessert ever… White Chocolate Bread Pudding with Jack Daniel's Sauce and this dish - in all honesty, I would choose this veggie dish!
Are you sensing the passion I have for this recipe? I hope so cause I'm truth tellin' my friend!
Allow me give you the back story on this delicious dish.
The B man and I were at one of our favorite restaurants in Boston called erbaluce. It's not your typical Italian restaurant - oh no - Chef Draghi is known for punctuating his dishes with the bright flavors of fresh herbs, building his sauces from vegetables and their essences, rather than butter, olive oil, or cream.
We've been there several times and it's always, always insanely delicious. If you're going to be in the area - you need to make reservations ahead of time.
The first time we ate there we ordered this cauliflower and romanesco dish as an appetizer. It rocked our world - and we were forever changed.
Of course I had to inquire about the ingredients…how in the world could cauliflower be so amazing? The details are a bit foggy but this is what I remember…it had romanesco (a beautiful lime green cousin of cauliflower), cauliflower, golden currants, Taleggio cheese, and garlic. It was heaven on a plate.
So of course I had to try to recreate it on my own.
The romanesco is hard to find and not always available, the Taleggio cheese is yummy but again not that easy to find. Currants - well they taste just like golden raisins.
So here's my best and most approachable rendition of this dish - Cauliflower With Asiago Cheese And Golden Raisins!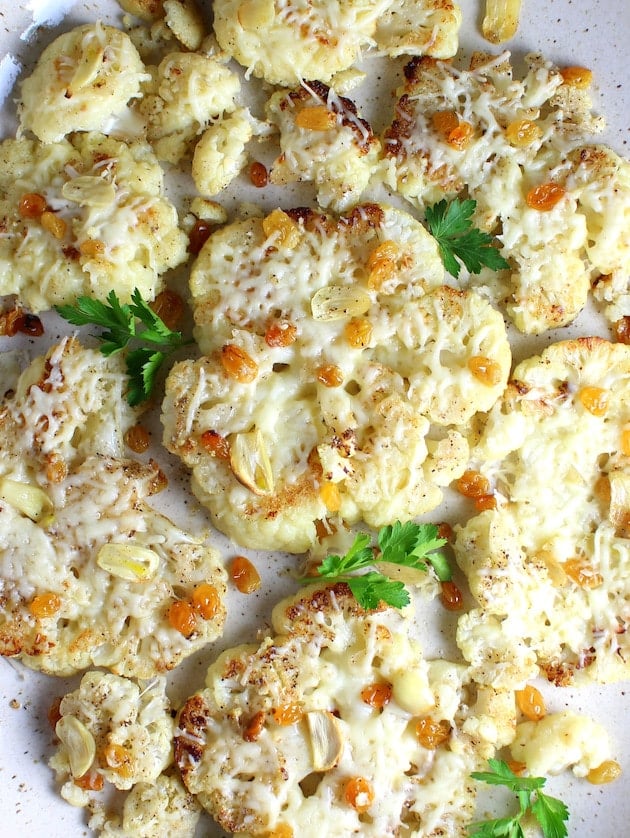 Not only is this veggie side dish mind-blowingly delicious but it's also super easy. I'll break down this roasted cauliflower recipe for you...
How to Cook Cauliflower:
Grab a head of cauliflower, rinse, peel off the leaves, and cut out the end of the core. Just like you would do for basic roasted cauliflower.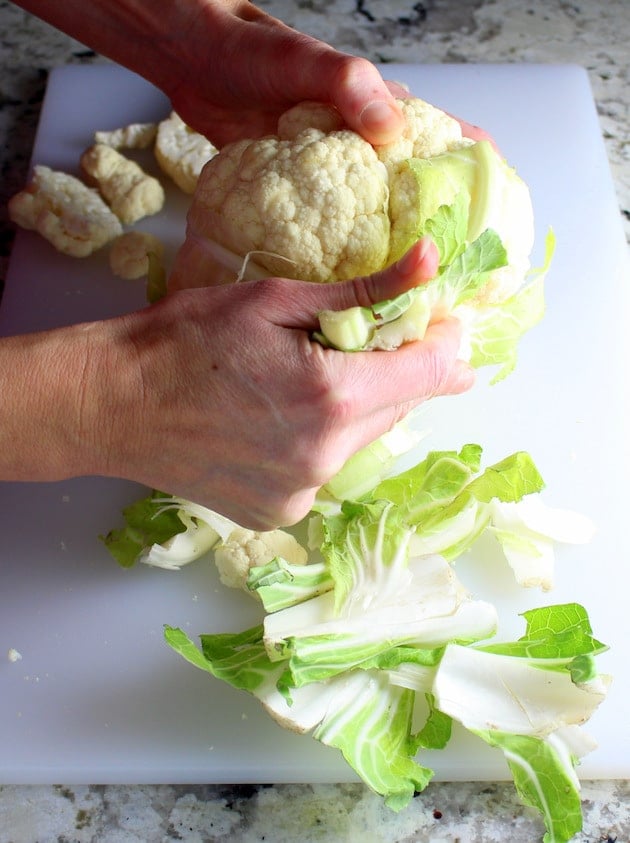 Then slice it like a steak - ½ inch thick.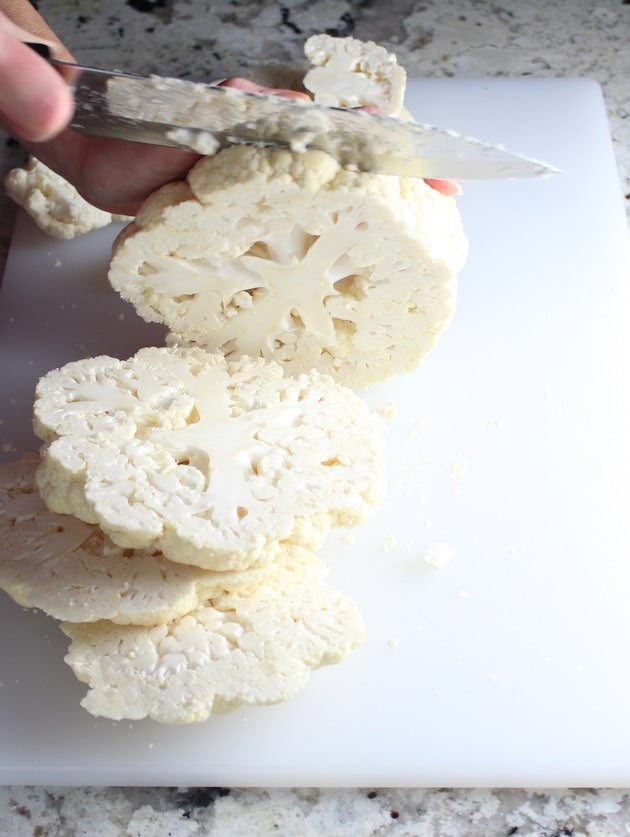 Put the slices on a baking sheet with parchment paper. And add some olive oil and salt and pepper and bake them in the oven (middle rack) on 425 degrees.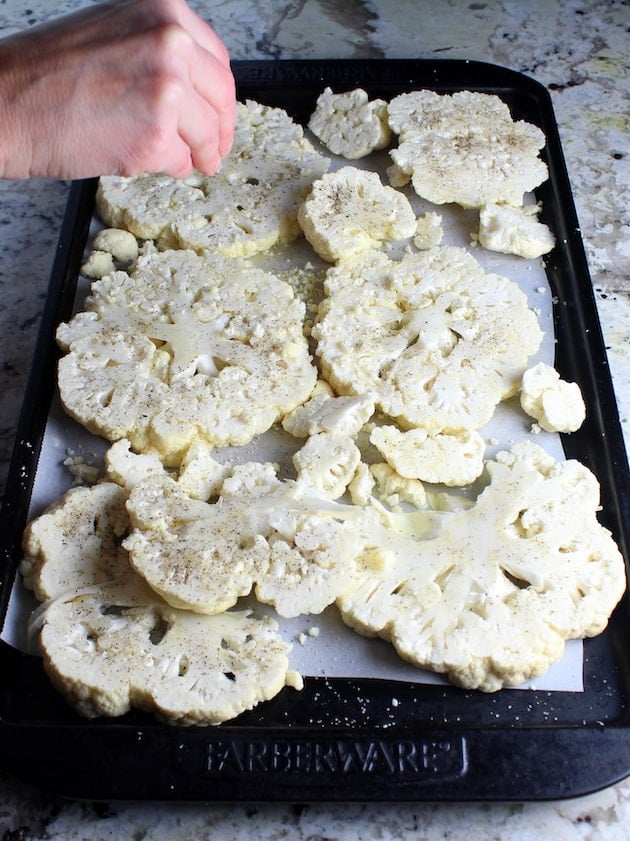 Next, reconstitute (to return something, such as dried food, to a former state by adding water) some golden raisins in some water. Slice up a few garlic cloves.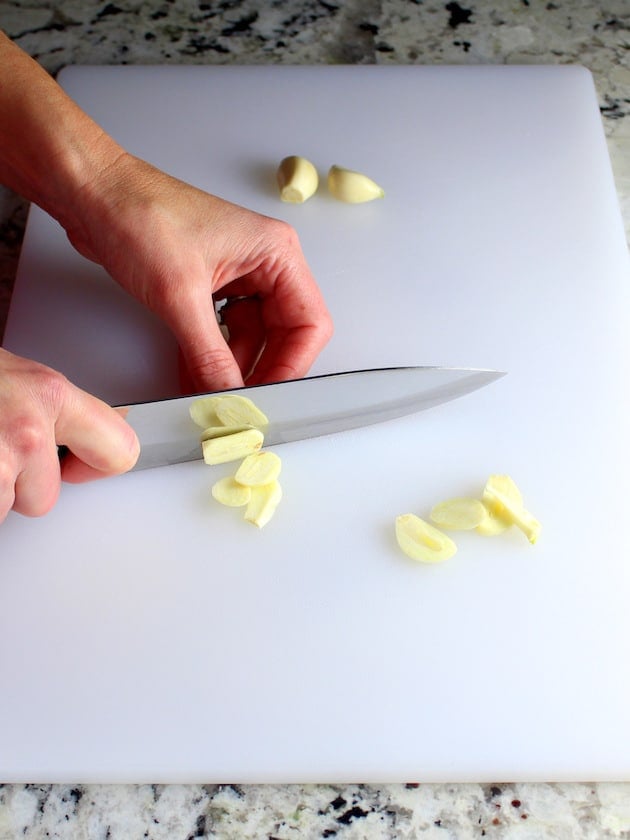 And 10 minutes later add the raisins and garlic to the sauna party in the oven.
Sprinkle on the most heavenly cheese - Asiago, put it back in the oven, wait 1 minute AND…partake of the most indulgent, fulfilling, hearty but delicate, salty but sweet, cheesy and meaty yumminess you've ever put in your mouth. REAL. TALK. PEOPLE. I warned you about my excitement for this dish.✌️
If you want to continue eating broccoli from a bag that is heated in the microwave - you go ahead and do that.
I will be over here indulging in nirvana, the holy grail, the most mouthwatering, and life changing veggie side dish on the planet! Any of your family that loves cauliflower will be in awe!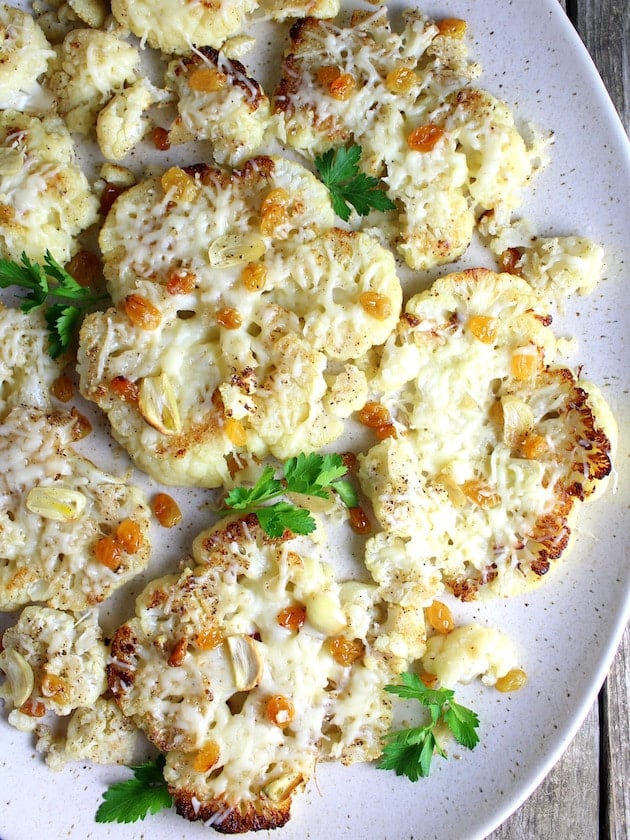 I'm seriously getting out the noisemakers, samba whistles and shakers and starting a Conga line down my street!!
You can either come over here and join me or make the Cauliflower With Asiago Cheese And Golden Raisins and have the best dinner of your life!! Both are great options - I'm a really good time!
I can't wait for you to experience this delicious cheesy roasted cauliflower side dish!
Yield: 6
Cauliflower With Asiago Cheese And Golden Raisins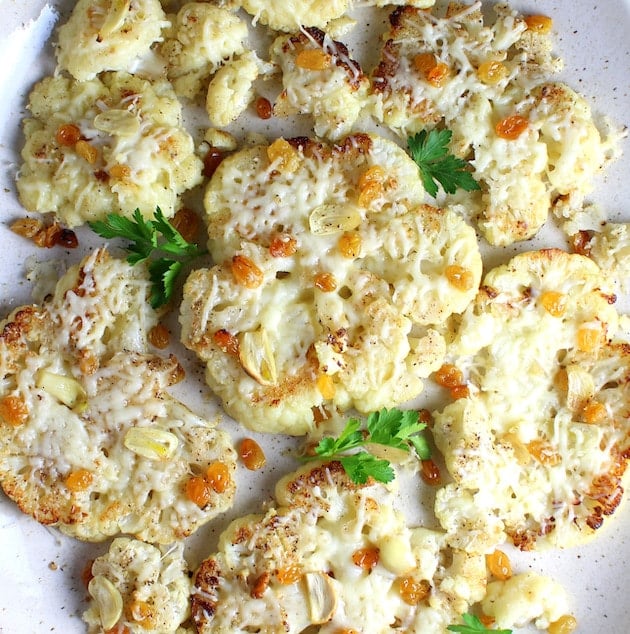 Cauliflower With Asiago Cheese And Golden Raisins - an unbelievable veggie dish with garlic, Asiago Cheese, & (surprise!) golden raisins. Meaty, cheesy, salty, and a hint of sweet!
Ingredients
1 head of cauliflower
3-4 tablespoons olive oil
1 ½ teaspoon salt
1 teaspoon ground black pepper
¼ cup golden raisins
4 cloves of garlic, finely sliced
⅓ cup rounded, of Asiago Cheese (more if you want), (I used BelGioioso brand.)
Instructions
Preheat the oven to 425 degrees F with the rack at the middle position.
Place the golden raisins in a small bowl with just enough water to cover them. Heat them in the microwave for 30 seconds and let them sit on the counter.
Core the cauliflower and slice in ½ inch thick slices. Transfer to the baking sheet lined completely with parchment, drizzle with several tablespoons of olive oil and sprinkle on the salt and pepper. Being careful to not break the slices, turn each slice of cauliflower over – making sure each slice has olive oil and salt and pepper on both sides.
Roast cauliflower in the oven for 10 minutes, gently turn over each slice with a spatula, and then sprinkle the golden raisins and the sliced garlic onto the pan. Be sure to keep them on the cauliflower or on the parchment paper, or they will burn.
Bake for 8 more minutes. pull the cauliflower out and sprinkle with the Asiago cheese - focus on placing the cheese directly on the cauliflower.
Bake for 1 more minute. Serve while warm - enjoy!
Notes
If you can't find Asiago you could use freshly shredded Parmesan or even Fontina cheese. But Asiago is the bomb so try to find it!!
Nutrition Information
Yield
6
Serving Size
4 ounces
Amount Per Serving
Calories

129
Total Fat

8g
Saturated Fat

1g
Unsaturated Fat

0g
Cholesterol

3mg
Sodium

700mg
Carbohydrates

10g
Fiber

2g
Sugar

5g
Protein

4g