This Creamy Cheesy Corn Dip is like sunshine in a bowl!
Public service announcement: More comfort food coming your way…Creamy Cheesy Corn dip!
I don't know about you but I feel like a bear hibernating in a cave. My main goal everyday is to figure out ways to wear sweatpants all day long and do everything I need to without leaving my house. I'm not sure why this has become so important to me but thank God for the internet! Everything I need delivered to my door with just a few clicks.
You would think I should look for reasons to be out and about. But instead I burrow down even deeper into my cave. I think the lack of daylight up here in Boston is having an effect on my decision-making or reasoning skills. Maybe I should consider investing in one of those sunlight therapy boxes? You know the ones that mimic outdoor light and causes chemical changes in your brain that lift your mood? Or maybe I should just force myself to go to the gym since I'm already paying for the membership!!
Or maybe I should make a Creamy Cheesy Corn Dip that looks like sunshine and dandelions, and stuff my face. Yup, that's it – best idea yet!!
Creamy Cheesy Corn Dip is like sunshine in a bowl! I know it's winter and fresh corn has been nonexistent for months now (big sad face.) Well, at least that's the way the "cheddah" crumbles here in New England. But that doesn't mean we can't enjoy this amazing corn dip right now!! Thank you Mr. Green Giant for making yummy sweet corn available to us in the freezer department all year round! Because of you we can enjoy this yummy dip even though it's 28 degrees and snowing.❄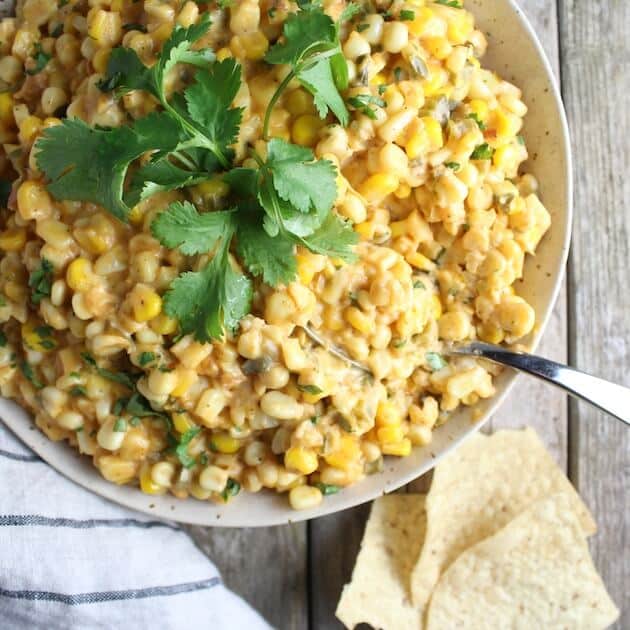 This corn dip is sooo GOOD! It's full of cheddar cheese, cream cheese, sour cream, jalapeños, green onions and everyone's favorite vegetable - CORN! You can top it with cilantro, jalapeños or even some bacon! See, like I said , sunshine in a bowl.
I've made this dip a couple different ways: I've baked it in a 9x13 and I've prepared it in a pot on the stove. Either works great but I prefer to serve it in a bowl like a dip, with some corn chips on the side.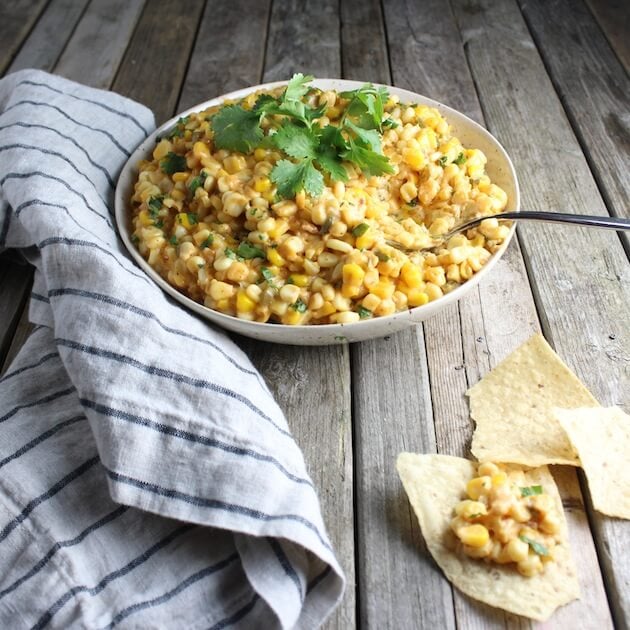 This Creamy Cheesy Corn Dip could be the perfect side for Mexican night or a BBQ anytime of the year. Get out your sunglasses and flip-flops and let the sunshine in!!?⛵
Yield: 12
Creamy Cheesy Corn Dip
This amazing dip is sunshine in a bowl!!
Ingredients
2 tablespoons butter
3 cloves garlic, minced
2 jalapeños finely diced, seeds and membranes removed (or leave them in for a bit of heat)
3 green onions finely sliced, plus more for topping
1 lime, juiced
½ cup almond milk, (or whatever milk you have on hand)
4 ounces cream cheese, melted
8 ounces sour cream
8 ounces cheddar cheese, shredded
½ teaspoon salt
½ teaspoon pepper
1 teaspoon smoked paprika
2 ½ pounds frozen sweet corn kernels (4 ½ cups) -, I prefer baby corn and a combo of white & yellow.
Optional Toppings:
2 slices bacon, cooked and finely chopped
1 Green onion, finely sliced
handful of Cilantro, chopped
½ Jalapeños, diced & seeds removed
Instructions
Place frozen corn in a colander in the sink and rinse briefly with warm water, then set aside to defrost.
Heat up a large sauce pot on the stove. Add butter and melt. Add the jalapeños, green onions and garlic then cook for 1 minute. Stir in the milk and cook ingredients until they are heated through, about 2 minutes.
Add in the corn, cream cheese, sour cream, cheddar, smoked paprika, lime juice, salt and pepper, stirring regularly. Cook until mixture is smooth and cheese has completely melted, about 10 minutes.
Remove from heat, transfer mixture to a serving dish and serve warm as a side dish or with tortilla chips.
Notes
You could use fresh corn in place of frozen (thawed) corn. 5-6 cooked cobs would be an equal substitute.
I prefer using freshly shredded cheese, but your favorite bagged cheese will also work.
Nutrition Information
Yield
12
Serving Size
4-6 ounces
Amount Per Serving
Calories

273
Total Fat

17g
Saturated Fat

9g
Trans Fat

0g
Unsaturated Fat

6g
Cholesterol

46mg
Sodium

299mg
Carbohydrates

24g
Fiber

3g
Sugar

6g
Protein

10g
This nutrition card uses an estimate provided by an online nutrition calculator. This estimate is not a substitute for a professional nutritionist's advice!