These "Secret Sauce" BBQ baked beans are a perfect balance of tangy, spicy and sweet.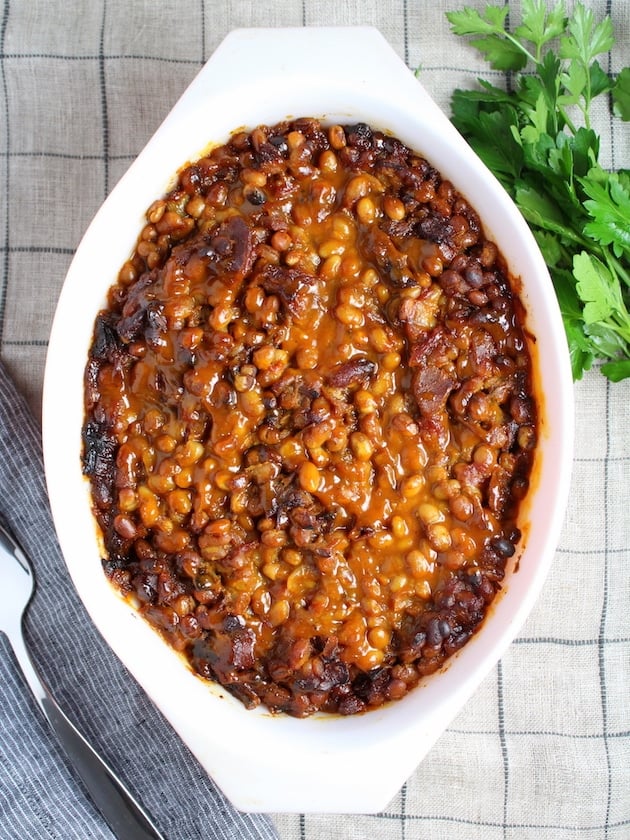 If I'm honest, I've never thoroughly enjoyed baked beans because I usually find them way too sweet. Maybe it's because most BBQ sauces that you buy ready-made are predominantly sweet, and they are the main component used to make BBQ Baked beans. I was determined to come up with my own recipe that was finger-licking good. And Eureka! Here it is!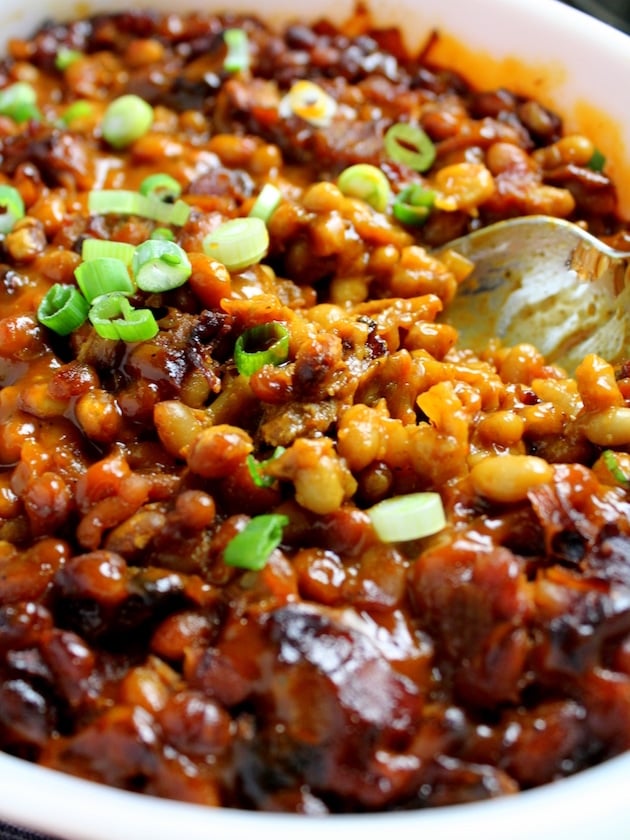 Undoubtedly, the secret to these amazing BBQ Beans is in the sauce!✨ And I'm sure the addition of the bacon and pulled pork just elevates the sugary sweet tangy party going on in this BBQ Bowl 2016.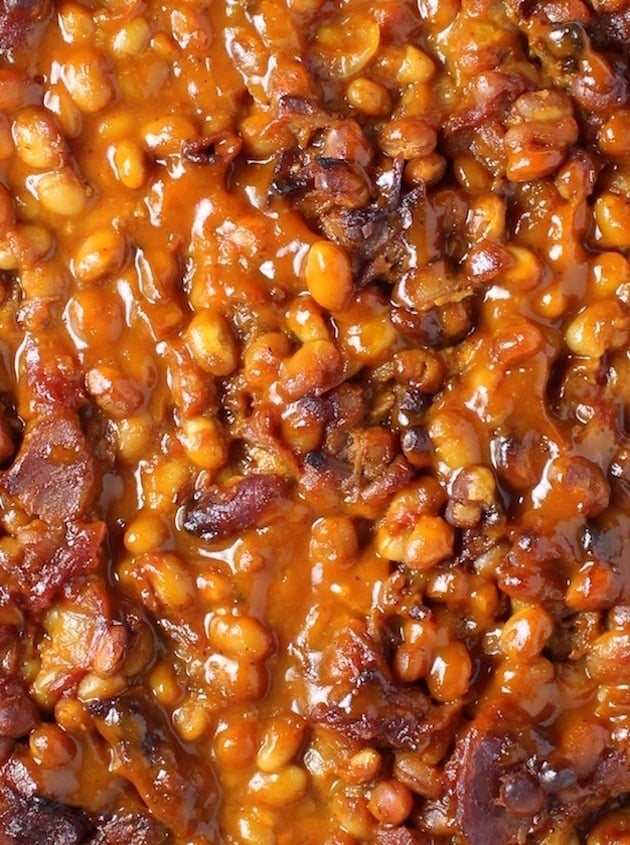 The two most prominent ingredients in the "Secret Sauce" are cider vinegar and mustard. Both have some great health benefits and they are awesome at balancing out the brown sugar and ketchup. But let's not forget our friend cayenne, whose very presence kicks it up a notch.
It's like all the competing BBQ sauces got married and had a BBQ Baby!! It's the perfect blend of mustard from the Carolinas, tomato and ketchup from Kansas, vinegar and molasses from Memphis, and the heat from Texas and Florida! It is BBQ perfection!❤
This side dish recipe is just begging to be made alongside its best friend Pulled Pork Sliders With Tangy Warm Cabbage Slaw. You actually use a cup of the pulled pork for the baked beans. See – BFF's! This is truly the perfect meal to serve when you're entertaining friends and family, watching football or having a summer cook out.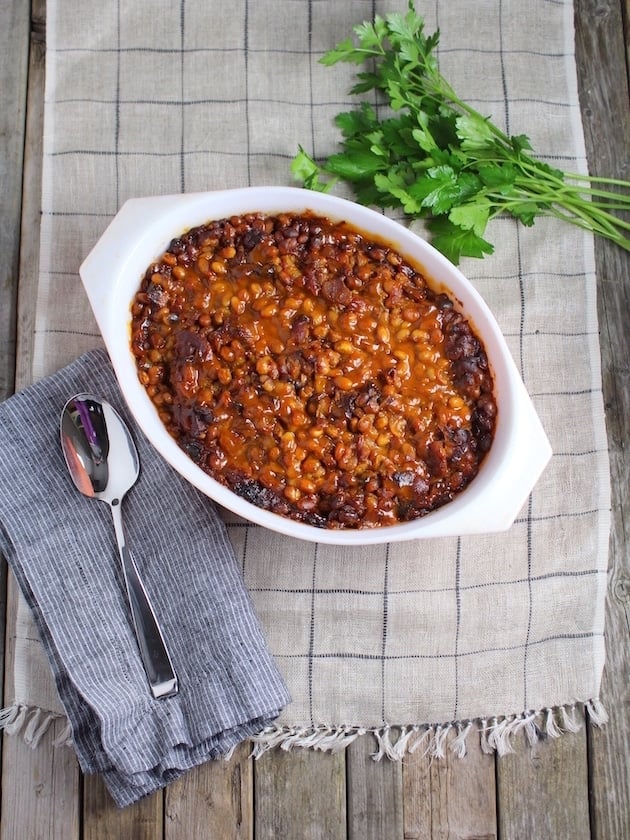 Go ahead and give these BBQ Baked Beans a try - but beware, your friends will most likely demand you share the recipe with them! Shhh...
Yield: 10 Servings
BBQ Baked Beans
BBQ Baked Beans with perfect blend of mustard from the Carolinas, tomato & ketchup from Kansas, vinegar & molasses from Memphis, & heat from Texas!
Total Time
3 hours
10 minutes
Ingredients
For The BBQ Sauce:
1 cup yellow mustard
1 cup vinegar
⅔ cup ketchup
⅔ cup brown sugar
3 cloves smashed garlic
½ teaspoon cayenne
½ teaspoon freshly ground black pepper
For The Baked Beans:
60 ounces canned Navy Beans (four 14.5 ounce cans),, drained and rinsed thoroughly
6 slices bacon
1 cup pulled pork
1 large onion, diced
3 garlic cloves, minced
salt & pepper
½ cup brown sugar
¼ cup molasses
14.5 ounces canned petite diced tomatoes
1 ½ cups beef stock
Instructions
For The BBQ Sauce:
Preheat oven to 400° F. Place bacon on a cookie sheet lined with aluminum foil, then bake for 15 minutes. Remove bacon and place on paper towels to absorb bacon grease, and reduce oven to 325° F. Reserve at least 2 tablespoons of the bacon fat.
Add 1 tablespoon of the rendered bacon fat and 1 tablespoon olive oil to a large saucepan and bring to medium heat.
Add the mustard, vinegar, ketchup, brown sugar, garlic, salt, cayenne, and black pepper. Bring to a simmer until the sugar has dissolved, about 10 minutes and remove from the heat. While BBQ sauce is cooking, chop up the bacon.
After the BBQ sauce has cooled remove the smashed garlic cloves from the sauce and discard.
For The Baked Beans:
Add 1 Tablespoon olive oil and 1 tablespoon reserved bacon fat to an 8-quart Dutch Oven (or sauce pot) and bring to medium-high heat.
Cook the onion, stirring, until soft, about 5 minutes. Sprinkle with salt and pepper, mix in the garlic and cook 1 more minute.
Add the BBQ sauce, bacon, pulled pork, sugar, stock, molasses, a sprinkle of salt & pepper, beans and tomatoes; bring to a boil.
Cover pot (or transfer to a baking dish) and place in oven; bake until thick and fragrant, about 2 hours.
Cool 10 minutes.
Notes
BBQ sauce recipe makes about 2¼ cups sauce total.
You can skip the BBQ sauce recipe and replace it with your favorite store-bought brand.
Nutrition Information
Yield
12
Serving Size
5 ounces
Amount Per Serving
Calories

394
Total Fat

5g
Saturated Fat

1g
Trans Fat

0g
Unsaturated Fat

3g
Cholesterol

13mg
Sodium

1133mg
Carbohydrates

72g
Fiber

17g
Sugar

31g
Protein

18g
This nutrition card uses an estimate provided by an online nutrition calculator. This estimate is not a substitute for a professional nutritionist's advice!