This Chicken and Green Chile Verde Soup is a tangy, hearty tasty treat!?  This soup is low-calorie and low-fat, but high in protein and fiber.  With pinto beans, green chile salsa, green chiles, carrots, onions, garlic, and tender chunks of chicken breast, it's a well-balanced meal in every bowl.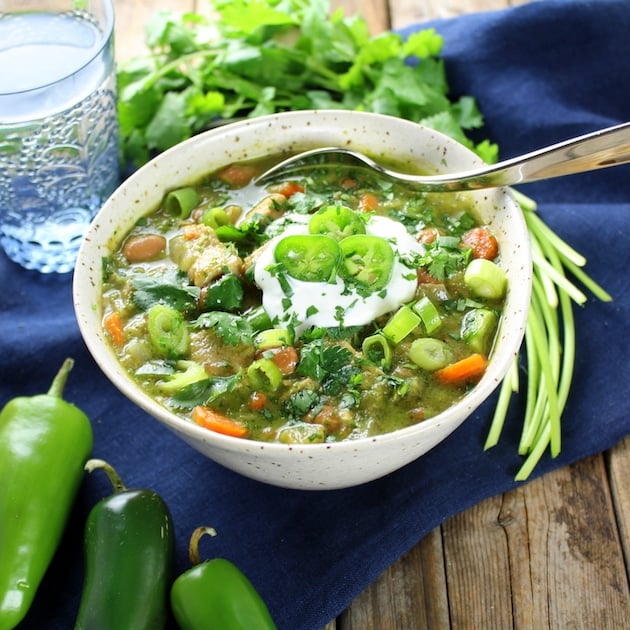 … And just like that it's fall.??
We returned home from our trip to Kansas City for a food blogger conference and a quick visit with my family in Kentucky, and there was no doubt fall had arrived.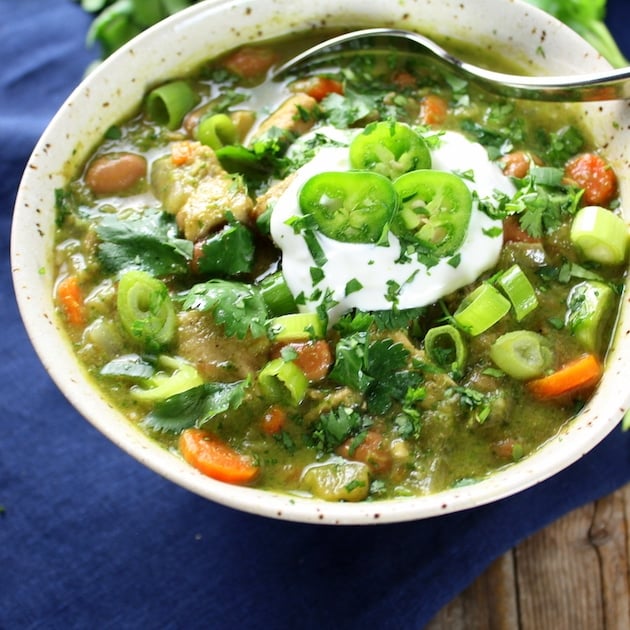 It's been in the 50's/60's, gray skies and rainy for days.?  I do love a good rainy day… an excuse to wear my comfies and never leave the house.  But after 5 of those drizzly days in a row I'm ready for some sunshine and blue skies.☀️  There is an upside to all this rain: my lawn looks amazing.  For the first time in months it's actually all green.?  Not a brown patch in sight.  #silverlining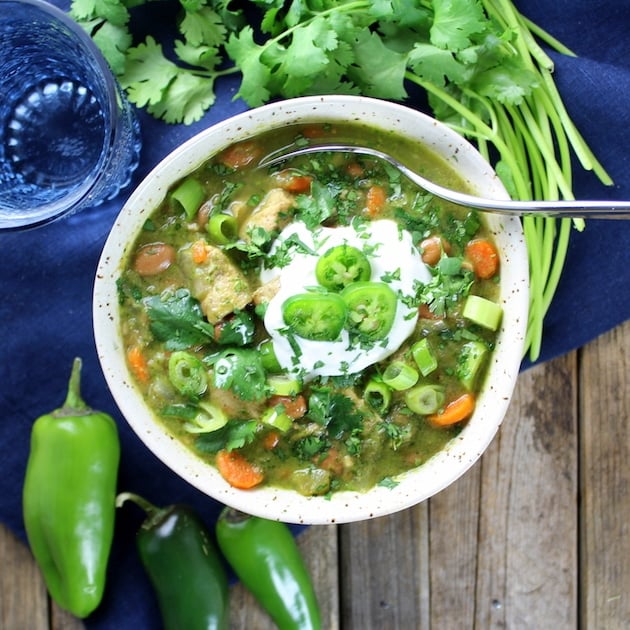 Speaking of green… In honor of this chilly weather I made some Chicken and Green Chile Verde Soup.?  And, yep – it's green.  But it doesn't have any grass in it I promise.?✌️
I love soup.  And I love chicken soup!  I've mentioned before I could eat soup every day, and I have for weeks at a time. What's not to love about it??  It's healthy and hearty, so filling, easy to reheat for a quick dinner, and it feels like a big warm hug.?  We could all use more hugs in our life – right!??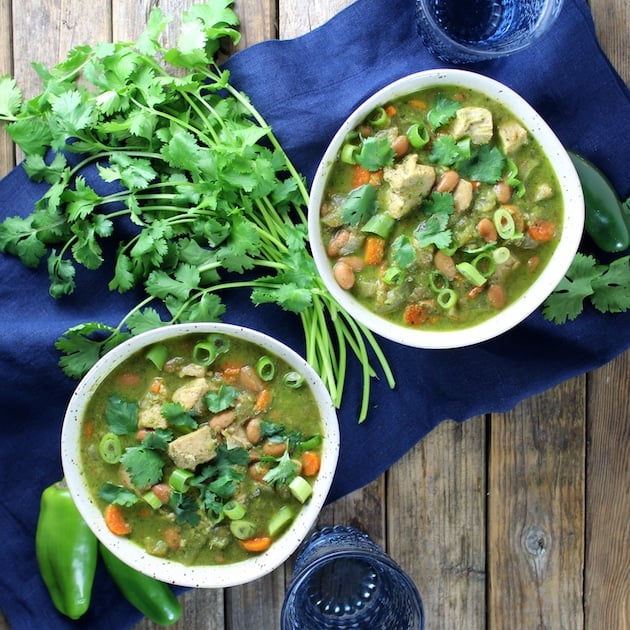 Almost all my soups start with homemade chicken stock.  If you haven't tried making it yourself, I encourage you to give it a try.  It's really easy and so healthy – think liquid gold for your insides.✨
If we have a roast chicken for dinner, I always save all the bones and either simmer for 1-2 hours in a small pot of water (with ½ teaspoon salt and ¼ teaspoon pepper, a quartered onion, a carrot or two and a piece of celery), or if I don't have time for that I'll freeze the bones and make stock later.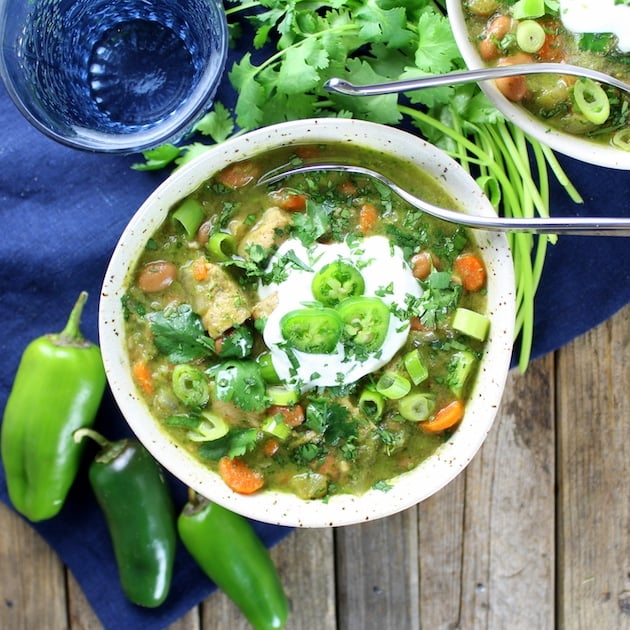 It's so healthy for you because of all the iron, collagen, and vitamin-rich marrow from the bones.  B likes to call this "Power Stock" and it's the perfect starting point for a slow cooker chicken soup, or this salsa verde chicken soup.✅  Plus you save money because you don't have to buy chicken stock.✅✅  And as you know I'm all about not wasting and saving money.?
I probably have four homemade re-sealable bags full of chicken stock in my freezer right now.  It's so convenient having some on hand for those rainy days when I wanna stay in my cave and eat some Spicy Italian White Bean and Sausage Soup or this yummy Chicken and Green Chile Verde Soup!?
It's a little bit different than a chicken chili, or traditional chicken soup because of its bright tangy flavor from the green chiles and the salsa verde.  But it's just as hearty with chunks of tender chicken breast and nutrient-rich pinto beans.  This soup is truly a well-balanced meal in each delicious bowl.?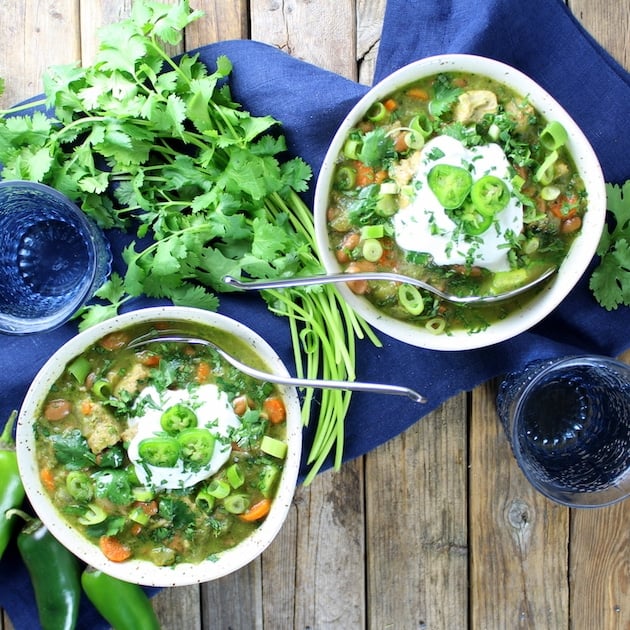 I know many people love to use their crockpot for slow cooker soups and stews, and I agree there's a place for that slow cooker!  But I'm in more of the "let's cook it quickly so we can eat it" camp.?  And so is you-know-who.  #impatienthungryhusband
This Salsa Verde Chicken Soup starts with sautéing some onions, garlic and carrots in a large pot for 6 minutes.  Then season the veggies with salt, pepper, cumin, coriander, and cook a few more minutes.  Add 3 small cans of chopped chiles and 2 cups of green chile salsa (I use a medium-spicy version for a bit of heat but you could use mild if spice-averse).
Next stir in 4 cups of homemade chicken stock, and let it come up to a simmer.  Add 3 cans of pinto beans… Two that have been drained and rinsed and one that has been drained, rinsed and smashed into a paste.  This gives the soup a rich creaminess without adding any cream.?  (I'd like to take a quick noncommercial break for a little bean trivia: Did you know according to the US Dry Bean Council pinto beans are the most popular bean in the United States??  True story.  Followed by navy beans and then great northern beans.  Just some random facts in case you ever need to pull out some arbitrary info about beans to impress.)
Back to the soup…
Let the soup come back up to a simmer and add about 2 pounds of seasoned boneless, skinless, cubed chicken breast.  Then cook for 10-15 more minutes, scoop, garnish with sour cream, cilantro, & jalapenos, and serve!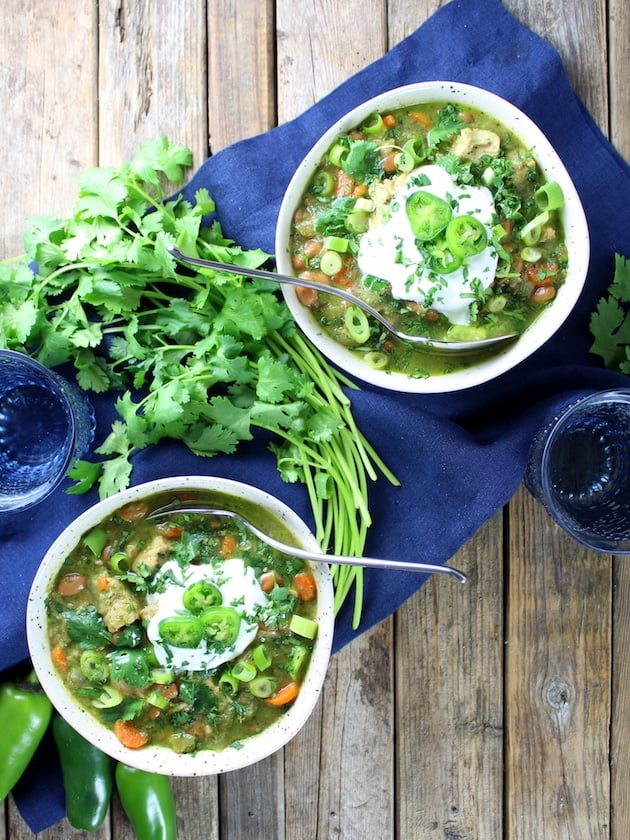 Mmm mmm this is yummy yummy in my tummy!??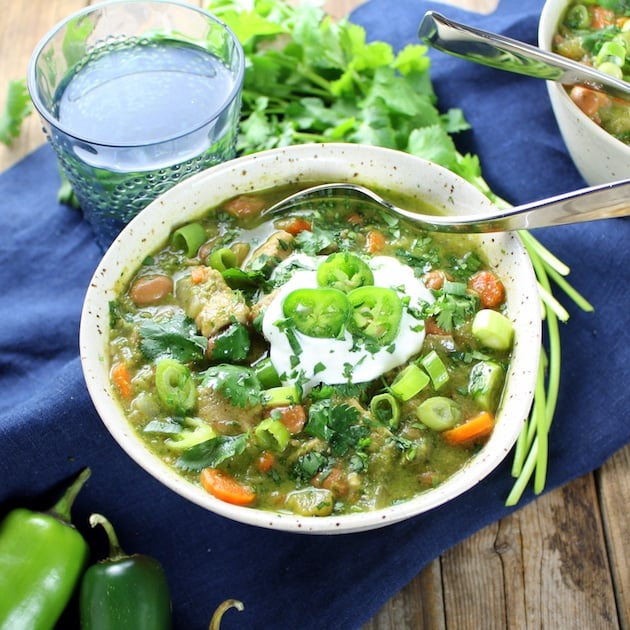 Chicken and Green Chile Verde Soup is full of flavorful goodness… low in calories and fat, and full of vitamins, minerals, fiber and protein.?  It's a speedy alternative to slow cooker chicken soup, and a well-balanced meal for those crisp fall days – or any day you're craving something healthy and delicious!?
I would love to connect with you!  Leave a comment and follow me on Instagram, Twitter, Facebook, & Pinterest!
Looking for more hearty fall soups?  Try these!
Spicy Italian White Bean And Sausage Soup: