This Spicy Italian White Bean and Sausage Soup is heavenly, golden goodness in a bowl!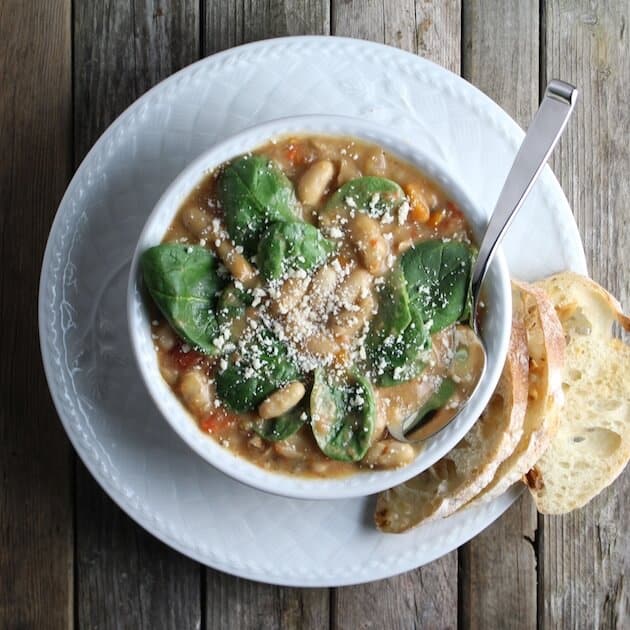 We've got soup yes we do, we've got soup, how 'bout you?
Italian sausage soup with Cannellini beans
Yes, I'm cheering about soups!!!!! Spicy Italian White Bean and Sausage Soup, that is.
It is actually hands-down, my all-time favorite soup. Ever. Period. Real talk. End of story.
I actually "try" to make it once a week for fall, winter and spring (sometimes even early summer!) And I totally would if I was single and only cooking for myself. Although The B Man loves it dearly, he also loves steak, lamb, chicken - all meat really - and he seems to require large quantities of it, frequently. Did I mention he has really high metabolism? I'm so jelly!
Back to heaven in a pot (cue the Little Mermaid Sound track please… "ahhh ahhh, ahhhahahhh").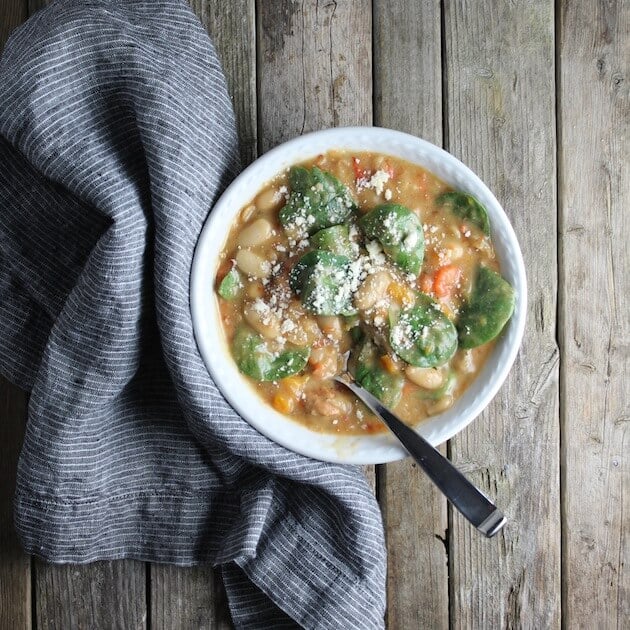 Not only is this soup incredibly delicious but it is also super healthy! I like to refer to it as liquid gold. Because it is so RICH in flavor! $$$$$
The herbs and the veggies create layers and layers of savory goodness.
The tender beans and the spicy turkey sausage make it hearty and packed with protein.
And the creamy, almond milk and Parmesan cheese give it a velvety smooth taste and texture.
Sometimes, when I get really crazy, I add some extra Parmesan right into the soup pot and let it simmer and get all happy for a few minutes. Which makes me want to get out my samba whistle and shakers and start a Conga line around my kitchen island!!!
What can I say? This soup makes me want to cheer, sing and dance! And I can't be responsible for whatever behavior it brings out in you. 😉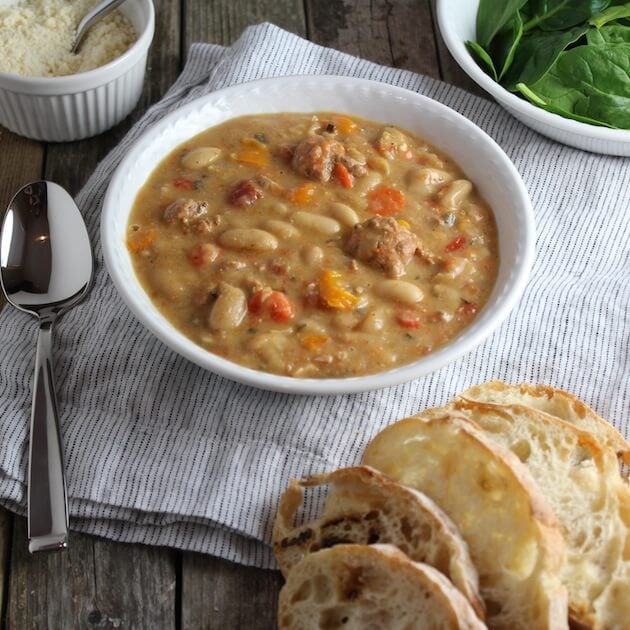 I can't wait for you to try this heavenly, golden goodness. Be sure to tell me what you think!
Yield: 8 Servings
Spicy Italian White Bean and Sausage Soup
Spicy Italian White Bean And Sausage soup recipe. Amazing flavor in this hearty, healthy soup packed with Cannellini beans and sausage.
Ingredients
2 tablespoons olive oil
1 large onion, diced
4 cloves garlic, minced
2 large peppers (red, orange, or yellow), chopped
3 carrots,, chopped
1 pound hot turkey sausage, - bulk or if using links, casings removed
2 tablespoons fresh sage, minced
2 tablespoons fresh rosemary, minced
¼ teaspoon red pepper flakes
½ teaspoon salt
½ teaspoon black pepper
4 cups chicken stock or broth
½ cup almond milk, (or fat-free half-and-half)
14 ounce can of petite-diced tomatoes in their juice
45 ounces canned Cannellini beans drained & rinsed (beans from one can set aside)
5 ounces fresh baby spinach
¼ cup freshly grated Parmesan cheese, for garnish
Instructions
In a stockpot heat the olive oil over medium heat. Add onions, garlic, red pepper, and carrots and sauté until onions are tender.
Stir in the sausage and cook until it is no longer pink. Add the sage, rosemary, red pepper flakes, salt, and black pepper.
Stir in the chicken stock and tomatoes. Bring the mixture to a boil, and reduce the heat and simmer for 10-15 minutes.
With a fork, coarsely mash the beans from one can. Add them to the soup mixture. Stir in the remaining two cans of beans, and the milk. Allow the soup to simmer for 10 minutes.
Put fresh spinach into each bowl just before serving, then ladle soup over it. Sprinkle the soup with some freshly grated Parmesan cheese.
Notes
Seasoning: Personally I like to season my food in layers. So basically, adding a little salt and pepper to the dish at each stage. I use some of the salt and pepper when I'm cooking the veggies and then the rest after I add my meat and herbs.
Sausage Prep: When I'm using sausage in casing vs. bulk, I like to chop it up or pull it into pieces before I add it to the soup. I figure it's lived a while in those little straight jackets and it needs a little extra work to break it up.
Smashing the beans: You can also use a potato masher to get the beans nice and creamy. I sometimes add a tablespoon of chicken stock or water to them which seems to help them break down quicker.
Nutrition Information
Yield
8
Serving Size
6-8 ounces
Amount Per Serving
Calories

343
Total Fat

11g
Saturated Fat

3g
Unsaturated Fat

0g
Cholesterol

48mg
Sodium

1165mg
Carbohydrates

39g
Fiber

11g
Sugar

7g
Protein

26g