This Chicken with Chorizo and Cheese Sauce (AKA Chori Pollo) is hearty and filling and full of delicious Mexican flavors! With grilled chicken breasts layered with zesty chorizo sausage and smothered in a white Mexican cheese sauce. It's low carb, keto, gluten free and tastier than any Mexican restaurant version you've tried!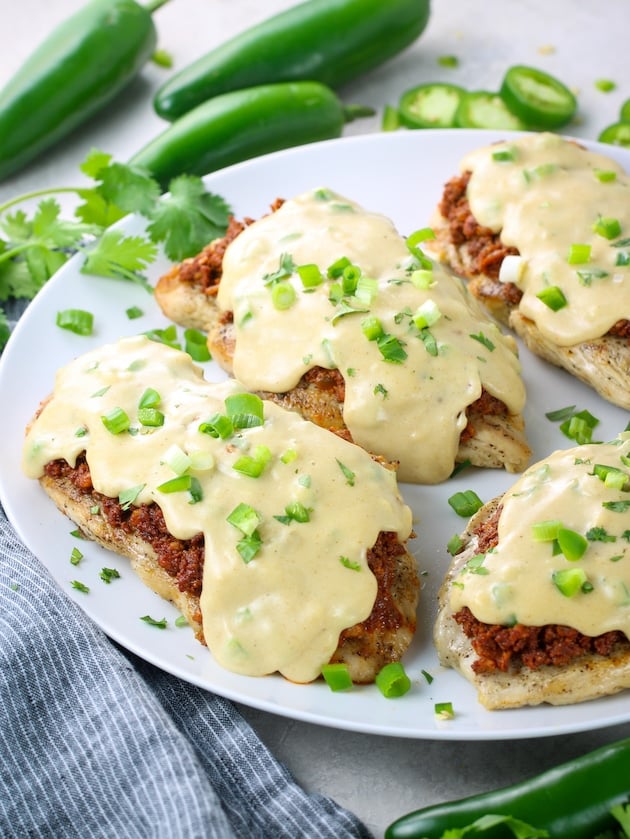 Hola Amigo!!! Get ready 'cause I'm coming at you hard and fast with a muy delicioso Mexican chicken recipe today!!
This post may contain affiliate links. As an Amazon Associate I earn from qualifying purchases. Please read my disclosure policy.
It's something I like to call Chicken with Chorizo and Cheese Sauce or you can just call it Mexican Chori Pollo!!
It's insanely tasty my friend. I mean how could it not be??? You've got a tender moist grilled chicken breast topped with zesty sauteed chorizo (we love chorizo!) and finished off with a yummy, creamy, dreamy cheese sauce!!
Heaven on a plate – for sure!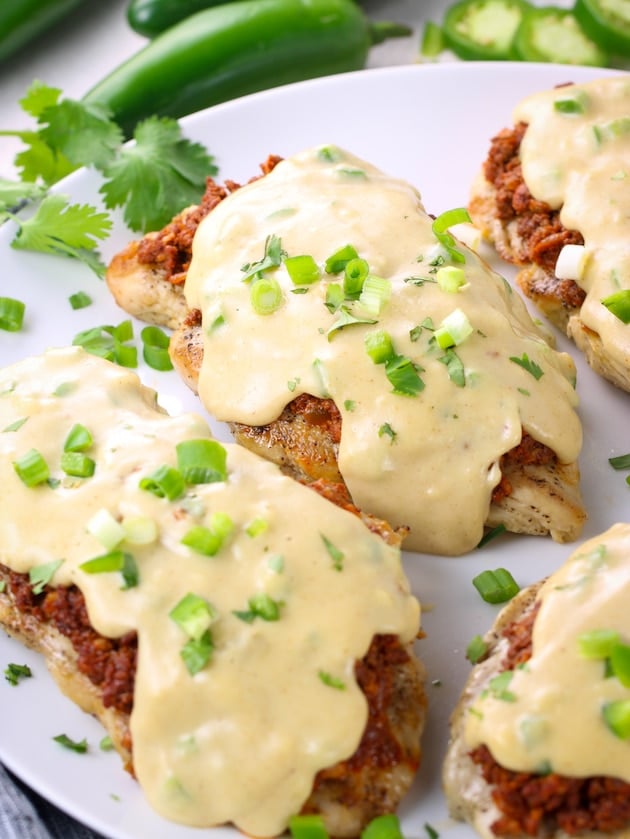 AND wait for it… it's low carb, keto and gluten-free… whaaaaaaa!!???
Yep – that's how I do.
Sorry for all the exclamation points so far in this post but I'm just a little excited about this Mexican grilled chicken recipe.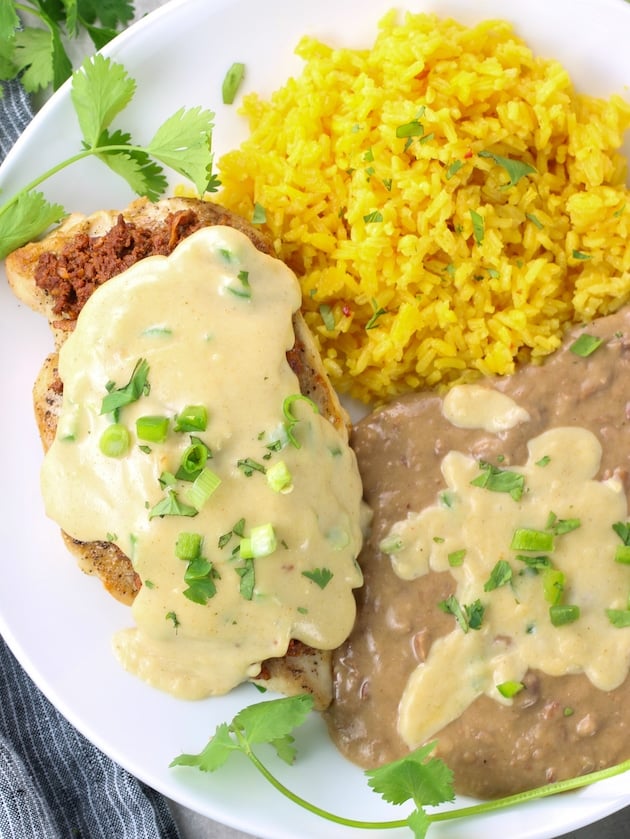 Here's how the magic happens…
How to grill chicken breasts
The uneven shape of boneless, skinless chicken breasts makes them tricky to grill, but by just spending a few minutes pounding the thicker end thinner, you'll both reduce cooking time and end up with evenly cooked meat.
Working one at a time, lay chicken breasts between wax paper/parchment paper or plastic wrap. Then you get out your meat mallet or use the flat bottom of a cast iron skillet or – you choose your preferred tool. (The meat mallet is the best choice just sayin'.)
Next you pound the chicken breasts gently but with enough force to thin them out. Your goal is for the entire breast to be the same thickness. About ½ inch thick all over.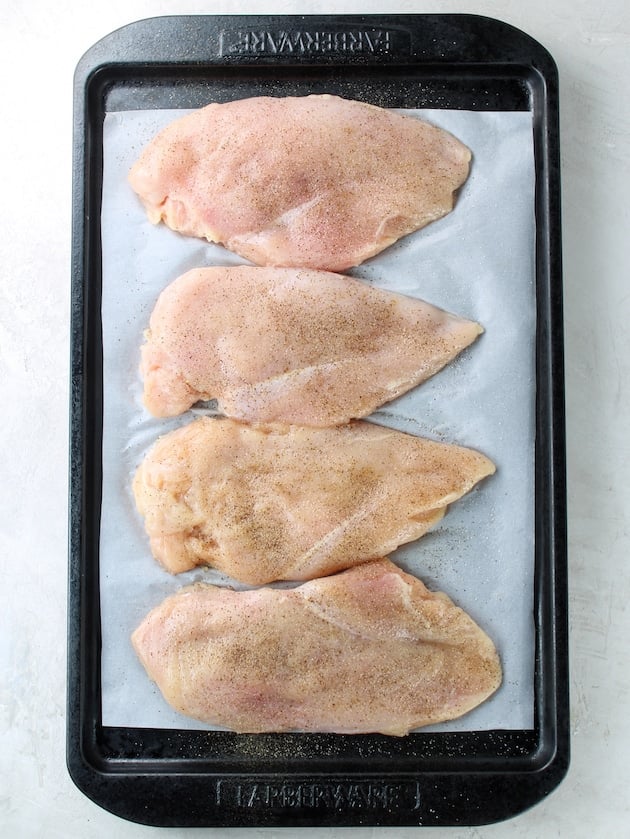 Now heat up your grill, be sure there's no debris left on it from the last time you grilled. So clean it off and spray it with some grill spray. Now season the breasts with salt and pepper, spray them with a nice coating of cooking spray and grill them for about 5 minutes per side over medium high heat.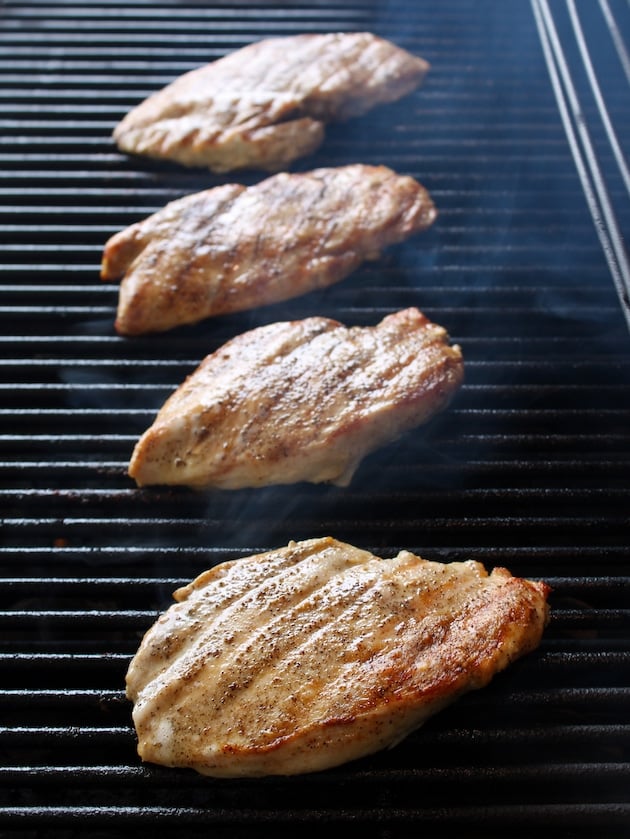 Use a digital meat thermometer to temp the meat - when the chicken reaches 165F, remove it from the grill and let it rest on a platter.
Just a shameless plug for my favorite kitchen tool – the digital meat thermometer… it's literally one of the best tools you can own for the grill (or kitchen). It will be your guide and let you know when those chicken breasts reach the perfect temperature and are ready to devour.
Now for the chorizo…
Saute some onions over medium heat in a saute pan for 4 minutes. Add your minced garlic and cook for another minute.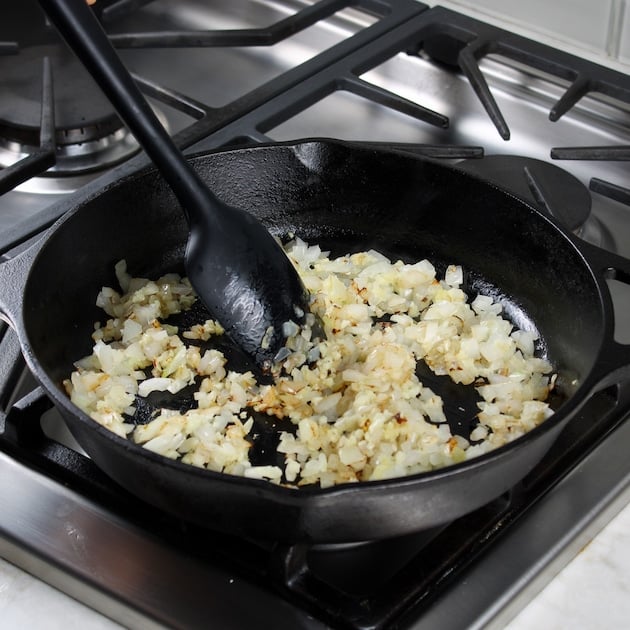 Now add the cooked chorizo meat, stir and saute for 5-7 minutes. Set it aside and make your cheese sauce…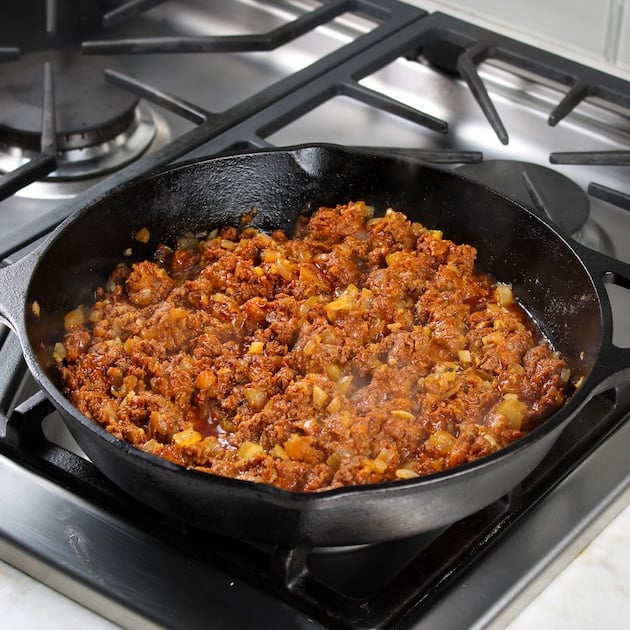 How to make Mexican cheese sauce…
This is essentially a white queso dip aka queso blanco that you're using as a topping.
And for the love: if you have this glorious queso left over, dip all the tortillas chips in it - or just use a spoon and eat it like soup.
Sorry, I adore cheese. It's my kryptonite.
This cheese sauce is a super-simple recipe but you HAVE to cook it low and slow. If not, the cheese will get all funky and you will be mad at me.
Sooo, melt some butter in a sauce pan, then stir in 1 cup of milk.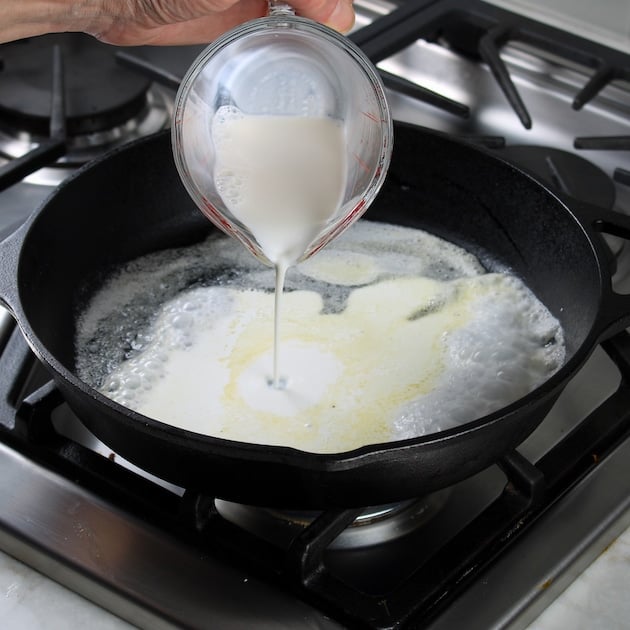 Next, add cut up cubes of white American cheddar cheese. And stir it in. Since it's on low heat it will take about 10 minutes or so to melt – just be patient and stir it now and then. You may need to add ½ cup or more milk as it melts.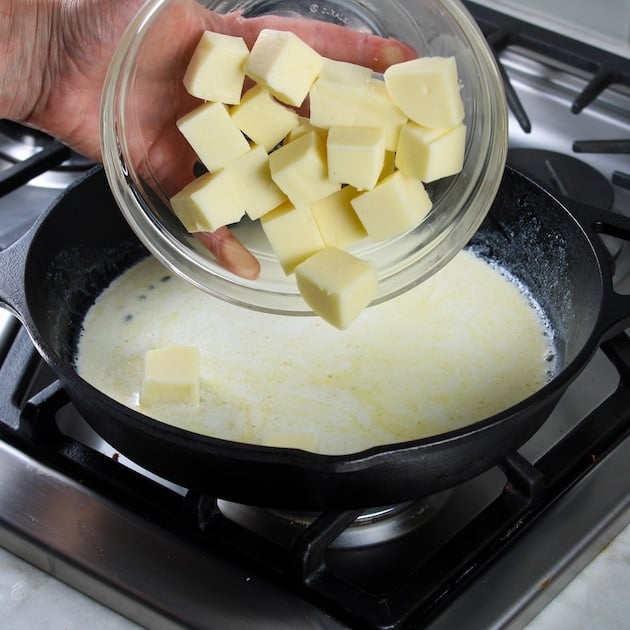 Finally, when the cheese has melted add the seasonings… garlic powder, onion powder, cumin and pinch of cayenne and maybe some salt if you think it needs it.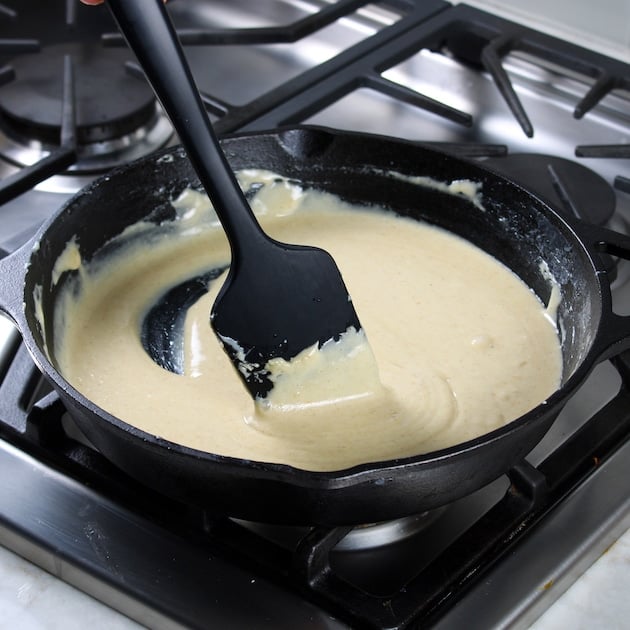 Then boom – you're ready to assemble your new favorite Mexican chicken!!!
Place the chicken on the plate, add some of that zesty chorizo and drizzle on the cheese.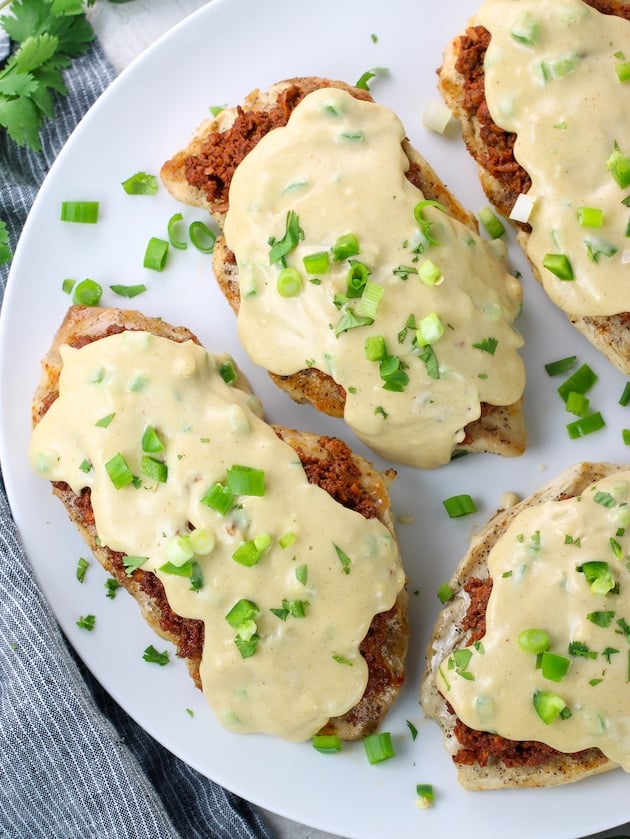 Then enjoy this most amazing chicken recipe, come back here, and give me an amazing review because it changed your life and you LOVED it.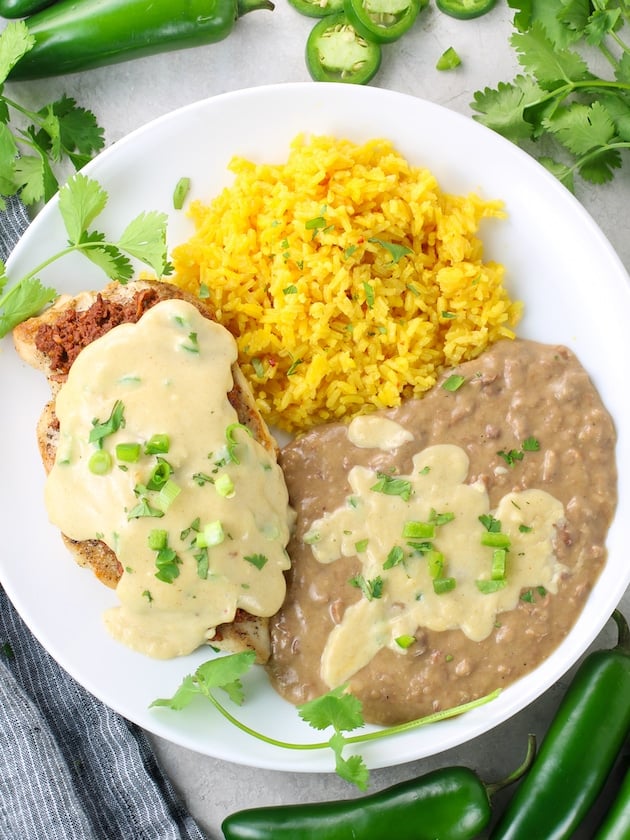 Seriously, this is one flavorful and hearty dish. It is truly Mexican comfort food at its best. Your family will love it and you will have a new and yummy chicken recipe to add to your weekly meal lineup.
Salud!!!
Yield: 6 Servings
Chicken with Chorizo and Cheese Sauce
This Chicken with Chorizo and Cheese Sauce (AKA Chori Pollo) is hearty and filling and full of delicious Mexican flavors!
Ingredients
For The Chicken Breasts:
4 chicken breasts
Wax paper or plastic wrap
Salt and pepper
Cilantro and diced jalapenos for garnish if desired
For The Chorizo:
1 tablespoon olive oil
1 medium onion, diced
4 garlic cloves, minced
12 ounces ground chorizo sausage, casings removed and broken in to crumbles
1 tablespoon smoked paprika
2 teaspoons cumin
For the Cheese Sauce:
2 teaspoons salted butter
1-1½ cups milk, start with 1 cup and use the rest to thin it out as cheese melts
½ (8 ounces) pound white American cheese, cubed (from the deli not prepackaged slices)
1 teaspoon cumin
1 teaspoon garlic powder
1 teaspoon onion powder
¼ teaspoon cayenne pepper (optional)
1 tablespoon diced fresh or jarred jalapenos (optional)
Instructions
For the Chicken:
Layer 4 chicken breasts one at a time… between 2 sheets of wax paper/parchment paper or plastic wrap. Using the flat side of a meat mallet, a cast iron skillet, or a rolling pin, pound until ½ to ¾ inch thick. Set the flattened chicken breast aside and repeat with the remaining breasts.
Scrape any debris from your grill grates and oil the grates well. Heat grill to about 400 degrees (don't let the heat get above 400).
Season the chicken breasts with salt and pepper and spray a nice coating of grill spray on both sides of each piece.
Place the chicken on the grill, with the grill's grates running at an angle against the width of the breast. For the best grill marks, don't move the chicken once it has been set down and avoid pressing, prodding, or poking for 4-5 minutes. Flip the chicken (when the breasts lift up easily for flipping). Cook the second side until grill marks appear, about 5-6 minutes more. Temp the chicken and make sure it reaches 165 degrees before removing it from the gill.
Transfer the chicken to a clean platter and let rest 5 minutes.
For the Chorizo:
Add the olive oil to a saute pan over medium high heat. Stir in the onions and saute for 4 minutes. Add the garlic and cook for 1 more minute.
Stir in the chorizo, smoked paprika and cumin and cook 5-7 minutes. Remove from the heat and set aside.
For the Cheese Sauce:
Melt butter in a medium saucepan over low heat, add the milk and then the cubed cheese.
Cook until cheese has melted, stirring frequently. If the mixture is getting too thick stir in more milk as needed.
Stir in the cumin, garlic powder, onion powder, and cayenne pepper and jalapenos if desired.
Add more milk if dip is too thick and stir and heat through.
Now assemble… Place your chicken breast on the plate, layer on some chorizo and drizzle with the cheese sauce. Garnish with chopped cilantro and dice jalapenos if desired and enjoy!
Nutrition Information
Yield
6
Serving Size
4-6 ounces chicken/chorizo with sauce
Amount Per Serving
Calories

465
Total Fat

28g
Saturated Fat

10g
Trans Fat

0g
Unsaturated Fat

17g
Cholesterol

118mg
Sodium

869mg
Carbohydrates

11g
Fiber

1g
Sugar

1g
Protein

40g
This nutrition card uses an estimate provided by an online nutrition calculator. This estimate is not a substitute for a professional nutritionist's advice!