This Chicken Skillet with Sweet Potatoes and Wild Rice is a hearty, comforting one-pan meal everyone will enjoy! Loaded with good-for-you ingredients like broccoli florets, sweet potatoes, wild rice, and tender chunks of chicken.
This post is sponsored by ReganMillerJones, Inc, and the General Mills Bell Institute of Health and Nutrition on behalf of ProgressoTM. All content and opinions are my own.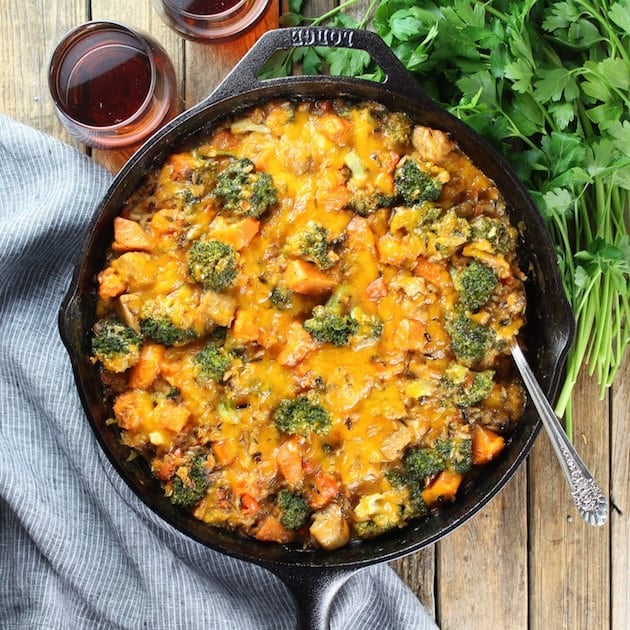 There's something about wintertime that makes me want to eat all things warm and comforting - like a crock-pot full of meaty, rich Beef Ragu with Penne or a big bowl of Cauliflower and Broccoli Soup. Mmm having a MWM (mouth watering moment) over here.😋
What's your favorite cold weather comfort food? Casseroles? Crockpot meals? Soup? Yes – I do love me some soup!💛
When it's cold outside and the snow is falling, there's nothing quite like sitting in front of a toasty fire with a warm bowl of goodness.
Or when you're feeling under the weather and fighting off a cold, soup is like a comforting hug.🤗
Yes - I think we all would agree we're smack dab in the middle of soup season. So I say savor the season in every bowl!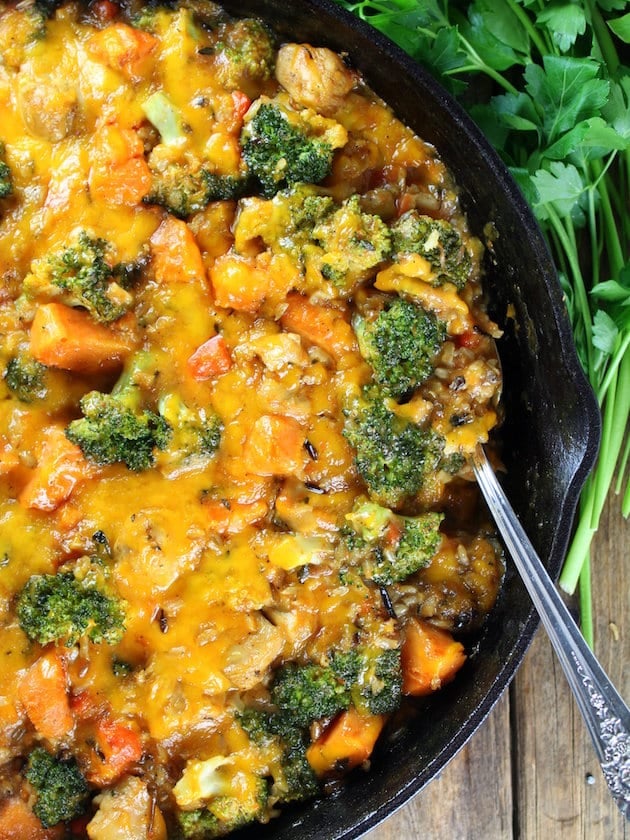 In honor of this chilly season and my love of soup, I decided to craft something hearty and comforting with…wait for it… Reduced Sodium Savory Chicken and Wild Rice Soup from ProgressoTM. But first I had to eat a can. You know, in the name of market research and all?😁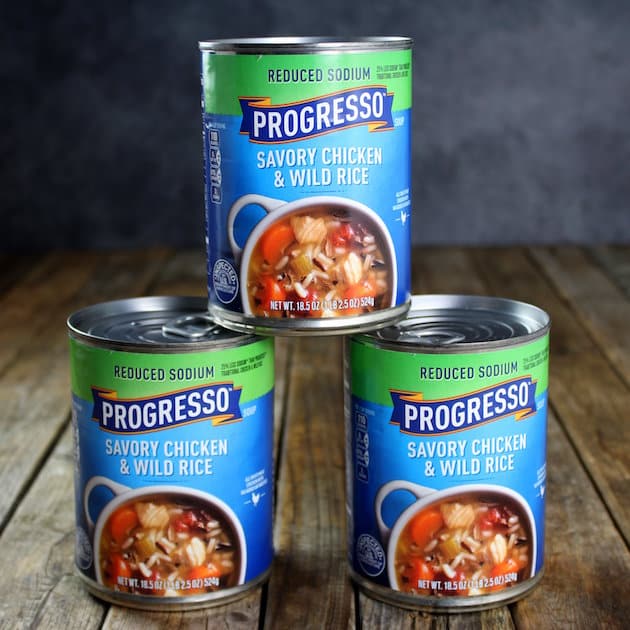 It was super-tasty! There was a yummy broth, wild rice, carrots and onions, and tender white meat chicken. Just delicious.💯 Oh, and this is white meat chicken with no antibiotics, EVER I might add. (ProgressoTM has a variety of chicken soups all made with 100% antibiotic and hormone free white meat chicken breasts!)
I knew right then what needed to happen...a Chicken Skillet with Sweet Potatoes and Wild Rice.👇 The perfect dish to showcase this delicious soup.👌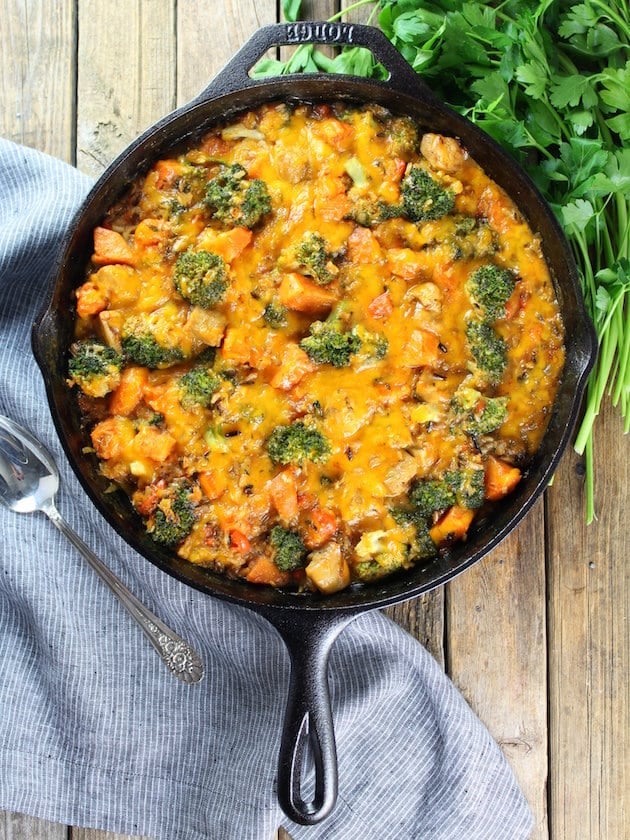 So I got out my cast iron skillet and made it happen.
How To Make This Chicken Skillet with Sweet Potatoes and Wild Rice:
I cut up my chicken breasts, diced up some onions, cubed some sweet potatoes, chopped up some broccoli and minced some garlic.
Then into the pan for a sautéing frenzy! First some oil and then the onions and carrots.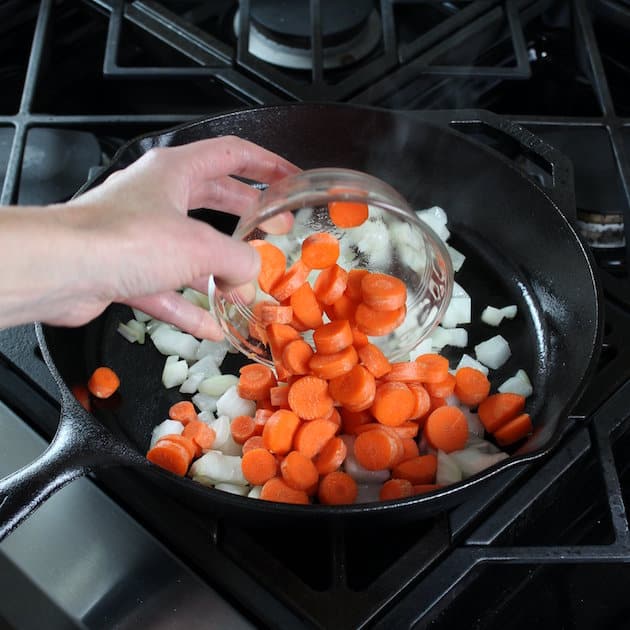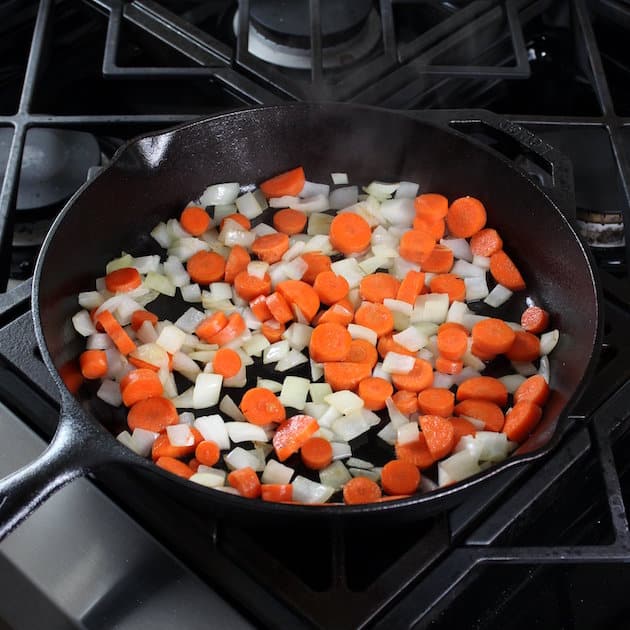 Next the chicken and a little salt and pepper, followed by the garlic.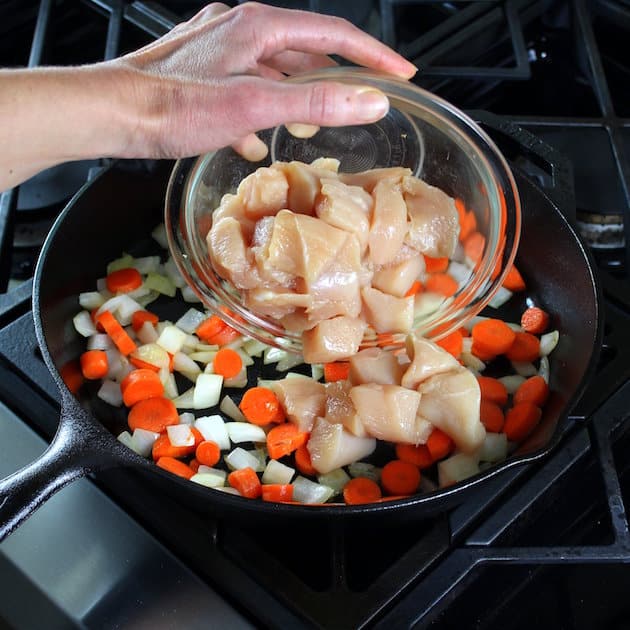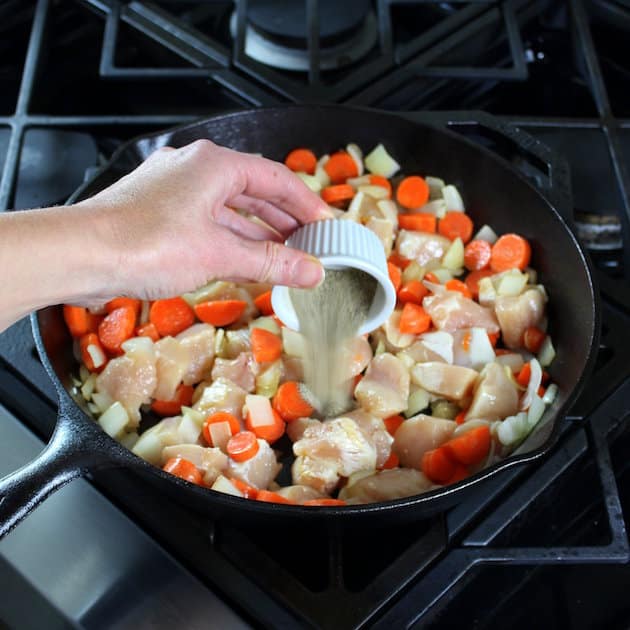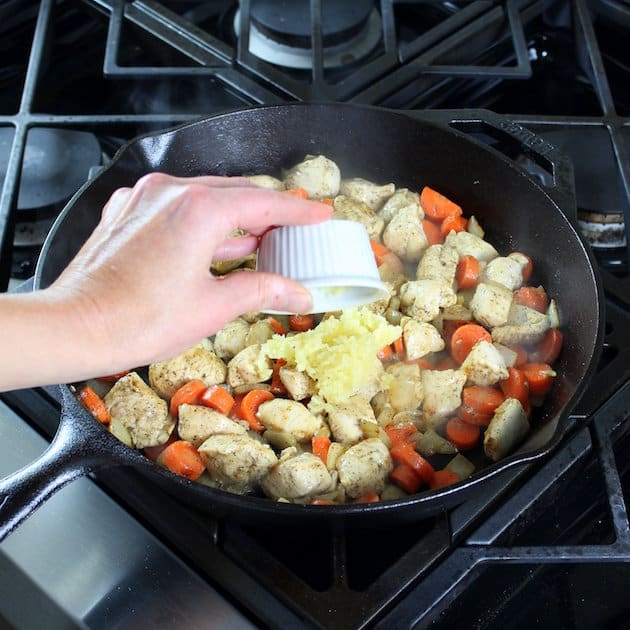 Pour in the soup and some chicken stock, and let the simmering begin. Next the rice goes in and a lid on top to allow all that yumminess cook for 15 minutes.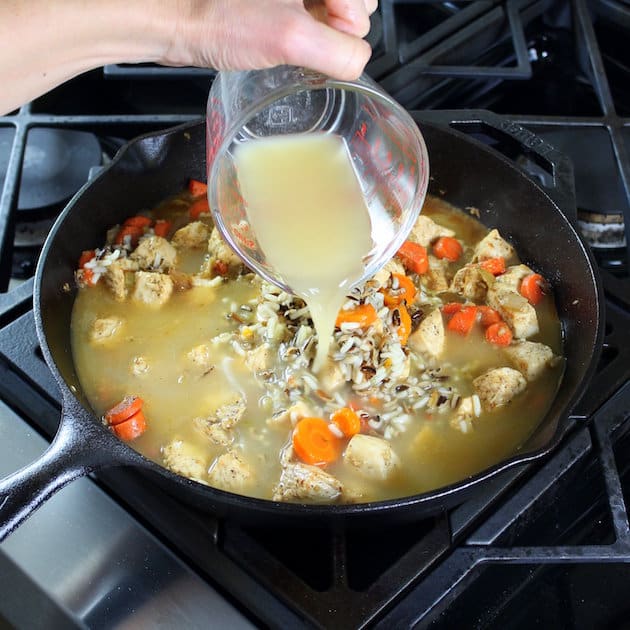 Now in goes the thyme, dry mustard and sweet potatoes, and more stock if needed. Then another 10 minutes of simmering with the lid on tight
.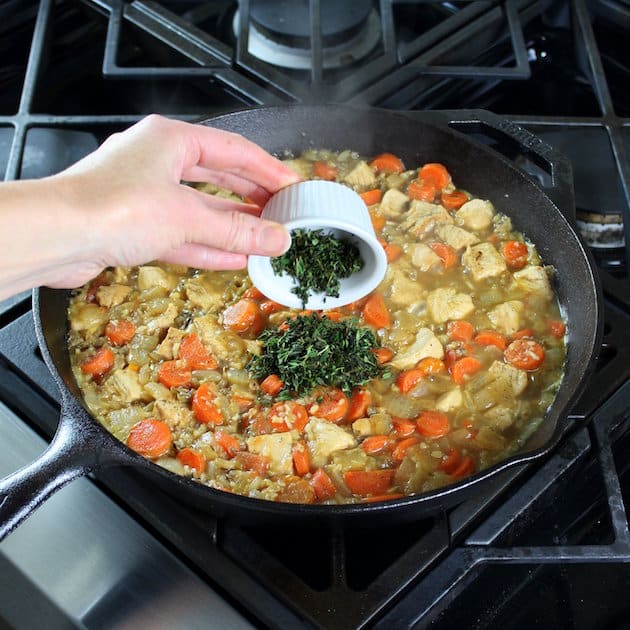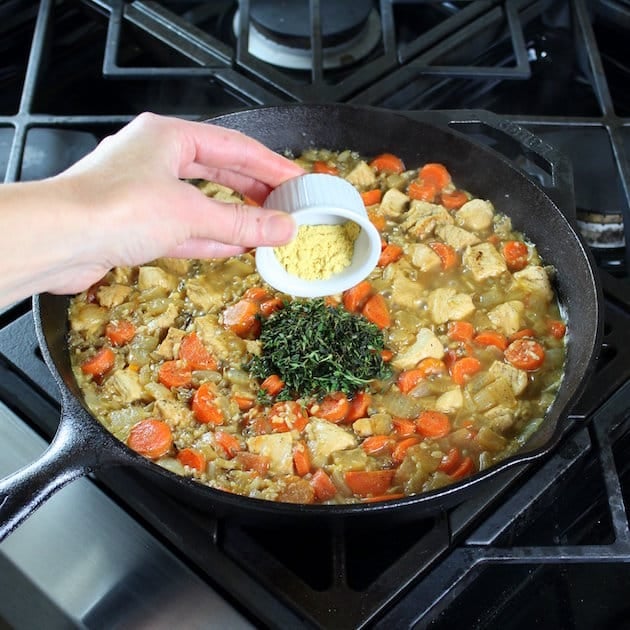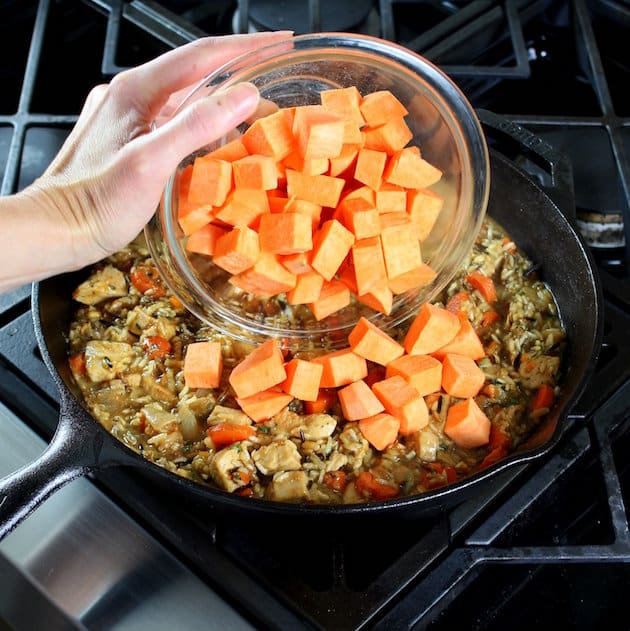 Finally when the rice is cooked and the sweet potatoes are fork-tender, the broccoli joins the mix. 4 more minutes and then a dusting of cheddar cheese, and into the oven on broil for 2-3 minutes to finish the dish and melt the cheese.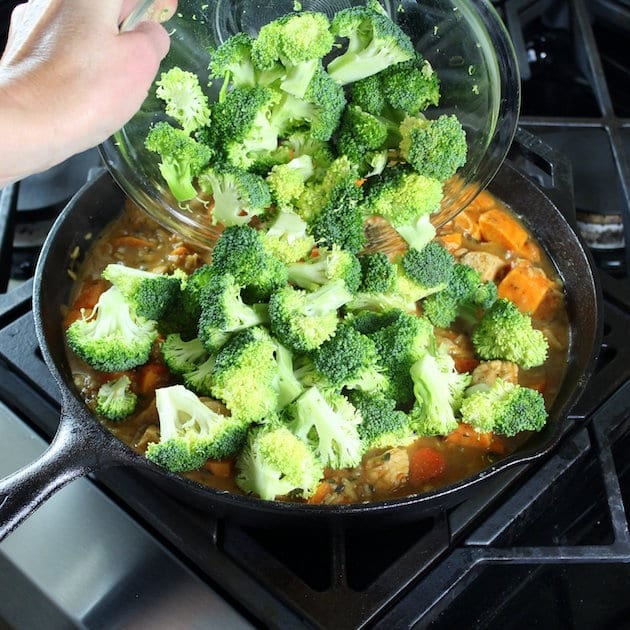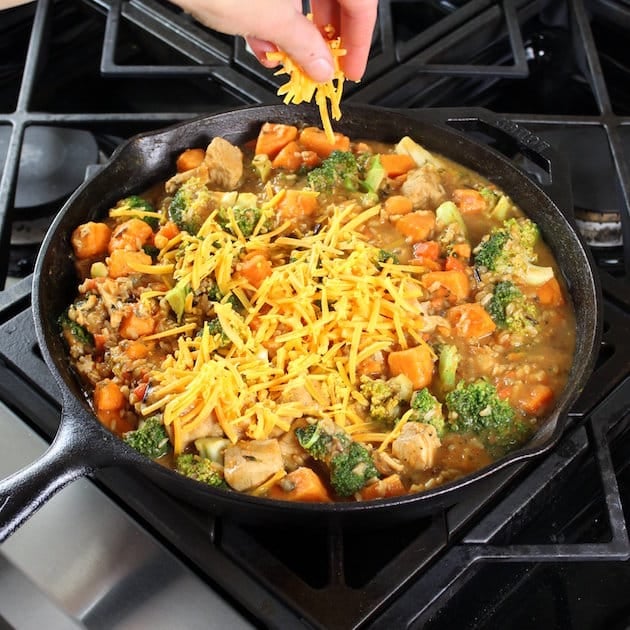 Then behold your new favorite one-pan meal!🌟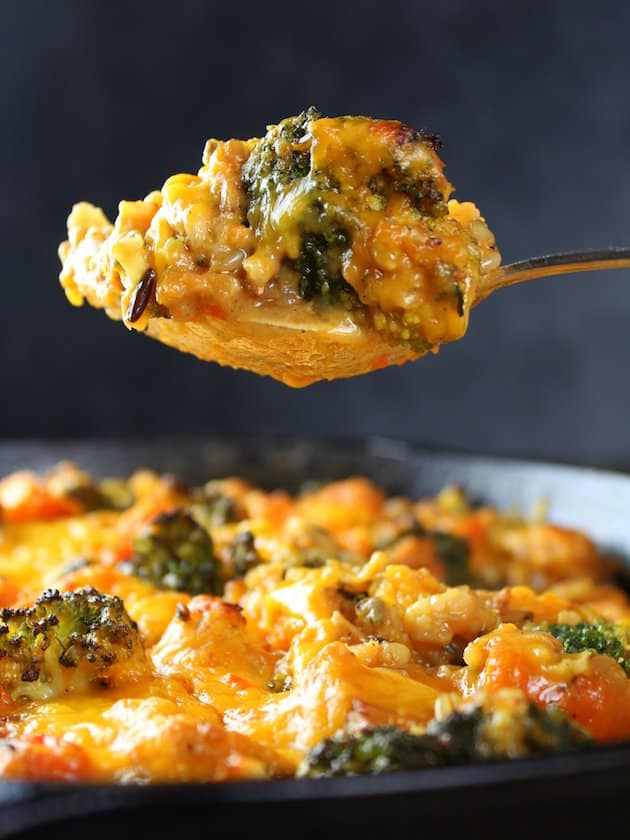 Mmm - so creamy, cheesy, and comforting. This Chicken Skillet with Sweet Potatoes and Wild Rice is full of good-for-you, filling ingredients that will get you through those chilly days and long winter nights.
Stay warm and enjoy!
Yield: 8 servings
Chicken Skillet with Sweet Potatoes and Wild Rice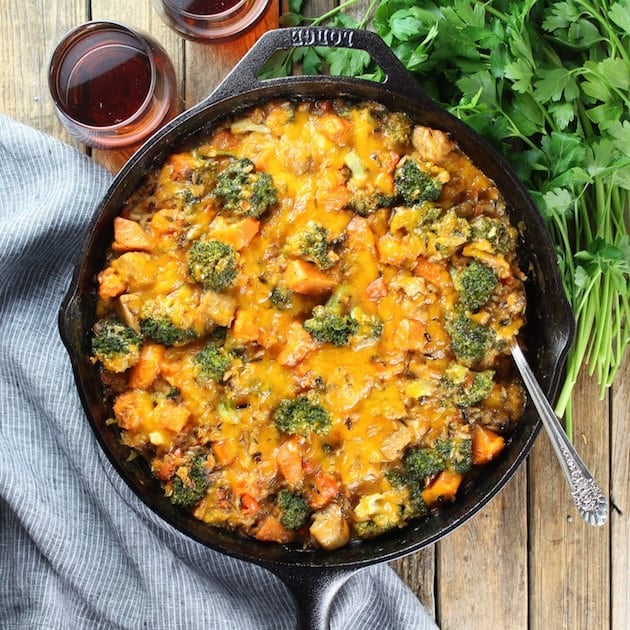 A hearty, comforting one-pan meal loaded with broccoli, sweet potatoes, wild rice, and chicken!
Total Time
1 hour
10 minutes
Ingredients
1 tablespoon olive oil
1 medium-sized onion, chopped
3 carrots, sliced
1 pound boneless skinless chicken breast, cut into 1-inch cubes
1 teaspoon salt
1 teaspoon pepper
4 clove garlic, minced
1 18.5 ounce can Progresso Reduced Sodium Savory Chicken & Wild Rice Soup
2 cups chicken stock as needed (more may be required depending on the rice you use)
1 cup brown & wild rice blend, uncooked (or your preferred rice variety)
2 tablespoons fresh thyme, chopped
1 teaspoon ground mustard
1 large sweet potato, cut into 1-inch cubes
14 ounces broccoli (1 head rinsed and chopped into small florets)
6 ounces cheddar cheese, shredded
Instructions
Heat one tablespoon olive oil over medium-high heat in a large (12-inch) oven-proof skillet. Add onion and carrot, then saute for 3 minutes.
Add chicken, salt, and pepper, and continue cooking over high heat for 5 minutes.
Add minced garlic and cook for one more minute.
Add Progresso Reduced Sodium Savory Chicken & Wild Rice Soup, chicken stock and bring to a simmer. Add wild rice, cover, and cook for 25 minutes.
Add thyme, ground mustard, and sweet potatoes. Cover and cook for another 10 minutes or until rice is cooked to the doneness you prefer. If the mixture seems to be dry add a little extra chicken stock or water to loosen it up. (Different rice requires different cook times so check the package instructions and modify accordingly.)
Stir in broccoli, cover and cook another 4 minutes.
Remove cover and stir in 2 ounces of cheddar cheese, then sprinkle the remaining cheddar on top. Broil for 2-3 minutes or until cheese has melted (keep a close eye on it while broiling).
Notes
*Different types of rice require different cook times so check the package instructions and modify accordingly.  Quick or fast cooking rice will reduce your cook time for this recipe.
*It's a good idea to have extra chicken stock on hand in case a little extra is needed.  A little water could be used as well.
Nutrition Information
Yield
8
Serving Size
10 ounces
Amount Per Serving
Calories

331
Total Fat

12g
Saturated Fat

5g
Trans Fat

0g
Unsaturated Fat

6g
Cholesterol

73mg
Sodium

769mg
Carbohydrates

27g
Fiber

5g
Sugar

5g
Protein

29g
This nutrition card uses an estimate provided by an online nutrition calculator. This estimate is not a substitute for a professional nutritionist's advice!
Follow
Progresso
TM
on
Pinterest
,
Instagram
, and
Facebook
for more great recipes!