Smoky Cheesy Cauliflower and Broccoli Soup – healthy, low fat and absolutely decadent.  This soup is creamy, cheesy and super flavorful thanks to cheddar cheese, potatoes, cauliflower, broccoli, onions, garlic, smoked paprika and Sriracha!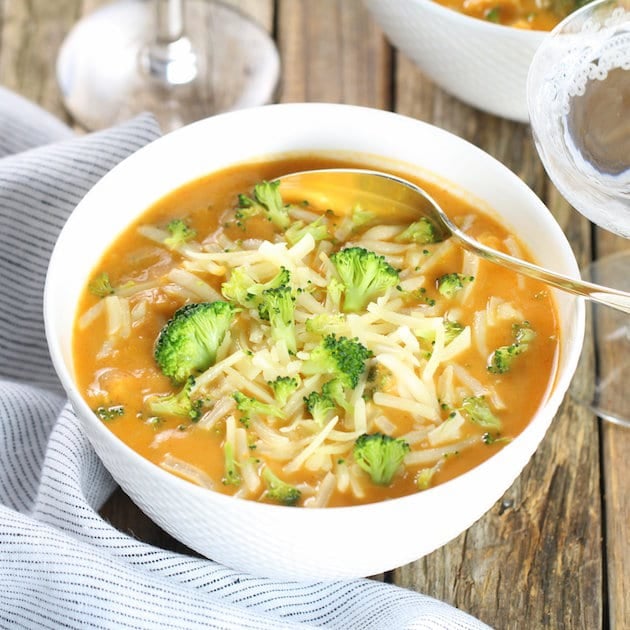 (This post may contain affiliate links; read more here.)
I'm sure "healthy" isn't the first word that comes to mind when you think about cheesy broccoli cheddar soup.  I'm right there with you.  But good news my friend, it's totally a thing…NOW!🙌
How is it even possible to make something so delicious, AND good for you??🤔  I'm glad you asked…
A few weeks ago we stopped by our favorite soup purveyor, New England Soup Factory.   We ordered several yummy soups to go.🍲  There was my forever favorite – Chicken Pot Pie Soup, as well as the B man's Lobster Newburg (he loved it but I'm not a huge fan of seafood mixed into my soup).  And then there was my new second place favorite, teetering on being my all time number one: Sriracha Cauliflower Cheddar Soup!💛  True story people.
It was cheesy and spicy and I couldn't stop eating it.
I would have just guzzled if it hadn't been so warm.  I couldn't get the spoonfuls into my mouth quick enough!  A funnel would have come in handy right about then.😲
Cheesy and creamy and ridiculously delicious.👇  Not even kidding.✌️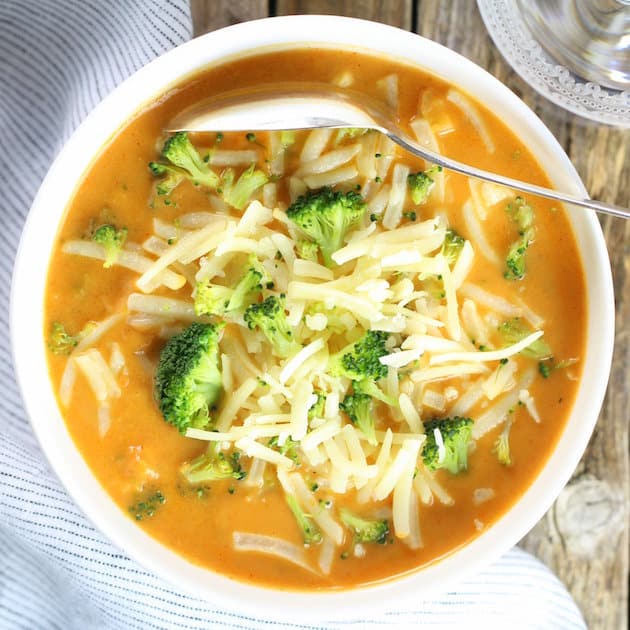 Right then I knew decoding and recreating this yummy goodness needed to be added to (and escalated to the top of) my 2017 New Year Goals.📝  #foodbloggerpriorities
So I went to work to recreate this divine fusion…Smoky Cheesy Cauliflower and Broccoli Soup.
I happen to own the New England Soup Factory Cookbook, thanks to Santa and the fact that I stayed off the naughty list this year.😊
The cookbook doesn't have the exact recipe for their Sriracha Cauliflower Cheddar Soup, I'm guessing because it's a newer menu item.  But they do have a mouthwatering recipe for Cauliflower, Potato and Cheese Soup… and that's what I based this recipe on.🤗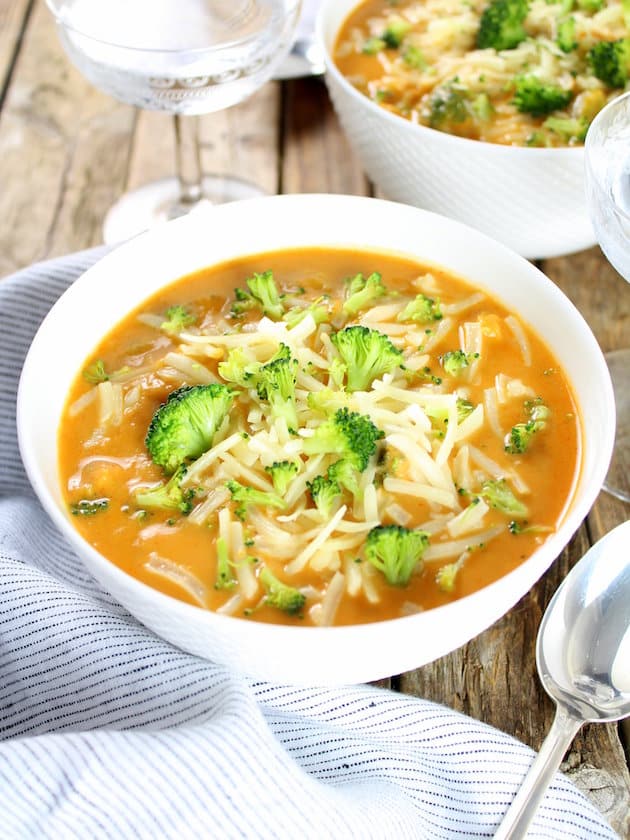 It's full of all kinds of yumminess: healthy veggies that get blended into a hearty creamy base, chicken stock and almond milk to thin it out without adding unnecessary fat and calories, Sriracha and smoked paprika (or regular paprika if you're not into smoke) to add some zesty spice, and then 1½ cups of golden cheddar cheese stirred in to make it unbe-cheeseable!🧀  Get it??  LOL😂  I'm easily entertained.
Blend it all together right there in the pot with a hand immersion blender to give that silky creamy texture.  Mmm.👇
Finally, some steamed broccoli and cauliflower florets are stirred in to finish it off, and give it that ever popular and oh so tasty flavor combo we all know and love.  I must say this broccoli cauliflower cheese soup recipe is an epic win in the recipe department.✨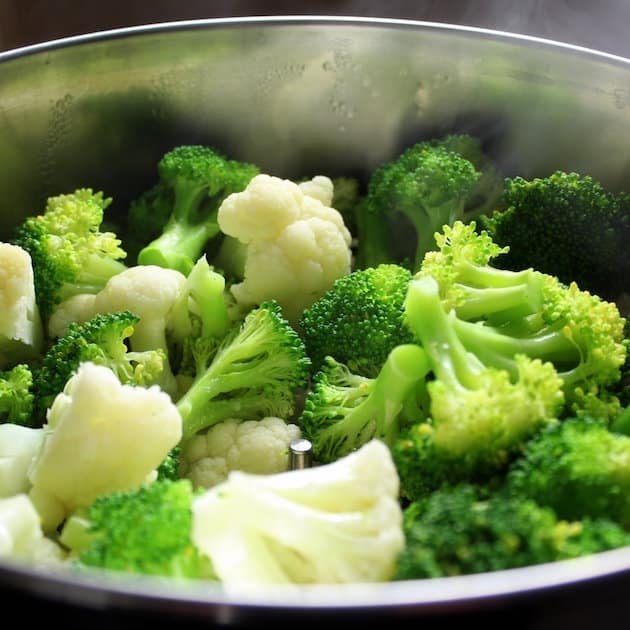 AND it's 276 calories per serving, with only 12 grams of fat!!  Well maybe 14 grams if you garnish it with a touch more shredded cheddar cheese.  And since it's so healthy – why wouldn't you??💚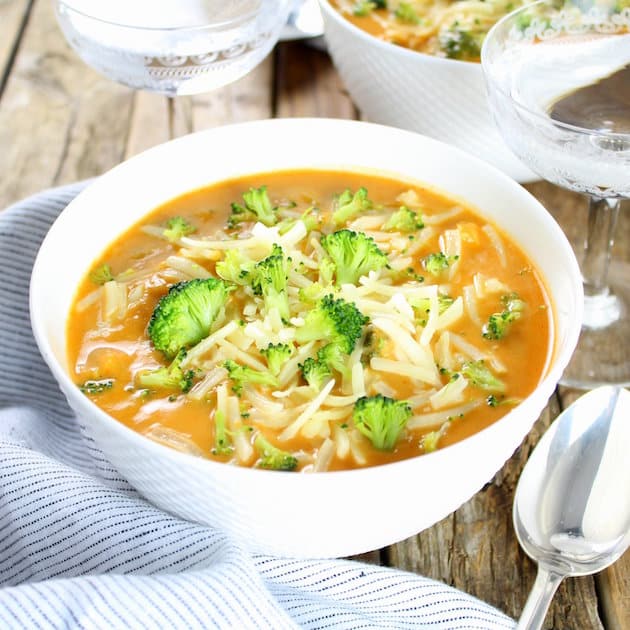 This Smoky Cheesy Cauliflower and Broccoli Soup is helping me slay one of my New Years goals: keeping the meal plan nutritious without sacrificing delicious.✅
Seriously, healthy never tasted so good!😋
I would love to connect with you!  Leave a comment and follow me on Instagram, Twitter, Facebook, & Pinterest!
You'll probably also like: 
Kale & Butternut Squash Turkey Soup: