Smoky Cheesy Cauliflower and Broccoli Soup - healthy, low fat and absolutely decadent. This soup is creamy, cheesy and super flavorful thanks to cheddar cheese, potatoes, cauliflower, broccoli, onions, garlic, smoked paprika and Sriracha!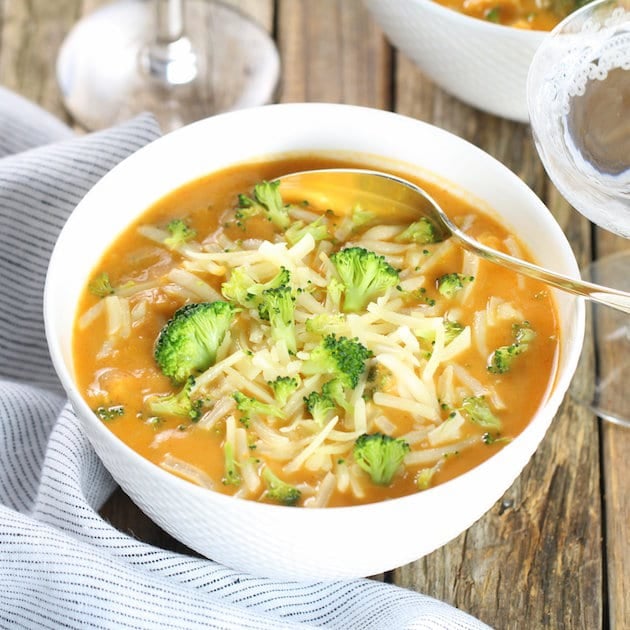 (This post may contain affiliate links; read more here.)
I'm sure "healthy" isn't the first word that comes to mind when you think about cheesy broccoli cheddar soup. I'm right there with you. But good news my friend, it's totally a thing…NOW!🙌
How is it even possible to make something so delicious, AND good for you??🤔 I'm glad you asked…
A few weeks ago we stopped by our favorite soup purveyor, New England Soup Factory. We ordered several yummy soups to go.🍲 There was my forever favorite – Chicken Pot Pie Soup, as well as the B man's Lobster Newburg (he loved it but I'm not a huge fan of seafood mixed into my soup). And then there was my new second place favorite, teetering on being my all time number one: Sriracha Cauliflower Cheddar Soup!💛 True story people.
It was cheesy and spicy and I couldn't stop eating it.
I would have just guzzled if it hadn't been so warm. I couldn't get the spoonfuls into my mouth quick enough! A funnel would have come in handy right about then.😲
Cheesy and creamy and ridiculously delicious.👇 Not even kidding.✌️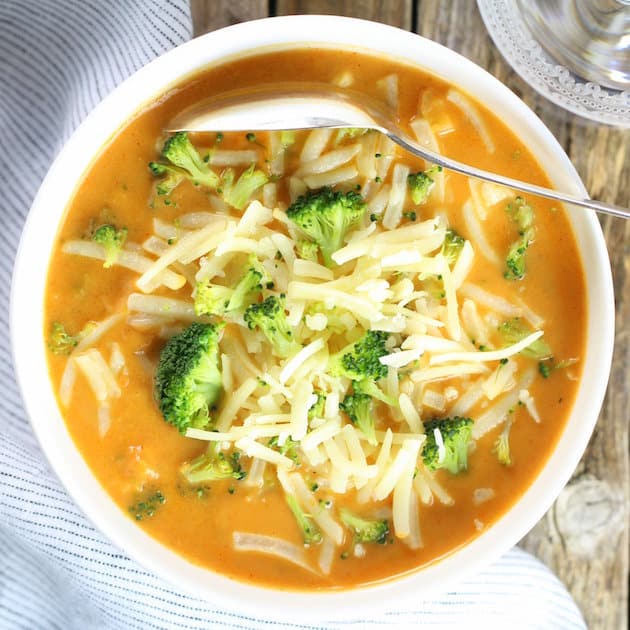 Right then I knew decoding and recreating this yummy goodness needed to be added to (and escalated to the top of) my 2017 New Year Goals.📝 #foodbloggerpriorities
So I went to work to recreate this divine fusion...Smoky Cheesy Cauliflower and Broccoli Soup.
I happen to own the New England Soup Factory Cookbook, thanks to Santa and the fact that I stayed off the naughty list this year.😊
The cookbook doesn't have the exact recipe for their Sriracha Cauliflower Cheddar Soup, I'm guessing because it's a newer menu item. But they do have a mouthwatering recipe for Cauliflower, Potato and Cheese Soup… and that's what I based this recipe on.🤗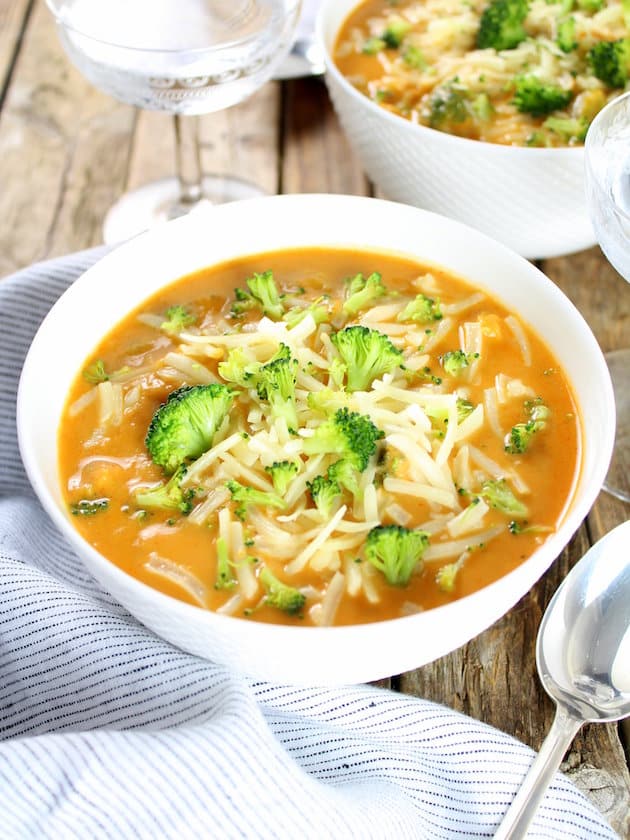 It's full of all kinds of yumminess: healthy veggies that get blended into a hearty creamy base, chicken stock and almond milk to thin it out without adding unnecessary fat and calories, smoked paprika (or regular paprika if you're not into smoke) to add some zesty spice, and then 1½ cups of golden cheddar cheese stirred in to make it unbe-cheeseable!🧀 Get it?? LOL😂 I'm easily entertained.
Blend it all together right there in the pot with a hand immersion blender to give that silky creamy texture. Mmm.👇
Finally, some steamed broccoli and cauliflower florets are stirred in to finish it off, and give it that ever popular and oh so tasty flavor combo we all know and love. I must say this broccoli cauliflower cheese soup recipe is an epic win in the recipe department.✨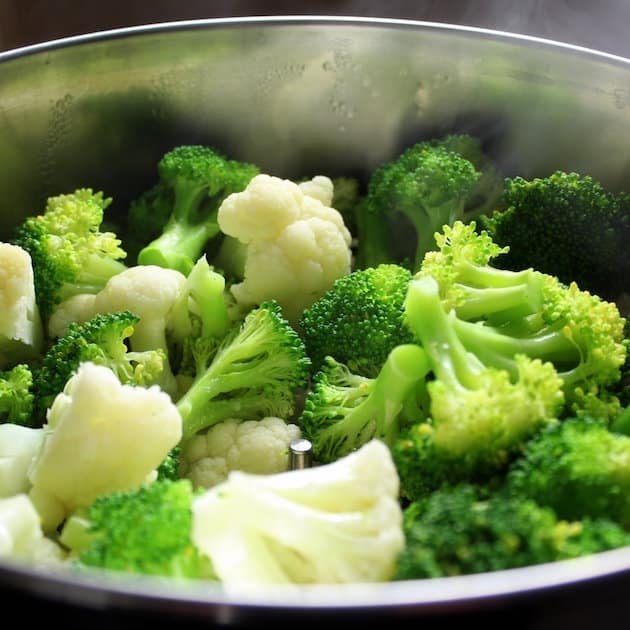 AND it's 276 calories per serving, with only 12 grams of fat!! Well maybe 14 grams if you garnish it with a touch more shredded cheddar cheese. And since it's so healthy - why wouldn't you??💚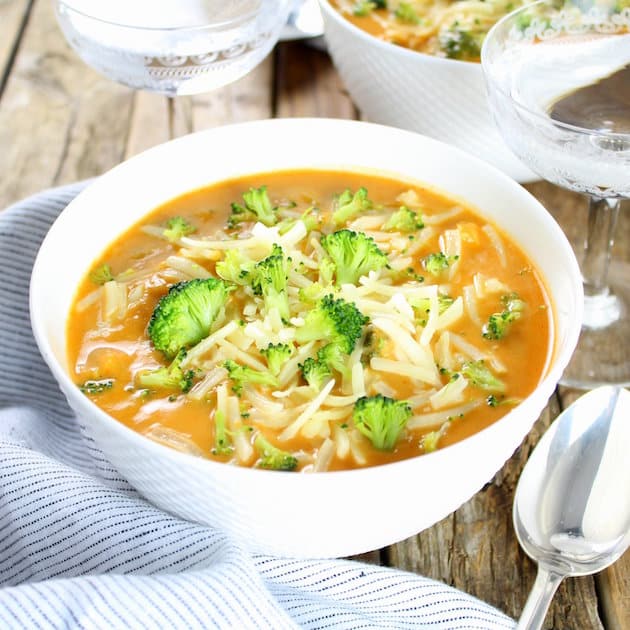 This Smoky Cheesy Cauliflower and Broccoli Soup is helping me slay one of my New Years goals: keeping the meal plan nutritious without sacrificing delicious.✅
Seriously, healthy never tasted so good!😋
I would love to connect with you! Leave a comment and follow me on Instagram, Twitter, Facebook, & Pinterest!
Yield: 10 Servings
Smoky Cheesy Cauliflower and Broccoli Soup Recipe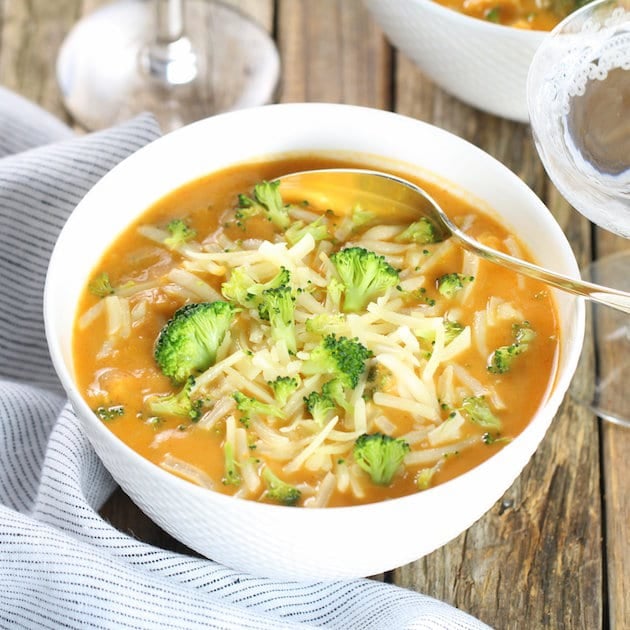 Smoky Cheesy Cauliflower and Broccoli Soup - healthy, low fat and absolutely decadent.
Ingredients
1 tablespoon olive oil
5 cloves garlic
2 medium yellow onions, chopped
2 heads of cauliflower, rinsed and trimmed into florets
1 pound skinned and chopped Yukon gold potatoes
11/2 heads broccoli, rinsed and trimmed into florets
1 teaspoon pepper
1 teaspoon salt
2 tablespoons Worcestershire sauce
1 teaspoon dry mustard
3 tablespoons Sriracha sauce (more if you like it spicier... I use 4!)
1 tablespoon smoked paprika (more if you'd like)
1 cup almond milk, milk, or half and half
8 ounces sharp cheddar cheese, shredded (more for garnish)d
Instructions
Heat olive oil in a large soup pot over medium high heat, add the onion and 1 teaspoon salt and pepper and sauté for 5 minutes. Stir in the garlic and cook 1 more minute.
Set aside cauliflower florets from one half of one of the cauliflower heads. Add the remaining cauliflower florets, even stems (you can use everything but the hard core), and potatoes and sauté for 5 more minutes.
Add chicken stock and bring to a boil, then simmer for 30 minutes. Leave lid cracked to allow some liquid to evaporate which will thicken the soup.
While the soup is cooking, rinse the broccoli and trim florets into "small-medium" bite-sized pieces. Place vegetable steamer basket in a second pot with 1 inch of water, and bring the water to a boil. Then add broccoli florets, and the cauliflower florets previously set aside. Steam for 6-7 minutes, just until the broccoli is al-dente. Remove from heat, rough chop and set aside.
After soup mixture has simmered, remove from the heat and stir in Worcestershire sauce, dry mustard, Sriracha, paprika, and almond milk. Using an immersion blender, carefully puree the soup until smooth. (You can also blend this in a food processor in batches.) Stir in the cheddar cheese until melted and creamy.
Reserve 1/12 cups of the steamed broccoli and cauliflower for garnish and stir the rest into the warm soup.
Serve warm, garnishing with the steamed broccoli & cauliflower florets, as well as more shredded cheddar cheese if desired.
Notes
If you're not a fan of smoke, use regular paprika in place of the smoked paprika.
If you want to give this soup some kick, add a teaspoon or so of Sriracha!
Nutrition Information
Yield
10
Serving Size
10 ounces
Amount Per Serving
Calories

329
Total Fat

13g
Saturated Fat

5g
Unsaturated Fat

0g
Cholesterol

28mg
Sodium

900mg
Carbohydrates

38g
Fiber

11g
Sugar

9g
Protein

21g
You'll probably also like:
Kale & Butternut Squash Turkey Soup: