Not your mom's Corned Beef And Cabbage!
It turns out that corned beef and cabbage are more of an American St. Patrick's Day tradition. Rumor has it that long ago, beef was not readily available in Ireland, so their meal was centered around bacon or ham. When the Irish came to America it was the opposite. Corned Beef was much cheaper and more accessible, so it became the meal of choice for Irish Americans.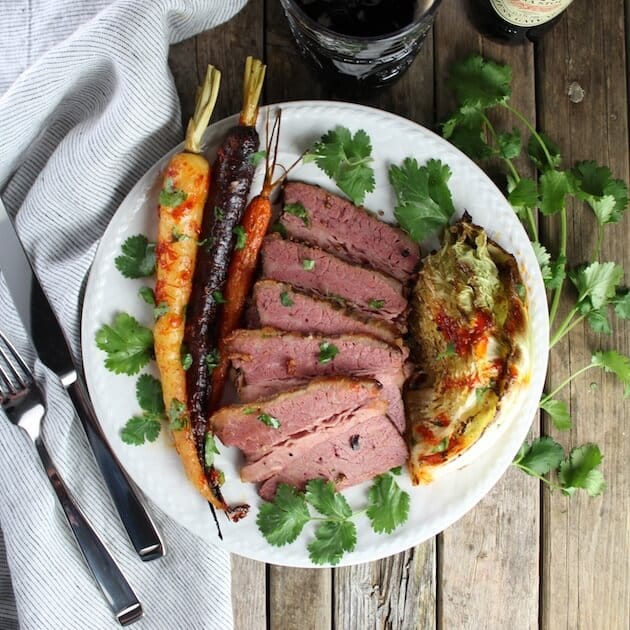 Today it would be almost impossible to walk through a grocery store in the US around St. Patrick's Day without seeing mounding displays of Corned Beef, Irish Soda Bread and Guinness Beer. And although I personally love an excuse to make a themed meal, until this year St. Patrick's Day hasn't been one I've participated in.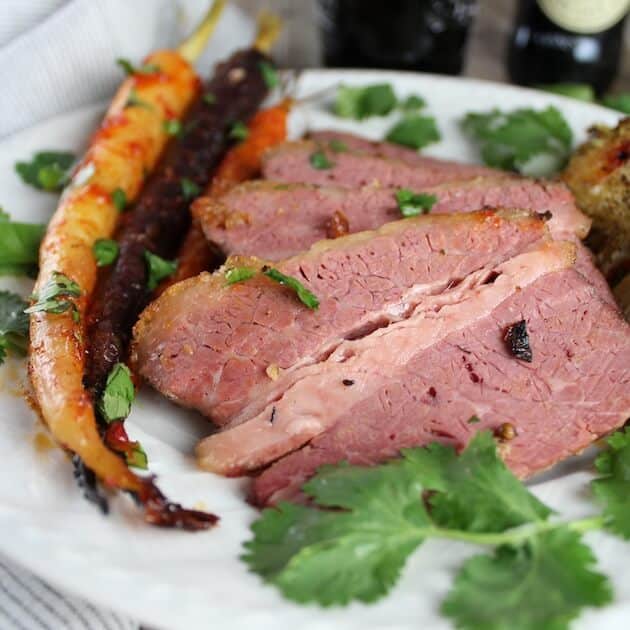 To be honest, St. Pat's celebration in our household usually consists of wearing a green item of clothing. Except most years I forget about it, and when someone confronts me for not donning the grassy color I quickly remind them of my green eyes that I wear everyday. So peace out girl scouts.✌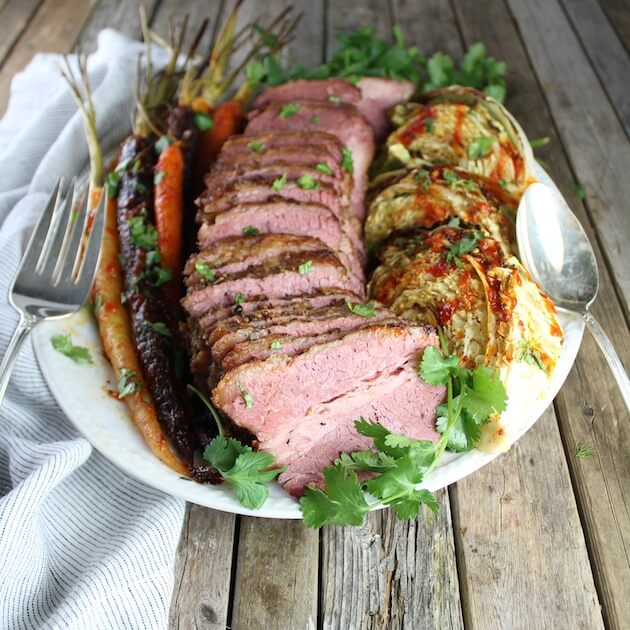 This year things are a bit different. Since my full time job is to develop yummy recipes and share them with you – I'm all about celebrating each and every holiday to the full extent!✨ Well at least the food that is associated with it - don't expect me to be turning out in a green jumpsuit or dying my hair anytime soon. Although, I'm sure it would really accentuate my eyes.
Less about my personal features and more about the delicious food that helps us celebrate this fabulous holiday.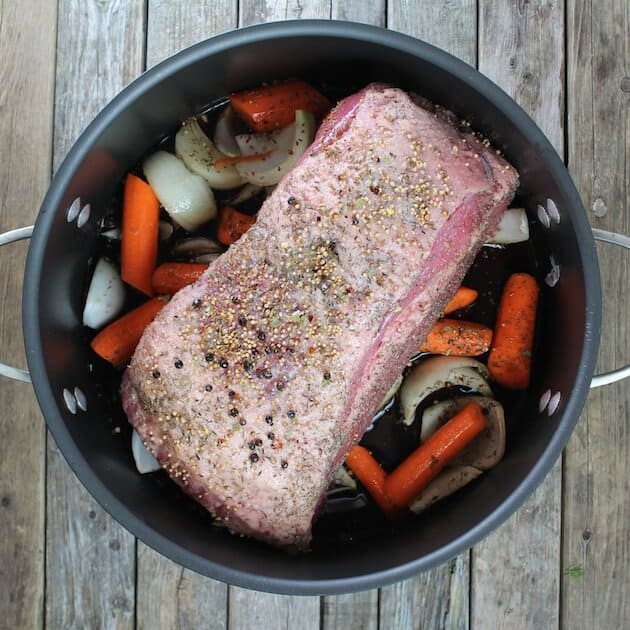 I went with the Irish American tradition of Corned Beef And Cabbage. But you know me, I always have to spice things up a little bit. I cooked my meat and veggies with the included spice packet along with some chicken stock, beer and water.
Then finished my corned beef under the broiler so the fat got all golden and crispy. WHOA – so tasty - and think about the Reuben sandwiches that are in my future!!!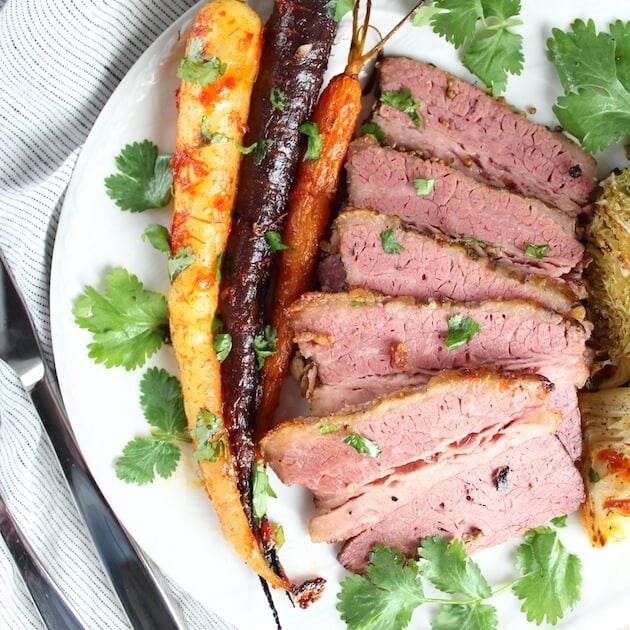 I reserved my veggies because I'm not one to waste food, and I'm also not one to seek out boiled carrots and cabbage. So I veered slightly away from tradition and made some Honey Harissa Rainbow Carrots with a yogurt sauce.
Carrots are naturally sweet so adding a little heat really enhances their inherent flavors. And the yogurt sauce has a really nice cooling effect that brings out their earthiness. So yummy - I will be adding these to my regular veggie line up!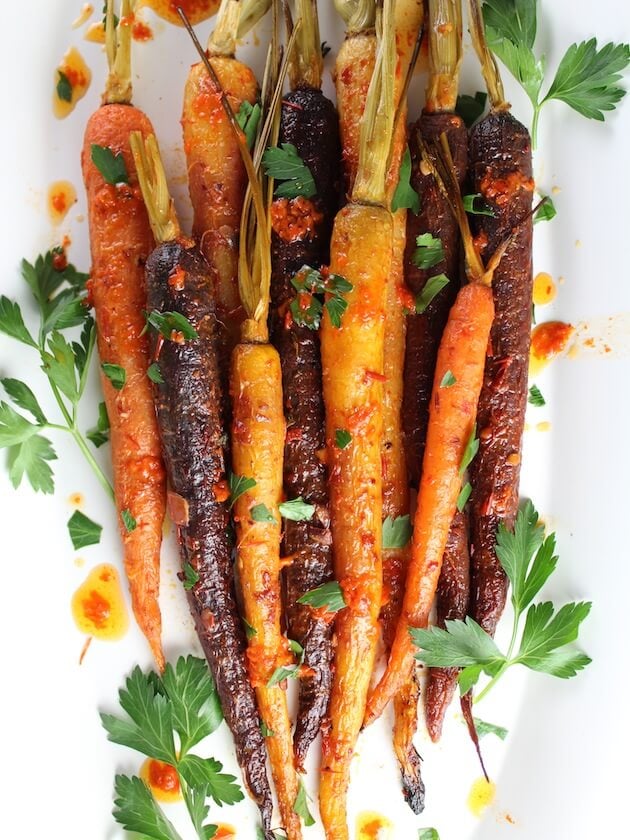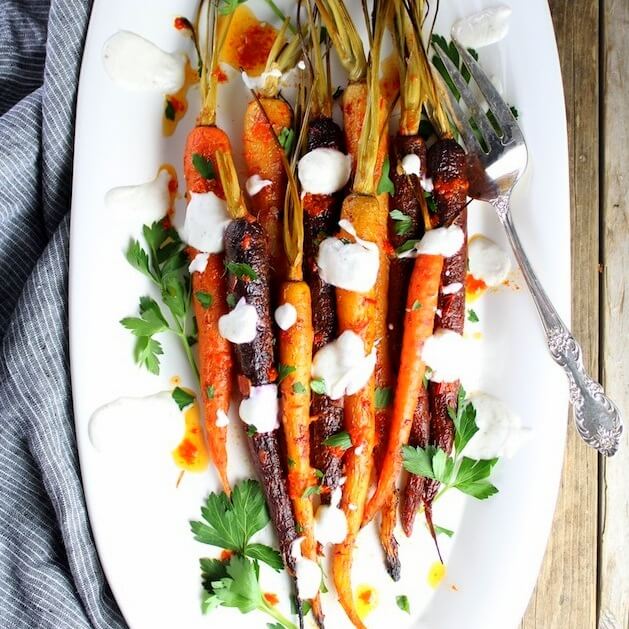 Now let's talk cabbage. As I stated I'm not one for mushy veggies. I actually prefer mine with some texture and a little crunch... Which is exactly the way I prepared my cabbage:
First I cut it into 8 wedges and seasoned with salt and pepper...
Added some olive oil to a sauté pan and cooked both sides of each wedge for 1 minute...
Then roasted them in the oven for 20 minutes on 350 degrees.
Purrrfection I tell you! MEOOOW. Sweet, salty, a little crispy with a drizzle of the spicy sauce leftover from the carrots. I'm not sure I'll be able to eat cabbage any other way from now on!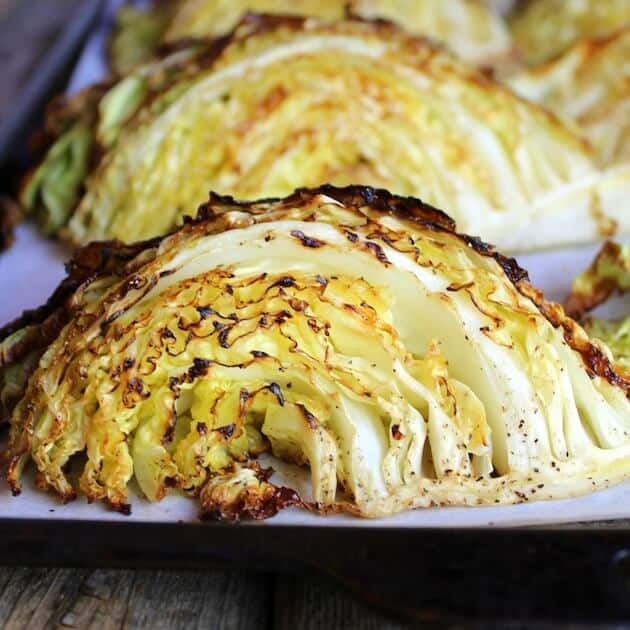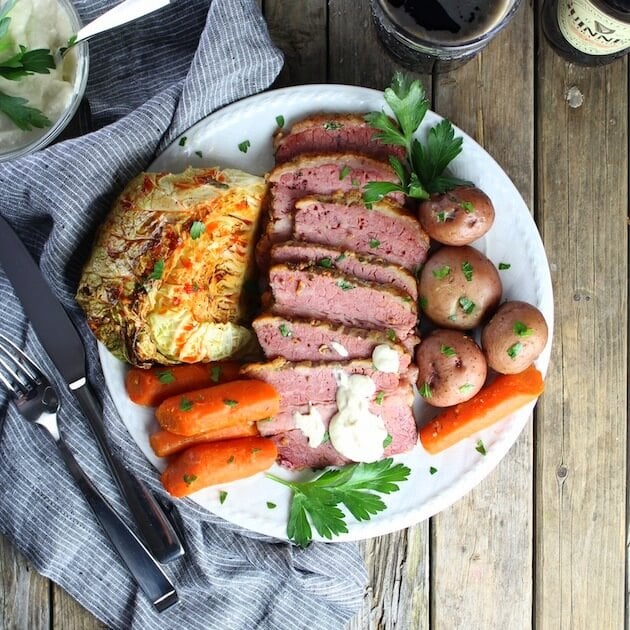 I'm so glad I got on board the St. Patty's Day food train this year - and if you even have a wee-bit of Irish in ya, then I hope you'll do the same. Traditions are a wonderful thing but it's also fantastic to make your own, according to your personal tastes. Go ahead my friend…get creative and play with your food! Bon folláin!
Click here for the Honey Harissa Rainbow Carrot recipe!
Click here for the Sweet & Spicy Roasted Cabbage recipe!
Yield: 12 servings
Corned Beef And Cabbage With Horseradish Sauce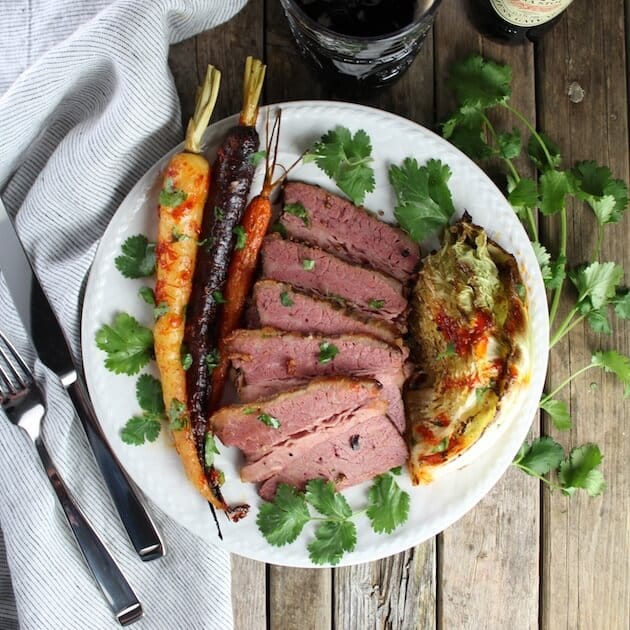 Corned Beef And Cabbage With A Twist! Cooked in spices, stock, & beer, finished in the broiler, with Honey Harissa Carrots & seared roasted cabbage wedges!

Prep Time 10 minutes

Cook Time 4 hours

Total Time 4 hours 10 minutes
Ingredients
For The Corned Beef:
3 carrots, washed and cut into 3-inch pieces
1 yellow onion, peeled and quartered
1 pound baby red potatoes
4 pound corned beef brisket, plus pickling spice packet or 1 tablespoon pickling spice
12 ounces stout beer
½ head cabbage, cut into 1½-inch wedges
6 cups chicken stock or water
For The Creamy Horseradish Sauce:
½ cup sour cream
¼ cup mayo
2 tablespoons raw horseradish
1 tablespoon Dijon mustard
Instructions
For The Corned Beef:
Preheat oven to 300 degrees.
Rinse corned beef and pat dry. Add carrots, onion, and corned beef to a dutch oven. Sprinkle in seasoning, add beer and other liquids. Cover and cook for 3 hours.
Pull the dutch oven from the oven, add the cabbage and potatoes, continue to cook for 45 minutes or until fork tender.
When cooked remove from the oven and place the corned beef on a cookie sheet. Switch the oven to broil. Place the corned beef back in the oven for about 4 minutes or until golden brown. Transfer the corned beef to a cutting board and slice.
Serve warm with creamy horseradish sauce.
For The Horseradish Sauce:
Mix all ingredients together and refrigerate until ready to serve.
Can be made a day ahead.
Notes
If you prefer to make your own pickling spice here's what you will need:
1 cinnamon stick, broken into several pieces,
1 teaspoon mustard seeds,
1 teaspoon black peppercorns,
1 teaspoon coriander seeds,
½ teaspoon red pepper flakes,
8 whole cloves,
8 whole allspice berries,
5 whole cardamom pods,
2 bay leaves, crumbled,
½ teaspoon ground ginger
Nutrition Information
Yield
12
Serving Size
4 oz corned beef, plus cabbage
Amount Per Serving Calories 602Total Fat 35gSaturated Fat 13gTrans Fat 0gUnsaturated Fat 17gCholesterol 171mgSodium 338mgCarbohydrates 18gFiber 2gSugar 5gProtein 49g

This nutrition card uses an estimate provided by an online nutrition calculator. This estimate is not a substitute for a professional nutritionist's advice!

PS: For my gardeners: did you know you can grow your own horseradish? Find out how to grow horseradish here!