Standing Rib Roast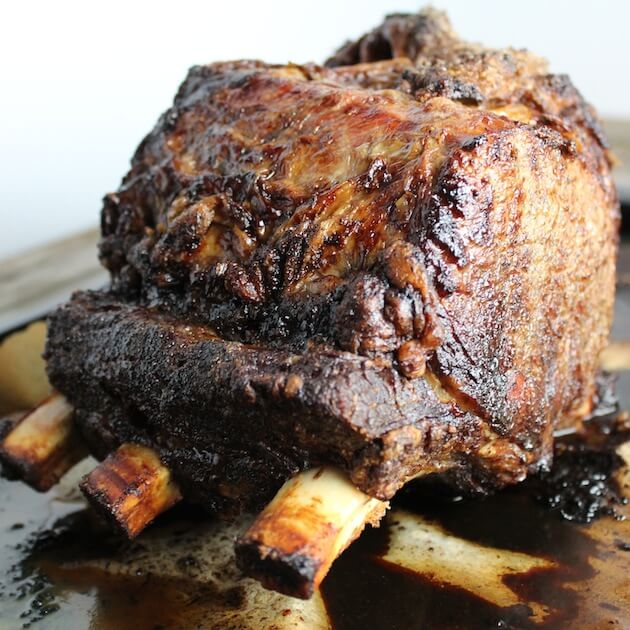 Whatcha' makin' for Christmas dinner??? Thanksgiving of course is a non-issue… no decision making needed. But what about Christmas???
You really don't want turkey 'cause you just had it for a week straight and, you're probably over it. There's always the other white meat - Mr. Hammy - but that feels like I'm eating a deli sandwich without the bread. It needs to be special but easy 'cause you've been shopping and baking and wrapping, and I know you just need to prop your feet up and drink some egg nog. Don't you worry… no need to get your tinsel in a tangle. Your kitchen coach to the rescue!! (super hero emoji)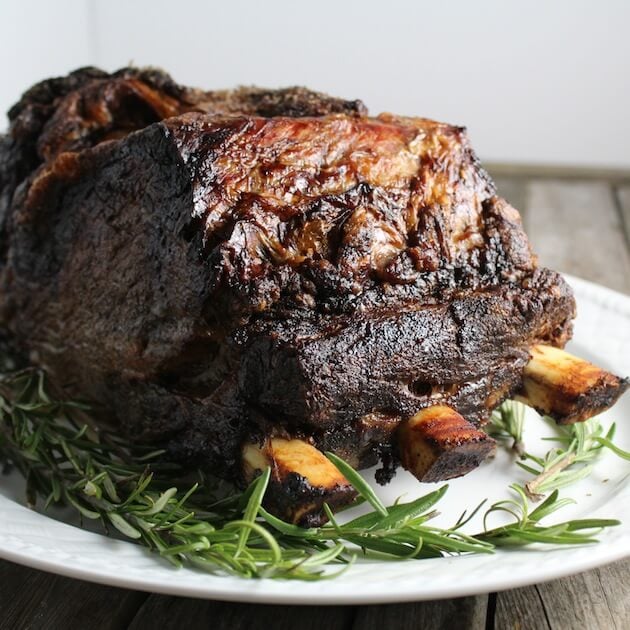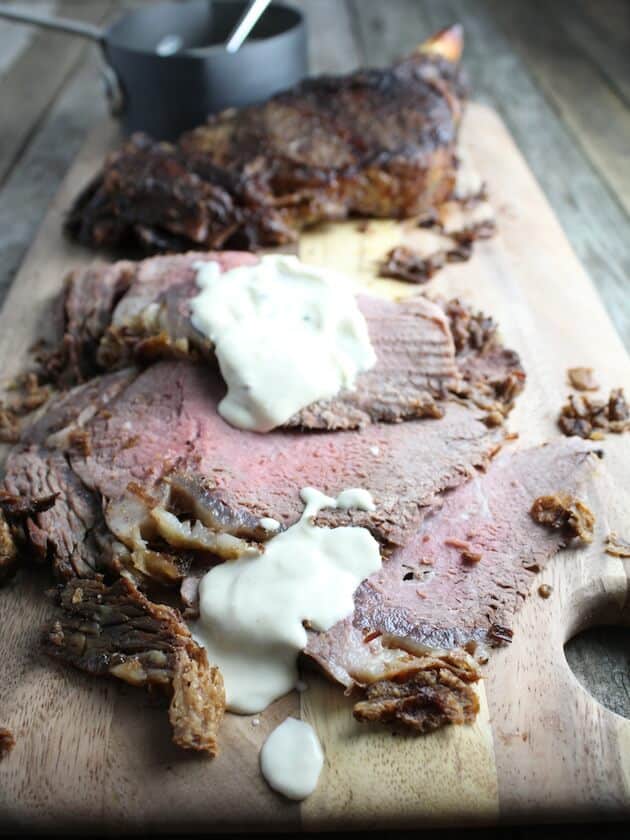 Nothing says Merry Christmas like a Standing Rib Roast!!! It's hearty and delicious and virtually no work. The rib roast is not your typical roast. Oh no, it's like the most mouthwatering prime rib steak, and it feeds a village. All it requires is some salt and pepper and an hour or so in the oven. Then what to your wondering eyes should appear but a beautiful hunk of meat with this amazing salty, crunchy crust on the outside.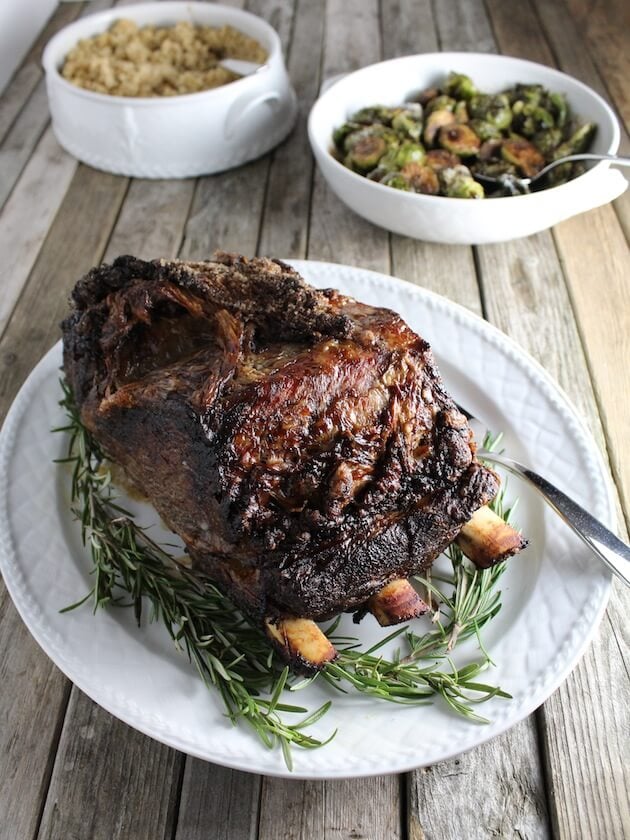 You could serve it with a shredded paper bag and everyone would say it's the best thing they've eaten all year! But don't worry I'm not gonna leave you hanging, I've got a whole meal plan ready for you. Balsamic Glazed Brussels Sprouts, Creamy Parmesan Risotto and a Chocolate Hazelnut Tart! Stay with me for a minute; we need to focus on the main event for just a bit.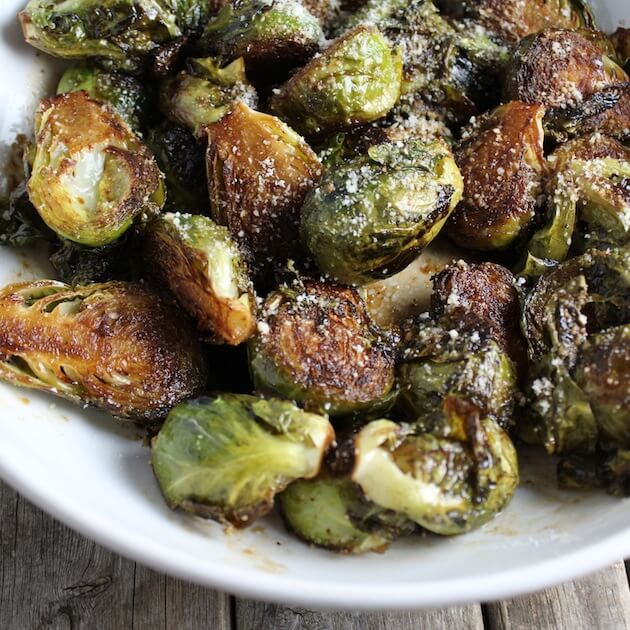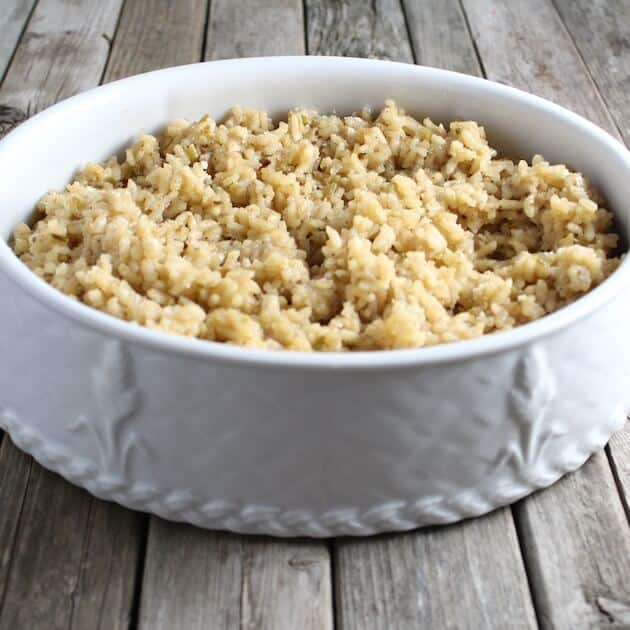 You can purchase a Standing Rib Roast either boneless or bone in. A couple things to think about…
For presentation, bone in makes an amazing presentation and I think it offers better depth of flavor.
When buying your roast, you should figure ½ pound roast per person, or two to three people per rib.
I suggest buying a roast with at least three to four ribs in the roast to ensure to that the center cuts will be rare to medium-rare.
The internal temperature in the deepest part of the meat should be 120 to 125 degrees for rare and 130 to 135 for medium-rare. If you don't own a meat thermometer you probably should invest in one. Not just for this recipe but for all your meat (you'd be surprised how much better your chicken breast tastes when you don't over cook them – trust me – been there done that).
If some guests at your table request prime rib medium-well or well-done, serve them an end piece or sear their portions directly in a hot sauté pan.
One of the most important steps for the perfect prime rib is to give it time to rest after you take it out of the oven and before you serve it. Heat drives juices toward the center of the meat, and a rest gives them the chance to redistribute themselves. Go ahead and loosely tent the roast with foil and let it rest for 15 to 30 minutes before carving. This gives you time to make the Brussels sprouts or finish up the risotto.
PS: It's not the cheapest cut of meat but it's totally worth it…like I said it's effortless and tastes ridiculously delicious! Everyone will be so impressed and you'll get rave reviews.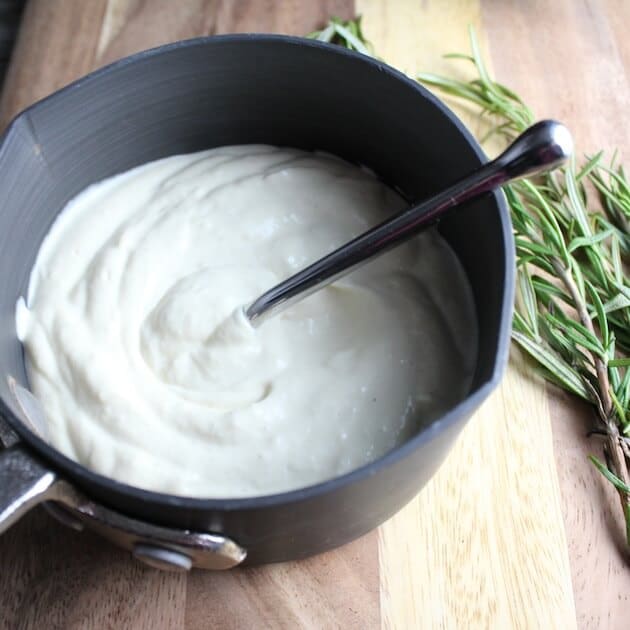 As much as I love a good Rib Roast, I almost love the sauce I serve it with more. It is creamy and tangy and the perfect accompaniment to the roast. The recipe includes sour cream, Dijon mustard, mayo and horseradish. What's not to love???❤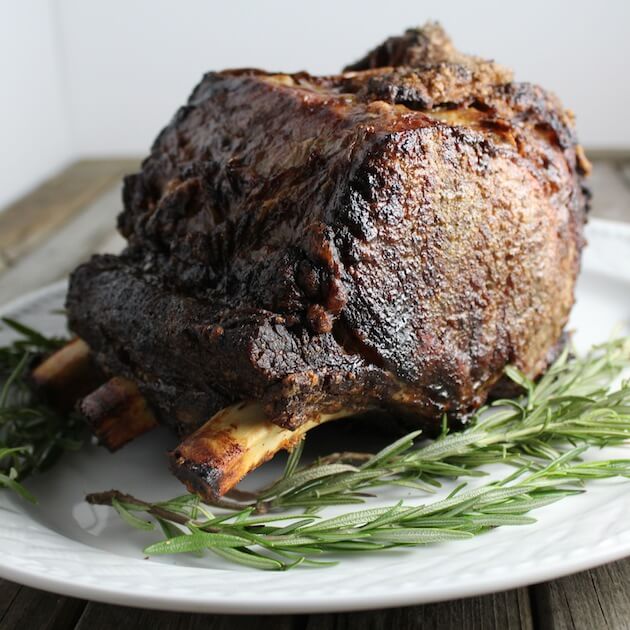 This Standing Rib Roast is pretty unbelievable and I'm beyond excited for you to experience it. I know you and your people will think it's wonderful… and remember...these wonderful things are the things we remember all through our lives! So go big - people!!!
Merry Christmas to all and to all a good night!???⭐
Yield: 12 servings
Standing Rib Roast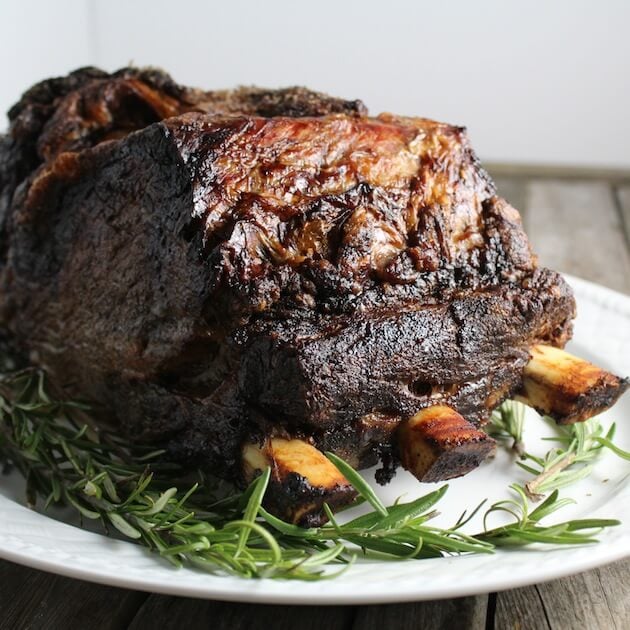 Perfect holiday celebration entree - the standing rib roast!
Total Time
2 hours
20 minutes
Ingredients
For The Roast
7-8 pound standing rib roast, (3-rib roast)
1 tablespoon kosher salt
1 ½ teaspoons freshly ground black pepper
For The Horseradish Sauce:
¼ cup mayo
½ cup sour cream
1 tablespoon rounded dijon mustard (more if you like)
2 tablespoons raw horseradish
Instructions
Two hours before roasting, remove the meat from the fridge and allow it to come to room temperature.
Preheat the oven to 500 degrees F
Place the oven rack on the second lowest position.
Place the roast in a pan large enough to hold it comfortably, bone-side down, and spread the top thickly with the salt and pepper. Roast the meat for 45 minutes. Without removing the meat from the oven, reduce the oven temperature to 325 degrees F and roast for another 30 minutes. Finally, increase the temperature to 450 degrees F and roast for another 15 to 30 minutes, until the internal temperature of the meat is 125 degrees F. (Be sure the thermometer is exactly in the center of the roast.) The total cooking time will be between 1 ½ and 1 ¾ hours.
Remove the roast from the oven and transfer it to a cutting board. Cover it tightly with aluminum foil and allow the meat to rest for 20 minutes. Carve and serve with sauce.
For the Horseradish Sauce, combine together all ingredients in a small bowl.
Nutrition Information
Yield
12
Serving Size
4-6 ounces
Amount Per Serving
Calories

391
Total Fat

35g
Saturated Fat

14g
Unsaturated Fat

0g
Cholesterol

75mg
Sodium

693mg
Protein

15g