Italian Meatball Subs, aka Meatball Parmigiana Sandwiches...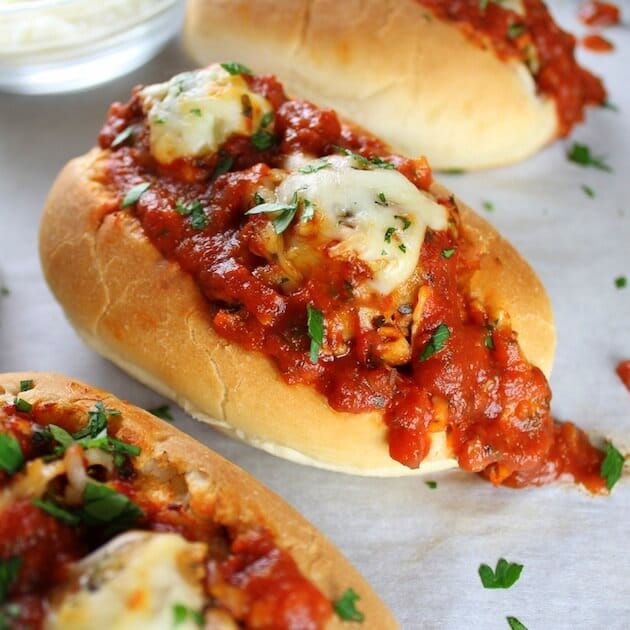 March Meatball Madness Continues!!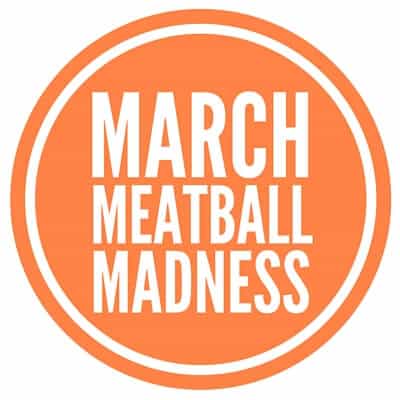 Italian Meatballs coated in marinara sauce, smothered with mozzarella and Parmesan cheese, tucked into club rolls for a delicious family night dinner.
I hope you're enjoying March Meatball Madness as much as I am. Until now I don't think I realized how versatile and amazing meatballs could be. You can literally take any dish and make it into a meatball!
For example…Buffalo Chicken Wings =
Buffalo Chicken Meatballs
, Lamb Leg Shawarma =
Lamb Meatballs with Fava and Tzatziki
, Chicken Marsala = Chicken Marsala Meatballs… I could do this all day. Are we having fun yet?
Meatballs are the perfect medium to infuse lots of flavor into every bite. Plus, you can make them as light & lean (or not!) as you want, depending on the fat/lean ratio of the meat you choose, and of course depending on what else you add into them. Have I convinced you yet to join team Meatball Madness? Oh and another thing… you can make a double batch and freeze half for a quick weeknight meal down the road. Unless you eat all of them and then, well, no more meatballs for you!
Today we're talking Italian Meatball Subs and I must tell you: each one of these little guys goes down like a 3 point shot. MONEY!! They are sooo flavorful…full of Parmesan cheese, garlic, onion, parsley and all the usual suspects like eggs, salt, pepper, breadcrumbs (or in my case almond meal cause that's how I roll). See what I did there? Meatballs... roll. I couldn't resist.✌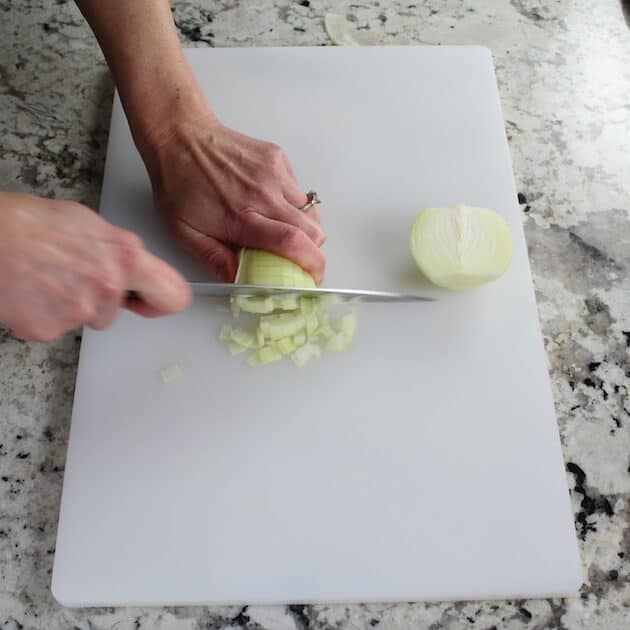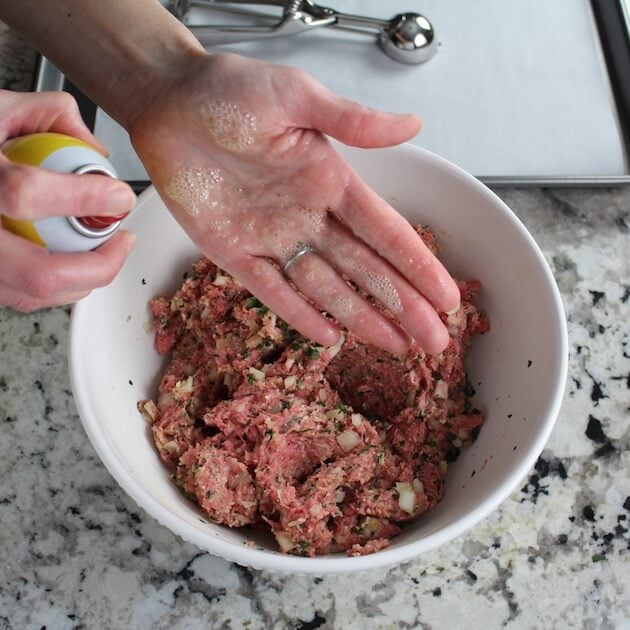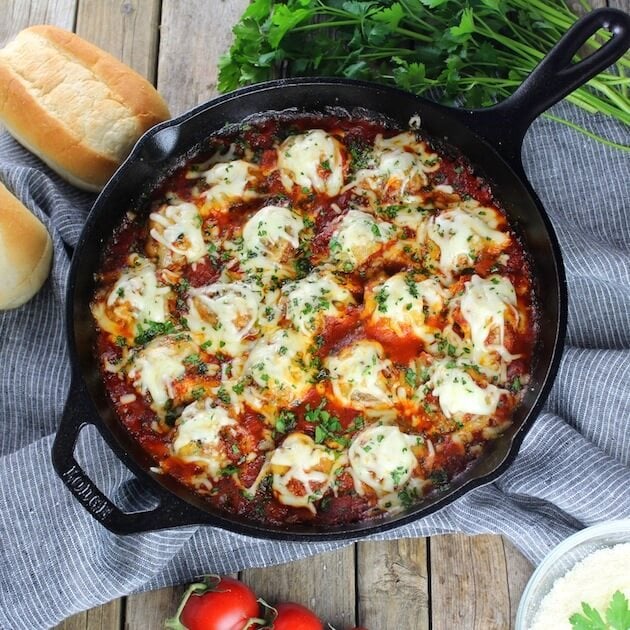 I baked them for 20 minutes on 400 degrees – which I need to tell you is another amazing revelation. There's no need to saute them in a pan and get your stove top all greasy. Just line them up like little men and send them into the hot box where all that grease is contained.
Seriously, what more could a hard-working girl ask for? We've got an amazingly delicious, quick and easy meal with virtually no cleanup. Can you hear the angels singing?
While the m-balls are in the oven you fire up some marinara in a sauce pot on the stove. You can use your favorite jarred version or make your own. Then when the little guys are finished baking you shoot them into the marinara for 5 minutes with all their friends.
It's like the post-game Jacuzzi partay for all the players. Too much? Probably.
Next you grab your club rolls, add as many meatballs as you want, top them with marinara, mozzarella and Parmesan cheese. Throw those suckers back into the oven, and three minutes later you have yourself the MVP of all weeknight meals! Seriously, I don't play ya'll.
Not that I'm keeping score or anything but it seems like team meatball is in the lead here. We've got 2 more weeks of Meatball Madness, and we're definitely finishing strong. While you're whipping up these incredibly life-changing Italian Meatball Subs I'll be crafting the next meatball masterpiece! Happy Eating!
I would love to connect with you! Leave a comment and follow me on Instagram, Twitter, Facebook, and Pinterest!
Yield: 16 subs
Italian Meatball Subs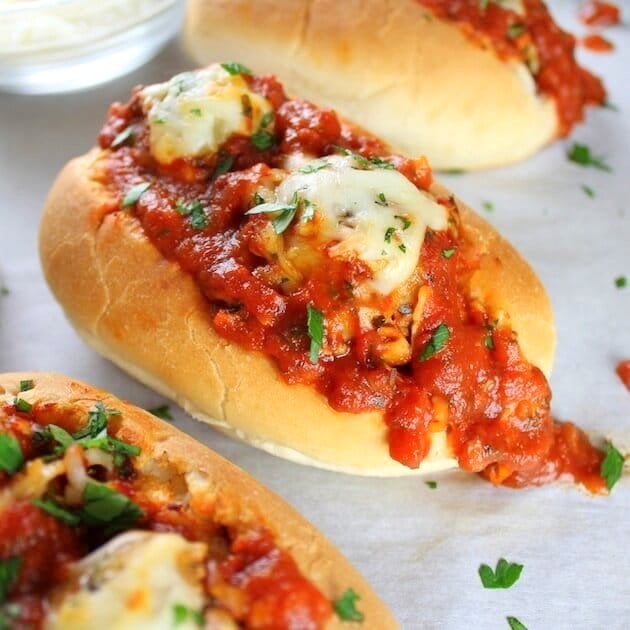 Meatballs coated in marinara sauce, smothered with mozzarella and Parmesan cheese, tucked into club rolls for a delicious family night dinner.
Ingredients
½ cup almond meal, or breadcrumbs
16 ounces ground beef, 85 percent lean
16 ounces ground pork
½ cup finely grated Parmesan cheese, plus ¼ cup for topping subs
⅓ cup finely chopped fresh flat-leaf parsley, plus more for topping subs
4 cloves garlic, minced
1 small onion, finely chopped
2 large eggs
1 teaspoon salt & black pepper
1 jar of your favorite marinara sauce
2 cups Mozzarella, shredded
16 Club Rolls or subs
Instructions
For The Meatballs:
Preheat oven to 400 degrees and line a baking sheet with parchment paper.
Gently mix together almond meal (or bread crumbs), meat, Parmesan cheese, parsley, garlic, onions, eggs, salt and pepper.
Spray hands with cooking spray to make handling the meatballs easier. Use a 1 ½ inch scoop to ensure each meatball is the same size, and roll them by hand to give them a nice round shape before placing them evenly on the cookie sheet (this recipe should produce 36 meatballs).
Bake for about 20 minutes or until meatballs are cooked through. Leave the oven on 400 degrees.
Heat marinara sauce in a large heavy saucepan over medium heat. Drop meatballs into sauce, and bring to a gentle simmer. Cook, for 5 minutes.
To Make The Subs:
Arrange sub rolls cut side up on a baking sheet. If the tops aren't slit open, cut each one, being careful to only cut through the bun halfway.
Place 2 meatballs in each bun, and top with a spoonful of marinara, 1 tablespoon mozzarella, and 1 teaspoon Parmesan for each meatball.
Bake until cheese melts, about 3-4 minutes.
Remove and sprinkle with a little fresh parsley before serving.
Notes
This recipe should yield 16 "mini" subs, each with two meatballs apiece.
Or save some for family dinner night and make spaghetti and meatballs with the leftovers!
Cooked meatballs can be frozen up to 3 months.
Nutrition Information
Yield
16
Serving Size
1 mini sub sandwich
Amount Per Serving
Calories

422
Total Fat

19g
Saturated Fat

6g
Unsaturated Fat

0g
Cholesterol

73mg
Sodium

509mg
Carbohydrates

37g
Fiber

1g
Sugar

5g
Protein

22g
Looking for more amazing meatball recipes?