Smoky Deviled Eggs with Bacon!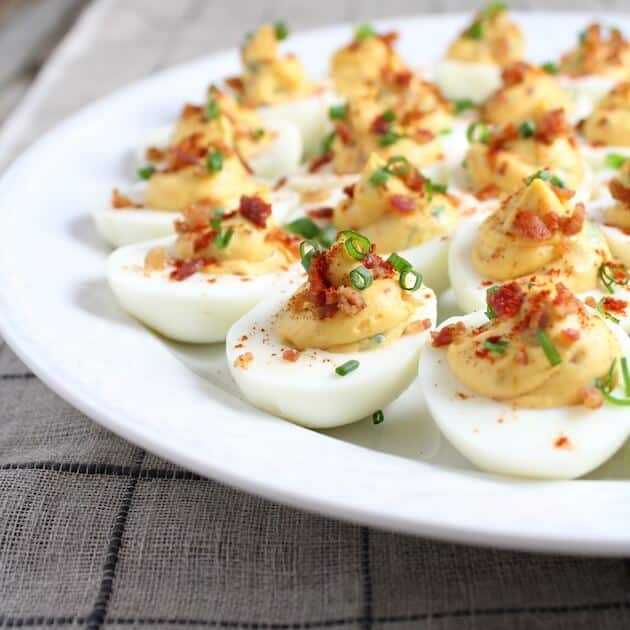 So why are they called "deviled eggs?"
Interestingly enough, there's a lot of debate about who originally invented deviled eggs…we do know that the phrase was patented by the Underwood boys - the people who sell that canned "Deviled Ham"… aka canned meat. And who knew they invented it right here in Boston, back in the 18th century?? As a matter of fact, "deviling" is the oldest existing food trademark, according to the US Patent Office. Wha??? There's a long back-story but the bottom line is "deviled" just means spicy or zesty food, including eggs prepared with mustard, pepper or other ingredients stuffed in the yolk cavity.
Personally, I don't really care for the name "deviled eggs." And apparently I'm not alone: In some parts of the US, they are called "stuffed eggs", "salad eggs", "dressed eggs", or "angel eggs." It seems the term "angel eggs" was popularized by church folk, who wanted to avoid the name "devil." Let's go with that name 'cause it sounds peaceful and happy like bunnies and fluffy clouds.☁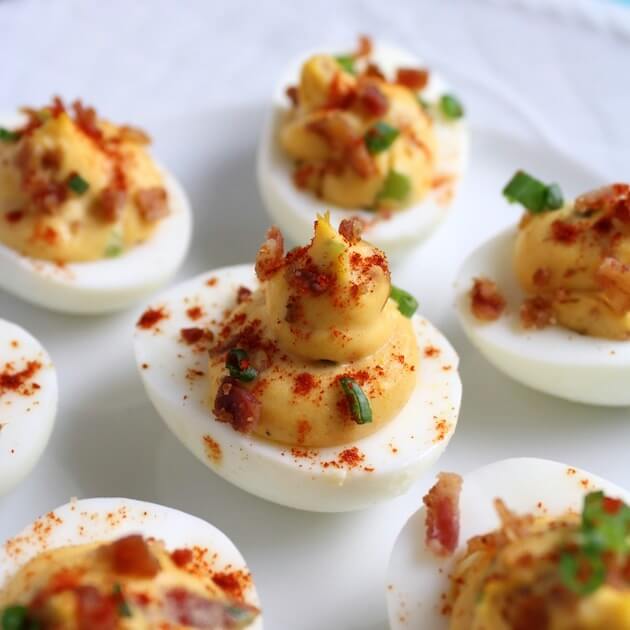 These Angel Eggs are filled with yolks, mayo, Dijon, a squeeze of lemon, green onions, bacon and smoked paprika…then topped off with more smoked paprika, bacon and green onions - yummalicious!!!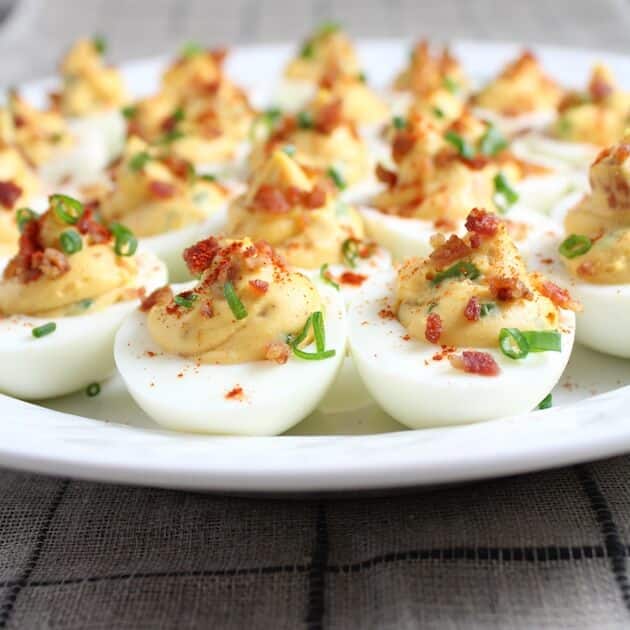 These Smoky Deviled Bacon & Eggs are so perfectly delicious! Definitely food that angels - or someone like you would eat! Enjoy my friend!
Yield: 12 Servings
Smoky Deviled Bacon And Eggs
Deviled Bacon And Eggs recipe... mayo, Dijon, lemon, green onions, bacon & smoked paprika…then topped w/more paprika, bacon & green onion!
Ingredients
12 eggs, hard boiled
1 teaspoon lemon juice, freshly squeezed
1 teaspoon Dijon mustard
¾ cup mayonnaise
1 teaspoon smoked paprika, plus more for garnish
3 green onions, very thinly sliced (only green stems)
2 slices of cooked bacon, finely diced
Instructions
Place the eggs in a large saucepan with an inch of water covering the eggs. Bring them to a boil and then remove them from the heat, cover the pan, and let stand for 20 minutes. Pour off the hot water and refill the saucepan with cold water and ice cubes. Let them sit in the ice water for at least 5 minutes. Crack and peel the eggs, and chill for at least 1 hour.
Cut the eggs in half lengthwise. Gently remove egg yolks from eggs and place in a mixing bowl.
Add mayonnaise, Dijon, lemon juice and 1 teaspoon smoked paprika and mix thoroughly.
Gently fold in 2 tablespoons of the green onions and 2 tablespoons cooked bacon.
With a spoon or a pastry bag fill the egg white cups with the egg yolk mixture.
Top with green onions, bacon and smoked paprika.
Notes
Try to find the thinnest green onion stems from the bunch. And slice them as fine as you can.
You can substitute the smoked paprika for regular paprika if preferred... but they will not have the smoky flavor.
To garnish the eggs with paprika, take small pinches with your fingers and gently sprinkle it on each individual egg.
Nutrition Information
Yield
12
Serving Size
1 egg
Amount Per Serving
Calories

175.21
Total Fat

16.16g
Saturated Fat

3.51g
Unsaturated Fat

0g
Cholesterol

171.98mg
Sodium

180.98mg
Carbohydrates

0.81g
Fiber

0.14g
Sugar

0.52g
Protein

6.22g
Looking for more great appetizer recipes?