Are you sniffling, sneezing, coughing, aching and not getting any rest? Is the family feeling under the weather? Are the kiddos missing school on a regular basis? Then read on my friend - we've got some excellent Tips To Stay Well This Season and a Natural Remedy For The Common Cold!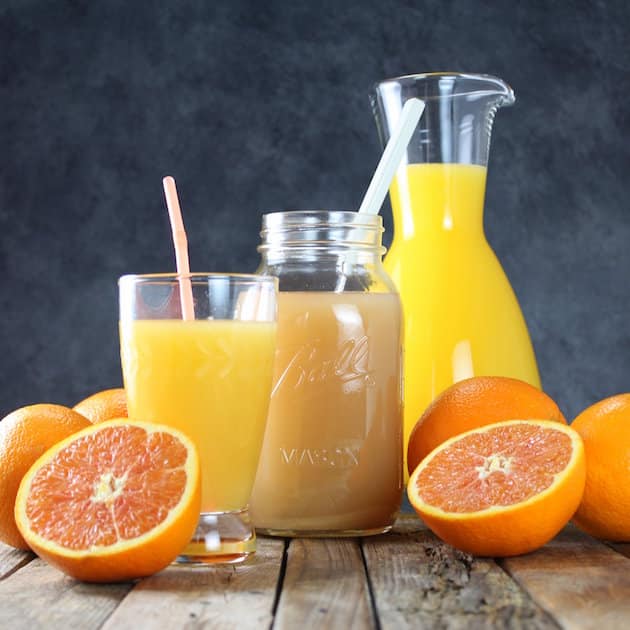 I was in to see my doctor last week for my annual physical. She mentioned she'd had a lot of patients come in with colds and flu bugs. I just sat there holding my breath, being scared there were germs all around me, and at the same time being grateful I hadn't caught anything this season.
Being sick is such a drag. It's all you can do to just exist. You don't feel well enough to get out of bed – as if that was even an option. Even if you wanted to, there's no going to work or school - and your poor family! Just victims in the waiting.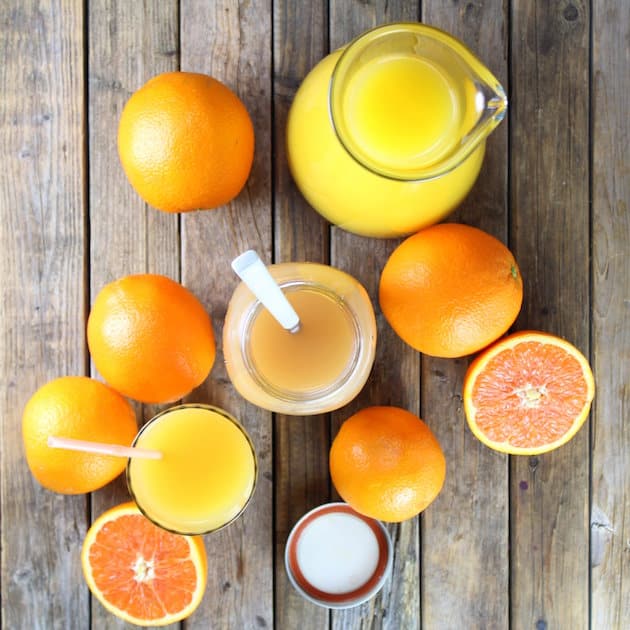 What's a person to do?
Well, I have a few suggestions for you. First and foremost a few ways to prevent getting sick this season. And if this unfortunate reality becomes yours, then I've got you covered too with 13 helpful ways to ease your cold and get to feeling better asap.
Plus a tried-and-true, homemade cold remedy recipe (Fire Vinegar) to stand up to any cold and get rid of any bug that tries to take you out.
11

suggestions to prevent colds and flu:
Get Sleep. Research shows that our bodies need seven to eight hours of sleep in order to stimulate an immune response from our 'natural killer cells,' which attack viruses. "Sleep is my most reliable defense against infection." —David Katz, MD, founder of the Yale University Prevention Research Center and author of Disease-Proof: The Remarkable Truth About What Makes Us Well
Amp up your Vitamin C! Eat fresh oranges and grapefruit (there's a reason citrus is in season in the winter – it's when our bodies need it most)! Not a fruit fan? Try taking 1,000 to 3,000mg of Vitamin C every day through the season (this can reduce the number and duration of infections).
Vitamin D3 – Take 1,000mg daily. You can ask your doctor to check your Vitamin D levels; ideally, they should be above 40 and most preferably 60 ng/mL.
Echinacea - 500mg once a day… rotate between "3 weeks on, one week off" through the season.
American Ginseng – as a preventative take 100-200 mg through the season (this is not for those with high blood pressure, and also reduce/stop taking if you notice agitation!).
Probiotics – Don't just take these in flu season, take them every day for that matter. They say your immune system is really in your stomach, so set yourself up for success and ingest a daily probiotic (I take a capsule with 80 billion live cultures daily).
Eat dirt! Yes, you read that right. All of those dirty veggies from the garden have beneficial microbes that support gut health and immune response. So rather than scrubbing or peeling the skin off those carrots, rinse them under cold water to ensure you're still taking in all those soil-based organisms that are so good for us. Need more convincing check out "Why Eating Dirt Should Be Part of Your Daily Routine" by Dr. Josh Axe.
Eat protein. Research shows that diets that are too low in protein can deplete the immune system. So make sure to get protein-rich foods throughout the day, especially fish, eggs, and yogurt.
Eat plenty of fruits and veggies, or start juicing to be sure you're getting your recommended nine servings of whole fruits and vegetables every day.
It may seem old-school, but washing your hands with soap and water is your first line of defense against bugs. No need for harsh antibacterial suds, regular soap and water is just as effective. They say 30 seconds under very warm water and soap should do it. I like to sing Happy Birthday To Me (a little trick I learned from the Today Show) to make sure I'm washing long enough. Especially when I'm around others who are coughing and sneezing.
Wash your bed linens once a week. Change pillowcases often, especially when you or anyone who shares your bed feels ill.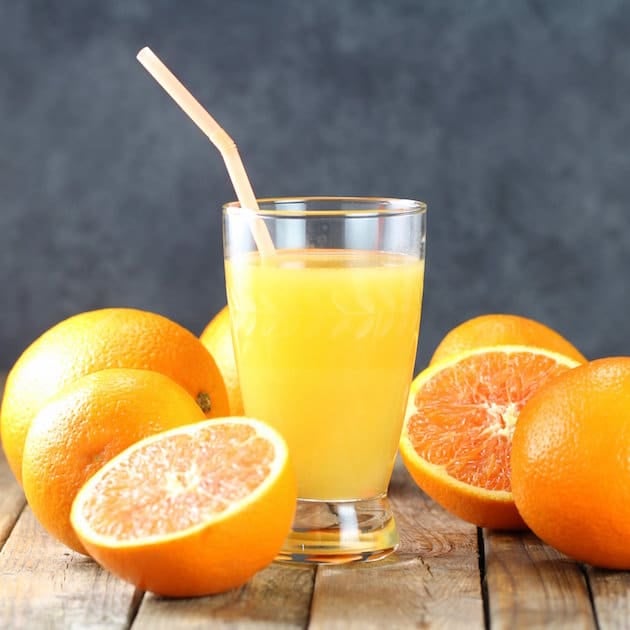 And just in case these defenses don't work, here's what you can do after you've gotten sick to get to feeling better pronto:
13

Suggestions To Get Rid of Colds & Flus!
Get Sleep. It's important to get lots of rest when you come down with a cold. It helps your body direct its energy to fight off your infection since this battle taxes your body. So help your body out and rest.
Eat healthily. A healthy diet can help fuel the immune system; so choose a dinner that includes protein-packed foods like lean meat, fish, or beans, with a whole-grain side like brown rice and plenty of antioxidant-rich vegetables.
Take a hot shower before bed if you're still feeling stuffy. Then get a good night's sleep.
Gargle with salt water. It moistens your sore or scratchy throat and brings temporary relief. Try a half teaspoon of salt dissolved in 8 ounces of warm water four times a day. To calm the tickle in your throat, try a gargle made from tea. Or use one that's got honey in it. "The salt draws out excess water in your throat's tissues, reducing the inflammation, and clears mucous and irritants from the back of the throat," notes Philip Hagen, MD, medical editor in chief of The Mayo Clinic Book of Home Remedies. The rinse also flushes out bacteria and viruses.
Use Cold-EEZE for sore throat/colds. They contain a powerful cocktail of vitamins and herbs that we always find helpful to speed the healing process.
Andrographis is a plant that is native to South Asian countries such as India and Sri Lanka – it is known as the "king of bitters." The leaf and underground stem are used to make medicine that's believed to stimulate the immune system and provide anti-inflammatory relief. It's most commonly used for the common cold, inflammation, and pain. Just like any medication (naturally occurring or synthetic), it can cause side effects, so be sure to read up on this herb before taking.
Elderberry – take 1-4 tbsp for 3 to 5 days as an intervention (we like the brand Sambucol – they also have gummy chews for the kiddos!).
Saline water rinse. We use neti pots at our house with water we boil and allow to cool to 90 degrees, or our doctor recommends buying the pre-packaged saline rinses from the drug store. The saline rinses are great when you're traveling away from home. If you use a neti pot, then you must be sure you are using sanitized (boiled!) water – of course, let it cool down before using. PS: This works great for allergies as well.
Drink plenty of fluids. Especially those with antioxidants, minerals and healthy properties like green tea, matcha, ginger tea, kombucha, bone broth, chicken soup or good ole' H2O. Also, hot liquids will help relieve your congestion and soothe the inflamed lining of your nose and throat. Heated drinks help loosen congestion and stimulate the flow of mucus, as well as keep you hydrated.
Blow your nose - but not your brains out. Blowing your nose is better than sniffling mucus back into your head. But you can blow too hard which will send germ-carrying phlegm back into your ear passages, which can lead to an earache. The best technique? Press a finger over one nostril while you blow gently to clear the other.
Use Mentholated Salve. Try a small dab under your nose. It opens up breathing passages. Menthol, eucalyptus, and camphor all have mild numbing ingredients that may help relieve the pain of a nose rubbed raw.
Hot Packs on your Sinuses. You can buy reusable hot compresses at a drugstore, or just make your own by heating a damp washcloth in a microwave for 30 seconds. Test the temperature first to make sure it's right for you, then place it on those swollen and inflamed sinus pressure areas and relief is on its way.
Sleep on a ramp. This will help keep those sinuses draining rather than just collecting in your head, therefore helping you breathe better. I use a 3 pillow ramp – the largest one on the bottom (laying flat close to the headboard), a second one laying in the front of the bottom one, overlapping halfway to create the eased ramp. Then a medium-thin pillow centered on the top of both of them.
Maybe you've tried all of the above and you're still feeling under the weather. I've got one more weapon in my arsenal for you to try... I give you Fire Vinegar - a surefire homemade cold remedy OR a delicious salad dressing if you'd prefer.
Lauri Meizler - board certified health & wellness coach - shared the recipe with me and I had to pass it along. Here's Lauri describing how it helped one of her friends:
"A friend of mine had a fever with a bad cold last week. She doesn't like to take any medications and, according to her, doesn't need to because she's well armed with a concoction that doubles in making an incredibly delicious salad dressing or marinade. Within a day of taking this, the fever and cold were gone!"
That's quite the endorsement if you ask me. I had to whip up a batch to see this miracle mixture in action for myself. Something to note: because this special concoction needs a few weeks to steep, you really can't afford to wait until you or family doesn't feel well to pull it together.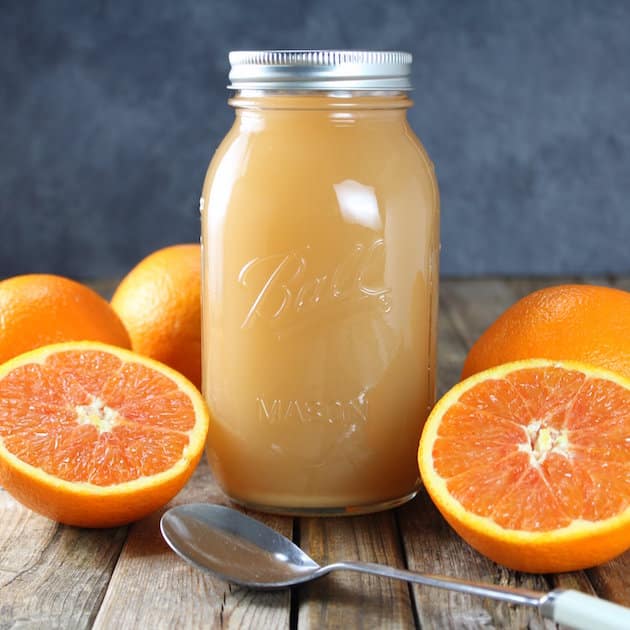 I had mixed up some of this special elixir in hopes of writing this post and it was sitting in the fridge when it happened... It was 3 pm and I could barely keep my eyes open, the lymph nodes in my neck started to hurt and feel swollen, then drainage in my throat, chills all over... on no you didn't flu bug... I'm not goin' out like that!
I reached for my jar of healing juice, squeezed an orange, and it was bottoms up.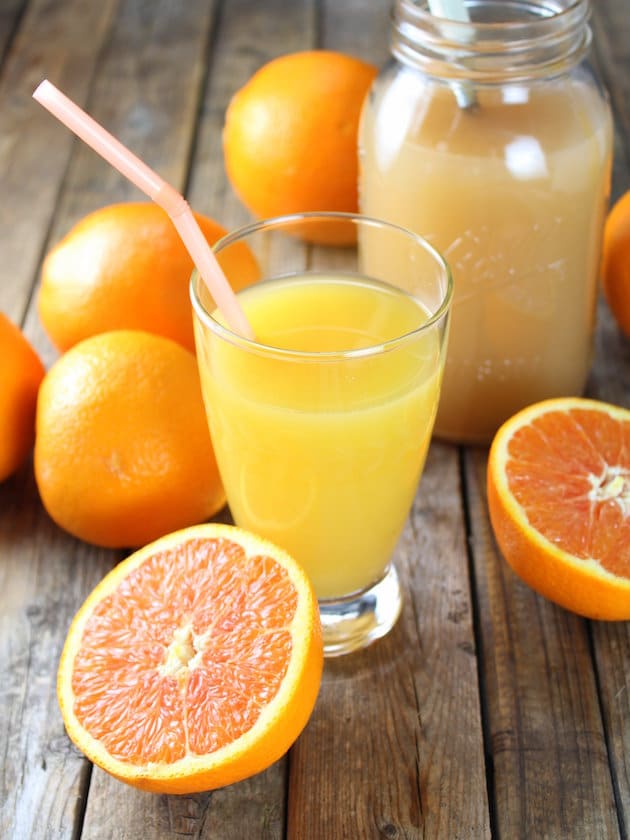 Umm, it was strong - I'm not gonna lie. I regretted not adding honey as the instructions suggest or maybe just some more orange juice. Whoa!! Fiiyyah water ain't no joke!
I'm thinking slowly sipping it would have been a better call - 'cause gulping it down like it was a tall glass of water on a sunny 100-degree day was a bit overzealous.
But there was no going back. And I had to push through my busy night - I couldn't afford the rest my body needed. I was hopeful this potion would work its magic and I would escape being out of sorts.
I'm happy to report, I did! The next day, I timidly opened my eyes one at a time. Doing an all systems check... a sore throat? achy back? stuff up head? - none of the above! No ailing, sickly, days of bed rest for me. Oh no, as good as new. As if it were all a bad dream.
So there you have it, my friends, a first-hand account of this restorative dram doing its job so I could continue doing mine!
Of course, I can't say for sure this Fire Vinegar was my healing miracle, but you better believe next time I start to go down that "sniffling, sneezing, coughing, aching and not getting any rest" road, I'm gonna reach for this spicy brew.
You know what they say "desperate times..." And I'll do almost anything to avoid being sick - clearly.
I encourage you to whip up a batch of this Fire Vinegar and keep it on hand and in the fridge during the cold and flu season. Cause you never know when your kiddo's classmates will send them home with a special and umm, unwanted gift.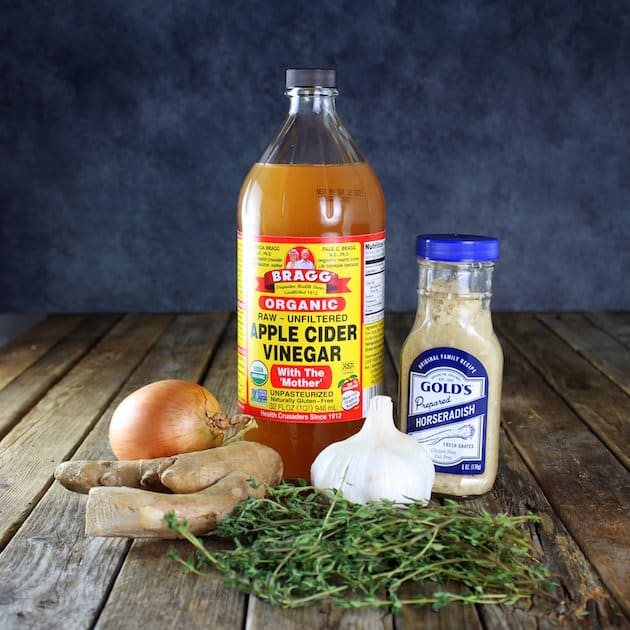 Here's what you'll need to whip up your own Fire Vinegar cold remedy: 1-quart of high-quality apple cider vinegar, 1 chopped onion, ½ head of chopped garlic, ½ cup of grated horseradish, ¼ cup chopped or grated ginger root and 2 tablespoons fresh rosemary or thyme leaves chopped. Steep it at least 2 weeks (or up to 2 months) in an airtight container in the fridge, strain and, if you'd like, add honey and/or a citrus to taste. (I highly recommend the extra additions. LOL)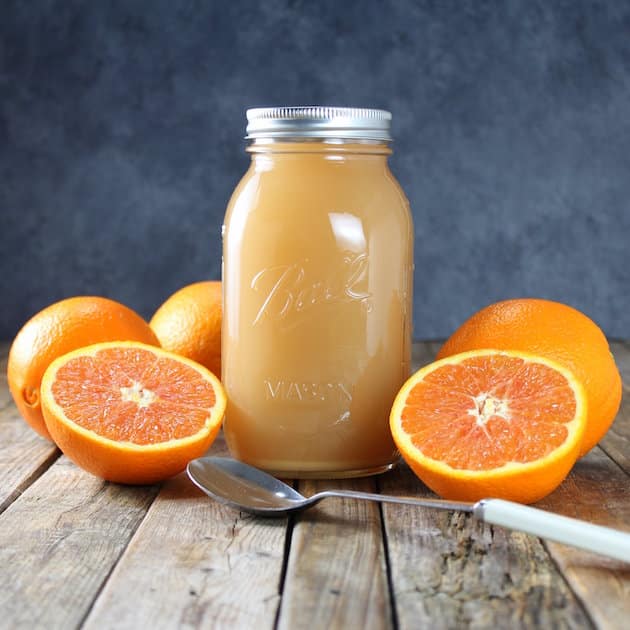 There you have it, my friend - my best Tips To Stay Well This Season and a Natural Remedy For The Common Cold!
And I'm pretty sure you already know this but just in case...
** Disclaimer: I am not an MD, DO, RN, RDN, or any other sort of healthcare professional! But I can tell you these things work, from personal experience! Sources for this article are listed below!
Be well, my friend!
Yield: 12 servings
Fire Vinegar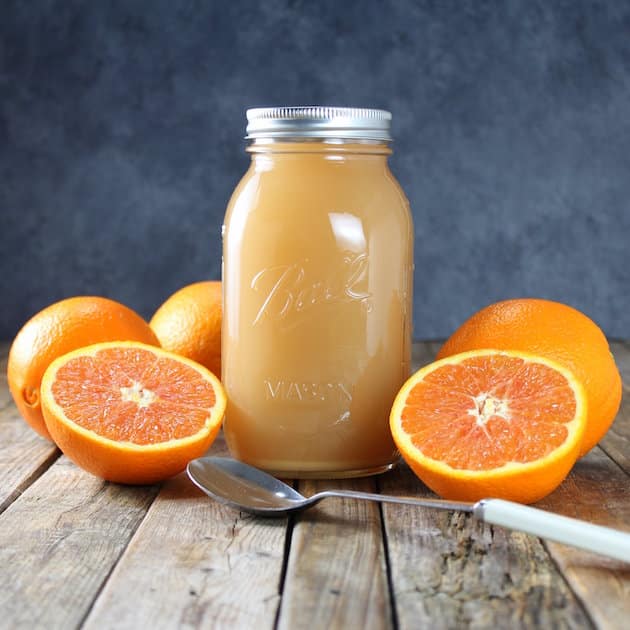 A homemade remedy to cure any common cold or flu.
Ingredients
1 quart high-quality apple cider vinegar
1 chopped onion
½ head garlic, skin removed and finely chopped
½ cup grated horseradish (fresh or prepared)
¼ cup ginger root, grated or chopped
2 tbsp fresh rosemary or thyme leaves, chopped
Instructions
Pour vinegar over the above ingredients.
Steep for 2 weeks to 2 months in an airtight container in the refrigerator.
Strain and, if you'd like, add honey and/or a citrus to taste.
To treat a cold, mix ½ cup fire vinegar with ½ cup orange juice and honey.
Nutrition Information
Yield
12
Serving Size
½ cup
Amount Per Serving
Calories

29
Total Fat

1g
Saturated Fat

1g
Unsaturated Fat

0g
Sodium

47mg
Carbohydrates

4g
Fiber

1g
Sugar

2g
Protein

1g
Here's a list of references for this post - thanks to all my sources!!
20 Surprising Ways to Prevent Colds and Flu
The Secrets To Never Getting Sick
16 Remedies to Kick the Common Cold
Cold remedies: What works, what doesn't, what can't hurt
Dr. John Bordiuk – Board Certified Internist and Medical Director