Chicken Cannelloni AKA Chicky Chicky Can Can is tender and juicy and full of so much yummy flavor!  One of my favorite homemade meals with mozzarella cheese, dijon mustard, sliced mushrooms, chopped green onions, diced canned tomatoes and dry vermouth.  I know you're gonna love it as much as I do!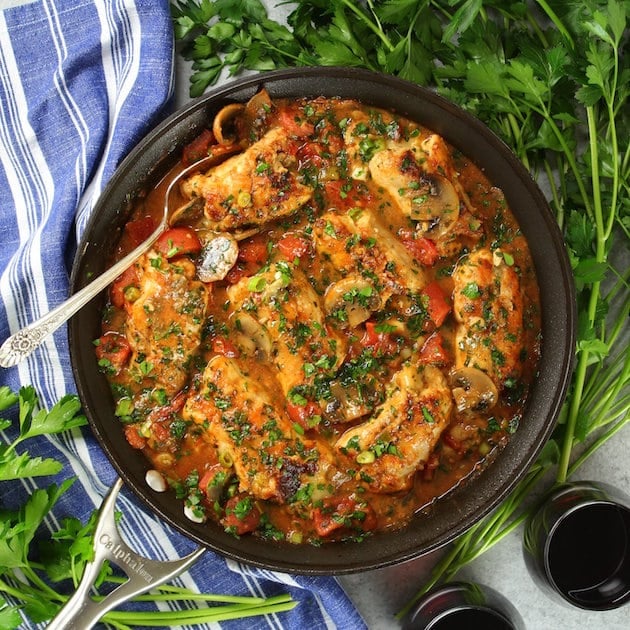 This Chicken Cannelloni recipe is one of my top 10 Chicken dishes of all time.  Not even kidding.  It's right up there with the Parmesan Crusted Chicken.  (A must-try if you haven't already.)
And because I did extensive research (Googled it), I am also fairly certain this recipe doesn't exist on the Internet or in mainstream cookbooks.  All I can say is – Winner, Winner, Chicken Dinner!!!!
MY LATEST VIDEOS
You're welcome!  Just getting that out of the way up front.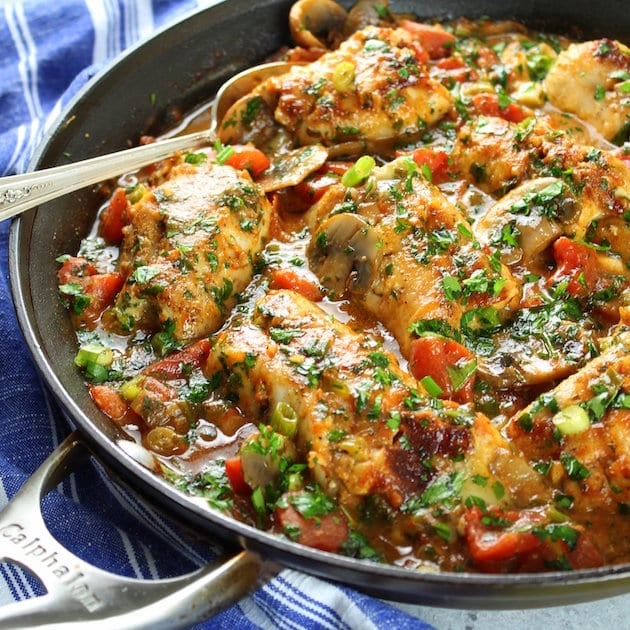 Just a bit of food trivia for you: Did you know that "chicken recipe" is the most searched recipe term ever, of all time??  We do love our chicken – don't we?
Now it's all starting to make sense – right?
This recipe is pretty much like finding a diamond on your bathroom floor.  That actually happened to me, so take my word for it, 'cause it feels the same!
We all have a bazillion chicken recipes and many of them are really tasty but few of them make you want to name your first born after them.  This one does!  It's ridiculously delicious and the chicken is tender and juicy every time.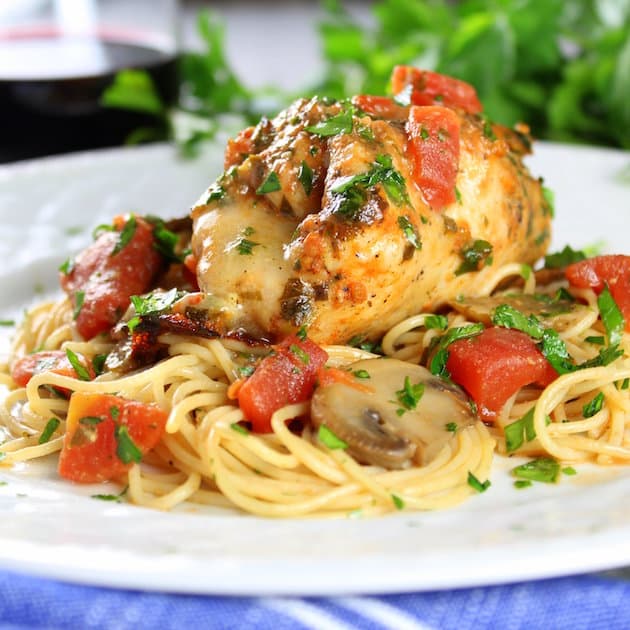 You're probably wondering what crime I committed to get ahold of this recipe?  Or what food maven decided I was worthy and allowed me to be the keeper of such a rare gem?
Drum roll please…MY MOTHER-IN-LAW!!
What can I say?  She loves me as her very own… so much so that she shared this gift with me.   Now, since you and I are like family, I'm sharing it with you.  Snaps for Holly!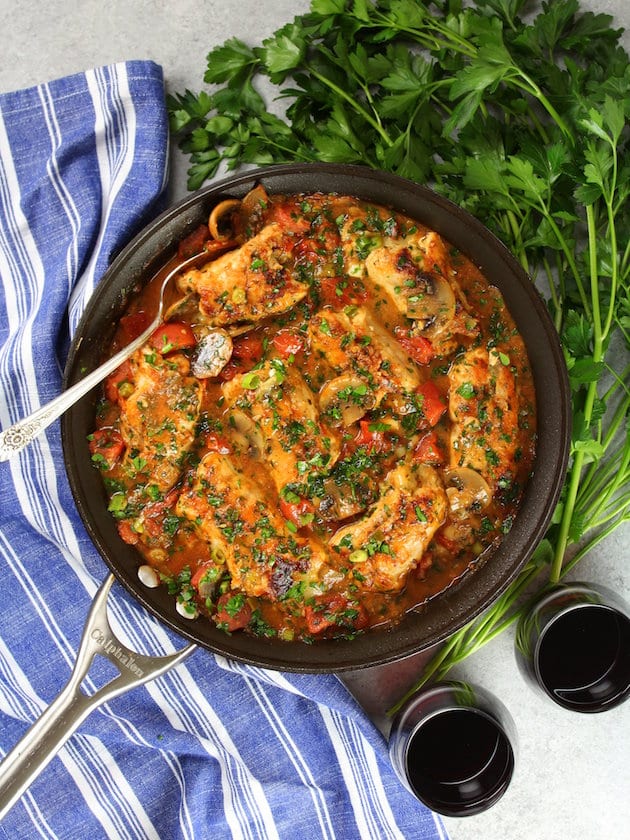 Just to give you even more of the skinny, this particular Chicken Cannelloni recipe came from MIL's Out Of Our League cookbook published by The Junior League of Greensboro… from 1978.  Needless to say, this cookbook is out of print.  Making it even more rare and flawless.
Can you say Hope Diamond!???
Just like the pressure diamonds endure, this recipe does require some pounding of the chicken breasts to make them flat.   Just put it between sheets of plastic wrap or parchment paper and get your hammer on.
How To Make Chicken Cannelloni: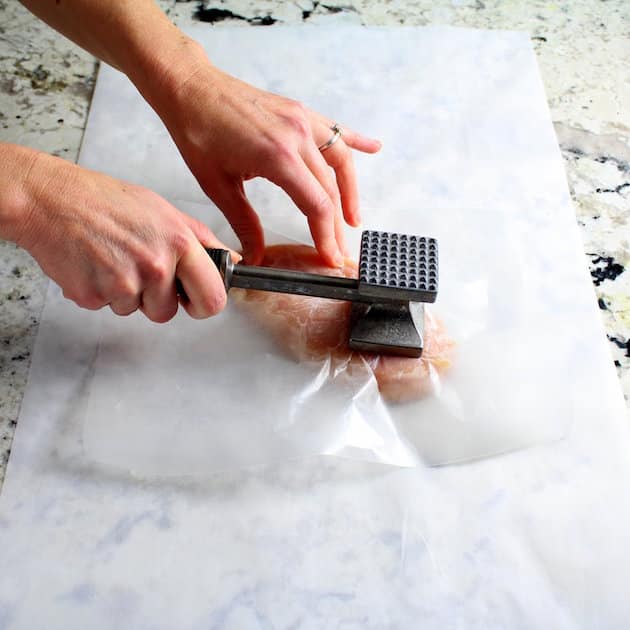 If the chicken breasts are large I like to cut them in half.  They make for better portion sizes and take less time to cook.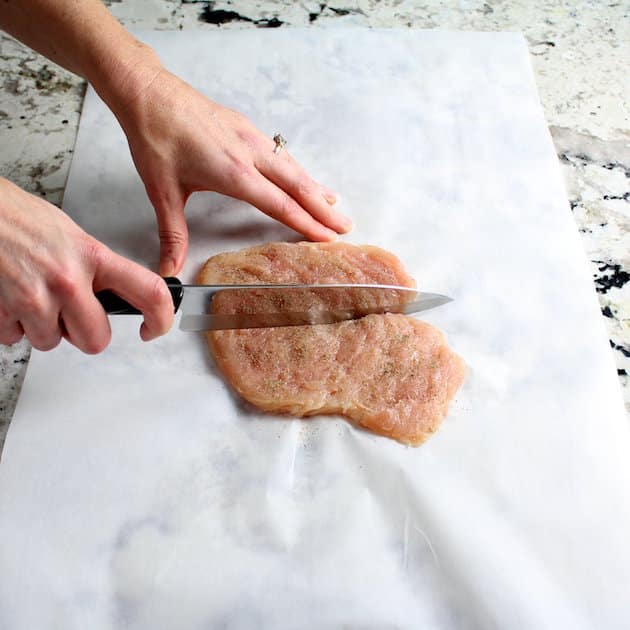 Then smear on some of the tangy Dijon mustard, slap on a slice of mozzarella cheese, roll it up like a sleeping bag.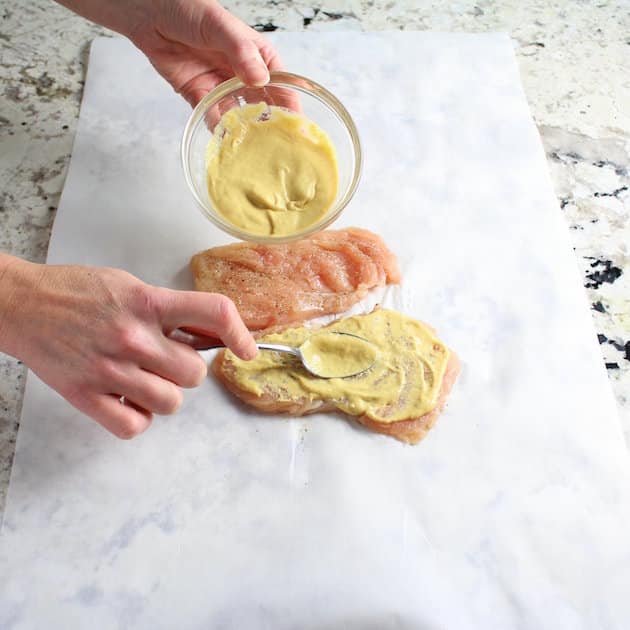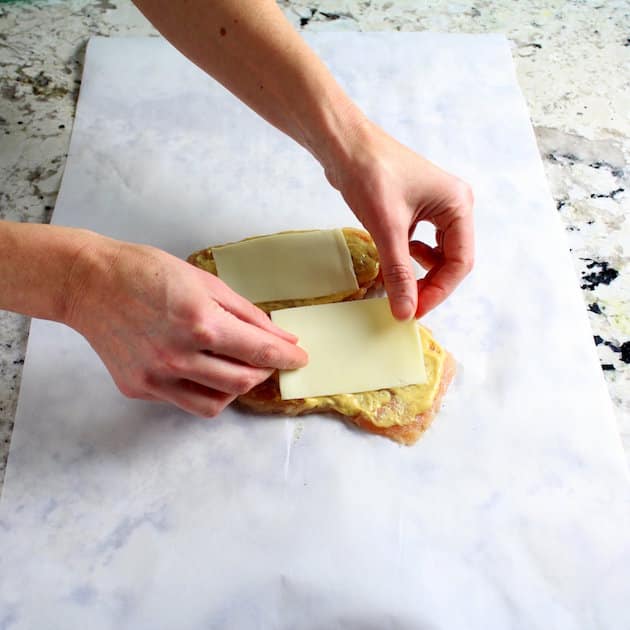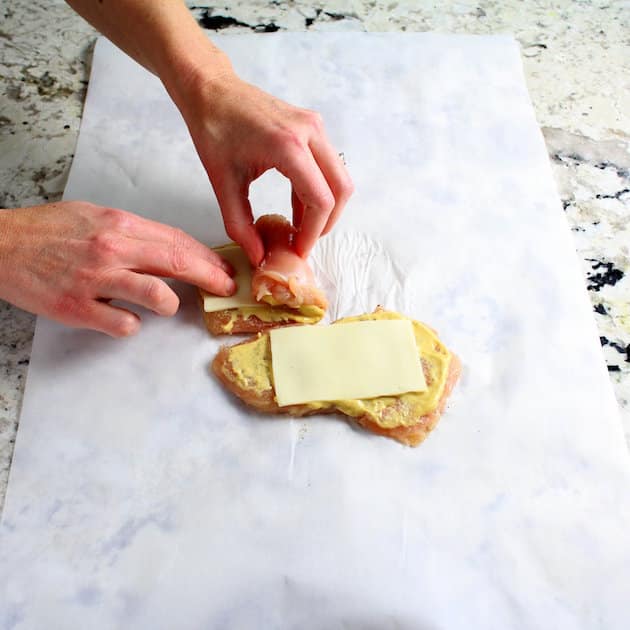 Then zip those chicken rolls up with 3 or 4 toothpicks to keep all that cheesy goodness trapped inside while they cook.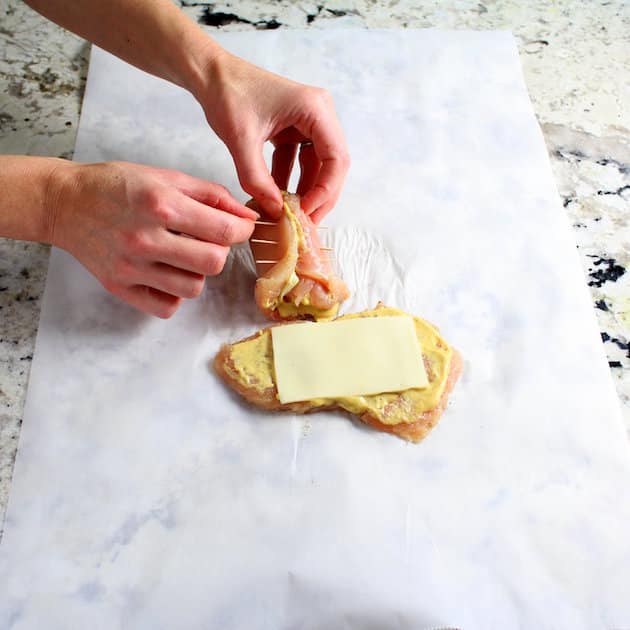 Then dredge them in a little flour and put those suckers to bed (AKA into the saute pan).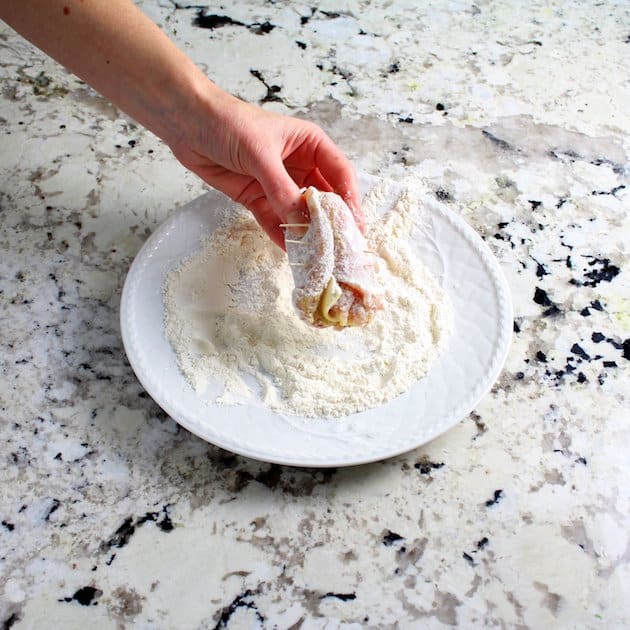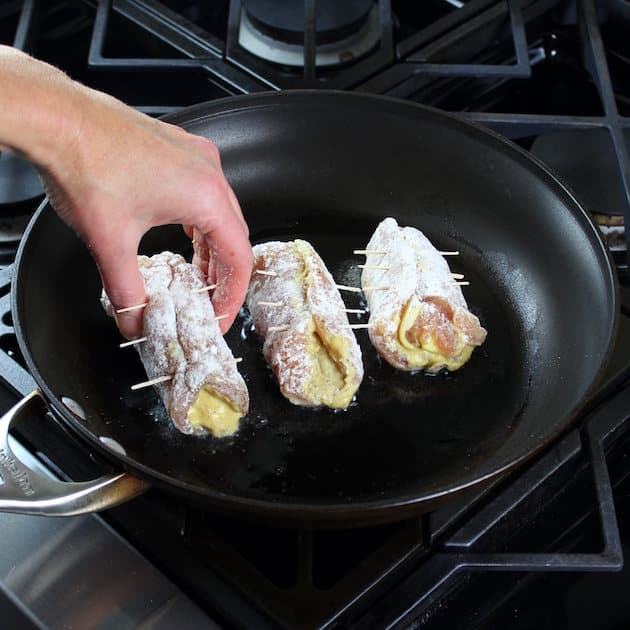 Cook them on each side for 2-3 minutes on medium-high heat.  Then remove them from the pan, place them on a plate and tent with foil.
You'll also need a few other ingredients to finish off this yummy dish:  sliced mushrooms, a little dry vermouth (AKA the secret sauce), chopped green onions, chopped parsley, and some diced canned tomatoes.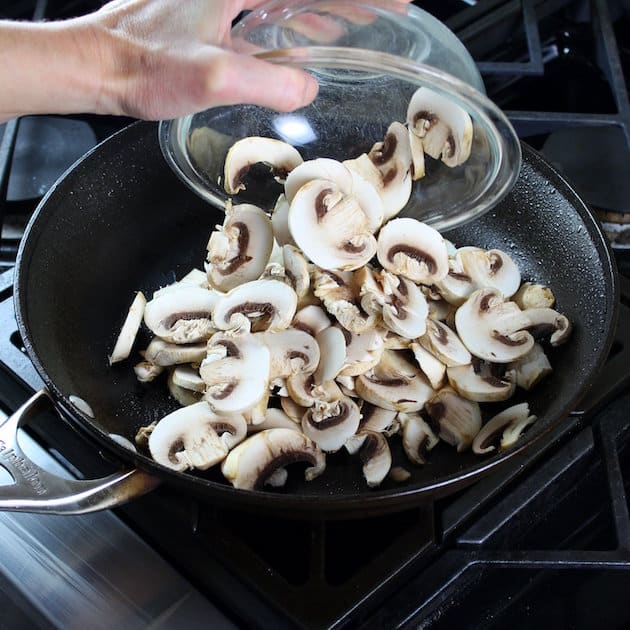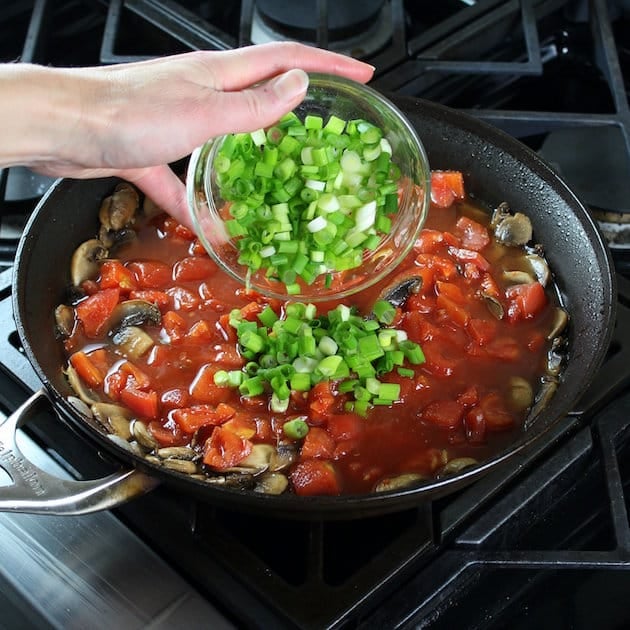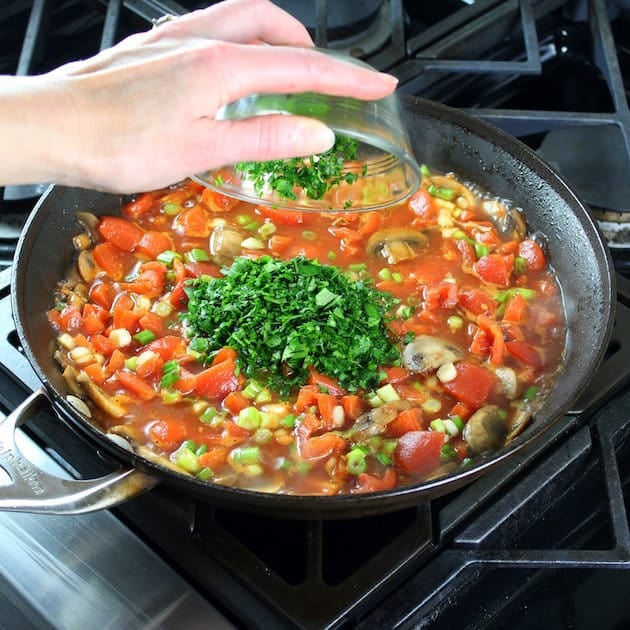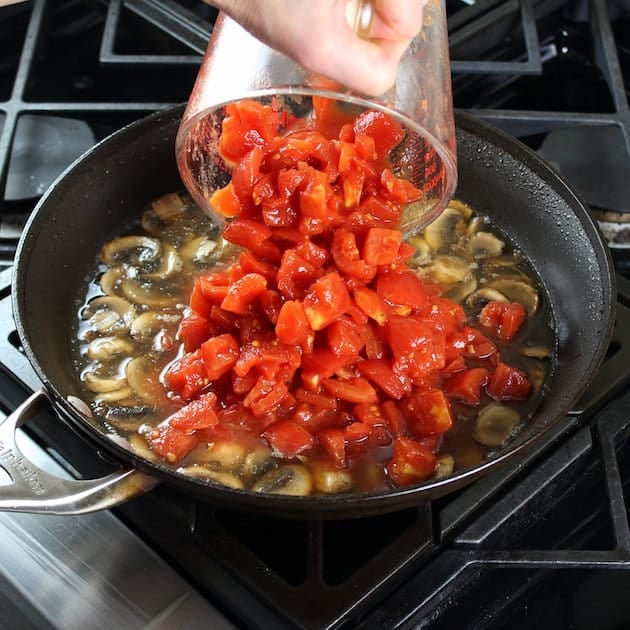 You add the chicken back into the pan and let it saute for about 10 more minutes, or until it reads 165 degrees on a meat thermometer.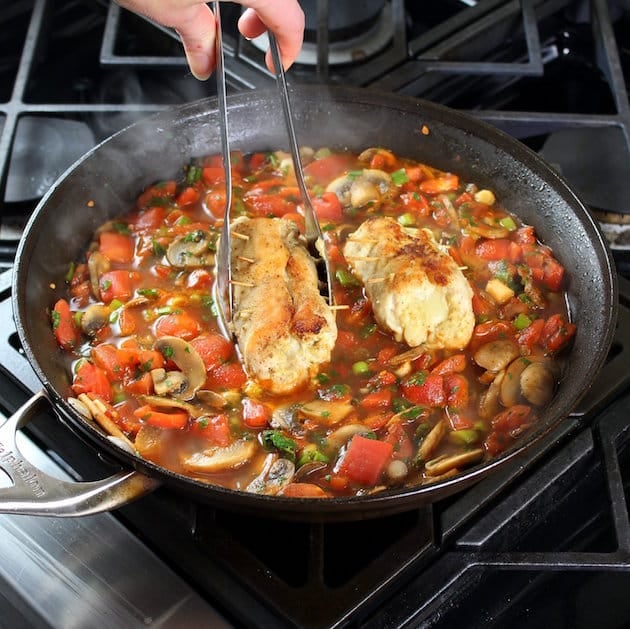 So juicy and flavorful and ready in no time at all.
I like to cook some angel hair pasta or cheesy polenta to soak up all that yummy sauce.  It's truly one of my favorite chicken dishes.  And once you try it I know you'll agree.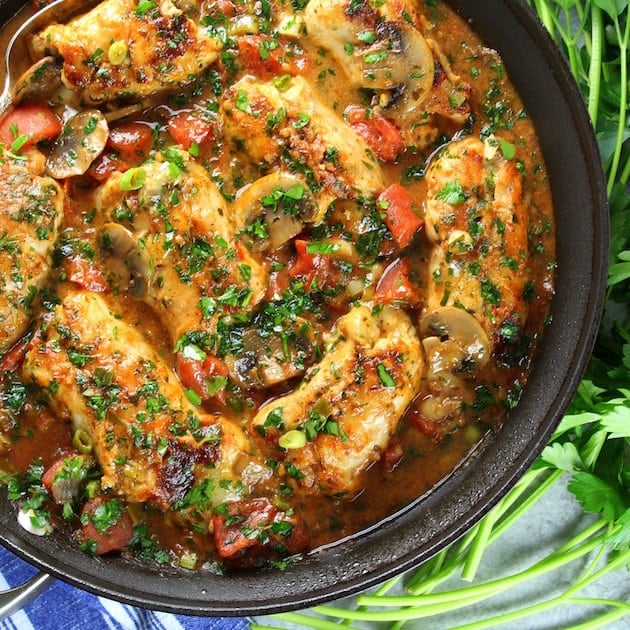 I'm super excited for you to make this Chicken Cannelloni recipe, or like my friends at Parks and Rec might say, "Chicky Chicky Can Can."
I know it will soon become a top 10 chicken dinner in your house and one of your favorite easy weeknight dinners as well!  Enjoy!
I would love to connect with you!  Leave a comment and follow me on Instagram, Twitter, Facebook, & Pinterest!
Chicken Cannelloni - my new fave chicken weeknight dinner!
Click To Tweet
Check out these other amazing chicken dinners!

 
Chicken Skillet With Sweet Potatoes And Wild Rice: