Sweet Potato and Chicken Sausage Breakfast Skillet – everything you love about breakfast all in one pan!  With lots of beautiful, good-for-you ingredients like shredded sweet potatoes, brightly colored peppers, cheddar cheese, spicy chicken sausage, apple cider vinegar, chopped parsley and cage-free eggs… a well-balanced, tasty meal for any time of day!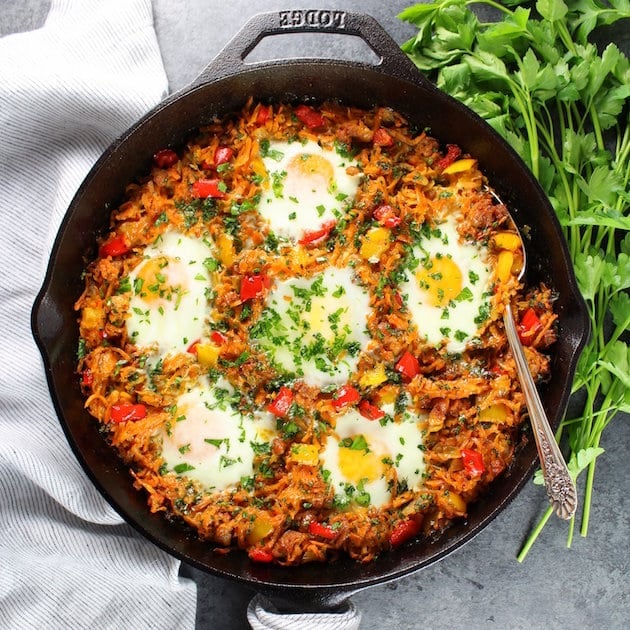 Do you eat breakfast for dinner, or maybe dinner for breakfast?🍳
I have a girlfriend whose family is from Germany.  She said they always eat savory, hearty and meaty meals in the morning.  I think that would suit me just fine.  I don't have a huge sweet tooth so that sounds perfectly delicious any time of day.👌
MY LATEST VIDEOS
Breakfast for dinner is also a great idea.🌟
It's another excuse to eat luscious, runny eggs…
… and easy to make.  Who doesn't need more easy weeknight dinners??
It's a "fast" meal to throw together (Get it?? Break-"fast"??😄  Sorry, couldn't help myself.✌️)
Plus, it's always a crowd-pleaser. Who doesn't love a good break-feast!??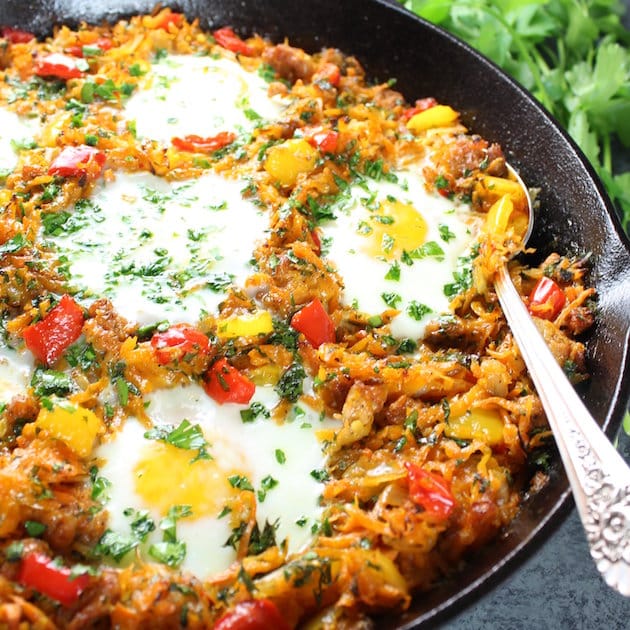 Today I've taken this whole breakfast or "break-feast" thing to yet another amazing level!💯
Not only is it easy, quick, and delicious, skillet breakfast dishes are also virtually effortless to clean up!  You're so welcome!🙏
Let me introduce you to your new BFF one-pan breakfast (or dinner) dish… Sweet Potato and Chicken Sausage Breakfast Skillet!👇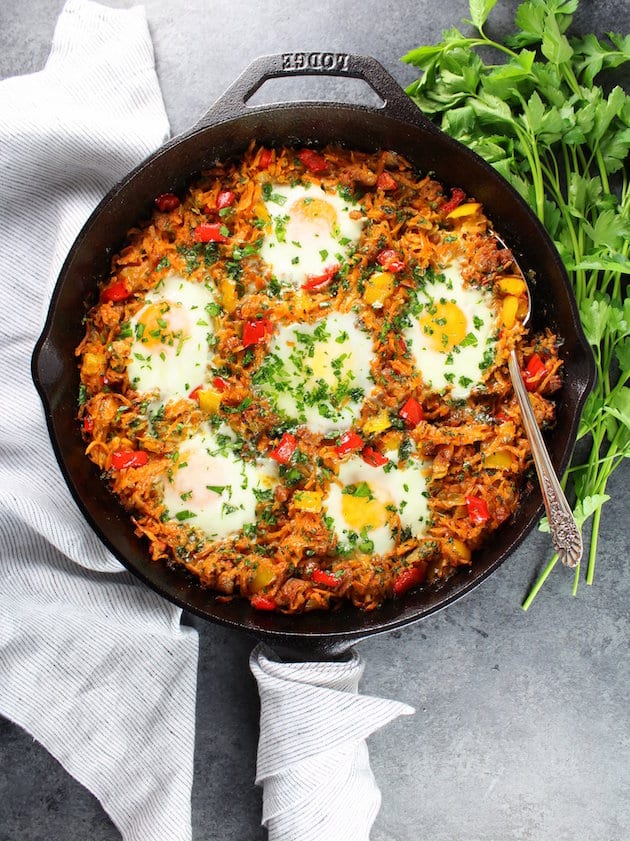 Just when you thought breakfast couldn't get any better – it does!  This one-pan skillet is brimming with so much yummy healthy goodness.✨
I mean, we all love some crispy hash browns, savory herbaceous sausage, and "pre-birds" – AKA eggs!  And this skillet has it all.  Well, kind of.
All of the fabulous, flavor but not all the unhealthiness that can sometimes be associated with a morning fry-fest.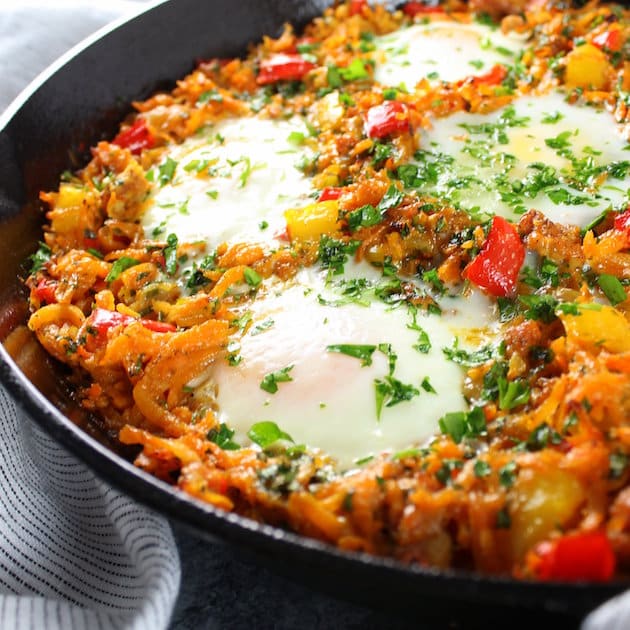 I swapped out the hash browns for shredded sweet potatoes.  The sagey pork breakfast meat got upgraded to spicy chicken sausage.  And the eggs: no oil required to cook these little mini sunshine pods… Just tuck them into their little potato nests and they will cook themselves.♨️
Seriously, your family will think you've hung the moon or at least the sun (six times to be exact) with this one-pan wonder of a recipe.🌞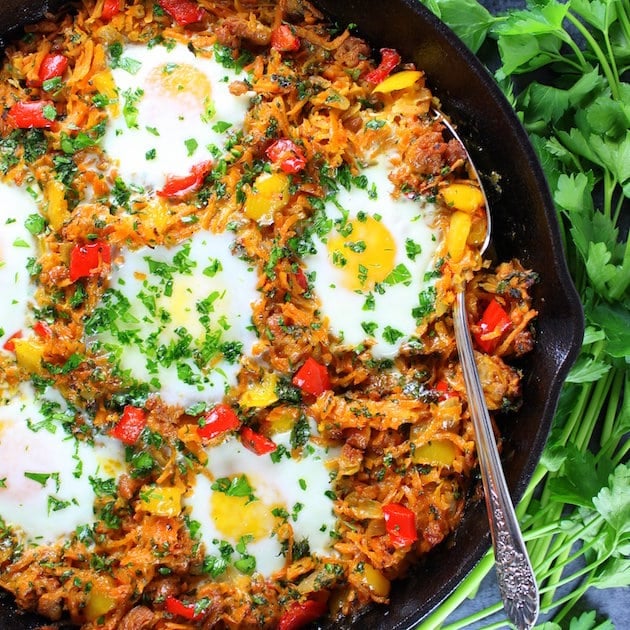 And you'll love the ease of making a skillet breakfast in less than 30 minutes.🙌
How To Make This Sweet Potato and Chicken Sausage Breakfast Skillet:
The process involves shredding two sweet potatoes in the food processor.  Chopping an onion, two peppers and mincing some garlic.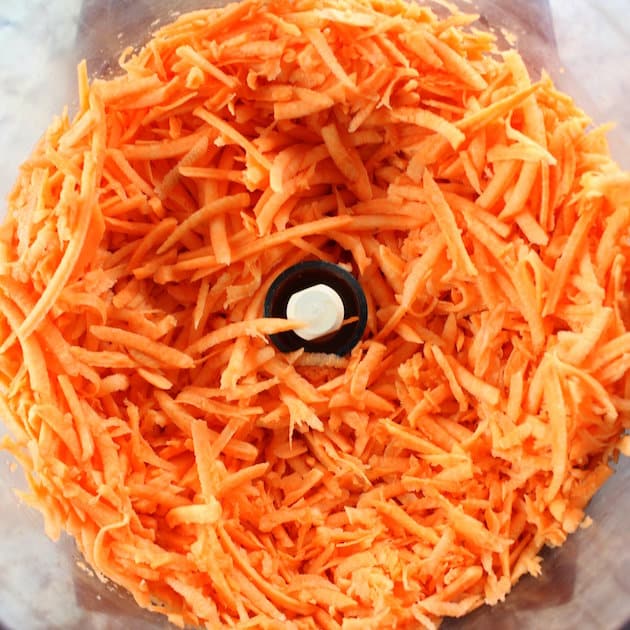 Then it's skillet time.
Sauté those onions for a few minutes, add the garlic and peppers, and cook just a few more minutes.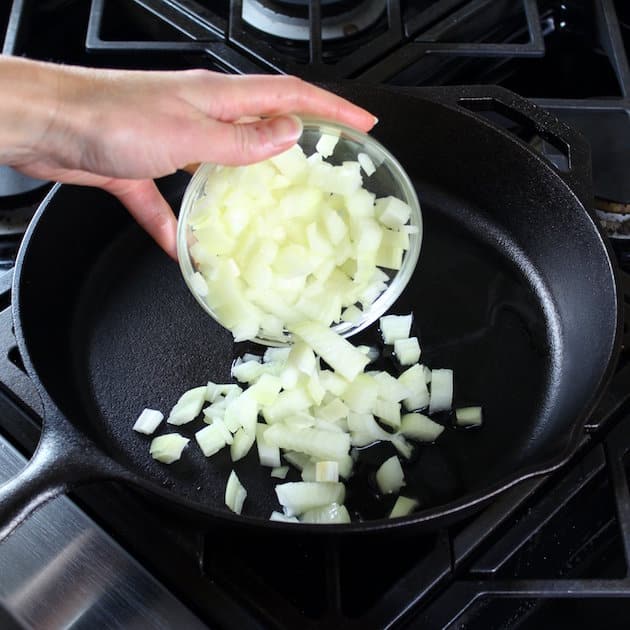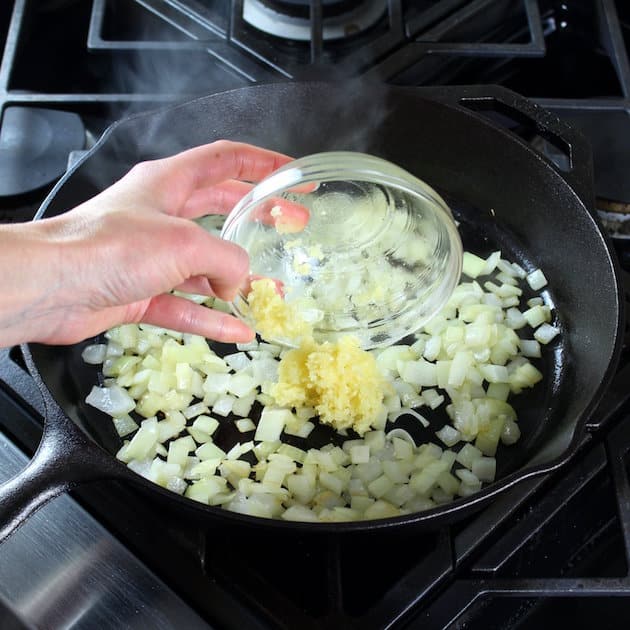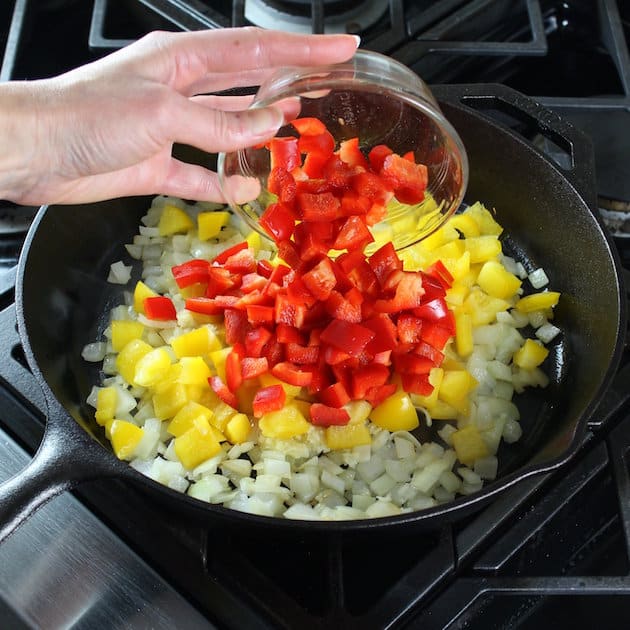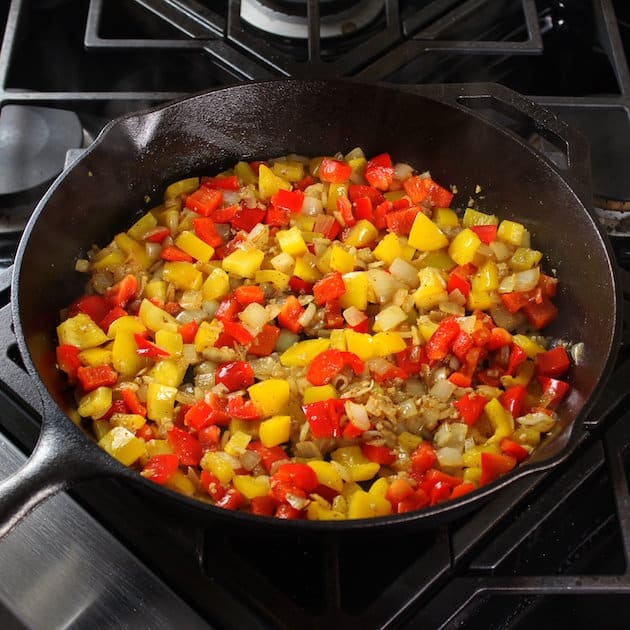 Then in goes your chicken sausage, parsley, cheddar cheese, plus salt and pepper.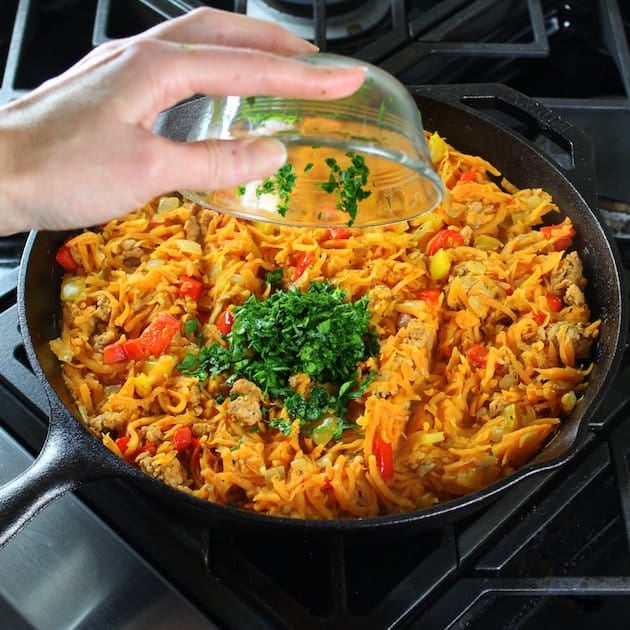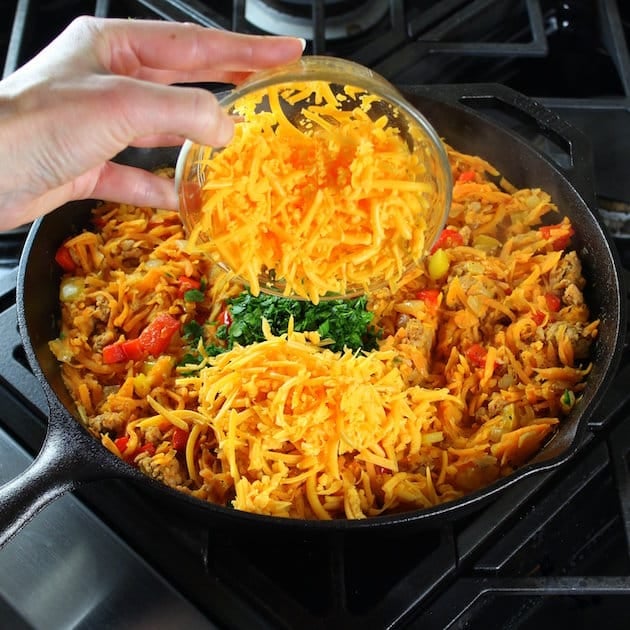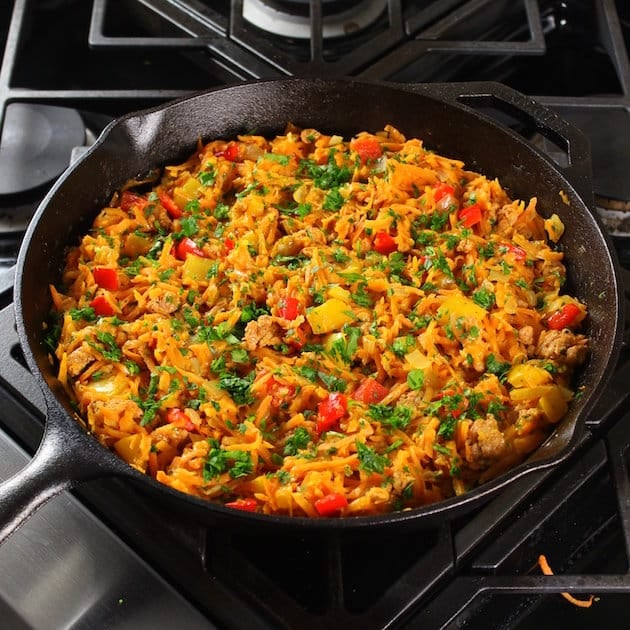 Add the sweet potatoes, apple cider vinegar for a little balance, stir and saute for 5 more minutes.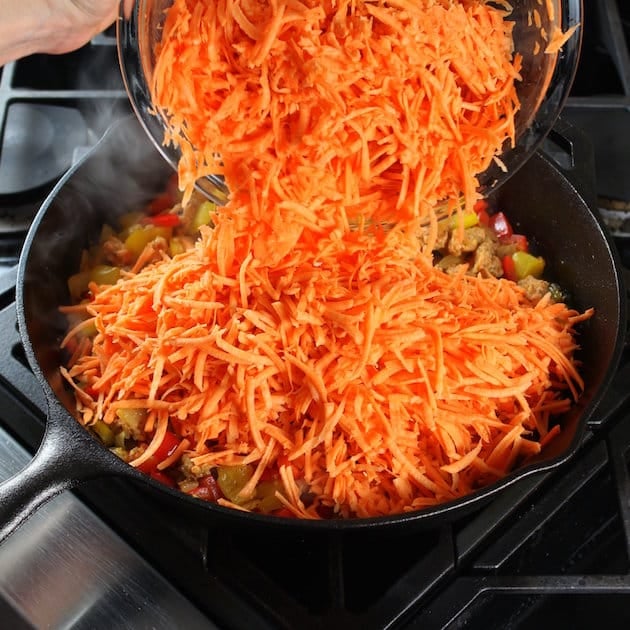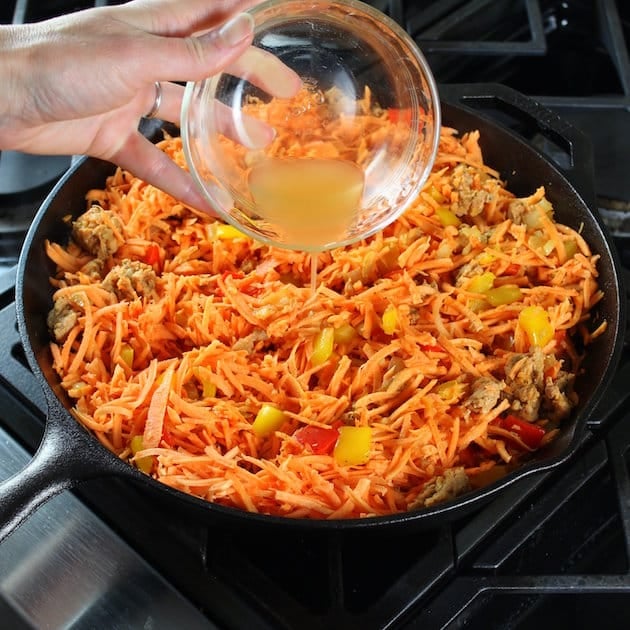 Make some cute little wells (AKA "nests") in your mixture and add your eggs one at a time.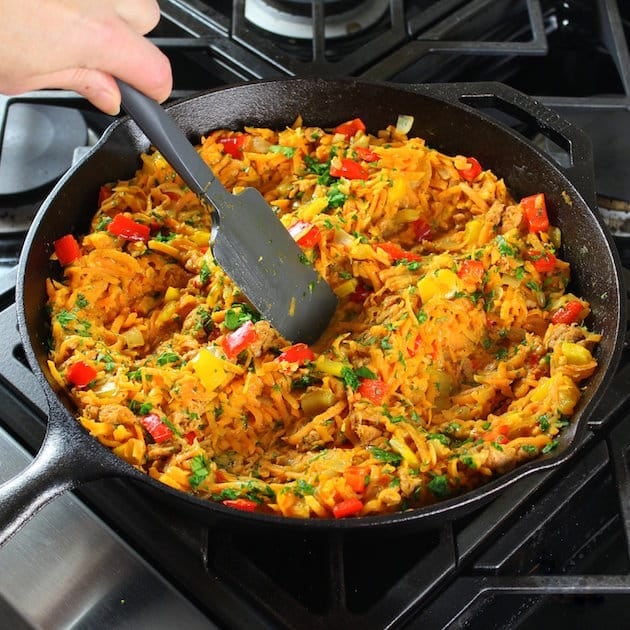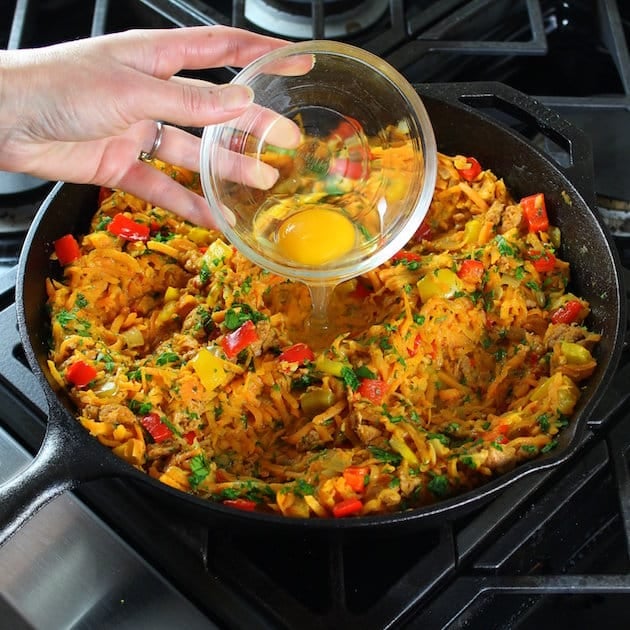 Into the oven it goes for 7-8 minutes and breakfast, or umm, dinner is served!💫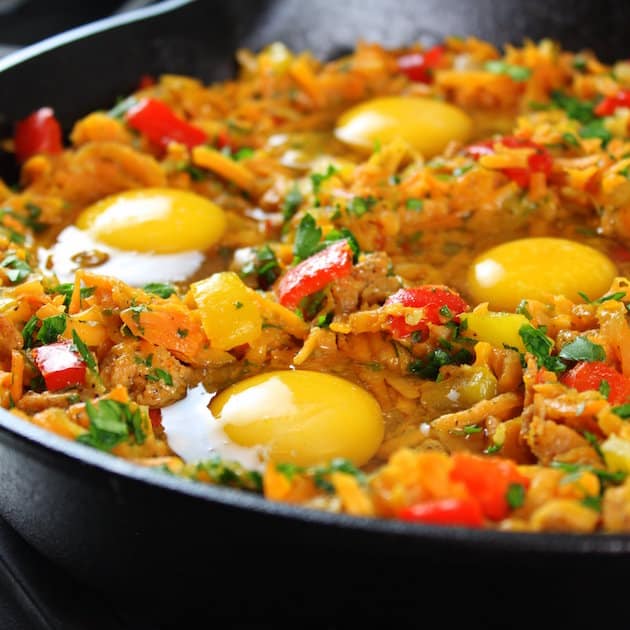 Sweet Potato and Chicken Sausage Breakfast Skillet – a well-balanced breakfast to start or end any day!👍
I would love to connect with you!  Leave a comment and follow me on Instagram, Twitter, Facebook, & Pinterest!
Sweet Potato & Chicken Sausage Breakfast Skillet!
Click To Tweet
Check out these other awesome one-dish wonders! 
Chicken Skillet With Sweet Potatoes And Wild Rice: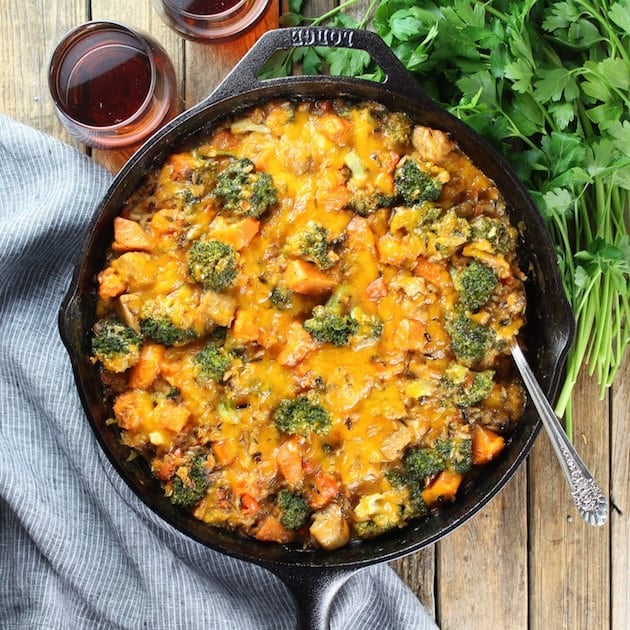 Honey-Lime Roasted Sheet Pan Salmon & Veggies: