Chicken Sausage Breakfast Skillet with Sweet Potatoes - everything you love about breakfast all in one pan! With lots of beautiful, good-for-you ingredients like shredded sweet potatoes, brightly colored peppers, cheddar cheese, spicy chicken sausage, apple cider vinegar, chopped parsley and cage-free eggs... a well-balanced, tasty meal for any time of day!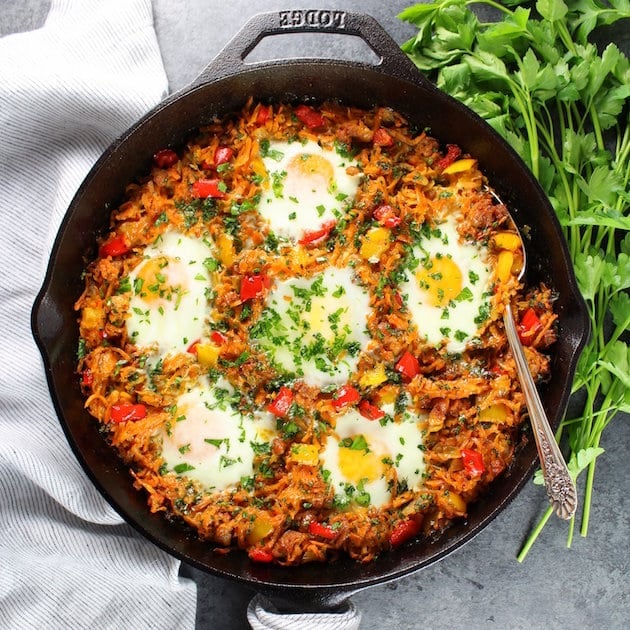 Do you eat breakfast for dinner, or maybe dinner for breakfast?🍳
I have a girlfriend whose family is from Germany. She said they always eat savory, hearty and meaty meals in the morning. I think that would suit me just fine. I don't have a huge sweet tooth so that sounds perfectly delicious any time of day.👌
Breakfast for dinner is also a great idea.🌟
It's another excuse to eat luscious, runny eggs...
... and easy to make. Who doesn't need more easy weeknight dinners?
It's a "fast" meal to throw together (Get it?? Break-"fast"??😄 Sorry, couldn't help myself.✌️)
Plus, it's always a crowd-pleaser. Who doesn't love a good break-feast!?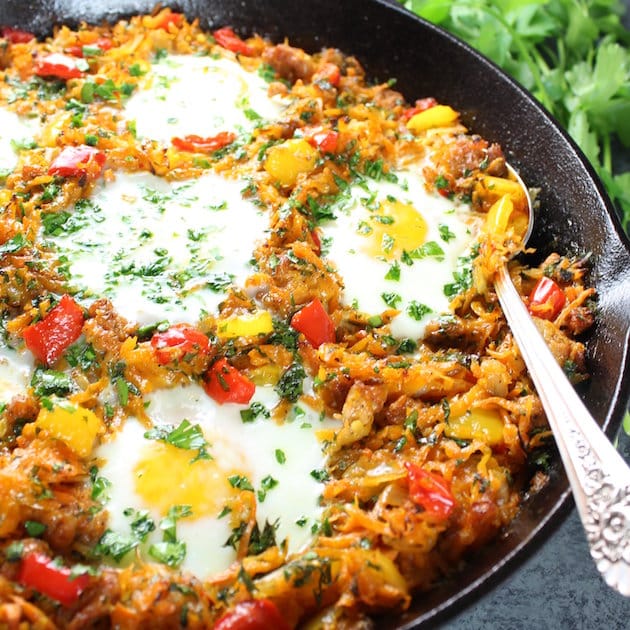 Why I love a breakfast skillet!
Today I've taken this whole breakfast or "break-feast" thing to yet another amazing level!💯
Not only is it easy, quick, and delicious, skillet breakfast dishes are also virtually effortless to clean up! You're so welcome!🙏
Let me introduce you to your new BFF one-pan breakfast (or dinner) dish… Chicken Sausage Breakfast Skillet!👇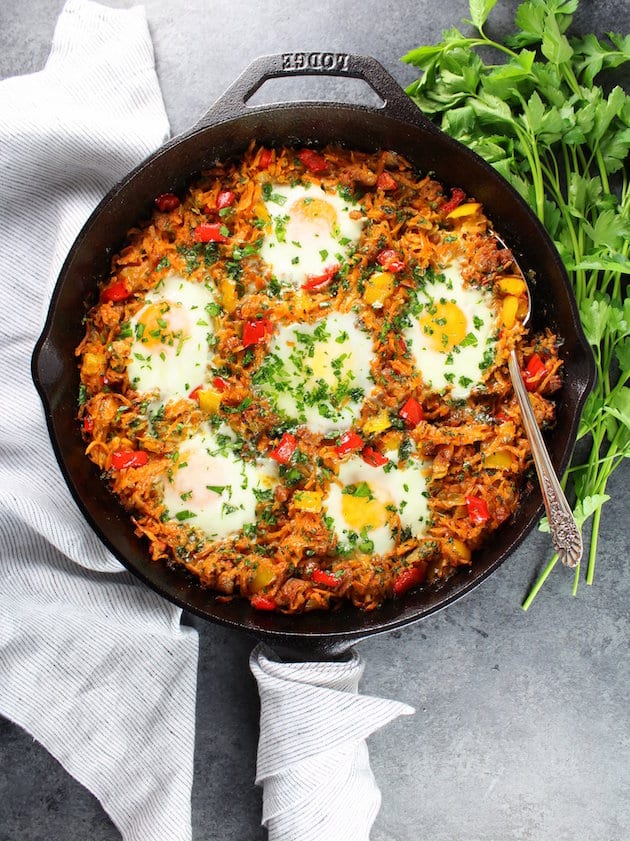 Just when you thought breakfast couldn't get any better – it does! This one-pan skillet is brimming with so much yummy healthy goodness.✨
I mean, we all love some crispy hash browns, savory herbaceous sausage, and "pre-birds" - AKA eggs! And this skillet has it all. Well, kind of.
All of the fabulous, flavor but not all the unhealthiness that can sometimes be associated with a morning fry-fest.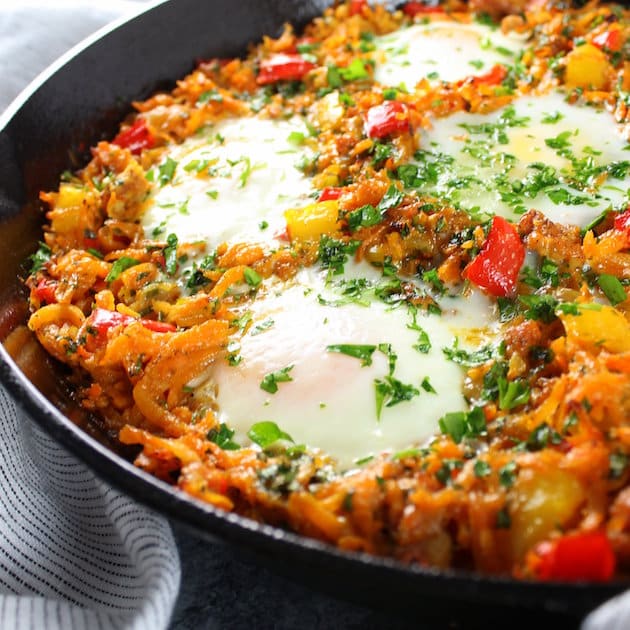 A healthier chicken sausage breakfast skillet:
I swapped out the hash browns for shredded sweet potatoes. The sagey pork breakfast meat got upgraded to spicy chicken sausage. And the eggs: no oil required to cook these little mini sunshine pods… Just tuck them into their little potato nests and they will cook themselves.♨️
Seriously, your family will think you've hung the moon or at least the sun (six times to be exact) with this one-pan wonder of a recipe.🌞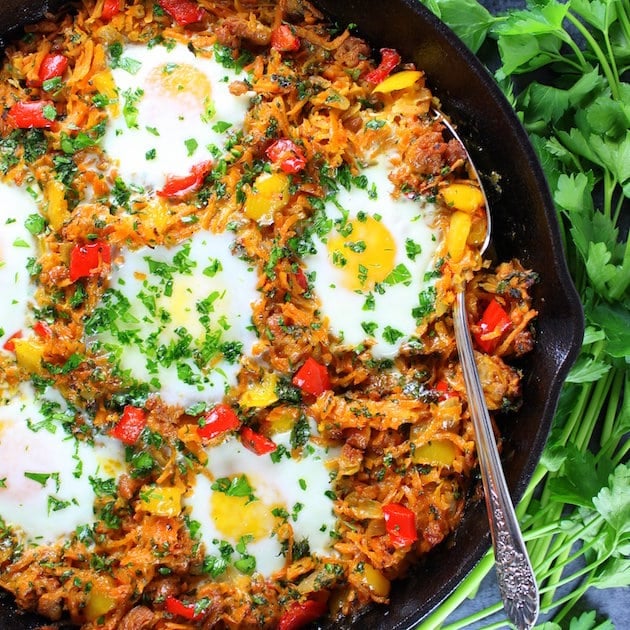 And you'll love the ease of making a skillet breakfast in less than 30 minutes.🙌
To Make This Chicken Sausage Breakfast Skillet:
The process involves shredding two sweet potatoes in the food processor. Chopping an onion, two peppers and mincing some garlic.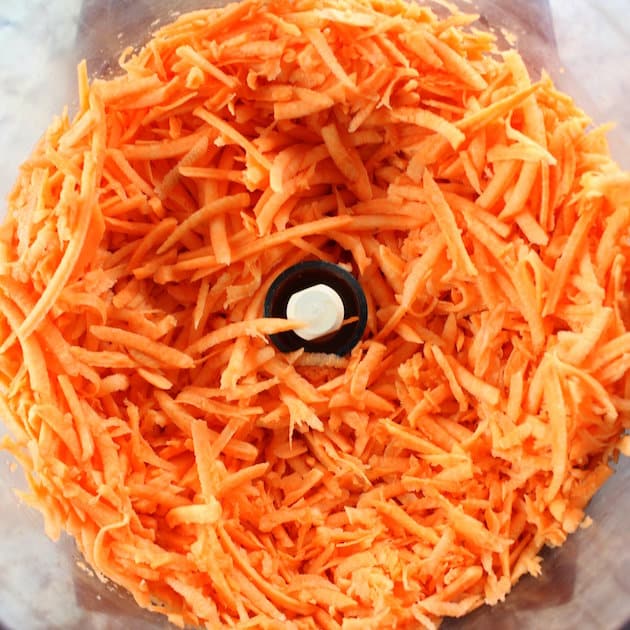 Then it's skillet time.
Sauté those onions for a few minutes, add the garlic and peppers, and cook just a few more minutes.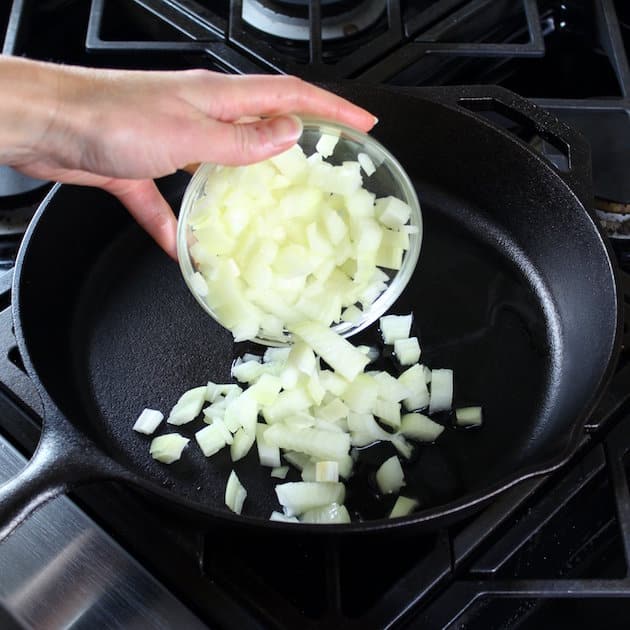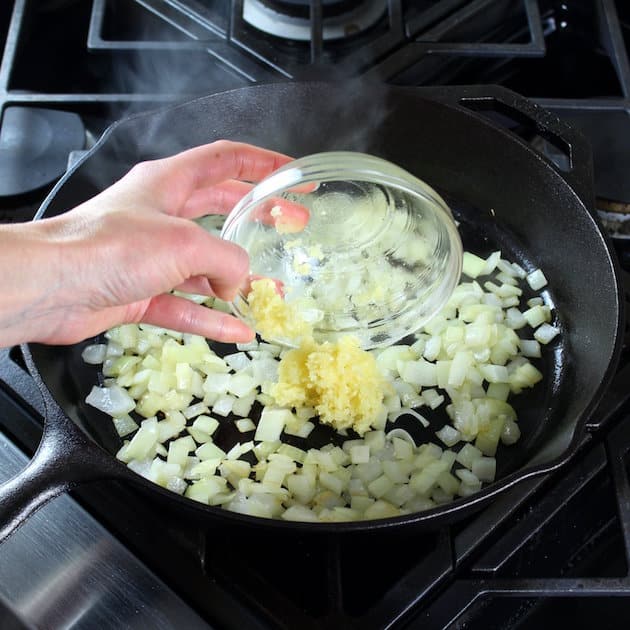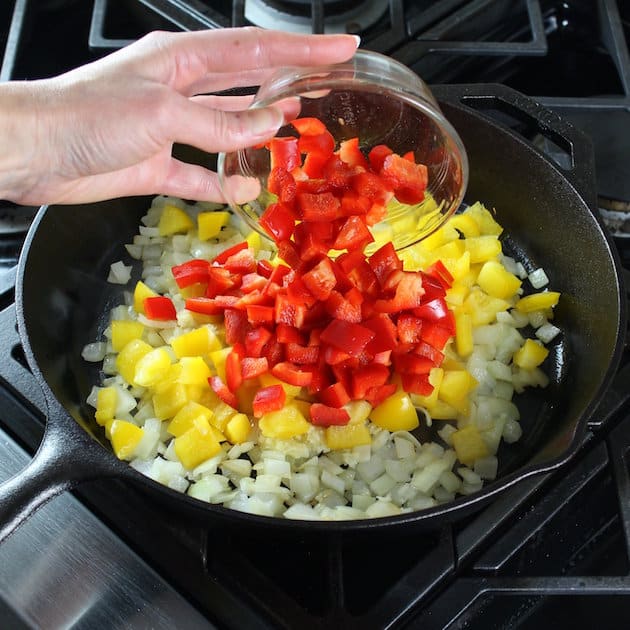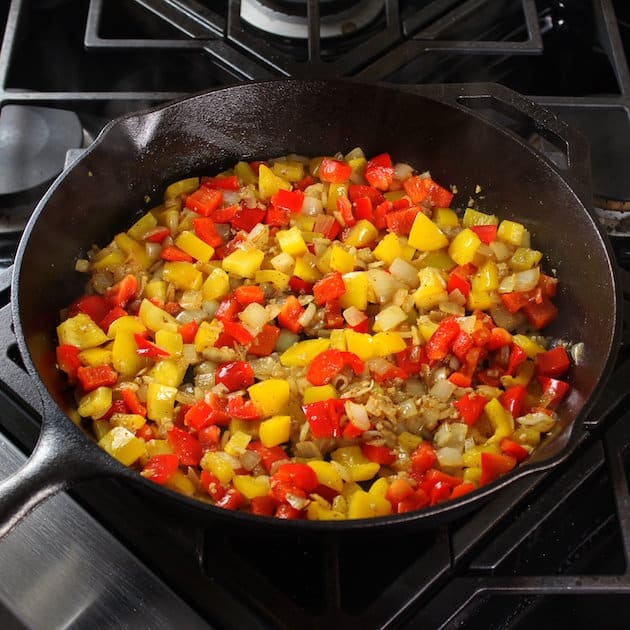 Then in goes your chicken sausage, parsley, cheddar cheese, plus salt and pepper.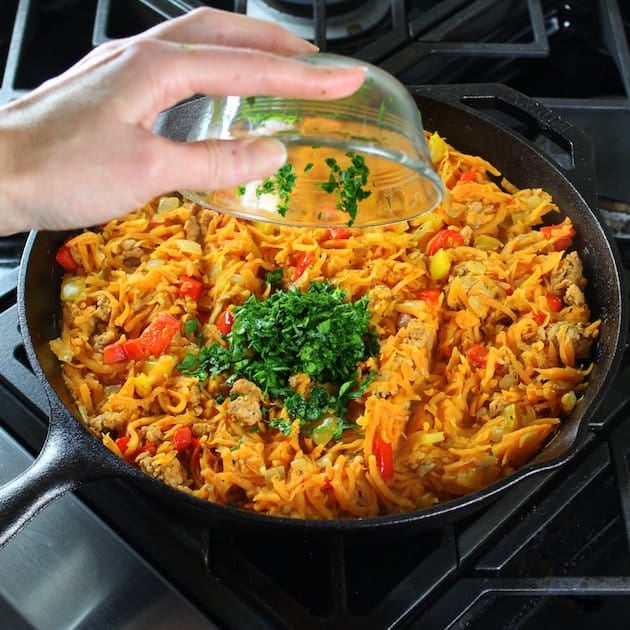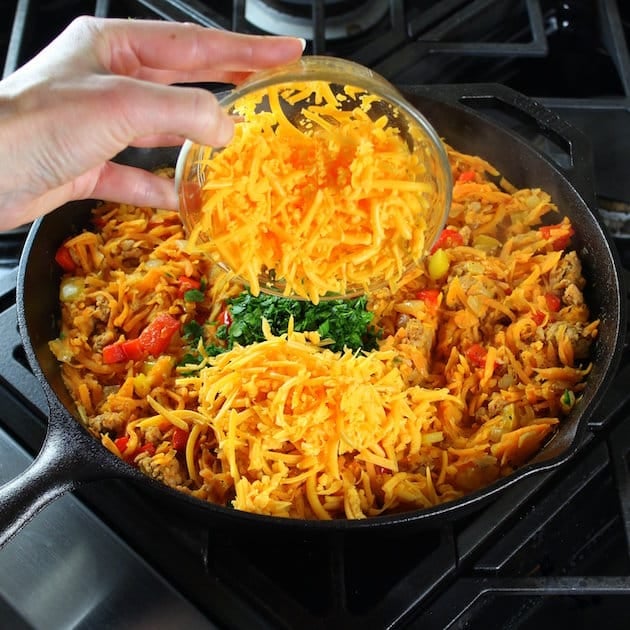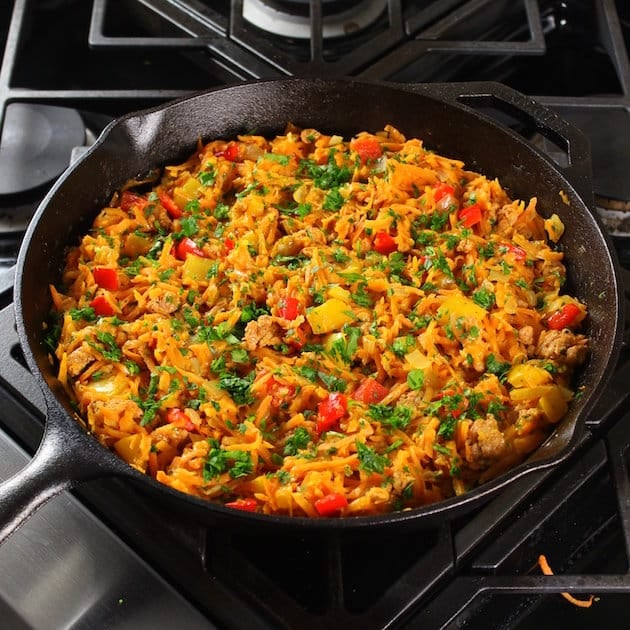 Add the sweet potatoes, apple cider vinegar for a little balance, stir and saute for 5 more minutes.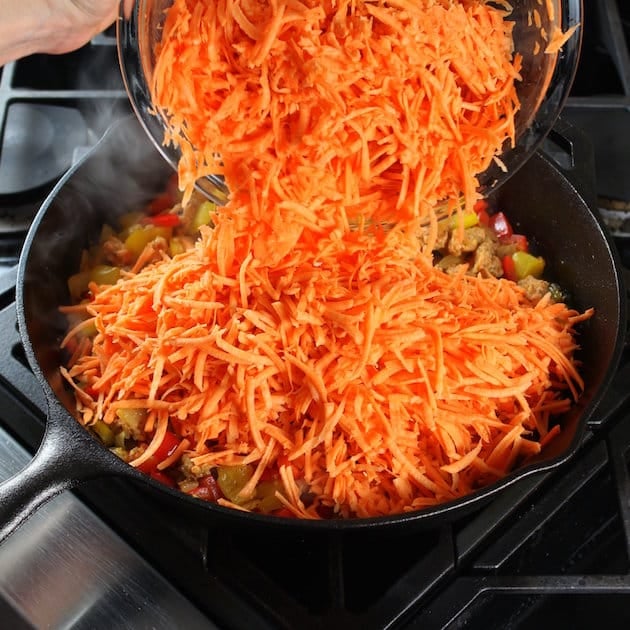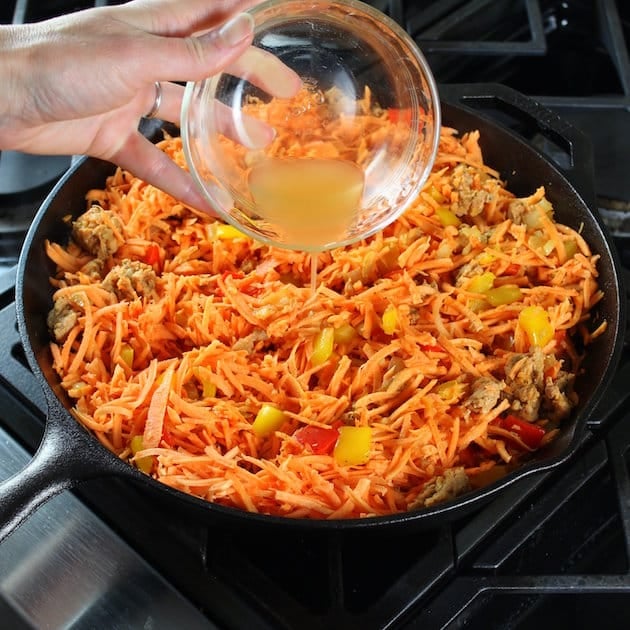 Make some cute little wells (AKA "nests") in your mixture and add your eggs one at a time.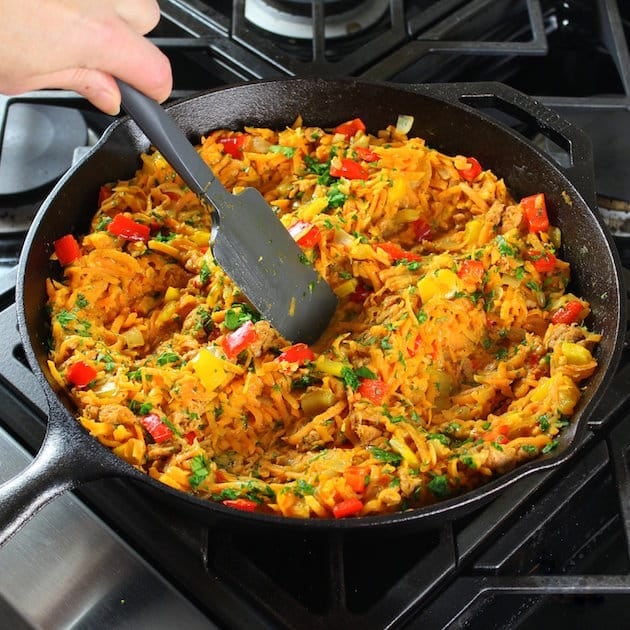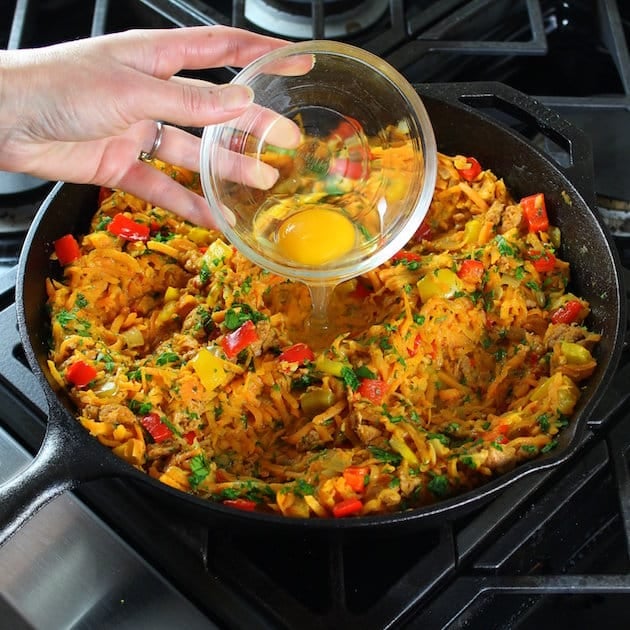 Into the oven it goes for 7-8 minutes and breakfast, or umm, dinner is served!💫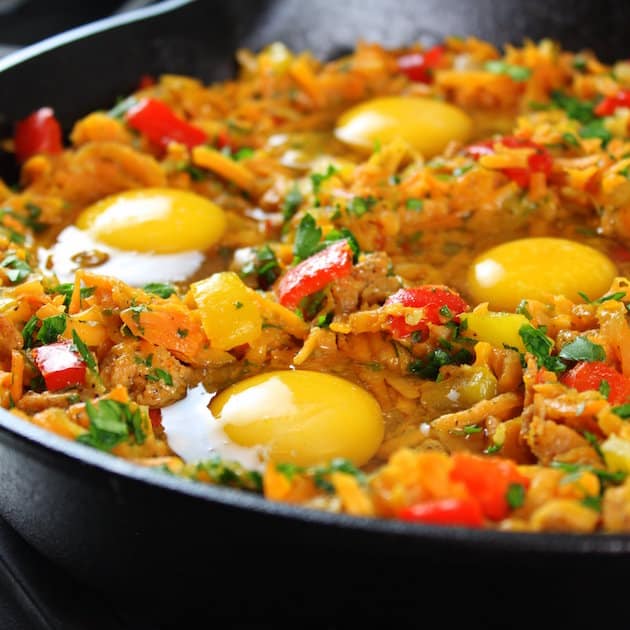 Sweet Potato and Chicken Sausage Breakfast Skillet - a well-balanced breakfast to start or end any day!👍
I would love to connect with you! Leave a comment and follow me on Instagram, Twitter, Facebook, & Pinterest!
Yield: 6 servings
Sweet Potato and Chicken Sausage Breakfast Skillet Recipe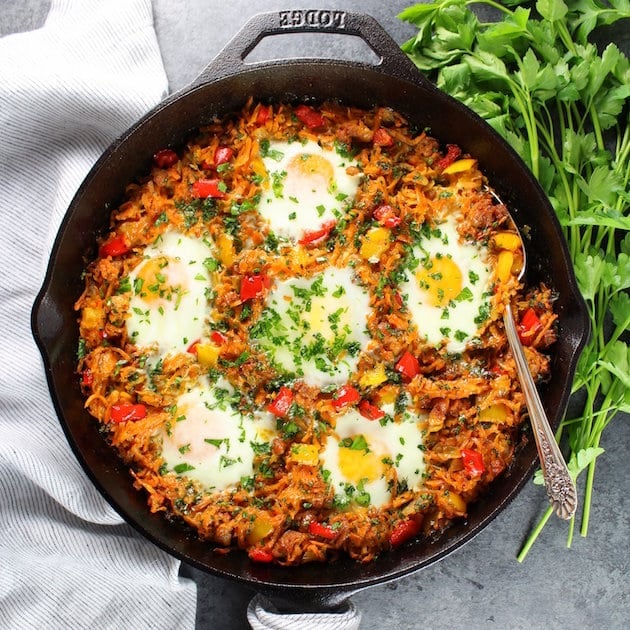 Everything you love about breakfast all in one pan... a well-balanced, tasty meal for any time of day!
Ingredients
1 tablespoon olive oil
1 large onion, diced
4 cloves garlic, minced
2 peppers, diced (I prefer red and yellow for color)
1 teaspoon salt
1 teaspoon pepper
⅔ pounds spicy chicken sausage
4 cups shredded sweet potatoes (about 2 medium-sized potatoes)
3 tablespoons Italian flat leaf parsley, chopped
4 ounces shredded cheddar cheese
2 tablespoons apple cider vinegar
6 eggs
Instructions
Preheat oven to 450 degrees.
Heat oil in a large oven-safe skillet over medium-high heat.
Add onions and sauté for 3 minutes, stirring occasionally. Add garlic, peppers, and salt and pepper and sauté 3 more minutes.
Add chicken sausage and cook 5 minutes, or until cooked through.
Add shredded sweet potatoes and sauté, stirring often, for 5 minutes until they're softened.
Stir in 2 tablespoons parsley, cheddar cheese, and apple cider vinegar.
Make 6 shallow impressions spaced evenly around the skillet, then crack an egg into each spot (you may want to crack each egg into a small bowl first to make sure the yolk stays intact, then pour it into place in the skillet).
Bake for 7-8 minutes, or until eggs are cooked to your liking.
Sprinkle eggs with salt and pepper, and garnish the entire skillet with remaining chopped parsley.
Nutrition Information
Yield
6
Serving Size
10-12 ounces
Amount Per Serving
Calories

361
Total Fat

20g
Saturated Fat

7g
Unsaturated Fat

0g
Cholesterol

219mg
Sodium

1135mg
Carbohydrates

25g
Fiber

3g
Sugar

7g
Protein

20g
Looking for more healthy breakfast ideas?