Honey-Lime Roasted Sheet Pan Salmon and Vegetables – add this one to your list of delicious and easy weeknight dinners!  This quick and simple meal has tons of flavor and healthy ingredients like red and yellow bell peppers, bok choy, fresh lime juice, garlic and salmon.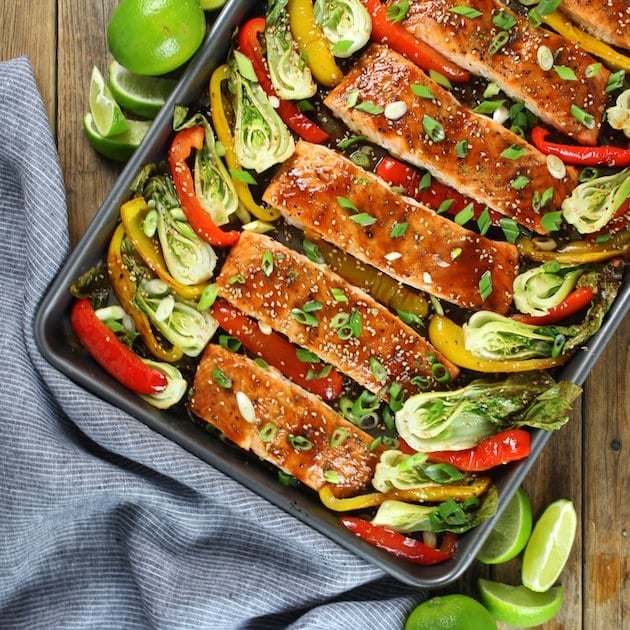 So, I couldn't help myself!  I had to make another sheet pan dinner.😁
The last one was so easy and delicious I just had to do it.
MY LATEST VIDEOS
Because I love working with food, experimenting with new ingredients, and creating new yummy recipes, I don't mind an extended stay in the kitchen.
It's my laboratory.  Like playing dress-up but in the kitchen with all my favorite food friends.💚  #bigswoon
But this is my job.  My passion.  And maybe not yours.
So even though I don't mind spending hours in the kitchen making something wholesome and delicious, I know you might not share my same sentiments.
In fact, I sense you would welcome more quick and easy meals, that the family will eat with out complaining or coercing.  And if by chance these said meals provide some healthy benefits along the way, then wahoo!🙌
Am I right???
Since I can't hear your resounding "amens" through the web-sphere I'm just gonna continue down this path and assume that I did.👍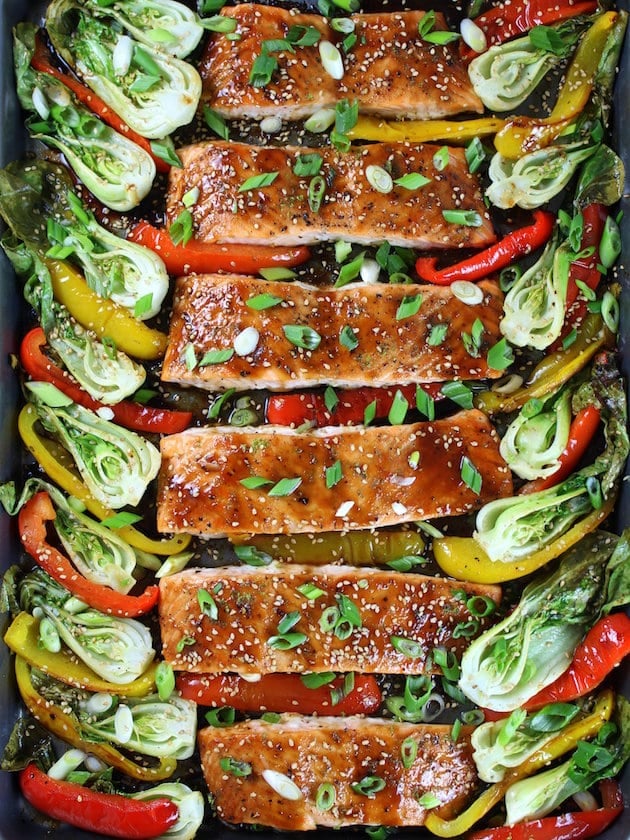 A few weeks ago I introduced my first sheet pan dinner in hopes of providing you with a hands-free meal that was super yummy.😋  I mean how can you go wrong with Greek Chicken with Green Beans and Feta? #fetaisalwaysbetta
Then I got to thinking…what are some other yummy meals I could apply this same "cook yourself in the oven, taste amazing and make me healthy and strong" approach to, while I sit back and read the latest Real Simple Magazine?
Then it happened – light bulbs went on, sirens went off…my honey/lime/soy glazed salmon!!!💡🚨 Dah!
It's full of healthy goodness.✅
It's quick and easy.✅
It tastes better than restaurant food.✅
AND it just sits in the ole hot box all by itself and becomes amazing.✅
Sheer revelation.✨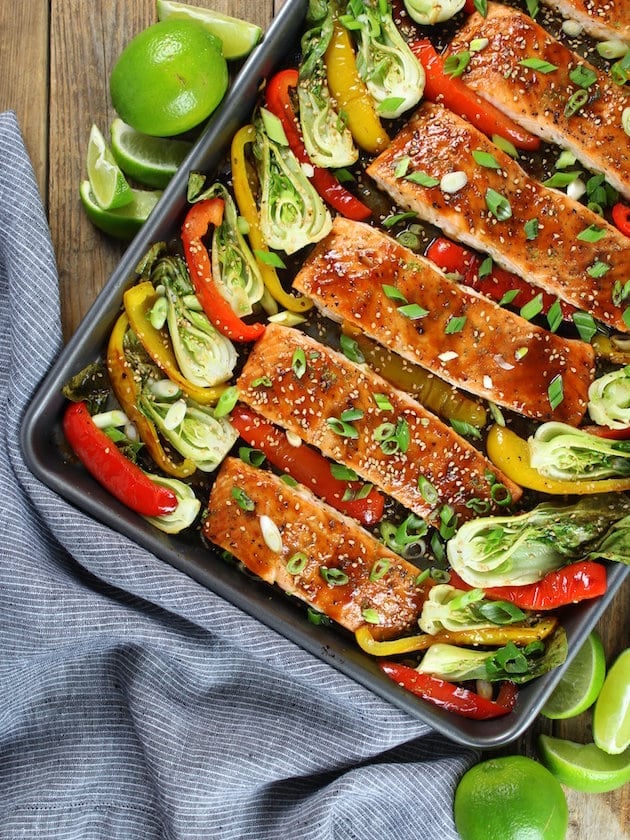 So I got out my lab coat and went to work.
I whisked up some sauce, chopped up a few vegies and ta-da – Honey-Lime Roasted Sheet Pan Salmon and Vegetables!💫  So super delicious.👌
This is one of my all time favorite sauces for salmon.  It's the perfect balance of sweet, tart and savory.  And it pairs perfectly with meaty fatty salmon filets.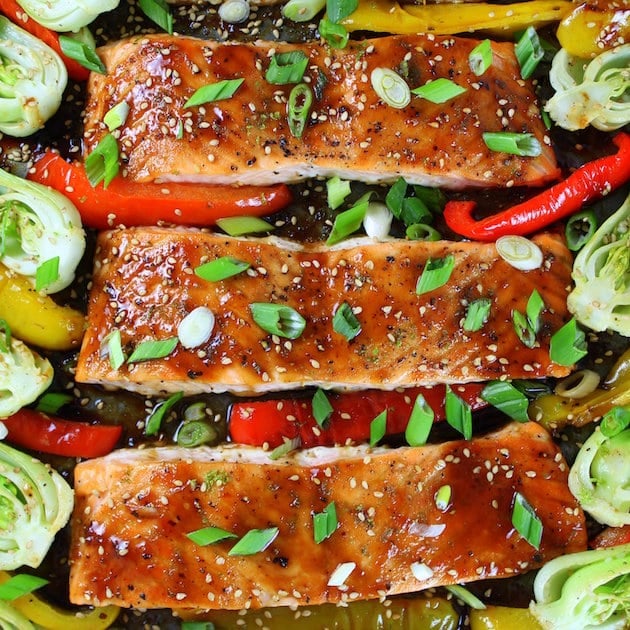 How To Make Honey-Lime Roasted Sheet Pan Salmon and Vegetables:
First I added some honey, fresh lime juice, soy sauce, dijon mustard, and garlic to a saucepan over medium high heat.  Let it simmer for a few minutes and set it aside.
Then I rinsed, dried and sliced up my veggies.  Made a lime/garlic sauce to toss my bok choy in, and started slicing my salmon into portion size pieces.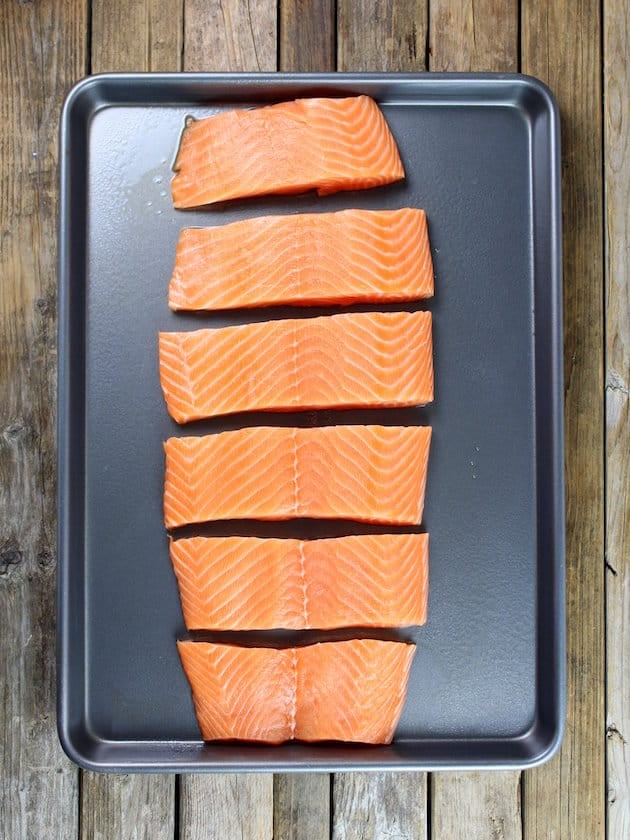 Laid the salmon on the sheet pan and brushed it with the honey lime sauce and started the timer.  5 minutes later I threw in the peppers and let it continue to cook.
Then I tossed my bok choy in the lime garlic sauce and placed them on a smaller sheet pan, and added them to the oven.  8 minutes later the bok choy came out and the oven was switched over to broil.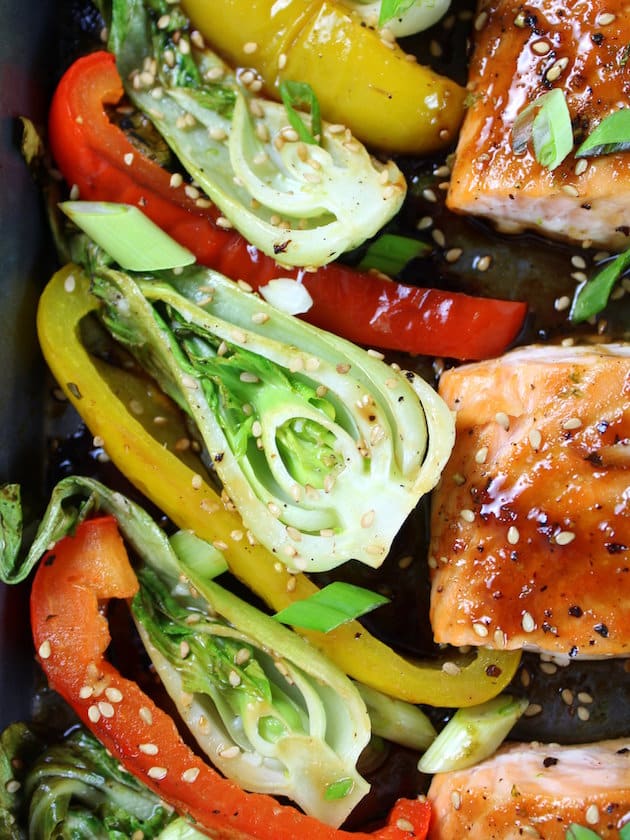 The salmon and peppers got a little extra heat and then they were ready to serve.
Just so good my friend.  The salmon has a savory sweetness and the veggies are still slightly crisp with a garlicky limey-ness.  A wonderful balance of flavors and textures and one yummy healthy meal.💯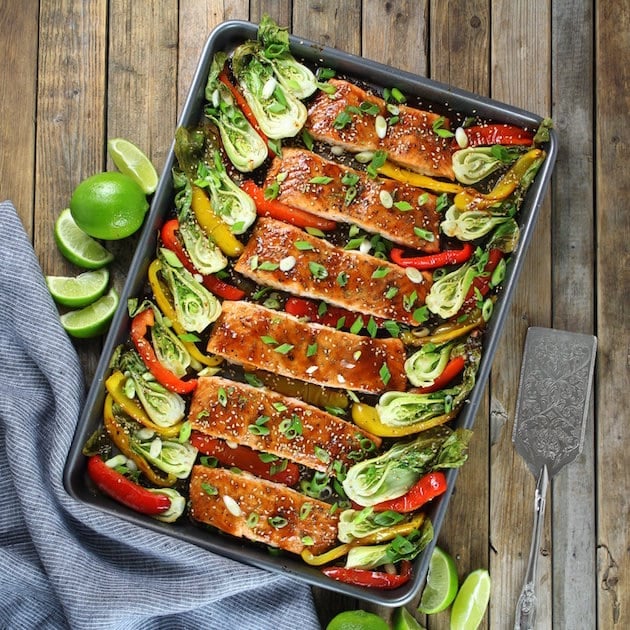 Honey-Lime Roasted Sheet Pan Salmon and Vegetables – a healthy, delicious dinner the whole family will love!💛
Many other veggies would go great with this Honey-Lime Salmon as well.  The cook time would vary a little depending on the veggies you choose, of course:
Snow peas
Broccoli Florets
Carrots
Red onions
Mushrooms
Zucchini
Happy quick and easy eating!😄
I would love to connect with you!  Leave a comment and follow me on Instagram, Twitter, Facebook, & Pinterest!

Looking for more easy delicious dinner ideas? Try these!
Greek Chicken Sheet Pan Dinner: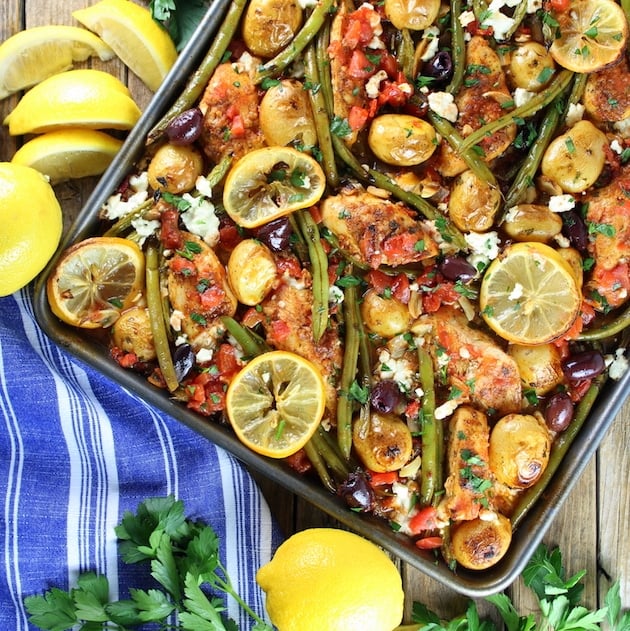 Parmesan Baked Chicken Strips: