Parmesan Baked Chicken Strips are golden on the outside and tender and juicy on the inside.  Coated in a cheesy crust with a marinara dipping sauce, these chicken strips are an easy and delicious meal the whole family will love!  ❤️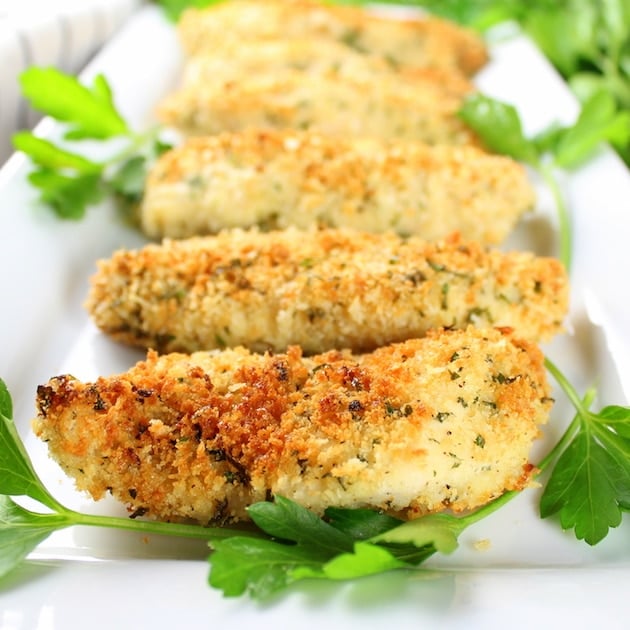 Taste And See is one year old!🎉🎂  Yayyy!!  It's been a busy year of developing new recipes, cooking, taste-testing, and documenting all of it right here for you to enjoy.  Thanks so much for all your support!🙏  We're honored that you continually choose to follow along on our journey and prepare our recipes!
We're celebrating this special occasion with a new variation of one of our most popular recipes to date: Parmesan Crusted Chicken!  It has been one of our favorite recipes so far, and if you've tasted this chicken, then I know you're not surprised.
It is what so many of us want: easy, moist, flavorful, crowd-pleasing delicious baked chicken breasts.💯  A go-to meal for an easy weeknight dinner or something you can serve for a special night with company.  Quite simply it has it all.  And now it has even more.😳  How is that even possible?🤔  I'm so glad you asked.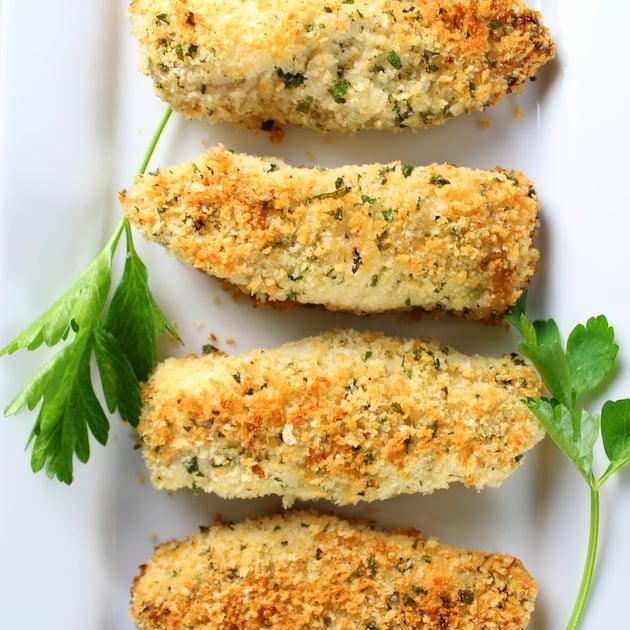 Now it's just as tasty, just as moist, just as tender but it's in the form of a finger food!  Say whaaa!??  I know, Christmas came early this year!🎁
It's the perfect appetizer to serve for your next game-day watch party, or for a fun family meal even the kiddos will love.  Put it over some angel hair pasta and top it off with my semi-homemade marinara and you'll have one yummy Italian feast.🍴
Did I mention it was easy!??   You literally mix, dip and bake.  (Not to be confused with the "bend and snap" – although another very effective method for swooning your significant other, it has nothing to do with this recipe.😝  Sorry  – I couldn't help myself!😂 )
The chicken comes out golden on the outside and tender and juicy on the inside.  Every time.👇
The process is really simple and only requires a few ingredients.
You can use chicken tenders or chicken breasts for this recipe.  Because I like to save a buck when I can, I used cut up chicken breasts to make my strips.  Not only was it more cost effective it also meant I didn't have to contend with the removing the tendon that becomes chewy and tough when cooked.
You MIX: 
1. You mix your breadcrumbs, Parmesan, fresh parsley, salt and pepper in a shallow pie dish (or plate).

2. Then in another dish mix the melted butter, fresh lemon juice, and minced garlic.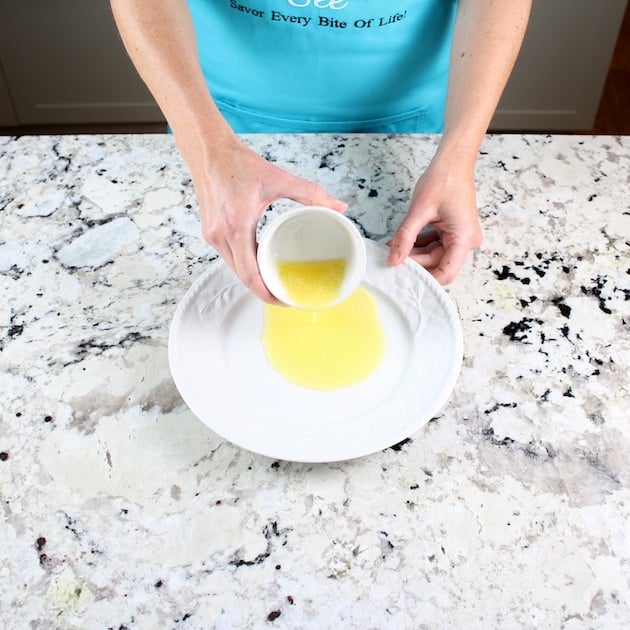 You DIP:
1. Dip both sides of your chicken breasts in the butter dish…

2. … then dip in the breadcrumbs.

And you BAKE:
Bake on 400 degrees for 20 minutes.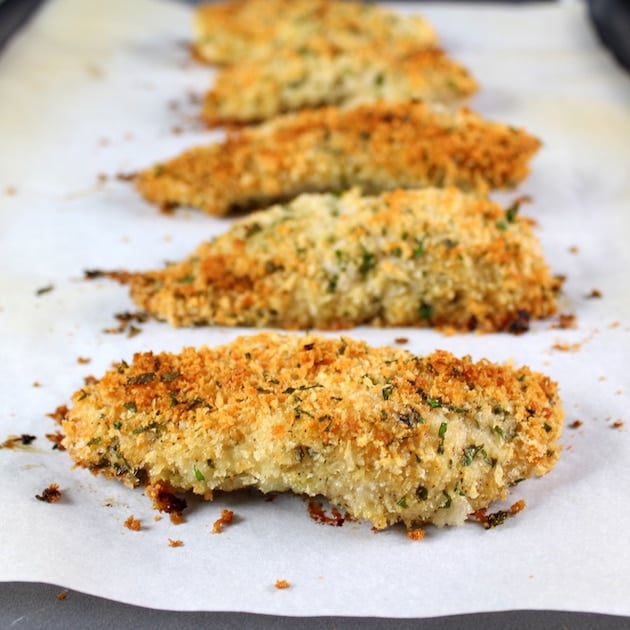 Tada… delicious Parmesan Baked Chicken Strips!✨
But wait, there's more!👍
The Marinara!🍅  It's so tasty and a breeze to whip up.
While your chicken is getting all golden and delicious in the oven, you add grated onion, minced garlic, salt and pepper to a pot over medium-high heat.  Mix in the tomato paste, crushed tomatoes, tomato sauce, water, parsley, more salt and pepper, and simmer for 20 minutes.♨️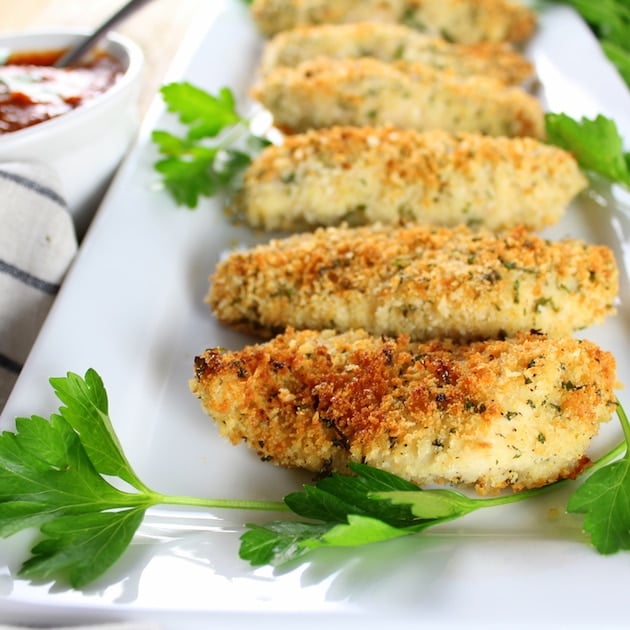 Now plate up all this goodness and dig in!🍴  Parmesan Baked Chicken Strips –  an easy and delicious meal the whole family will love!💛
I would love to connect with you!  Leave a comment and follow me on Instagram, Twitter, Facebook, & Pinterest!
Looking for more easy & amazing dinner ideas?  Try these!
Chicken And Green Chile Verde Soup: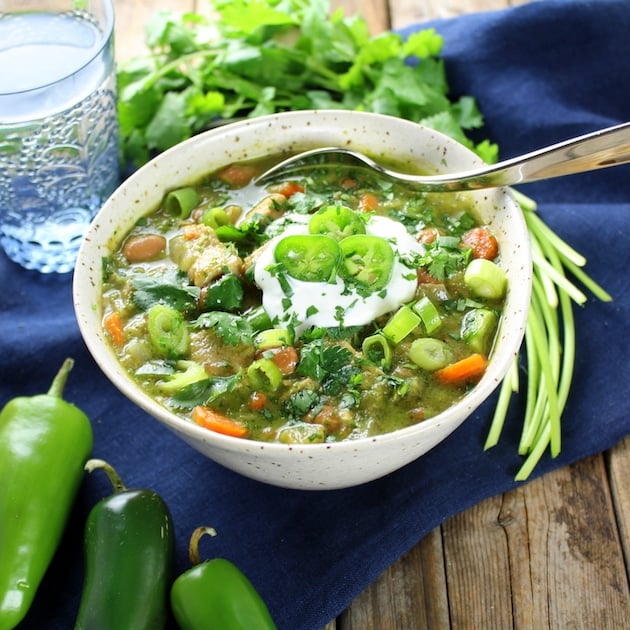 Crock-Pot Beef Ragu With Penne & Ricotta: