This Kale Orange Cranberry Salad is super-fast to make, loaded with nutritional goodness, and absolutely delicious!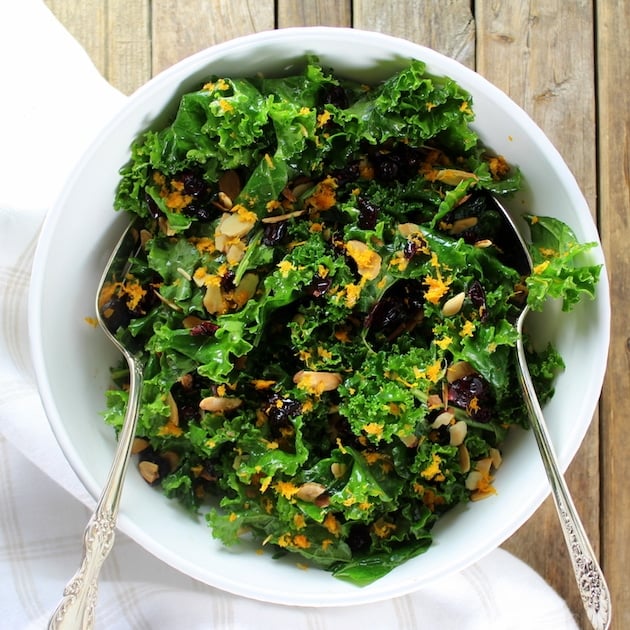 All hail the kale!!!🙌
I've wanted to say that on the blog for a really long time!😄  And since this recipe puts the beautiful green goddess front and center, I thought it was hail-worthy.👌
Did kale even exist 10 years ago?  All I know is one day I was happily eating my spinach salad and then out of nowhere – poof, it appeared.  And I've been tossing, juicing, baking, and growing it ever since.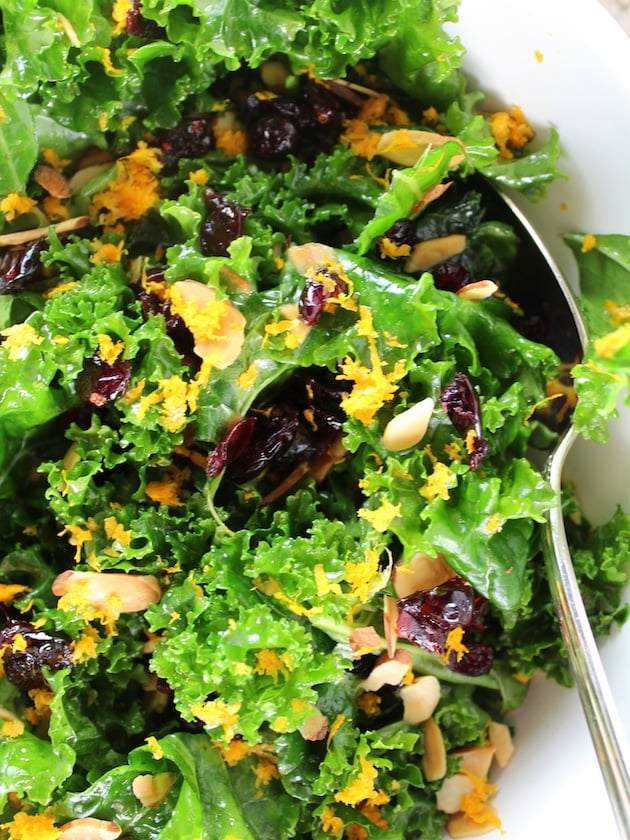 I really like how substantial Kale is.  It's so hearty that it stands up to acidic juices and dressings, plus the element of heat when baked or added to soup.  It's also really filling so you never feel hungry after eating it.
Kale is also really easy to grow.  And because it's so hearty it can withstand temperatures as low as 25 degrees.  It can even continue to grow if it's covered in snow!❄️
I planted Red Russian kale in my garden during the Fall of 2015 and I've had kale growing ever since.  I just leave it there and let it go to seed, it basically replants itself and continues to grow, even in the Boston winters.🌿  Crazy – right!?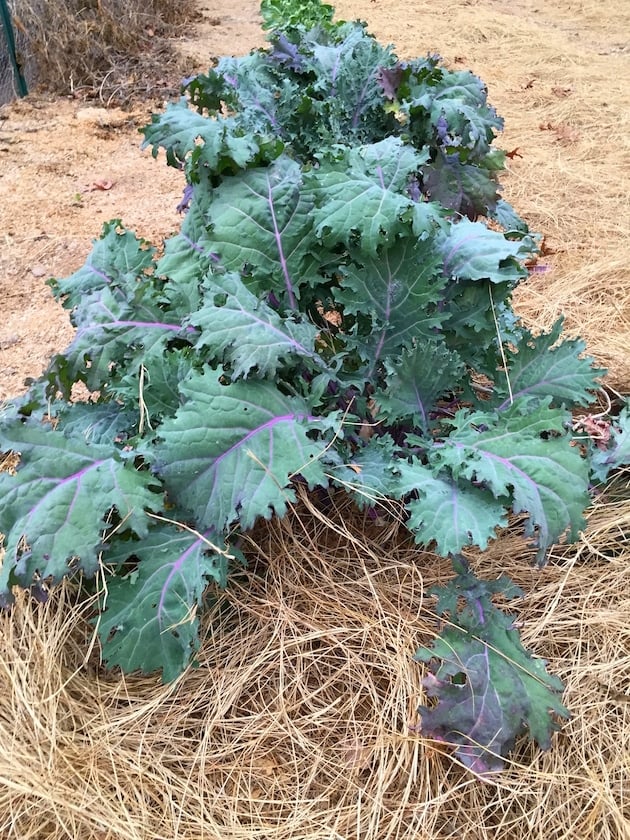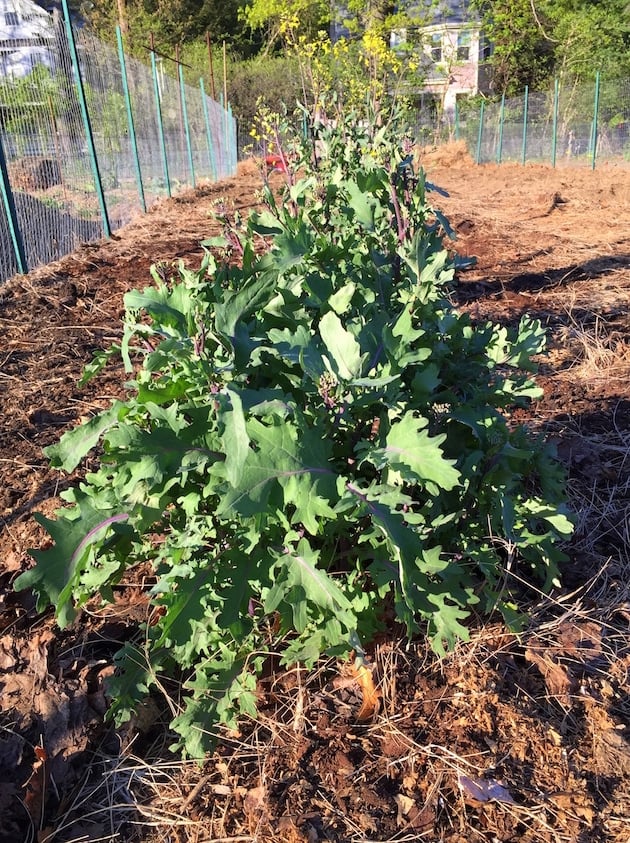 Fall 2015: Kale in the garden… & Spring 2016: still growing after a Boston winter!💪
Now you know why I "hail the kale," huh!??🙌
And if all of that is not enough, there's still so much more…
Kale is one of the healthiest and most nutritious plant foods around. For real.👍
Here are just a few of the health benefits of Kale:
Eating kale can lower the risk of 5 different cancers: bladder, breast, colon, ovary, and prostate.
Kale provides comprehensive support for the body's detoxification system.
Kale is great for your eyes!  With high levels of lutein and zeaxanthin, it can lower risk of macular degeneration and cataracts.
Kale can lower your cholesterol whether it's raw or cooked, which may reduce the risk of heart disease.
Kale could also aid in weight loss.  Because it's so low in calories, but so fibrous and hearty it should keep you filling full.
If you didn't already know it, I'm sure you would now agree that Kale is king!
And so is this salad I made with it!!👇  Holla!✌️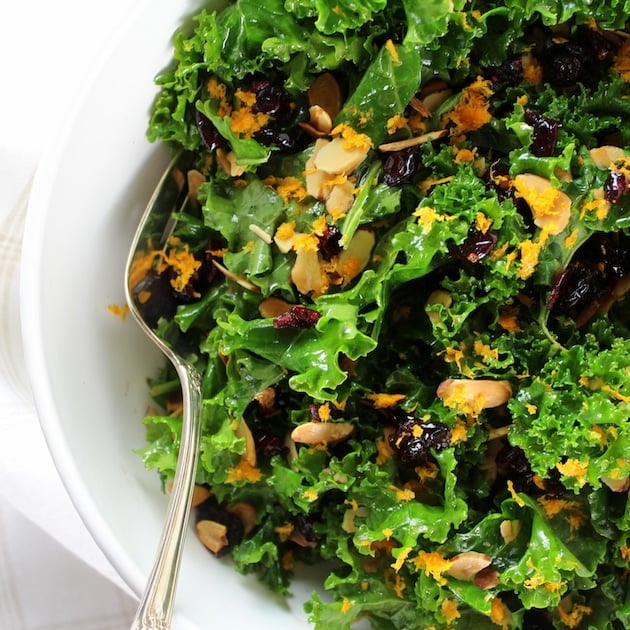 This Kale Orange Cranberry Salad takes 5 minutes to make and it's highly addictive.  After 4 portions the B man had to cut himself off from eating it (so much for it making you feel full!). LOL😂
Trust me B is the exception – he is an eating machine, and has the stomach capacity of an elephant.🐘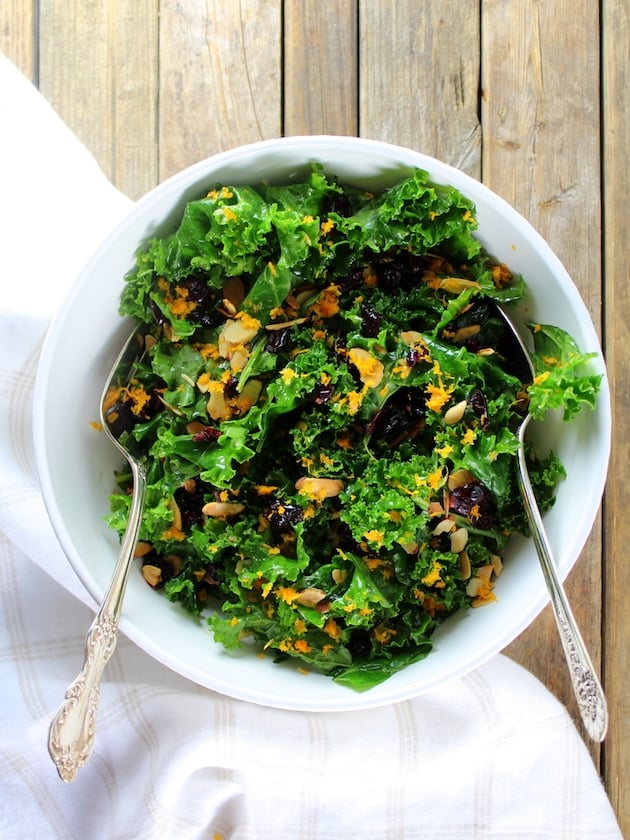 This salad is so easy to prepare: You wash and dry the kale leaves.  Then remove the stem and tear into small pieces. Zest one orange.  Mix together the dressing which has fresh orange juice, cranberry juice, olive oil, honey or maple syrup and some salt and pepper.
Then toast some sliced almonds for 5 minutes on 350.  Toss it all together and let it sit for 5 minutes so the leaves wilt just a bit.  Sprinkle on the orange zest and enjoy!🍴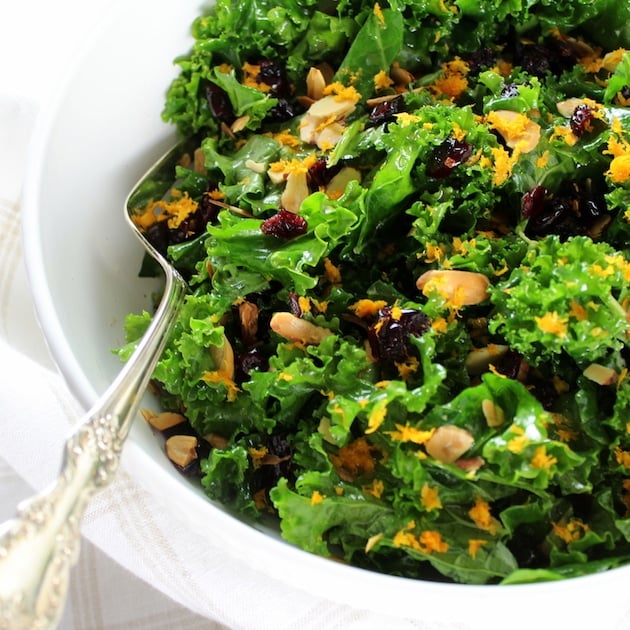 Boom.💥  Super flavorful, and super delicious!!!  All hail the Kale Orange Cranberry Salad!!! 💚
 *Nutrition sources used in this article include:
I would love to connect with you!  Leave a comment and follow me on Instagram, Twitter, Facebook, & Pinterest!
Looking for more amazing salad ideas?  Try these!!
Warm Cauliflower Spinach Salad With Pancetta: