These Mini Salmon Cakes with Sriracha Lemon Aioli are a protein-packed appetizer perfect for entertaining!
These hearty salmon cakes are loaded with all things yummy: minced parsley, yellow onion, fresh lemon juice, and fresh salmon!  A delicious appetizer for any get-together!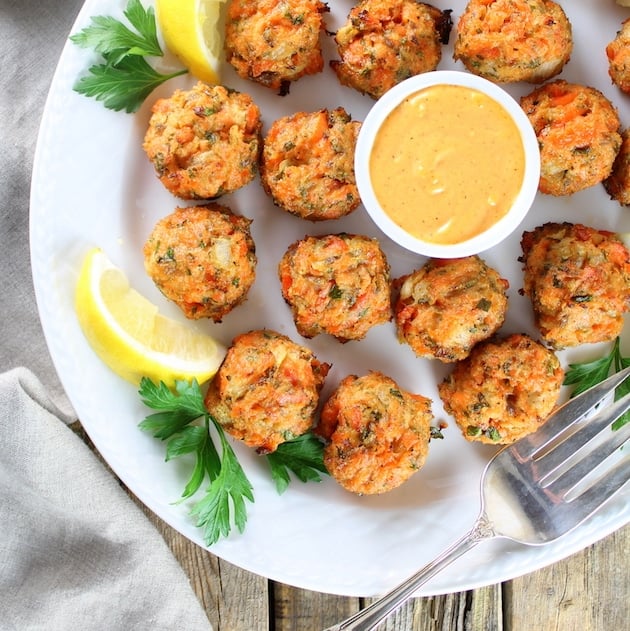 Aren't appetizers amazing!??🌟  I can't tell you how much I love to graze on a big ole' table of finger food.  I think it has to do with getting to try a little bit of everything.  I know they say variety is the spice of life but for me, it's a big spread of appetizers!🙌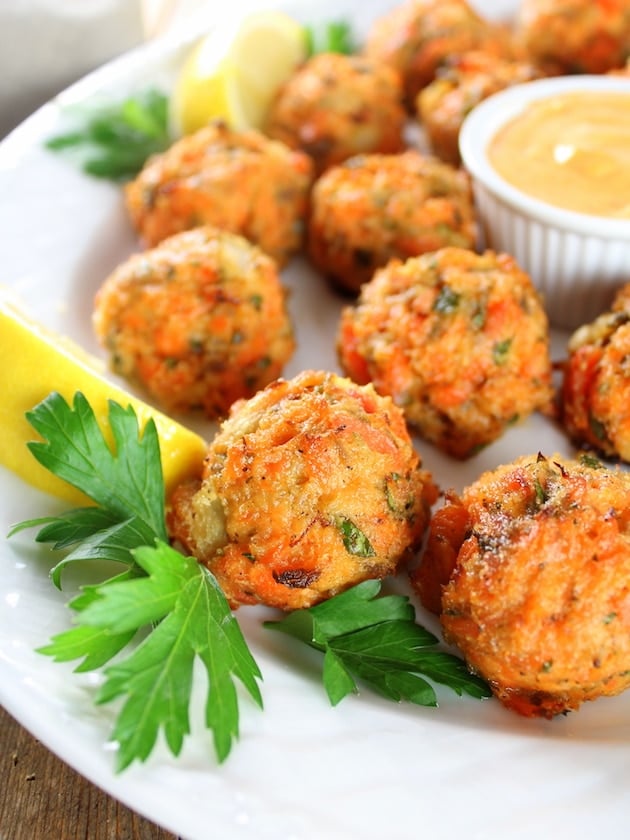 I've been making this salmon cake recipe for about 15 years.
When I first created the recipe I made them into full-size cakes.  Then during the Christmas season one year, we were throwing a holiday party and I was deciding on the menu.
I needed some protein-infused appetizers and was trying to make something a little more creative than a shrimp cocktail.🍤  (By the way you should always serve shrimp cocktail – people love it and it's little to no work.  Less work = less stress = more fun.)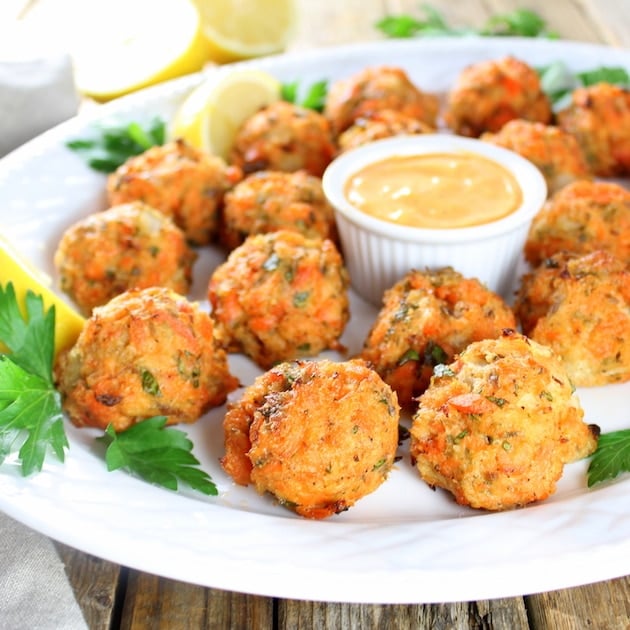 Then it hit me – why not turn my salmon cakes into mini salmon cakes?
Ding ding ding – all kinds of light bulbs going off in my head!💡✨  This was an amazing concept for so many different reasons!
I already had the perfect recipe.
They're full of healthy goodness.
Protein, protein, protein.
You can make them and freeze them, then defrost them the day of, bake, and serve them.
They taste phenomenal and everyone loves them!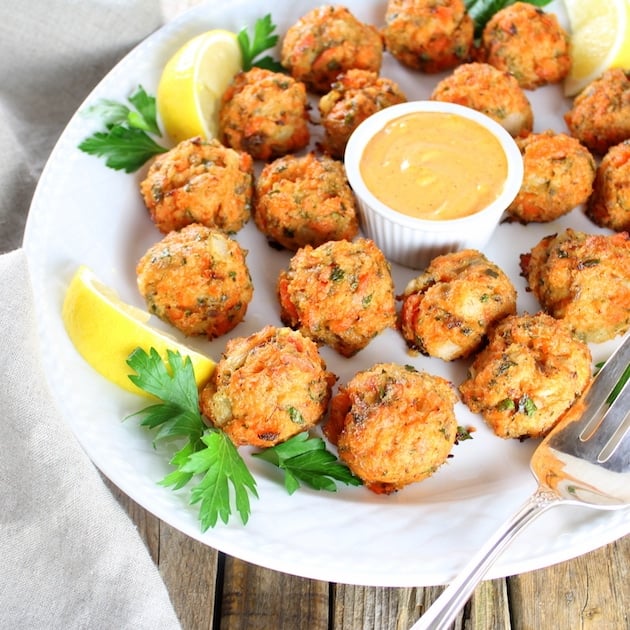 So Mini Salmon Cakes with Sriracha Lemon Aioli made the holiday party menu that year and due to popular demand, every year since!
AND now you can make, bake and serve these yummy meaty globes of delight at your next get-together as well!🎊🎉
Or if sharing isn't your thing, just make a batch, plop down on the couch, catch the latest Poldark episode, and treat yourself to a night of delicious entertainment.😄
For those of you who haven't yet experienced Poldark, it is the most amazing tea-drinking, family-feuding, horseback-riding show in the history of all time‼️  It's basically my Downton Abbey replacement series.  (Just a side note, I'm a bit disappointed in some of the choices Ross has made of late.  I know he's only human but his moral compass seems a little skewed these days… or maybe it's all the time.  Oh Poldark.)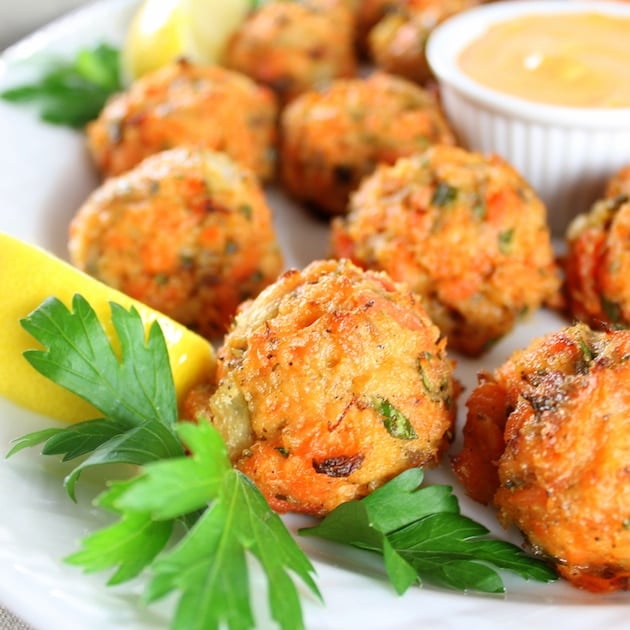 Sorry for that detour… more about these salmon cakes!😁
You're gonna need about 2 pounds of fresh salmon meat.  So that you know, Costco sells antibiotic-free salmon filets for $7.49 a pound (maybe less where you live).
So for around $20 dollars (salmon plus other ingredients), you can make about 26-28 of mini salmon balls.  Not bad for a healthy and delicious appetizer.👍
How to make Salmon Cakes
I usually rinse and pat down (or at least wipe down) my salmon filet.  Place it on a parchment-lined baking sheet, sprinkle with salt and pepper, and then bake for 15 minutes at 400 degrees.
Meanwhile, I chop up a large onion, mince some parsley, juice a lemon, beat an egg, and measure out the rest of my ingredients.  Then remove the salmon from the oven let it rest for 5 minutes or so, and flake it with two forks.  Add it to a large bowl with all the other ingredients and then gently mix it together.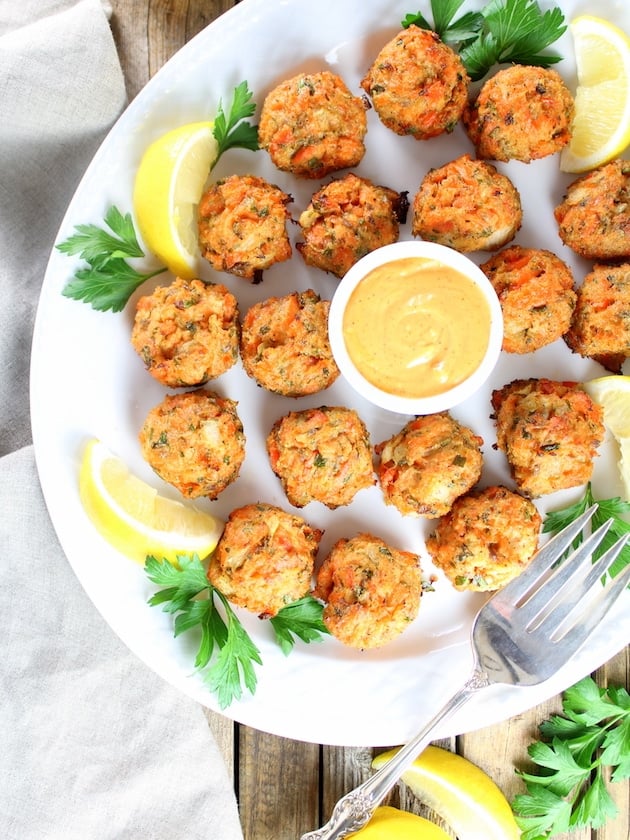 I form mini balls with my 1½ inch scoop, place them on the cookie sheet lined with a new piece of parchment, and then either stick them in the freezer or bake at 400 for another 15-20 minutes until just slightly golden.
How to freeze salmon cakes
To freeze them, place the cookie sheet in the freezer for a few hours, then transfer the cakes to a large freezer bag to store until you need them.
Remove them from the freezer the night before – or the morning of - the day you want to serve them.
Place them on a parchment-lined baking sheet and let them defrost in the fridge, then bake at 400 for 15-20 minutes.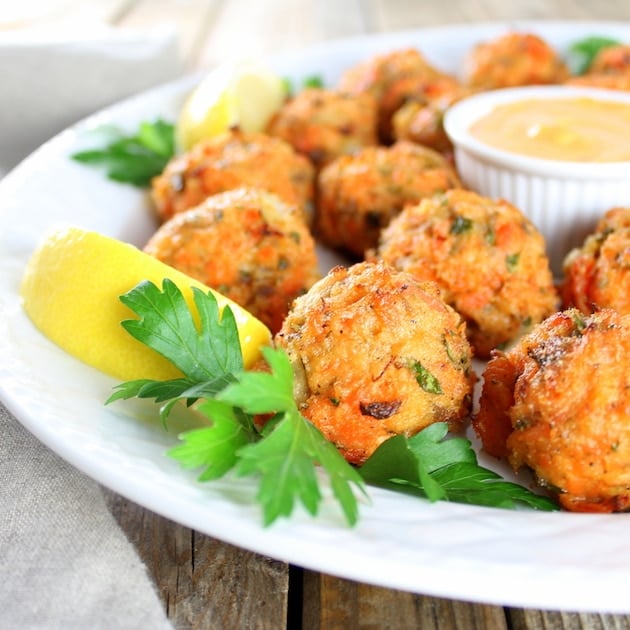 I also made an aioli dip for them, since some people are all about the sauce.   It has mayo (light mayo if you're trying to keep those calories down), fresh lemon juice, minced garlic, sriracha, and salt and pepper.  Whisk it together and you're ready to start dipping.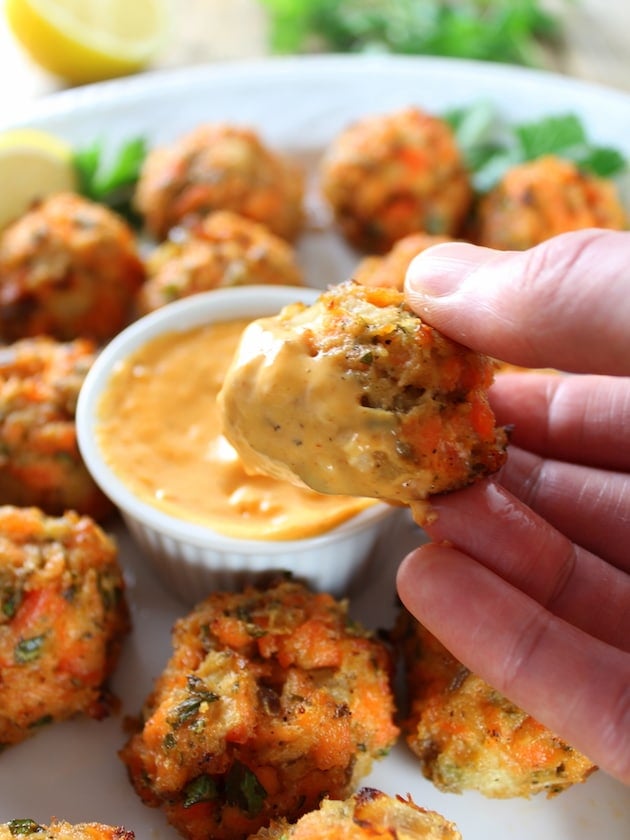 There you have it, Mini Salmon Cakes with Sriracha Lemon Aioli... my secret weapon to killing it in the appetizer department for holiday parties🎄.🎉  Or any party or weekday for that matter – no need to wait for a holiday because every day is worth celebrating!👏
Happy eating!
Yield: 10 servings
Mini Salmon Cakes with Sriracha Lemon Aioli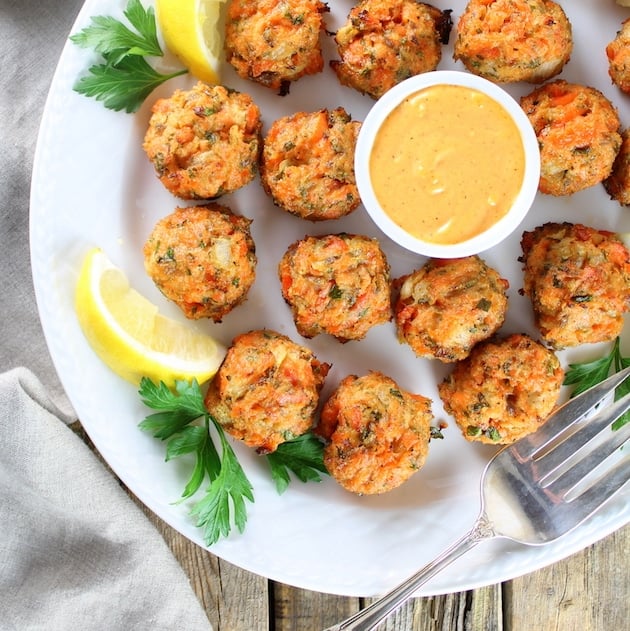 Perfect salmon cakes every time - great as an appetizer or entree!
Ingredients
For The Salmon Cakes:
2 pounds salmon fillet
11/2 teaspoon salt
11/2 teaspoon pepper
1 large onion, diced, sautéed
⅔ cup plain dried breadcrumbs (or almond meal for Gluten-Free & Low-Carb)
½ cup finely chopped fresh parsley
⅓ cup mayonnaise (or Greek yogurt if you prefer)
¼ cup Dijon mustard
1 large egg (or 2 egg whites), lightly beaten
4 tablespoons lemon juice
For The Sriracha Lemon Aioli:
½ cup mayonnaise (or Greek yogurt if you prefer)
4 teaspoons Sriracha sauce
4 teaspoons lemon juice
1 clove garlic, minced
¼ teaspoon salt
¼ teaspoon pepper
Instructions
For The Salmon Cakes:
Preheat oven to 400. Rinse and pat dry the salmon, then place on a parchment-lined baking sheet and season with ½ teaspoon salt and pepper. Roast until cooked through, about 15 minutes. Allow to cool 5 minutes then using forks flake or separate the salmon into small pieces.
Place salmon in a large bowl. Add onions, breadcrumbs, parsley, mayo, mustard, egg, & lemon juice. Season with 1 teaspoon salt and pepper, then mix gently.
Using a 1 ½ inch scoop (or your hands), form the mixture into balls and place on a parchment-lined baking sheet.
If you are freezing the salmon cakes, leave them on the baking sheet and place them in the freezer. Once firm, store them in a resealable freezer bag until needed.
To finish the cakes, bake on 400 for about 15-20 minutes, just until they start to crisp and become golden.
For The Sriracha Lemon Aioli:
Combine all ingredients in a small mixing bowl, and whisk thoroughly. Adjust salt and pepper to taste.
Notes
If you are freezing the cakes, leave them on a cookie sheet and place them in the freezer for a few hours.  Once they have firmed up you can transfer them to a resealable storage bag.  When you want to cook them, place them back on a baking sheet while still frozen, and allow them to thaw in the fridge for at least 4-5 hours.  Then proceed with baking per the instructions.
Nutrition Information
Yield
10
Serving Size
1 salmon cake
Amount Per Serving
Calories

191
Total Fat

11g
Saturated Fat

1g
Unsaturated Fat

0g
Cholesterol

69mg
Sodium

1721mg
Carbohydrates

17g
Fiber

2g
Sugar

1g
Protein

20g
I would love to connect with you!  Leave a comment and follow me on Instagram, Twitter, Facebook, & Pinterest!
Looking for more awesome holiday appetizers?  Try these!!
Baked Brie in Puff Pastry with Honey and Almonds: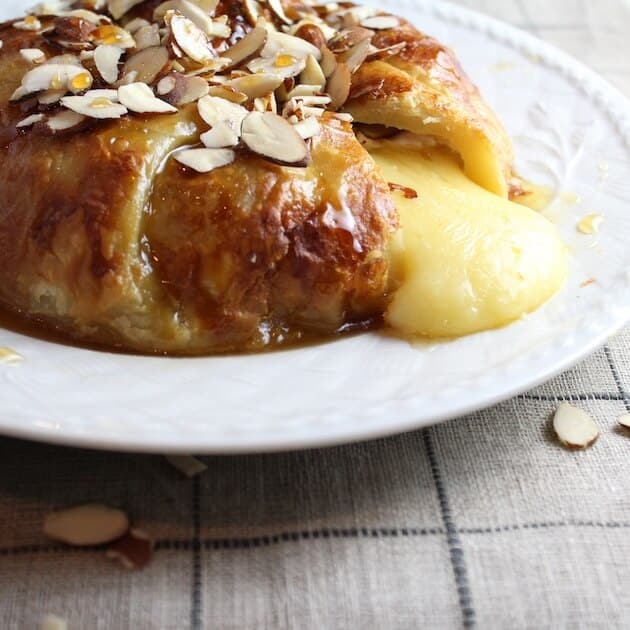 Persimmons Wrapped in Prosciutto: