Warm Cauliflower Spinach Salad with Pancetta... a delicious warm winter salad! With fresh spinach, cooked cauliflower, garlic, and onion, sautéed pancetta, fresh lemon juice and zest and golden raisins. The most unexpected and amazing flavor combination ever!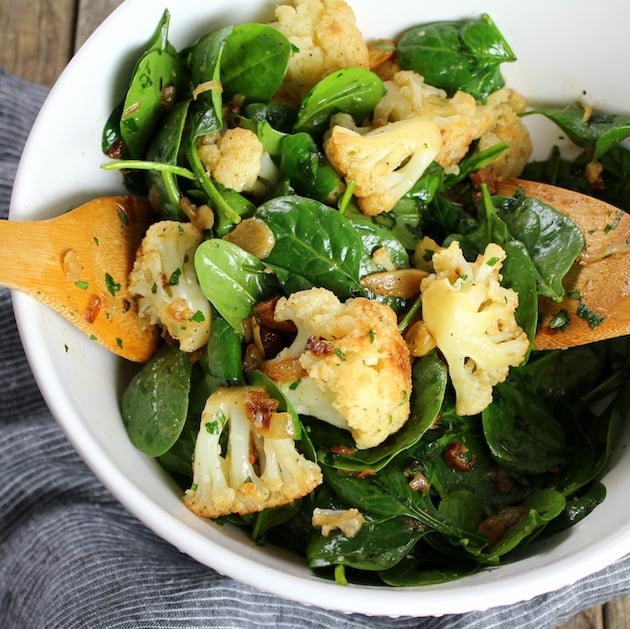 I'm so excited about this warm winter salad!
First of all, because it's warm! And it's very cold here in Boston. The high temperature yesterday was 12 degrees and the low was -9 (yes that is minus 9!), so I'll take any warmth I can get.
Secondly, because it has crispy cooked pancetta, which is sooo yummy - it's basically bacon's first cousin! Mmmmm BACON.
Then there's the lemony dressing… if you've read my "about me" page you know that lemon is one of my most cherished flavors.
Plus, this salad is full of some of my favorite veggies: garlic, onion, spinach and cauliflower.
And finally, it's sprinkled with little golden raisins that have been revived and brought back to life AKA reconstituted. I'm such a sucker for the sweet and salty combination - it's so perfectly balanced!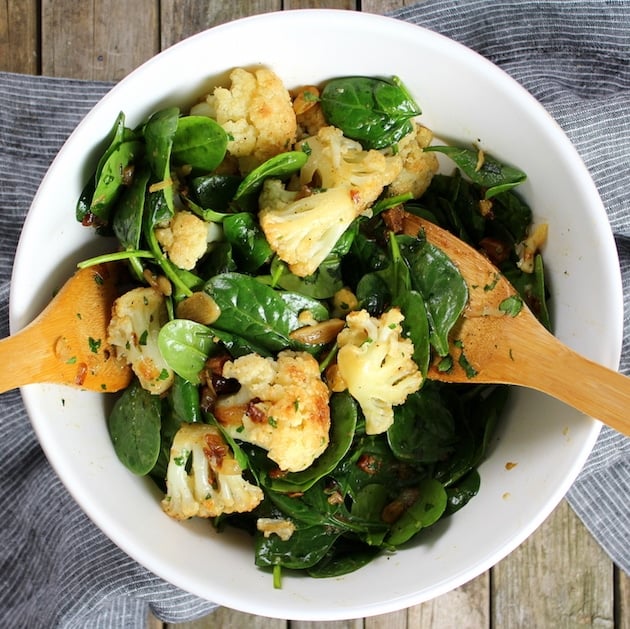 Here's how you make this tasty Warm Spinach Salad:
You might be wondering about reconstituting the raisins - it sounds all fancy and difficult but it's very easy.
You place them in a small bowl, add water until they're covered, put them in the microwave for about 30 seconds - 1 minute, then let them sit on the counter while you work on the rest of the salad.
Next, cook the pancetta on medium–high heat until it's crispy and the fat renders. Then using a slotted spoon, remove the pancetta and set it aside, leaving the drippings in the pan.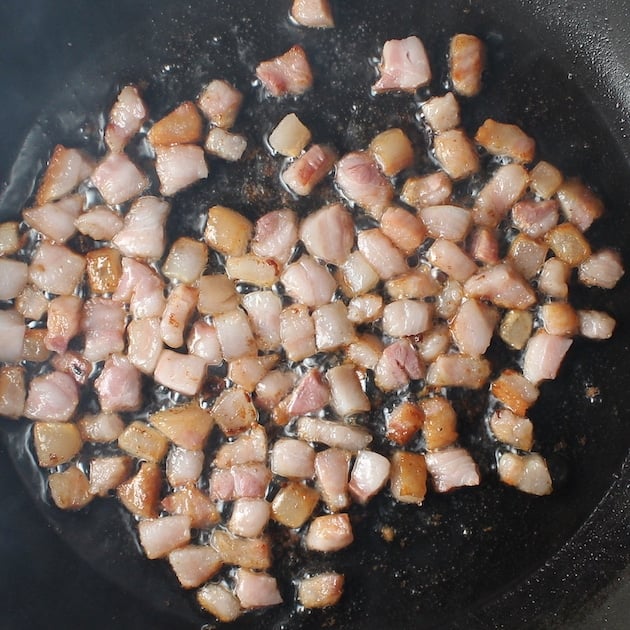 Add the cauliflower, onions, and garlic to the drippings and season with salt and pepper, sauté for 5 minutes uncovered, 5 minutes covered and finally 3 more minutes uncovered - it should all be slightly caramelized, tender and very flavorful.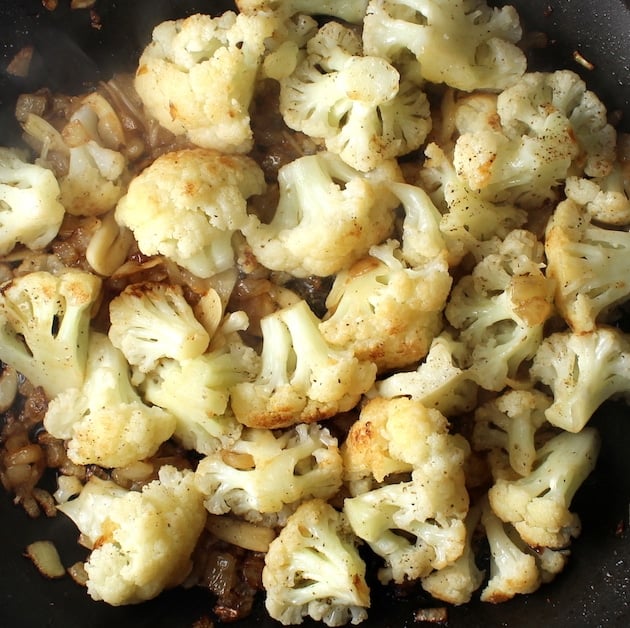 Then in a large mixing bowl whisk together the lemon, olive oil, fresh parsley, salt and pepper. Add in your spinach and toss.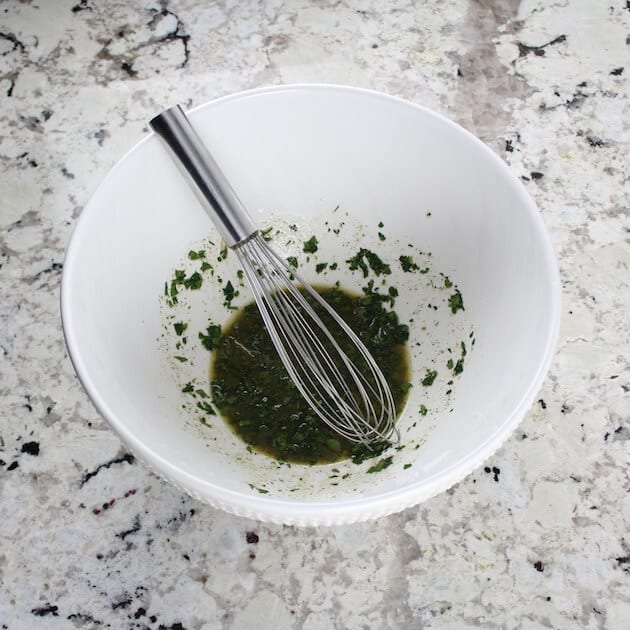 Drain the water off your revived raisins. Add your spinach, cauliflower mixture, pancetta, raisins, the zest from part of a lemon to the large mixing bowl...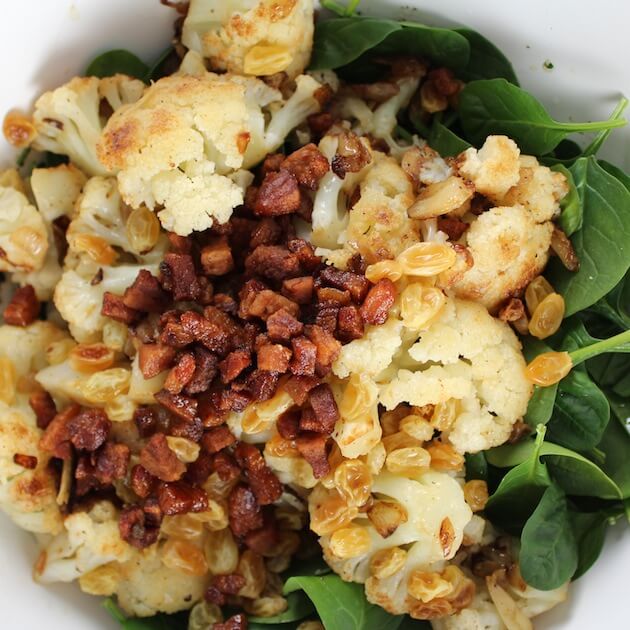 ... gently fold the ingredients together. Then taste to make sure it's amazing!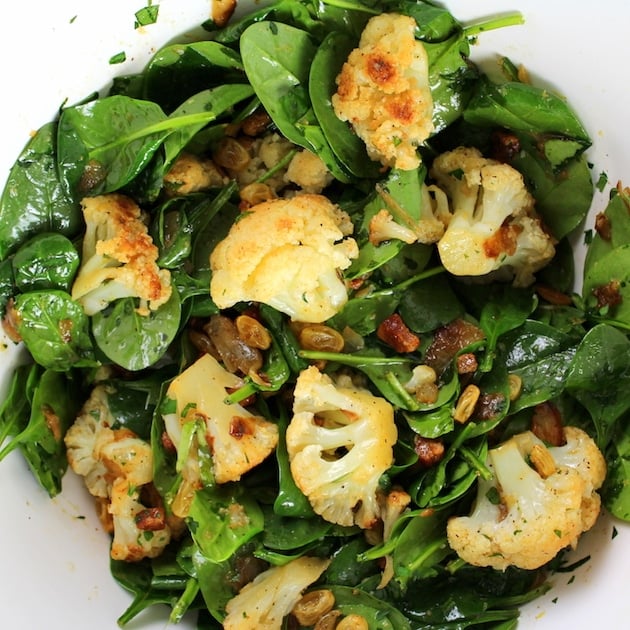 For me this salad could be a considered a complete meal. The cauliflower is so hearty and satisfying I almost forget that the salad doesn't contain any meat.
But then of course Sanderino would quickly remind me that it doesn't, and of his need for protein due to his ridiculously high metabolism.
So if that's you or someone in your household, they may need a side of beef jerky, some tuna cakes, or a nice Parmesan crusted chicken. Just kidding - a simple grilled chicken breast or steak would pair perfectly with this salad.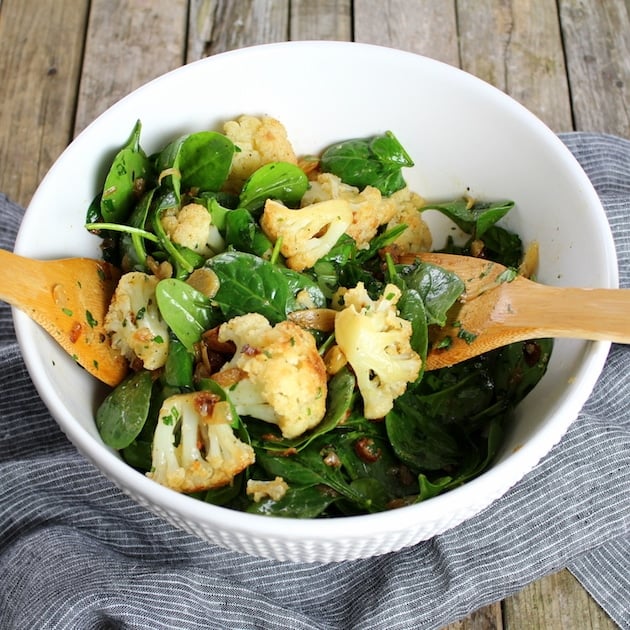 Whether it's 8 degrees outside or 88, this salad will surely be a crowd pleaser. Healthy and hearty – a perfect salad for any day of the year.
Warm it up ya'll – I'm about to!
I would love to connect with you! Leave me a comment and follow me on Facebook, Instagram, Pinterest, and Twitter!
Yield: 6 servings
Warm Cauliflower Spinach Salad with Pancetta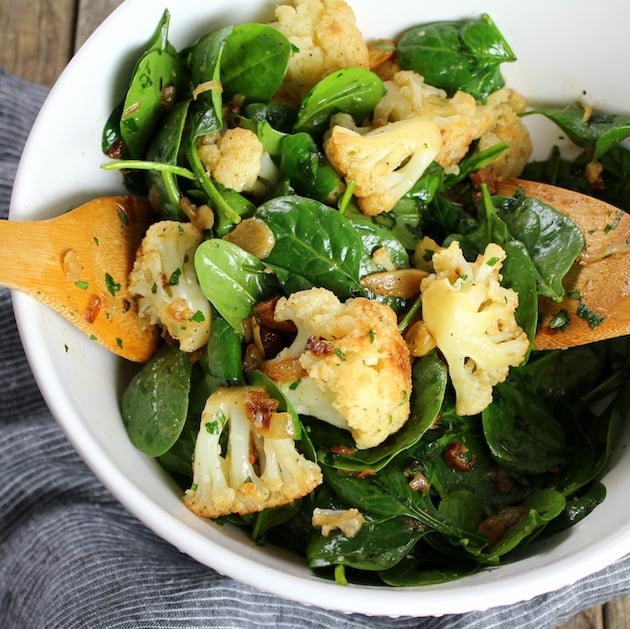 Warm Cauliflower Spinach Salad With Pancetta and Golden Raisins - it's the perfect winter salad... healthy, hearty, and full of flavor!
Ingredients
½ cup golden raisins
3 tablespoons extra-virgin olive oil
⅓ pound thickly sliced pancetta, cubed
1 head of cauliflower, cored and cut into small florets
1 small onion, finely chopped
6 cloves garlic, thinly sliced
1 tablespoon fresh lemon juice, (½ a lemon)
zest from half a lemon
2 tablespoons fresh parsley, finely chopped
salt and freshly ground pepper
5 ounces baby spinach
Instructions
First, reconstitute the raisins: place them in a small bowl, and cover with water. Heat them in the microwave for about 1 minute, then set them aside.
In a large skillet, heat 1 tablespoon of the olive oil. Add the cubed pancetta and cook over medium-high heat until the fat has been rendered and pancetta is crispy (about 4 minutes). Using a slotted spoon, remove the pancetta and set aside, leaving the drippings in the pan.
Add the onion and cauliflower to the drippings and season with salt and pepper, ensuring the florets are crown-side down. Cook uncovered over medium-high heat for about 5 minutes until golden. Be sure to keep a close watch on the pan and move the cauliflower and onions around occasionally to avoid overcooking.
Add the sliced garlic, making sure it makes solid contact with the pan so it browns nicely. Turn down to medium heat, and cover. Cook for another 5 minutes. Stir gently once to make sure nothing is sticking or burning.
While the cauliflower is cooking, mix the lemon juice and parsley with the remaining 2 tablespoons of olive oil in a large bowl. Season with salt and pepper.
Remove the cover from the cauliflower, and turn back up to medium-high heat, cooking another 3 minutes or until the cauliflower is tender and golden. Be sure not to overcook; the finished cauliflower should still have some body once it is added to the salad.
Drain the water from the raisins, then add the cauliflower, spinach, pancetta, raisins, zest from ½ a lemon to the large bowl. Gently fold ingredients together and serve.
Nutrition Information
Yield
6
Serving Size
8 ounces
Amount Per Serving
Calories

267
Total Fat

21g
Saturated Fat

6g
Trans Fat

0g
Unsaturated Fat

14g
Cholesterol

18mg
Sodium

93mg
Carbohydrates

18g
Fiber

4g
Sugar

10g
Protein

6g
This nutrition card uses an estimate provided by an online nutrition calculator. This estimate is not a substitute for a professional nutritionist's advice!
PS: Looking for a salad with a little more protein? Check out this
Grilled Mediterranean Chicken Salad
! And if you want more great ways to enjoy cauliflower, try this
low carb roasted cauliflower
or the incredibly versatile
low carb cauliflower mash
!