Korean Mini Taco Boats with Spicy Asian Slaw are the perfect game day finger food! With sautéed onions, fresh ginger, garlic, sesame oil, and ground beef and pork... layered with a spicy Asian slaw, these taco boats will score big points with all your friends.
Thanks to our friends at Old El Paso & Walmart for sponsoring this post! All content, images, & opinions are my own!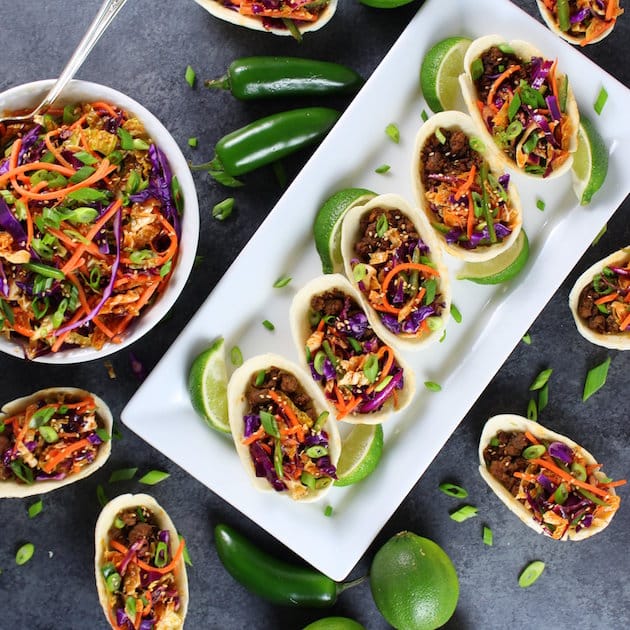 Are you a football fan? Or maybe you're more of a football food fan? Then I gotchu covered!
Have you been watching the NFL playoffs?
We're not die-hard sport fans, but we do appreciate a good football game. Like the Green Bay Packers vs. the Cowboys Sunday - Whoa.
That game was something else! A nail-biter right down to the end. There's nothing like a competitive football game to provide some good old fashion family entertainment. #whoneedspoldark #ME!!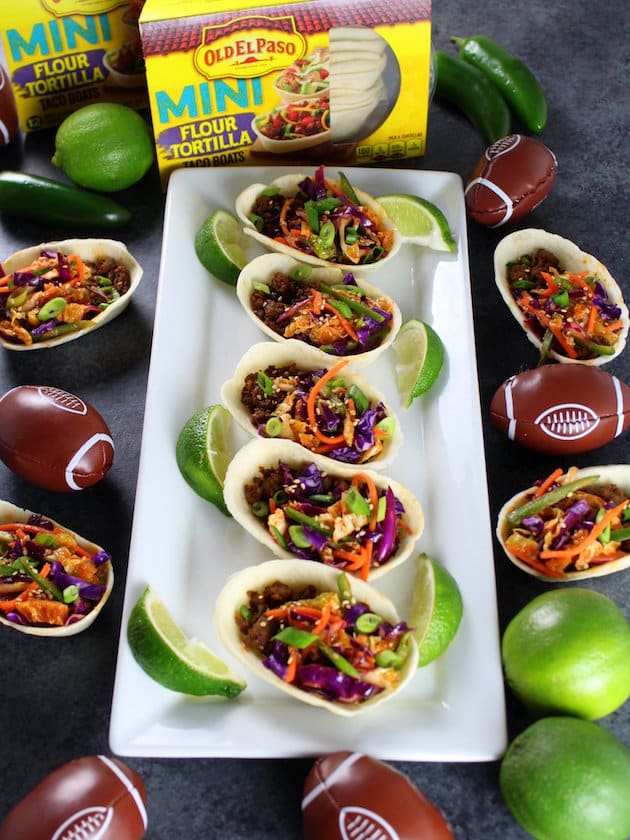 And as much as I appreciate watching a game with my crew, I have to say I like eating all the yummy tailgating grub even more! There's just something about a tableful of tasty morsels shared with friends and family. I bet you might be able to relate? Mmm mmm!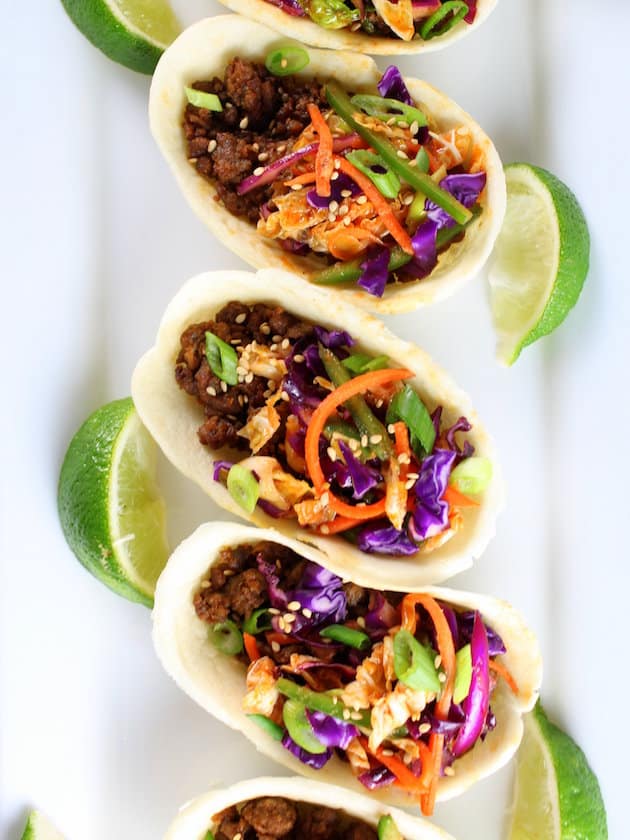 I've said this before but just in case you missed it: I'm a huge fan of a big ole' spread of appetizers or bite-sized finger food. You get to try a bunch of different munchies that are the perfect sample size, with no utensil required!
My kinda' eatin'.
And speaking of bite-sized finger food, that's what we're talkin' about today! Can I get a whoop whoop?
I've got the most delicious appetizer recipe to share with you…Korean Mini Taco Boats with Spicy Asian Slaw!
Aren't they adorable? Seriously, so cute. #InLove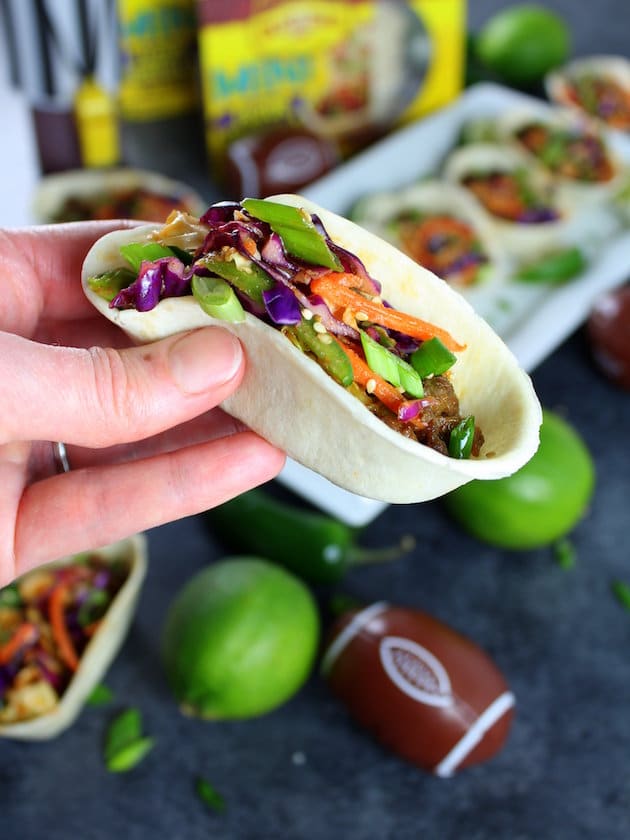 You gotta check out these Old EL Paso Mini Taco Boats. They're available at your local grocery store. We went to Walmart to grab ours…saving me money so I can live better. #word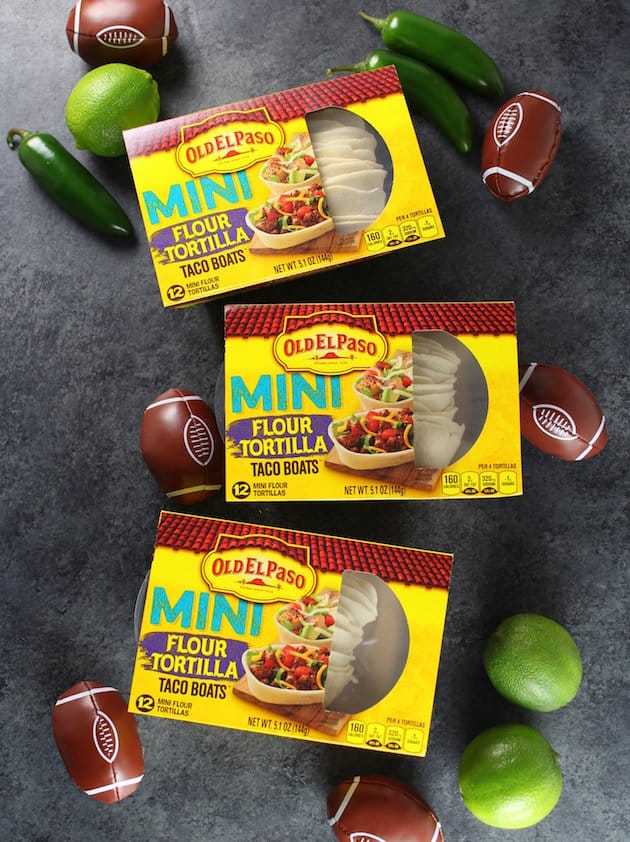 These taco boats are the perfect utensils to scoop up all kinds of goodness. They're really soft just like a flour tortilla, and they hold the perfect amount of whatever yumminess you want them to.
And in this case, that would be some ground beef and pork sautéed with onions, garlic, fresh ginger, Asian chili sauce, sesame oil and spices. Then topped off with some crunchy spicy Asian slaw and toasted sesame seeds.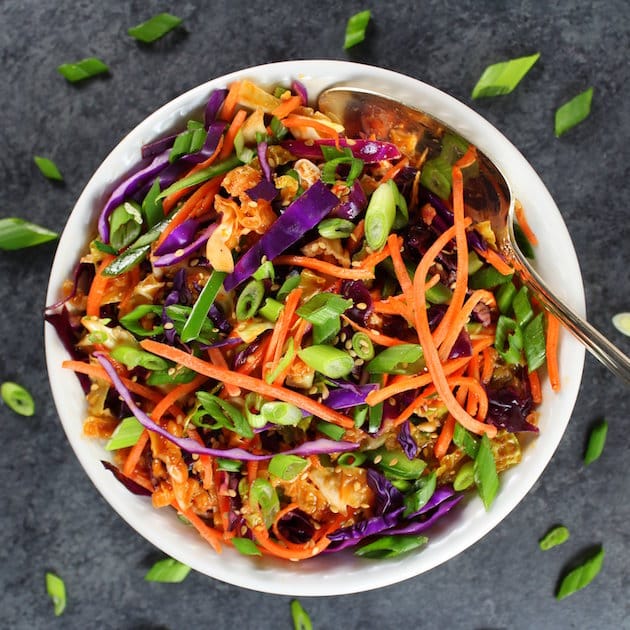 Yum - definitely a touchdown in the flavor department.
The combo of all this goodness is out of this world delicious, and the different textures make this one fabulous game day app.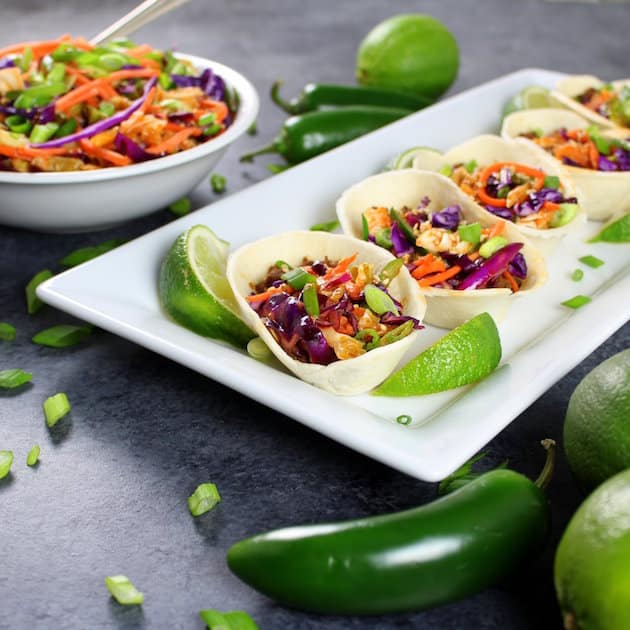 If you're like me and love some bite-sized football food, then these Korean Mini Taco Boats with Spicy Asian Slaw are the perfect munchies for the Big Game!
You're gonna' want to go the distance and make a double batch – trust me you'll be glad you did!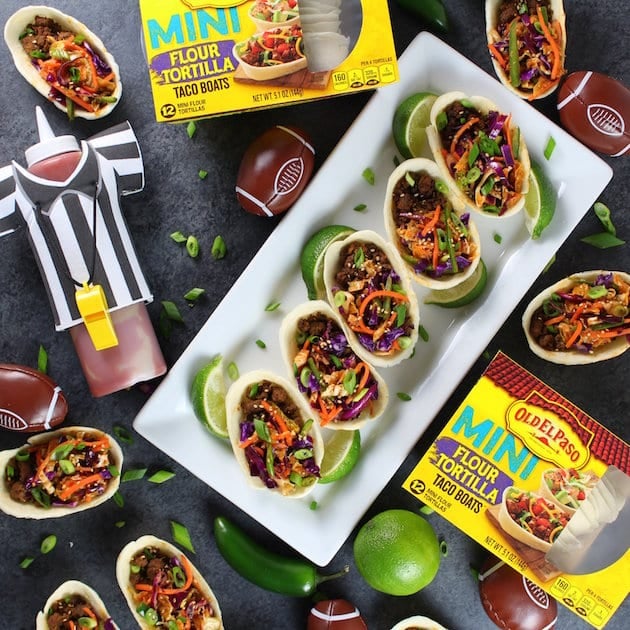 Yield: 24 servings
Korean Mini Taco Boats with Spicy Asian Slaw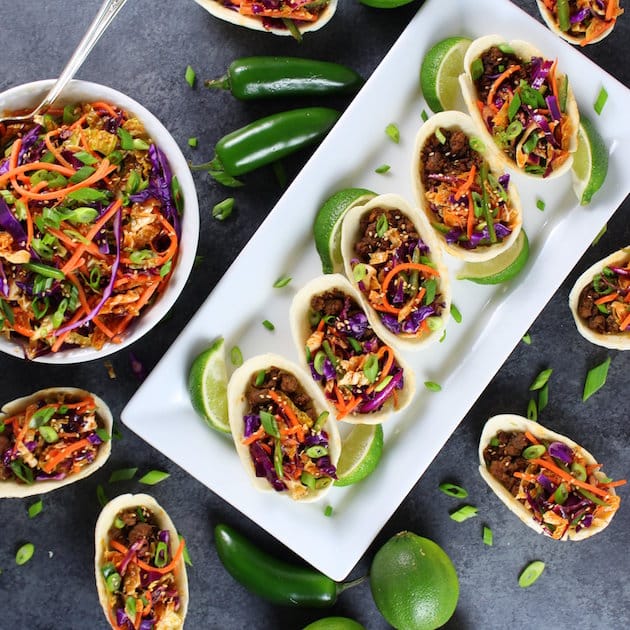 Korean Mini Taco Boats with Spicy Asian Slaw - With sautéed onions, fresh ginger, garlic, sesame oil, ground beef & pork... layered w/spicy Asian slaw.
Ingredients
For The Tacos:
3 cloves garlic, minced
1 ½ tablespoons grated fresh ginger
½ pound lean ground beef
½ pound lean ground pork
1 medium onion, chopped
1 tablespoon canola oil
1 tablespoon low-sodium soy sauce (or Tamari)
2 tablespoons light brown sugar
1 tablespoon Gochujang Korean chili sauce (or use Sriracha or Chili Garlic Sauce)
1 teaspoon salt and pepper
½ teaspoon crushed red pepper flakes
24 Old El Paso Mini Taco Boats
2 green onions, sliced for garnish
Lime wedges for garnish
Toasted Sesame seeds for garnish
For The Spicy Asian Slaw:
½ head purple cabbage, thinly sliced
½ head savoy cabbage, thinly sliced
5 ounces shredded carrots (about 2 medium carrots)
1 tablespoon minced fresh ginger
2 jalapeño peppers, julienned (remove seeds and veins)
5 green onions, thinly sliced on the angle
For The Slaw Dressing:
½ cup rice vinegar
2 tablespoons Gochujang Korean chili sauce (or use Sriracha or Chili Garlic Sauce)
3 tablespoons light brown sugar
2 tablespoons Dijon mustard
⅓ cup extra virgin olive oil
½ teaspoon salt and pepper
1 teaspoon sesame oil
1 tablespoon soy sauce
Instructions
For The Slaw:
In a large bowl, mix together all the dressing ingredients and whisk thoroughly.
Add cabbage, carrots, onions, jalapeños, and ginger, then toss to combine with the dressing.
For The Tacos:
Preheat oven to 300.
In a large bowl, combine the garlic and ginger with the ground pork and beef. Set aside.
Sauté onions in 1 tablespoon canola oil for 4-5 minutes.
Add soy sauce, brown sugar, salt & pepper, Gochujang, 1 teaspoon sesame oil, and pepper flakes to the onions and stir.
Add the meat mixture, and cook thoroughly, breaking up meat with a spoon. Cook about 6-7 minutes.
Meanwhile, wrap taco boats in foil and heat in oven for 5 minutes.
Add 1 tablespoon of meat to each mini boat and top with Spicy Asian Slaw. Garnish with green onions, lime wedges and toasted Sesame seeds.
Notes
* The slaw ingredients like carrots and cabbage can be purchased already shredded at most grocery stores.  Although it's slightly more expensive, it can be worth it if you're looking to save time.
*Grating fresh ginger can be cumbersome.  You can also purchase grated ginger as another time saver for this recipe
* This recipe can be prepped a day in advance.  Cook the meat as per these instructions, and store separately.   Prep all the slaw veggies and store them each in their own resealable plastic bag.  Mix and store the dressing in a separate container, and combine the dressing with the rest of the slaw ingredients 15-30 minutes before serving.
Nutrition Information
Yield
24
Serving Size
1 taco "boat"
Amount Per Serving
Calories

115
Total Fat

6g
Saturated Fat

1g
Trans Fat

0g
Unsaturated Fat

5g
Cholesterol

15mg
Sodium

332mg
Carbohydrates

9g
Fiber

1g
Sugar

5g
Protein

6g
This nutrition card uses an estimate provided by an online nutrition calculator. This estimate is not a substitute for a professional nutritionist's advice!