Lighter Curried Chicken Salad with Cashews – creamy, crunchy, curry-filled and cra-mazing! There's so much to love about this yummy dish… tender chicken breast, roasted cashews, diced Honey Mango, cilantro, celery, green onions, Greek yogurt, a little mayo, curry powder and more. This crave-worthy chicken salad is gluten-free and perfect for meal prepping!
I might be a little late to the party with this chicken curry recipe, but you know what I always say, everyone together now… "better late than later!"
I just love that you can finish my sentences. <3<3
Soo, I have to tell on myself. I've never had Curried Chicken Salad until a few weeks ago. WHAAA!!? Crazy talk, I know. For some strange reason this delicacy has eluded me. Well, until now.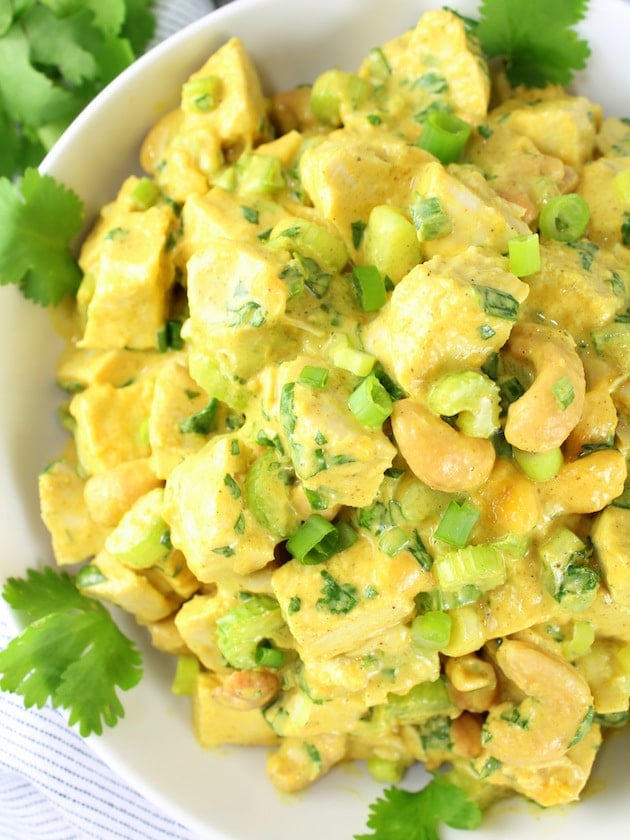 You see, there's this new grocery store FIL turned us onto. It's called Lucky's Market. Have you been to one yet?
Their whole premise is that "good food shouldn't be a luxury, it should be a right." You shouldn't have to eat things that are full of pesticides, antibiotics and growth hormones. And natural and organic food should be affordable so whatever your budget, you can enjoy it. Plus, they don't take themselves too seriously, which you know I love.
The store has some neat features like a café where you can grab lunch or a snack, or a glass of beer, wine, coffee or even Kombucha on tap while you shop. Cool, right? Love it!
When we were at my in-laws' house a week or so ago we stopped by for a stroll through the store, and a few groceries.
The B man and FIL had some coffee, me some white wine. We sampled the in-house smoked pastrami, found some salt-water taffy for MIL, grabbed a few groceries to make my Moroccan Lentils and Turkey Meatballs, AND picked up some Curried Chicken Salad.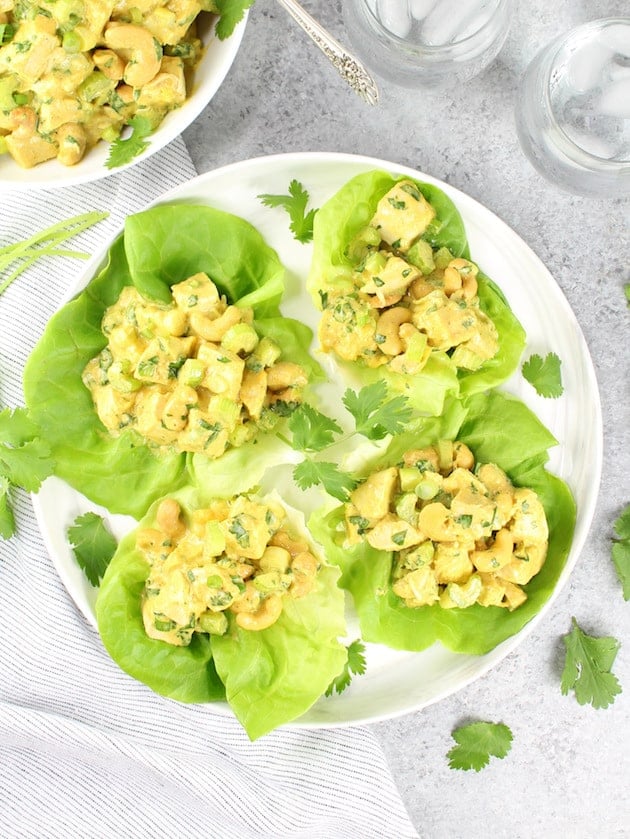 I had seen it before in the store and was intrigued, so I knew today was my day. I'm kind of a cashew fiend these days, so those big whole cashews mixed into that golden-hued creamy goodness just sealed the deal.
It was destiny.
We went home to make dinner but before anything else could happen, I had to try the chicken salad. We all sampled it: creamy for sure, crunchy cashews, and good-sized celery pieces, a bit herbaceous, a deep earthy curry flavor, with a subtle sweetness. Mmmm.
It was sooo good. Honestly, I just wanted to grab some lettuce and make that my dinner. But I pushed through… back in the fridge she went until another time. It gave new meaning to the phrase… "parting is such sweet sorrow." You think I'm joking. I am not!
Sorry for being so dramatic but this is real life people. A day in the life of a hungry food blogger.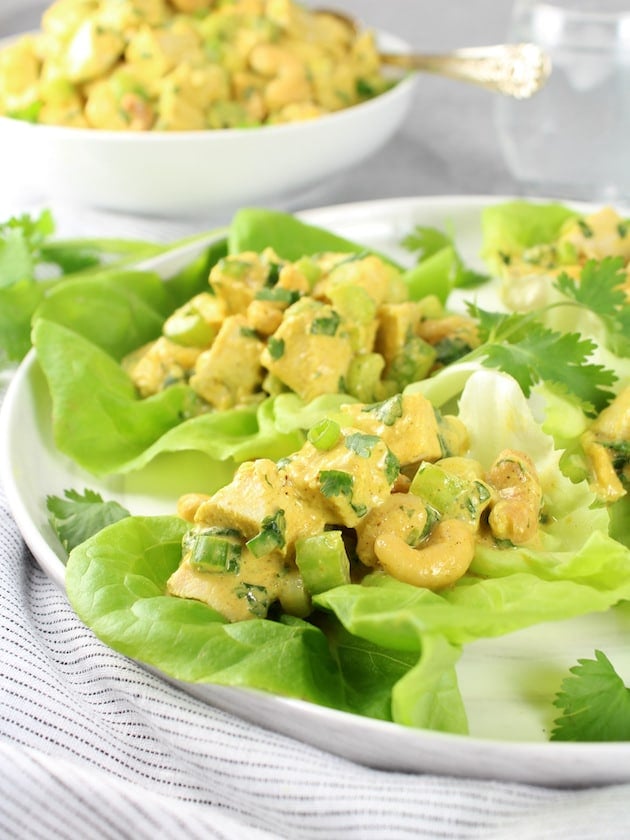 You'll be happy to hear I was able to exhibit self-control. We made a delicious dinner as planned. And the Moroccan Lentil Stew was quite delicious and helped me forget about my new love… for a few minutes.
After some nice conversation over a tasty meal we made our way back home. BUT WE FORGOT THE CURRIED CHICKEN SALAD!!! I was heart-broken. Had it not been an hour plus drive back to FIL & MIL's I would have turned that car around. (Don't worry this sort of thing happens to me regularly. Say a prayer for the B man if you think of it.)
I pulled myself together and somehow managed to sleep that night.
But the next day, and the next day, and the day after that, all I could think about was that brilliant curried yumminess. I knew what needed to happen. So, I went to work.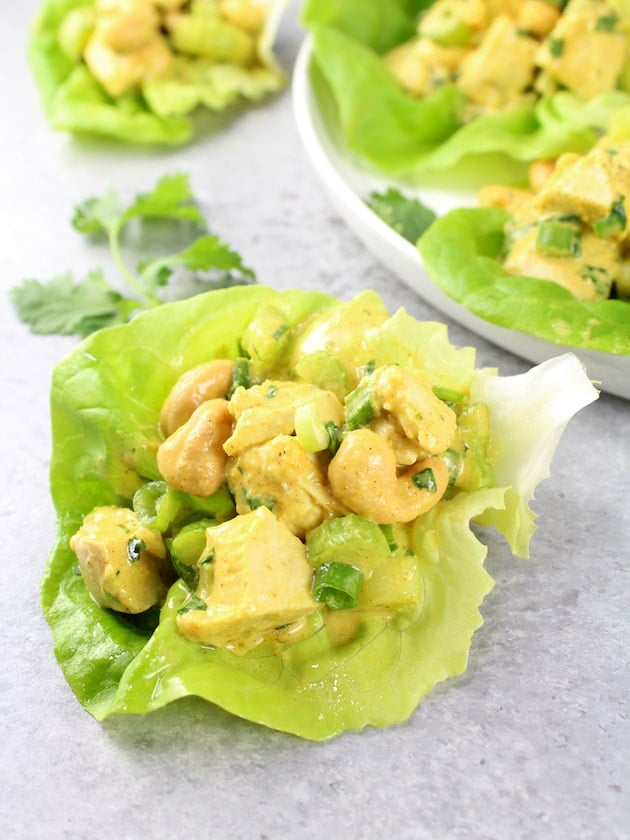 And I'm thrilled to tell you I exceeded my own expectations! Yep – this Lighter Curried Chicken Salad is everything I knew I really wanted and so much more!
Here's how this glorious masterpiece came together…
How to make this chicken curry recipe:
I decided to poach my chicken breasts. I used about 2 lbs of boneless, skinless, chicken breasts and placed them in one layer on the bottom of a sauce pot. Then I added my water – enough to cover the largest piece of chicken by an inch. I added some sliced raw ginger, fresh cilantro, peppercorns, salt, smashed garlic, brought it all to a simmer, and cooked for roughly 10-14 minutes.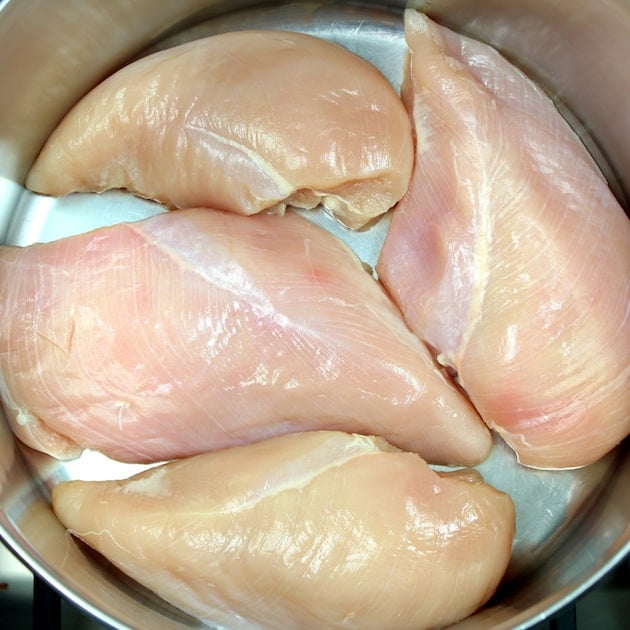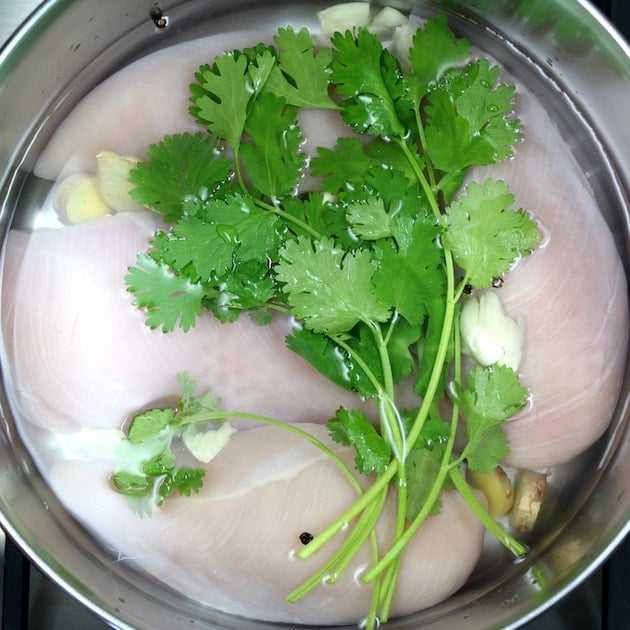 I temped each breast and pulled them out one by one as they reached 165 degrees. (If you don't have a digital meat thermometer – this one will change your life. Not kidding – I even temped my swimming pool with it last week. Don't worry – it's a salt water pool. LOL)
I let the chicken rest for 5 minutes, then sliced it and diced it into 1 inch pieces.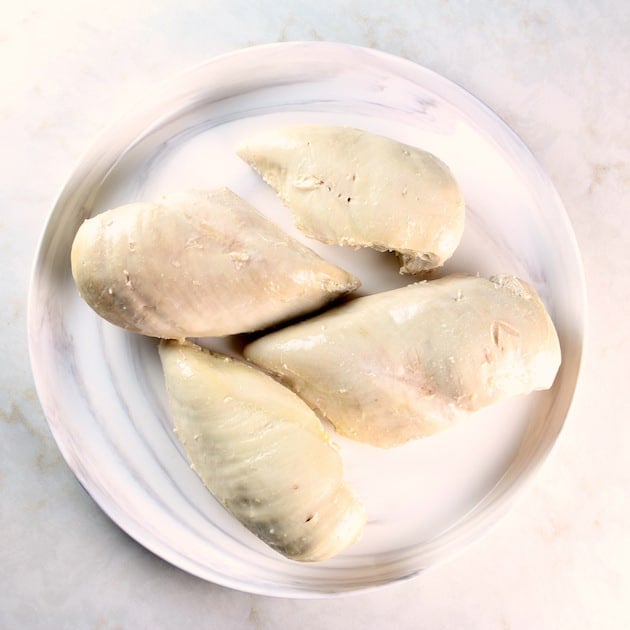 Meanwhile, I mixed together my other ingredients.
Honestly, I had taken a picture of the ingredient label at the Lucky's so I wouldn't forget what made this dish so special. I also did a quick search to see if there were any reputable chefs who had made this deliciousness, and wouldn't you know it… my Boo Ina (you may know her as The Barefoot Contessa) had the top ranked chicken curry recipe on page one of Google!! You go girl!
I knew I didn't want a ton of mayo in mine – it needed to be lightened up because I was probably gonna eat all of it in one sitting. Don't judge people.
So, I decided on ⅓ cup mayo and ⅔ cup Greek yogurt. Enough fat to make the dish satisfying, but lightened up enough to make it healthier.
I added the mayo, Greek yogurt, whole roasted and salted cashews, chopped celery, sliced green onions, chopped cilantro, a ripe Honey Mango diced (the small bright yellow ones), honey, apple cider vinegar, the juice from half a lime, salt, ground ginger, and curry powder of course!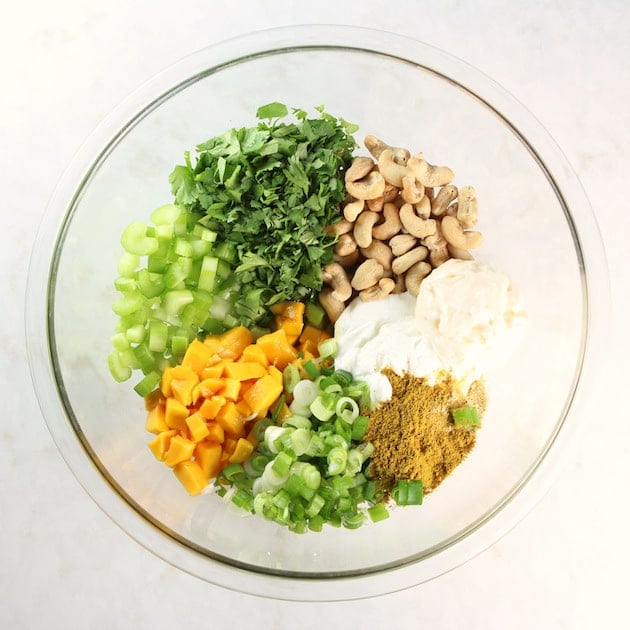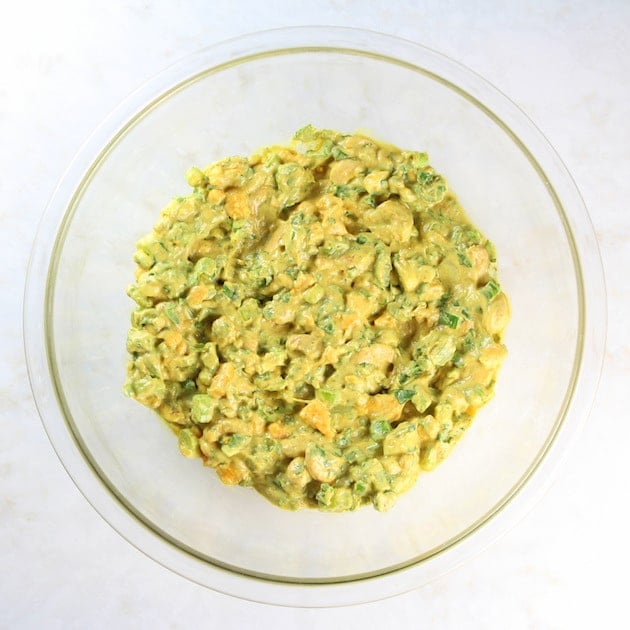 I folded in the chopped chicken and boom… the latest obsession of my affection was born – creamy, crunchy, crave-worthy Curried Chicken Salad. Ahhh, big swoon.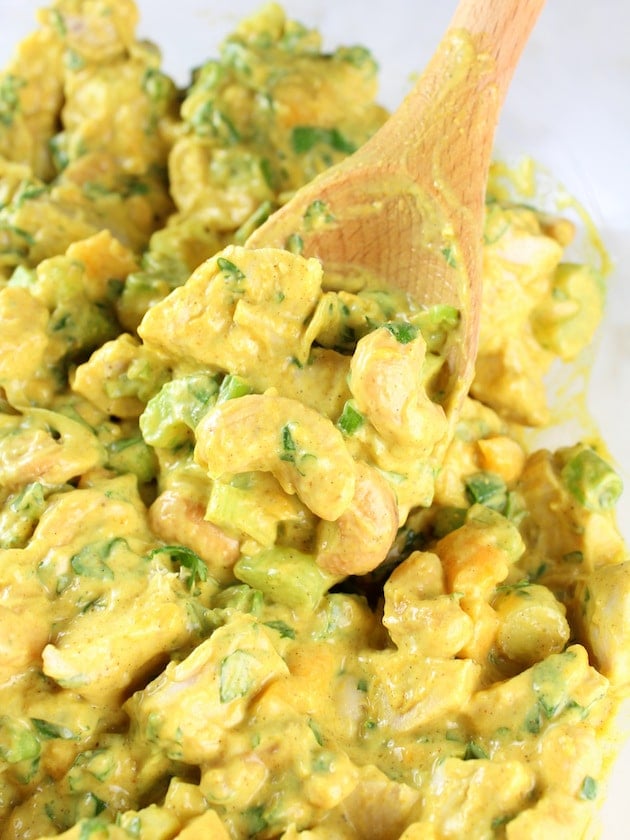 I'm sure you've been enjoying this divine dish for years now. I've heard Trader Joes is kind of famous for their rendition. Of course, there is Lucky's version which I can totally vouch for. And after-all it was served at Queen Elizabeth's Coronation luncheon so it's obviously been around for a very long time. Yep, since June 2, 1953. Here's the original chicken curry salad recipe if you're interested.
Whether you've been in the know, or totally oblivious like me, you can now enjoy MY version with this easy chicken curry recipe whenever the craving strikes!
It's definitely a meal fit for a Queen - or an adulting super-hero like you! "Up, Up and Away" my friend – enjoy!

How to serve Curried Chicken Salad:
Lettuce wraps – I suggest Boston Bibb or Romaine lettuce. Or you could even use something slightly sturdier like collard greens or kale leaves.
Regular wraps or pitas – there are so many versions out there… low-carb, whole wheat, Gluten-free, Veggie-infused etc.
Your favorite sliced bread, bagels, English muffins, Bagel Thins, Sandwich Thins, or Crispbreads.
If you wanted to get all fancy you could baked up some puff pastry cups, and fill them with the chicken salad like I did here.
You could even stuff an avocado, tomato or cooked pepper with the chicken salad for a healthy lunch, dinner or even breakfast - if you want to eat it for three meals a day for an entire week, but I mean, who would do that (ahem)?
Meal prep – make a batch and enjoy it for the week ahead.
I would love to connect with you! Leave me a comment and follow me on Facebook, Instagram, Pinterest, and Twitter!
Yield: 7
Lighter Curried Chicken Salad Recipe with Cashews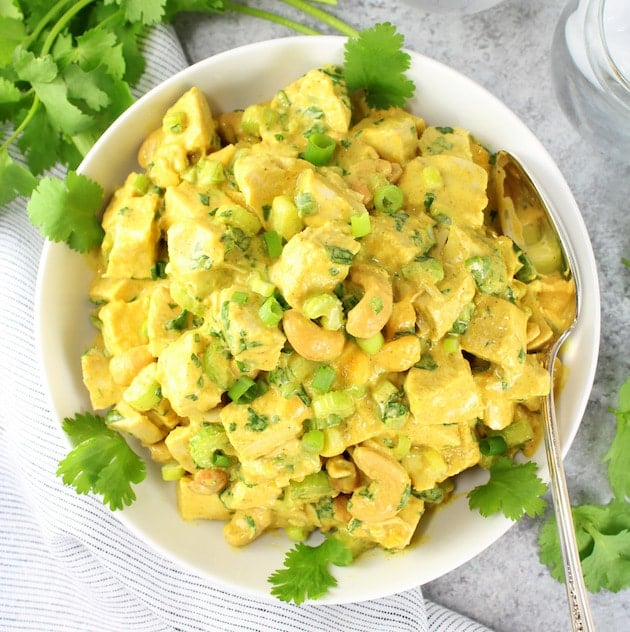 This crave-worthy chicken curry salad is gluten-free and perfect for meal planning!
Ingredients
For The Chicken:
2 pounds boneless, skinless chicken breasts
4-5 slices fresh raw ginger
8-10 cilantro sprigs
5-6 peppercorns
½ teaspoon salt
For The Curried Dressing:
⅔ cup Greek yogurt, (I used 2%)
⅓ cup mayo
1 cup cashews (whole roasted & salted)
1 small Honey mango diced
1 cup celery, diced
½ cup cilantro, rough chopped (or basil if preferred)
1 cup green onions, sliced thinly
2-3 tablespoons honey
2 tablespoons apple cider vinegar
2 tablespoons curry powder
1 teaspoon salt
¼ teaspoon powdered ginger
Instructions
Place 2 lbs of boneless, skinless, chicken breasts in a single layer on the bottom of a sauce pot. Add enough water to cover the largest piece of chicken by an inch. Add sliced raw ginger, fresh cilantro, peppercorns, salt, smashed garlic, and bring to a simmer. Cook for roughly 10-14 minutes.
Temp each breast and pull them out one by one as they reach 165 degrees. Once they are cool enough to handle, cut into ½-1 inch cubes.
Meanwhile, in a large bowl mix together Dressing ingredients and fold in cooked chicken. Chill the curried chicken salad for 1-3 hours before serving.
Make wraps, lettuce wraps, sandwiches, stuff some pitas, enjoy over a bed of lettuce or meal prep for the week ahead.
Notes
To get this dish on the table even faster - use pre-cooked shredded rotisserie chicken instead of cooking your own.
Add a pinch of cayenne for a little spicy heat.
Nutrition Information
Yield
7
Serving Size
8 ounces
Amount Per Serving
Calories

380
Total Fat

19g
Saturated Fat

3g
Unsaturated Fat

0g
Cholesterol

88mg
Sodium

742mg
Carbohydrates

17g
Fiber

2g
Sugar

10g
Protein

33g