Apparently, "chicken salad" is one of the most searched-for chicken recipes on the internet. I find this fact pretty interesting. I mean, I know chicken recipes are by far the most sought after and I totally get that. Chicken is relatively inexpensive; it's mild in flavor and absorbs the seasoning of whatever you cook it with very nicely. Plus, it's appealing to all ages and palates. But chicken salad – who would have thunk it?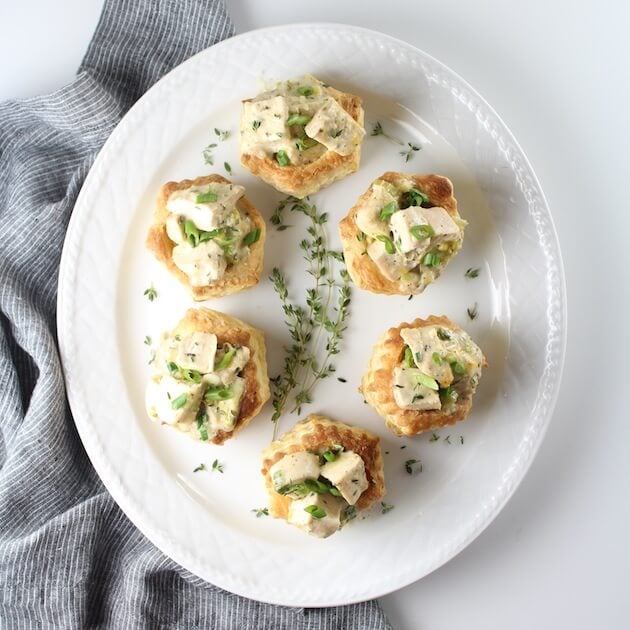 I've gotta be honest with you… I don't really make chicken salad that often. In fact the last time I made it was years ago for a friend who was hosting a ladies luncheon. AND it wasn't your typical chicken salad. I know you're shocked – right? You know me – switching things up over here. It was Cheesy Hot Chicken Salad.♨ Not hot in the sense of spicy but like 350 degree oven for 30 minutes hot. The recipe comes from my MIL & FIL. I believe I've mentioned a few other delightful recipes they have passed down to me like the Chicky Cannellini – AKA Chicky Chicky Can Can and then there's the ever popular Closed Oven Turkey (the foolproof and perfect way to cook your holiday bird.)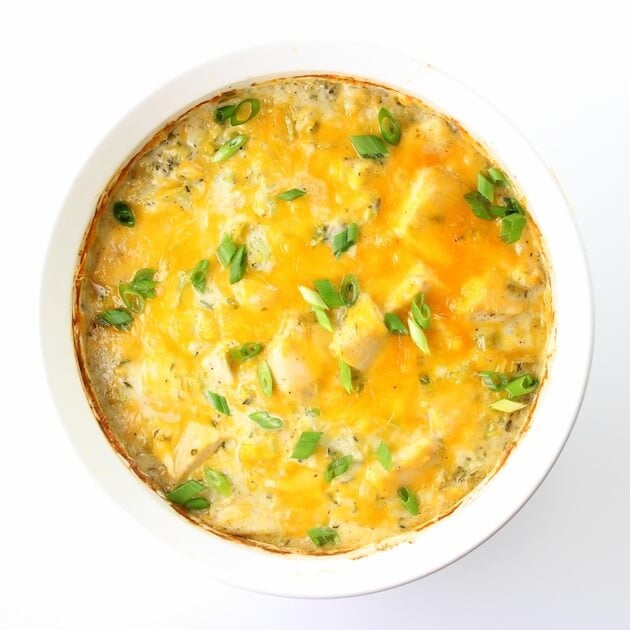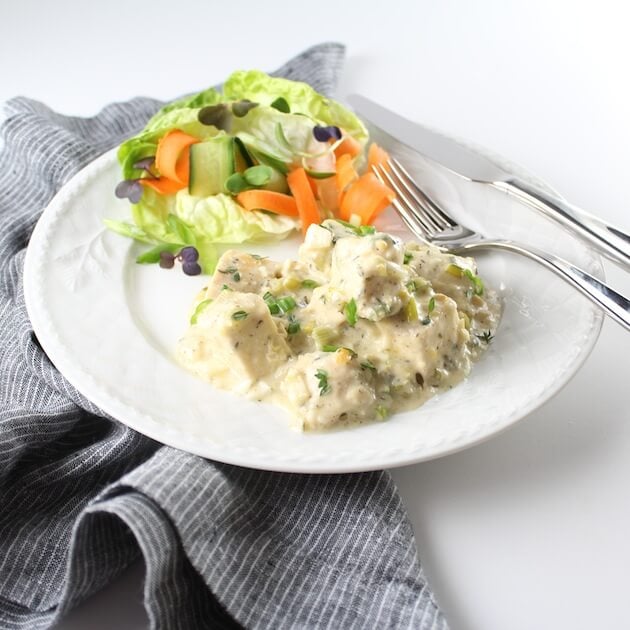 Anyway, the in-laws are a great resource when it comes to yummy recipes. I'm pretty sure one of the reasons is because they've entertained a bit in their day. FIL was an Air Force Colonel and that position came with a bit of hobnobbing. While FIL was off being the super hero he is, MIL was at home being Batman's Robin, whipping up tasty meals and making him look good. Today's Cheesy Hot Chicken Salad recipe was one she would make when hosting the military wives for lunch. After all, us women are suckers for anything with the word salad in it. I think that is all part of those two X chromosomes. IDK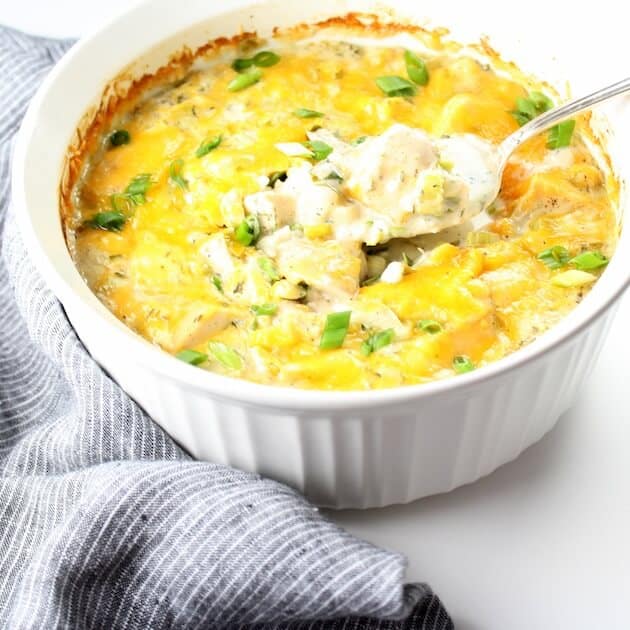 What I do know is that this recipe is pretty much a homerun. It has tender cooked chicken, sharp cheddar cheese, green onions, celery, thyme, mayo, chicken stock, a squeeze of lemon, plus salt and pepper. You mix it together, sprinkle on a tad more cheese ('cause you eat with your eyes first), and bake it in the oven for about 30 minutes. Sounds yummy, doesn't it?
It gets even better!! While you're making this gem of a recipe, you put some puff pastry shells in the oven to bake… then you cut out their little lids and fill each one with the Cheesy Hot Chicken Salad and serve. SOOO GOOOD!! Think about it…cheesy, warm chicken salad being cradled in a light and crunchy puff pastry pillow. Mmmmm…having a moment over here.
If you like chicken salad or chicken in general you're gonna LOVE this Cheesy Hot Chicken Salad recipe. It's a perfect make-ahead weeknight meal, or an impressive dish to serve at your next book club. Cheesy Hot Chicken Salad – a delicious classic made even better!✨
Cheesy Hot Chicken Salad
Cheesy Hot Chicken Salad – a delicious classic made even better!

Ingredients
4

chicken breasts cooked diced into 1/2-inch pieces

(or shredded)

2

celery stalks,

halved lengthwise and finely chopped

5

tablespoons

green onions,

finely chopped (reserve 2 for garnish)

2

tablespoons

fresh thyme,

finely chopped

2

cups

shredded sharp cheddar cheese,

white preferably

1

tablespoon

fresh lemon juice

(about half a lemon)

1

cup

mayonnaise

1

teaspoon

salt

1

teaspoon

pepper

1/3

cup

yellow cheddar to top before baking

6-12

in

frozen puff pastry shells

freezer area of grocery store
Instructions
Bake frozen puff pastry shells according to instructions (normally 425 for 18-20 minutes).

Lightly grease or spray either a 9X9 or a 10-inch round baking dish

While the shells are baking, mix all ingredients except 1/3 cup yellow cheddar cheese and 2 tablespoons of green onions, and transfer to the prepared dish. Sprinkle the top with yellow cheddar.

Once puff pastry shells are finished, set aside to cool and set oven temperature to 350.

Bake the chicken mixture uncovered for 30-35 minutes, until bubbling around edges and cheese has fully melted.

Garnish with 2 tablespoons of green onions (Other toppings you could add: chopped tomatoes, chopped fresh thyme, bacon crumbles or even hot sauce).

To serve, use a sharp paring knife to remove the "tops" of each puff pastry and the soft pastry underneath. Fill each shell with cheesy hot chicken salad.
Recipe Notes
To cook chicken breasts:
Preheat oven to 375 degrees. Place raw chicken in a 9x13 baking dish. Salt and pepper the top side of each breast. Pour 1 cup of chicken stock into the pan. Cover the pan tightly with tin foil and bake for 40 minutes or until a meat thermometer reads 165 degrees.
Nutrition Facts
Cheesy Hot Chicken Salad
Amount Per Serving
Calories 468
Calories from Fat 315
% Daily Value*
Fat 35g54%
Cholesterol 118mg39%
Sodium 817mg34%
Potassium 503mg14%
Carbohydrates 2g1%
Protein 32g64%
Vitamin A 550IU11%
Vitamin C 5.9mg7%
Calcium 259mg26%
Iron 1.1mg6%
* Percent Daily Values are based on a 2000 calorie diet.