Can I tell you about my most favorite yoghurt in the world?? It's noosa and it's all kinds of New-sa (thanks to noosa for sponsoring this post)! It's truly unlike any other yogurt on the market today. I'm not even exaggerating. And because I love this yoghurt so much I threw the most spectacular Summer Brunch in honor of their new product: "noosa mates." #humblebrag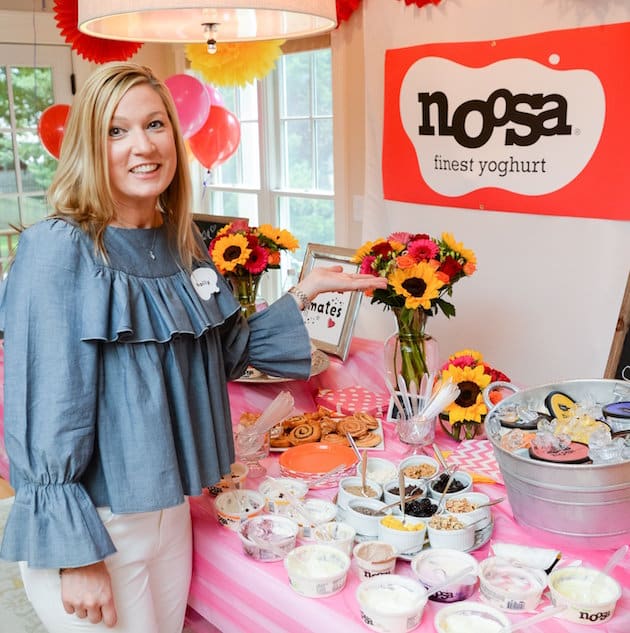 Let me give you a little backstory… So I've always been a fan of yogurt. I love that it's a balance of sweet and tart, always creamy and smooth, and it's like eating something healthy and heavenly all at once.
Then a few months ago I discovered my new BYF (best yoghurt forever) – noosa! It was over the top delicious. Like so super extra! More delectable than any yoghurt I'd ever had. And the flavors were absolutely outstanding.
In case you're like me and enjoy knowing the back story: noosa began when co-founder, Koel Thomae—an Aussie ex-pat who'd been living in Colorado — came across a simple, clear tub filled with creamy yoghurt and passion fruit purée while visiting Australia's sunshine coast.
It was near the picturesque beach town of noosa. From there she went on to partner with Rob Graves, a fourth-generation dairy farmer back in Colorado with some serious milk credentials, to produce the most one irresistible yoghurt in existence. (PS: yoghurt with an "h" is the Aussies' way of spelling it.)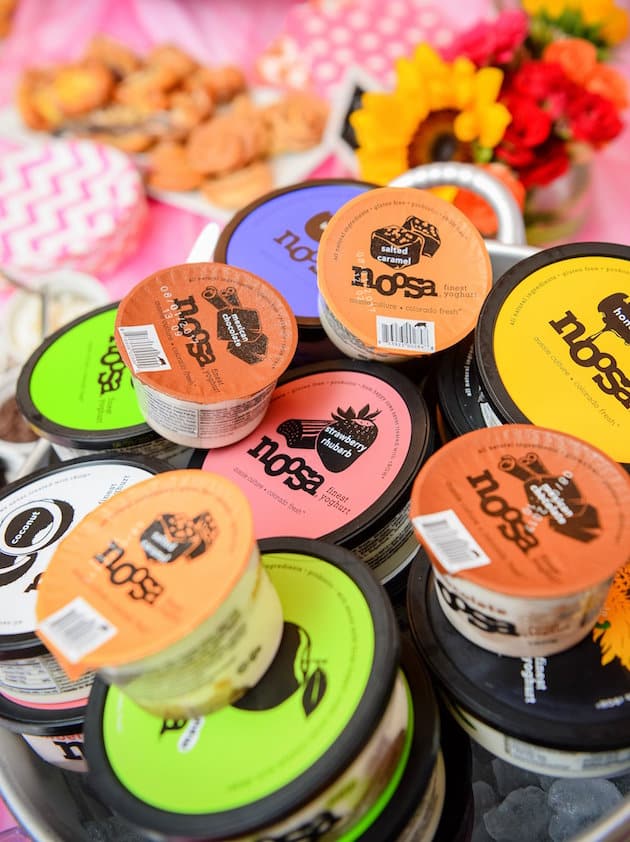 But like I said - the flavors were absolutely outstanding…
The strawberry rhubarb was like being transported back to being a kid and smearing my mom's homemade strawberry rhubarb jam all over everything – especially my face. Never have I ever experienced a flavor combo so perfectly balanced and true to the fruit it represents.
Then came the coconut. An extra creamy coconut encounter with shredded pieces of coconut offering the perfect tropical adventure.
Next, the blueberry - hello! It tasted like my most favorite childhood dessert Blueberry Tort - brimming with wild blueberries, slightly tart and sweet done right. How is that even possible???
Woosa! Noosa has stolen my heart!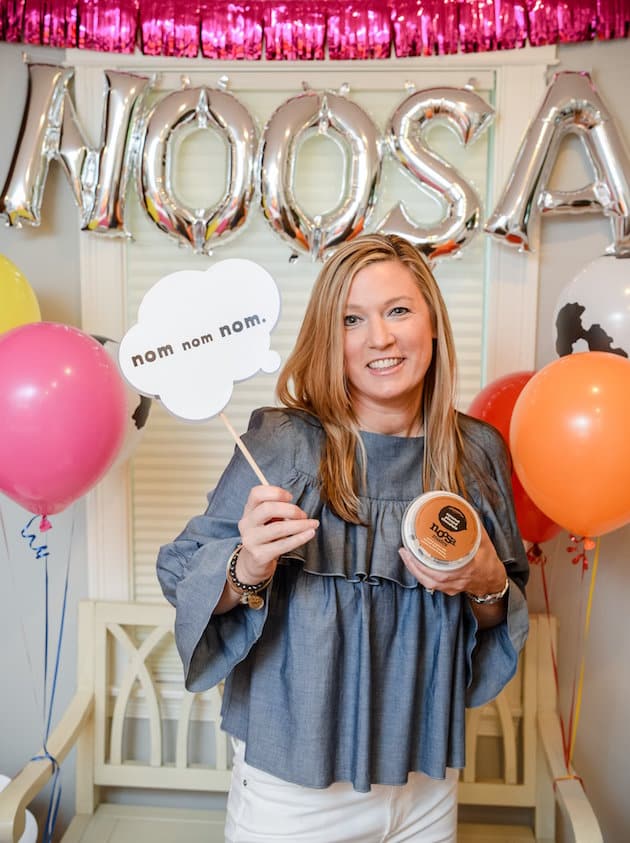 And I'm not the only one enraptured by this tasty treat. Oh no, the B man is full tilt on board.
We can't keep the salted caramel flavor in the house. No, for real! We literally hide them from each other… behind the milk container, in the veggie drawer - you never know where you might find a tub in our fridge.
It's just too amazing for words. Think of the best salted caramel anything you've had. Now make it non GMO, gluten free, full of healthy probiotics, with only farm-fresh whole milk = Salted Carmel noosa yoghurt. #heaven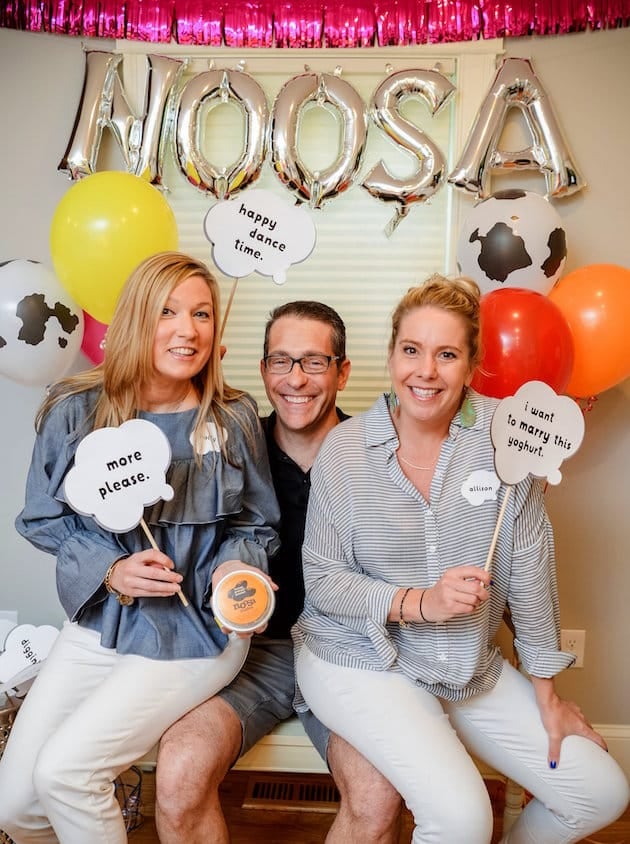 So you better believe when I was given the opportunity to host a Summer Brunch in my home for noosa, I made that happen.
This summer they were launching their latest product – noosa mates and looking for unconventional ways to get the word out.
The "mates" concept is a mix-in-style yoghurt - pairing one of their tasty yoghurt flavors with premium toppings like crunchy granolas, nuts, pretzels and chocolates - taking this yoghurt to a whole notha' noosa level!!! YUM! And everyone loves YUM!!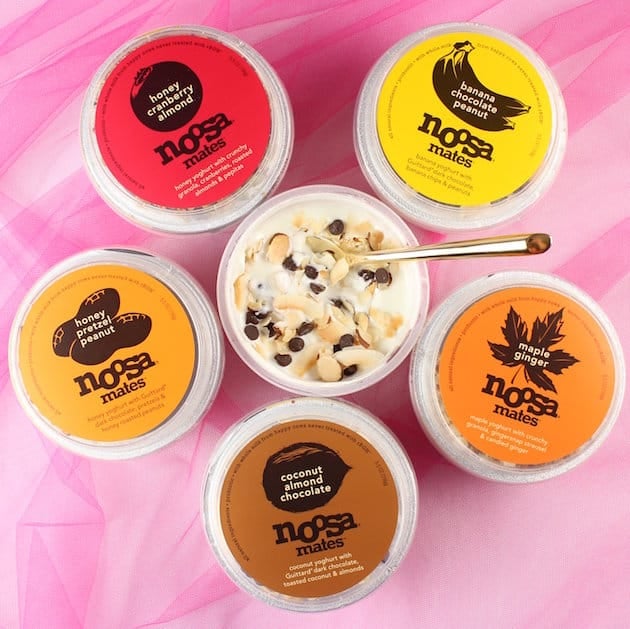 They offer 5 fabulous flavor combos for your eating pleasure…
Banana chocolate peanut
Coconut almond chocolate
Honey cranberry almond
Honey pretzel peanut
Maple ginger
If you haven't already, I can't wait for you to try them all… it'll be your new favorite pastime – sampling all these scrumptious tubs of goodness morning, noon and night!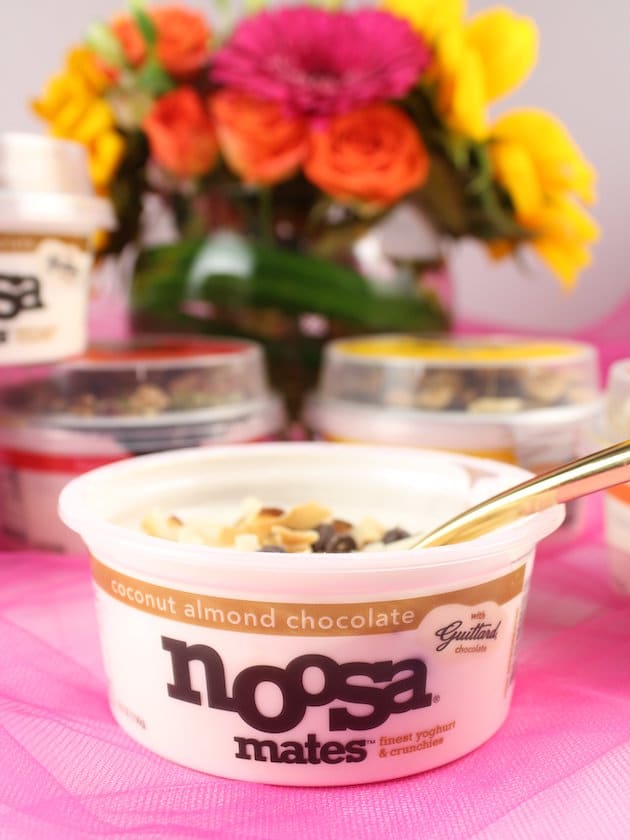 All my friends loved the new "mates" and the word on the street is that the brunch was a primo event… and how could it not be with all that noosa yoghurt!?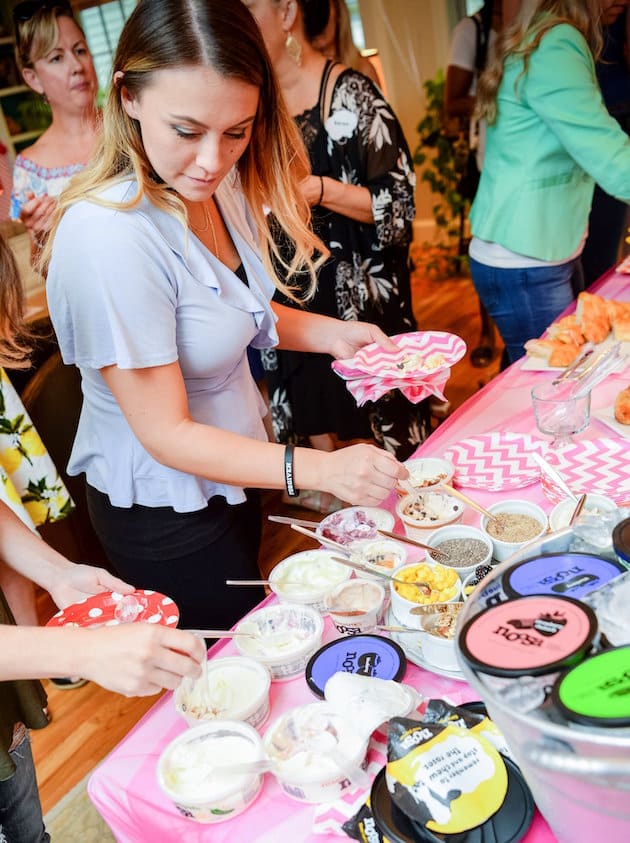 To get into the spirit of things we completely transformed our house into noosapalooza! Seriously, there were so many fun details that made for the most festive environment.
Let me tell you all about it…
The tablescape was centered on a large noosa banner because how can you have a noosa extravaganza without blowing it up – literally.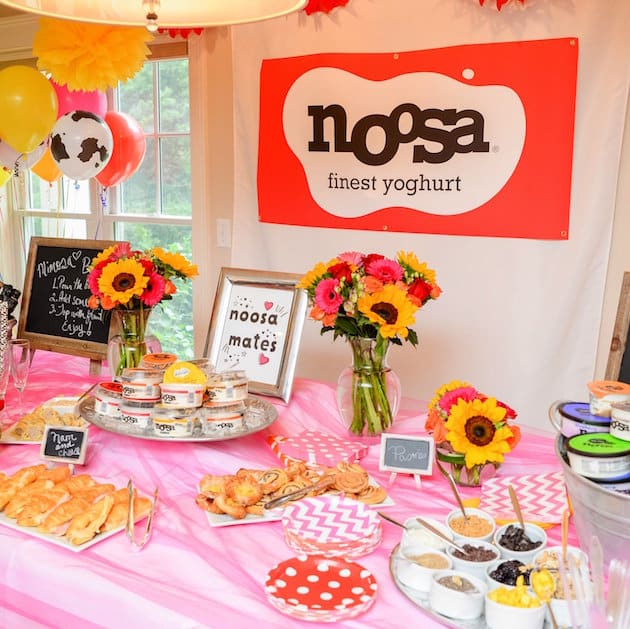 Balloons and tissue paper pom-poms and fans, all in the noosa mates color scheme adorned the entire area. By the way this is such an economical and fabulous way to transform a room into a fun party environment. #partytip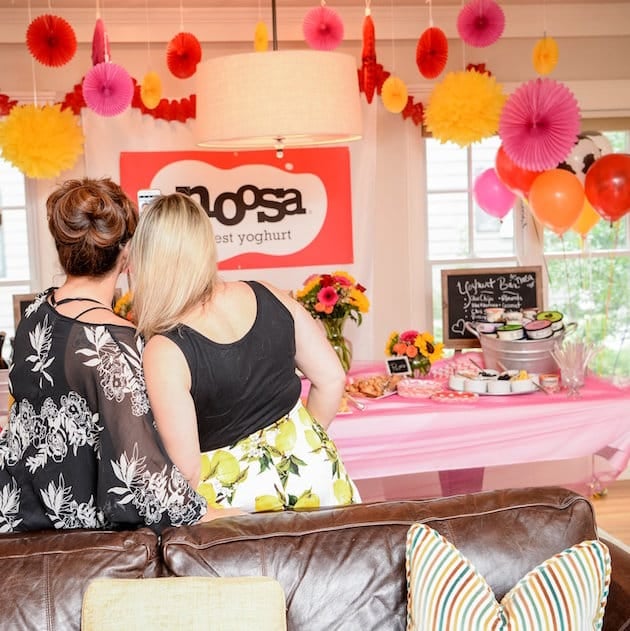 There were cow balloons and straws not just because they're presh, but because noosa loves their cows and knows their farm-fresh whole milk is the cornerstone of their yoghurt.
We had several gorgeous flower arrangements on the table and around the room because flowers make everything come to life and are a great way to reinforce the color scheme. #anotherpartytip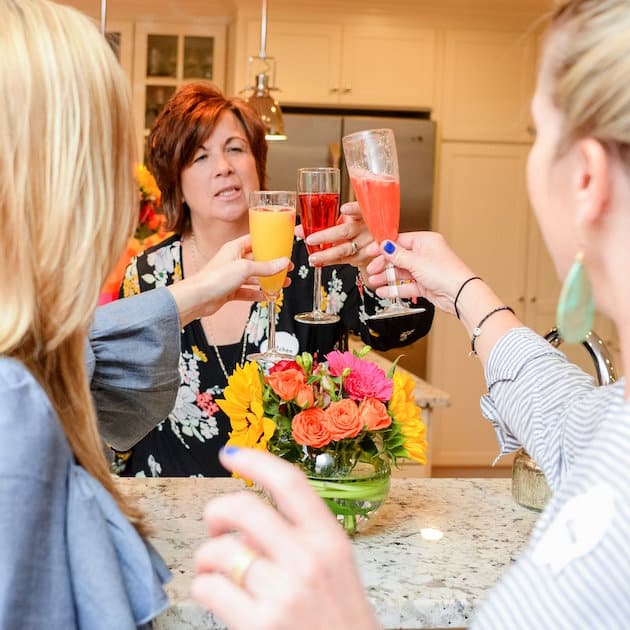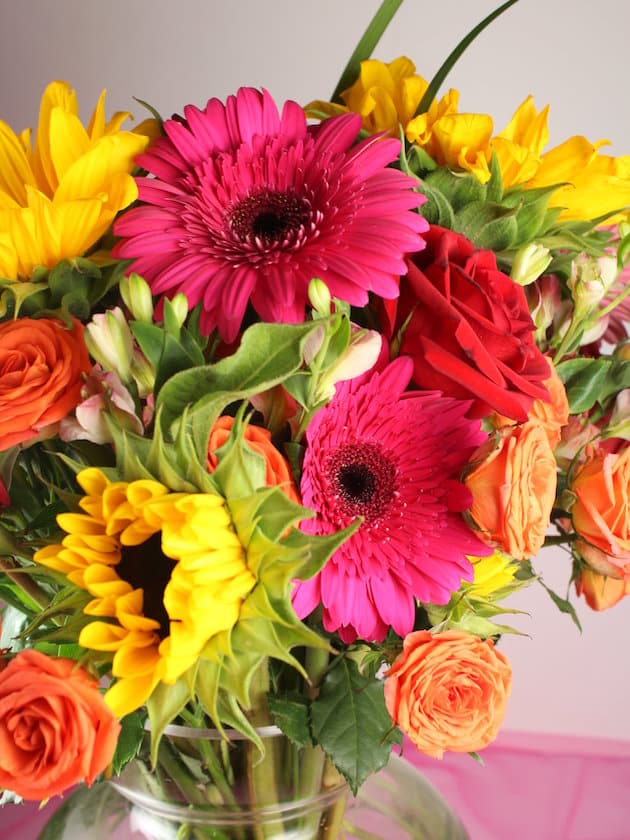 And what's an event without a photo booth!?? Amiright?? (You guessed it… #partytip) We created a station with more colorful balloons and decor, air-filled letter balloons spelling out "noosa," and word clouds with noosa "#flipyolid" sayings as props.
On a side note: Since I've already shared my family's love of noosa you won't be surprised to hear that the B man's favorite lid saying is "not sharing." What can I say? At least he's consistent.
We played a rowdy round of noosa trivia. Who knew there were 70 wild blueberries in every tub of noosa blueberry yoghurt??? Well apparently my friend Leslie from Stress Baking because she got every trivia question right - even the extra credit question. She does have two degrees so I'm really not surprised. #girlsgotgame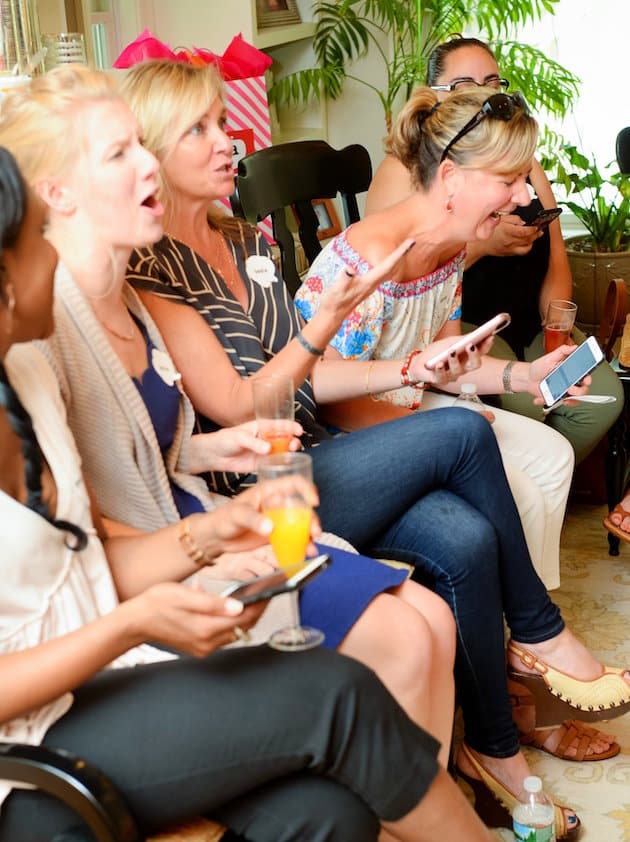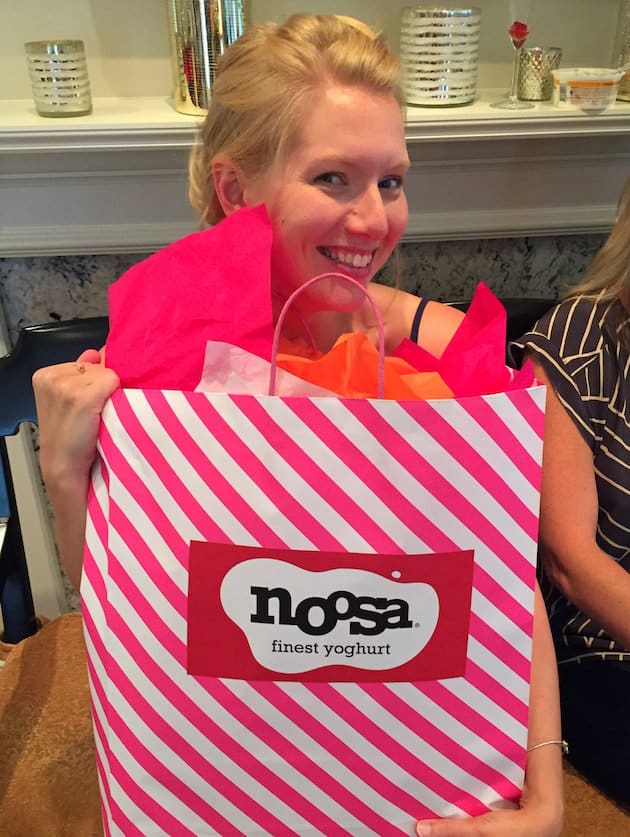 We asked our guest to put on their thinking caps and come up with more creative noosa lid sayings. You know the words on the underside of the foil you peel back and lick because you can't waste a single drop of that yumminess.
And just incase you're wondering… the winning saying was… "moo're please." Get it… "moo" as in the sound those happy cows make when providing the freshest milk possible for the ultimate velvety yoghurt experience evahh! #bigswoon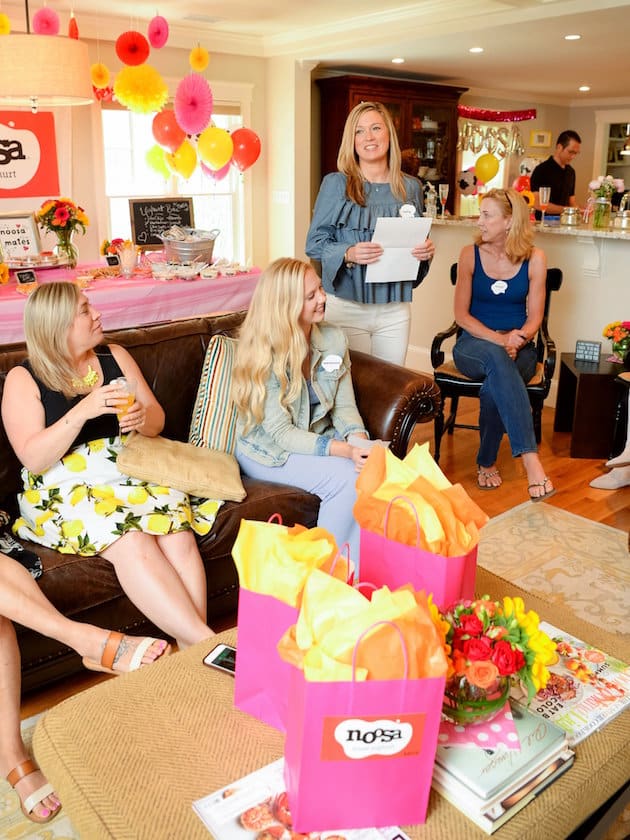 We all spent the afternoon stirring it up with the new 5 flavor combos of noosa mates AND our very own yoghurt bar.
Think tubs and tubs of amazing noosa yoghurt like blackberry serrano, key lime, apple, honey, and pineapple jalapeno just to name a few. Then imagine toppings galore making for the most magical mixing experience on the planet.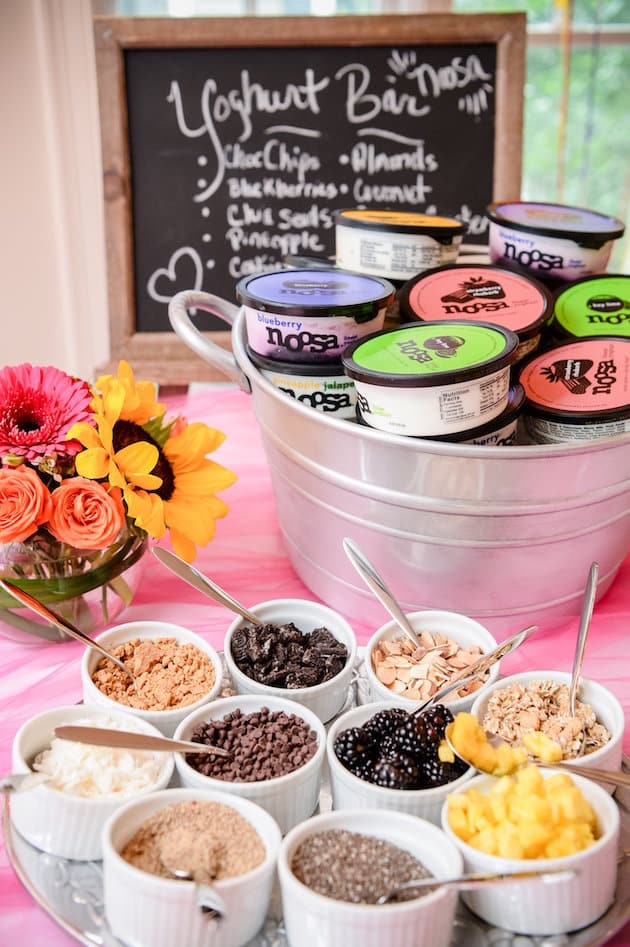 Did I mention we had a mimosa bar?? All the flavors just so happened to reflect our color scheme… orange, pineapple mango, strawberry guava and cran-raspberry.
By the way, strawberry guava is the bomb dot com - said pretty much all of the ladies in attendance.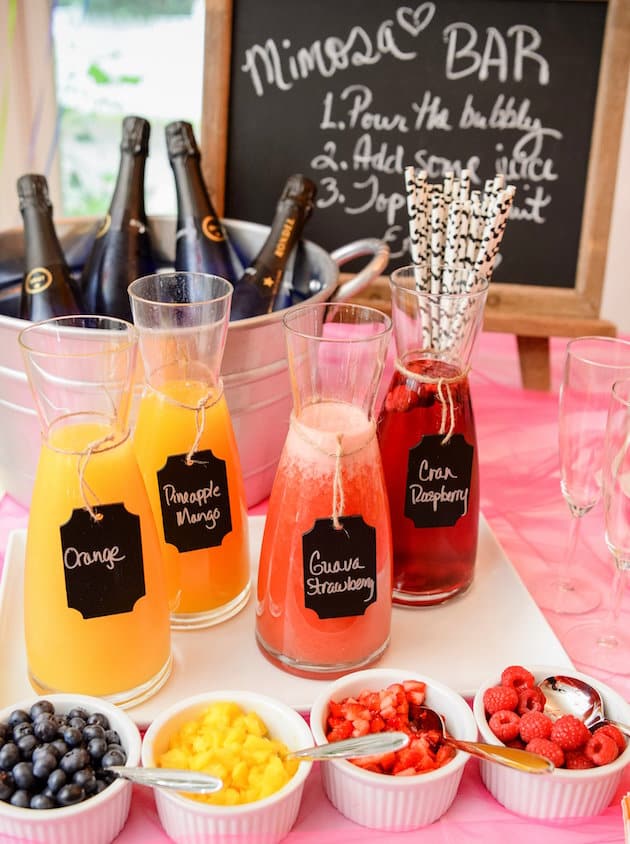 And because it's better to give than receive, we gave away the most fabulous gift bags!
Brimming with goodies like noosa t-shirts, totes, and an extra special golden spoon for consuming all that extra special yoghurt.
We also added some flavorful strawberry rhubarb lip balm and cranberry lip scrub, plus a blueberry scented candle that smells like you're right in the middle of a big ole' blueberry patch.
#onemorepartytip: giving away favors is a thoughtful way to express thanks to your guests for attending your party… and, a memory to take home of the special event.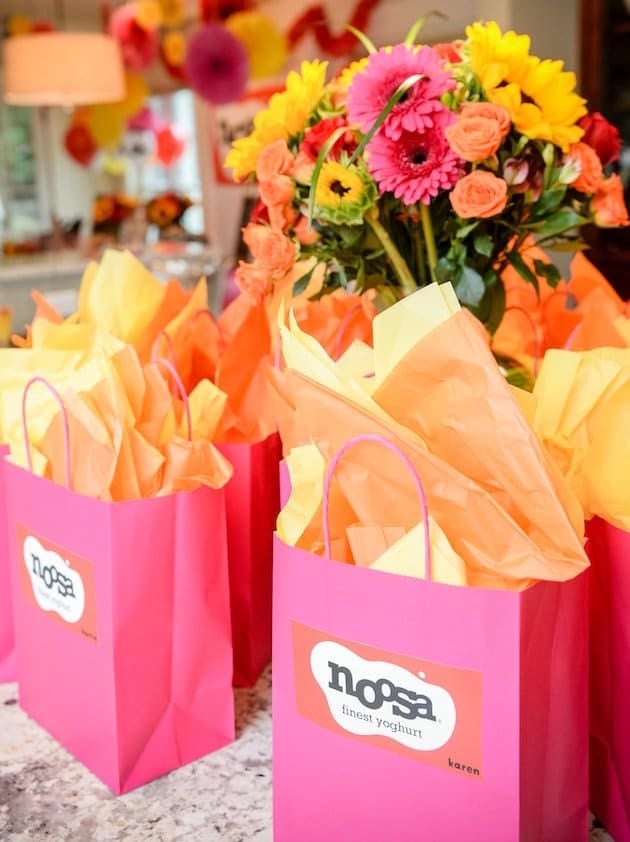 As you can tell we had a lot going on at our Boston noosa-thon - in the best way possible. Including the most fabulous guests ever!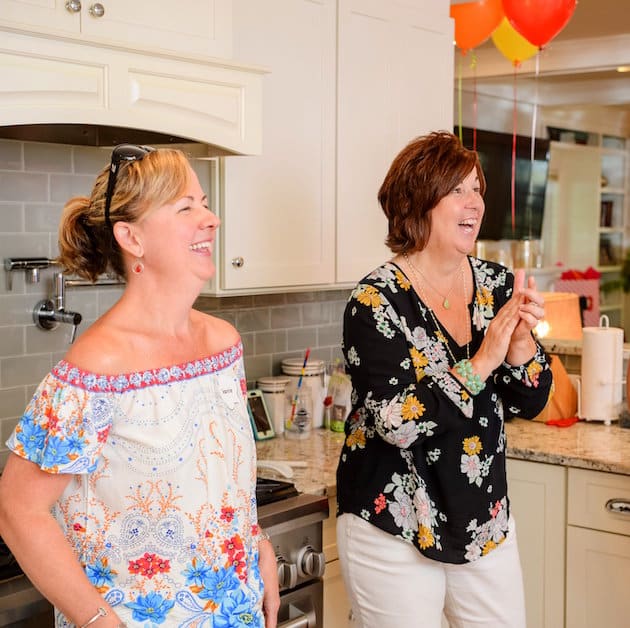 The guest list included some of my local friends, and 5 of my blogger friends… Mackenzie from Brunch on Sunday, Georgina from A Noted Life, Karrie from Tasty Ever After, Leslie from Stress Baking, and Shannon from Sunny Coastlines.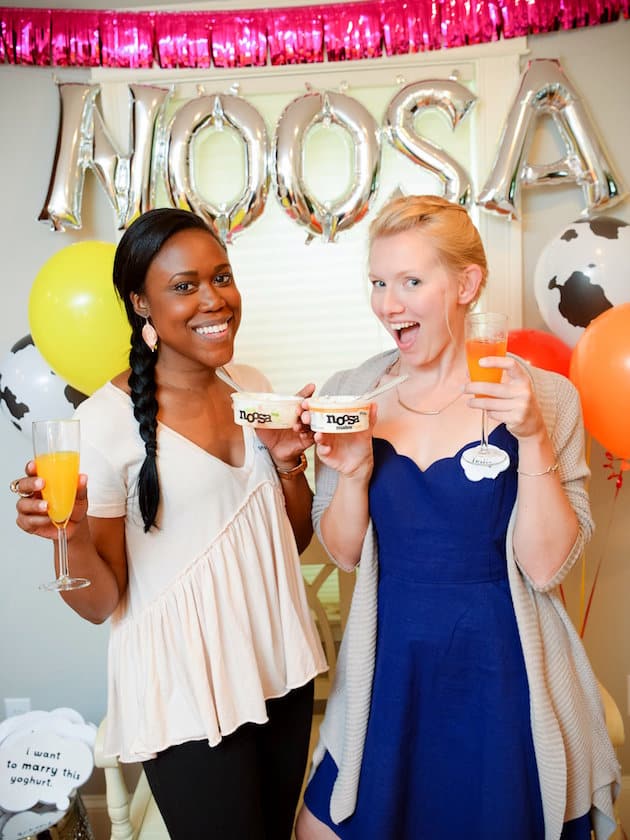 AND my new BFF's and best "mates" Allison and her lifelong friend and travel companion Keele.
Allison works for noosa in northern Colorado at the company's headquarters, and next to me she literally has the best job in the world: connecting with noosa fans all over and basically spreading noosa cheer by singing loudly for all to hear.
Ok – so I'm not sure how loudly she sings but she LOVES noosa and she loves telling people all about it.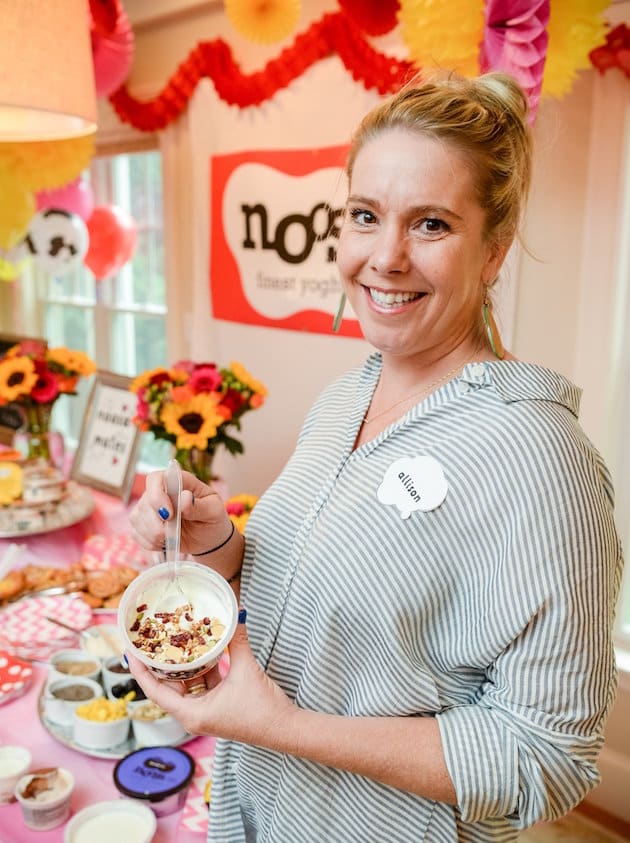 And I totally understand why! noosa is a brand that is refreshingly honest and genuinely charismatic while also having insanely good taste and being naturally delicious.
Just so much to love!!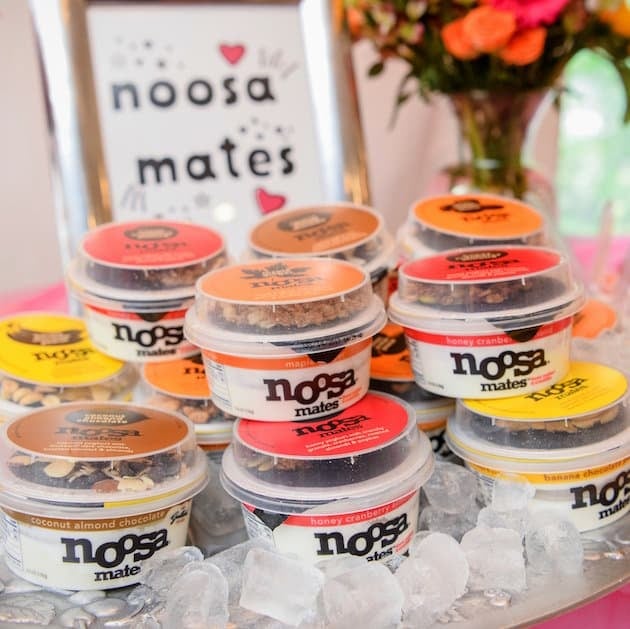 I'm sure you can tell it was the best summer brunch ever with the group of gals and the best yoghurt on the planet!!
If you haven't already, you need to get on the noosa yoghurt train… trust me it will be the most amazing trip to flavor-town you've experienced.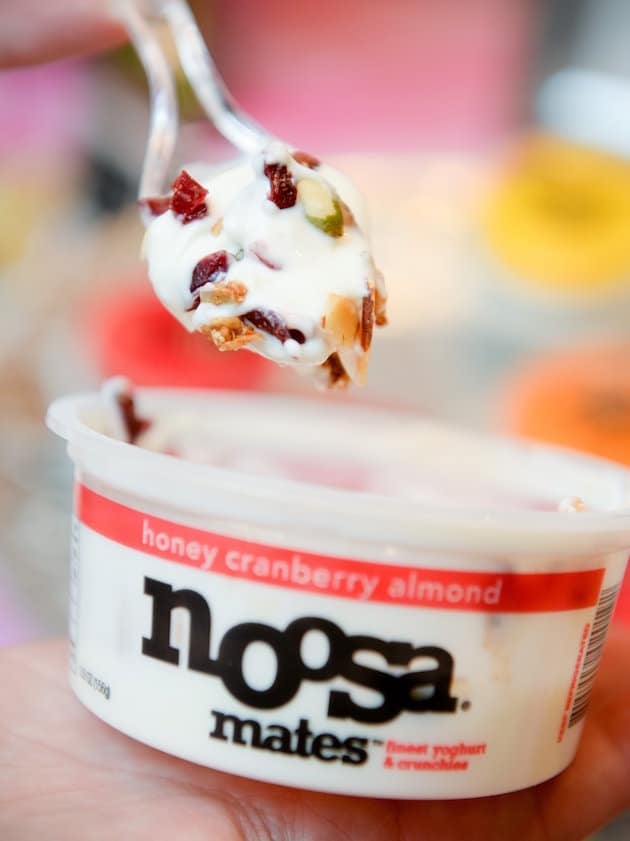 It's truly unlike any other yogurt brand in the market… There's yoghurt, then there's noosa.
You can buy noosa at more than 25,000 stores nationwide, including Kroger, Target, and Whole Foods... To find yours, check out this handy noosa locator: pick the flavor you'd like, enter your zip code, and boom! It's noosa time.