This is a sponsored post for HemisFaresTM brand that is available exclusively at Kroger family of stores. All opinions are honest and 100% my own! This easy-to-make Tagliatelle with Burrata, Tomatoes, and Pine Nuts recipe is oozing with creamy savory goodness and the classic flavors of Italy.
Today we're taking a little trip to Italy to introduce this amazing Tagliatelle pasta!!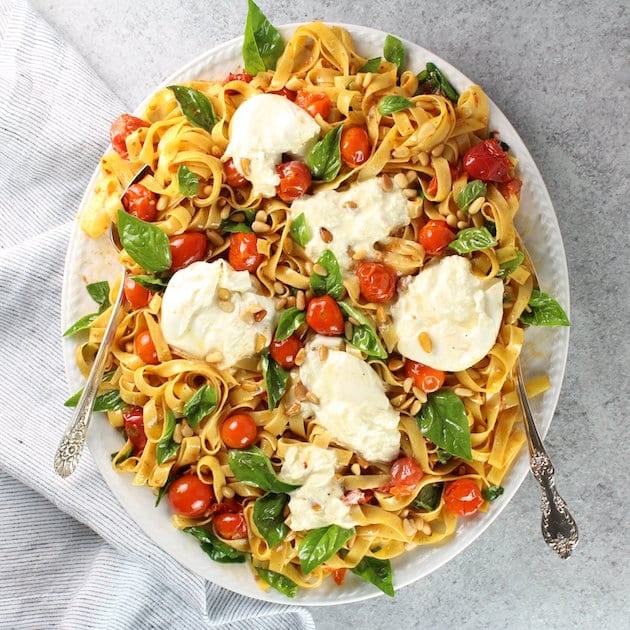 These Italian flat egg noodles were originally from Italy's "Marche" Region, and the recipe was passed down through generations of local women since the 1400's. They're part of an amazing collection of international culinary treasures from HemisFares - a high quality product line that can be found at your local Kroger store.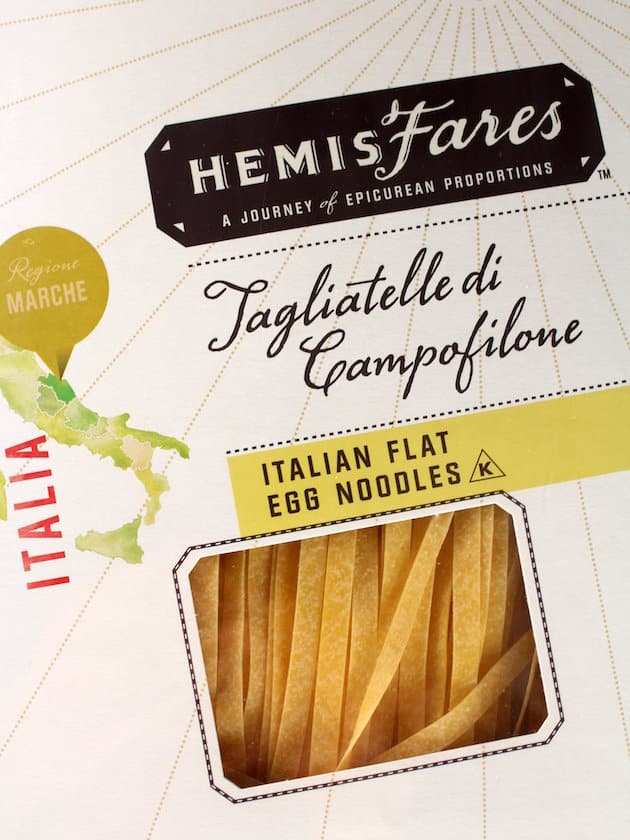 If you're not familiar with HemisFares, imagine landing in a country known for its incredible food, and experiencing the finest examples of the region's most famous and delectable eats. Every one of their products is curated from its origin, sealed with a "find number," and imported directly to your local Kroger family stores. #Brilliant.
In case you're wondering, the" find numbers" are to help you discover other HemisFares products you'll probably like.
For example, "Find #4" is this HemisFares Tagliatelle di Campofilone. It's still crafted using the authentic Italian practice of drying and slowly pressing through a bronze mold - giving the pasta rough edges that allow sauce to cling to each bite.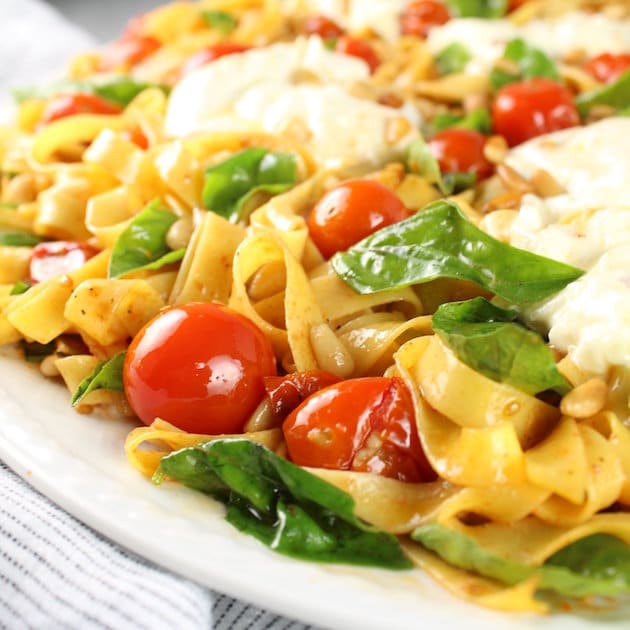 And since we're in-country, we thought we'd pick up some 100% Sicilian Extra Virgin Unfiltered Olive Oil as well (psst: it's Find #48 if you're keeping track)!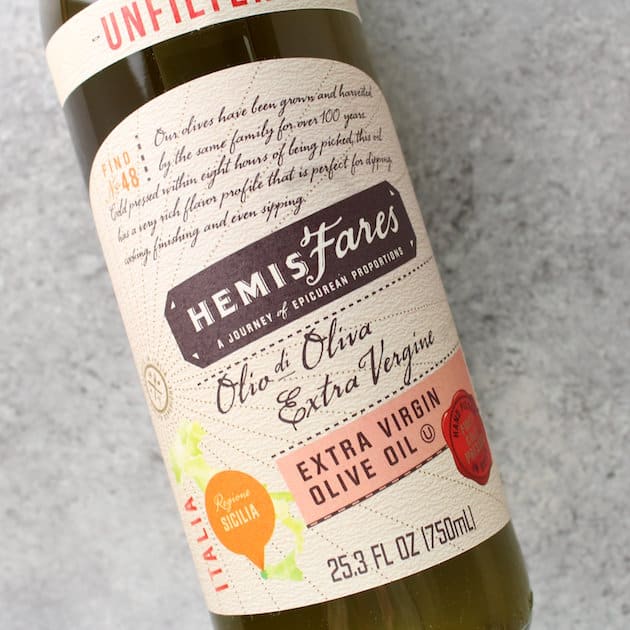 This velvety and flavorful estate-grown oil features Nocellara del Belice olives grown and harvested by the same family for over 100 years, available only from the province of Trapani in Sicily. Cold-pressed within eight hours of being picked, it's certainly worthy of its esteemed DOP certificate.
And then… there's the Burrata. There are few things I find more decadent than delicious, smooth, buttery, fresh mozzarella. Except perhaps that same fresh mozzarella stuffed with a mixture of fresh cream and cream-soaked bits of mozzarella… aka "Burrata."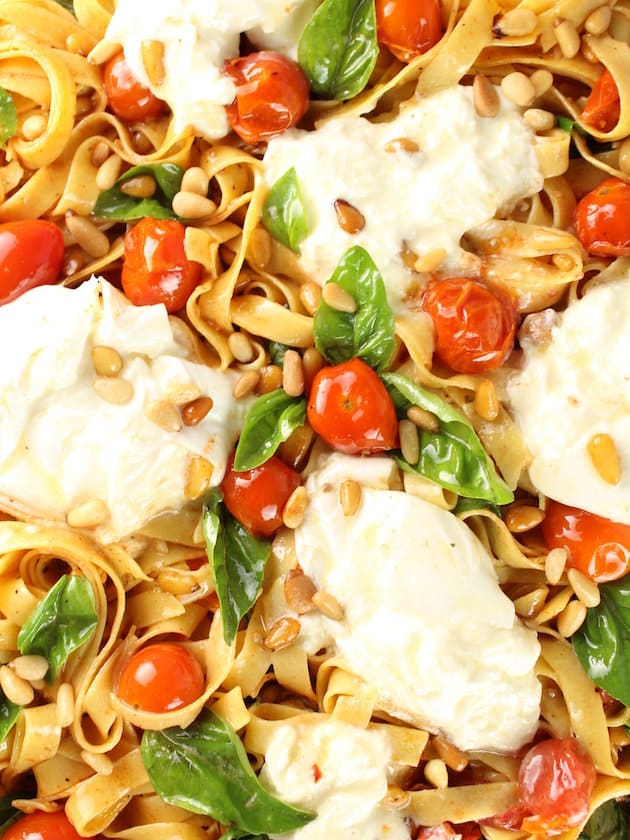 It's no wonder that the very name "burrata" in Italian means "buttery!"
It's been said that you could serve burrata on a piece of worn out shoe leather and it would instantly be transformed into a decadent delight. And I completely agree.
PS: Good news, we're opting out of the shoe leather today!
You can pick up burrata in the specialty cheese area of any grocery store. If you can't find it ask a grocery store associate if they carry it, and if not, you can always use fresh mozzarella in its place.
I used a fresh assortment of little heirloom tomatoes for this recipe. With all these high quality ingredients it just seemed like a good decision. Oh, and it was. You can also use cherry tomatoes for this culinary masterpiece; they have lots of flavor and give off a good amount of juice when sautéed – perfect for this recipe.
Is your mouth watering yet? Because I'm flat out drooling over here.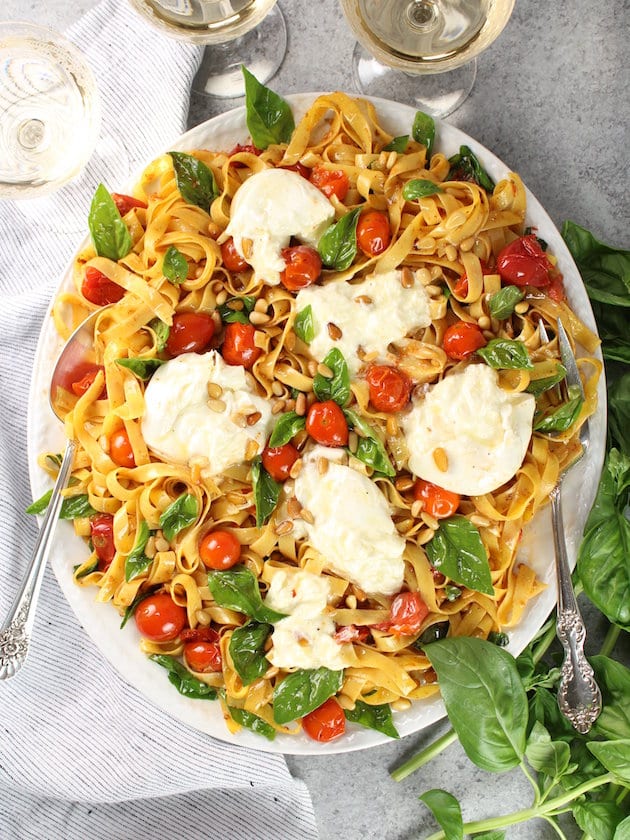 How about we get to cooking?
First, drain your burrata and set it on the counter so it can come up to room temperature. This will allow all that fresh cream to soften, and help create the most delectable sauce.
Next, saute your tomatoes in a little olive oil. As I mentioned, today I'm using an assortment of little heirloom tomatoes but cherry tomatoes would be perfect as well. Stir in some salt and pepper, add garlic, and allow to simmer until the tomatoes are cracking and releasing their juice.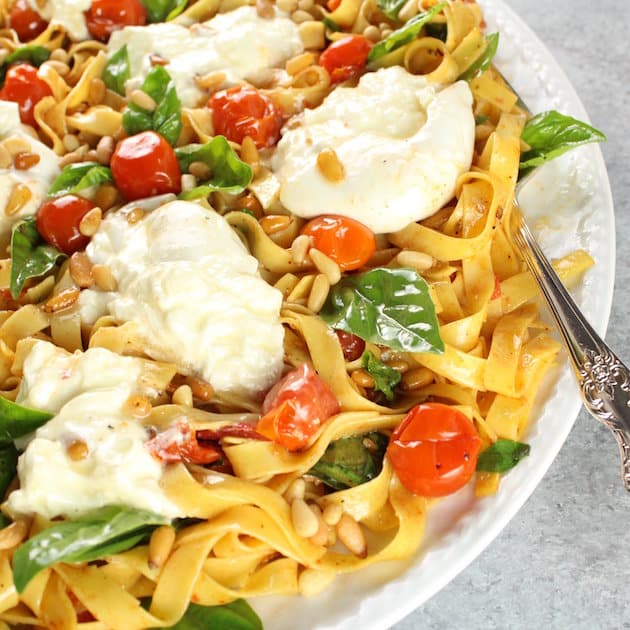 Then, bring some water to a boil and drop in the Tagliatelle, and boil for just about 4 minutes. It doesn't need long so be sure you stay close if you want to keep it al dente – which I recommend!
Drain your pasta, and return it to your pot. Toss it with toasted pine nuts, about a ½ cup of torn basil leaves, unfiltered olive oil, and your cooked tomato mixture. Transfer it to a serving platter, and carefully place those creamy buttery clouds of decadence on top. Using a fork and knife, cut into the burrata and allow all that buttery cream to escape. It will mingle with the garlic tomato sauce and create the most delicious yet simple flavor combination. Cut the burrata into pieces and be sure each serving is topped with some of the cheese.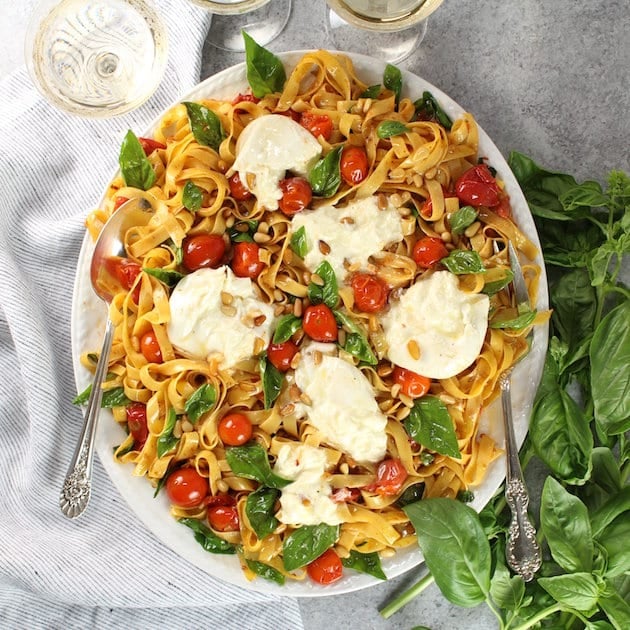 And there you have it: a deceptively simple, yet unspeakably decadent meal with authentic traditional ingredients. I'd love to hear what you think about this meal after you try it, so please leave a comment and let me know!
If you've never tried HemisFares before, check them out at your local Kroger family store. For more information on where to find HemisFares near you, check out their FB page!
I would love to connect with you! Leave a comment and follow me on Instagram, Twitter, Facebook, & Pinterest!
Yield: 6 servings
Tagliatelle with Burrata, Tomatoes, and Pine Nuts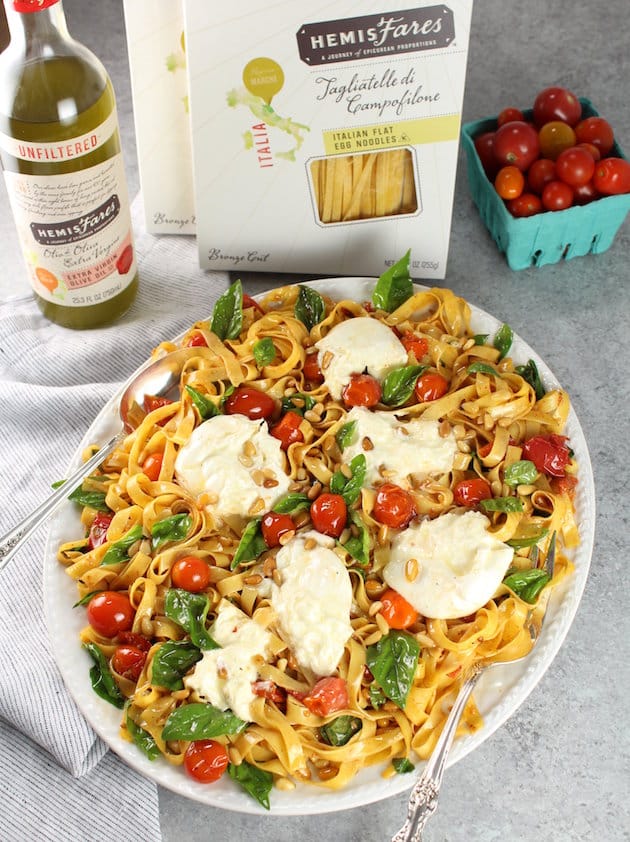 This easy-to-make Tagliatelle with Burrata, Tomatoes, and Pine Nuts recipe is oozing with creamy savory goodness and the classic flavors of Italy.
Ingredients
2 tablespoons regular olive oil
3 pints fresh cherry tomatoes or miniature heirloom tomatoes
6 cloves garlic, minced
1 teaspoon salt
½ teaspoon pepper
¼ teaspoon crushed red pepper flakes, optional
9 ounces Tagliatelle pasta
⅓ cup unfiltered extra virgin olive oil
2 ounces pine nuts, toasted (1 tablespoons reserved for garnish)
½ cup plus 2 tablespoons of fresh basil leaves torn or chopped
8 ounces fresh Burrata
Instructions
Drain Burrata and set aside so it can come up to room temperature.
Add 2 tablespoons regular olive oil to a large skillet. Leave two pints of tomatoes whole, and saute them for 7 minutes over medium heat. Meanwhile, cut the 3rd pint of tomatoes in half. Add them to the skillet and then stir in garlic, red pepper flakes, salt, and pepper. Continue cooking for 2-3 more minutes, or until tomatoes are cracking and releasing their juice. Remove from heat.
In a large pot, bring 3 quarts of water and two tablespoons of salt to a boil. Add the Tagliatelle and boil for 4 minutes, then drain pasta and return to the pot.
Toss the pasta with unfiltered olive oil, toasted pine nuts, torn basil leaves, and the cooked tomato mixture.
Transfer pasta to a serving platter, and carefully place Burrata on top. Then cut the Burrata into pieces, allowing the cream center to mix with the pasta and tomato sauce.
Garnish with the remaining pine nuts and more fresh basil.
Nutrition Information
Yield
6
Serving Size
10 ounces
Amount Per Serving
Calories

446
Total Fat

32g
Saturated Fat

8g
Trans Fat

0g
Unsaturated Fat

22g
Cholesterol

44mg
Sodium

602mg
Carbohydrates

27g
Fiber

3g
Sugar

5g
Protein

15g
This nutrition card uses an estimate provided by an online nutrition calculator. This estimate is not a substitute for a professional nutritionist's advice!