Thanks to our friends at al fresco all natural for sponsoring this Grilled Romaine Caesar Salad with Garlic Chicken Sausage - a popular classic infused with smoky delicious flavor! With precooked, grilled garlic chicken sausage, slightly charred and wilted grilled lettuce greens, and a delicious and easy homemade Caesar dressing... A super satisfying, easy weeknight grilling meal on the table in 15 minutes.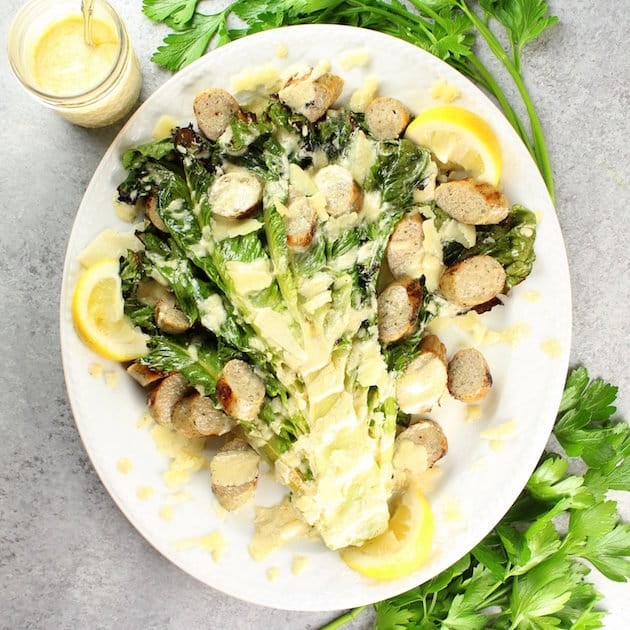 It's the most wonderful time of the year…
Don't you just love summer time!? Lots of sunshine, field trips, beach days, pool time, and easy meals prepared on the grill.♨️ Ahh summer I ❤️ you!
I just adore using the grill to cook dinner…
There's virtually no clean up involved;
The food cooks so much faster in the outdoor hotbox;
It's so easy! Just add some seasoning, heat up that grill, and minutes later… voila! It's dinner time.
Plus, your meat and veggies always seem to taste so much better when they spend a little time charring on those hot grates.
I guess I'm kind of a grilling enthusiast. So much so I even grill my lettuce.🌿 Don't judge people – it's ahhh-mazing! Grilled romaine is so tasty! It gives the lettuce a slightly charred flavor and wilts the outer leaves of the lettuce just a touch, while keeping the core nice and crispy. It totally takes a salad up like 5 notches.👌
And in honor of my love of all things grilled, I created my latest food obsession: Grilled Romaine Chicken Caesar Salad.💚 Everybody loves Caesar salad – right!?? And this one is just all kinds of extra delicious with some smoky flavor infused into those green leaves.😋
Seriously, it's soooo good!👍
And soooo easy - thanks to my favorite sausage on the planet – al fresco.👇 #swoon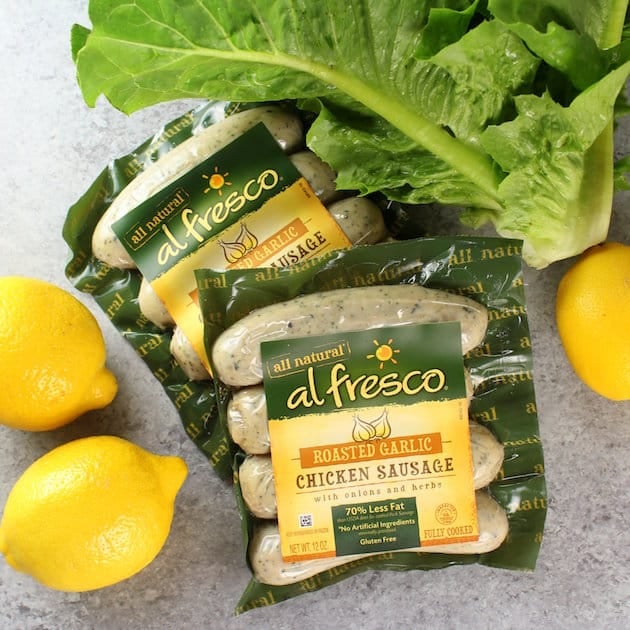 I used their precooked Garlic Chicken Sausage for this recipe. It's so tasty - full of delicious savory garlic and onion flavor, completely gluten free, and fully cooked so it's ready in minutes. I like to say "it's chicken, only better!"✨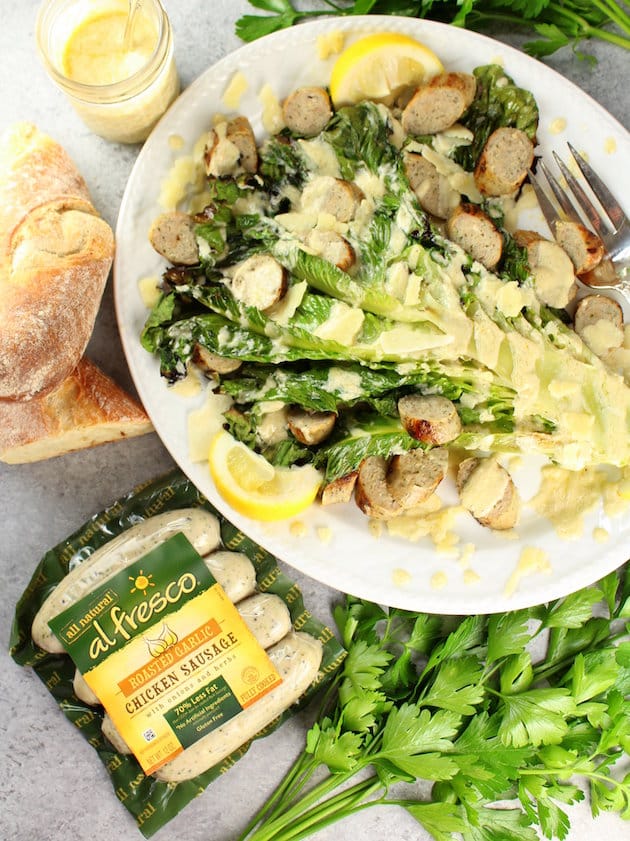 I bet you're wondering how this mouthwatering salad comes together? Well, let's get grilling.
First, I mixed together my homemade Caesar dressing. I like to make my own dressing for several reasons…
I can control exactly what goes into it – no added sugar or preservatives – just yummy creamy goodness.
I usually always have the ingredients on hand in my pantry or fridge to make it, so there's no need to spend extra money or time picking up a bottle of salad dressing.
I bet you have all these ingredients on hand as well: lemon, garlic, mayo, Greek yogurt, salt, pepper, Parmesan, Worcestershire Sauce, and Dijon mustard.
(BTW, if you prefer to pick up your favorite bottled dressing rather than mixing it up yourself – go right ahead. This is a judgement free zone – so you do you boo!)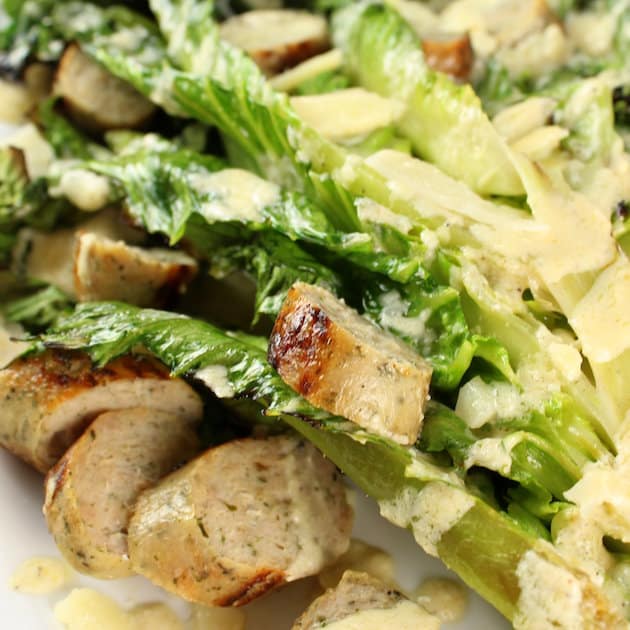 Next, you'll need a large whole head of romaine lettuce. I grabbed mine from my garden. Isn't she beautiful!??😍😍 You of course can pick up a whole head of romaine at any grocery store near you.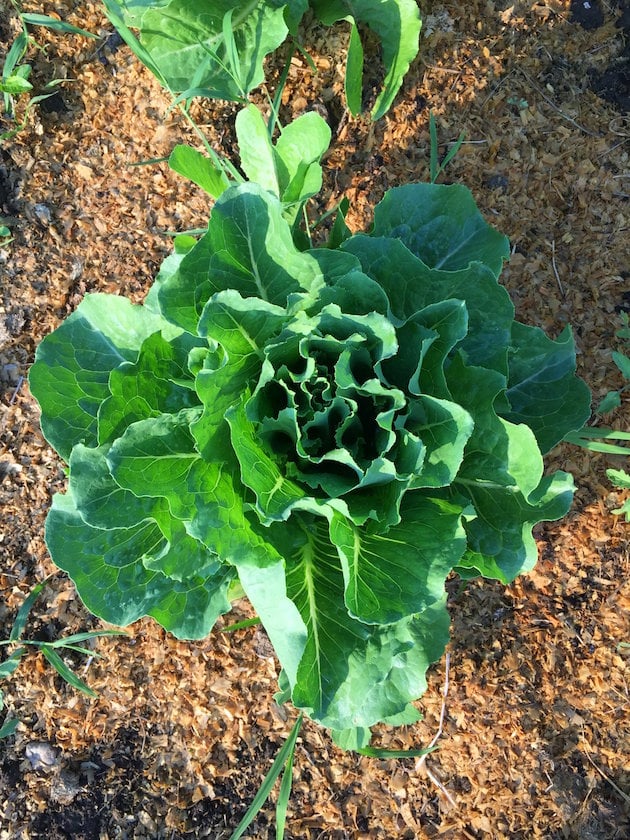 I sliced off the very end, leaving some of the root intact so it all stays together. Then I cut it in half lengthwise, rinsed it in cold water, and let it dry out while I heated up my grill.
Finally, I hit the chicken sausage and Romaine with some grill spray and cooked the sausage for 3 minutes on each side and the Romaine for around 30 to 60 seconds per side. Now all that's left is to assemble and devour.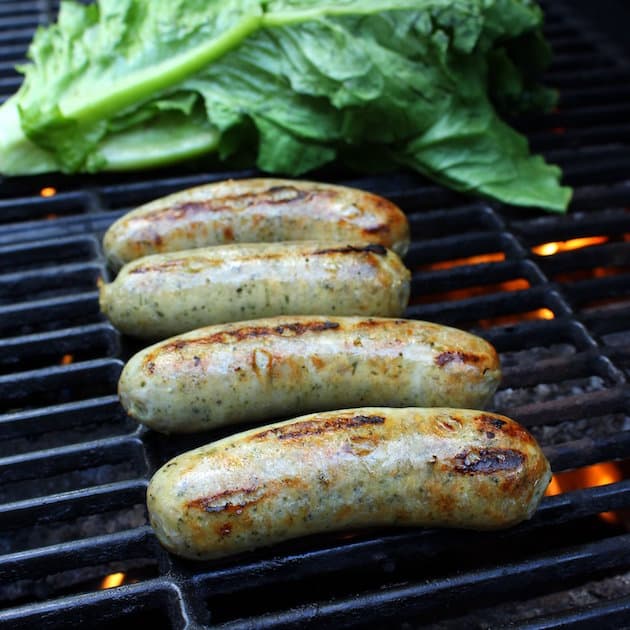 I like to plate my romaine halved-side up then drizzle the dressing all over it. Slice the sausage on the diagonal into 5 pieces per link and layer on top of the lettuce. Sprinkle with some shaved or shredded Parmesan cheese and this easy weeknight grilling recipe is ready to be served.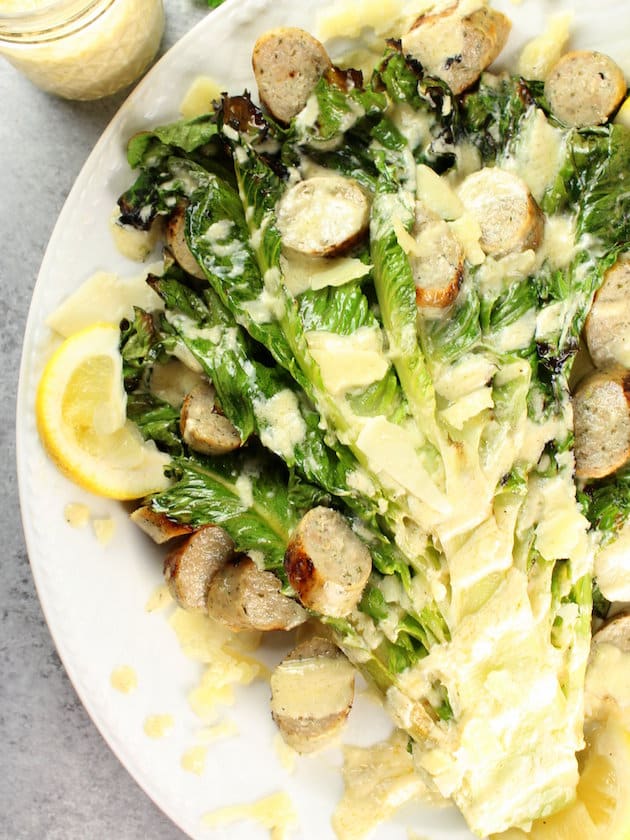 Grilled Romaine Caesar Salad with Garlic Chicken Sausage – a classic made even better!🌟 Enjoy!
I would love to connect with you! Leave a comment and follow me on Instagram, Twitter, Facebook, & Pinterest!
Yield: 4 servings
Grilled Romaine Caesar Salad with Garlic Chicken Sausage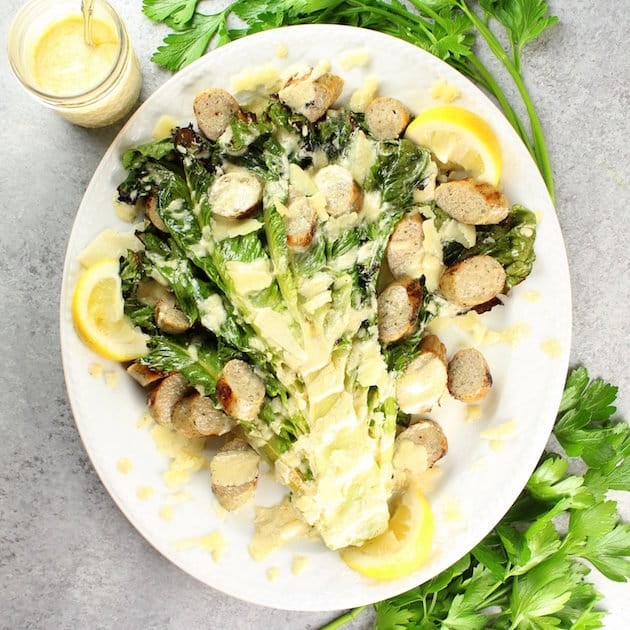 Fast & delicious version of a classic, on the table in 15 minutes!
Ingredients
4 garlic cloves, minced
2 tablespoons lemon juice
1 teaspoon Dijon mustard
2 tablespoons water, (add 2-3 more tablespoons for a thinner dressing)
1 teaspoon Worcestershire sauce
¼ cup mayonnaise
¼ cup plain Greek yogurt (or use another ¼ cup of mayo if desired)
¼ teaspoon pepper
⅓ cup grated Parmesan cheese
salt to taste
2 small to medium heads of Romaine lettuce
12 ounces al fresco all natural pre-cooked Roasted Garlic Chicken Sausage
Instructions
To make dressing, add all ingredients except lettuce and chicken to a mason jar and shake vigorously.
Slice off the very end of each Romaine head, leaving some of the root intact. Cut each head in half lengthwise, rinse in cold water, allow them to dry.
Heat grill to high heat. Spray chicken sausage and Romaine with grilling spray, and cook the sausage for 3 minutes on each side. Grill the Romaine for 30 to 60 seconds per side, flipping once.
To plate, top each Romaine half with sliced chicken sausage, and add dressing as desired.
Nutrition Information
Yield
4
Serving Size
8 ounces
Amount Per Serving
Calories

319
Total Fat

25g
Saturated Fat

5g
Unsaturated Fat

0g
Cholesterol

73mg
Sodium

1121mg
Carbohydrates

7g
Sugar

2g
Protein

18g
Looking For More Great Salad Recipes?
Asparagus Salad with Eggs and Prosciutto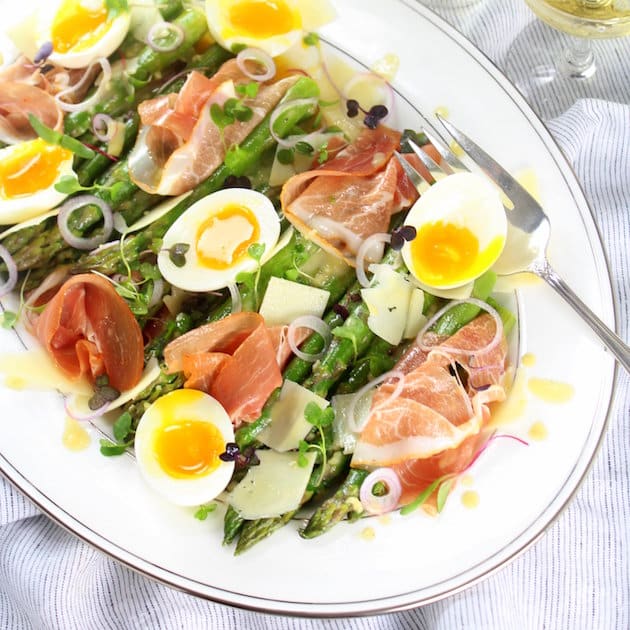 Heirloom Tomato Cornbread Salad