There's just nothing like Nutty Holiday Eggnog! Sweet, creamy and so good! And of course, there's the booze! This recipe starts with a cooked custard base, so no worries about eating raw eggs with this holiday libation.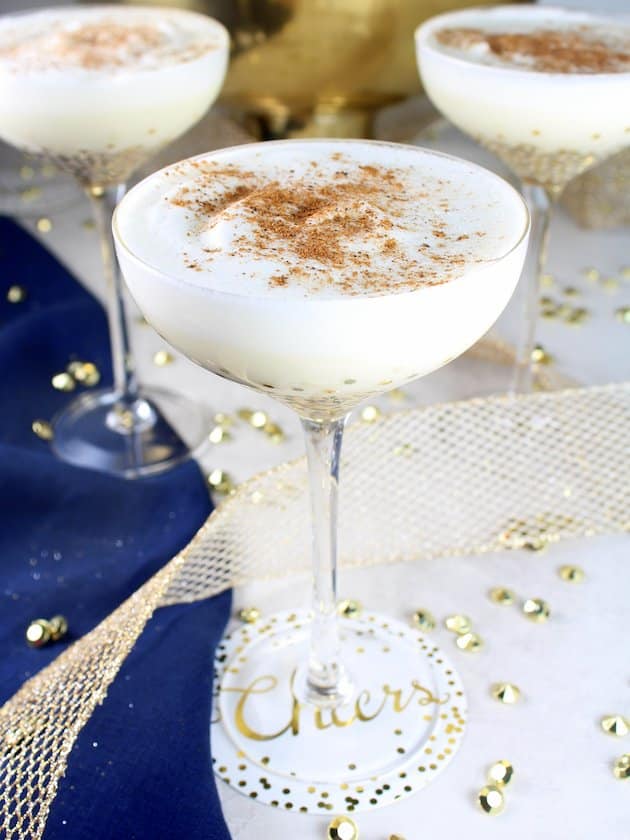 Eggnog is such a fun and festive treat to serve at holiday parties, or family get-togethers. It's like liquid dessert and a cocktail, all rolled into one glass of creamy goodness! Mmm.
Doesn't it sound perfect!??
I've tried to buy pre-made eggnog and add rum, but it just never tastes right. So, homemade eggnog it is!
And by the way, I'm in good company. It just so happens that one of our nation's founding fathers was well-known for his homemade eggnog recipe! Yes, that's right, you can find President George Washington's eggnog recipe in the Old Farmer's Almanac circa 1790!
Today's recipe was actually passed down from some foodie friends of ours – Todd and Brook. They are dear friends to both of us and Todd was the B man's roommate for several years after college. The guy's got top-notch kitchen skills! Yup – you always know if Todd's in the house you're eating something amazing!
Plus, he's Italian!?? So, yummy cooking is in his genes!
We've been making Todd's creamy heavenly nectar for years and years. For me the secret ingredient is Frangelico. It's nutty and sweet and warms you from the inside out.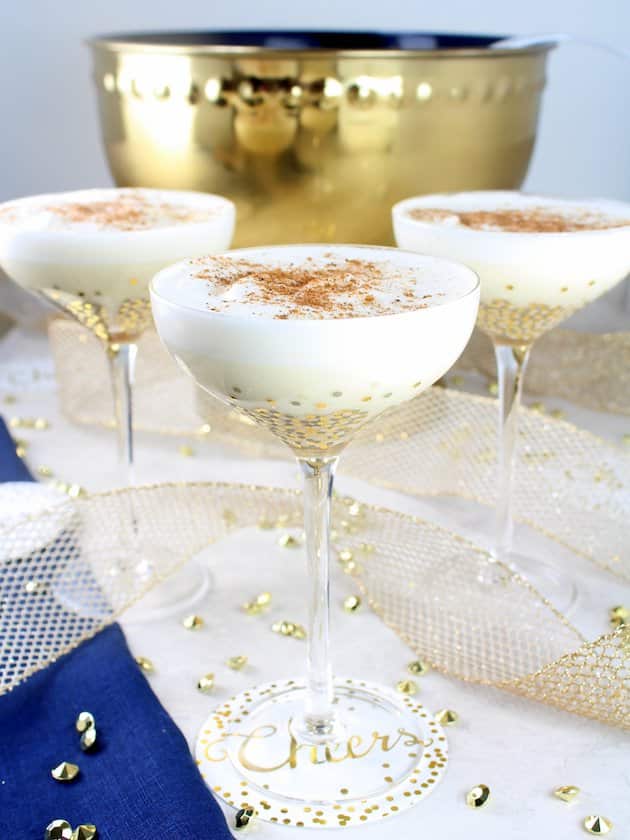 You may know this already, but Frangelico is a hazelnut liqueur. AND it's made in Italy – of course! It has hints of vanilla and dark chocolate with a smooth and nutty flavor. If you've never tried it, you're in for a wonderful treat.
Ready for some Nutty Holiday Eggnog?
This Egg Nog recipe is pretty straight forward. You separate four eggs, then whip the yokes with sugar, and whisk in milk and heavy cream. You heat this on the stove (whisking constantly) for about 5-8 minutes until the mixture is slightly thickened and the temperature reaches 160 degrees.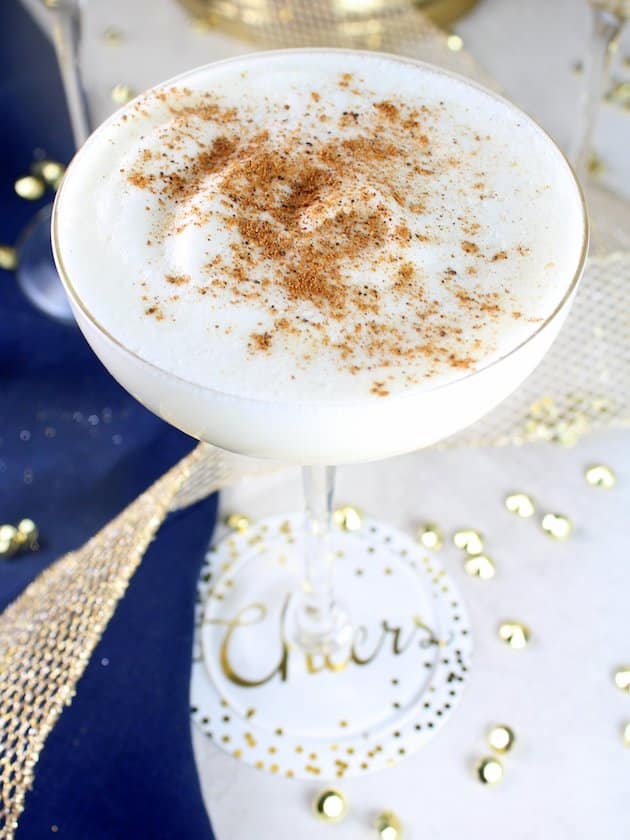 Then remove from the heat and allow to cool. Next you beat the egg whites and fold them into the custard mixture. Finally, add in vanilla extract, rum and Frangelico (and Kahlua if you desire) and chill for 3-4 hours. Serve with a dusting of nutmeg or cinnamon and enjoy!
Alternatively, you can skip the fluffy egg whites and just before serving beat some heavy whipping cream with a tablespoon of sugar. Top each glass with a dollop of the whipped cream and sprinkle with nutmeg or cinnamon. Either way it's AHH-MAZING!
The Nutty Holiday Eggnog is the perfect holiday cocktail for your festive celebrations. After one sip, you'll never be able to buy store-bought again! I'm sorry and you're so welcome!!
Happy Holidays, Merry Christmas, & Happy New Years!!
I would love to connect with you! Leave a comment and follow me on Instagram, Twitter, Facebook, & Pinterest!
Yield: 16 servings
Nutty Holiday Eggnog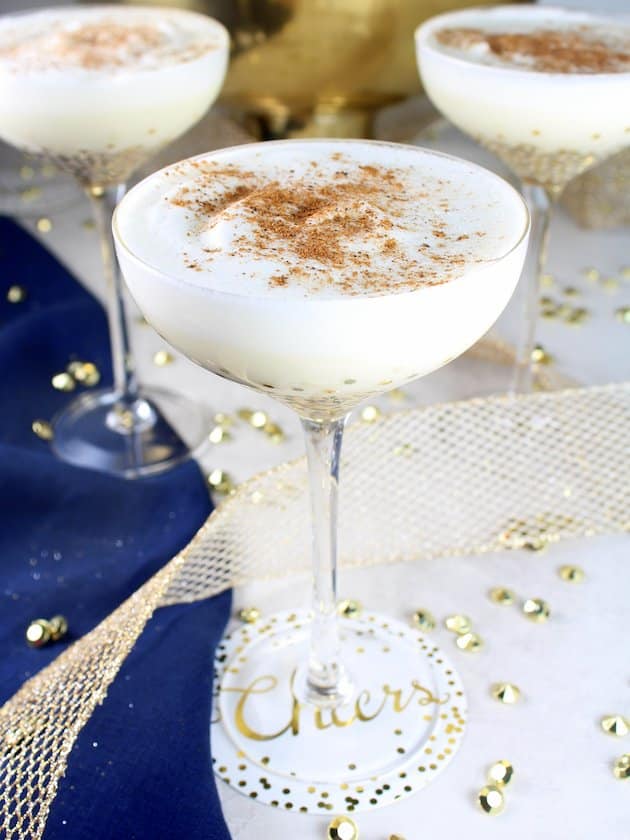 There's just nothing like Nutty Holiday Eggnog! Sweet, creamy and so good!
Ingredients
⅔ cup sugar
4 egg yolks
½ teaspoon salt
2 cups whipping cream
6 cups whole milk
4 egg whites
6 tablespoons sugar
2 teaspoon vanilla
1 cup Frangelico
1 cup rum
1 cup whipped cream for top
Ground nutmeg for top
Instructions
Use a hand mixer or a stand mixer to beat ⅔ cup sugar into 4 egg yolks until fluffy. Then whisk in the salt, whipping cream, and whole milk. Continue whisking gently until fully incorporated.
Transfer into a large stock pot, then cook over medium to medium-high heat, whisking constantly until mixture has thickened and reached a temperature of 160 degrees – approximately 5 to 8 minutes. Remove from heat and allow to cool.
Meanwhile, in a mixing bowl, beat egg whites until foamy. Gradually add 6 tablespoons sugar and continuing beating to soft peaks. Add the whipped egg whites to the custard, and whisk in thoroughly. The whipped egg whites will rise to the top and create a foamy topping. (NOTE: If you prefer not to use egg whites, wait until you are ready to serve, whip a cup of whipping cream with a tablespoon of sugar, and top each glass with a dollop of whipped cream instead).
Add vanilla, rum, & Frangelico and stir in gently.
Chill at least 3-4 hours (or even better overnight) before serving.
When serving, dust with nutmeg or cinnamon, whichever you prefer.
Notes
The original recipe included 1 cup of Kahlua. If you prefer a hint of coffee in your 'nog, then try this delicious variation!
Nutrition Information
Yield
16
Serving Size
1 glass
Amount Per Serving
Calories

263
Total Fat

16g
Saturated Fat

10g
Trans Fat

0g
Unsaturated Fat

5g
Cholesterol

92mg
Sodium

130mg
Carbohydrates

19g
Fiber

0g
Sugar

19g
Protein

5g
This nutrition card uses an estimate provided by an online nutrition calculator. This estimate is not a substitute for a professional nutritionist's advice!
By the way if you've got some hardcore coffee lovers at your shindig, check out this
bullet coffee recipe
!
PS: Here's even more fun Eggnog Recipe trivia for your next holiday party!
There's a reason why eggnog is a holiday drink:
"In the South if you wanted milk and you didn't have refrigeration, the only time you could consume it wisely was during cold climates. And eggnog was obviously something they could make during colder weather that could be reserved for a longer period of time," says Smith. "So if you were going to have to celebrate Christmas or New Year's, you could milk your cow and virtually every farm in the South would have had one or more cows.
Rich people spruced up their eggnog to display wealth.
"If you were wealthy, you wanted to demonstrate your wealth and one of the ways you did it was by putting nutmeg and vanilla and other spices in eggnog. Today they're limited cost but in the 18th and 19th centuries those were very expensive," according to Smith. "And I've got some 19th century recipes that say use your best china."
In some places, eggnog is made with wine and tea.
Puerto Rico adds coconut milk to its version, dubbed Coquito, while in Cuba it's made with condensed milk and rum and known as Crema de Vie. In Germany, Eirpunsch (which translates to egg punch) is made with white wine and tea in addition to eggs and sugar.
People spiked it with any booze they had on hand.
When lots of rum was being imported, that became the most popular spirit to spike eggnog with. After the Whiskey Rebellion in the late 1700s, Southerners shifted to whiskey. "And if you were well to do it would be imported brandy," Smith says. "There's no clear definition of what it is. It's whatever you liked and whatever you had available."
It's a serious caloric splurge. (But you knew that.)
Recipes vary, but one cup of eggnog has anywhere from 200 to more than 350 calories and 10-plus grams of fat. So you might want to skip dessert … or not. Hey, it's the holidays.
There's an Eggnog Day!
Dec. 24 is National Eggnog Day, so make sure to sit back and enjoy a glass this Christmas Eve.
It caused a riot.
The Eggnog Riot took place Dec. 24-25, 1826 at the United States Military Academy in West Point, N.Y. Whiskey was smuggled into the academy two days before Christmas, and was used to make the eggnog that induced an out of control party that turned into a riot. The riot stopped on Christmas morning, and many cadets received court-martials. One of the participants of the riot was future president of the Confederate States, Jefferson Davis.
We love our Eggnog!
According to Indiana University, over 135 million pounds of eggnog are consumed by Americans each year.
It's named after a mug.
The word nog comes from noggin, which is a small wooden mug typically used to drink ale. The word eggnog is believed to be derived from the word "noggin," a small wooden cup that the drink was served in.
The Eggnog Latte has been around since 1986.
Starbucks's Eggnog Latte didn't actually start at Starbucks. It was first made in 1986 at Il Giornale, a small Seattle coffee chain owned by Howard Schultz. He bought Starbucks in 1987, rebranded his stores and kept the Eggnog Latte tradition.
Thanks to these sources for the trivia details!
Looking for more holiday cocktails?
Warm Cranberry Apple Hard Cider