Thanks to our friends at J.L. Hufford for sponsoring this One-Pan Kielbasa and Fried Cabbage recipe! Sautéed onions, garlic, and fried cabbage in a brown ale mustard sauce, with delicious smoked kielbasa, all topped off with a chopped sweet apple. A delicious one-pan meal ready in 30 minutes!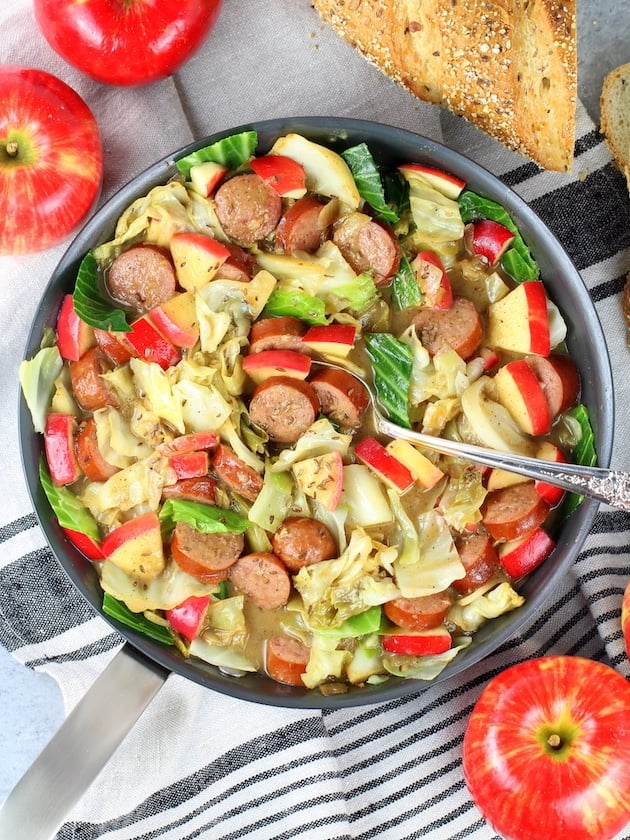 I think you know by now I LOVE a 30-minute skillet dinner! And not just any meal that's ready in a half hour, oh no, it has to be delicious! Life is too short to eat things that don't taste good!
Can I get a "preach it sista gurl"!??
I heard that! I'm so glad you agree!
Fall is the perfect time for this kielbasa recipe!
I'm also pretty sure you'll agree that this Kielbasa and Cabbage Skillet dinner is exceptionally delicious, as well as super-quick and easy! #slayingit
It has sautéed onion, garlic, cabbage, with smoky kielbasa, tangy mustard, rich brown ale beer and some sweet and crisp apples to top it all off.
Are you drooling all over yourself like me?? You should consider wearing a bib when reading about my recipes!
But wait, there's more… this tasty fall meal was whipped up in my new ICON 10-inch skillet! Isn't she lovely??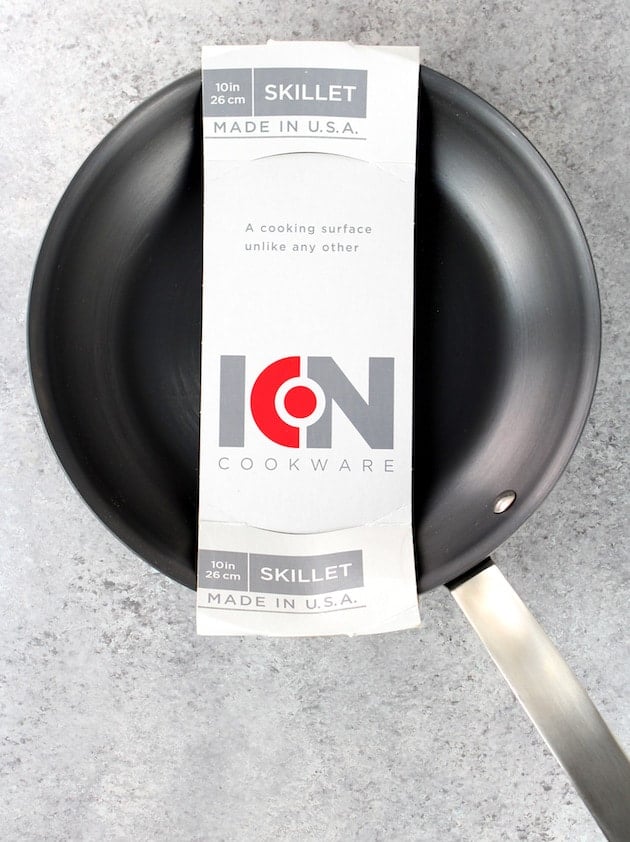 But she's more than a pretty face my friend... she's so much more!
This cookware is really quite amazing!
The name ICON stands for Iron, Carbon, Oxygen, and Nitrogen. Together, these elements create a pan that is nine times harder than steel, and this allows it to cook in extremely hot temperatures - up to 800 degrees Fahrenheit! Meanwhile they are still lightweight, with all the benefits of cast iron.
To be honest with you I'm in the market for some new pans. As you can imagine I go through my pans pretty quickly with all the cooking I do. It doesn't take long for my nonstick pans to lose their non-stickiness (sometimes I make up words – don't judge). So, I was thrilled when J.L. Hufford asked me to give their ICON Cookware a try.
These pans are fabulous for so many reasons!
They're designed to sear, roast, fry, sauté, broil, and bake in extreme temperatures up to 800 degrees F.
Their naturally non-stick surface is phenomenal, so it's super easy to clean.
Their surface is not a coating, so it will not peel or come off. You can use metal utensils with these pans without worrying about the surface rusting, cracking, flaking, or chipping.
The pan's incredibly durable surface prevents harmful chemicals from leaching into your food and compromising the taste of your meals.
They heat evenly on all cooking surfaces including electric, gas, glass, and induction.
Can you tell I kind of like them!??
This skillet really made cooking this fried cabbage recipe a breeze.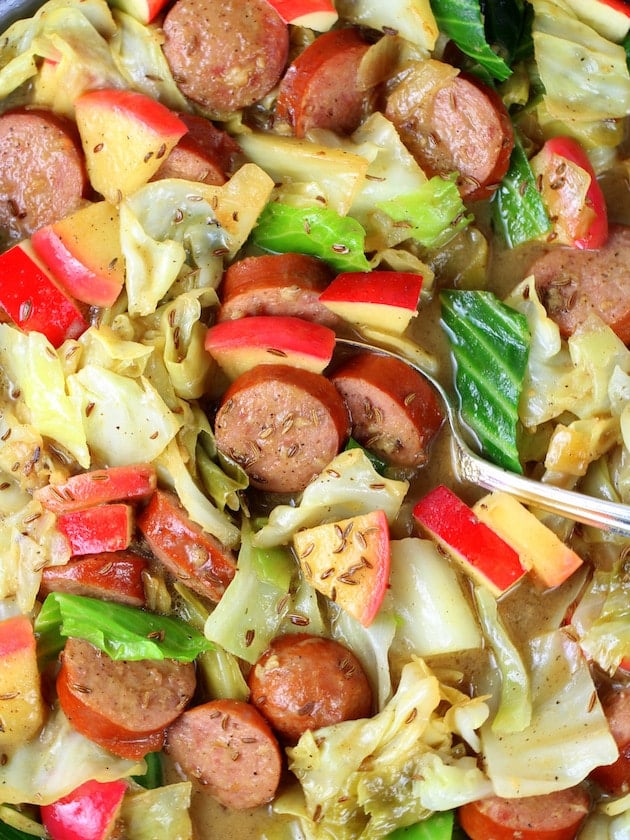 To make this kielbasa sausage recipe:
First, I sautéed the onions in some butter and olive oil for 3-4 minutes, then added my garlic and cooked for another minute.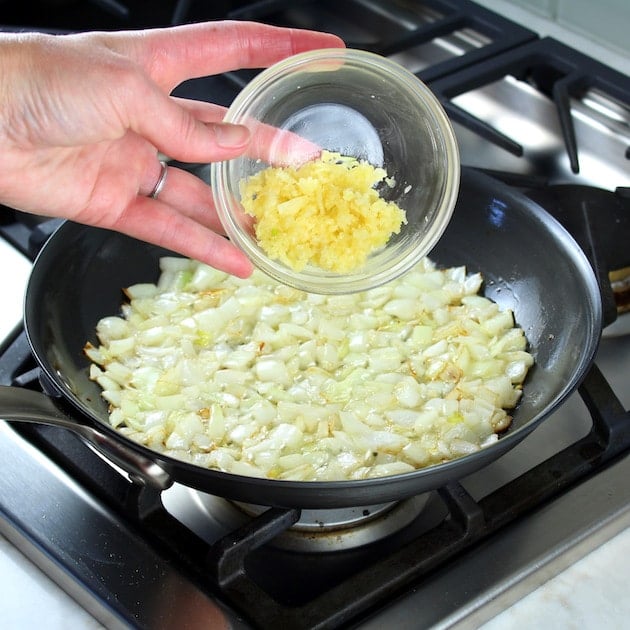 Next, I stirred in my chopped cabbage, seasoned it with salt and pepper, and added caraway seeds. I let that cook for 3-4 minutes, stirring consistently.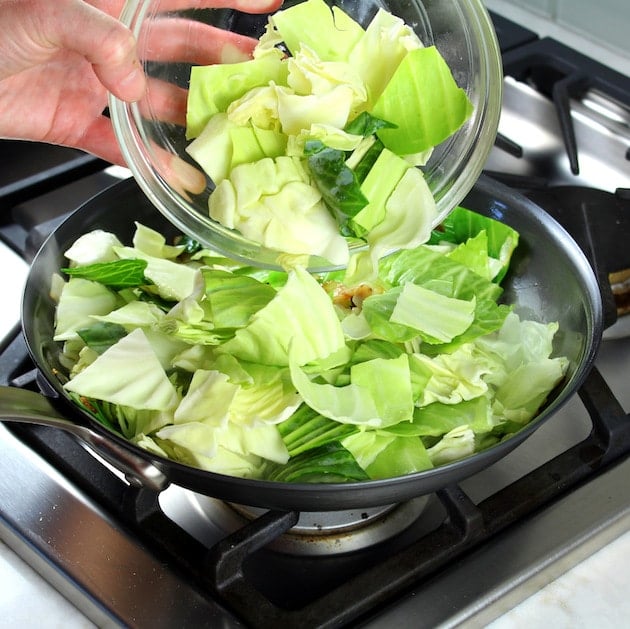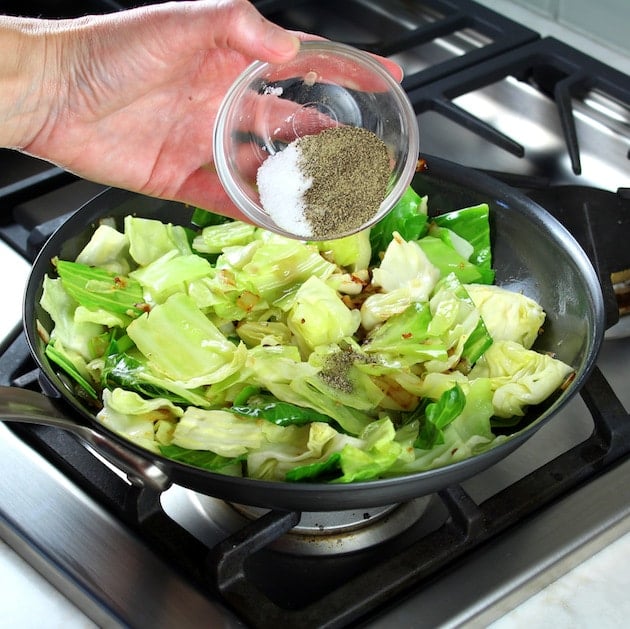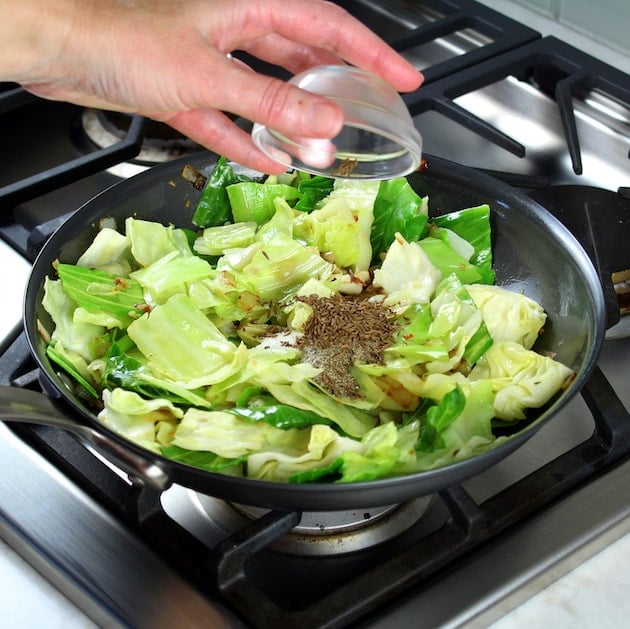 Then I added sliced kielbasa, brown ale, Dijon mustard, and cooked for about 6 more minutes.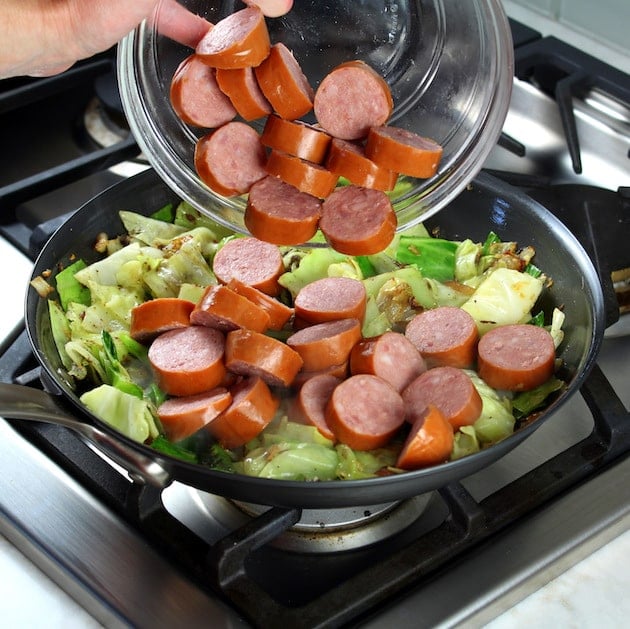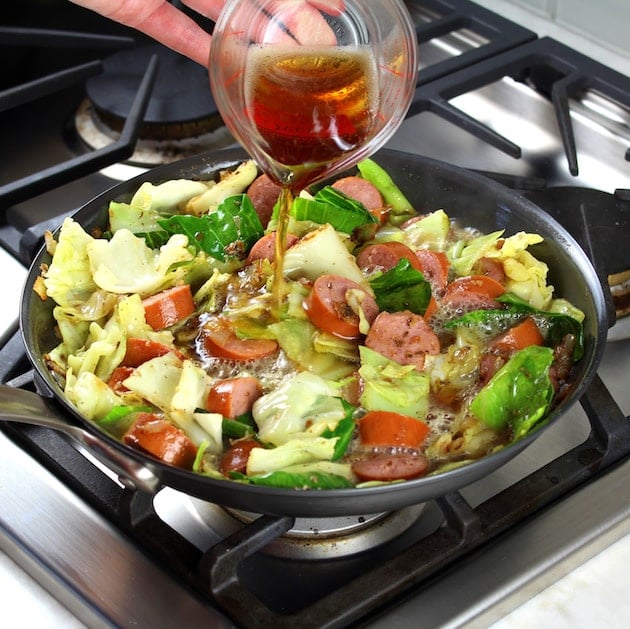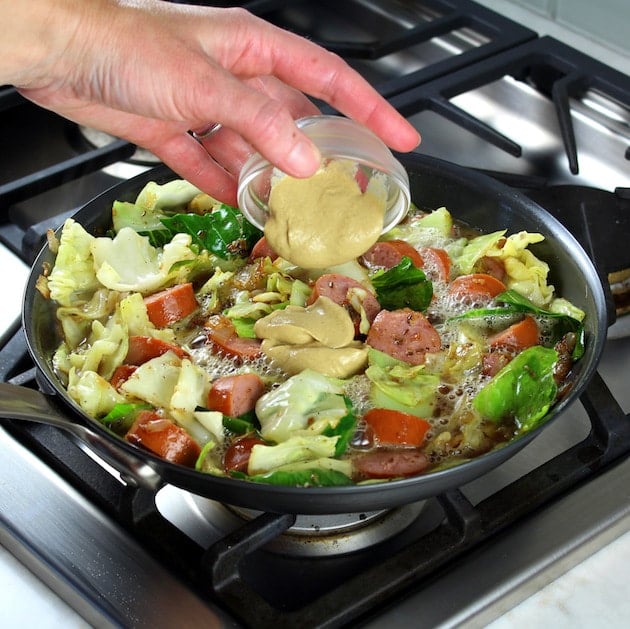 Finally, I added a chopped apple and gave it a stir.
And there you have it, deliciousness in less than 30 minutes with only one pan - albeit one pretty fabulous pan!
But don't take my word for it, check it out for yourself. You can purchase this ICON Cookware on Amazon, or directly from J.L. Hufford. And they've offered an amazing 20% discount to Taste And See readers!! Just use the coupon code 20OFFICONTS when you check out on their site or on Amazon.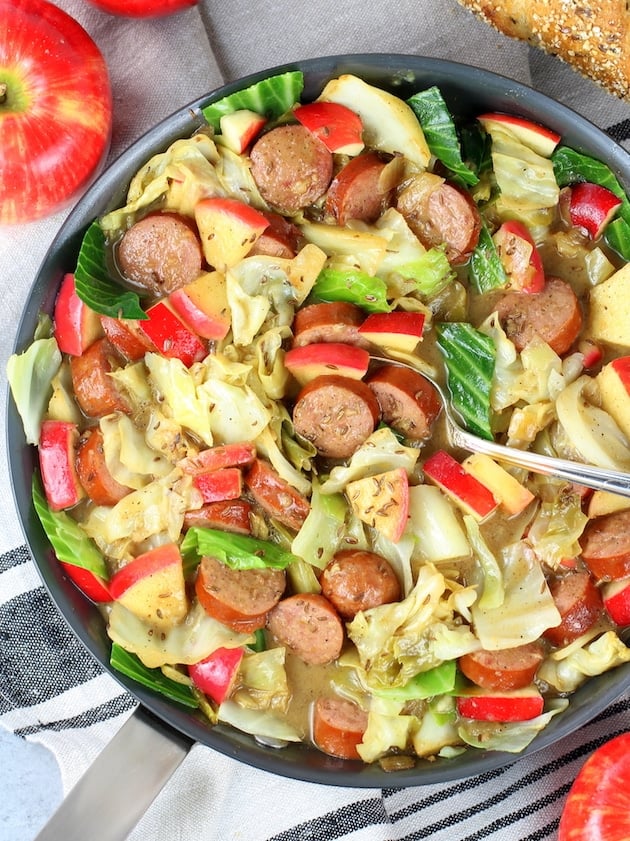 This yummy recipe is waiting to be created and devoured!
PS: Just a reminder Christmas is less than 2 months away and the big man in the red suit said you've been exceptionally good this year.
I would love to connect with you! Leave me a comment and follow me on Facebook, Instagram, Pinterest, and Twitter!
Yield: 4 servings
One-Pan Kielbasa And Fried Cabbage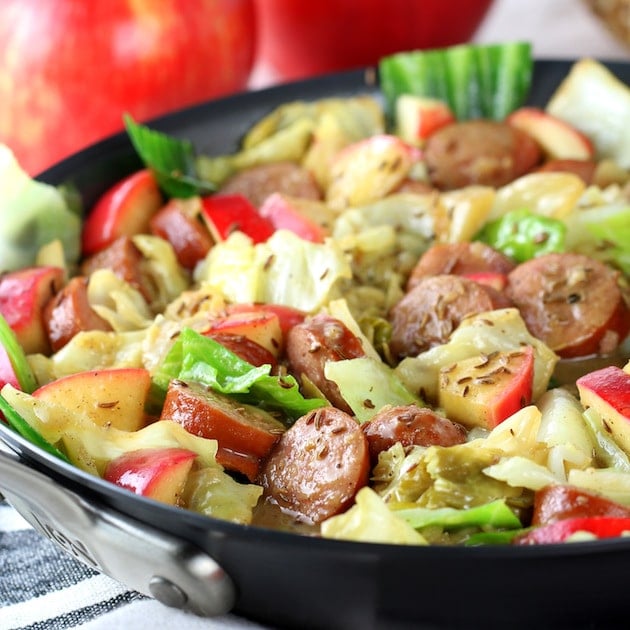 Sautéed onions, garlic, and fried cabbage in a brown ale mustard sauce, with delicious smoked kielbasa, all topped off with a chopped sweet apple. A delicious one-pan meal ready in 30 minutes!
Ingredients
2 tablespoons olive oil
1 tablespoon salted butter
1 large yellow onion, diced
4 garlic cloves, minced
1-1½ pounds green cabbage (about ½ of a large cabbage head), outer leaves removed and chopped into one inch squares.)
1 teaspoon salt
1 teaspoon pepper
1 teaspoon caraway seeds
14 ounces Polska kielbasa, smoked kielbasa or smoked turkey sausage cut into ½ inch slices
2 tablespoons Dijon mustard
¾ cup brown ale beer (or substitute chicken or beef stock)
1 sweet apple such as Honeycrisp, Braeburn, or Gala, cored, quartered, sliced and diced.
Instructions
Heat oil and butter in your ICON Cast Iron Skillet over medium-high heat until melted and foamy.
Add diced onions and cook until soft and transparent, about 3-4 minutes. Stir consistently to prevent sticking or burning.
Add garlic, and cook about 1 more minute.
Add cabbage and stir into the garlic and onions. Season with salt, pepper, and caraway seeds.
"Fry" the cabbage until it reduces in volume by half - about 3 or 4 minutes. Stir consistently as it cooks down to prevent burning and to allow it to cook evenly.
Add smoked kielbasa, brown ale, and mustard to the pan. Stir and cook 4-6 more minutes. Less time will make the cabbage more "al dente."
Finally stir in the diced apple, cook for about a minute more, and serve.
Notes
The apples will have some texture and offer a crunch; if you prefer a softer apple then simply add a few more minutes to the cook time after you've added them to the dish.   
For those that like a hint of sweetness, add 1 teaspoon pure maple syrup, honey, or brown sugar. 
Nutrition Information
Yield
4
Serving Size
10-12 ounces
Amount Per Serving
Calories

466
Total Fat

32g
Saturated Fat

10g
Unsaturated Fat

0g
Cholesterol

69mg
Sodium

1570mg
Carbohydrates

24g
Net Carbohydrates

18g
Fiber

6g
Sugar

12g
Protein

17g