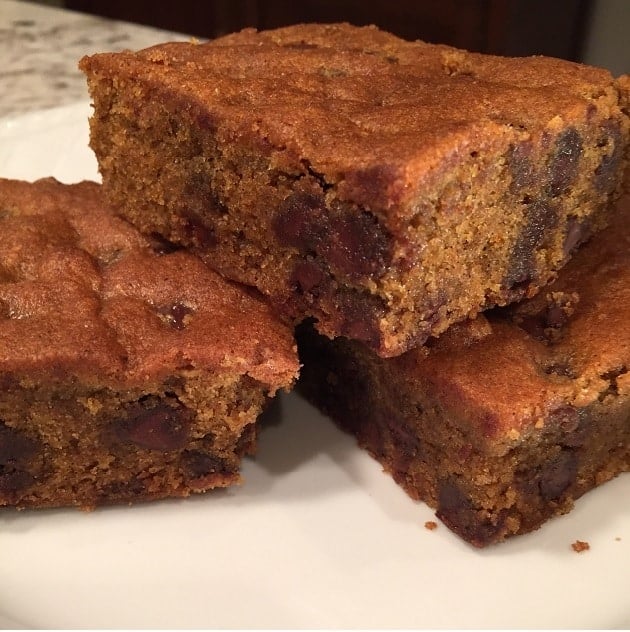 The count down continues  – only 36 days until Thanksgiving which will mean the end of my pumpkin recipes for the year.  I mentioned to you before that I have issues using pumpkin after Turkey Day, so I'm sprinting to get all of my favs to you in time.⏰   Today's Best-In-Show ? pumpkin dessert is the Pumpkin Chocolate Chip Brownies (or Squares) from my bestie Martha Stewart.
Let's be honest, there are some boxed baked goods that Betty Crocker and Ghirardelli make that are pretty great. And when you're busy working, keeping up with house stuff and taking care of those precious cherubs, you don't exactly have tons of free time on your hands. So why reinvent the wheel? Just get the box mix people! (But don't tell Martha.)
Then, on the other hand, there are other baked goods that absolutely, positively, must be made from scratch. And that is what we're talking about today! ?? ?
Pumpkin Chocolate Chip Brownies from The Queen of Baked Goods and all things excellent – Martha Stewart.?
I absolutely love these rich, and thick, and choc-co-late, pumpkin squares and I know you will too!
The recipe is pretty simple, I can have them mixed and in the oven in less than 15 minutes.
If you're a fan of chocolate and pumpkin then this is your new best friend. ?
The pumpkin purée gives them a super moist texture. The pumpkin pie spices add just a bit of zing and tons of flavor.
And the chocolate, well, makes them heaven on a plate or heaven in my belly.?
If you make one and only one pumpkin recipe this season, for the love of Betty Crocker and all of mankind, make this one!!!!
Pumpkin Chocolate Chip Brownies
Rich, thick, and choc-co-late, pumpkin squares!
Ingredients
2

cups

all-purpose flour

(spooned and leveled)

1

tablespoon

pumpkin-pie spice

1

teaspoon

baking soda

3/4

teaspoon

salt

1

cup

unsalted butter

room temperature, 2 sticks

1 1/4

cups

sugar

1

large egg

2

teaspoons

vanilla extract

1

cup

canned pumpkin puree

12

ounces

semisweet chocolate chips
Instructions
Preheat oven to 350 degrees. Line bottom and sides of a 9-by-13-inch baking pan with foil, leaving an overhang on all sides. In a medium bowl, whisk together flour, pie spice, baking soda, and salt; set aside.

With an electric mixer, cream butter and sugar on medium-high speed until smooth; beat in egg and vanilla until combined. Beat in pumpkin puree (mixture may appear curdled). Reduce speed to low, and mix in dry ingredients until just combined. Fold in chocolate chips.

Spread batter evenly in prepared pan. Bake until edges begin to pull away from sides of pan and a toothpick inserted in center comes out with just a few moist crumbs attached, 35 to 40 minutes. Cool completely in pan.

Lift cake from pan (using foil as an aid). Peel off foil, and use a serrated knife to cut into 24 squares.
Recipe Notes
If you can't find pumpkin-pie spice, substitute 1 1/2 teaspoons cinnamon, 3/4 teaspoon ginger, 1/2 teaspoon nutmeg, and 1/2 teaspoon each allspice and cloves (all ground).

I like my brownies extra chocolatey, so I add in another 4-6 ounces of chocolate chips.