Roasted Fall Vegetables - easy to make and always delicious! Cut up carrots, butternut squash, shallots, baby potatoes, parsnips, whole garlic cloves, and fresh chopped rosemary all tossed in olive oil and roasted to perfection. These roasted veggies are so simple, and a cornucopia of autumn colors!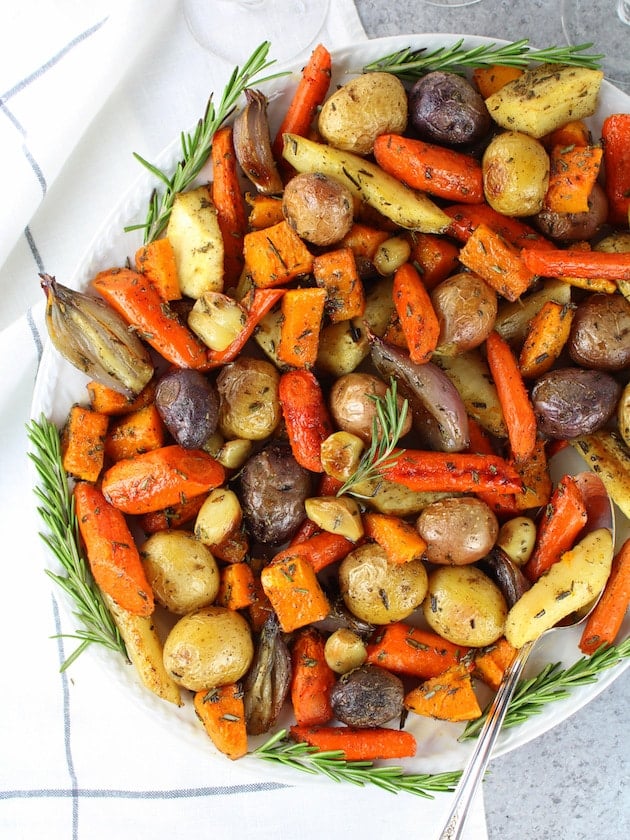 The colors of these Roasted Fall Vegetables are so gorgeous I literally want to wear them: deep amber, bright orange, snowy white, marsala red, and brilliant aubergine. Wow – who knew root vegetables were so on trend with their colorful and vivid little sweaters?
Seriously though, these seasonal veggies really do dress up the table with all their rustic hues. It's like you put out fall decorations and then you get to eat them. Bonus!!
The easiest roasted root vegetables ever:
Not only are they a cornucopia of autumn colors but they are also way easy to make any kind of foolproof. Peel, chop, mix and throw them in the oven and you'll have roasted root vegetables "Barefoot Contessa" style in no time!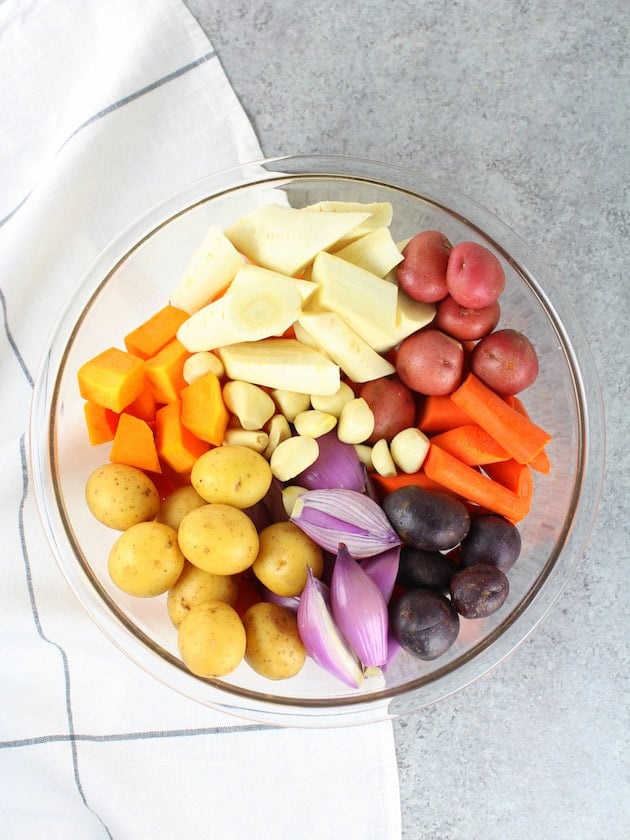 Then go read a book, take a nap or watch half of an episode of POLDARK…well, don't do that 'cause NO ONE can watch just half of an episode of POLDARK!!
It is so enchanting, magical and completely undeterrable…think Pride and Prejudice meet Downton Abbey. It truly makes me "completely, perfectly, and incandescently happy" (big swoon).
All of that to say, throw those veggies in the oven, set a timer, and take a load off.
Moving on.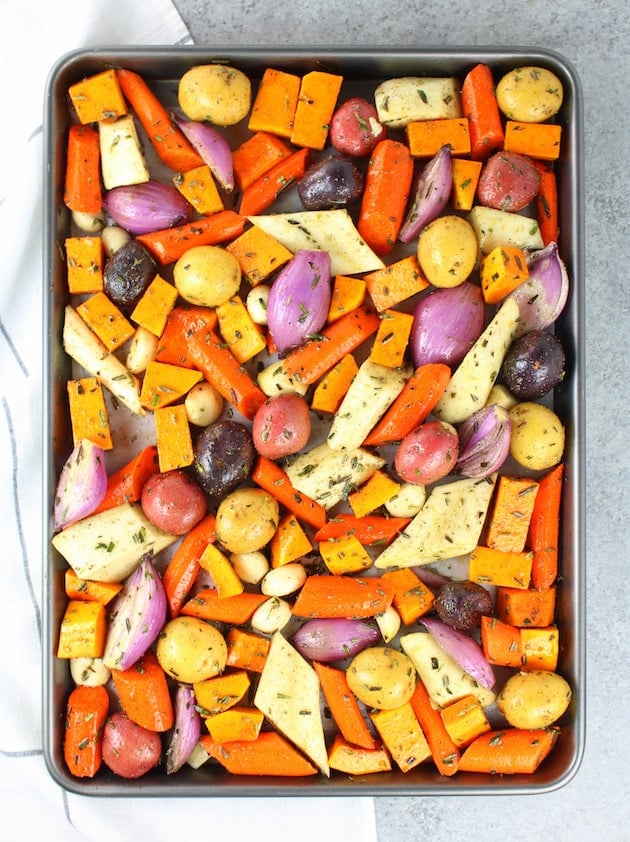 I truly love quick and easy recipes that are lighter and taste delicious. This one happens to be full of Vitamin A & C, dietary fiber, folate, potassium, antioxidants, and much more. I'm pretty sure you could skip your vitamins for the day and just indulge in these hearty, roasted packets of goodness.
It all sounds like the making of a perfect fall Sunday evening – right?…yummy roasted veggies, a fire crackling in the fireplace, and Poldark on the flatscreen keeping you company.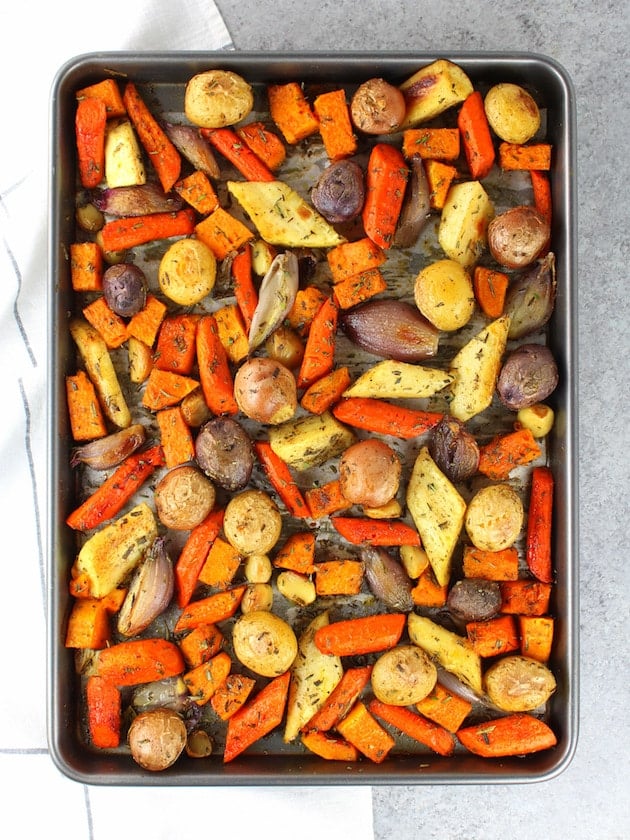 Disclaimer: I would like to apologize for adding one more show to your DVR lineup… In my defense, I can promise it will be full of wit, honor, humor, adventure and lots and lots of horse back riding. Oh, Poldark (more swooning).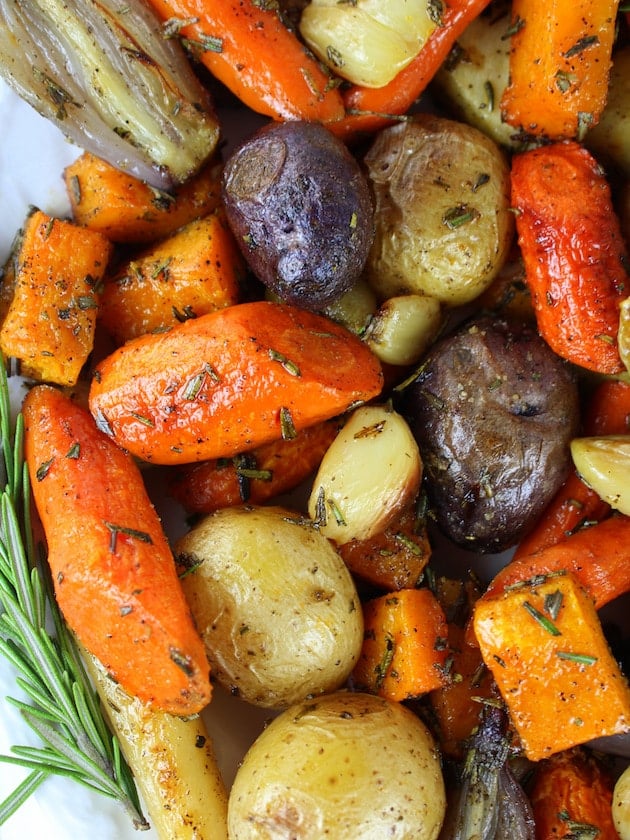 These roasted fall vegetables with rosemary will become a favorite go-to side dish all winter long! Enjoy my friend!
Yield: 6 servings
Roasted Fall Vegetables
A cornucopia of autumn colors ... way easy to make and kind of fool-proof.
Ingredients
1 pound peeled carrots, cut into 2 inch pieces
1 pound peeled parsnips, cut into 1 inch wide by 2 inch pieces
1 ½ pounds multicolor baby potatoes, washed and dryed, cut in half if some are on the larger side
1 small butternut squash, skin removed and cut into 2-3 inch pieces (or 1 package of peeled, cut up squash)
5 shallots, outer skin removed, cut length wise
1 head of garlic, skin removed and cloves separated
3 Tablespoons olive oil
1 ½ teaspoon Pepper
2 teaspoons salt
2 Tablespoons chopped fresh rosemary, or thyme if preferred
Instructions
Preheat the oven to 425°. Line a large baking sheet with parchment paper.
Place all the vegetables in a large mixing bowl, add the oil, salt, pepper, rosemary and give them a good toss. Arrange the mixture in a single layer on the baking sheet. If they don't all fit use two baking sheets.
Bake at 425° for 30-40 minutes or until all vegetables are tender and lightly browned.
Transfer roasted vegetables to a large serving platter and serve warm.
Notes
*You want your veggies to be about the same size so they all cook evenly.  With the exception of the parsnips and butternut squash.  The squash cooks more quickly and the parsnips take the longest to cook.
Nutrition Information
Yield
6
Serving Size
6-8 ounces
Amount Per Serving
Calories

288
Total Fat

7g
Saturated Fat

1g
Unsaturated Fat

0g
Sodium

854mg
Carbohydrates

53g
Fiber

11g
Sugar

11g
Protein

6g
PS: If you need a faster, simpler option be sure to try our amazing, delicious Parmesan Broccoli!