These One Pan Parmesan Pork Chops with Asparagus are full of cheesy flavor and on the table in less than 30 minutes. A delicious easy weeknight dinner the whole family will love!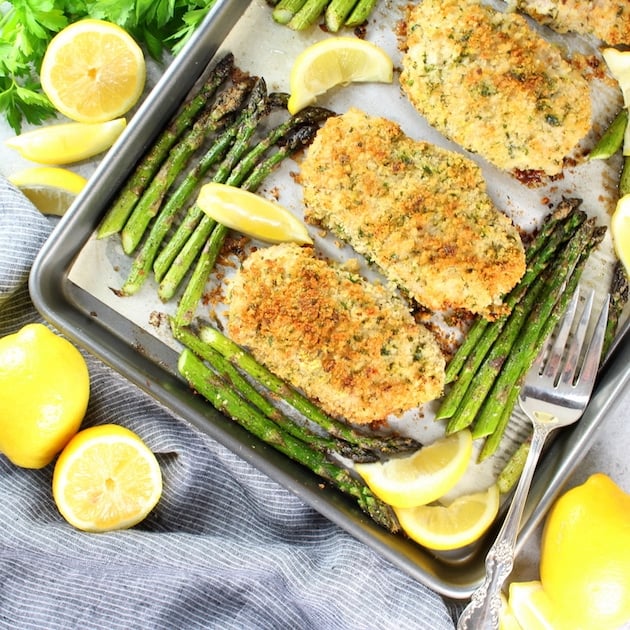 It's officially graduation season and we're all about it!🎓 We absolutely love celebrating academic achievements with our people. It's really a wonderful accomplishment and worthy of many accolades.🙌
My dear friend Samantha AKA Sammy G just graduated with her Bachelor's degree in Communications from Liberty University. She is a more than a friend really – she's my girl.💕 She volunteered as one of my leaders when I was the youth director for our church. She's so passionate about her love of Christ and sharing it with others. Plus, she's a hard worker, dependable and super fun to be around. She's a keeper plus plus.👌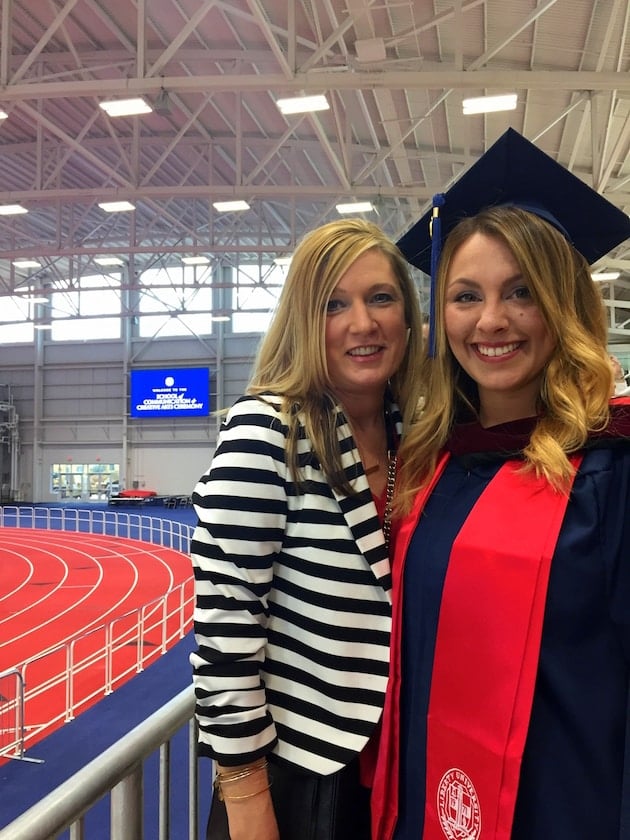 After my career in student ministries, Samantha and I continued to meet up. I would answer questions she had, offer advice about life situations, accountability to help her stay on track, and encouragement to cheer her on.🎉👏 I guess you could say I was kind of her mentor, but it was never a one-way street. She had advice to give and perspective to offer me as well. Always full of energy and passion – reminding me to stay young no matter what my birth certificate says.😊
So when it came time for her to walk across that stage you better believe I was gonna be there to see it. So off to Virginia we went – Lynchburg or bust!🚗💨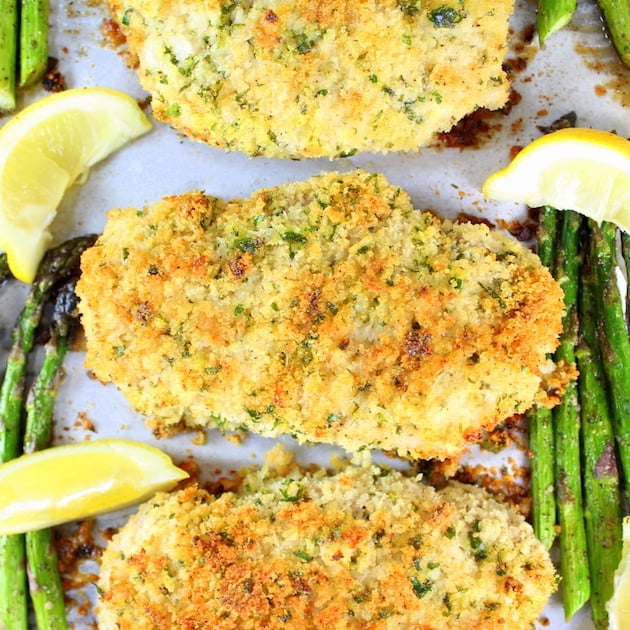 Here she is in all her glory!👇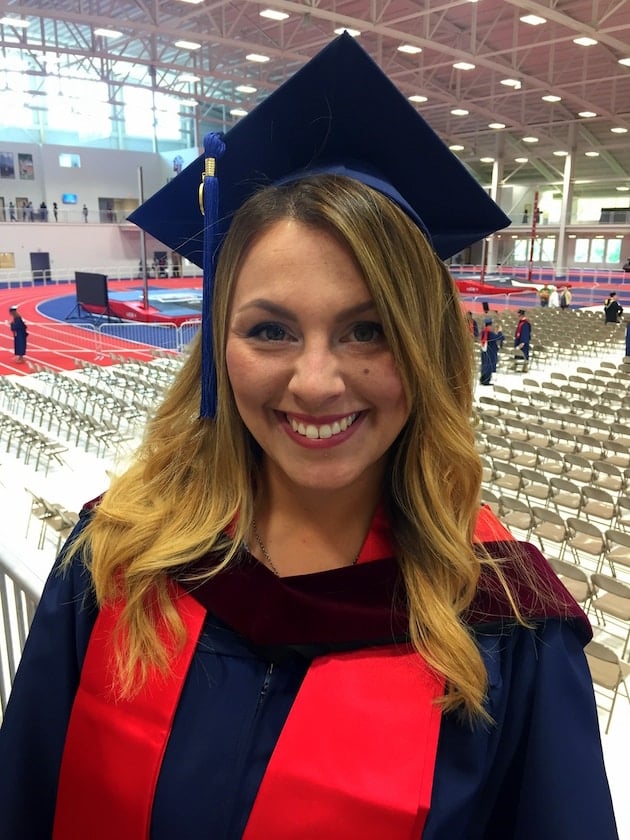 Adorable right!?? What can I say she's a communication major so the girl's not shy.
It was a lovely ceremony and we were so honored to be there with her family and friends.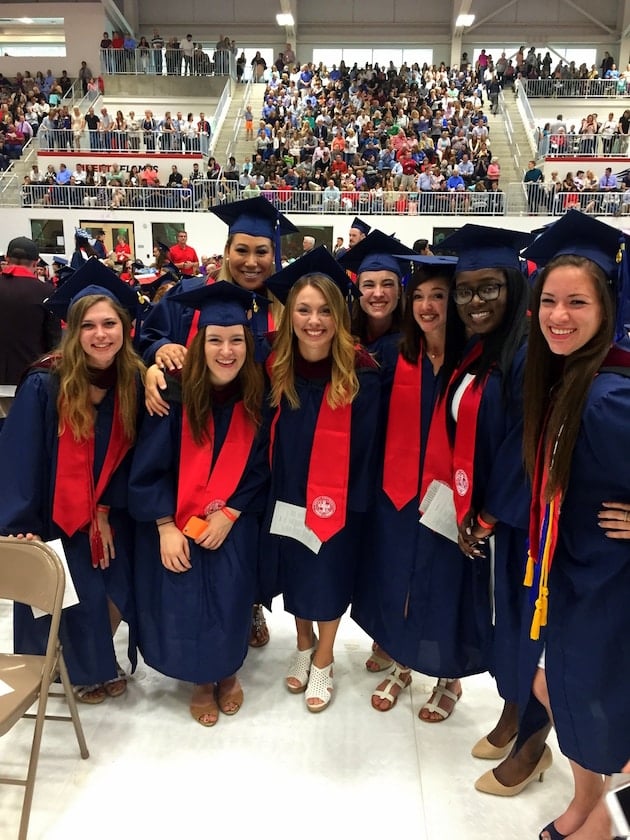 But little did we know she was turning the tables and honoring us too. She presented B and me with a Stole of Gratitude.💝 It was such a sweet moment. If you're not familiar with that term, then you're in good company: it was new to me as well.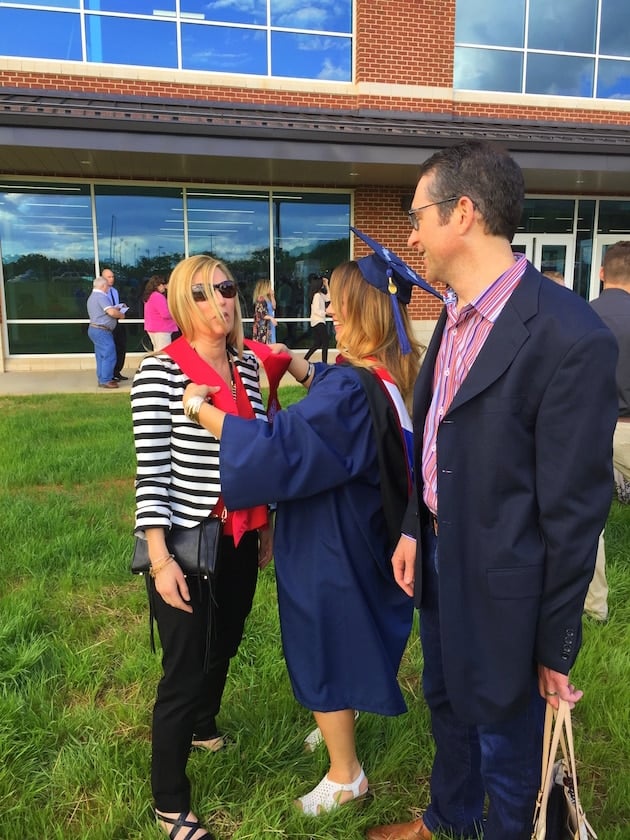 "The Stole of Gratitude is worn during the commencement ceremony by the graduate. After the ceremony, the new graduate presents the stole to someone who provided extraordinary help or support, like parents, relatives, or mentors who have helped with wisdom, words of support, or with financial assistance. Immediately after graduation, the graduate may take the stole from around his/her neck and place it around the neck of the recipient. More than one stole may be worn during commencement, symbolizing that there are multiple persons destined to receive this gift."
Precious – right!? Sammy G is so thoughtful, grateful and has the biggest heart.💖 And we're truly honored to be part of her journey. I know amazing things are in store for her, she is destined for greatness… to do "immeasurably more than she could ask or think".🙏🖕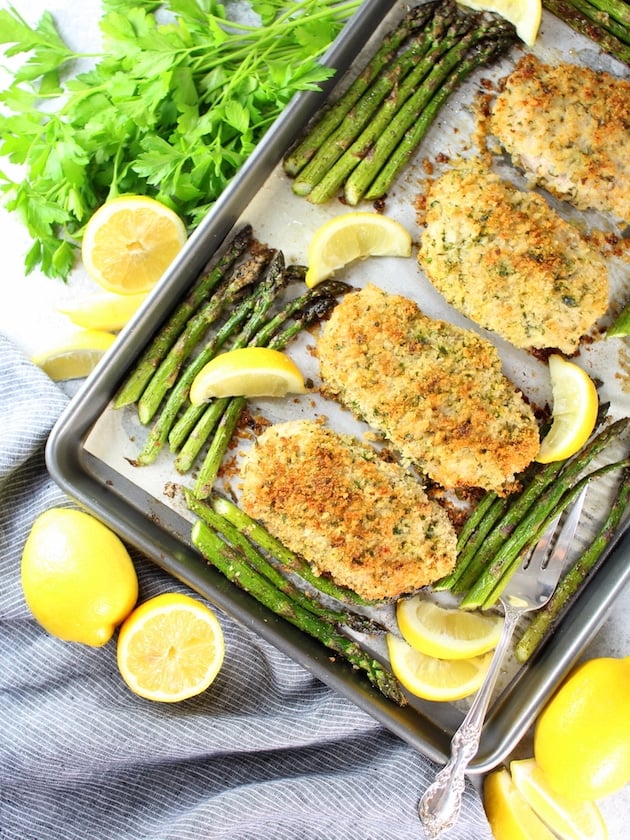 After celebrating in Lynchburg we made our way over to Fredericksburg, VA to see some of our people and check on our rental properties. We stayed with some of our close friends even though they already had one set of house guests (parents in town for Mother's Day). I guess we're beyond friend status at this point – we're really family!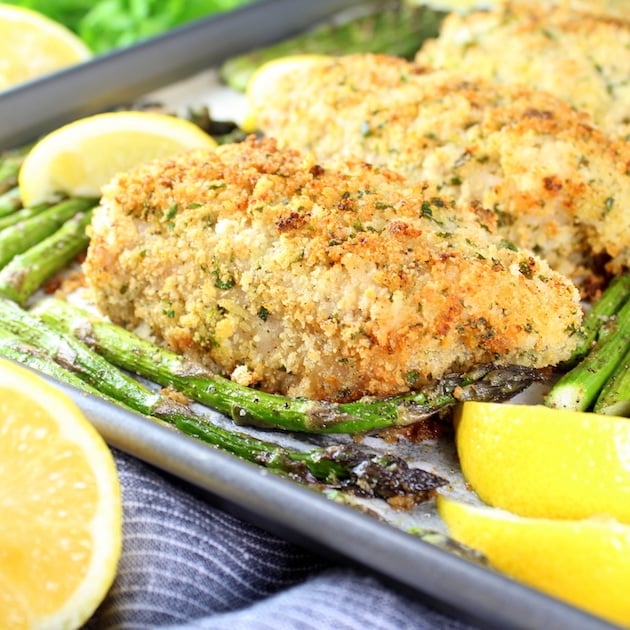 While we were there our friends' parents offered to watch the kids so the four of us could go out to dinner. Which as many of you know is a huge gift - free babysitting from the ones you trust most!👌
Before we headed to dinner, I took the opportunity to test out my latest recipe - One Pan Parmesan Pork Chops with Asparagus. I'm guessing it was delicious because their 10-year old thanked me profusely and stated, "this is so good, much better than pizza."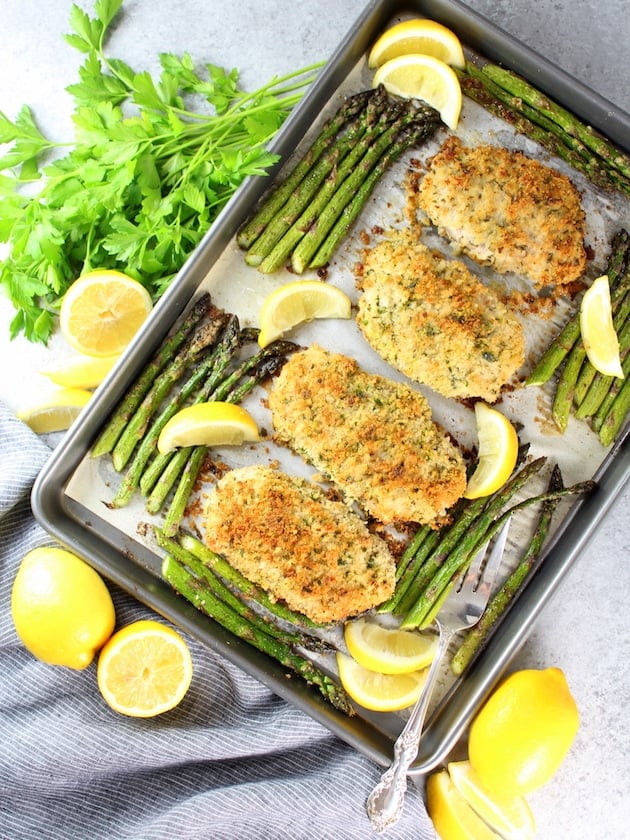 There you have it, friend, out of the mouths of babes. Better than pizza!!!??😳 Whaaa!?? I'm gonna totally use that as part of my marketing campaign for baked pork chop recipes. Cause let's be honest: from a 10-year old, that's pretty amazing.💯
It was a win/win for sure. We got 3 hours of uninterrupted quality time with our friends, I got to test out my recipe and the family enjoyed a fabulously delicious and nutritious meal. Hmm, I guess that's more like a win/win/win. Yep – a trifecta going on over herrrr.🙌
I know you're gonna love this recipe for so many reasons. It's healthy (lean protein and veggies). It's easy (only requires one pan). And it's cheesy and lemony and super tasty.😋 #winning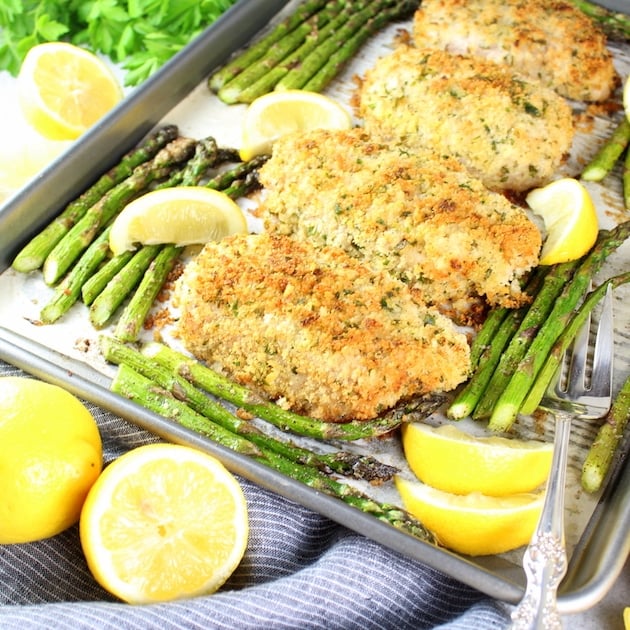 Here's how you make it happen:
Mix together panko breadcrumbs, grated parmesan cheese, fresh chopped parsley, salt and pepper on a plate or in a pie pan. Then on a separate plate mix together melted butter, fresh lemon juice, and minced garlic.
Now dip your pork chops in the butter mixture, then in the breadcrumbs.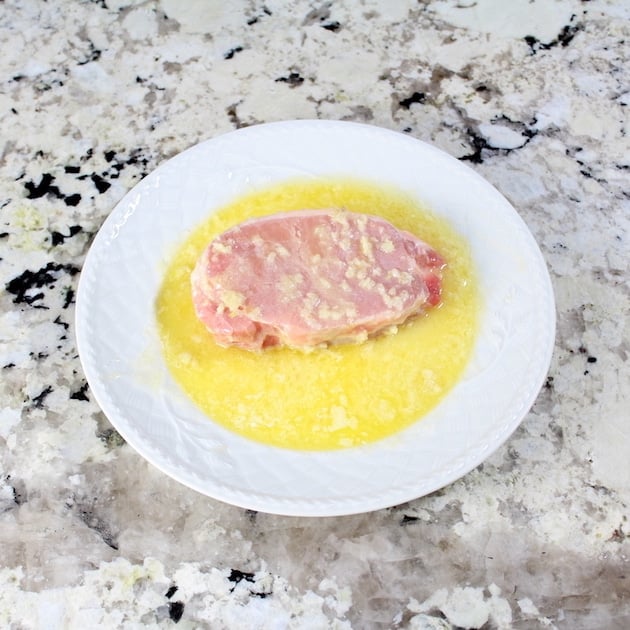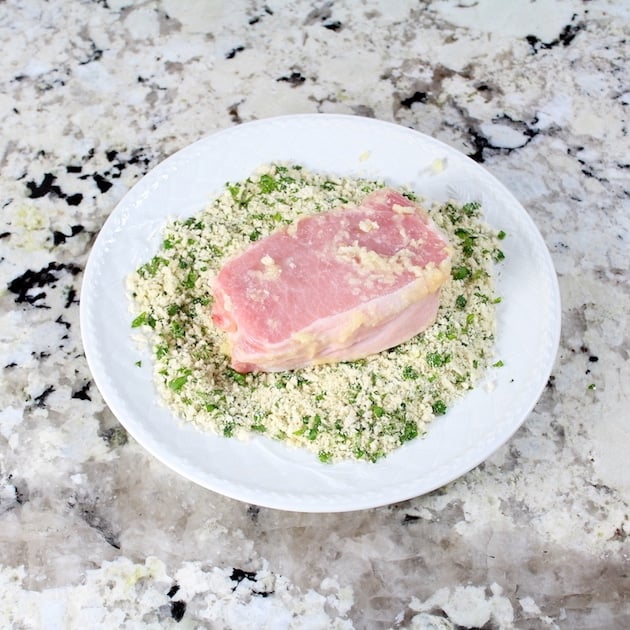 Press the breadcrumbs into the pork chop so they are nicely coated.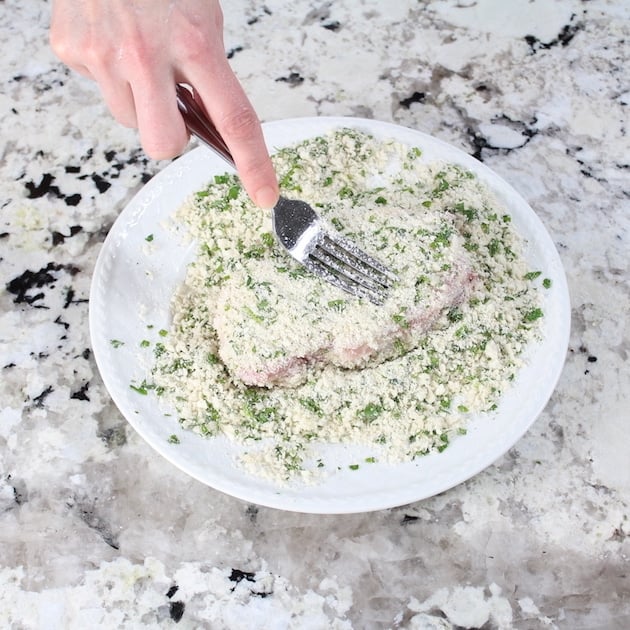 Now place them on a baking sheet lined with parchment paper, put the pork chops in the oven, and bake at 400 degrees.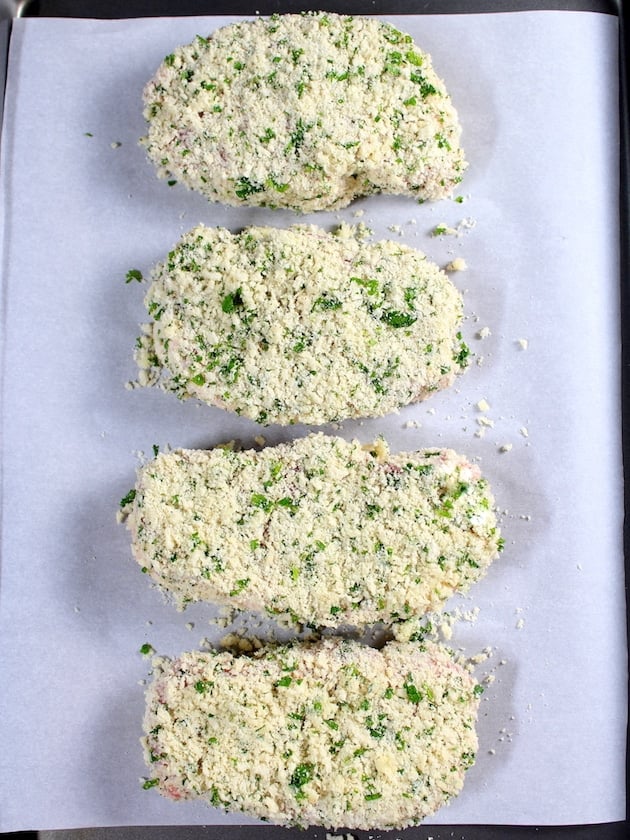 Meanwhile, trim the asparagus and toss with olive oil, salt, and pepper. After 10 minutes pull the pork chops out and place the asparagus on the baking sheet wherever they will fit. Then continue to bake for 12 more minutes. Finally, pull them out and enjoy this healthy tasty easy-peasy dinner.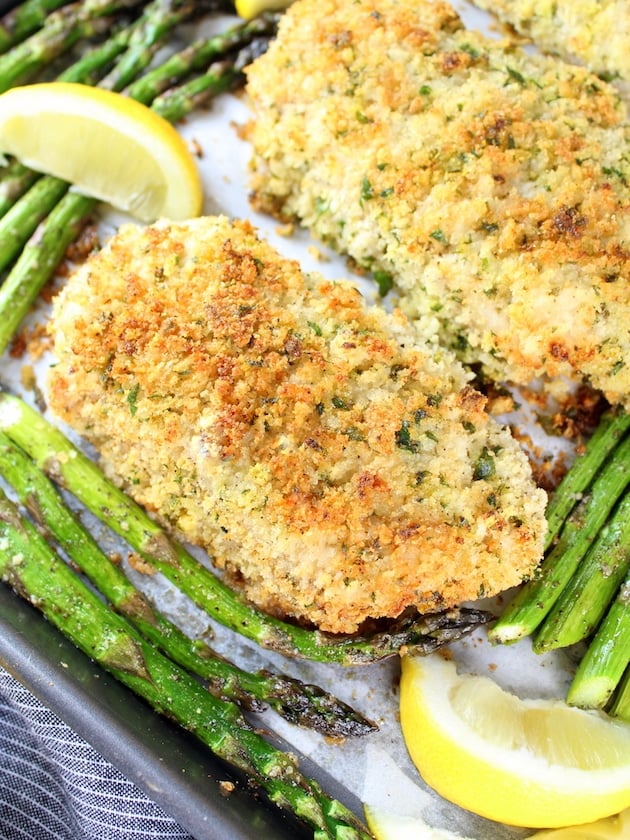 These Parmesan Crusted Pork Chops are a balanced meal the whole family will enjoy – even the kiddos!✨
I would love to connect with you! Leave a comment and follow me on Instagram, Twitter, Facebook, & Pinterest!
Yield: 4 servings
One Pan Parmesan Pork Chops and Asparagus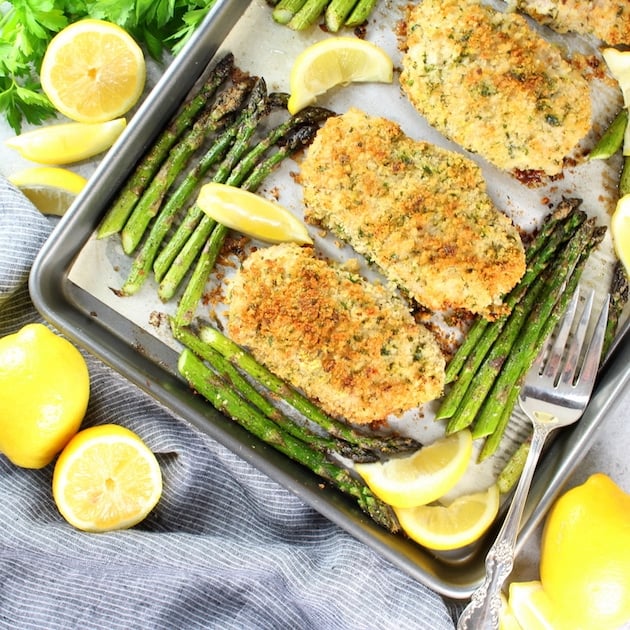 Parmesan Pork Chops Recipe with Asparagus – healthy, cheesy, lemony sheet pan meal. Another easy weeknight dinner!
Ingredients
For the Pork Chops:
4 1-½ or 2-inch thick center cut boneless pork chops
¼ cup salt for the brine + ½ teaspoon to season meat
4 cups water
1 cup panko bread crumbs
⅔ cup grated Parmesan cheese
3 tablespoons minced parsley + more for garnish
¼ teaspoon pepper
¼ cup melted butter
3 tablespoons fresh lemon juice
2 cloves garlic, minced
Lemon wedges, parsley, and more Parmesan for garnish
For the Asparagus:
1 bunch of asparagus
1 tablespoon olive oil
½ teaspoon salt
½ teaspoon pepper
Instructions
For The Brine (Optional):
Add ¼ cup (4 tablespoons) salt and 1 quart (4 cups) of water to a large resealable bag.
Add the pork chops, seal the bag and place in the fridge for ½ hour to 2 hours before cooking. (I brined mine for 1 ½ hours - more details on brining here.)
For The Pork Chops and Asparagus:
Preheat oven to 400 degrees.
Mix the breadcrumbs, Parmesan cheese, parsley, ½ teaspoon salt, and pepper together in a shallow pie dish or a deep plate.
Mix the butter, lemon juice, and garlic together in another shallow pie dish or deep plate.
Dip both sides of the pork in the butter mixture, coating it well.
Place each pork chop onto the breadcrumb mixture and use a fork to toss the crumbs up over the edges and top of the meat. Use the fork to gently press the crumbs into the meat so they stick. Turn the meat over and again press that side into the crumbs.
Transfer chops onto a parchment lined baking pan, and repeat steps 4 and 5 with the rest of the meat. Bake for 10 minutes.
Meanwhile toss asparagus with olive oil, salt, and pepper. After the chops have baked 10 minutes, pull the baking sheet out and add the asparagus.
Bake for 12 more minutes, or until a meat thermometer reads 140-145 degrees when inserted in the thickest part of the pork chop.
Notes
If you are using thinner chops then  you will need to reduce the cook time accordingly.  Be sure to use a meat thermometer to ensure they are properly cooked to 140 - 145F. 
Nutrition Information
Yield
4
Serving Size
1 chop plus asparagus
Amount Per Serving
Calories

478
Total Fat

29g
Saturated Fat

14g
Unsaturated Fat

0g
Cholesterol

134mg
Sodium

835mg
Carbohydrates

13g
Sugar

1g
Protein

37g
Looking For More Easy Weeknight Dinners?
Andouille Chicken Sausage Veggie Kabobs (Deconstructed)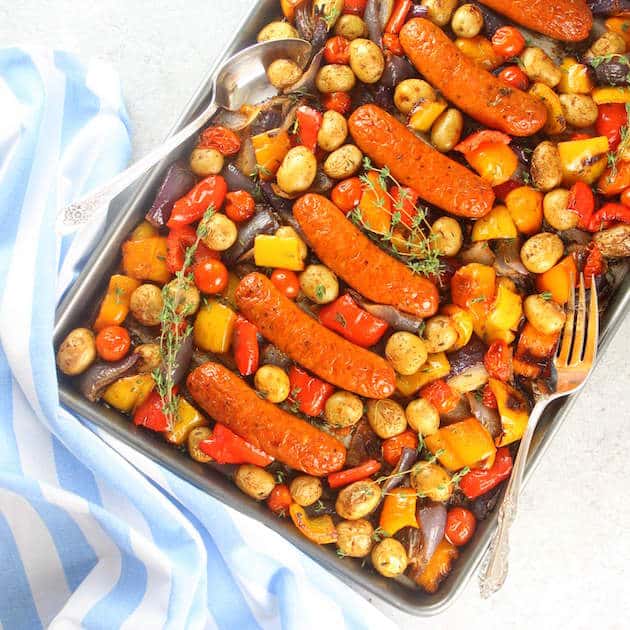 Greek Chicken Sheet Pan Dinner