Raspberry Lemonade Smoothie - the most delicious low-calorie treat! This high-fiber, protein-packed smoothie is only 195 calories and will fill you up without weighing you down!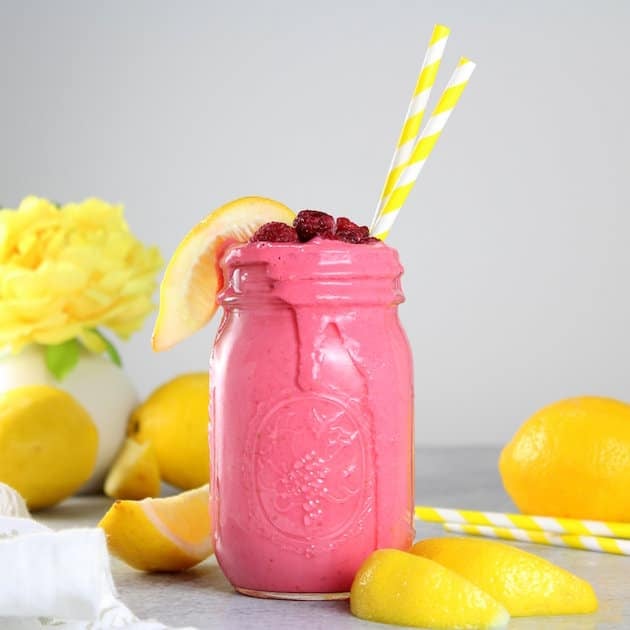 (This post contains affiliate links... read more here).
It's been cloudy and rainy here in the Boston area for so long I've forgotten what the sun looks like!! Ok, so I might be a little dramatic but does it have to rain every day??😔
Well, as the song goes "crying's not for me…" So, I decided to brighten things up a bit over here with this Raspberry Lemonade Smoothie!👇 It's tart and sweet and super healthy!🙌 Plus it's so pretty and pink!💕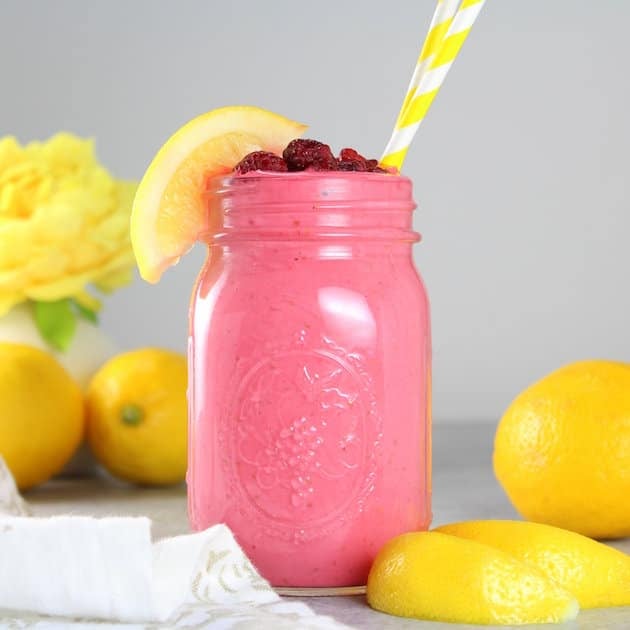 What makes this raspberry lemonade smoothie so healthy:
Did you know the most fiber-ific fruits around are raspberries and blackberries? Me neither - until yesterday when I was reading an article from verywell.com: 5 Foods to Eat If You're Always Hungry. Clearly, they had my attention.😁
I'm always interested in finding healthy food options that can keep my weight down. As you can imagine there's a lot of taste testing and recipe development going on over here. AKA lots yummy food floating around! So I need to stay strong and feel full so I don't stuff my face constantly!!👌✌️ #foodbloggerproblems
And a great way to feel full is by eating foods that are high in fiber.✅ High-fiber foods like fruits and veggies tend to be low in calories and take longer to digest, keeping you feeling comfortably full longer.
You can eat around 1½ cups of these bright beautiful berries for about 100 calories, and about 12 grams of fiber.
So bring on the raspberries!!!💖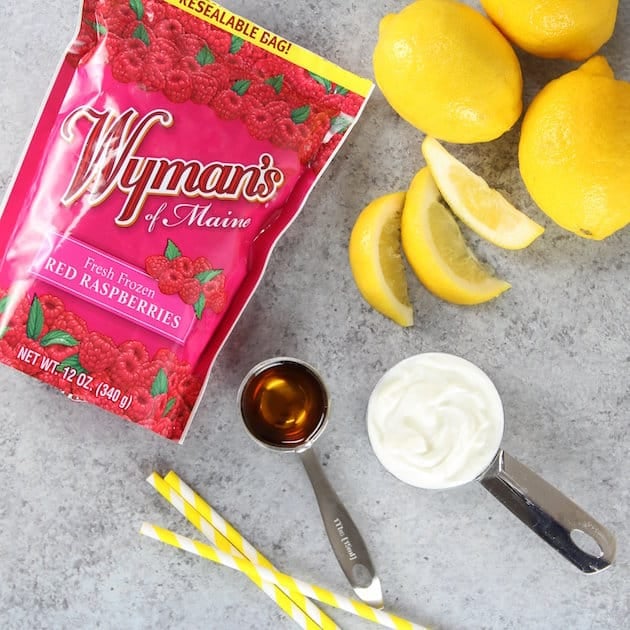 And… the Greek yogurt, because the other way to stay satisfied and full is by eating protein.✅ The same concept applies here: protein takes longer for your body to digest, thus making you feel full longer. There's tons of science behind it but the professor is taking the day off so feel free to check out these articles at your leisure.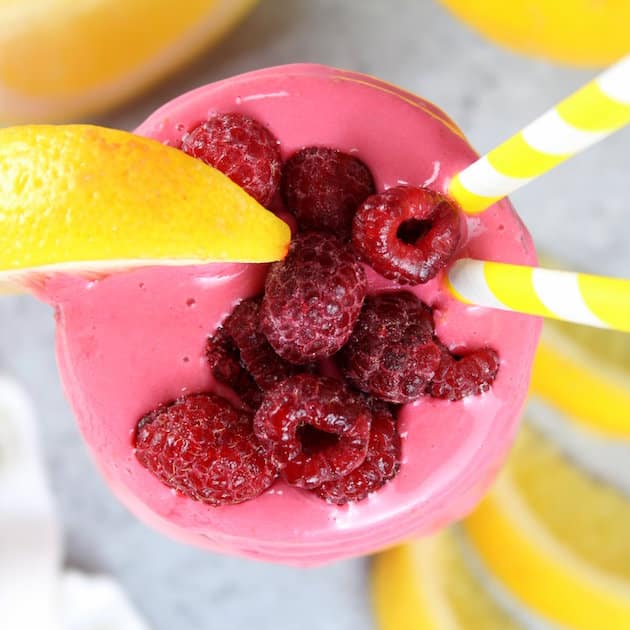 You can see where all this is going – right? Raspberries, non-fat Greek yogurt, almond milk, fresh lemon juice and my go-to sweetener of choice - maple syrup!✨ That's right – only five ingredients go into this tasty treat. Plus, it's only 195 calories. Best. Smoothie. Ever. #Smoothielove❤️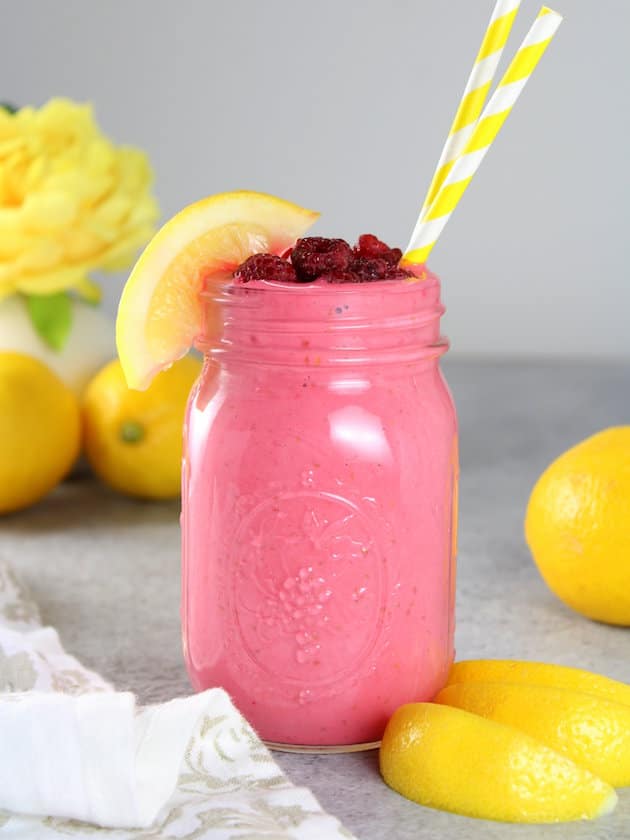 This Raspberry Lemonade Smoothie is a beautiful and yummy treat you can feel great about enjoying, whether you're trying to lose weight or just eat healthy!
I would love to connect with you! Leave a comment and follow me on Instagram, Twitter, Facebook, & Pinterest!
Yield: 1 servings
Raspberry Lemonade Smoothie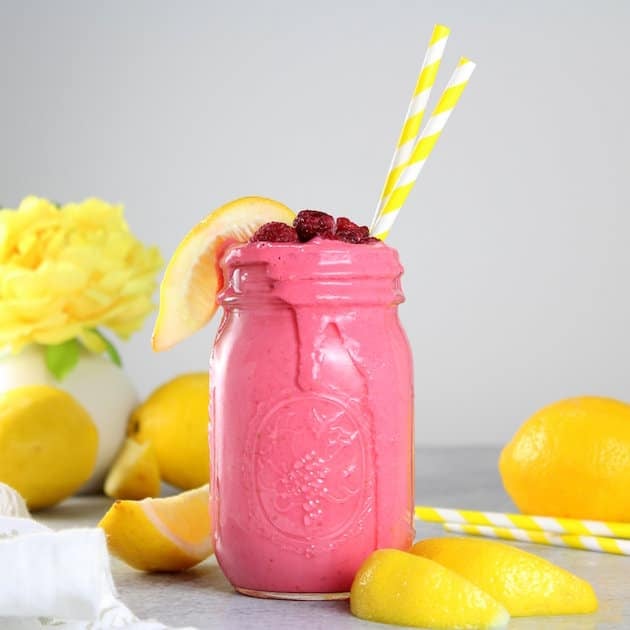 This high-fiber, protein-packed smoothie is only 195 calories and will fill you up without weighing you down!
Ingredients
1 cup frozen red raspberries
4 ounces non-fat Greek yogurt
¼ cup almond milk
1 tablespoon fresh lemon juice
1 tablespoon pure maple syrup
garnish with more red raspberries
Instructions
Combine all ingredients in blender, or use handheld immersion blender.
Process until smooth, then serve and garnish with red raspberries
Nutrition Information
Yield
1
Serving Size
1 smoothie
Amount Per Serving
Calories

195
Total Fat

2g
Unsaturated Fat

0g
Cholesterol

5mg
Sodium

125mg
Carbohydrates

33g
Fiber

7g
Sugar

21g
Protein

13g
Looking For More Easy Dessert Recipes?
Healthy Almond Joy Protein Smoothie