Thanks to our friends at Albertsons Companies & Star Market through Kitchen PLAY for sponsoring this Signature Hawaiian Chicken and Bacon Slow Cooker Sandwich!
These Hawaiian Chicken Slow Cooker Sandwiches are tangy, savory and perfectly sweet. The chicken is slow-cooked until it falls apart, then drenched in homemade BBQ sauce and topped off with bacon and slightly charred fresh pineapple. Another easy, delicious meal that will make the whole family happy.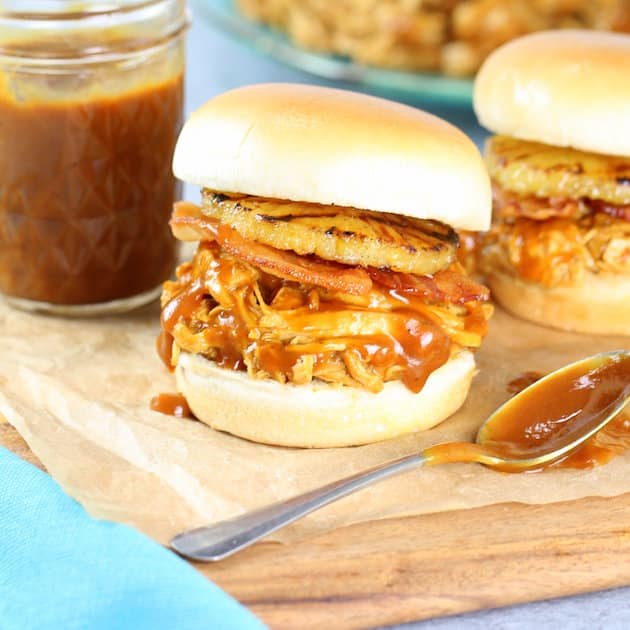 I'm so excited about today's recipe and I think you're really gonna like it. How can you go wrong with tender healthy chicken breast, homemade Hawaiian BBQ sauce, all layered between two fluffy (and reduced calorie) buns! Wha wha whaaa?? It must be your birthday today – right!??🎉
Seriously, just look at these sandwiches!👇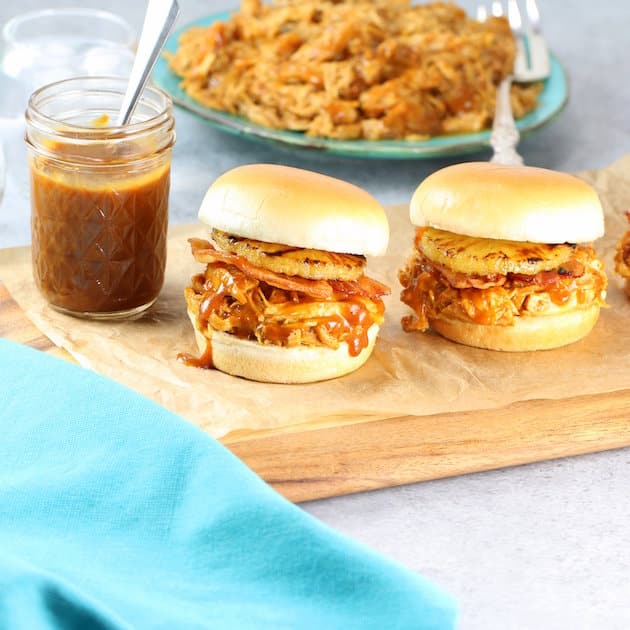 When I'm coming up with new recipes I try to keep you and your needs in mind:
Needs to be easy and quick enough for a weeknight dinner;
But it still has to be well-balanced and offer nutritional value;
And of course, must taste delicious!
Basically, I just try to make things that I want to eat.
And I'm always looking for ways to cut down on the fat and calories in recipes without sacrificing amazing flavor. I do believe you can have it all.👌
I usually don't label a recipe as "healthy" for several reasons… the first being, "healthy" is such a relative term. What one person deems to be good-for-you might be considered a "cheat day meal" for a triathlete!💪
Second, when you call something "healthy," some people are automatically turned off. They think because it has healthy ingredients it can't possibly taste good. This is so not true.👎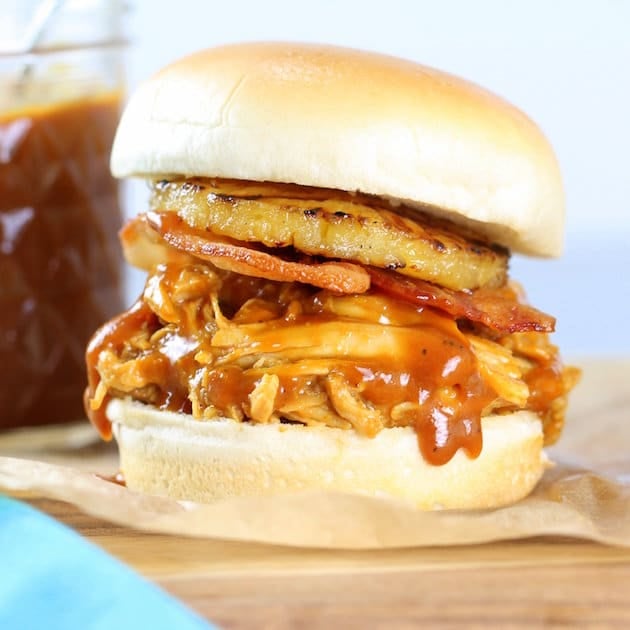 I think it's all about making the right tradeoffs: swapping out ingredients like heavy cream for low-fat or almond milk in soups and sauces. Or skipping the bottom crust with a savory pot pie or sweet cobbler. Also, using herbs and spices with bold flavors like smoked paprika, smoked salt, fresh dill, thyme or cilantro. They taste amazing but have very little fat or calories.👍
Sometimes it means making dressings and sauces from scratch rather than buying one that's premade. That way you make it just the way you like and control the ingredients that go into it. Like today's recipe for example… Hawaiian Chicken and Bacon Slow Cooker Sandwiches. Mmm, mmm!😋 They are tangy, sweet and delicious! (But not too sweet. 😉)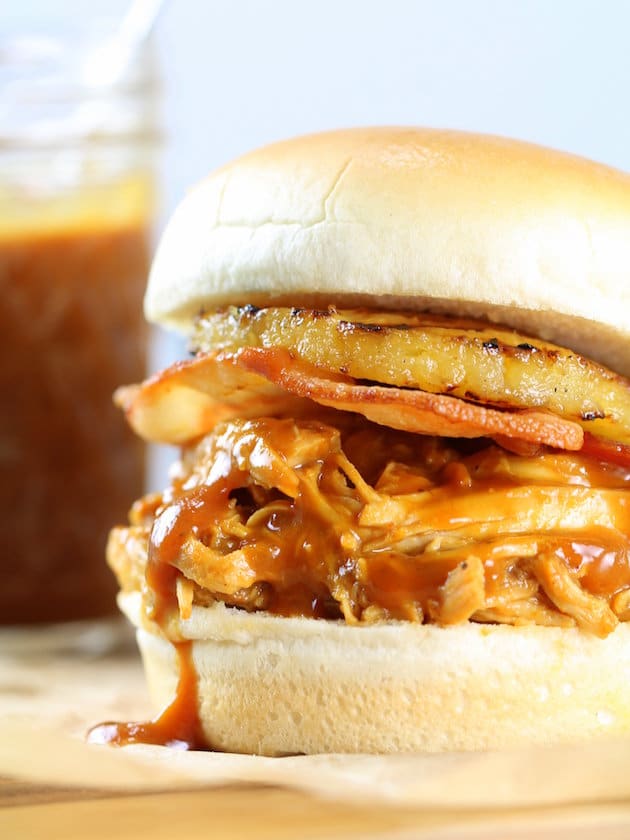 I've mentioned this before, I'm not a fan of super sweet BBQ sauce. I'm sure it has its place, but I like mine more balanced with some tang and even a little heat. So rather than buying a premade version I made my own with ingredients like apple cider vinegar, apple juice, ketchup, mustard, and maple syrup. Perfect tasting sauce with less sugar = happy Holly.😄
It's super-easy to make these homemade swaps, and many times you already have the ingredients on hand, in your fridge or pantry. You just have to research what ingredients are used to make certain things by looking online, or on the ingredient panel of the product you're trying to create. It's a win/win – healthier recipes that taste just the way you like it. Yes – we're definitely winning up in herrrr!🏆👏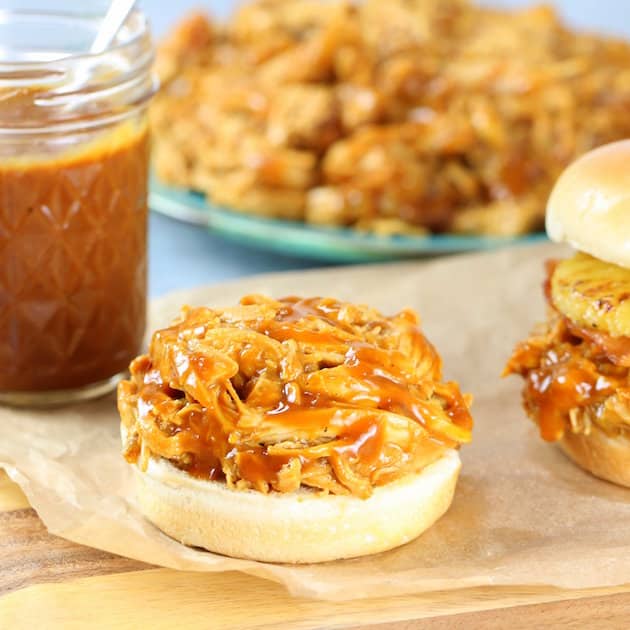 I used Signature products for most of the ingredients in this recipe. If you're not familiar with them, they taste fabulous, offer a great value and provide quality you can trust. Again, still winning!!🙌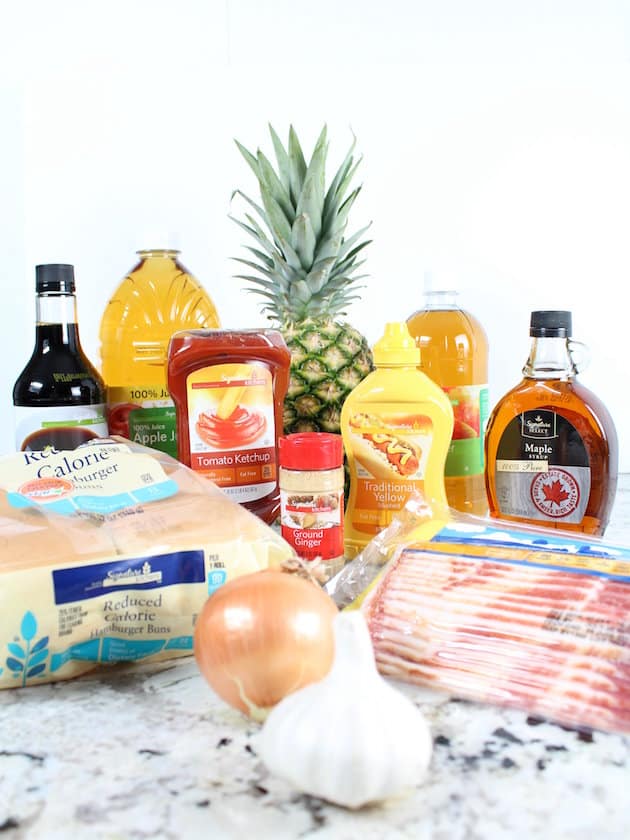 The Signature line includes over 4,000 items from pantry staples like ketchup, mustard etc. to coffee, cereal, soups, and even fresh produce – all with 100% money back guarantee. Sign me up!📝
Here in Massachusetts, Signature products are available exclusively at Star Market stores, but you can also find them at all Albertsons Companies grocery stores, (including Albertsons, Safeway, Jewel-Osco, Vons, Pavilions, Randalls. Tom Thumb, Shaw's, Star Market, United Express, United and Carrs/Safeway.)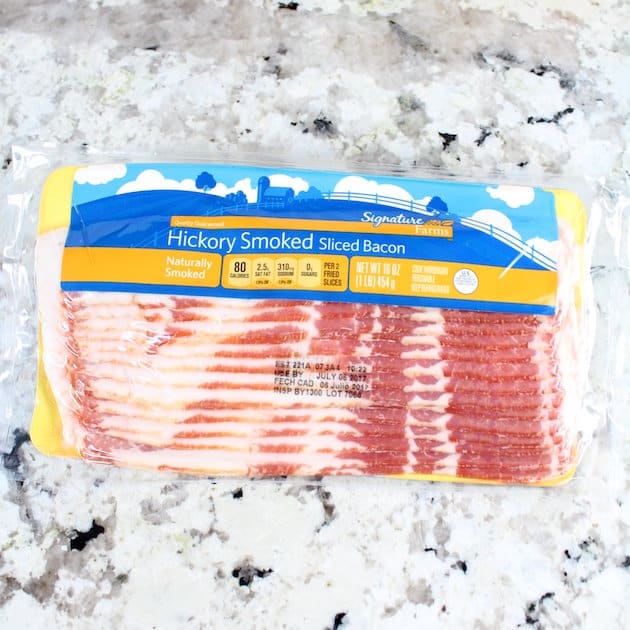 The recipe starts with cooking some onion and garlic in a sauté pan over medium high heat. Then adding in the rest of the ingredients… apple juice, apple cider vinegar, ketchup, mustard, maple syrup, powdered ginger, pepper, soy sauce and chopped fresh pineapple. Bring the sauce to a simmer and pour into a slow cooker on low heat. Then add in the chicken breasts to the crock pot and set your timer. Four hours later the chicken will be ready to be pulled.
Meanwhile, bake some bacon on 375 degrees for 12-15 minutes. Then brush your sliced pineapple with a little oil and broil.
Depending on how saucy you like your BBQ, either throw your pulled chicken back in the crock pot with all that sweet and tangy goodness OR remove some of the sauce to serve it on the side, then toss the chicken back in and gently fold it into the remaining BBQ. Now it's time to assemble.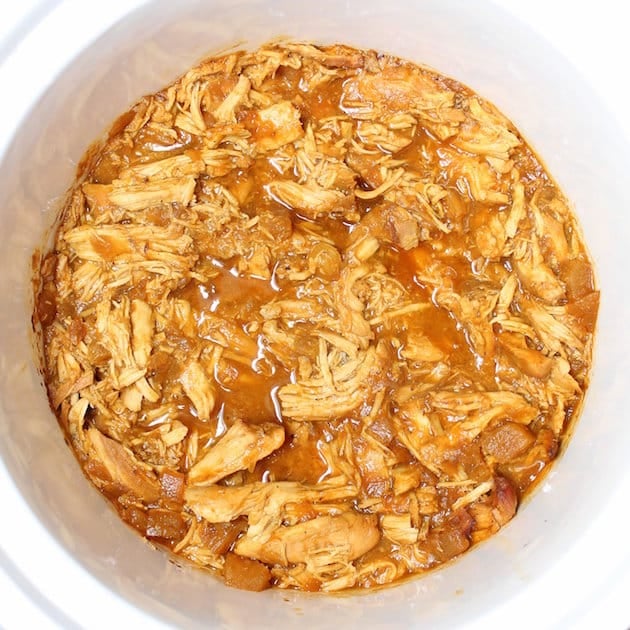 These Hawaiian Chicken Slow Cooker Sandwiches with crispy bacon and grilled fresh pineapple are so amazing I almost don't have words… almost. Tangy, bright, fresh, sweet, luscious, savory, hearty, bacon-y, and just downright lip-smacking good!😋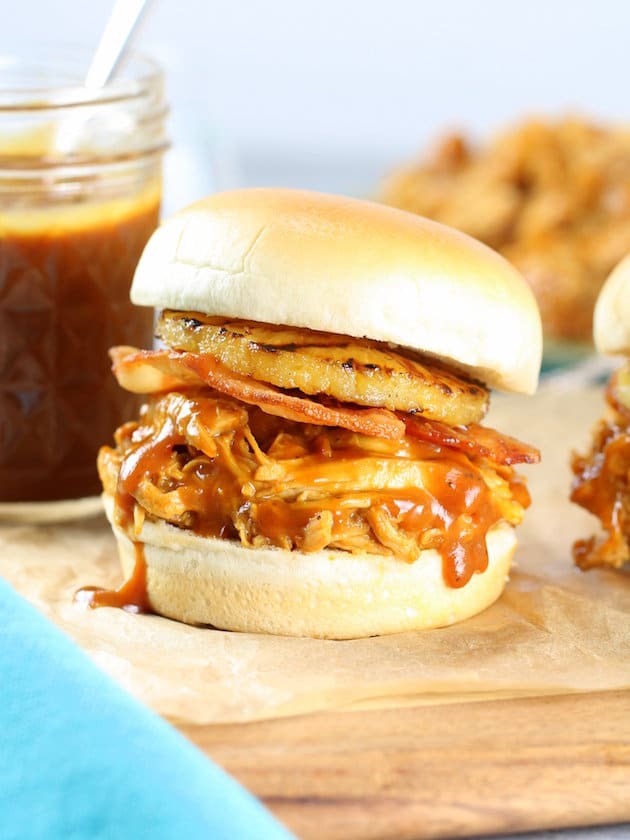 There you have it, another easy weeknight dinner that's homemade and delicious!!✨
Yield: 8 servings
Hawaiian Chicken and Bacon Slow Cooker Sandwich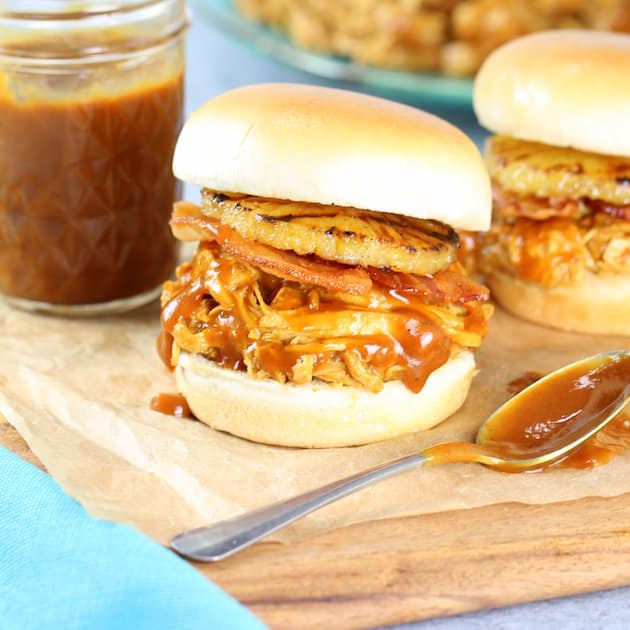 These Hawaiian Chicken Slow Cooker Sandwiches are tangy, savory and perfectly sweet!
Cook Time
4 hours
20 minutes
Total Time
4 hours
30 minutes
Ingredients
1 tablespoon coconut oil (or olive oil)
1 onion, finely chopped
4 garlic cloves, minced
1 cup Signature Kitchens® apple juice
½ cup Signature Kitchens mustard
½ cup apple cider vinegar
⅔ cup Signature Kitchens ketchup
⅓ cup Signature SELECT™ maple syrup (or brown sugar)
1 cup fresh pineapple chopped into ½ inch pieces
2 tablespoons Signature Kitchens soy sauce
½ teaspoon ginger powder
½ teaspoon freshly ground black pepper
3 boneless skinless chicken breasts
8 strips Signature Farms Hickory Smoked sliced bacon
8 Signature Kitchens (reduced calorie) sandwich buns
8 ½-inch thick slices of fresh pineapple, center core removed
Instructions
Add 1 tablespoon of oil to a large saucepan and bring to medium heat. Add chopped onion and garlic and sauté for 5 minutes.
Add all remaining ingredients except the chicken, pineapple rings, bacon, and the buns, then bring to a simmer. Pour mixture into the slow cooker and turn slow cooker to low heat.
Add chicken to slow-cooker, and cover. Cook for 4 hours.
Meanwhile, preheat oven to 375° F. Place bacon on a cookie sheet lined with aluminum foil, then bake for 12-15 minutes. Remove bacon and place on paper towels to absorb bacon grease. Once cooled, cut each strip in half.
Switch oven to high broil, or heat grill to high heat. Brush fresh pineapple rings with oil (or use your favorite cooking spray) and broil for 2-3 minutes per side. If grilling, grill on high heat for about 5 minutes, until rings are nicely charred.
Remove chicken from slow-cooker and pull the meat using two forks on a cutting board.
Add pulled chicken back to slow cooker, then fold together with the sauce.
To assemble the sandwiches layer the pulled chicken, then bacon, then pineapple on a sandwhcih bun or slider role. Enjoy!
Notes
• If you prefer less sauce on your chicken, remove some of the BBQ sauce from the slow cooker to serve on the side, then fold the pulled chicken into the remaining sauce.
Nutrition Information
Yield
8
Serving Size
1 slider sandwich
Amount Per Serving
Calories

327
Total Fat

6g
Saturated Fat

2g
Trans Fat

0g
Unsaturated Fat

3g
Cholesterol

40mg
Sodium

853mg
Carbohydrates

47g
Fiber

2g
Sugar

23g
Protein

20g
This nutrition card uses an estimate provided by an online nutrition calculator. This estimate is not a substitute for a professional nutritionist's advice!
Looking for another delicious low carb slow cooker meal? Try this
low carb Italian Beef in the slow cooker
!
I would love to connect with you! Leave a comment and follow me on Instagram, Twitter, Facebook, & Pinterest!
Looking for more amazing and easy weeknight dinners?