This Pan Seared Halibut with White Beans and Gremolata will soon become one of your all-time favorite meals!  Flaky, tender pan-seared white fish on a bed of sautéed garlic, onions, fresh rosemary, cherry tomatoes, chicken stock, and cannellini beans. It's truly the best Halibut Recipe you've tasted!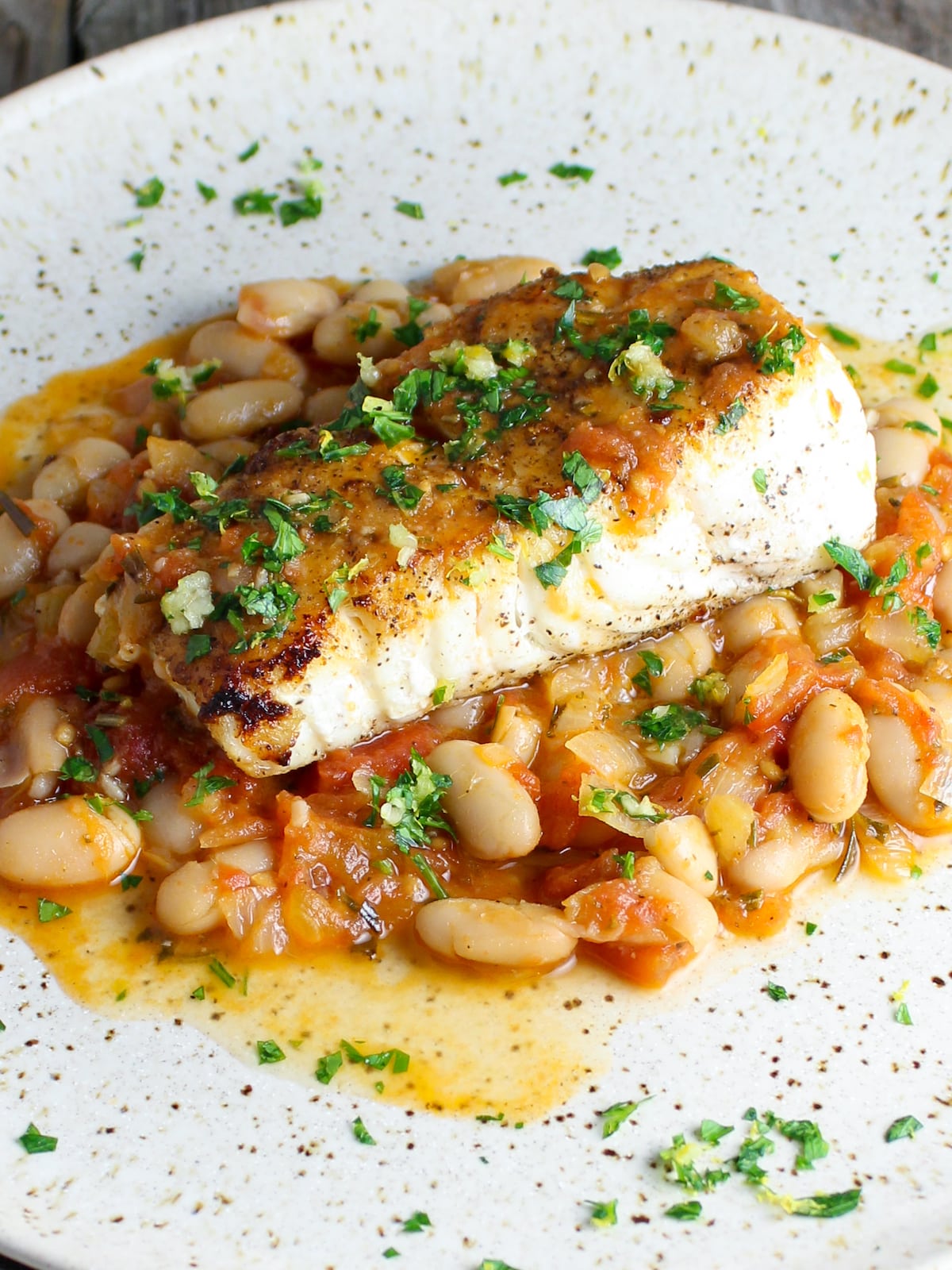 Jump to:
🎶I like Hal-i-but and I cannot lie!🎶
Sorry, I couldn't help myself. But for reals - I do love halibut!
It is by far my favorite fish to eat. Ever. And I eat it as often as I possibly can.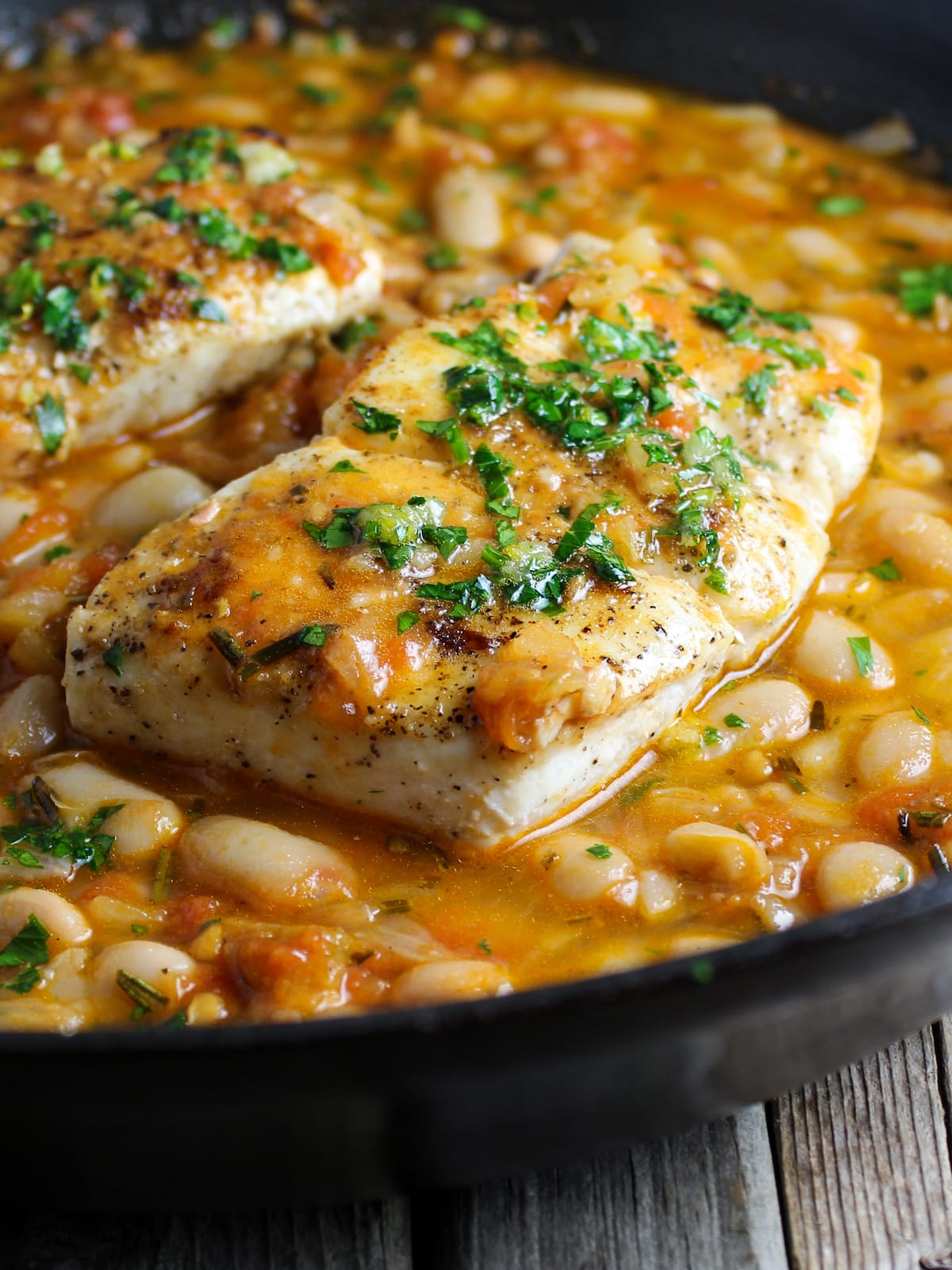 I'm not the only Halibut lover – oh no – it is a highly sought-after delicacy. Halibut is one of Alaska's most valuable fisheries.
What is so special about halibut?
An Alaskan halibut fish can grow to be 8 feet long and 5 feet wide, and weigh 500 pounds.
Because of their size, adult halibut have just a few predators. So mainly sharks, marine mammals, and of course humans.
And since they're so large in size and offer the most luscious, flaky white meat, halibut is a prized catch for both commercial and sport fishermen.
Halibut season only runs from mid-March to mid-November annually.
So that means commercial fisheries can begin to fill their IFQs (Individual Fishing Quotas) for the year starting in March and will wrap it up in November.
This really just means there will be fresh Halibut available for you and me during this time frame! Yessss!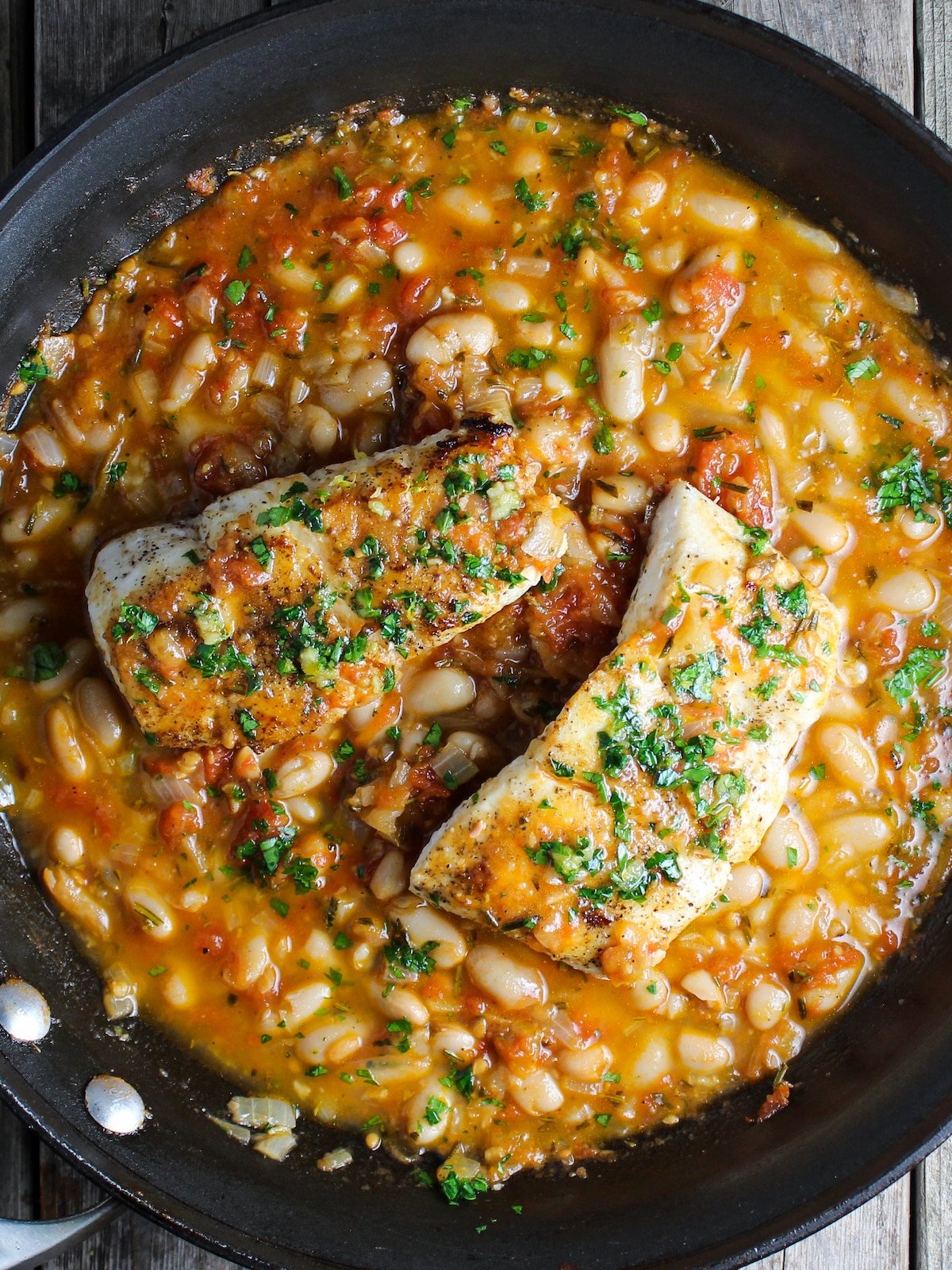 In case you've never experienced it, allow me to strongly suggest you give this decadent white fish a try.
It's a very mild-tasting fish, very low in fat, with a firm meaty texture. So way better than the most tender succulent chicken you've ever enjoyed.
Not to mention, halibut has the most beautiful white-colored flesh you can imagine.
Isn't she gorgeous?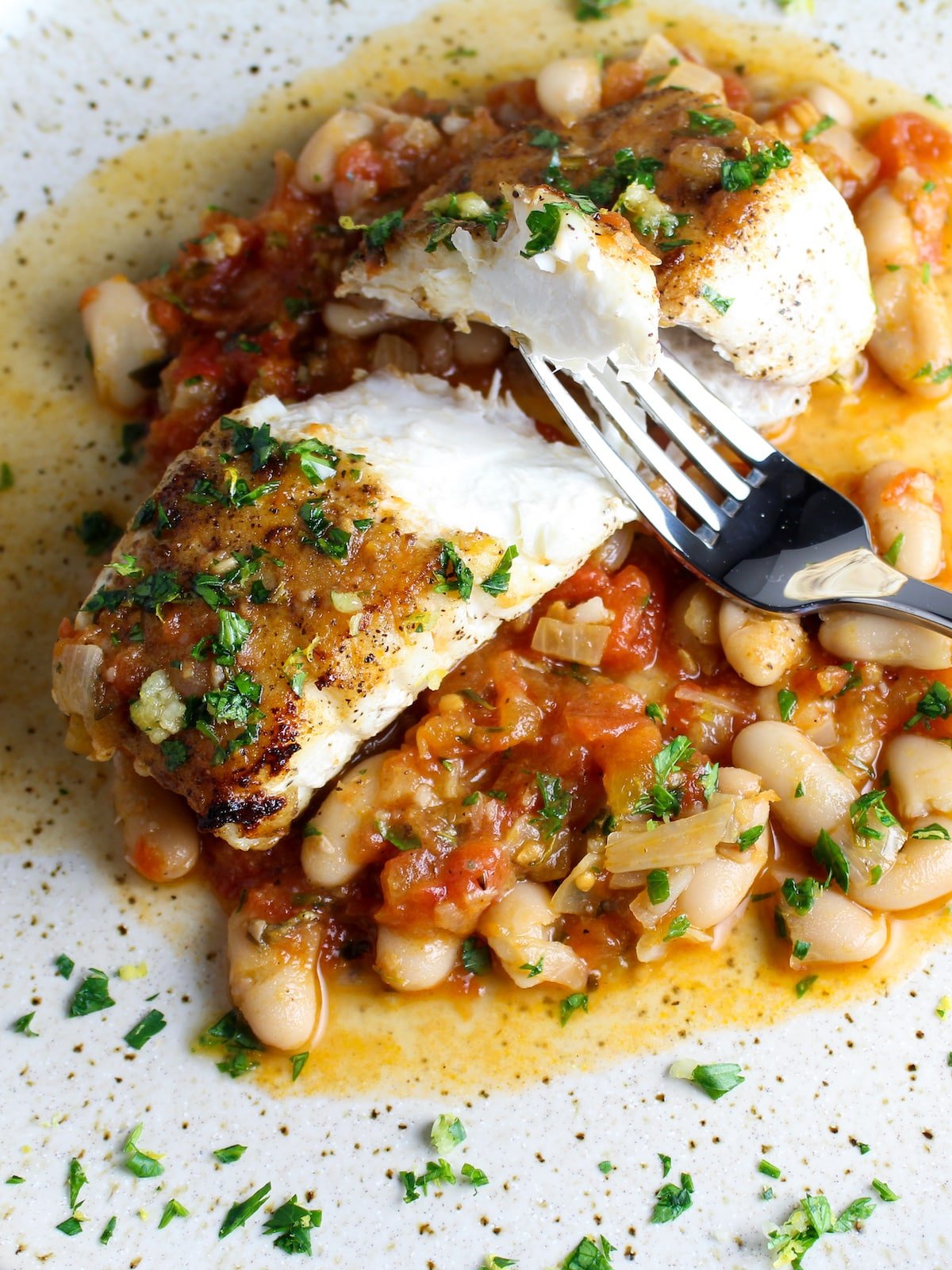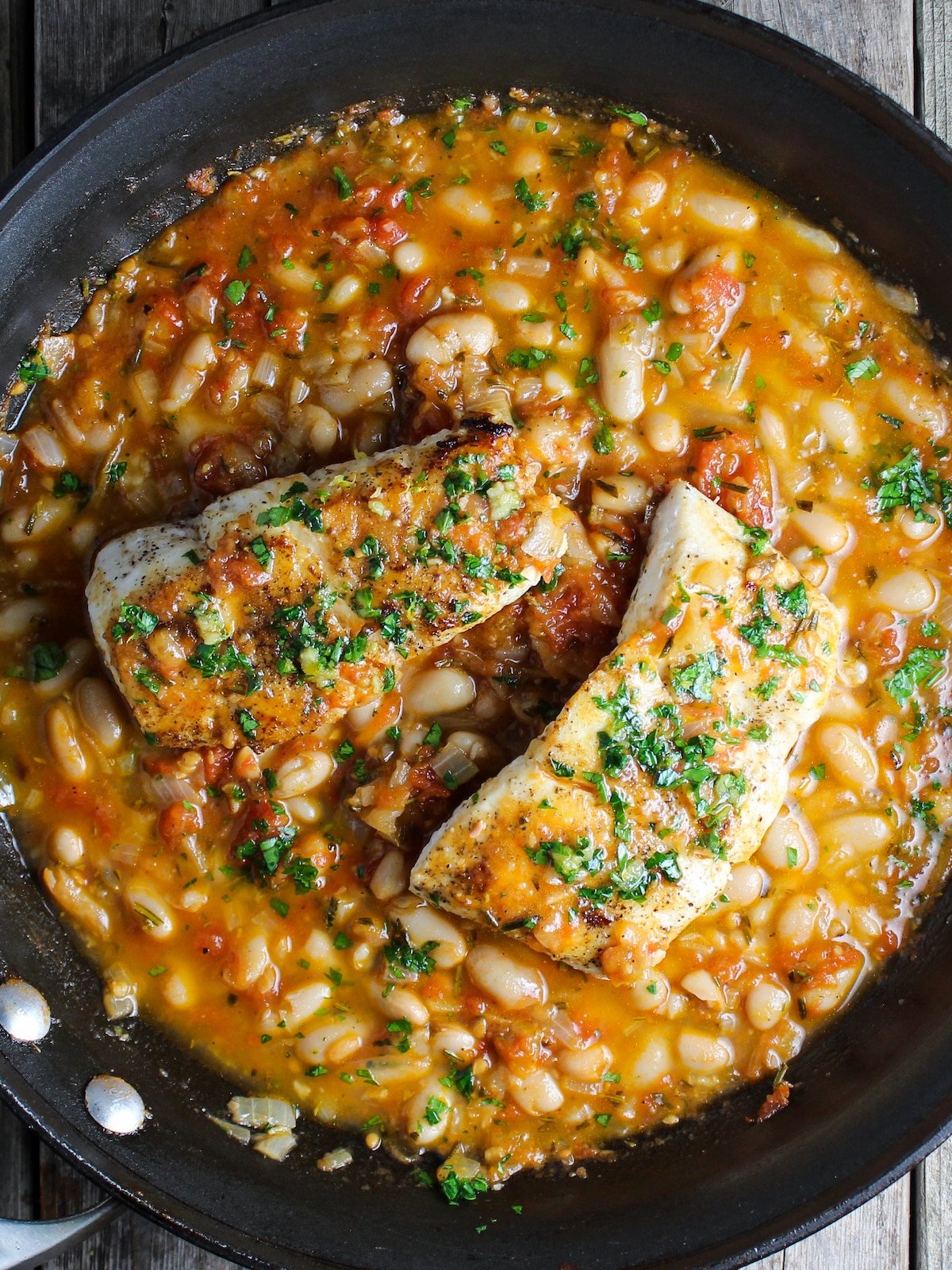 Fresh halibut requires little to no seasoning to make it taste phenomenal.
It can totally hold its own all by itself.
Honestly, it tastes like the best fish you ever but then three times better than that.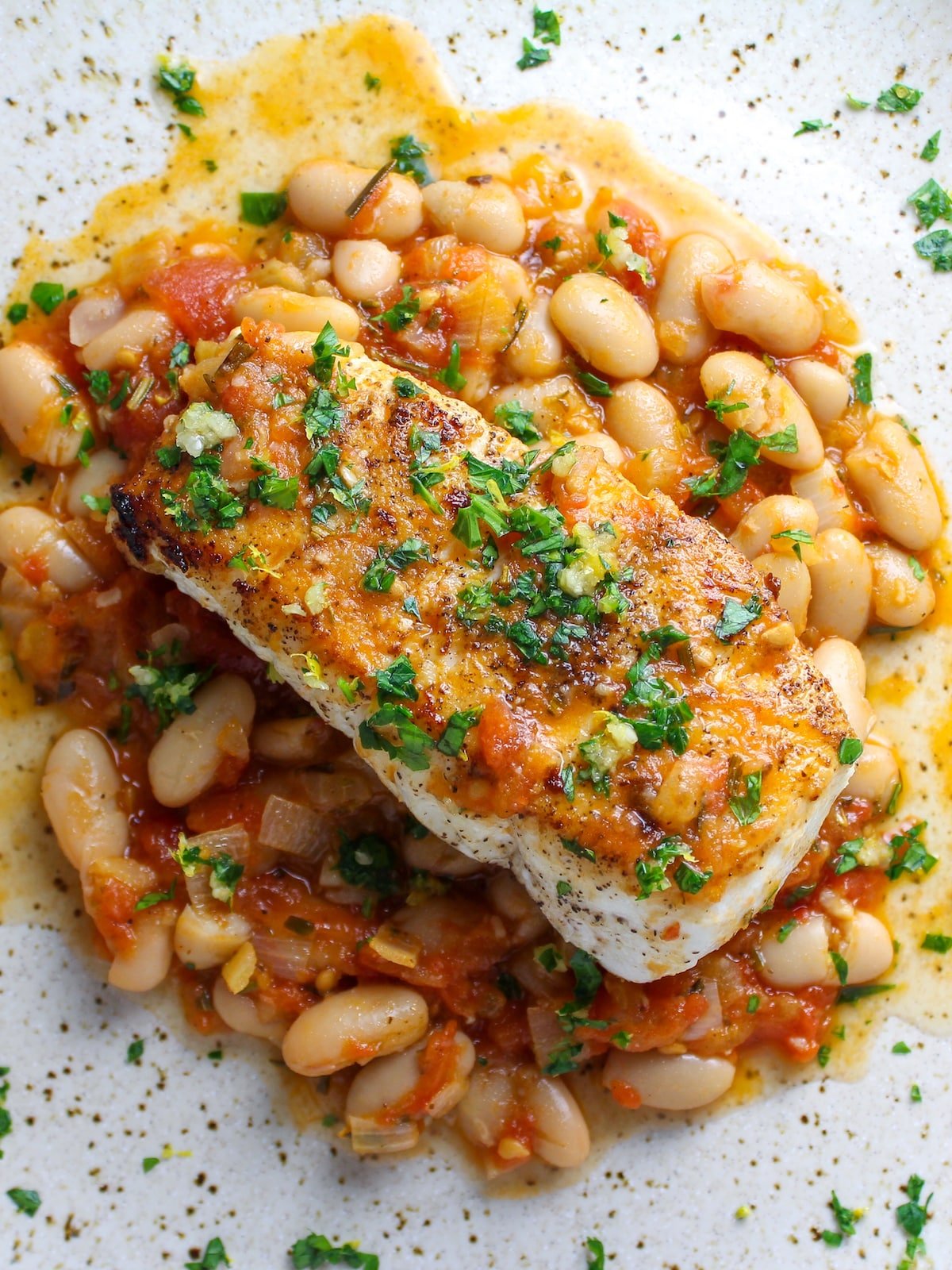 Not only is halibut my favorite fish, but this recipe is also my favorite way to prepare it.
I've gotta tell you that you hit the jackpot with this recipe, and won the lottery, and that's not all… you also won a brand new set of Ginsu Knives!
Snaps for you!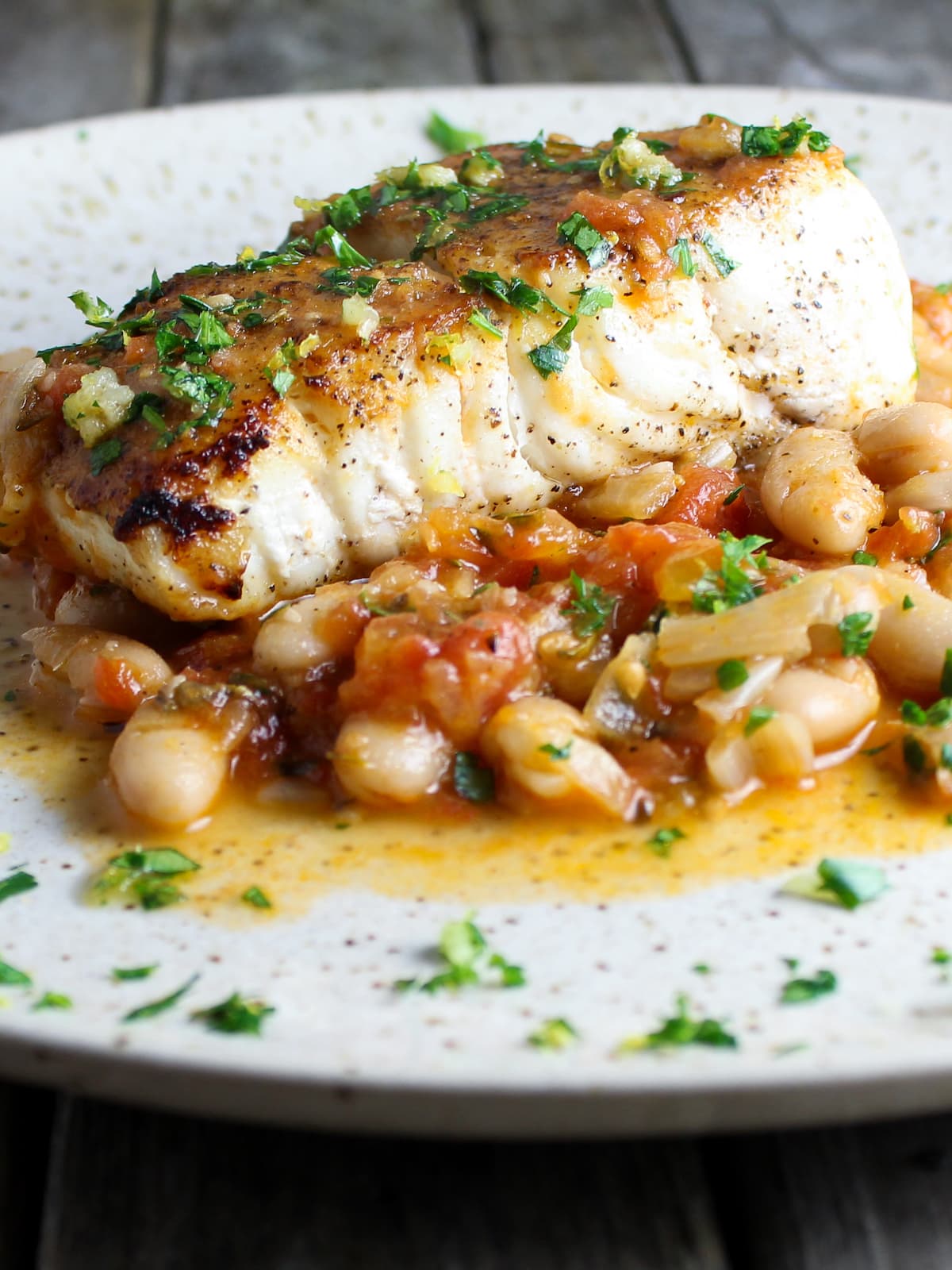 Ingredients for this Halibut Recipe
Pan-Seared Halibut:
2 pounds fresh halibut, cut into 4 portions
salt and pepper
olive oil
Sauteed White Beans:
olive oil
finely chopped yellow onion
minced garlic cloves
chopped fresh rosemary
fresh lemon juice
salt and pepper white cannellini beans
chicken broth or stock
cherry tomatoes cut in half
grated parmesan cheese (more for garnish if desired)
Gremolata Topping:
finely chopped fresh flat-leaf parsley
minced garlic
freshly grated lemon zest
Freshly ground black pepper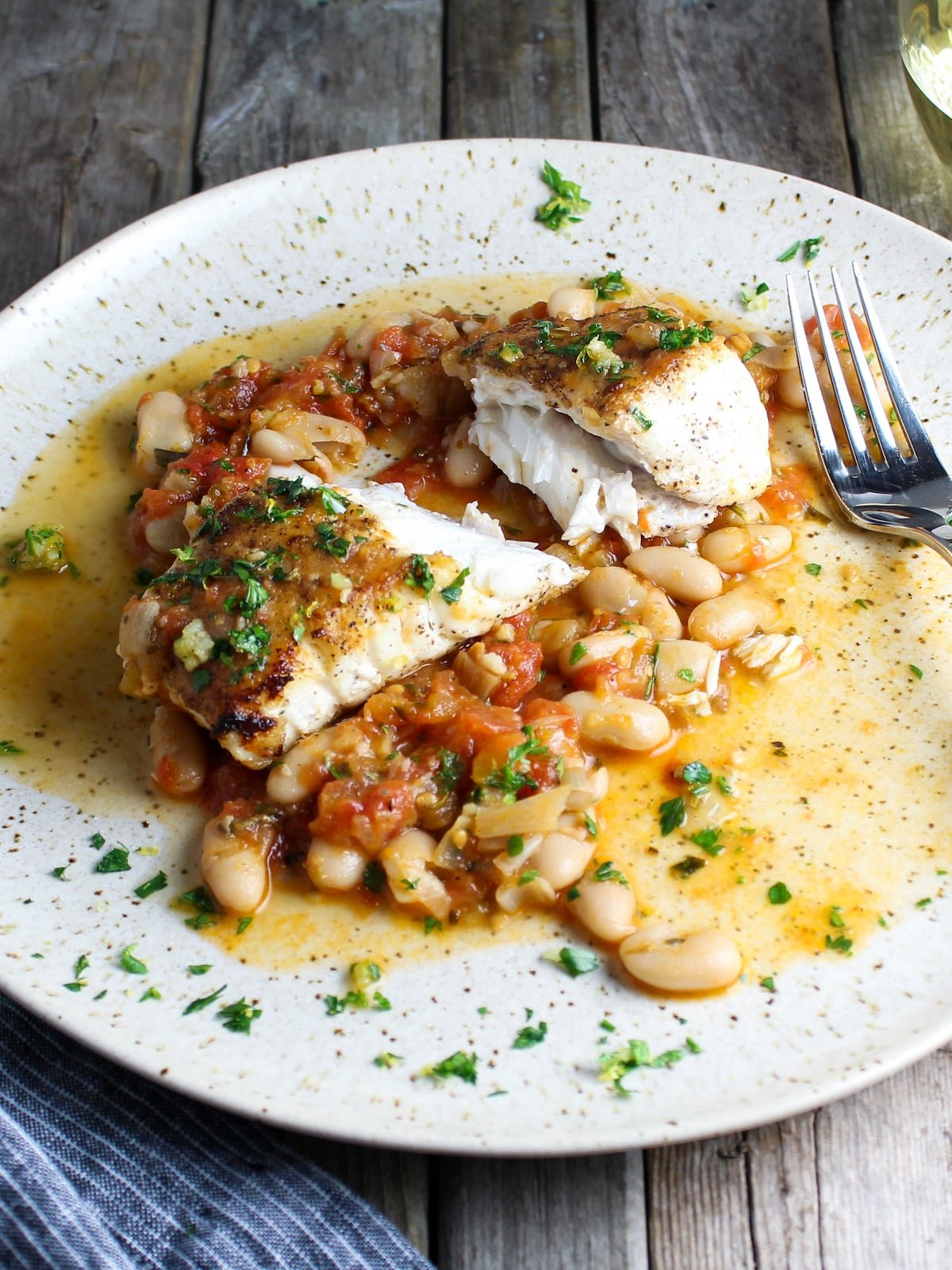 How to make Pan Seared Halibut with White Beans and Gremolata
There's so much to love about this recipe… the sautéed onions and garlic in olive oil provide a tasty base of flavors. The cherry tomatoes are gently cooked until they release their juices and mingle with the lemon juice and rosemary.
All the while, the cannellini beans are sitting there acting like the perfect sponge - soaking up all that yummy flavor.
Then there's the flaky halibut, AKA star of the show, seared to perfection on both sides and added to this saucy mouthwatering mix.
Topped off with gremolata... minced garlic, lemon zest, and finely chopped parsley.
In a word - amazing!
In 6 words: The. Best. Fish. You've. Ever. Tasted.
And this delicious Halibut Fish recipe is all yours... just scroll down below for all the details.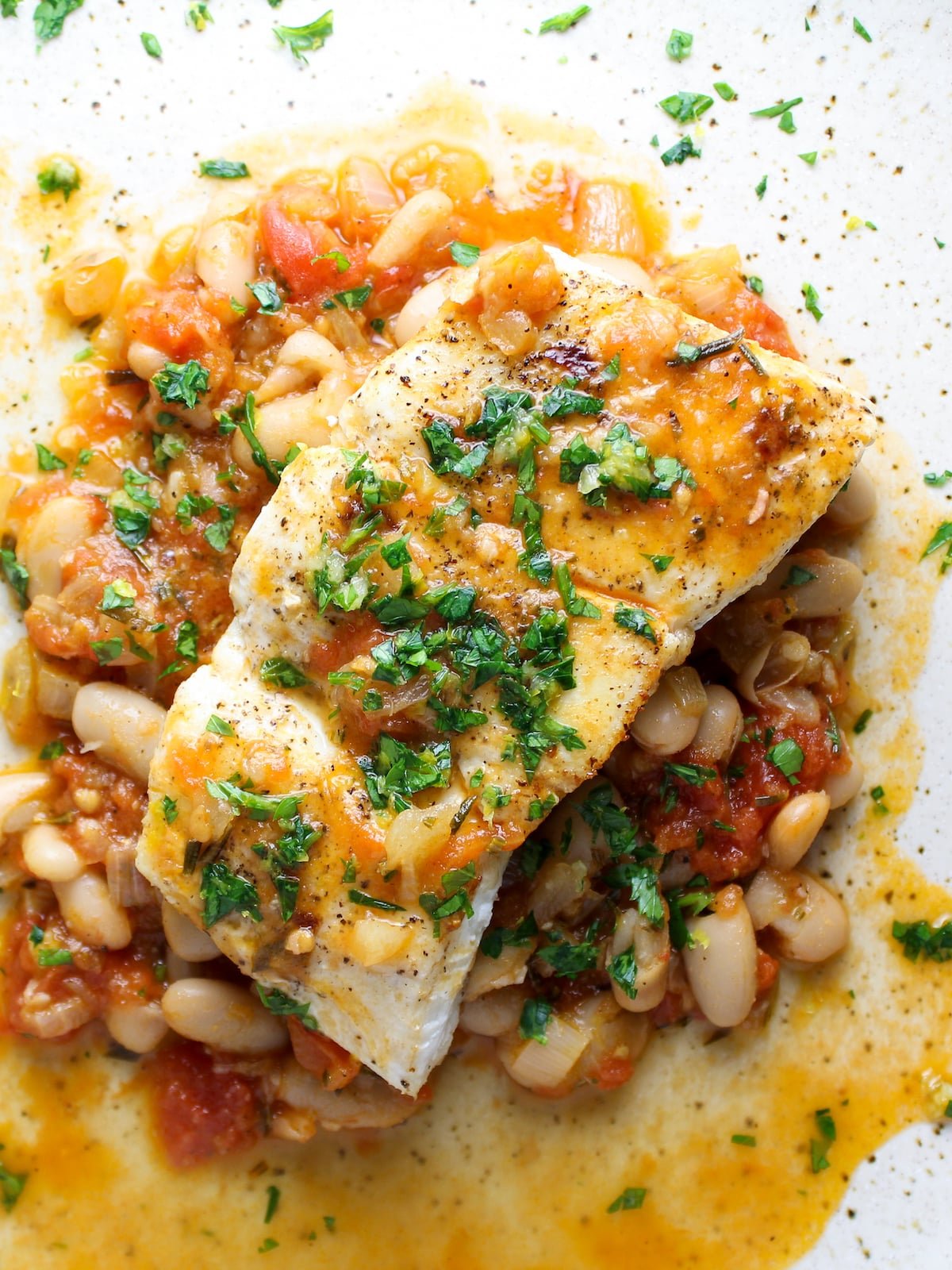 I know this Pan Seared Halibut with White Beans and Gremolata will soon become one of your all-time favorite meals.
And since halibut season will only last so long, get it while you can my friend!
You're gonna love it!
Here are some other types of fish you can swap out for Halibut:
Cod - It has a mild flavor and is a dense, flaky white fish. And is readily available fresh or frozen and economical as well.
Tilapia - This is a low-cost and mild-tasting white fish.
Mahi-Mahi - This is a firm, lean white fish that comes from warm waters off of places like Hawaii or the Gulf of Mexico. It's a less expensive alternative to Halibut.
Grouper - This is a lean, firm, white-fleshed fish with a meaty texture and large flakes. the flavor has been called almost chicken-like with a little fishy taste.
Haddock - This fish is very similar to Cod except it's more flavorful and the fillets are thinner and more fragile.
Other Delicious Seafood Recipes:
Yield: 4 servings
Pan Seared Halibut With White Beans And Gremolata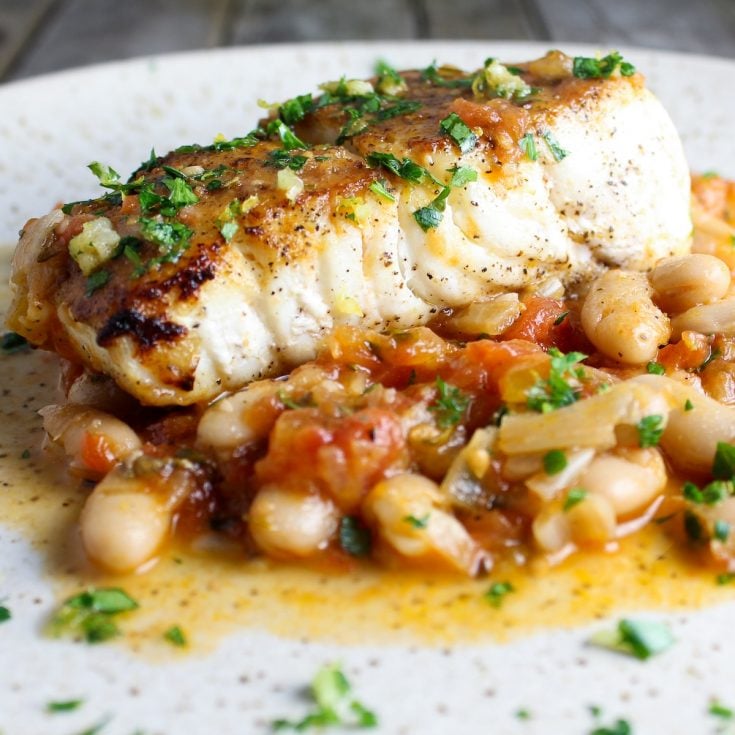 Delcious pan-seared halibut served over sautéed onions, garlic, cherry tomatoes, and cannellini beans. Finished with a zesty gremolata of garlic, lemon, and parsley.
Ingredients
For The Gremolata:
2 tablespoons finely chopped fresh flat-leaf parsley
1 teaspoon minced garlic, (about 1 large clove)
1 teaspoon freshly grated lemon zest
Freshly ground black pepper to taste
For The White Beans:
1 tablespoon olive oil
1 small finely chopped onion
3 garlic cloves minced
1 tablespoon chopped fresh rosemary
2 tablespoons fresh lemon juice
½ teaspoon salt and pepper
2 - 15 ounce cans of white cannellini beans, drained and rinsed
11/2 cups chicken broth or stock (more if needed)
1 pint cherry tomatoes, halved
1 tablespoon grated parmesan cheese (more for garnish if desired)
For The Halibut:
2 pounds fresh halibut, cut into 4 portions
salt and pepper
1-2 tablespoon olive oil
Instructions
For The Gremolata:
In a small bowl stir together gremolata ingredients, and season with pepper to taste
Set aside until ready to garnish and serve the fish
For The White Beans:
Add 1 tablespoon olive oil to a saucepan over medium heat.
Add chopped onion, and cook for 3-4 minutes.
Add the minced garlic and cook for 1 more minute. Stir in the beans, fresh rosemary, chicken stock, lemon juice, and salt and pepper, then cover and simmer for 8-10 minutes.
Add in the tomatoes, cover, and saute until the tomatoes release their juices and the sauce comes together about 6-7 more minutes.
Stir in the parmesan cheese.
For The Halibut:
Season the fish well with salt and pepper.
Add olive oil to a separate large saute pan over medium-high heat.
Sear the fish for 3 to 4 minutes on each side.
Serve the fish over the sauteed white beans and tomatoes.
Garnish with the gremolata and enjoy!
Notes
Add more chicken stock to the beans if they need more liquid during the cooking process.
Nutrition Information
Yield
4
Serving Size
4 ounces of halibut, plus beans
Amount Per Serving
Calories

419
Total Fat

16g
Saturated Fat

3g
Trans Fat

0g
Unsaturated Fat

11g
Cholesterol

146mg
Sodium

1795mg
Carbohydrates

11g
Fiber

2g
Sugar

5g
Protein

56g
This nutrition card uses an estimate provided by an online nutrition calculator. This estimate is not a substitute for a professional nutritionist's advice!