This Pan Seared Halibut With White Beans And Gremolata will soon become one of your all-time favorite meals!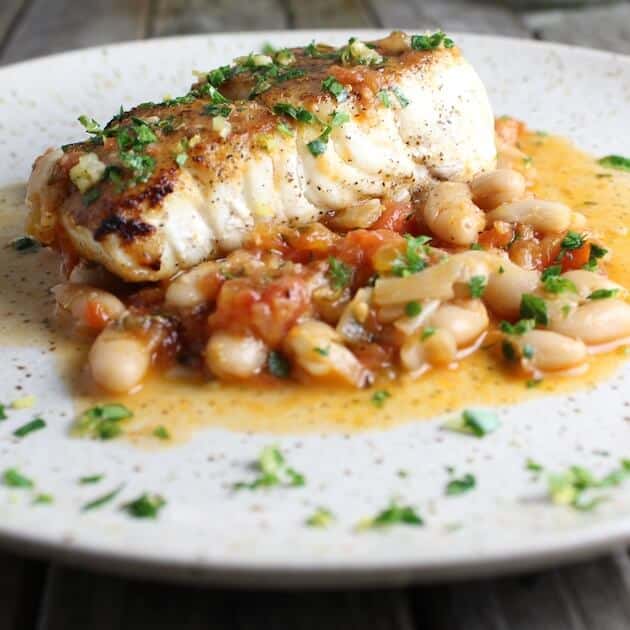 I like Hal-i-but and I cannot lie!
Sorry, I couldn't help myself. But for reals - I do love Halibut!? It is by far my favorite fish to eat. Ever. And I eat it as often as I possibly can.
I'm not the only Halibut lover – oh no – it is a highly sought after delicacy. And as of March 19th Halibut season commenced for the U.S. and Canada and it will end November 7th.
So this means that commercial fisheries can began to fill their IFQ's (Individual Fishing Quotas) for the year. Which really just means fresh Halibut for you and me!!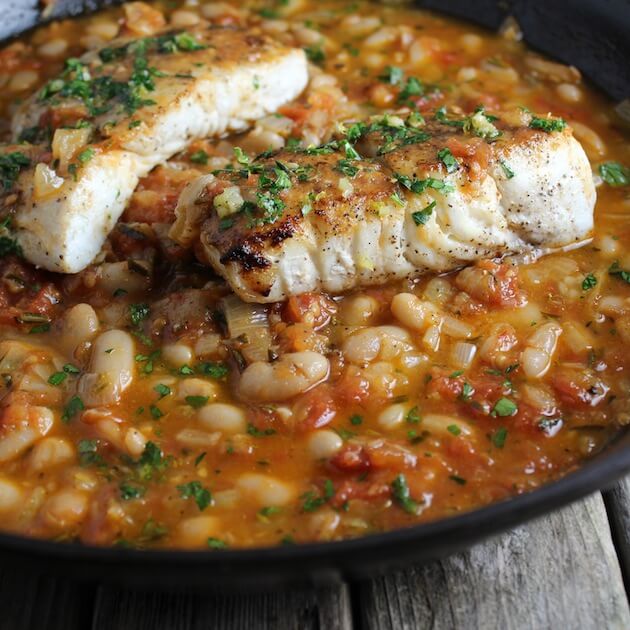 In case you've never experienced it, allow me fill you in on all of its luscious, flaky elegance.
Halibut is a member of the flatfish family 'cause – you guessed it – it is a flat fish. In fact it is the largest flatfish in the ocean. The average Halibut weighs between 30-50 pounds, but can get up to 500. WHOA! That's a lot of fish! Come to mama!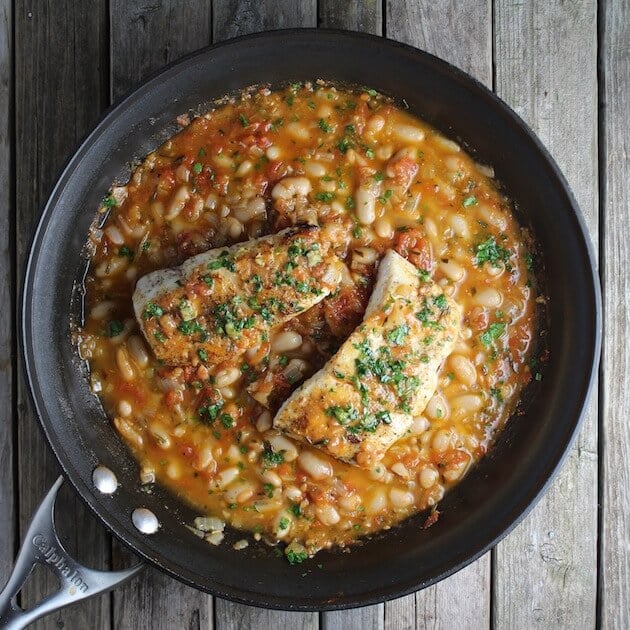 It's a very mild tasting fish, very low in fat, with a firm meaty texture. AND it has the most beautiful white colored flesh you can imagine. The saying really should be "As pure as the caught halibut flesh."
Ok – maybe not – cause it doesn't really have a very good ring to it and the word flesh, well, just shouldn't be said that often.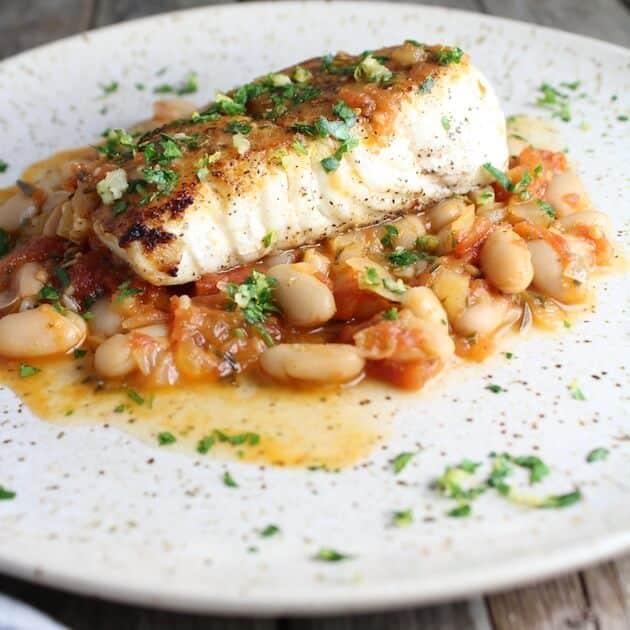 Fresh Halibut requires little to no seasoning to make it taste phenomenal. So basically it tastes like chicken. Just kidding! LOL But for real, I actually think it tastes better than chicken.
Not only is Halibut my favorite fish, this recipe is my favorite way to prepare it. So basically you hit jackpot, won the lottery and that's not all… you won a brand new set of Ginsu Knives!! Snaps for you!
There's so much to love about this recipe…The sautéed onions and garlic in olive oil provide a tasty base of flavors. The cherry tomatoes are gently cooked until they release their juices and mingle with the lemon juice and rosemary.
All the while, the cannellini beans are sitting there acting like the perfect sponge - soaking up all that yummy flavor. Then there's the Halibut, AKA star of the show, seared to perfection on both sides and added to this saucy mouthwatering mix.
Topped off with a gremolata of garlic, lemon zest and parsley. In a word - amazing.✨ In 6 words: The. Best. Fish. You've. Ever. Eaten.
I know this Pan Seared Halibut With White Beans And Gremolata will soon become one of your all-time favorite meals. And Halibut season will only last so long, so get it while the getting is good! You're gonna love it!
Yield: 6 servings
Pan Seared Halibut With White Beans And Gremolata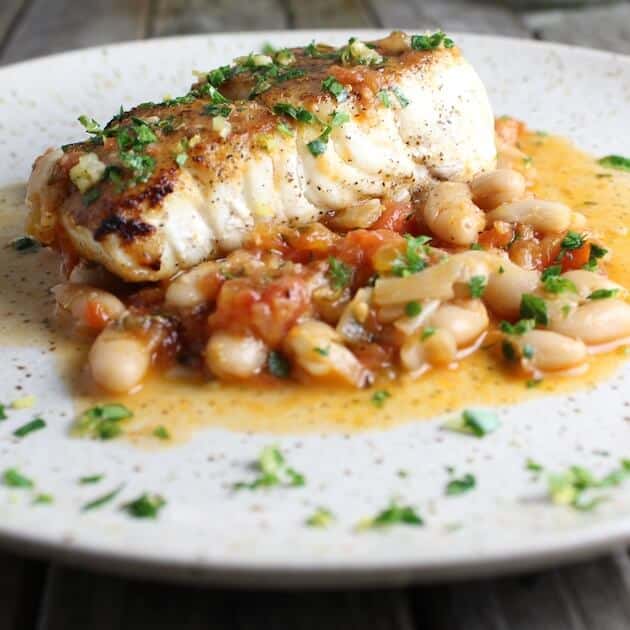 Pan Seared Halibut: seared to perfection in sautéed onions, garlic, cherry tomatoes, & cannellinis. Finished w/Gremolata of garlic, lemon & parsley.
Ingredients
For The Gremolata:
2 tablespoons finely chopped fresh flat-leaf parsley
1 teaspoon minced garlic, (about 1 large clove)
1 teaspoon freshly grated lemon zest
Freshly ground black pepper to taste
For The White Beans:
1 tablespoon olive oil
⅓ cup finely chopped onion
½ teaspoon salt and pepper
3 cloves garlic,, minced
2 14 ounce cans rinsed and drained white cannelini beans
1 tablespoon finely chopped fresh rosemary
2 tablespoons fresh lemon juice
¾ pound campari tomatoes, roughly chopped (about 6-8 campari tomatoes depending on their size)
For The Halibut:
Salt and pepper
2 tablespoons olive oil
1 ½ pounds halibut filet, (Four 6-ounce filets)
Instructions
For The Gremolata:
In a small bowl stir together gremolata ingredients, and season with pepper to taste
Set aside until ready to garnish and serve the fish
For The White Beans:
Add 1 tablespoon olive oil to a sauce pan over medium heat.
Add chopped onion, sprinkle some of the salt & pepper, and cook for 4 minutes.
Add the minced garlic and cook for 1 more minute. Stir in the beans, fresh rosemary, chicken stock, and lemon, then simmer for 3-4 minutes.
Add in the chopped tomatoes, the rest of salt & pepper, then saute until the sauce comes together, about 3 more minutes.
For The Halibut:
Season the fish well with salt and pepper.
Add olive oil to a separate large saute pan over medium-high heat.
Sear the fish for 3 to 4 minutes on each side.
Add the fish to the pan containing the white beans, and spoon some of the mixture over the fish.
Serve hot and garnish with gremolata.
Nutrition Information
Yield
6
Serving Size
4 ounces of halibut, plus beans
Amount Per Serving
Calories

290
Total Fat

9g
Saturated Fat

1g
Unsaturated Fat

0g
Cholesterol

56mg
Sodium

616mg
Carbohydrates

25g
Fiber

7g
Sugar

2g
Protein

30g