These yummy Tuna Cakes with Jalapeño and Cilantro are low on carbs and calories and big on flavor!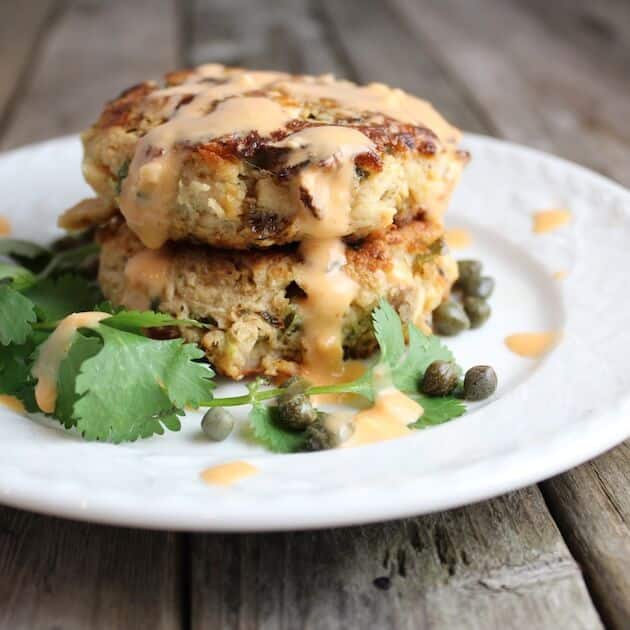 Simple, easy tuna cakes from a can!
These tuna croquettes can also be gluten free and just as delicious if you swap out almond meal for the breadcrumbs. Plus, they are made from canned tuna so they're totally budget friendly! I know you're gonna love them as much as I do!
This post contains affiliate links… read more here.
The one thing we all have in common is our need to fuel our bodies – all the time. It never ends. The sun will rise and many of us will stuff our face at least 3 times a day. Sometimes I get tired of eating. Wouldn't it be easier if I could just hook up an IV and keep on stepping?
Well, maybe it's not the eating that I get tired of but the preparing that sometimes wears me out. Can I get a woop woop!
If I really think about it, it's not me so much but other "people" that live in my house that require, let's say, more variety and really just substance.
And by substance I guess I mean protein! I know I've mentioned Sanderino's carnivorous ways previously.

Truthfully, I swear I could eat a salad or soup for every meal, err day – yep – even breakfast. With a side of coffee of course!
When the B man travels it's a bit exciting, I'm like – woohoo – roaster chicken and arugula salad every night!! Less time pulling feathers off chickens and more time checking out food blogs and watching Poldark!! Oh Poldark.

I must digress for a quick minute…I've mentioned Poldark before but I'm not sure I did it justice. And I'm concerned that you may be missing out on, well, one of the best TV series to come along since color TV. People for the love of PBS, Mr. Darcy, and Downton Abbey – click here for Season 1 of the most amazing, tea-drinking, family-feuding, horseback-riding show in the history of time
. ✨✨ Is my minute up? Is anyone keeping track of all the fantastic tips I shower you with?? #humblebrag.
Moving on.
These Tuna patties are a huge time saver!
Basically it comes down to the simple fact that life is busy. Our time is very precious, and a bit elusive. We all need quick, easy, inexpensive, delicious, recipes to make for easy weeknight dinners.
Like, for example, my Tuna Cakes. Think crab cakes but way cheaper, less seafoody and more tasty.
These Tuna Cakes are so easy and mouthwatering I just had to share the recipe with you. I've been making them forever. They are super quick to mix together and they take just 3 minutes a side to cook in my trusty non-stick pan
.
In case you're worried about them being spicy, when you remove the seeds and veins from the Jalapeño you're basically removing the heat. After it gets cooked, it ends up with an earthy green pepper flavor. If you're still not convinced just use a green pepper instead. You do you.
The greatest of all canned tuna recipes!
You may be surprised to know that you use canned tuna for these meaty biscuits. Yep – that's the inexpensive part. Interestingly enough, people that don't really care for seafood always like these Tuna Cakes because they're related to our old friend that we all grew up on: tuna salad sandwiches!
If you didn't have that experience, I'm sorry… there's no time like the present, so get on the tuna train! First stop – Tuna Cake Towne! Let's go!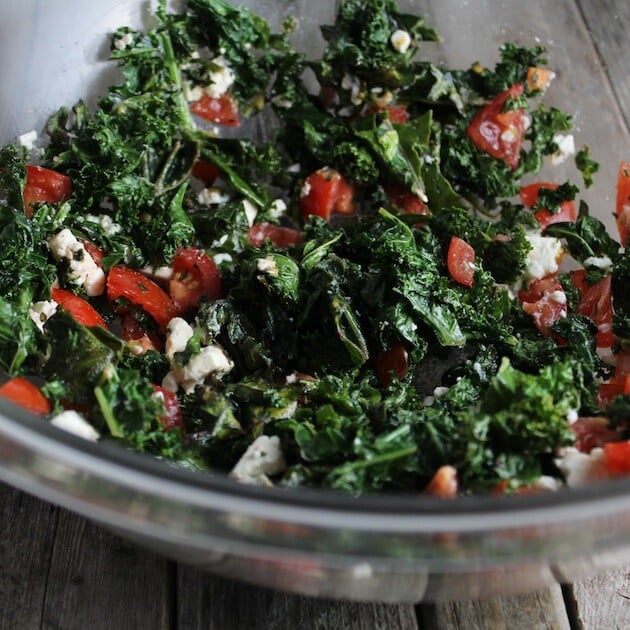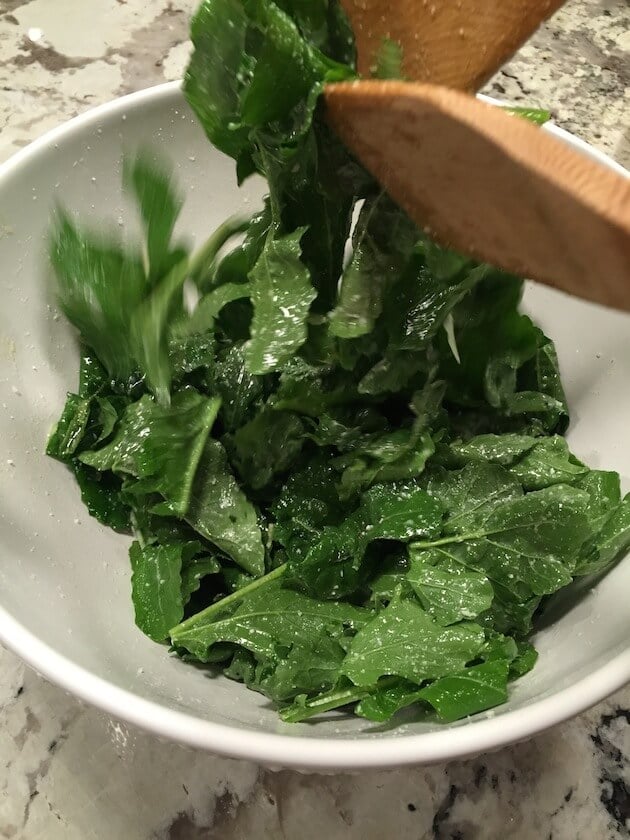 PS: I like to serve my Tuna cakes over a simple Arugula or Kale Salad. If you're a saucy kind of person you can make a simple Aioli for them with mayo and lemon juice. And if you're a little spicy throw in some Sriracha and cayenne pepper and get turnt up!
Tuna Cakes Recipe
Yield: 14 Servings
Tuna Cakes with Jalapenos and Cilantro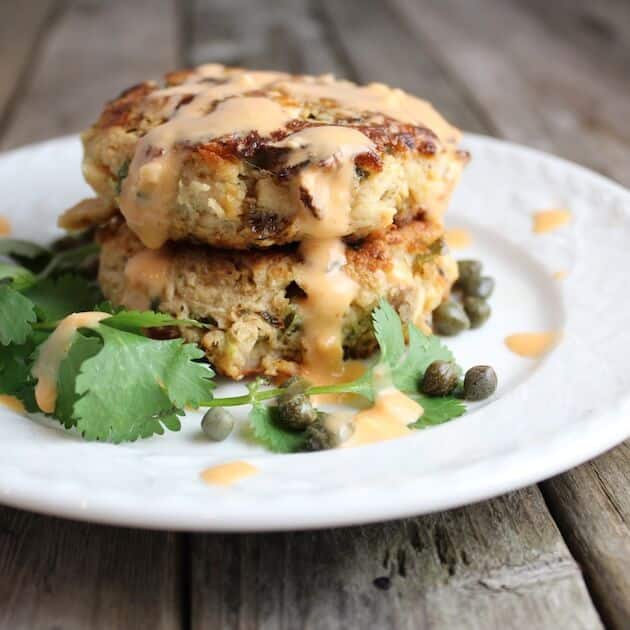 These yummy Tuna Cakes with Jalapeño and Cilantro are low on carbs and calories and big on flavor!

Prep Time 15 minutes

Cook Time 25 minutes

Total Time 40 minutes
Ingredients
25 ounces canned solid white tuna in water, (five 5-ounce cans)
2 large eggs, lightly beaten
1 bunch of fresh cilantro, coarsely chopped, plus a few sprigs saved for garnish
1/3 cup plus 2 tablespoons, plain dry breadcrumbs, (or almond meal for a gluten free option)
4 tablespoons Canola mayonnaise, (Greek yogurt can be used instead)
3 tablespoons fresh lemon juice, (about 1 to 1 1/2 lemons)
3 jalapeno peppers, finely chopped, ribs and seeds removed (unless you like it a little spicy)
1 large onion finely chopped
4 tablespoons extra light olive oil
1 teaspoon salt
1/2 teaspoon pepper
Instructions
In a large strainer, in the sink over a large bowl, add the 5 cans of tuna and let them drain while you prepare the following ingredients.
Sauté the onions for about 8 minutes in a sauté pan, until translucent. Set aside and let cool.
While the onions are cooking, in a large mixing bowl, add the mayo, lemon juice, salt and pepper and whisk till combined. Then add cilantro and peppers to the mixture.
Add the tuna, beaten eggs, cooked onions and breadcrumbs, and mix gently until ingredients just hold together.
In a large nonstick skillet, heat the olive oil on high for about a minute, then turn it down to medium high.
Working in batches, using a packed one-third cup measure of tuna mixture per cake, cook cakes until golden brown and crisp on the outside, about 3 minutes per side. You may need to add a tablespoon of oil to the pan between batches. Serve hot, or warm over a simple arugula or kale salad. Recipe makes 14-16 patties.
Notes
Scoop the tuna mixture with a one third measuring cup, pat it a little to make sure it's formed tightly, then place it in the sauté pan.
Use a grease screen to cut down on the oil splatter while cooking the cakes.
Don't overcrowd the pan when cooking the cakes.  They will take longer and flipping them over will be more difficult.  I use a 10inch Calphalon pan and cook 4 patties at a time.
There is not much filler in these cakes, which makes them a little loose. Be sure to gently flip them over when cooking.
Nutrition Information
Yield
14
Serving Size
1 tuna cake
Amount Per Serving Calories 112Total Fat 6gSaturated Fat 1gUnsaturated Fat 0gCholesterol 42mgSodium 349mgCarbohydrates 3gProtein 11g

Yield: 10 servings
Sriracha Aioli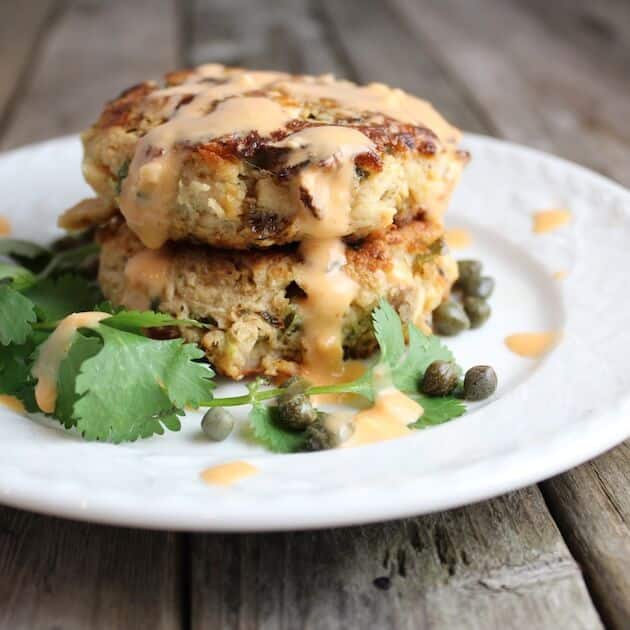 If spicy isn't your thing, just omit the the Sriracha and cayenne.

Prep Time 5 minutes

Cook Time 1 minute

Total Time 6 minutes
Ingredients
3/4 cup light mayonnaise
2 cloves small garlic, minced
2 tablespoons lemon juice
1/2 teaspoon salt
1/2 teaspoon ground black pepper
2 tablespoons of Sriracha
About 3 shakes of cayenne pepper
Instructions
Whisk together all the ingredients in a bowl. Cover and refrigerate for at least 30 minutes before serving.
Nutrition Information
Yield
10
Serving Size
1 tablespoon
Amount Per Serving Calories 42Total Fat 3gUnsaturated Fat 0gCholesterol 2mgSodium 310mgCarbohydrates 2g

PS: if you want to try something similar with salmon instead, check out these Low Carb Salmon Patties!