Polenta is like the Italian version of mashed potatoes. It's great by itself but it's wonderful with a yummy ragu or the addition of cheese and herbs - like this Parmesan Polenta.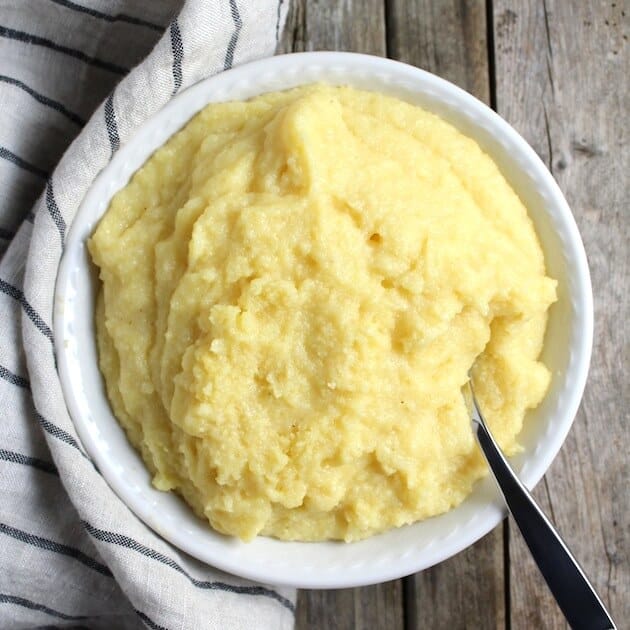 It's a common dish in Northern Italy and I love that it's so versatile… It can either be eaten freshly cooked, like a thick porridge, or it can be cooled and then sliced for frying, grilling, or baking.

My favorite way to eat Polenta is when it's creamy, spreadable and the texture of soft-scrambled eggs. And of course with the addition of Parmesan cheese – I just love me some cheese!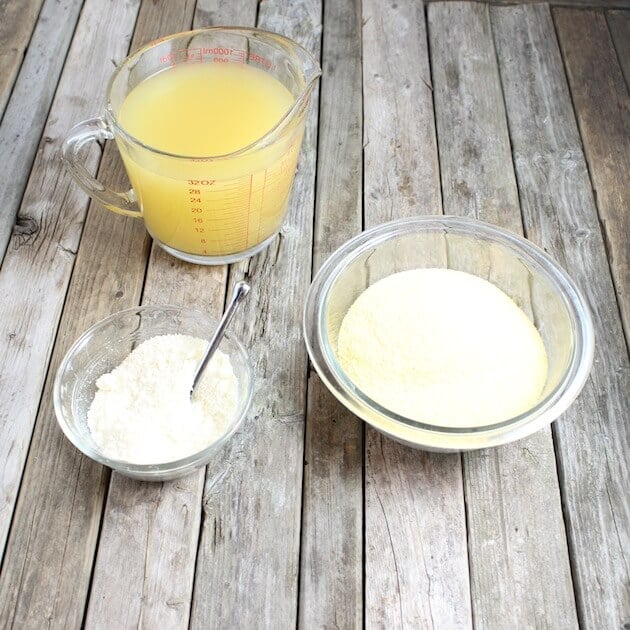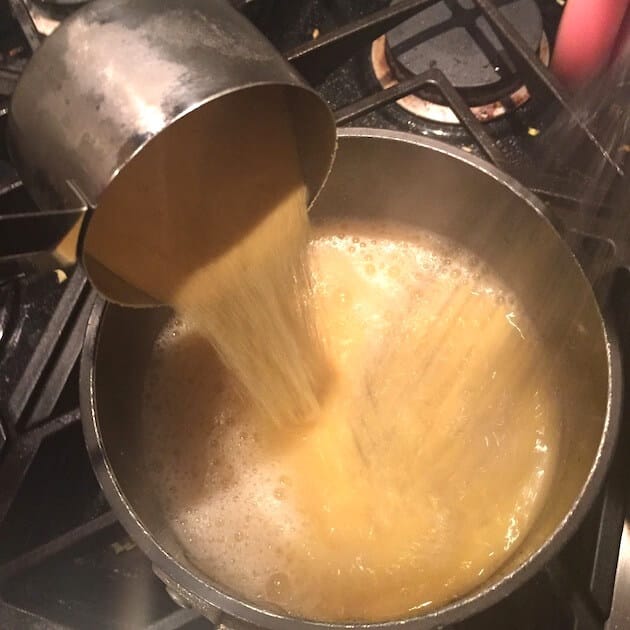 You can find polenta in several forms… "instant" or "quick" polenta that's made from incredibly fine ground pre-cooked corn meal, "precooked" polenta that is still moist – and ready to serve – it comes in the long tube-shaped packaging; and then there's cornmeal or coarse-ground polenta meal that has never been cooked and requires a bit more attention - like an hour of attention.⏰ I usually go with the quick polenta. I'm sure the purists out there may frown upon this, but meals shouldn't take 4 hours to prepare! If they did, I would never eat the food I make… I would be snacking on so much popcorn and trail mix by the time it was finished that I wouldn't even be hungry!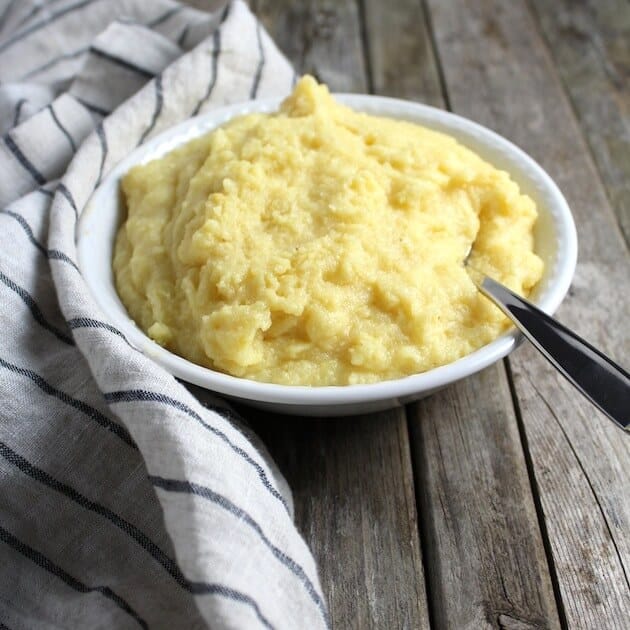 As I was saying before I distracted myself: I like quick polenta because it's... quick. Profound, right? As you can tell I'm very deep, many layers like an onion. You understand I'm sure. I would probably also enjoy the coarse-ground polenta but that could take up to an hour, and as I just mentioned, that's not gonna happen. Well, maybe when I move to Italy and start harvesting olives, growing grapes and shepherding a flock of sheep. BAAAAH!!
Hopefully before I leave for my new life in Italy I can finish this blog post about POLENTA!!! OMG!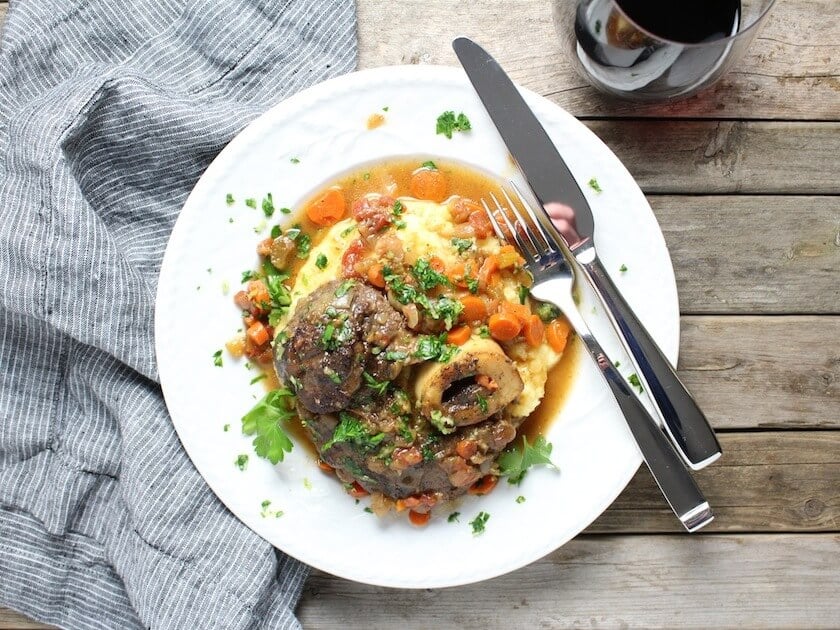 This Parmesan Polenta is a wonderful side dish to serve with so many things. For example: lamb chops with pesto, grilled honey-lemon chicken thighs, rib-eye steak, beef ragu and my personal favorite Veal or Beef Osso Buco. It's like a cheesy sponge that soaks up all the yumminess that it comes in contact with. If you're looking for a new creamy, cheesy side dish meet your new BFF - Parmesan Polenta!!
Yield: 6 servings
Parmesan Polenta
Cheesy salty polenta, perfect side for all the Italian classics!
Ingredients
1 cup Polenta
6 cups chicken stock or chicken broth, (can use water instead)
⅔ cup grated Parmesan cheese
Salt to taste
Instructions
Start by bringing 3 cups of the broth or stock to a boil.
Gradually pour in the polenta, whisking continuously
The liquid will absorb very quickly. Add another cup of stock, then reduce heat to a low simmer
Cook for about three minutes, continuing to add another 1 to 2 cups of liquid as it is absorbed.
Add the grated Parmesan cheese and whisk thoroughly
When desired firmness has been reached remove and serve immediately.
Notes
Check the "ingredients" when buying polenta... look for one that contains pre-cooked cornmeal for fastest cooking.
Polenta can be served runny or very firm, as desired. For a more firm polenta, just allow more liquid to cook off before serving.
Nutrition Information
Yield
6
Serving Size
3-4 ounces
Amount Per Serving
Calories

169
Total Fat

8g
Saturated Fat

4g
Trans Fat

0g
Unsaturated Fat

3g
Cholesterol

22mg
Sodium

918mg
Carbohydrates

14g
Fiber

0g
Sugar

4g
Protein

10g
This nutrition card uses an estimate provided by an online nutrition calculator. This estimate is not a substitute for a professional nutritionist's advice!