Veal Osso Buco or "Awesome Buco" as it is called in our house, is probably one of our favorite meals of all time!  This Italian classic is braised veal shanks in a hearty wine and vegetable-based sauce.
It is saucy and rich and the meat is fall apart tender.  
This Veal Osso Buco Recipe is served with a zesty mixture of parsley, lemon zest, and garlic (known as gremolata in Italian) that finishes this dish off perfectly.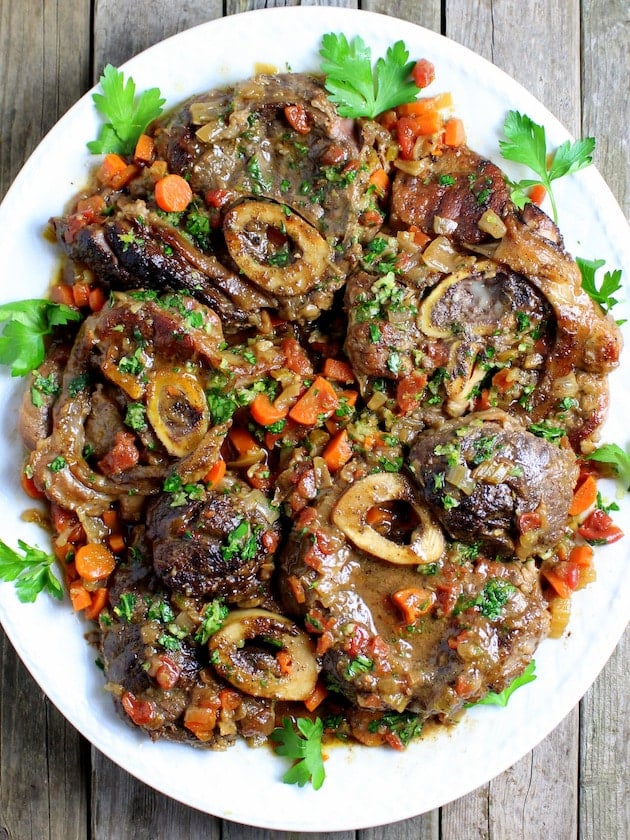 In my opinion, there is nothing quite as delicious as this hearty, and comforting meal.  
It's kind of a special meal so we usually serve it for Christmas, Easter, or New Year's dinner.  Or just because it's been too long and we are totally craving it.  
The dish is traditionally made with veal but this year I used veal and beef for the recipe and I've heard of some people even using pork or lamb.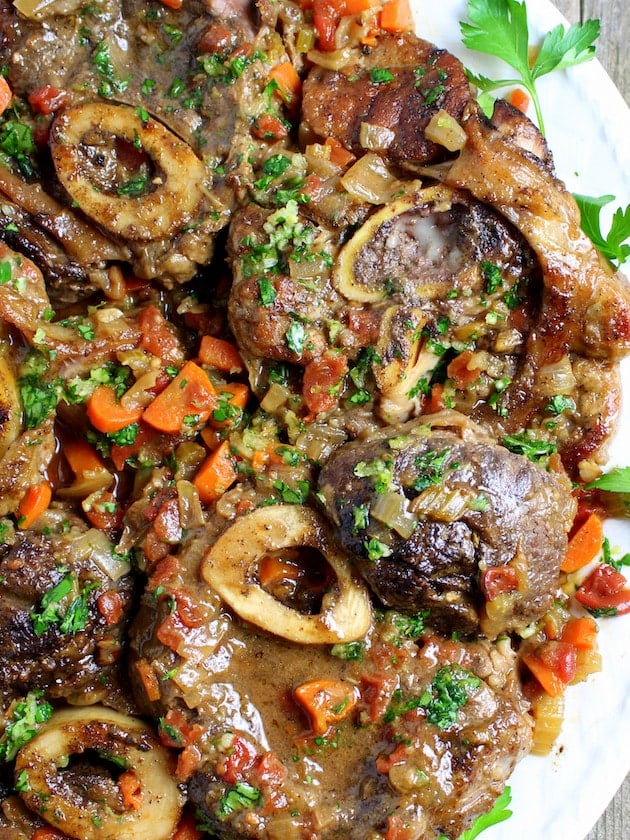 What is Osso Buco? 
Osso buco is an Italian dish and means "hole in the bone," referring to the marrow hole in the center of the veal shank bone.  The cut of meat that is traditionally used for the dish comes from the top of the shin, which is cross-cut into about one-inch thick slices.
It's a classic Milanese dish usually made with veal shanks cooked in a rich broth that includes tomato and wine. YUM!  It's usually finished with lemon zest and parsley and served over creamy risotto.  
But we like to switch it up a bit and serve ours with cheesy Parmesan Polenta -  it is delectable!  
Tip: My one bit of advice: don't wait until the last minute to shop for your veal!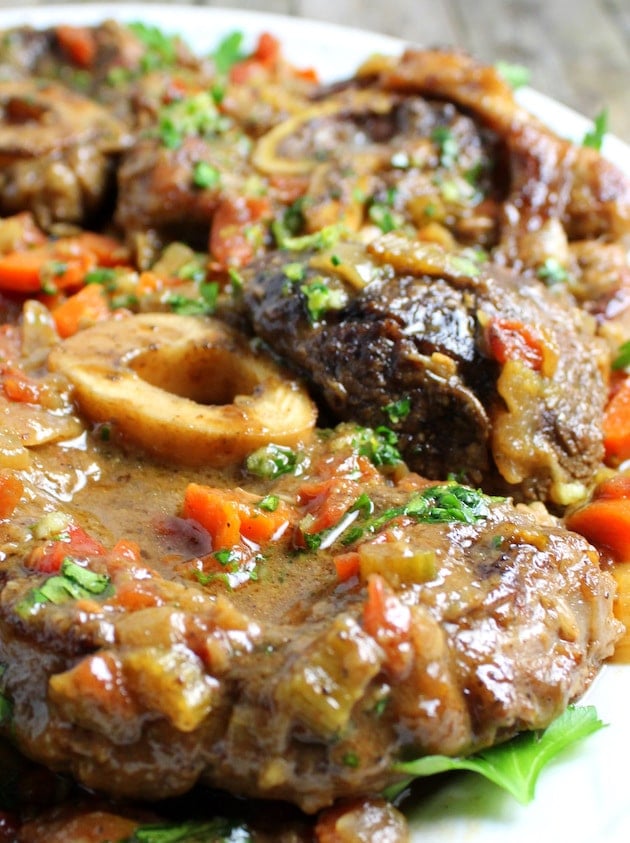 We made a trip to the grocery store on Christmas Eve to do our meal shopping, which I totally don't recommend.  But when your schedule is tight, a girl's gotta do what a girl's gotta do.  
I literally ran to the meat section (in slow motion dodging way too many people and shopping carts... 'cause apparently that's when America does their holiday grocery shopping!) searching and scouring all shanks, cutlets, and chops for veal osso buco.  
Then there it was, one pack of two slices… I continued to search but that was all I could find.  I really needed at least 5-6 cuts of meat; anything less and I would just be torturing myself with only indulging in this heavenly dish once.  Umm no thank you – that would just be criminal.
Back to the searching and scouring... I was focused, determined, and on a mission – and it was called – OSSO BUCO.  My head was in the grocery game and I came to rumble - so bring it mom of 5 with 2 shopping carts (one full of wine and beer)!
I totally get it – not judging.  But I will fight you for my meat!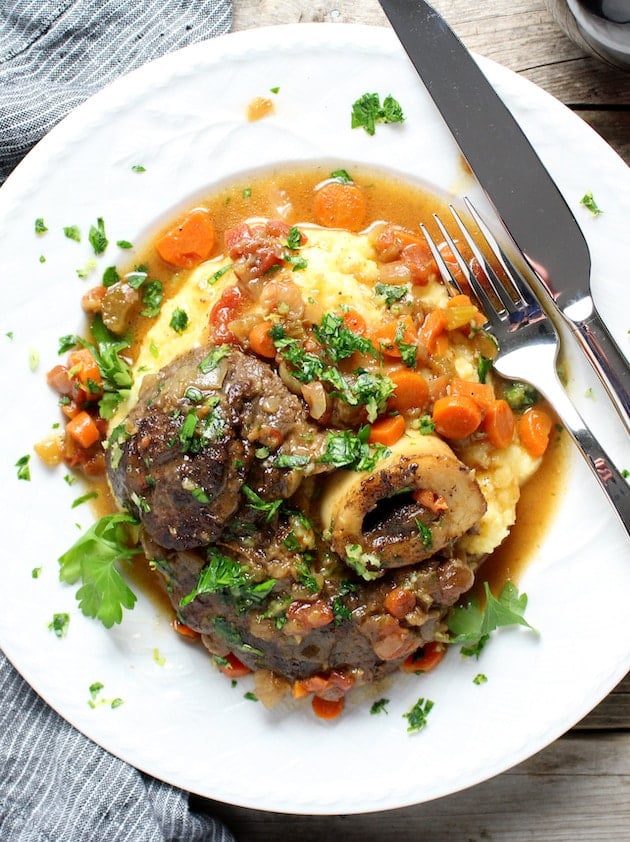 Back to finding the elusive osso buco - I asked the B man to navigate his way through the sea of shoppers over to the butcher counter and see if they had any more veal in stock.  
Also, instructing him that if plan A didn't work, plan B would be to ask for "Beef shins" - something I had recently seen in the meat department that looked like the exact same cut of meat but was beef instead of veal.  Oh and a small but important detail - it costs half the price!  Ain't nothing wrong with that!!  
Much to my disappointment the veal osso buco was completely out of stock BUT the more cost-effective beef shins happened to be available!  Phew!!  Plan B was now in effect.  (I need to interrupt myself for a quick minute with a word of advice: If you don't see the specific meat you're looking for, go to the butcher counter and ask them if they have any more.  Chances are they do, it's just not been restocked - if you don't ask you don't get - people.  The end.)
Fast forward to Christmas day.
How to make Veal Osso Buco:
 Chop onions, celery, and carrots, mince garlic, and prep the meat.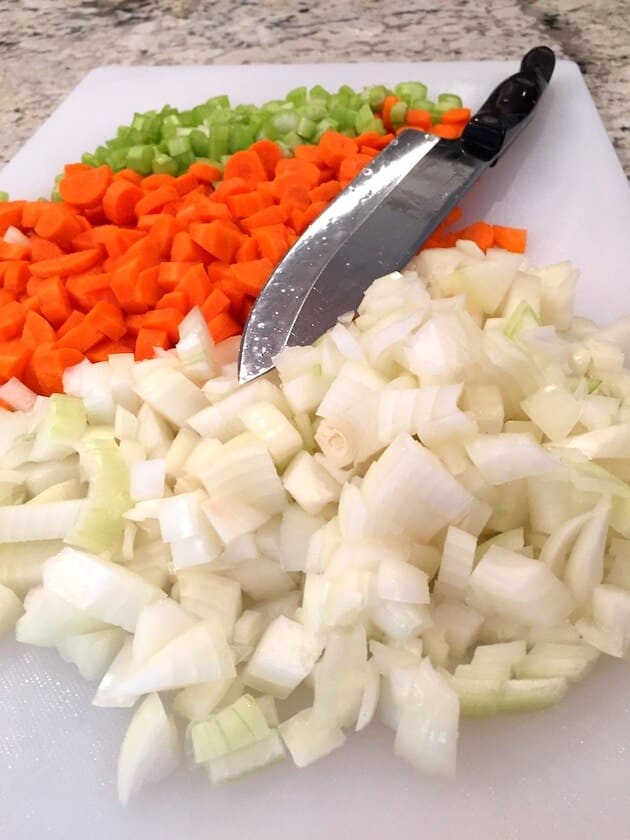 I found it interesting that the veal was lighter in color than the beef but that was the only real visible difference between the two.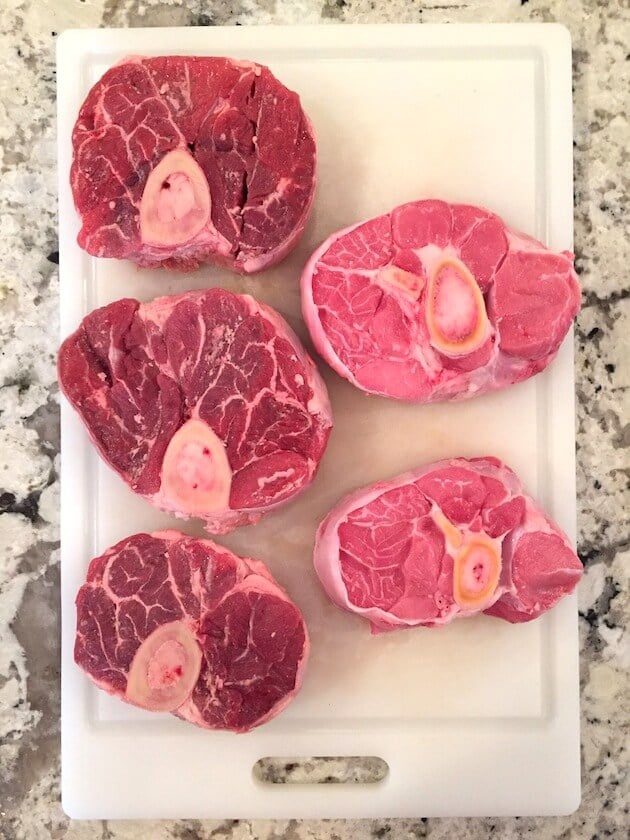 2.  Brown them on the stove in batches.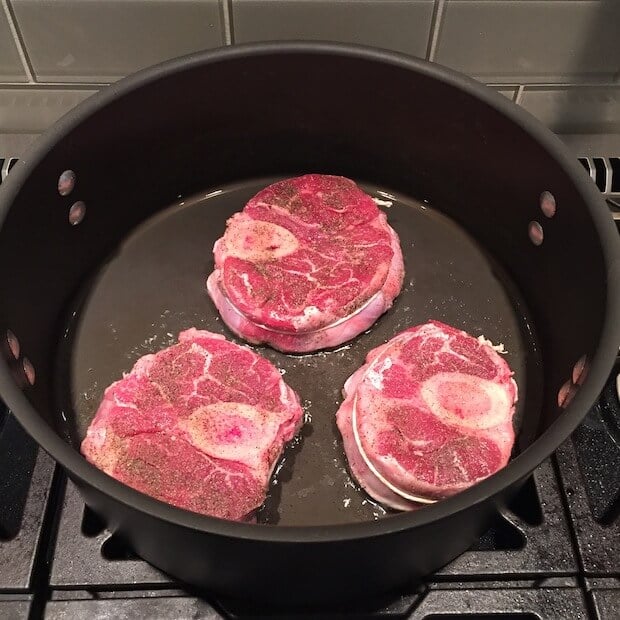 3.  Deglaze the pan with white wine as you go.  Don't overcrowd the pan.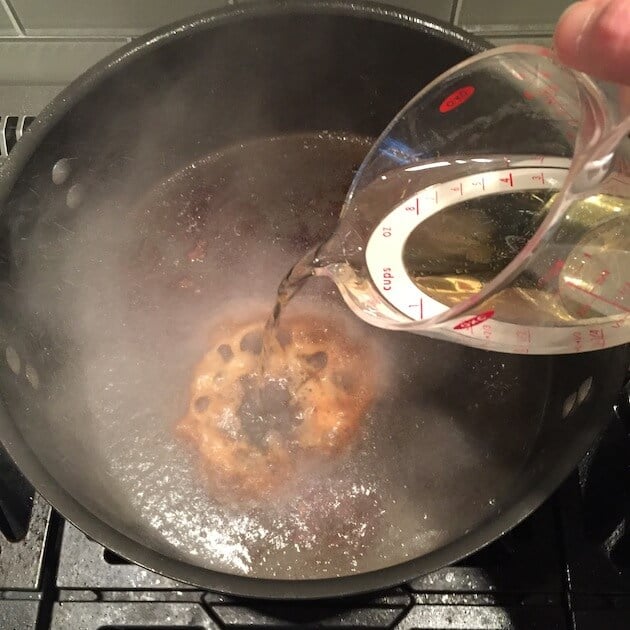 4.  Sear them in batches and after each batch is seared and deglazed collect the meat and the juices in a large mixing bowl.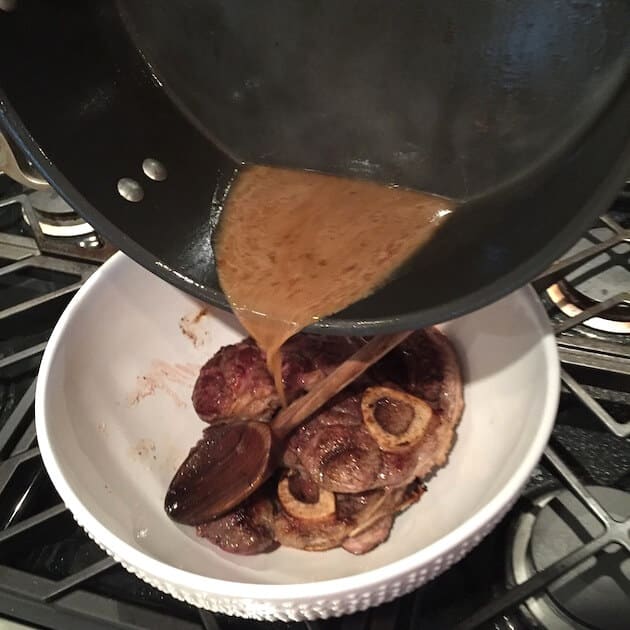 5.  Next, sauté the veggies and add more wine, chicken stock, and spices to the Dutch oven.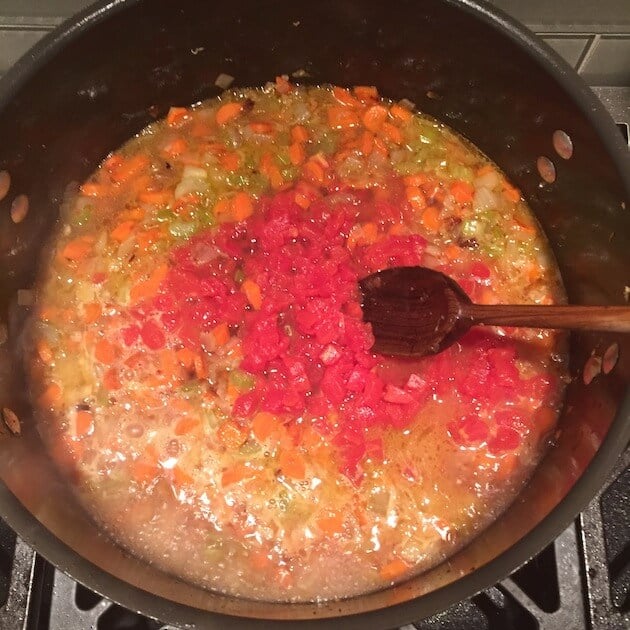 6.  Then add the shanks and any liquid from the bowl back into the pan for the braising extravaganza!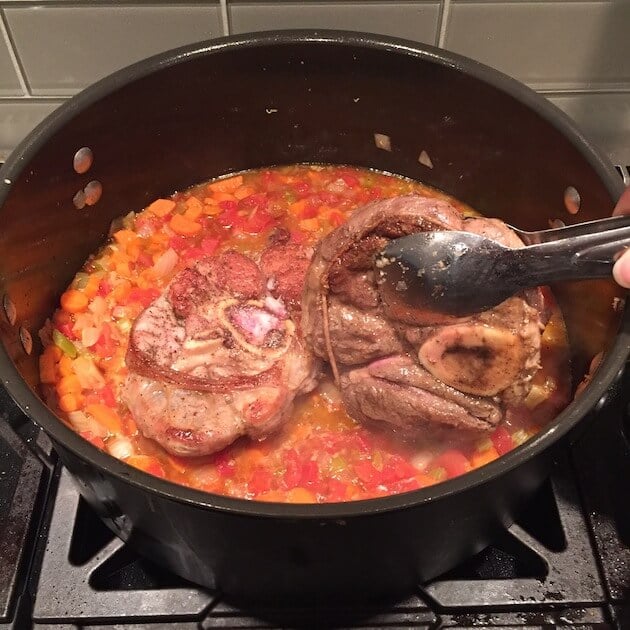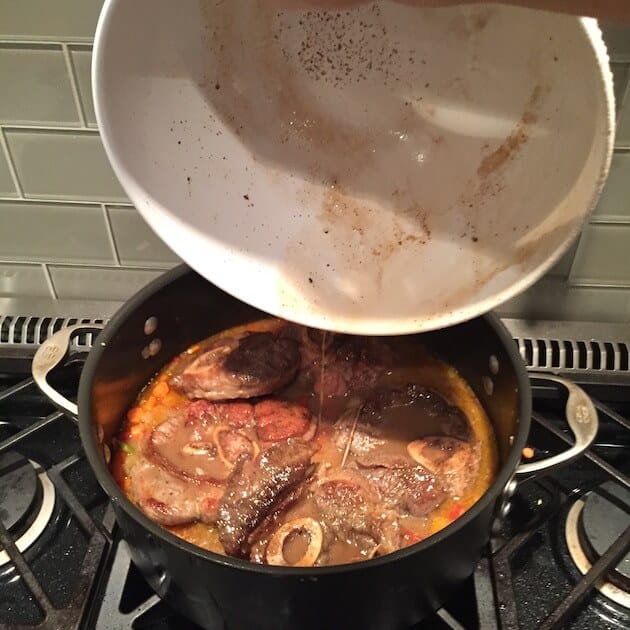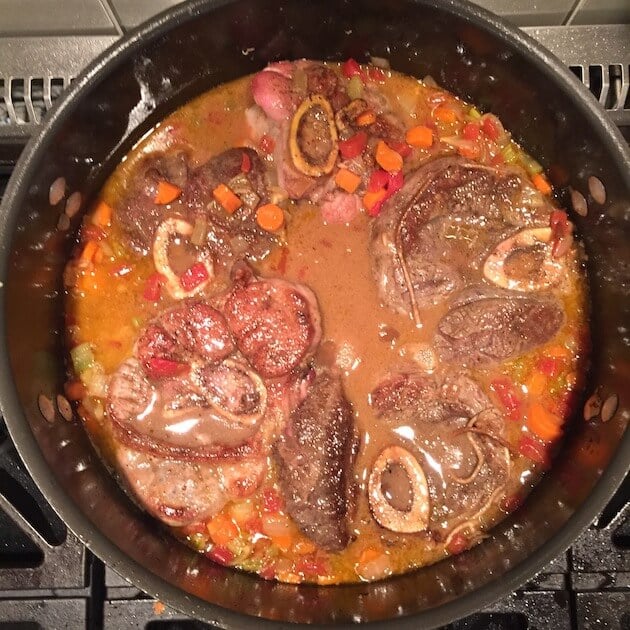 90 minutes later... the most delicious and tender veal shanks, are ready to be devoured!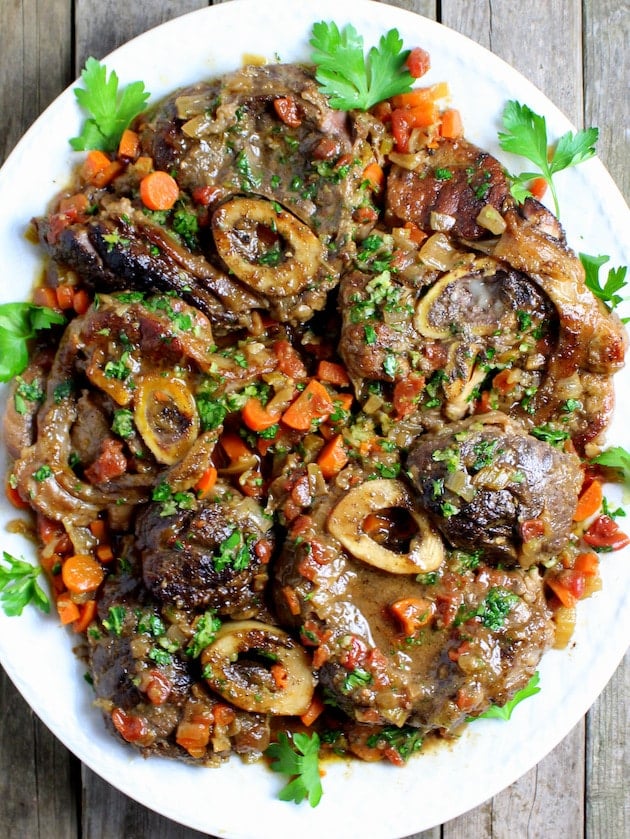 While the veal is in the oven make the cheesy Parmesan Polenta.
It takes less than 10 minutes to make so you really want to wait and make it when you're almost ready to eat.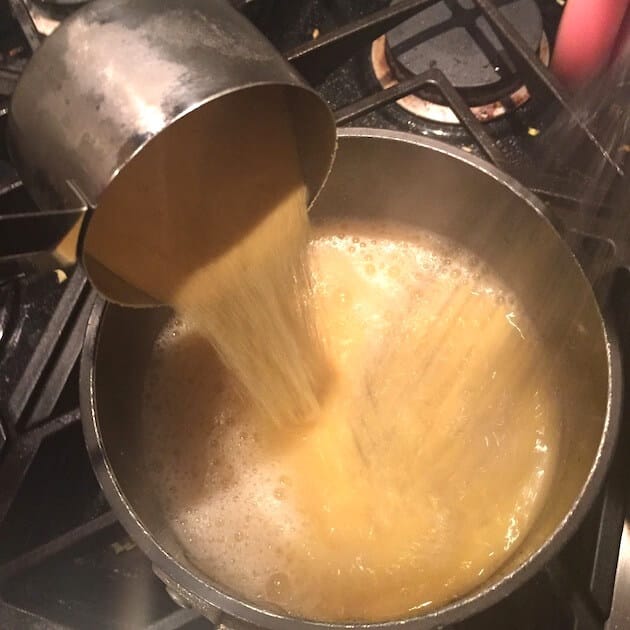 We use chicken stock in our polenta so it's packed with flavor, and then there's the addition of ⅔ cup of Parmesan, which takes it up and over the top!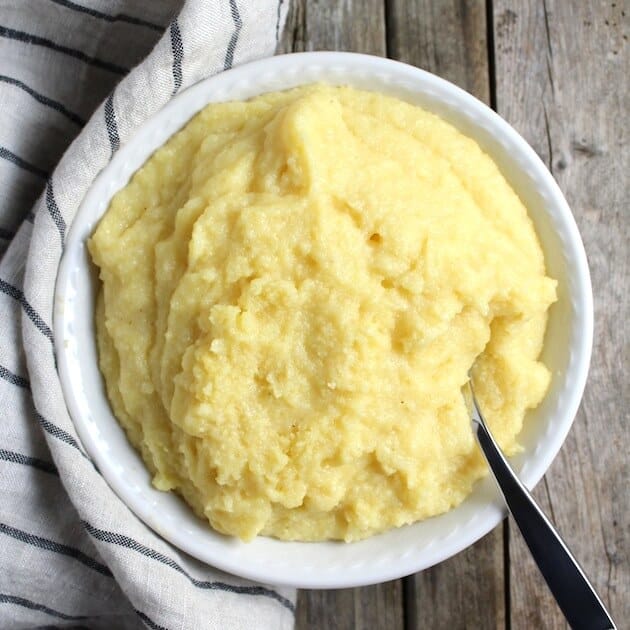 This Veal Osso Buco with creamy Parmesan Polenta is an incredibly divine combination.  Worthy of a special occasion or if you're just wanting something super yummy and a little different!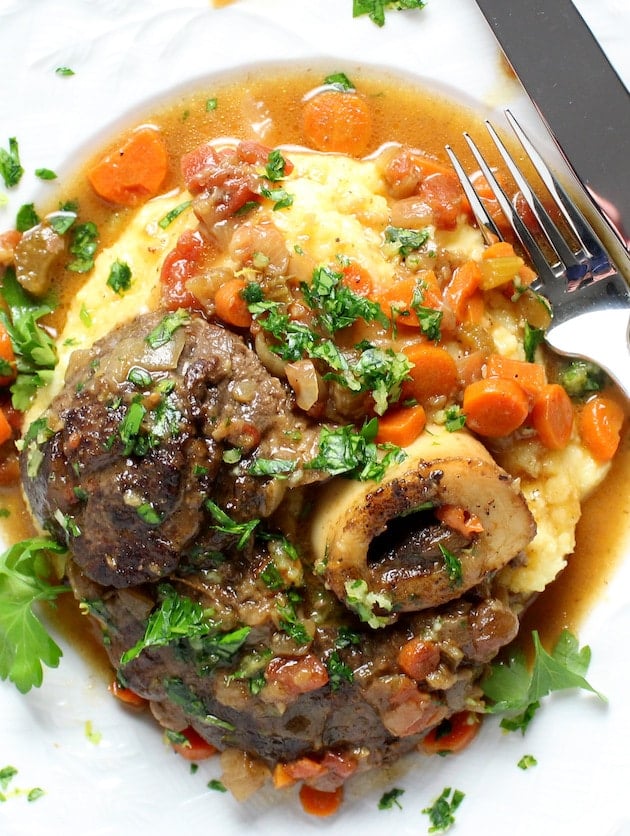 This Osso Buco recipe is guaranteed to be a gift and meal all in one!!  
Andiamo mio amico!!
Looking for more hearty comfort food recipes? 
Yield: 6 servings
Veal Osso Buco
Delicious Veal shanks slow-braised and finished with lemon zest and parsley, served over Parmesan polenta!
Cook Time
1 hour
45 minutes
Total Time
2 hours
5 minutes
Ingredients
For The Osso Buco:
6 tablespoons olive oil
6 veal shanks, 1 ½ inch thick
2 ½ cups white wine, (I use Chardonnay)
2 onions, diced
4 carrots, diced
3 celery stalks, diced
6 medium cloves garlic, minced
2 cups chicken broth or chicken stock
2 small bay leaves
14.5 ounces canned tomatoes, drained
For The Gremolata:
3 medium garlic cloves, minced
2 teaspoons lemon zest
¼ cup finely chopped flat-leaf Italian parsley
Instructions
For The Osso Buco:
Set oven rack to lower-middle and heat oven to 325 F.
Pat dry each veal shank and tie around its center with kitchen twine, then season with salt and pepper.
Heat 2 tablespoons of oil in a large ovenproof Dutch oven over medium-high heat, until the oil is shimmering. Place 3 shanks in the pan and cook until they are golden brown on one side, about 5 minutes. Carefully flip the shanks and cook on the second side until golden brown, about another 5 minutes. Transfer them to a bowl and set aside.
Take the Dutch oven off the heat and add ½ cup of white wine, scraping the pan bottom to loosen any browned bits. Pour this liquid into the bowl with the browned shanks.
Return the Dutch oven to heat, and 2 more tablespoons oil, and repeat this entire process with the next 3 shanks.
With all shanks resting in a bowl off the heat, return the Dutch oven to heat, add 2 more tablespoons olive oil and bring up to medium-high heat again. Then add the carrots, onions and celery and cook until soft and lightly browned, about 10 minutes. Add the garlic and cook for another minute longer.
Increase the heat to high and stir in the chicken broth, the rest of the white wine, any juice from the veal bowl, and the bay leaves. Then add the tomatoes and return the veal to the pot. Bring the this to a full simmer, then cover, crack the lid slightly, and move to the preheated oven.
Cook the shanks until the meat is easily pierced with a fork, about 90 to 100 minutes.
For The Gremolata:
Combine the garlic, lemon zest, and parsley in a small bowl.
Stir half of the gremolata into the pot, reserving the rest for a garnish.
Add salt and pepper to taste.
To Serve:
Remove shanks from the Dutch oven and carefully cut off the twine
Place each shank on a bed of polenta or risotto (if using), or directly into a serving bowl or plate.
Add some of the braising liquid, tomatoes, and vegetables and finish by sprinkling with the gremolata.
Notes
I usually tie my shanks with kitchen twine - and it almost always comes off while I'm braising them. Don't be surprised if this happens to you. Just remove it from the pan and keep on stepping!
Nutrition Information
Yield
6
Serving Size
1 shank
Amount Per Serving
Calories

524
Total Fat

22g
Saturated Fat

4g
Unsaturated Fat

0g
Cholesterol

169mg
Sodium

618mg
Carbohydrates

16g
Fiber

3g
Sugar

7g
Protein

45g