These Pumpkin Whoopie Pies with Cream Cheese Filling are pretty sensational.✨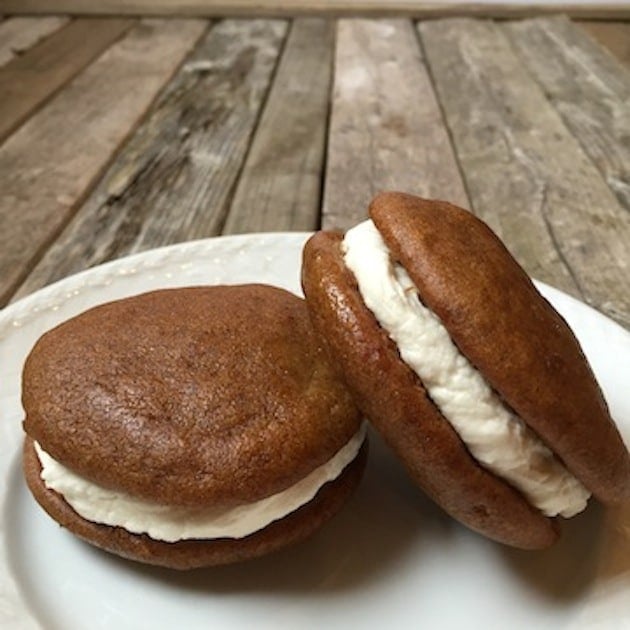 But who knew these discs were so controversial!?? I did some research on (AKA Googled) the term "Whoopie Pie" or "Whoopee Pie" or "Gobs" to find out where they got their name. Think about it: how many times this week, year or decade, have you used the word "whoopie?" Umm, never! Who even came up with it???
Well, it turns out two regions are claiming credit for these mini-pies...Pennsylvania and New England. There's information that supports both but I guess one will never really know. As far as the name, it is said that Amish children from Pennsylvania shouted 'Whoopie'?? when they found them in their lunch pails. Aren't you glad I broke that down for you?? I know you'll sleep better tonight? - I'm so your girl!??
These pumpkin sliders are so moist and have lots of spicy flavor. D-Licious with a capital D! Think pumpkin pie in the shape of a hockey puck, but more cakey x2, with ooey gooey sweet creaminess gluing them together.
I've made them before with the traditional fluffy cream center, but this time I used a cream cheese filling. And I'm so glad I did. It adds another dimension to these delicious pies.
Another swap I made was light brown sugar instead of the more molassesy-flavored dark brown sugar. I do that a lot in my baking recipes. It's just a preference thing. Plus, I figured the healthy amount of spices (1 tablespoon of ginger and clove, 2 tablespoons of cinnamon) would give them plenty of rich deep flavor.
The recipe is from my "bestie's"? TV show (The Martha Stewart Show) many years ago, and it's still a keeper. If you're looking for a fun fall dessert that is less traditional than a pumpkin pie but just as flavorful, give these Pumpkin Whoopie Pies a try. Who knows? They could even become a new Thanksgiving Day tradition! Gobble, Gobble!???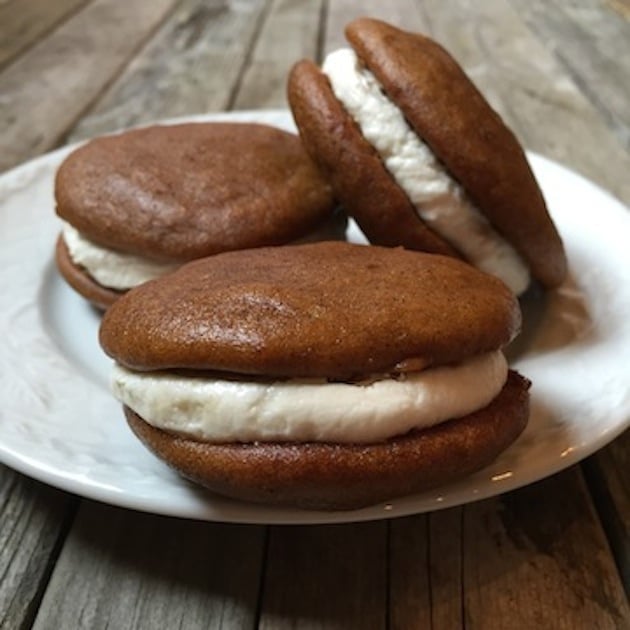 Yield: 26
Pumpkin Whoopie Pies With Cream Cheese Filling
These Pumpkin Whoopie Pies with Cream Cheese Filling are pretty sensational
Ingredients
For the Cream Cheese Filling:
3 cups confectioner's sugar
½ cup unsalted butter, softened (1 stick)
8 ounces cream cheese, softened
1 teaspoon pure vanilla extract
For the Pumpkin Whoopie Cookies:
3 cups all-purpose flour
1 teaspoon salt
1 teaspoon baking powder
1 teaspoon baking soda
2 tablespoons ground cinnamon
1 tablespoon ground ginger
1 tablespoon ground cloves
2 cups firmly packed light-brown sugar
1 cup vegetable oil
3 cups pumpkin puree, chilled
2 large eggs
1 teaspoon pure vanilla extract
Instructions
Make the cookies: Preheat oven to 350 degrees. Line two baking sheets with parchment paper or a nonstick baking mat; set aside.
In a large bowl, whisk together flour, salt, baking powder, baking soda, cinnamon, ginger, and cloves; set aside.
In another large bowl, whisk together brown sugar and oil until well combined. Add pumpkin puree and whisk until combined. Add eggs and vanilla and whisk until well combined. Sprinkle flour mixture over pumpkin mixture and whisk until fully incorporated.
Using a small ice cream scoop with a release mechanism, drop heaping tablespoons of dough onto prepared baking sheets, about 1 inch apart. Transfer to oven and bake until cookies are just starting to crack on top and a toothpick inserted into the center of each cookie comes out clean, about 15 minutes. Let cool completely on pan.
Make the filling: Sift confectioner's sugar into a medium bowl; set aside. In the bowl of an electric mixer fitted with the paddle attachment, beat butter until smooth. Add cream cheese and beat until well combined. Add confectioner's sugar and vanilla, beat just until smooth. (Filling can be made up to a day in advance. Cover and refrigerate; let stand at room temperature to soften before using.)
Assemble the whoopie pies: Line a baking sheet with parchment paper and set aside. Transfer filling to a disposable pastry bag and snip the end (or just use a tablespoon). When cookies have cooled completely, pipe (or spoon) a large dollop of filling on the flat side of half of the cookies. Sandwich with remaining cookies, pressing down slightly so that the filling spreads to the edge of the cookies. Transfer to prepared baking sheet and cover with plastic wrap. Refrigerate cookies at least 30 minutes before serving and up to 3 days.
Notes
To keep the parchment paper from rolling up add a sprinkle of water to the baking sheet before you place the paper down.
After the pies are baked and fully cooled, use a metal spatula at a 45 degree angle to delicately get under them and lift from the baking sheet.
These pies are so moist that if you sit them on top of each other or on a surface other than parchment paper or plastic wrap, part of the cake will come off.
Yes, you can freeze them!! Wrap them individually in plastic wrap, then place them in a freezer ziplock and into the freezer they go. When you defrost them, unwrap and let them sit out (on the plastic wrap) for 35-40 minutes then enjoy!
Nutrition Information
Yield
26
Serving Size
1 whoopie pie
Amount Per Serving
Calories

300
Unsaturated Fat

0g