Weekly Update plus Slow Cooker Beef Barbacoa...better than Chipotle!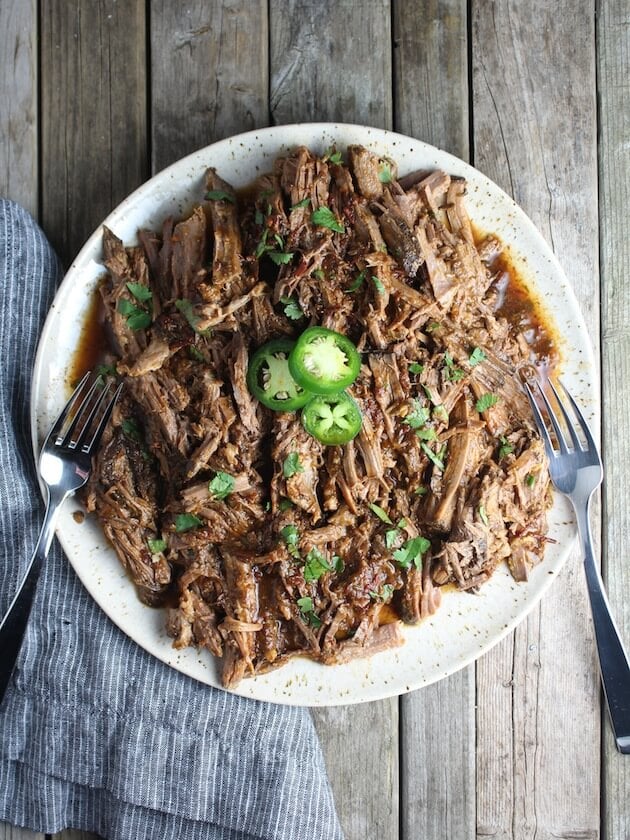 Snowball fights are at a all-time high, gold is hot for investors, Sarah Palin has officially endorsed Trump, most kids on the east coast aren't going to school on Monday, or any other day this week… OHHH… and the Broncos and Panthers will be duking it out for Super Bowl 50!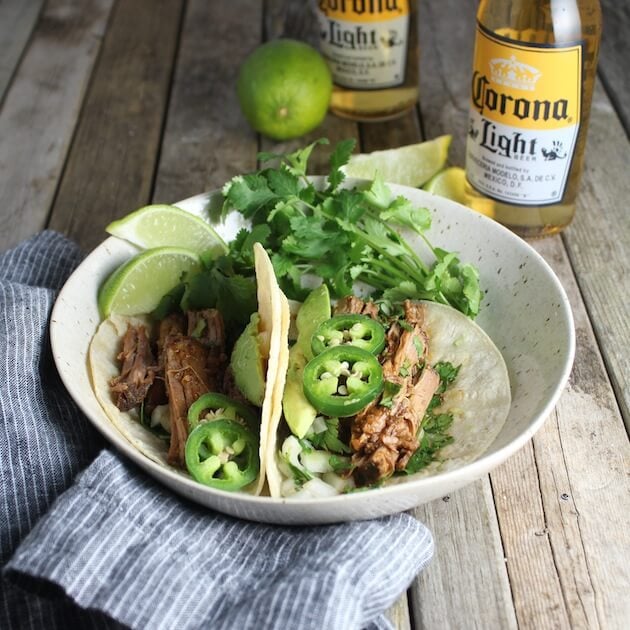 Not sure why I felt the need to give you the weekly news update but my degree was in Broadcast Journalism, so, there is that. IDK.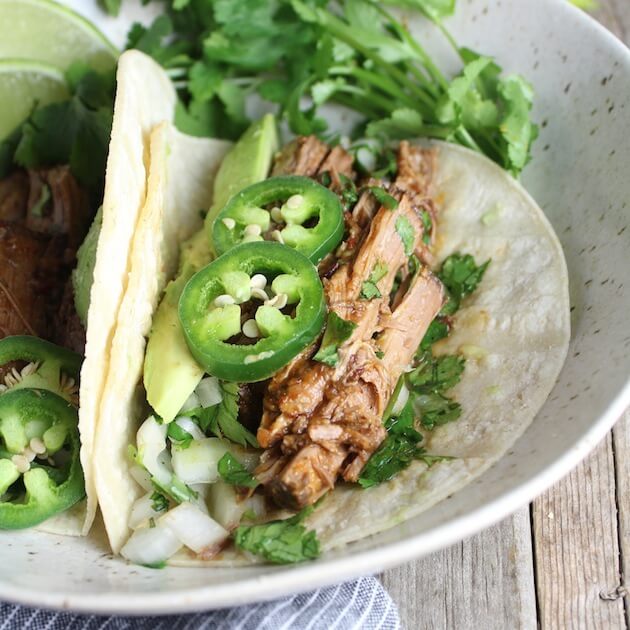 Not sure you all caught it, but the game between the New England Patriots and Broncos ended poorly for us. This is bad news for those of us that live in the NE area, and especially Boston. Businesses may shut down randomly tomorrow to mourn the loss. I'm not even kidding - this place is crazy about their sports teams. This is my reality.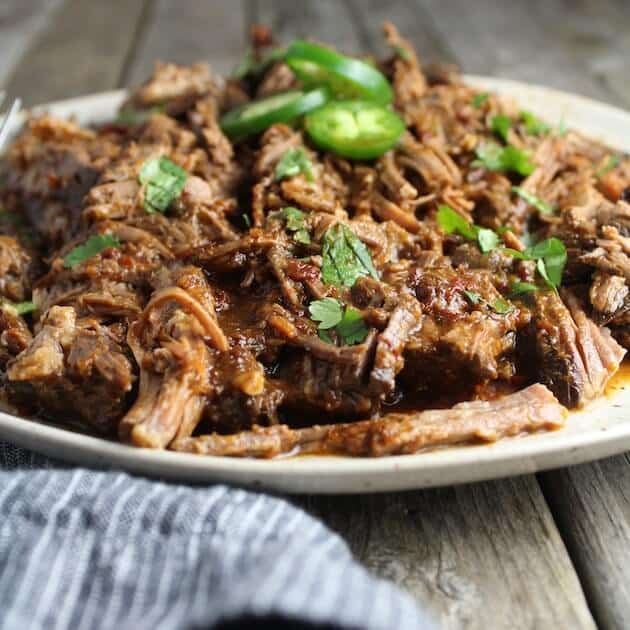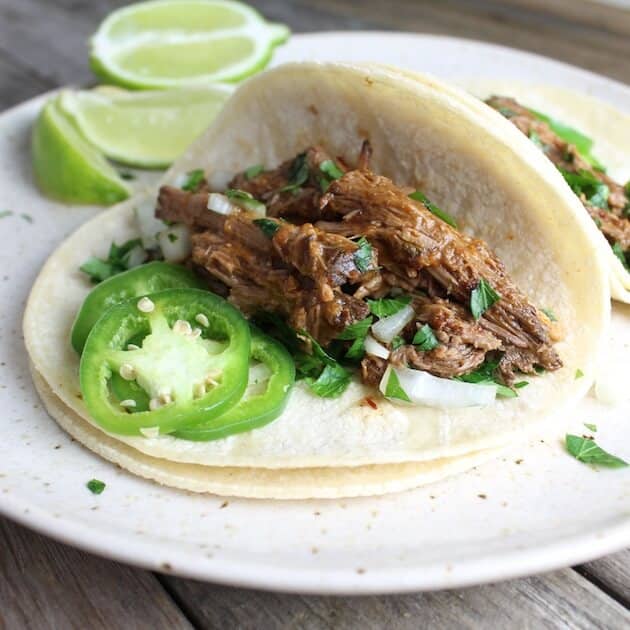 We moved here about 7 years ago, so in all actuality we're not even "from here" but let me just tell you when part of the family loses, we all lose. B likes to joke that getting your driver's license in the state of MA includes an oath to be a die-hard Red Sox, Celtics, Bruins and Patriots fan.
Lucky for them we moved here from Virginia, which has almost no sports teams to follow so we're totally OK with that (sorry to the 5 Redskins fans we know).
And the other exception would be our immediate family who live in Seattle – go Seahawks!! Wait…I mean for next year. For the record you guys were totally robbed.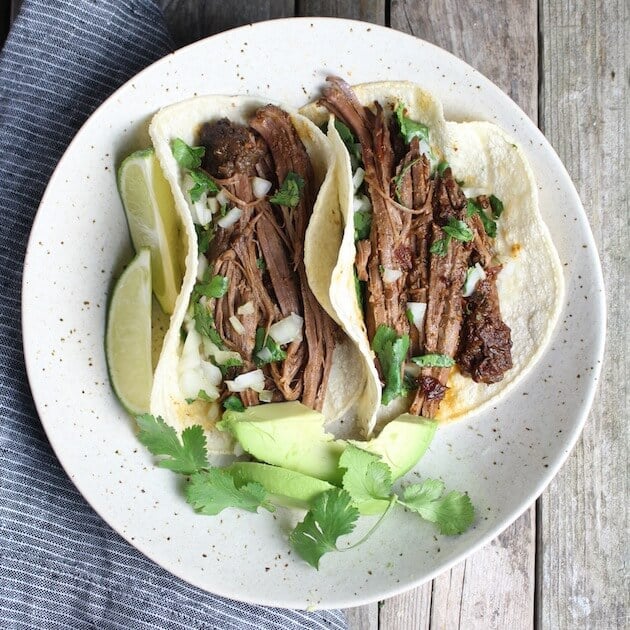 What does this all mean…well, not much…the snow will melt, more people will invest in gold, Trump will continue to campaign, the Super Bowl will take place as scheduled and we'll all watch a decent game and eat some really decadent food.
Yayyyy!! So excited about the food!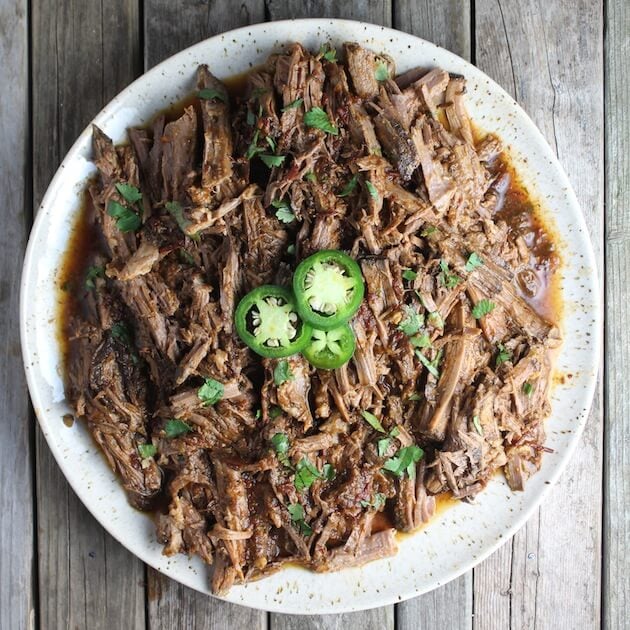 There's so much food to talk about and so little time.⏰
Let's jump right in: Slow Cooker Beef Barbacoa – it is life changing. I've only ever had it at Chipotle and it was a bit spicy and yet still amazing!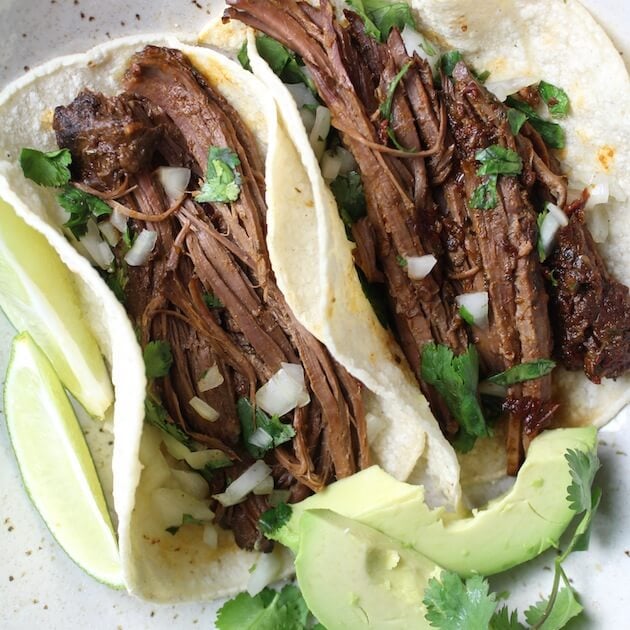 This Barbacoa consists of a good cut of beef - aka a roast…shoulder, rump, top, bottom round, I've even used a chuck roast. You plaster it in a mixture of smoked chipotles in adobo, beef stock, beer, tomato paste, brown sugar, fresh garlic and cilantro and Mexican spices. Let it get happy in the crock pot for 8 hours on low and you've got yourself the foundation for the best party meal of all time! Seriously.
Your friends won't remember who was playing in the big game but they will talk about your Beef Barbacoa for years to come!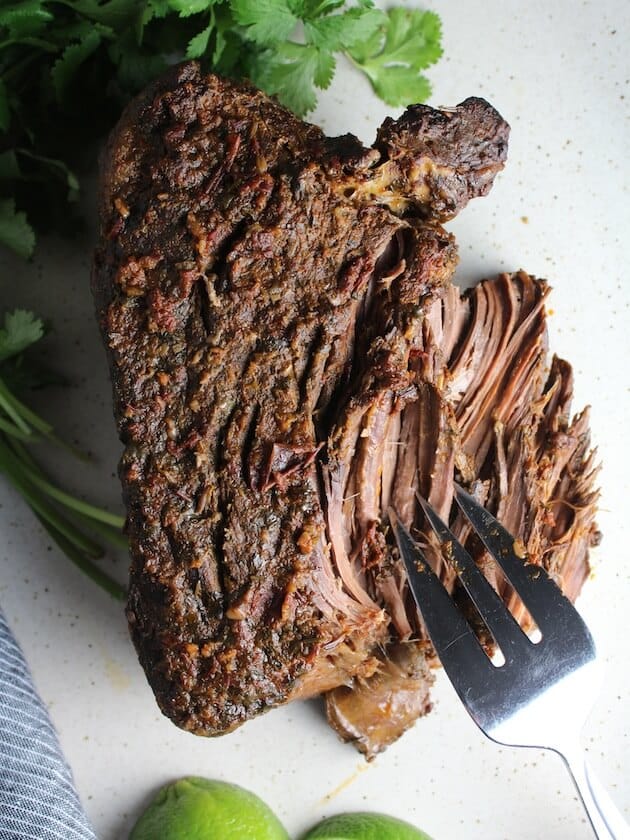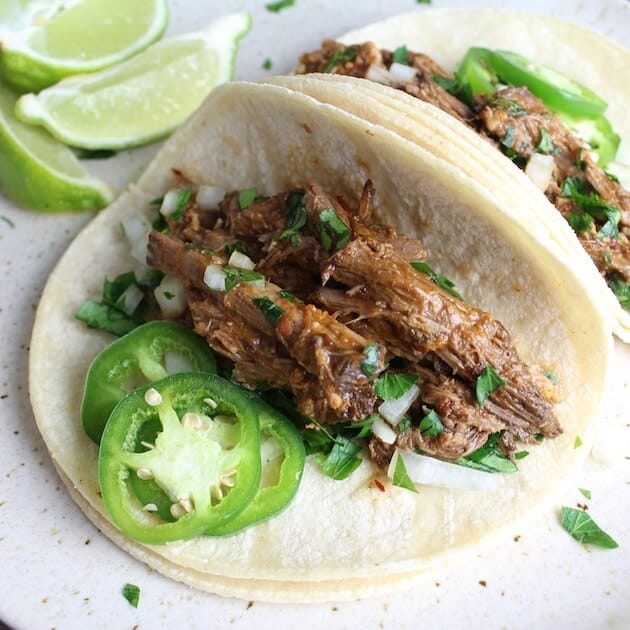 You could have a soft taco bar - let people make their own, and load up on all the fixin's alongside some queso fundido. Or you could offer mouthwatering Mexican Pizzas or rice bowls - buffet style…whatever your heart desires.
And for those of you that are low-carbing it or on Paleo - just enjoy some good ol' fashion meat, with a side of more meat! That's what I'm talkin' about baby!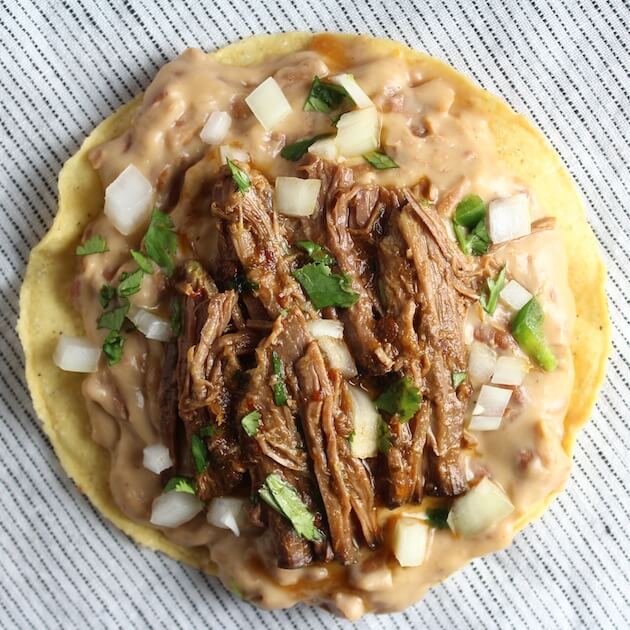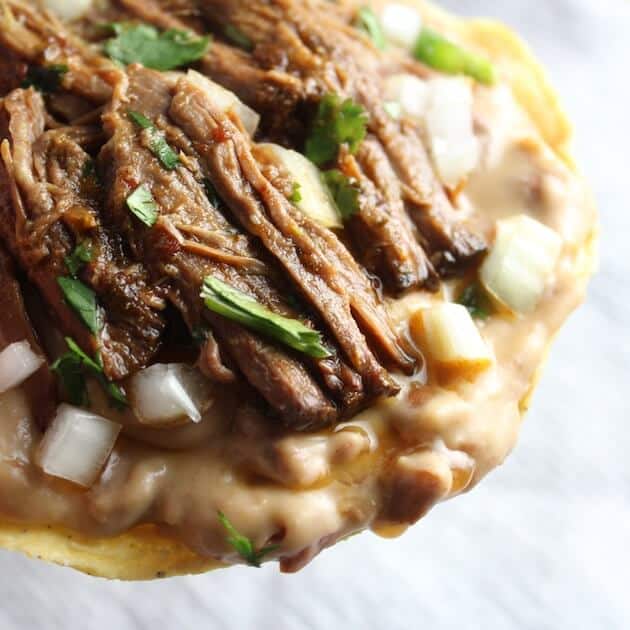 This Slow Cooker Beef Barbacoa is so delectable and perfect for any night of the week OR your Super Bowl game day meal. The only thing that could make it any better would be the addition of some Homemade "Refried" Beans… recipe here. Mmm, so good.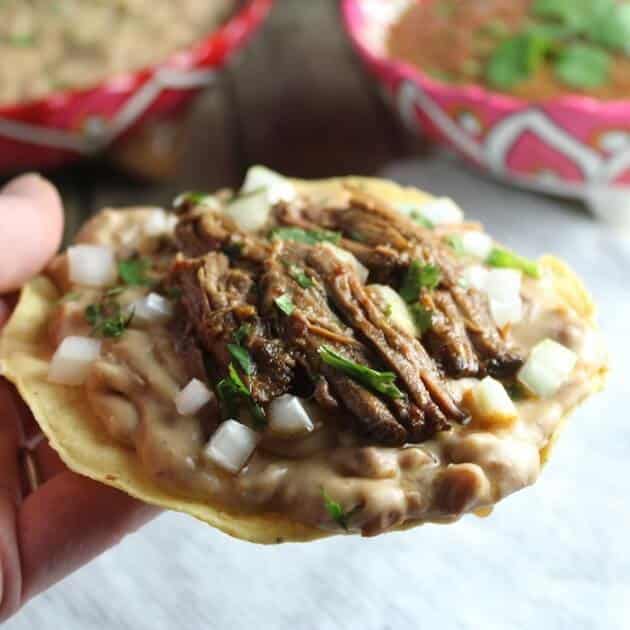 The meat is fall-apart tender and the sauce is smoky, slightly spicy and sooo flavorful.
It's a great alternative to ground beef tacos or even pulled pork carnitas. I just can't get enough of this Beef Barbacoa and I know you're gonna love it as much as I do!! Happy Eating!
Yield: 10 servings
Slow Cooker Beef Barbacoa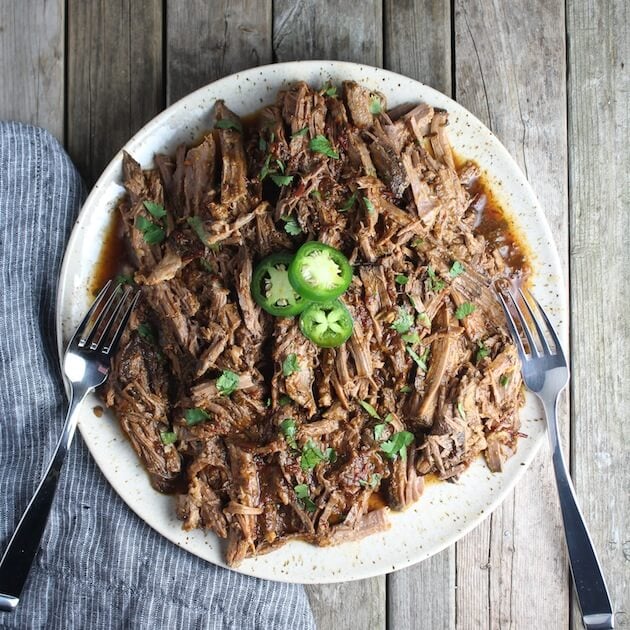 Slow Cooker Beef Barbacoa with chipotles in smoked adobo, beef stock, beer, tomato paste, brown sugar, garlic, cilantro, & spices. Fall-apart tender!
Total Time
8 hours
10 minutes
Ingredients
3 pound boneless beef roast (rump top, bottom round or chuck roast)
2 tablespoons olive oil
2 teaspoons smoked salt, or regular salt
1 teaspoon pepper
6 large cloves of garlic, minced
½ cup cilantro finely chopped
2 tablespoons cider vinegar
1 ½ tablespoons Cumin
5 Chipotle Peppers in Adobo Sauce,, chopped finely
2 tablespoons Adobo Sauce
3 ounces tomato paste
1 tablespoon brown sugar
10 ounces beef stock
8 ounces beer
Instructions
Trim and discard the excess fat from the meat. This will ensure that you're not left with oily, greasy cooking liquid.
Coat the roast with olive oil, then salt and pepper the entire roast.
Mix all the other ingredients together, except the beer and the beef stock, and make a paste. Smear the paste all over the roast and set it in a slow cooker turned on low.
Gently pour the beer and beef stock into the slow cooker without rinsing the paste off the roast. Close the lid and let the roast cook for 7-8 hours on low. (Chuck roast may cook faster - check at 5-6 hours.)
When the meat is tender and pulls apart easily, remove it from the crock pot, place it on a cutting board and pull the roast with two forks.
Skim any fat off the cooking liquid. Place the pulled meat in a serving dish and ladle the desired amount of sauce over it. All the flavors from the sauce will be absorbed by the meat. Serve warm with your favorite toppings on corn or flour tortillas, corn tostadas, corn taco shells or by itself with some rice and beans.
Notes
Be careful handling the chipotles in Adobe Sauce - they can stain dishtowels, cutting boards, clothing etc, very easily.
You can substitute beef stock or water for the beer if desired. Remember, the more flavor you put it, the more flavor you'll get out.
Nutrition Information
Yield
10
Serving Size
6 ounces
Amount Per Serving
Calories

350
Total Fat

30g
Saturated Fat

11g
Trans Fat

0g
Unsaturated Fat

15g
Cholesterol

163mg
Sodium

649mg
Carbohydrates

6g
Fiber

1g
Sugar

3g
Protein

35g
This nutrition card uses an estimate provided by an online nutrition calculator. This estimate is not a substitute for a professional nutritionist's advice!
PS: Looking for more slow cooker beef ideas? You'll love this
low carb Italian Beef
- it is full of flavor and fall-apart tender!