Roasted Cauliflower And Chickpeas With Yogurt Sauce…Seasoned w/cumin, coriander, salt & pepper, finished with yogurt sauce. Hearty, creamy, & satisfying!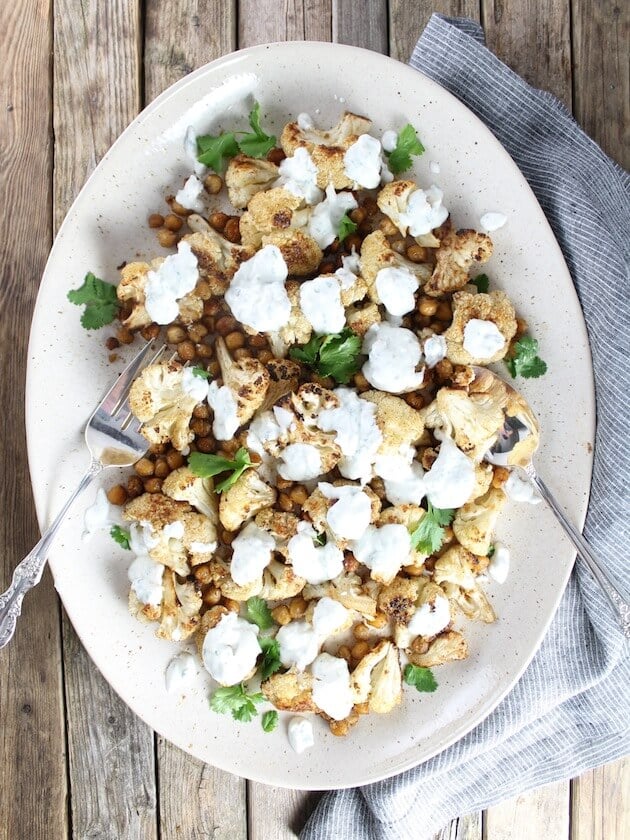 I have another hearty and delicious veggie dish to share with you today! Honestly, it really could be a meal all by itself. It's. That. Good. I've made it too many times to count and shared it with anyone and everyone I could… and now with you.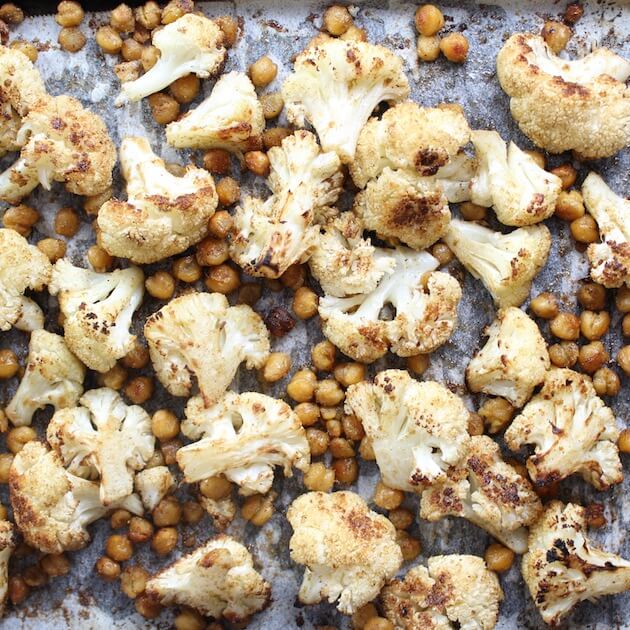 Without any further ado, I give you…Roasted Cauliflower and Chickpeas with Yogurt Sauce!
I would have to say that cauliflower is one of my favorite veggies. It doesn't have too strong of a flavor, especially after it's cooked.♨ This makes it ideal for things like pizza crust, rice or mashed potato substitutes, and most importantly for me, absorbing spices and flavorings perfectly. I usually roast this big brain of a veggie. It gets all hearty and meaty and caramelized which gives it a hint of sweetness. Yummy in my tummy!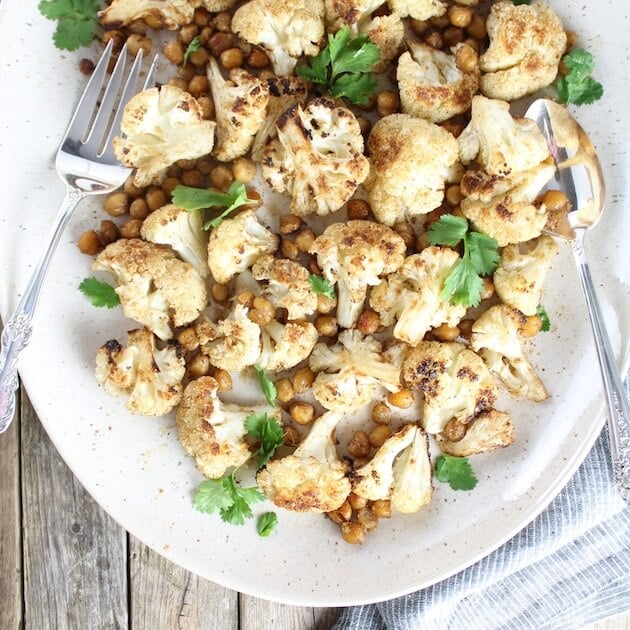 I remember my mom making steamed cauliflower with a cheese sauce when I was a kid. Of course anything with cheese sauce is AMAZING! My mom knew how to get her kiddos to eat their veggies: slather them in buttery, salty, ooey, cheesy sauce. I guess it could have been worse...she could have served us chicken nuggets slathered in cheese sauce.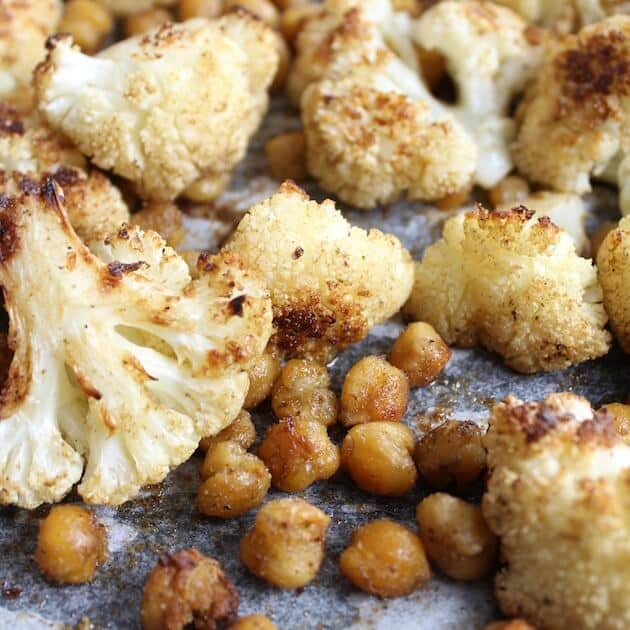 Personally I would encourage you to either sauté or roast cauliflower. Sometimes steaming or boiling can make it waterlogged, resulting in flavorless mush. Mushy is good if you're an 8 month old baby without teeth, but not when you're an adult craving something hearty and flavorful!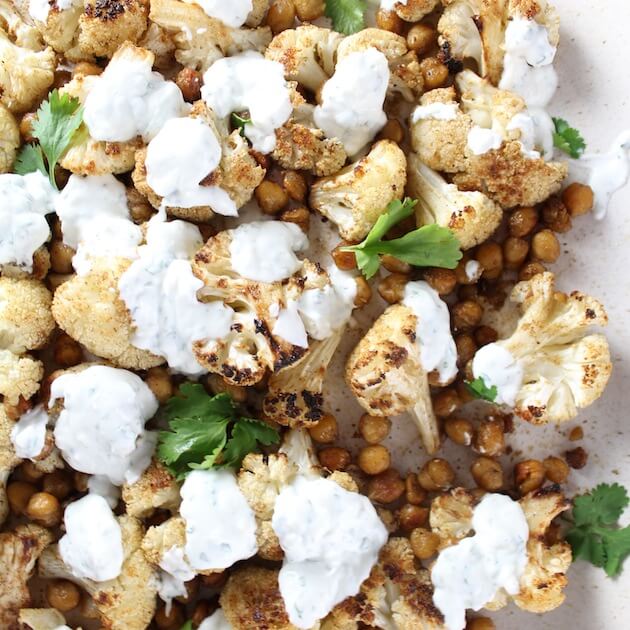 There so many other benefits of cauliflower like vitamin B6, folate, fiber… and it's even being studied as a cancer preventative along with other cruciferous vegetables. Did you know 1 cup of cooked cauliflower has 76% of your daily-recommended vitamin C and it's only 29 calories? It's an excellent source of vitamin K, which acts as a regulator of our inflammatory response. It basically helps your body keep inflammation levels down. Inflammation Is bad.? Cauliflower is good. Eat cauliflower.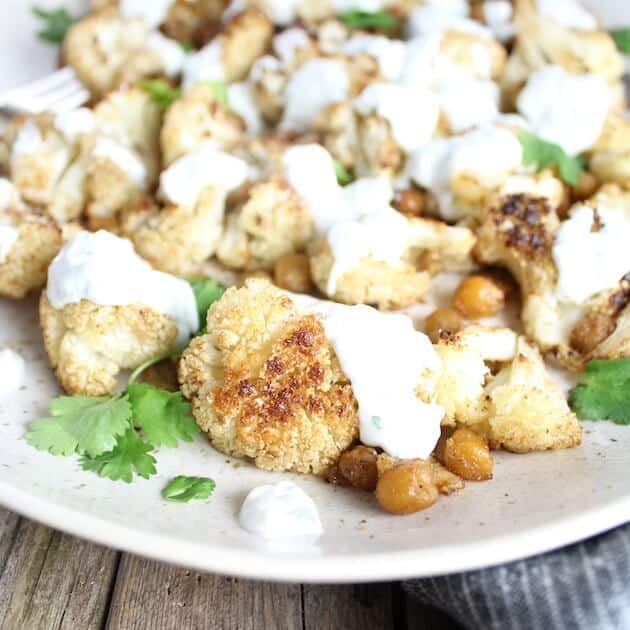 There are just so many reasons to love this beautiful white veggie…
An especially because it's used to make Roasted Cauliflower and Chickpeas with Yogurt Sauce!✨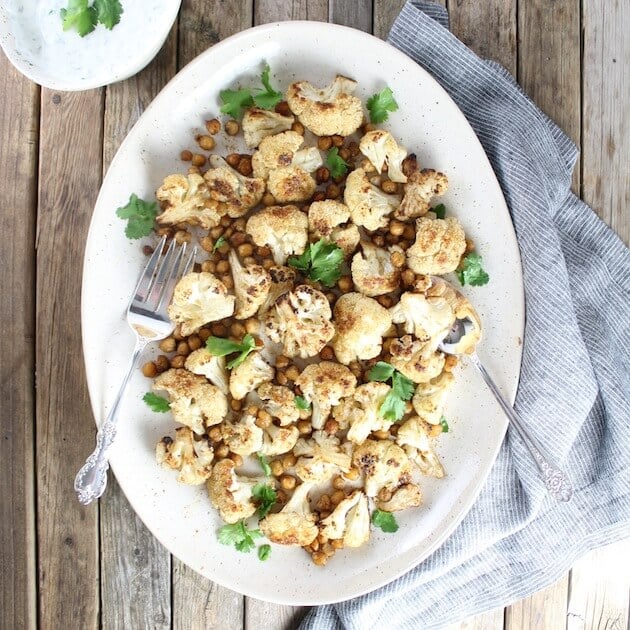 This dish is low on effort and big on flavor. First you gently cut the florets away from the core. You may need to cut some of the pieces in half but try to make them all similar in size so they cook evenly.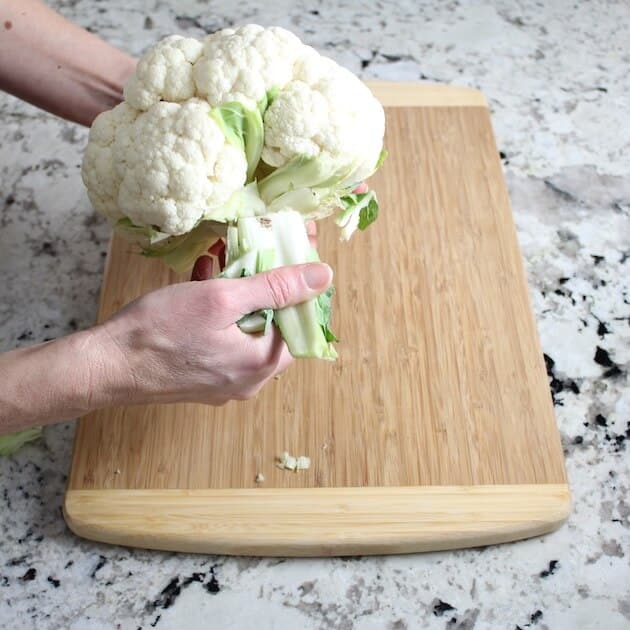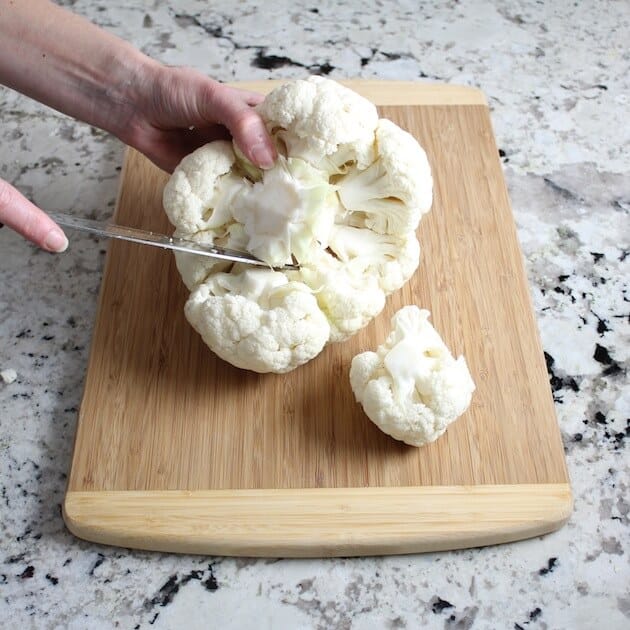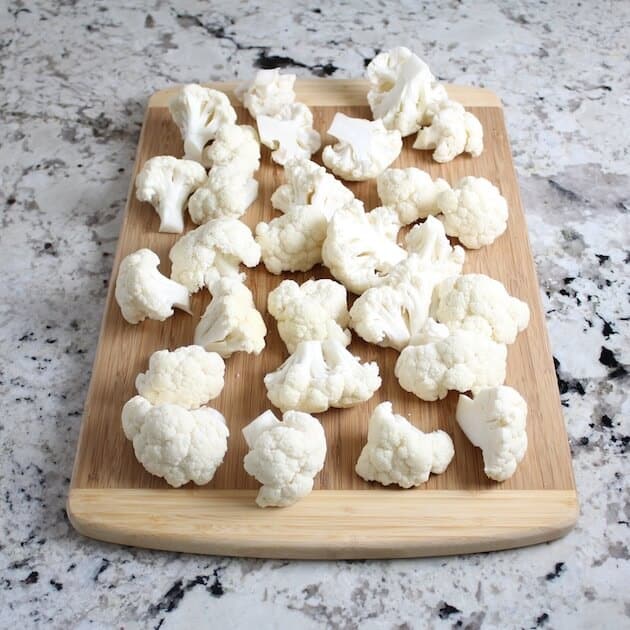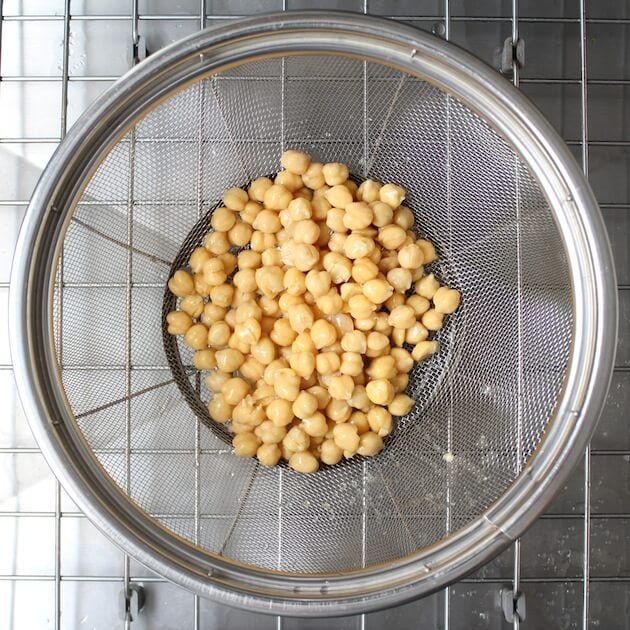 Next you get out a baking pan and line it with parchment paper (we're cooking it on a really high temp so this will keep it from burning). Then you add the drained and dried chickpeas, the cauliflower florets, and about ⅓ – ½ cup olive oil evenly spread all over the pan. Use your hands and mix it all together. Now add your spices and mix it again.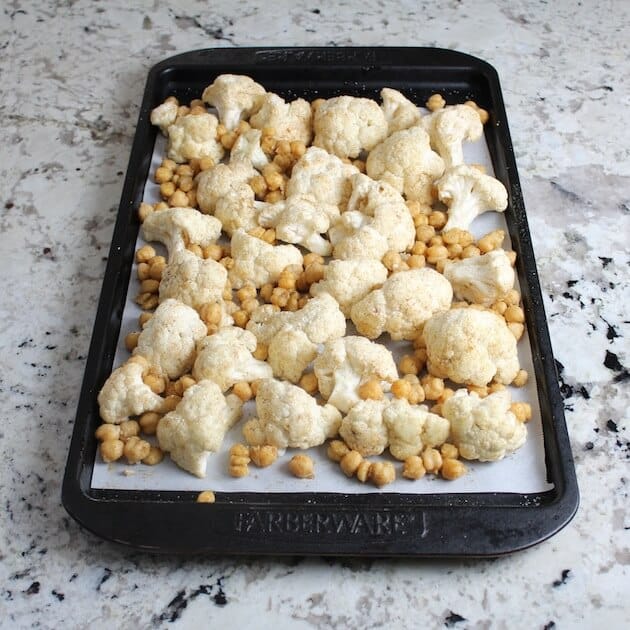 Bake at 425 degrees for 25 minutes (flipping the florets once 12 minutes into roasting), and if you like yours even more golden put it under the broiler for 1-2 minutes.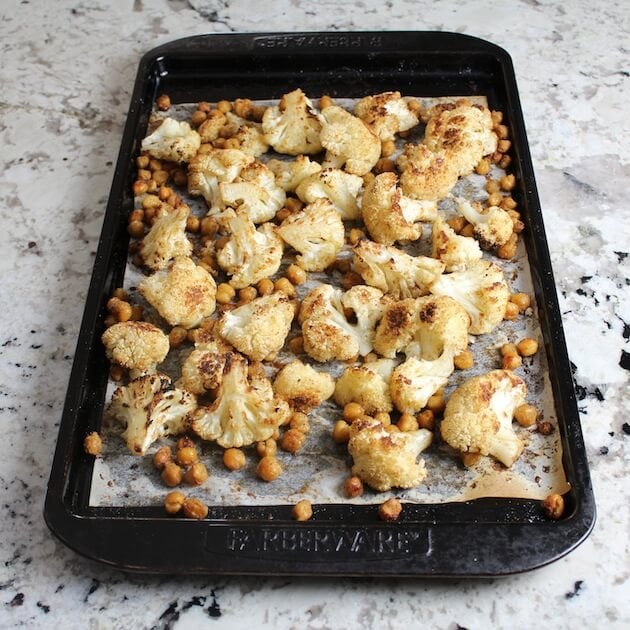 While that's getting all happy in the oven you mix together your Yogurt Sauce and wait for new favorite veggie to finish cooking.♨ I like to serve it warm, covered with big dollops of the yogurt sauce. Mmm Mmm good!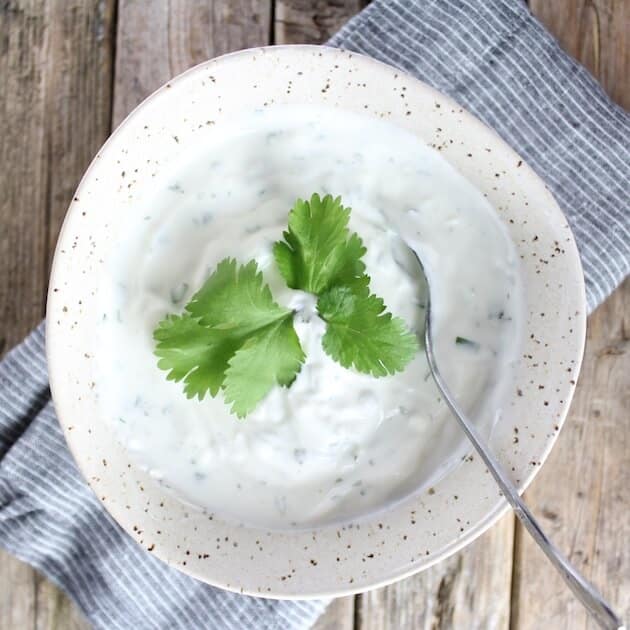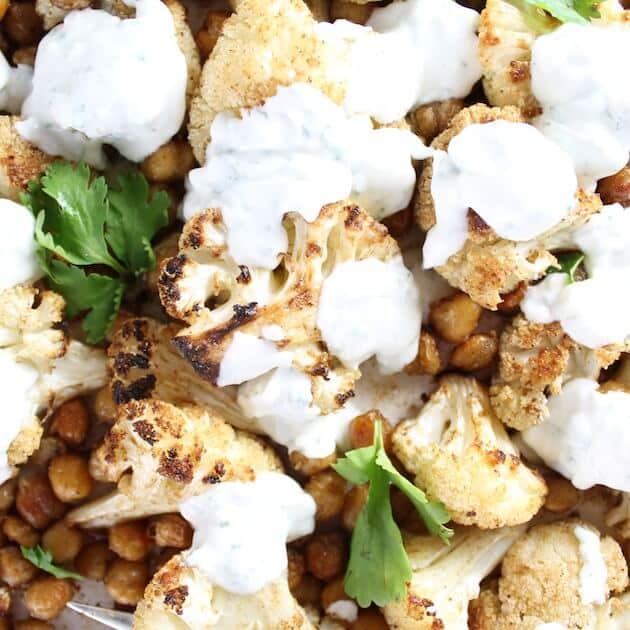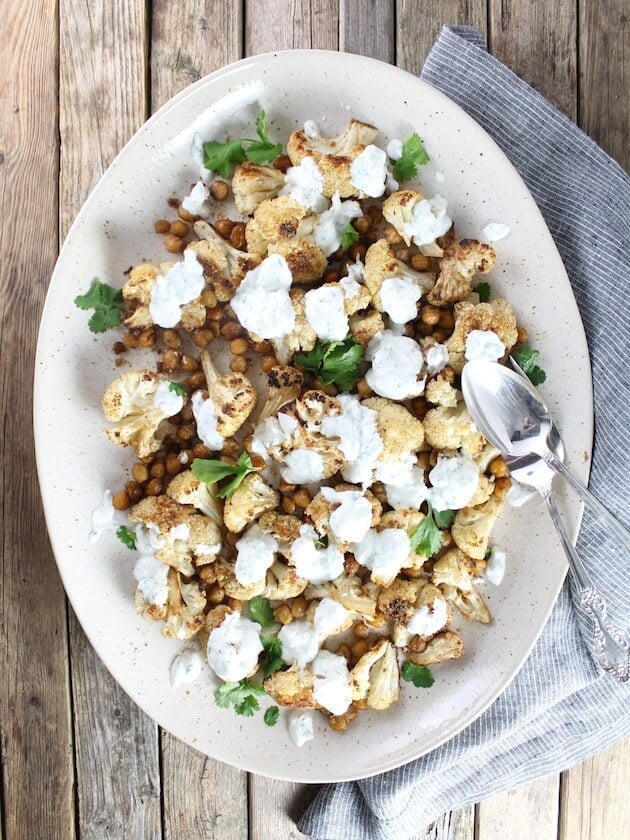 BTW no one will blame you if you eat only this for dinner. This Roasted Cauliflower and Chickpeas with Yogurt Sauce is so hearty and creamy and satisfying I can't imagine wanting anything else! But just in case you want a different veggie side dish, check out this keto broccoli parmesan!
Thanks for reading! Are you following me on Instagram, Twitter, Facebook, and Pinterest?
Yield: 6 servings
Roasted Cauliflower And Chickpeas With Yogurt Sauce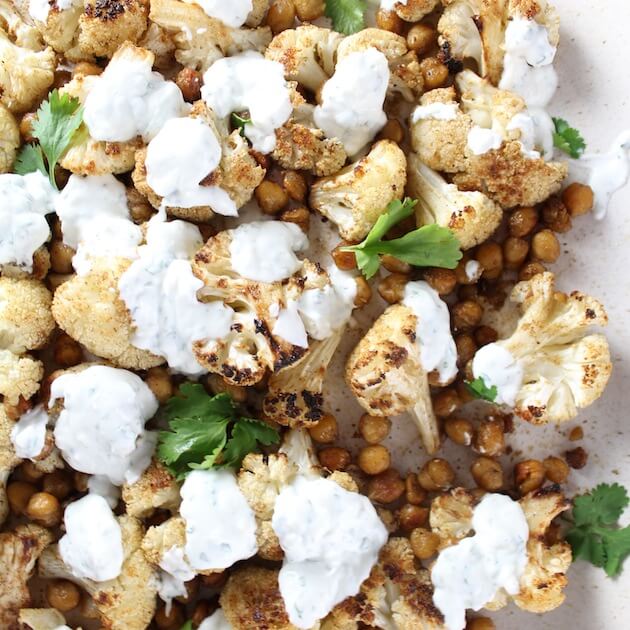 Roasted Cauliflower And Chickpeas With Yogurt Sauce…Seasoned w/cumin, coriander, salt & pepper, finished with yogurt sauce. Hearty, creamy, & satisfying!
Ingredients
For The Cauliflower:
2 teaspoons cumin
2 teaspoons coriander
¼ teaspoon cayenne
½ teaspoon pepper
1 ½ teaspoons salt
1 head of cauliflower
1 15 ounce can of chickpeas, drained, rinsed and dried (skins removed if preferred)
⅓ cup olive oil
For The Yogurt Sauce:
8 ounces Greek yogurt
11/2 tablespoons fresh lemon juice
2 cloves garlic, minced
2 tablespoons chopped cilantro, plus more for garnish
Instructions
For The Cauliflower:
Place oven rack in center and preheat to 425, then line a baking sheet with parchment paper
In a small bowl, mix together cumin, coriander, cayenne, salt and pepper.
Gently cut the florets from the cauliflower core and if needed trim them to fairly even-sized pieces.
Place the cauliflower and chickpeas onto the baking sheet, drizzle olive oil over them evenly and mix by hand to coat. Then sprinkle the spice mixture over the vegetables and gently mix by hand to distribute the spices.
Bake at 425 degrees for 15 minutes, then flip the cauliflower pieces with a spatula and cook another 10 minutes. If more browning is desired, broil for 2-3 minutes being careful not to burn the cauliflower.
For The Yogurt Sauce:
Combine yogurt, garlic, and cilantro in a small bowl and mix well.
Serve the cauliflower while still warm. Top with yogurt sauce and garnish with cilantro.
Nutrition Information
Yield
6
Serving Size
8 ounces
Amount Per Serving
Calories

275
Total Fat

15g
Saturated Fat

2g
Trans Fat

0g
Unsaturated Fat

12g
Cholesterol

2mg
Sodium

563mg
Carbohydrates

27g
Fiber

8g
Sugar

7g
Protein

12g
This nutrition card uses an estimate provided by an online nutrition calculator. This estimate is not a substitute for a professional nutritionist's advice!
This recipe was inspired by Honestly Yum!