It's almost Turkey time my friends! Here's my little way of saying "thank you…" I've pulled together some of my favorite traditional and not-so traditional Thanksgiving recipes to help you have the most delicious holiday meal ever!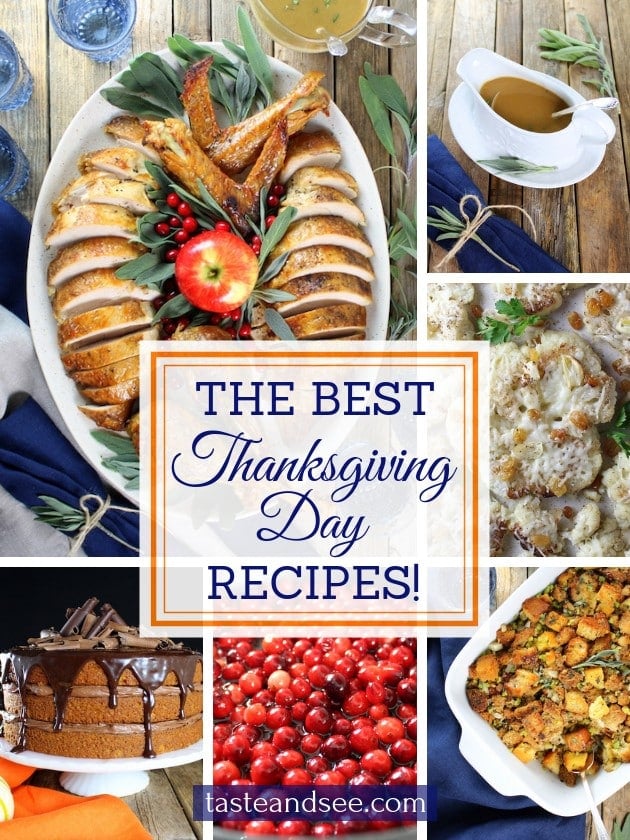 Can you believe Thanksgiving is just days away? How will you be celebrating this year?
Whether you're sharing a feast with family, or heading off to a movie and Chinese food with friends, I hope you'll take a moment and give thanks.
After all, giving thanks has always been the primary reason for this Turkey Day celebration.
You probably already know this, but originally the holiday celebration was for our nation's founders to give thanks to God for a bountiful harvest after a year of sickness and scarcity… this was their joyous outpouring of gratitude.
Things have changed some over the years but Thanksgiving is still a time to give thanks!
Personally, one of the things I'm most grateful for is you! Thanks for taking the time to stop by the blog, make my recipes, share your feedback, and spread the word about Taste And See like you do! I couldn't do it without you!!
Now let's talk turkey!! For real. Lol
First things first... The Easiest Thanksgiving Turkey Recipe:
This Closed Oven Turkey recipe has been passed down through my husband's family for many years. So, it is tried and true my friend!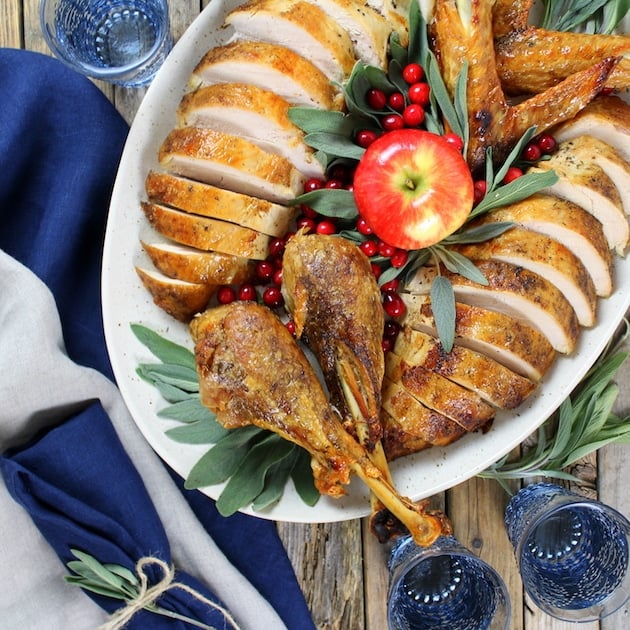 It turns out super moist, even the breast… the skin is golden and crisp… and there's plenty of turkey juice for making heaven's elixir AKA gravy.
It's actually a pretty simple recipe…Cover and cook Tom for an hour at 500 degrees, then turn the oven off. And just let it sit there for another 5 hours or so. I know what you're thinking. Yes, really. I was a skeptic too, but I have tried to tamper with this recipe and the results were not good. Stay the course my friend…it will all work out I promise!
All the Thanksgiving side dish recipes:
This Classic Turkey Stuffing is one of those yummy family recipes that my mom would always make! I've made a few adjustments over the years and I think it's better than ever. And apparently others do too... it was the star of the show last year - no leftovers to be found. This year I'll make two pans!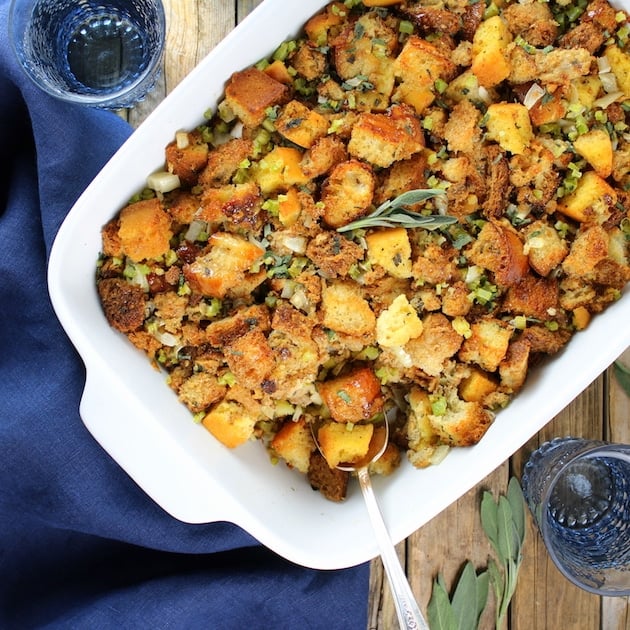 Of course, this White Wine Turkey Gravy is absolutely one of my most favorite things about the whole meal. What can I say I'm a little crazy about my gravy! A little white wine, a mixture of flour and water, and a little salt and pepper (if it even needs it ) and you're good to go. Don't be surprised if your guests slurp it up by the spoonful.
Here are some other delicious time-tested side dishes to round out your Turkey Day menu:
Roasted Fall Vegetables
Kale Mashed Potatoes
Smashed Potatoes
Caribbean Cornbread
Cranberry & Cherry Sauce
Our favorite Thanksgiving veggie recipes:
This dish will forever change the way you think about cauliflower! Thick hearty cauliflower "steaks" roasted with Asiago cheese, garlic, and golden raisins... it's meaty and cheesy and salty and sweet. Nothing can compare with this Asiago Roasted Cauliflower!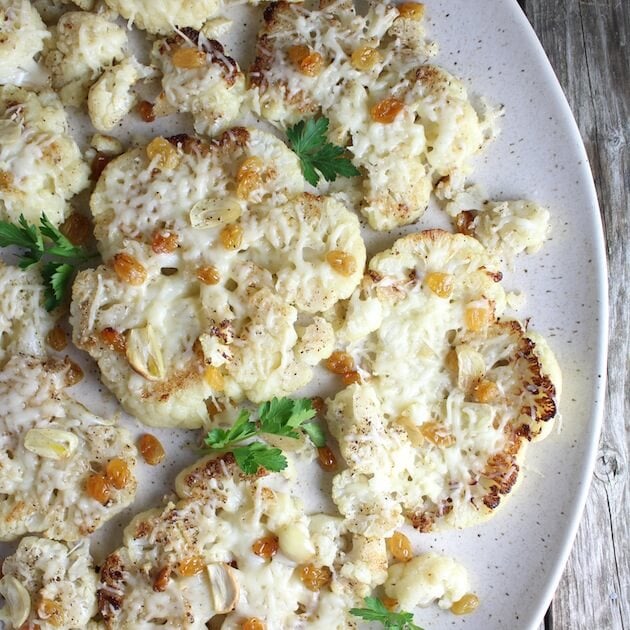 There are countless ways to dress up even the most humble of veggies... here are just a few:
Sautéed Brussels Sprouts
Balsamic Glazed Brussels Sprouts
Garlic Green Beans
Honey Roasted Carrots
Honey Harissa Carrots
Delicious Thanksgiving desserts!
It's the season for all things pumpkin, and this amazing ganache cake takes inspiration from one of my favorite flavor combos: pumpkin and chocolate!!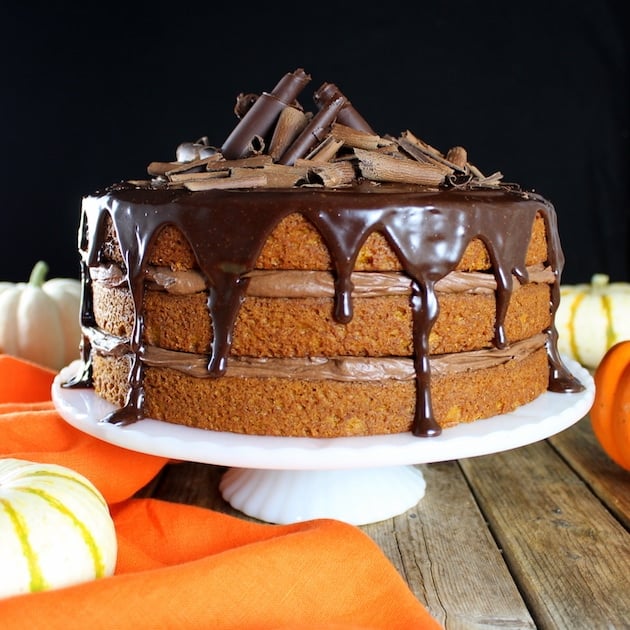 An amazing tower of pumpkin goodness with a decadent layer of creamy, rich chocolate ganache... word's can't do it justice!
Be sure to check out these other harvest-season desserts:
Pumpkin Chocolate Chip Squares
Caramel Apple Pie
Salted Butter Apple Galette
Pear Bourbon Skillet Crisp
Chocolate Hazelnut Tart
A few tasty holiday cocktail recipes:
This cider honey martini is Fall in a glass! It's the perfect balance of sweet and tart thanks to yummy ingredients like apple cider, fresh lemon juice, Honey Jack, and a pinch of cinnamon.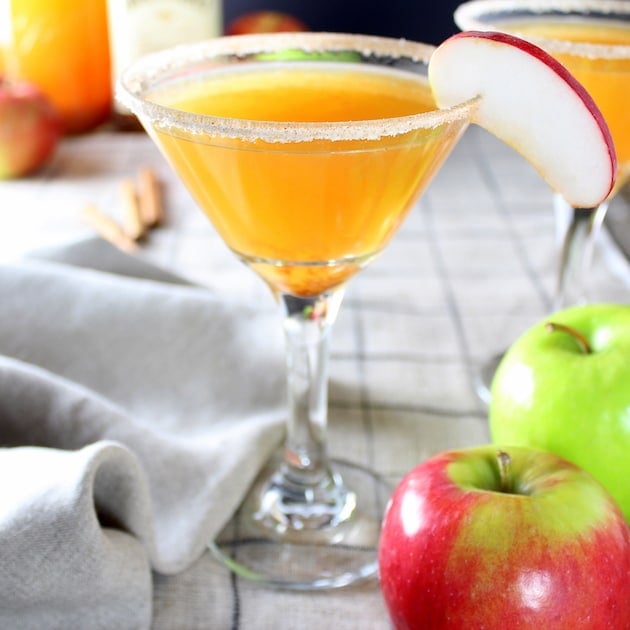 For some festive fun happy hour ideas this winter, check out these other celebration libations:
Warm Cranberry Apple Cider
Nutty Holiday Eggnog
Aperol Punch
And there you have it - some delicious recipes just waiting to be made and devoured!
We're so thankful for all of you and we wish you and your family a delicious and Happy Thanksgiving!🍂🍁