These Asiago Cheese Brussels Sprouts are quickly pan-fried until golden, then seasoned with salt and pepper and topped off with shredded Asiago cheese! They're the most delicious side dish and perfect for a Sunday dinner or any Holiday meal.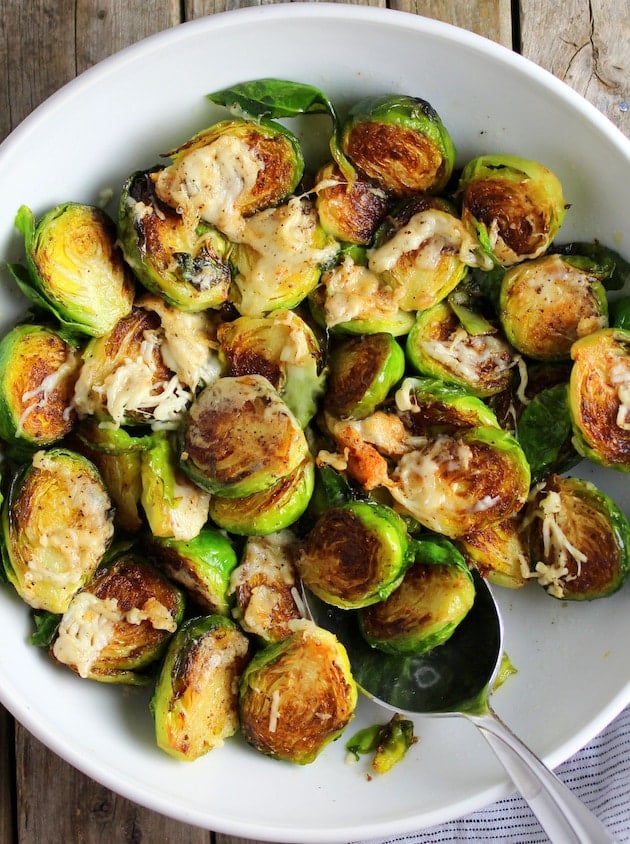 There's just nothing quite like sautéed Brussels Sprouts with melted Asiago cheese! If you don't agree, I understand. I once felt the way you do.
This is gonna blow your mind… wait for it…the reason you "think" you don't like Brussels Sprouts is because most recipes tell you to over-cook them.
It's so not you – it's your recipes! And, of course, there is the other small detail of the addition of cheese. Cheese + anything = awesome sauce!?✨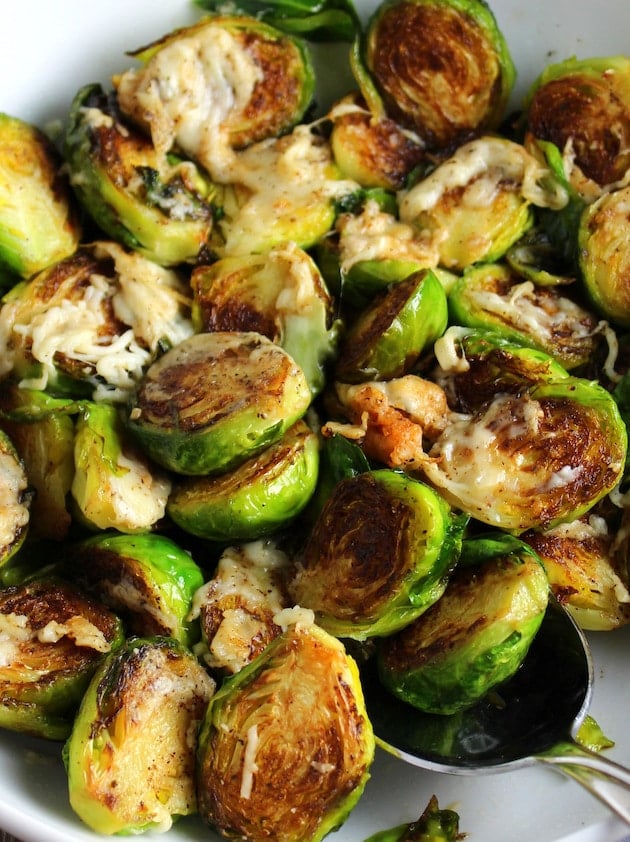 These little veggie brains or "sputsies" as Sanderino likes to call them, are meant to be served a little crunchy, bright green and never, ever bitter!!
Brussels Sprouts get a bad rap and it's totally not their fault. When they are cooked too long they get slimy and bitter, and they turn this army green color – which is great if you're a trendy military jacket but not so much if your something I'm putting in my mouth.
Can I get an Uh-Huuuh!?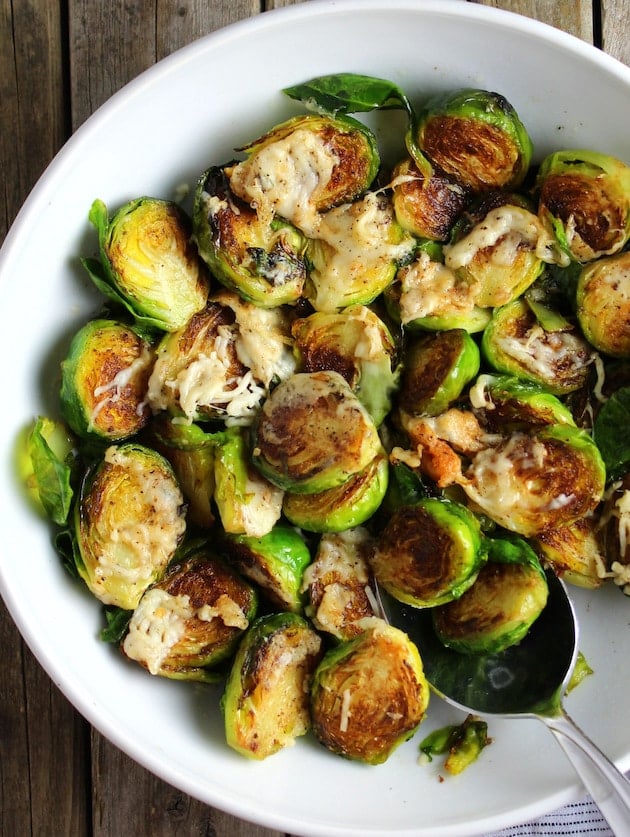 Plus, Brussels Spouts are a cousin to our dear friend Kale, which made a comeback in homes everywhere several years ago, and is still going strong. Yayyy!
There is still hope for the Brussels Sprout! Not to mention they are an excellent source of Vitamin C and K and are being researched for their potential anticancer properties. Word!
Lastly, they are beautiful.💚 Seriously, have you seen them growing on those tall stalky stems? My girl Martha Stewart even encourages people to buy them on the stem and use them for a centerpiece or table decorations.
I know, this is not a home décor blog but I think I'm on the verge of something here…Decorations and Dinner, Food For Your Eyes and Your Belly, Arrange And Eat, Edible Arrangements… oh wait that's already a thing.
How to cook Brussels Sprouts:
First, rinse the Brussels Sprouts off and pat them dry. (You don't want any grease splatters from the water hitting the oil in the pan.)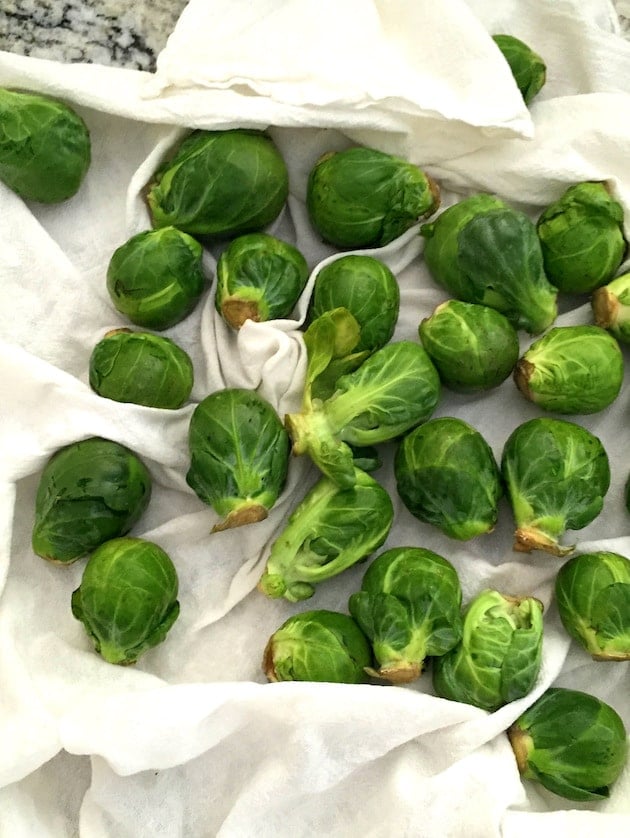 Next, trim off the bottom tip. Not too much or too many of the leaves will fall off.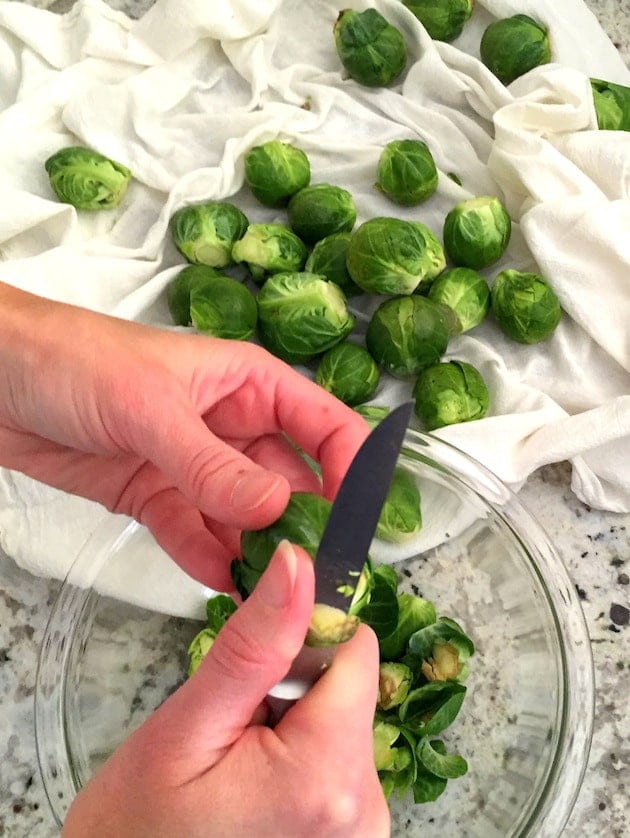 Now cut them in halve lengthwise.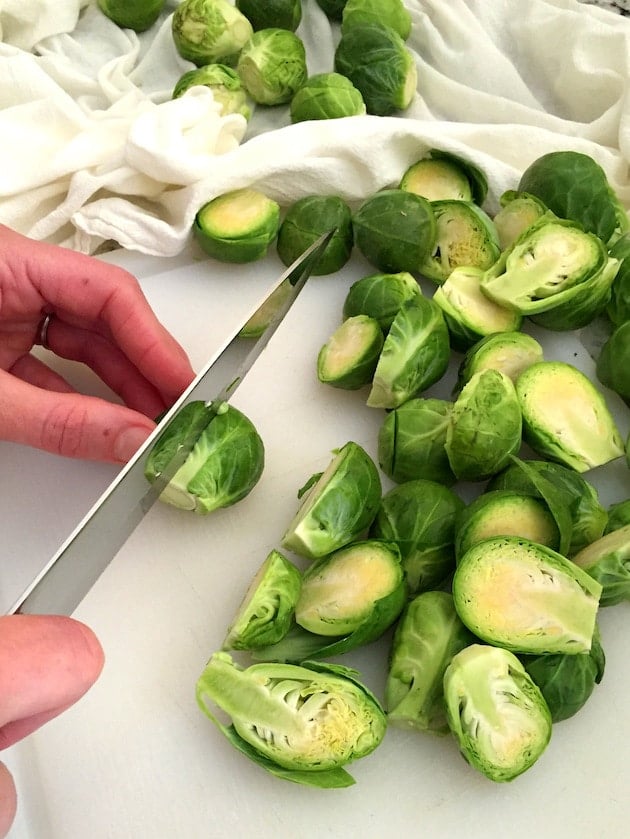 Add olive oil to a non-stick pan over medium high heat. Place the Brussels Sprouts cut side down in the pan, sprinkle with salt and pepper and fry for 3-5 minutes or until that side is golden.
Flip the Brussels Sprouts over on the other side and cook for 2-3 more minutes. Sprinkle with salt and pepper and Asiago cheese and serve.
They Brussels Sprouts should be a little bit crunchy and absolutely delicious!
I can't wait for you to try this tasty sautéed Brussels Sprouts recipe! After one bite you will never make them any other way.
Yield: 8 servings
Sautéed Brussels Sprouts With Asiago Cheese
Salty, crunchy, healthy, goodness!
Ingredients
1 ½ pounds Brussels Sprouts
3 ounces Shredded Asiago Cheese
2-3 tablespoons olive oil
Salt & Pepper
Instructions
Gently cut off the very end of each Brussels Sprout, leaving most of it intact. This will keep the sprouts from falling apart while they are being cooked.
Next cut each one in half length-wise.
Add 1 tablespoon of olive oil in a large skillet on medium-high heat. Place the cut Brussels Spouts flat side down for about 3-5 minutes and let them brown. (Be sure to not overcrowd. If all the Brussels Sprouts don't fit in the pan, sauté a second batch.) Sprinkle with salt and pepper.
Rotate the Brussels Sprouts onto their other side in the pan and sprinkle again with salt and pepper. Sauté for 2-3 more minutes.
Sprinkle with the Asiago cheese. (Try to get the cheese on the Brussels Sprout's more than the pan.) Let the cheese melt, cook about one more minute in the pan.
Slide the Brussel Spouts onto a serving dish and dig in!
Notes
The Brussels Sprouts should be a little crunchy.  If they cook too long they will be bitter... They should still be a bright green color. If they look army green then they may have cooked too long.
Nutrition Information
Yield
8
Serving Size
3 ounces
Amount Per Serving
Calories

109
Total Fat

7g
Saturated Fat

2g
Unsaturated Fat

0g
Cholesterol

7mg
Sodium

192mg
Carbohydrates

8g
Fiber

3g
Sugar

2g
Protein

7g