Looking for delicious appetizers that are great for game day, a holiday celebration, or any gathering with family and friends? Your search is over... I've pulled together 30 of my favorite appetizer recipes that are not only incredibly delicious but also easy to make. From crispy Garlic Parmesan Chicken Wings and cheesy French Onion Meatballs to Stuffed Mushrooms with Spinach, Feta, and Walnuts, these recipes will definitely wow your guests and keep them coming back for more!
There's no better way to bring people together than through the shared love of food. So grab your apron and let's get cooking!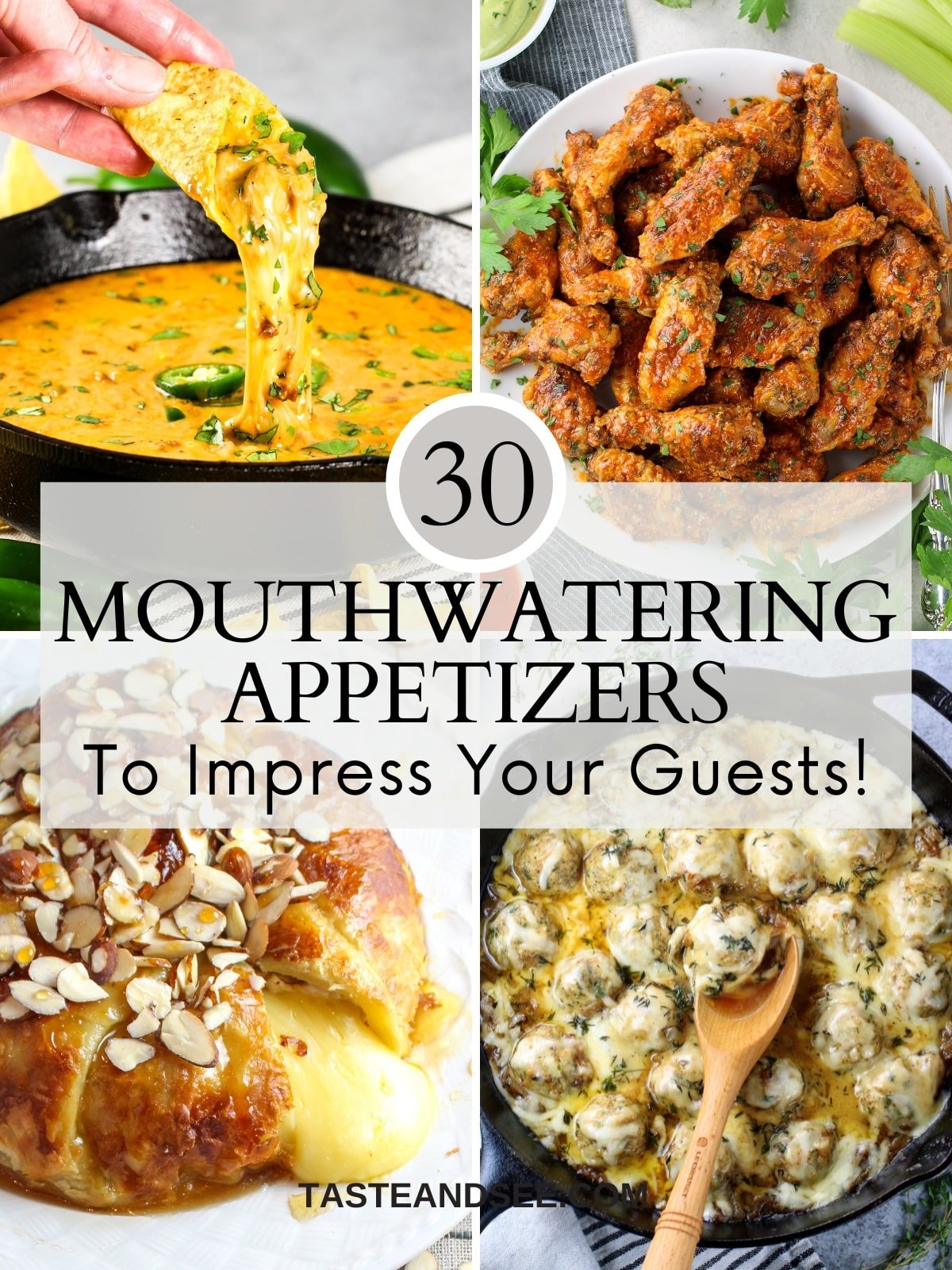 Jump to:
Baked Brie Appetizers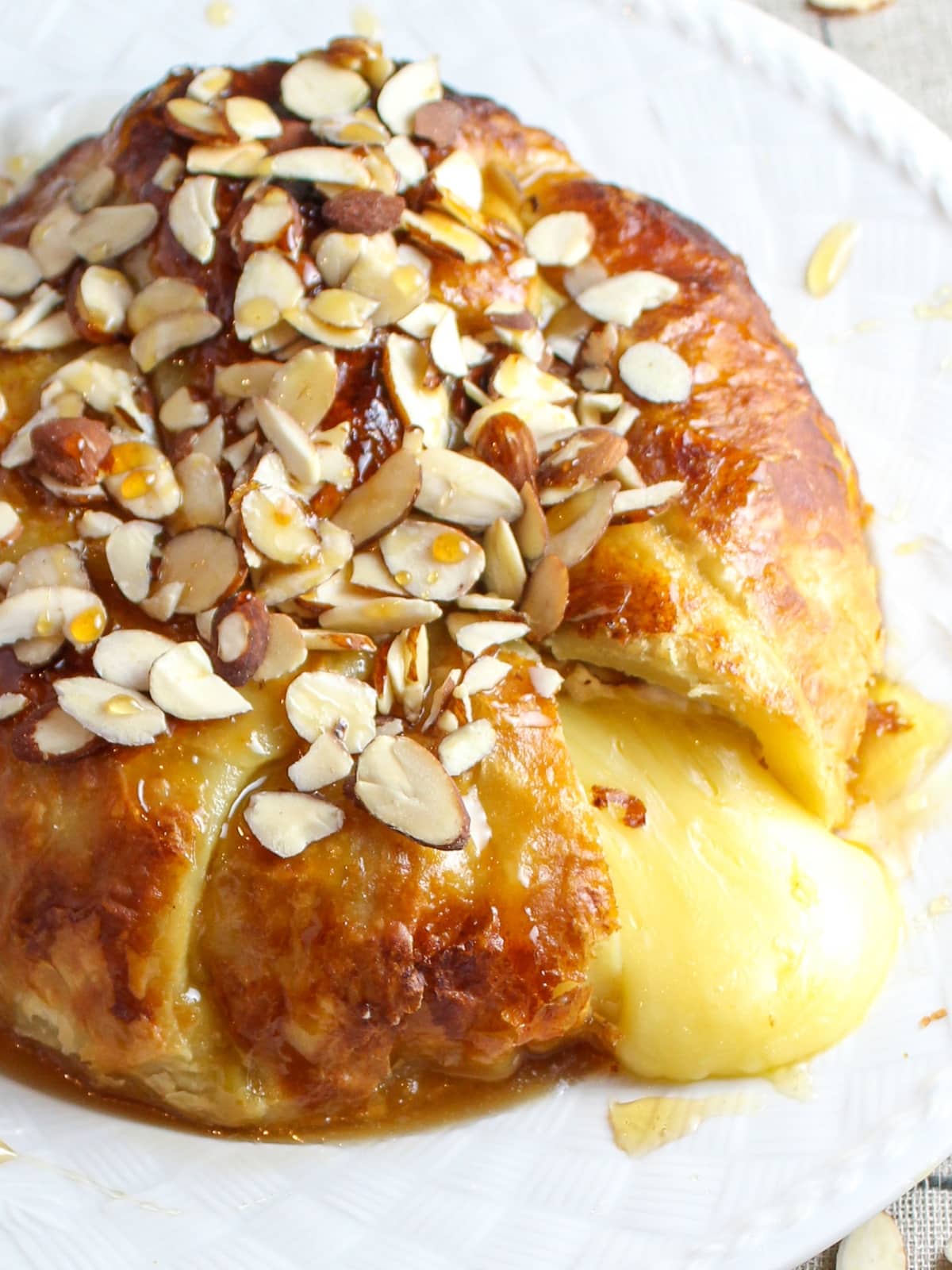 Are you looking for a delicious, easy appetizer to impress your guests? Baked Brie in Puff Pastry with Honey and Almonds is the perfect appetizer for you! The brie cheese is creamy and smooth, wrapped in puff pastry dough, drizzled with honey, and sprinkled with sliced almonds. This baked Brie recipe has been a go-to entertaining recipe in my home for decades.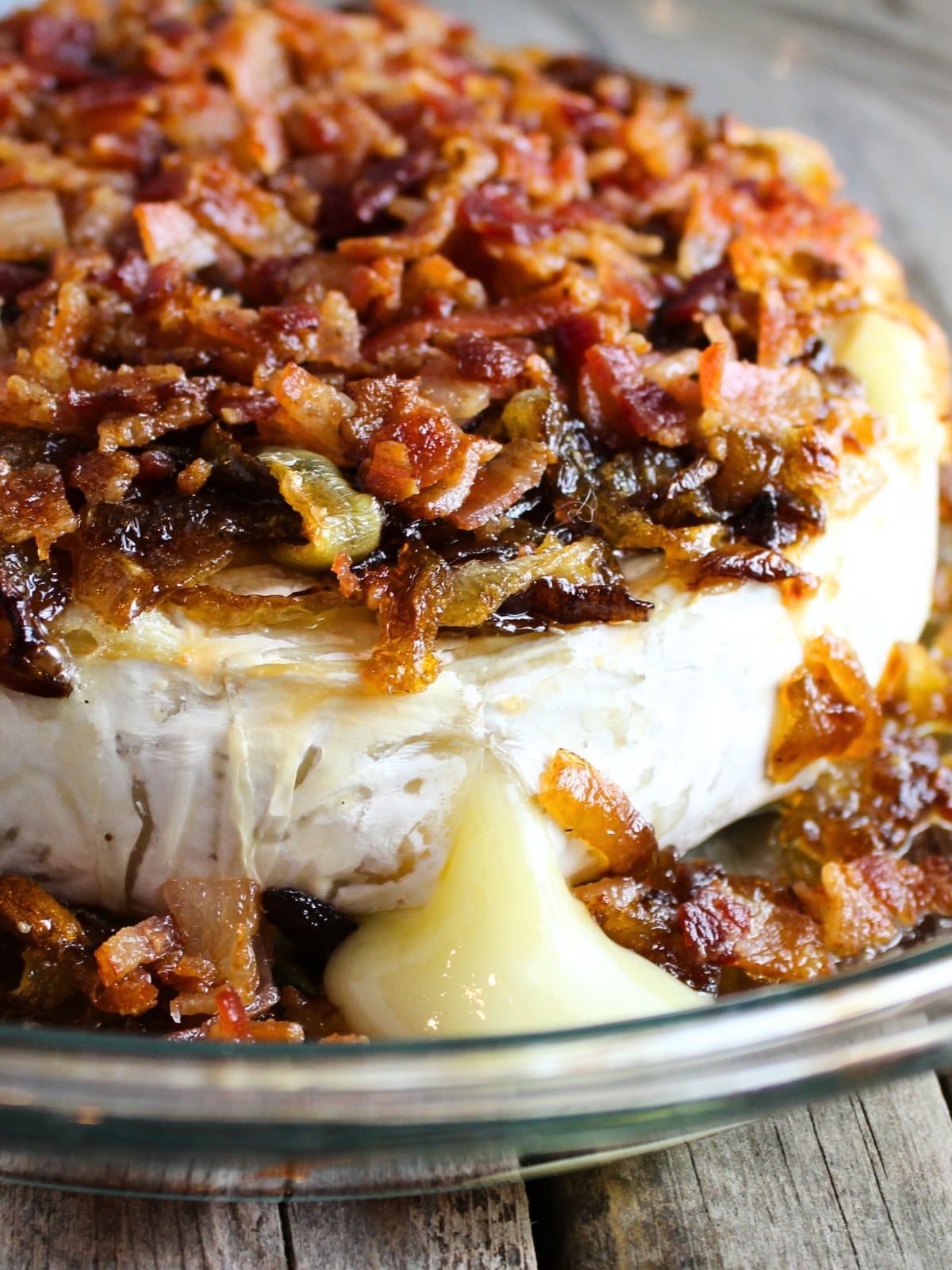 Baked Brie with Caramelized Onions and Bacon! The perfect appetizer for having friends or family over during the holidays or anytime you want something cheesy and delicious! Plus, this baked brie recipe is gluten-free, requires only 5 ingredients, and is baked and ready to devour in 35 minutes! Bonus - there's a low-carb option.
Baked Brie in Puff Pastry with Cherry Cranberry Sauce – meet your new favorite holiday appetizer! Creamy cheesy melty brie, lightly toasted almonds, and a delightful sweet-tart cherry cranberry sauce with a hint of orange zest, all perfectly packaged in light and fluffy golden puff pastry!
Meatball Recipe Appetizers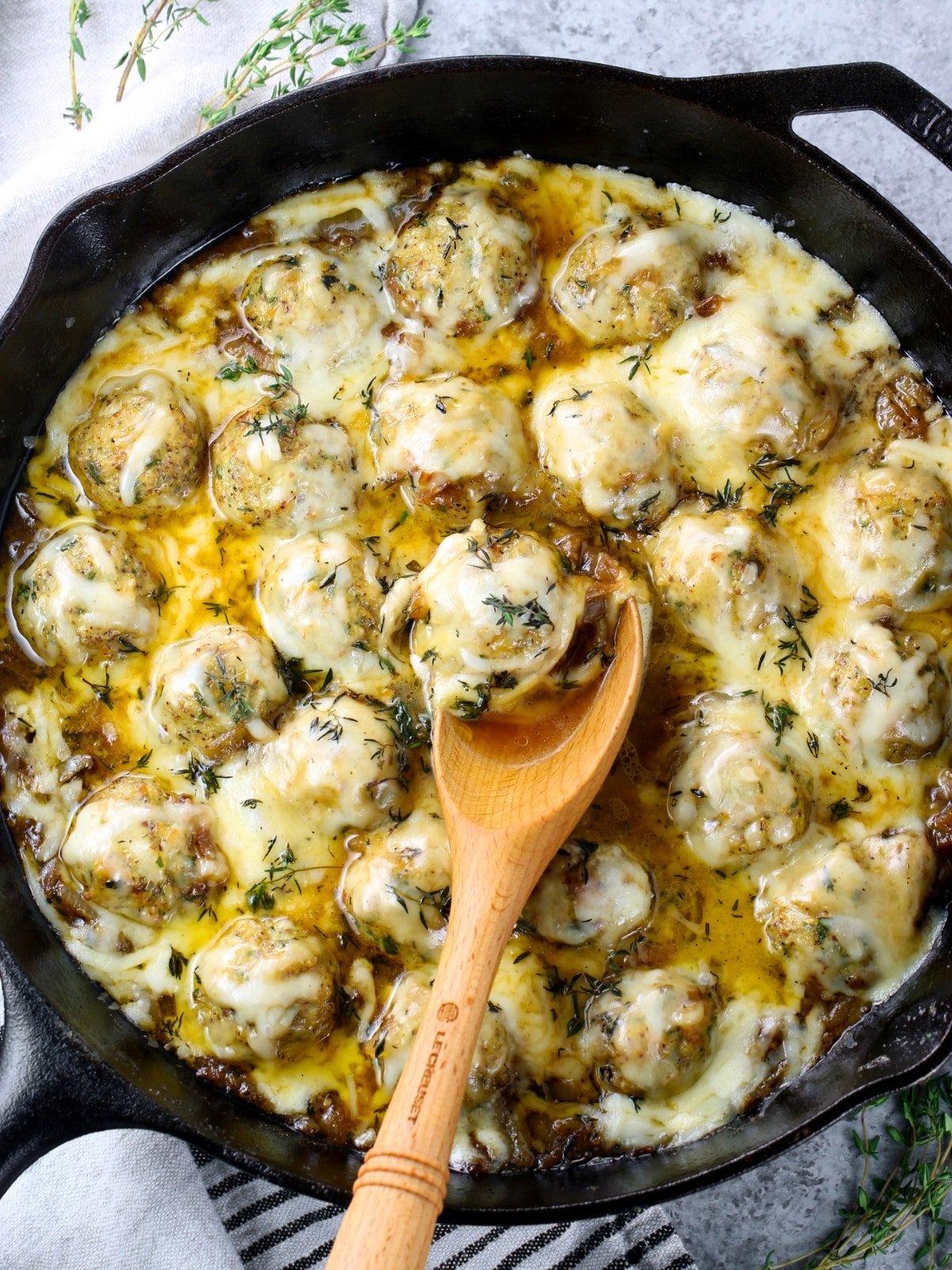 These French Onion Chicken Meatballs are flavorful, hearty, and crazy delicious! Tender, juicy, low-carb, gluten-free, homemade chicken meatballs simmered in a French Onion sauce, topped off with a combination of Havarti and Gruyere cheese. This chicken meatball recipe is going to be your new favorite appetizer!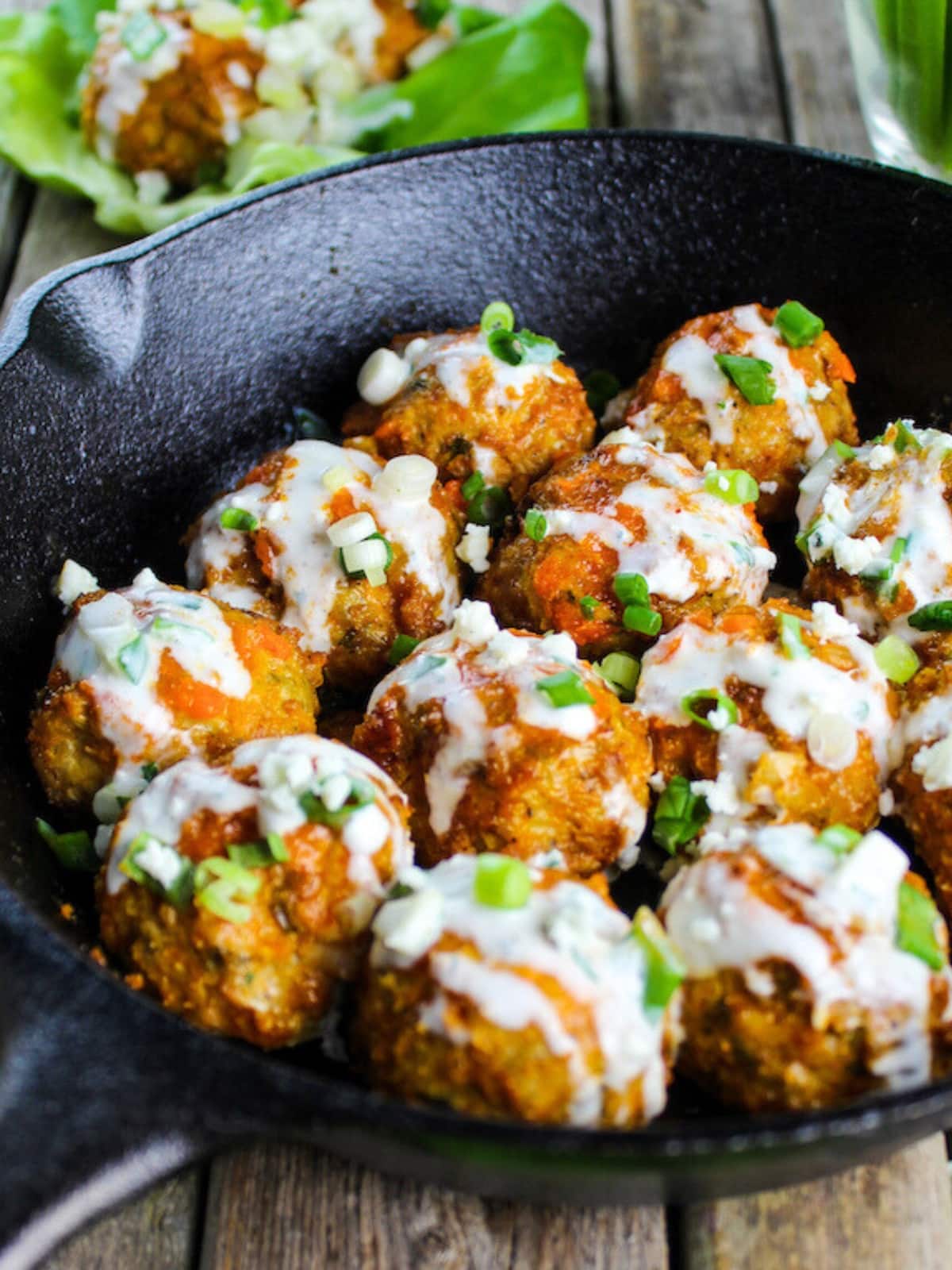 These Buffalo Chicken Meatballs are packed with flavor, loaded with lean protein, and their low-carb and gluten-free! A delicious option for an easy weeknight dinner, game day food, or party appetizer. This buffalo chicken meatball recipe is full of herbs and veggies, ground chicken, and a nice coating of Buffalo Sauce. Plus, an amazing blue cheese sauce that you can use to drizzle or dunk - you decide!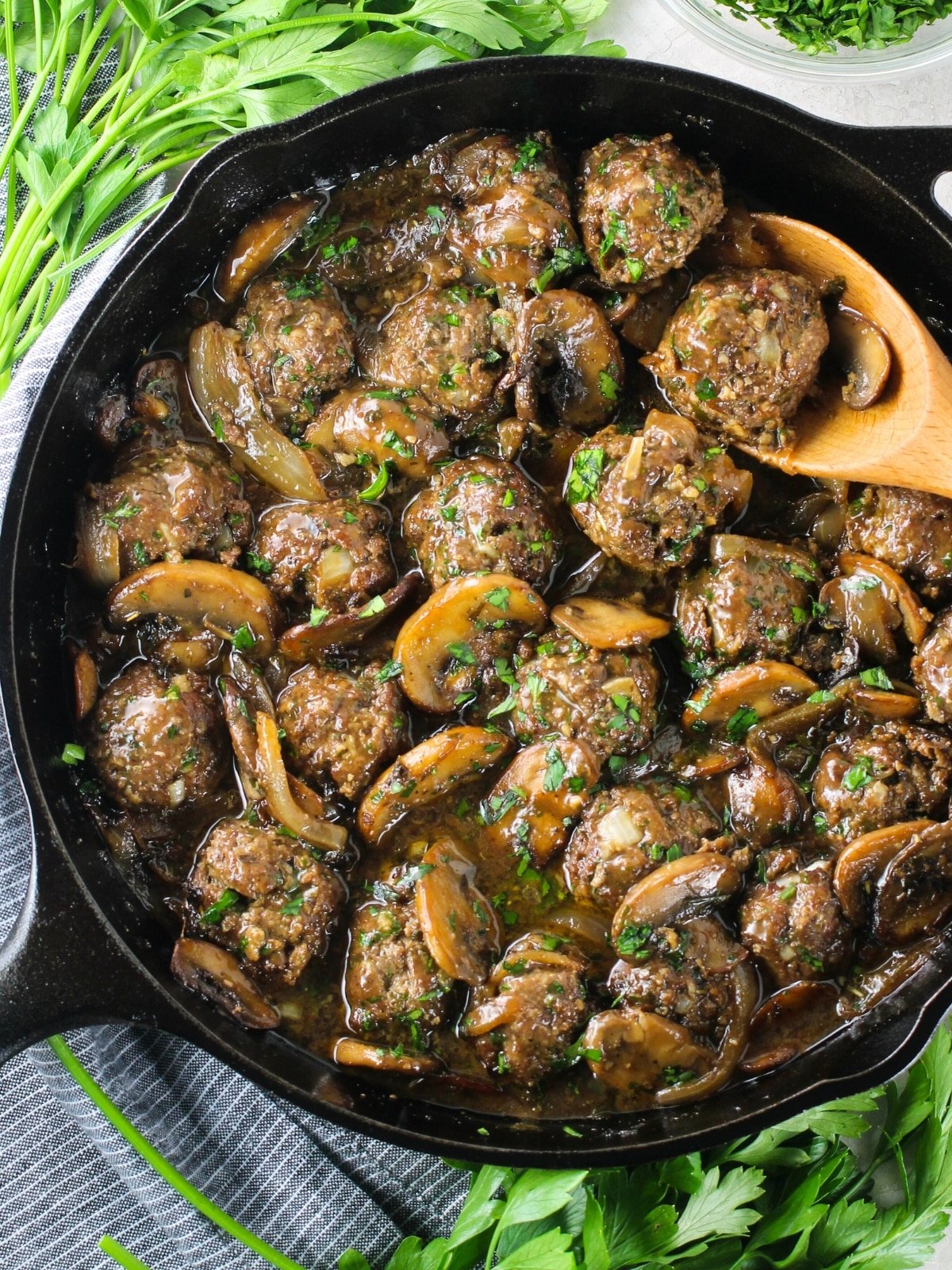 Salisbury Steak Meatballs… tender meatballs full of flavor and baked to perfection, then folded into the most delicious mushroom and onion sauce! Serve them straight up with toothpicks if you're going for low-carb. And if you're not make sliders out of these tasty morsels. Another delicious, low-carb, gluten-free recipe.
These Creamy Parmesan Mushroom Turkey Meatballs are so tender and tasty! The meatballs are baked and then smothered in the most delicious creamy parmesan mushroom sauce. They're perfect for gameday, holiday parties, easy weeknight dinners, and meal prepping! And they're low-carb, keto-friendly, and gluten-free!
Stuffed Pepper Appetizer Recipes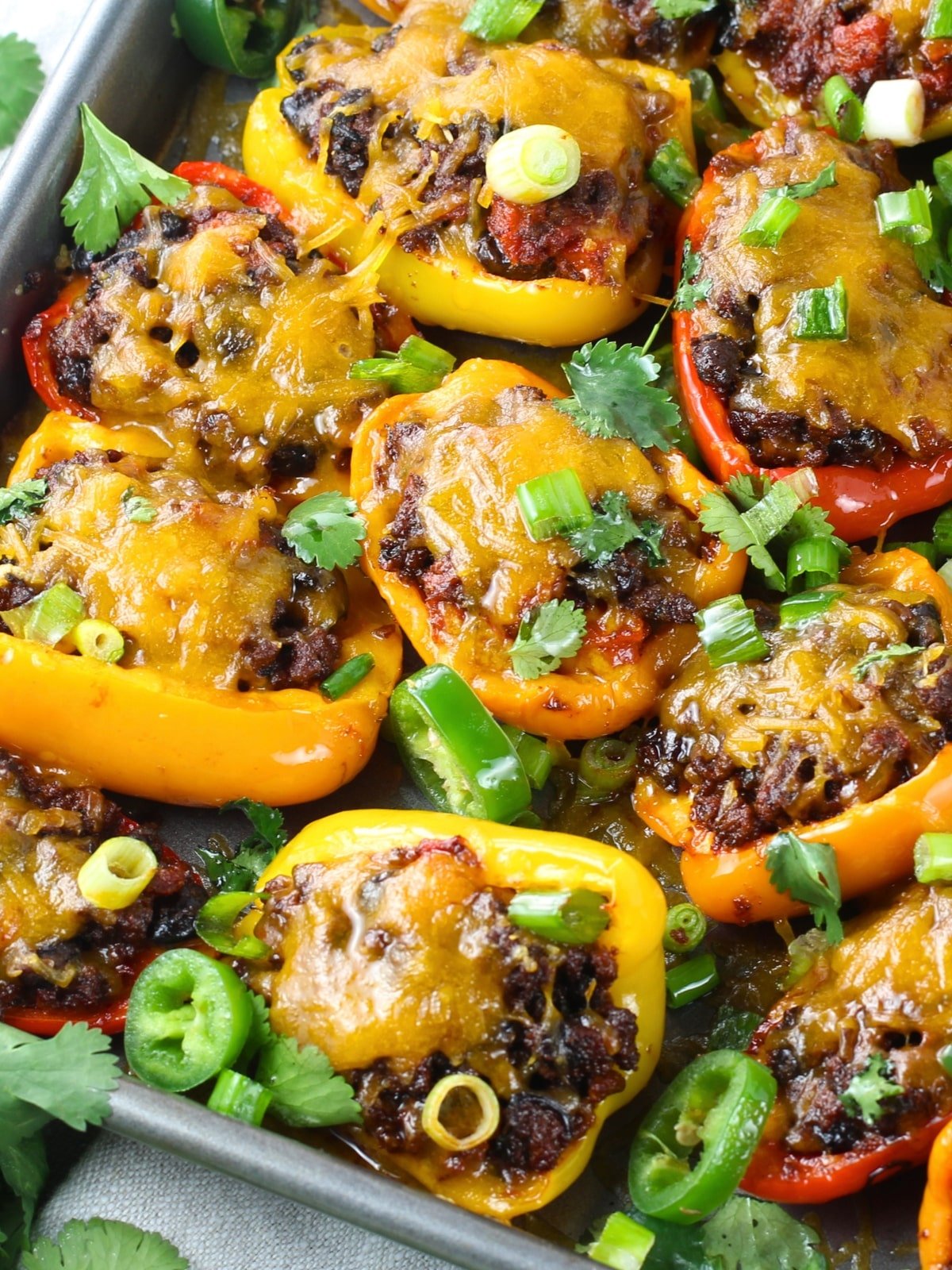 These Easy Low-Carb Mini Pepper Nachos are so flavorful and delicious! This appetizer version of Mexican stuffed peppers is perfect for meal prepping or sharing with friends at your next get-together! Full of all kinds of yumminess, like lean ground beef, black beans, sweet peppers, tomatoes with green chilies, and a zesty blend of Mexican spices. And best of all these stuffed peppers are low-carb and gluten-free.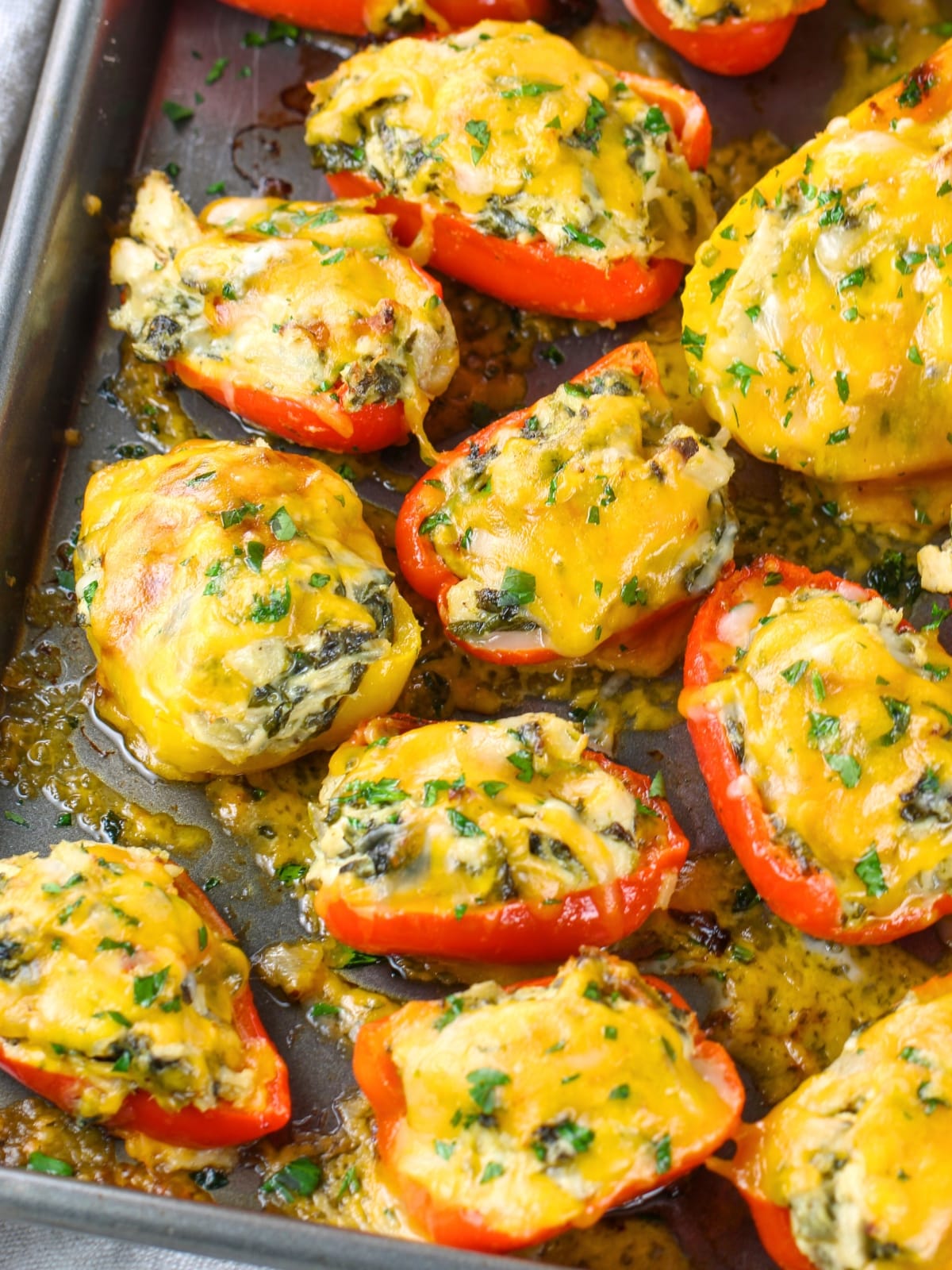 These Spinach Artichoke Chicken Stuffed Peppers are a delicious, hearty, low-carb, and gluten-free appetizer or meal if you want it to be!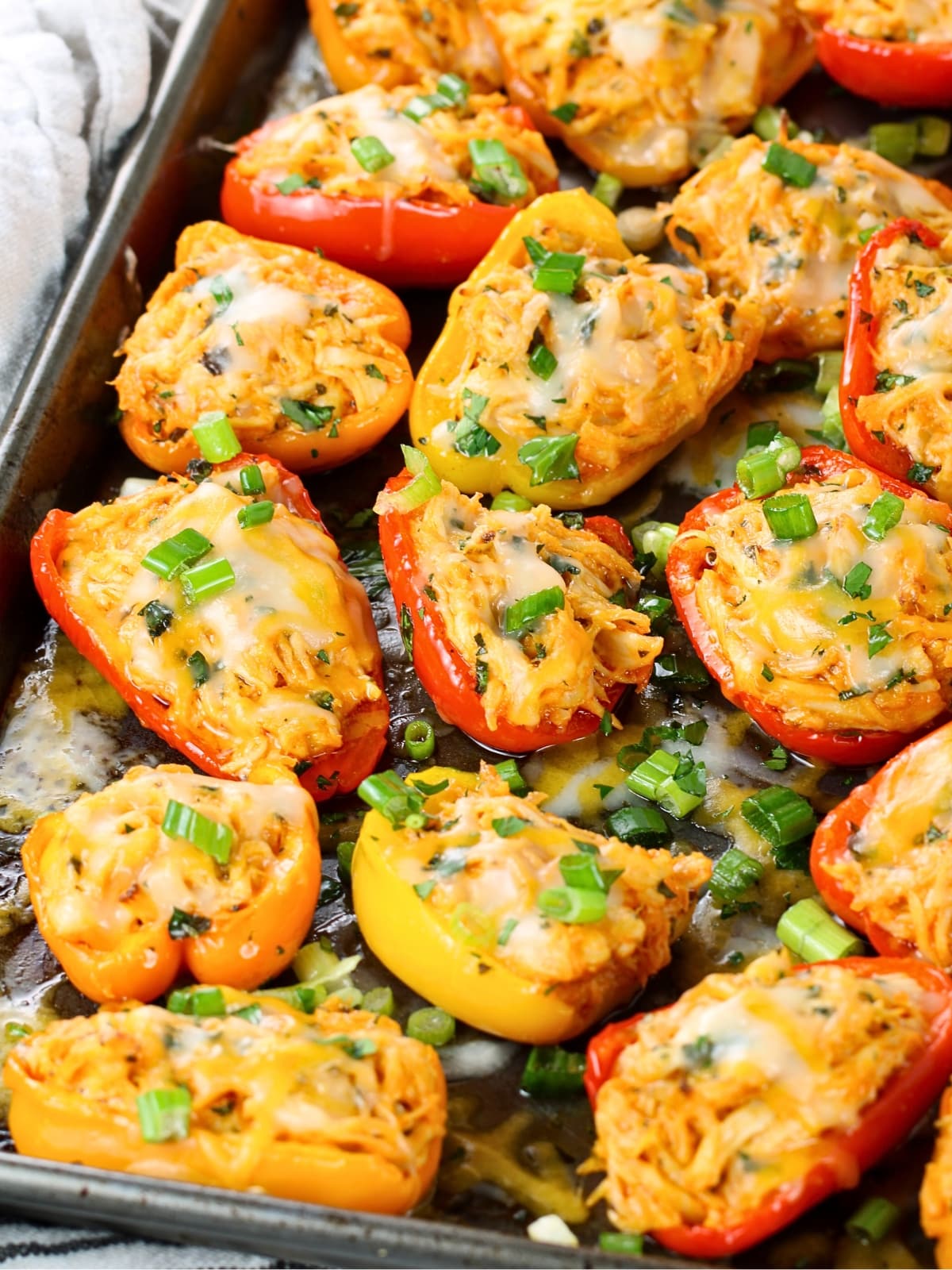 These Buffalo Chicken Baby Bell Peppers are loaded with shredded chicken mixed into a zesty buffalo sauce, melted cream cheese, sharp cheddar cheese, and chicken stock… all stuffed into baby bell sweet peppers. It's a tangy and delicious Buffalo Chicken Dip that's stuffed into peppers. It's a low-carb, gluten-free meal all by themselves.
Stuffed Mushroom Appetizers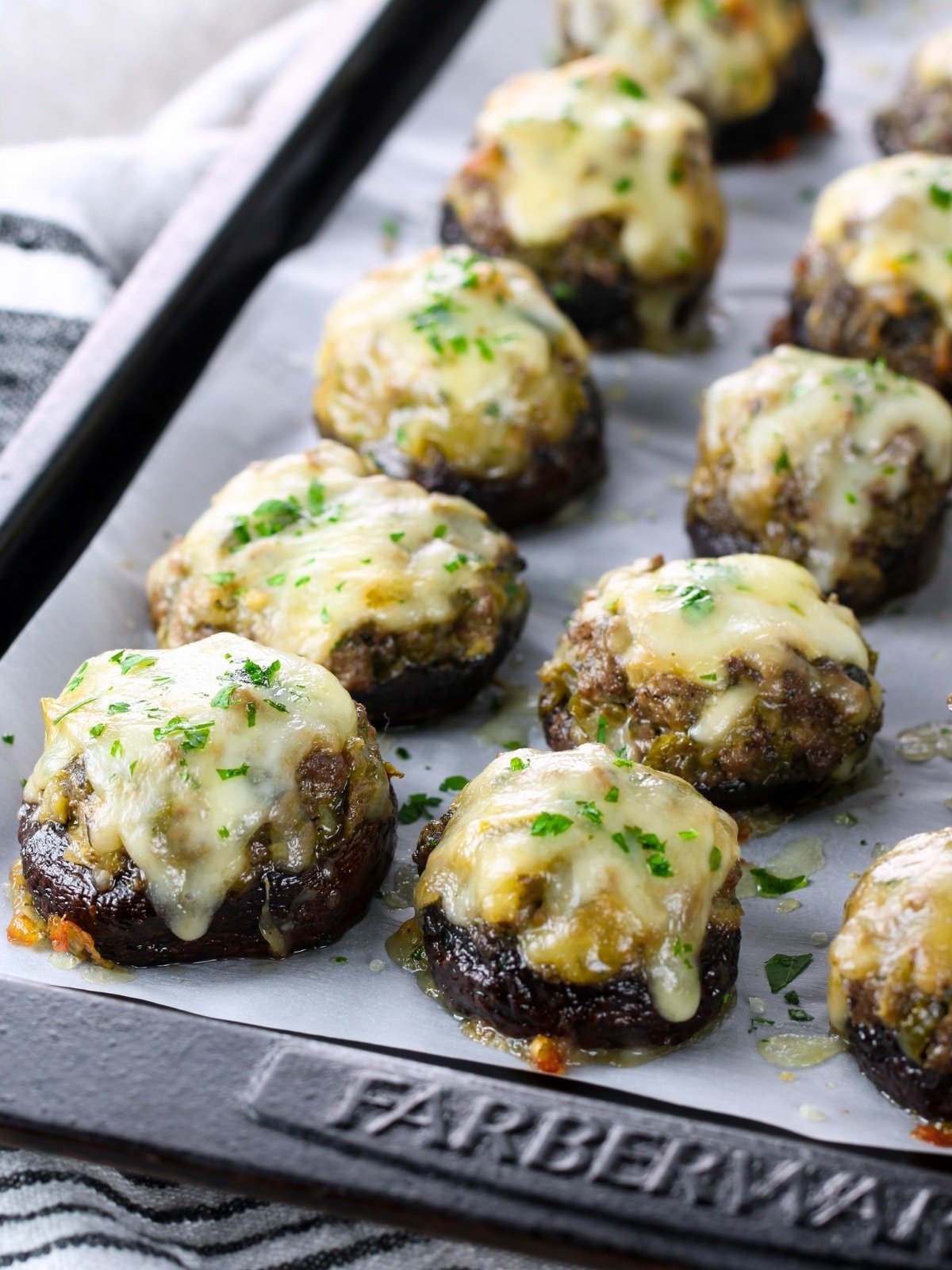 These Philly Cheesesteak Stuffed Mushrooms are full of comforting cheesy goodness with that earthy green pepper and beef flavor we all adore in a Philly Cheesesteak sandwich! This stuffed mushroom recipe is low-carb, keto, gluten-free, and mouth-watering delicious!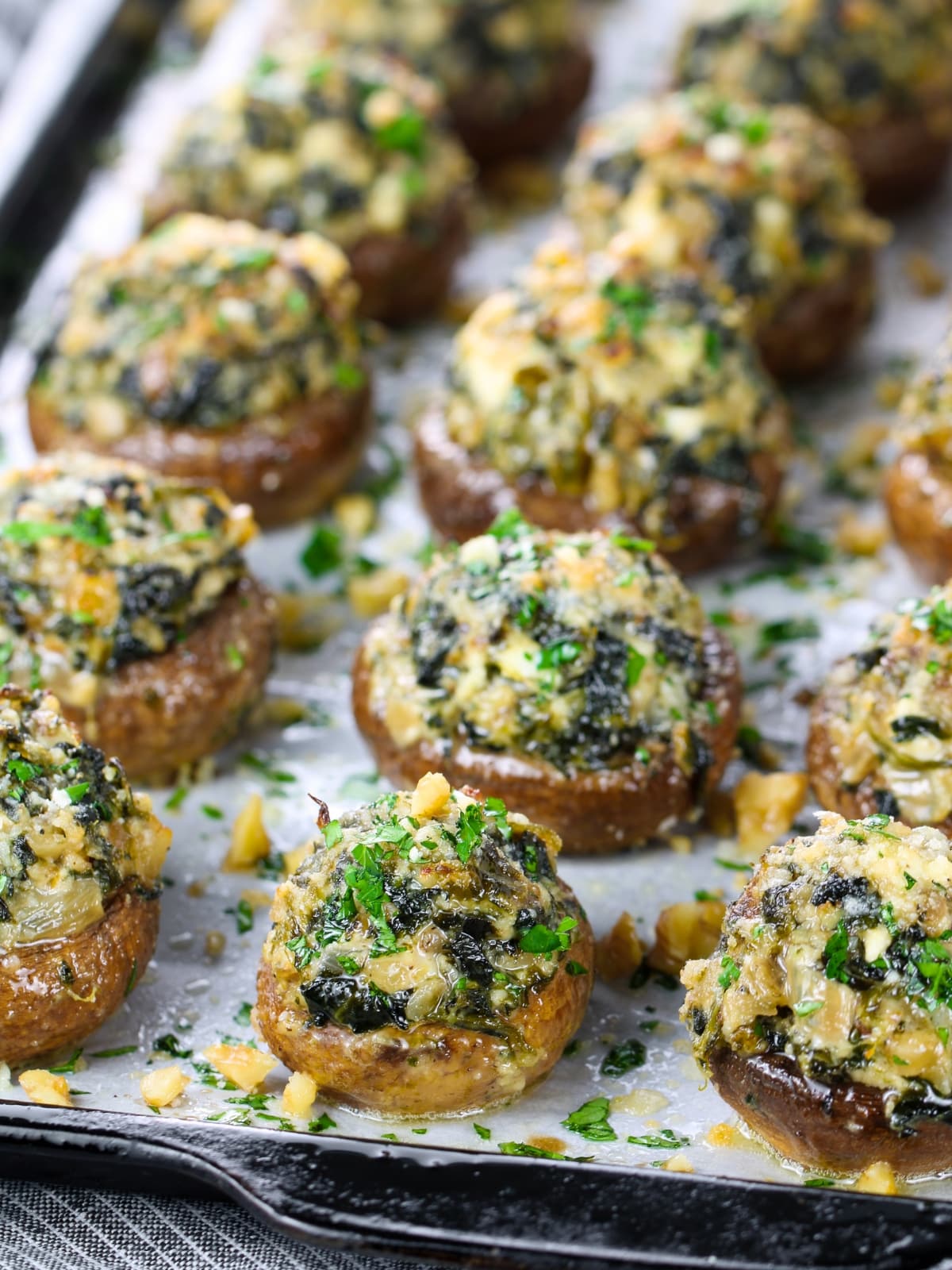 Stuffed Mushrooms with Spinach, Feta, and Walnuts… an easy and delicious appetizer for your next party or get-together with friends! They're so hearty and filling with yummy ingredients like onions, garlic, spinach feta, cream cheese, walnuts, fresh herbs, and mushroom caps of course! Plus, this stuffed mushroom recipe is low-carb and gluten-free!!
Seafood Appetizers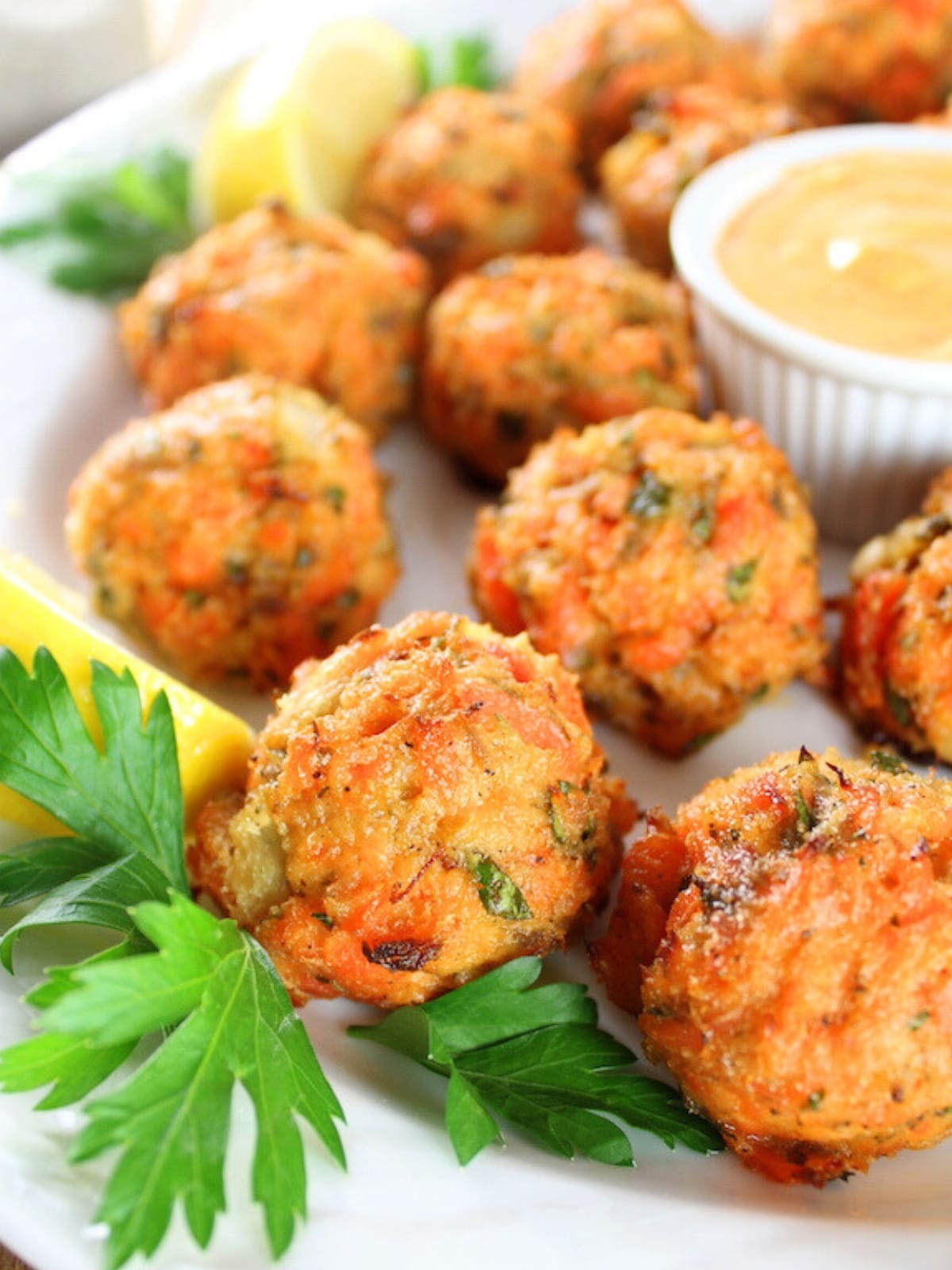 These Mini Salmon Cakes with Sriracha Lemon Aioli are a protein-packed appetizer perfect for entertaining! They are loaded with all things yummy: minced parsley, yellow onion, fresh lemon juice, and fresh salmon! This salmon cake recipe is great for making ahead and freezing, meal prepping for the week, or any party, get-together, or event you have a homerun appetizer to serve!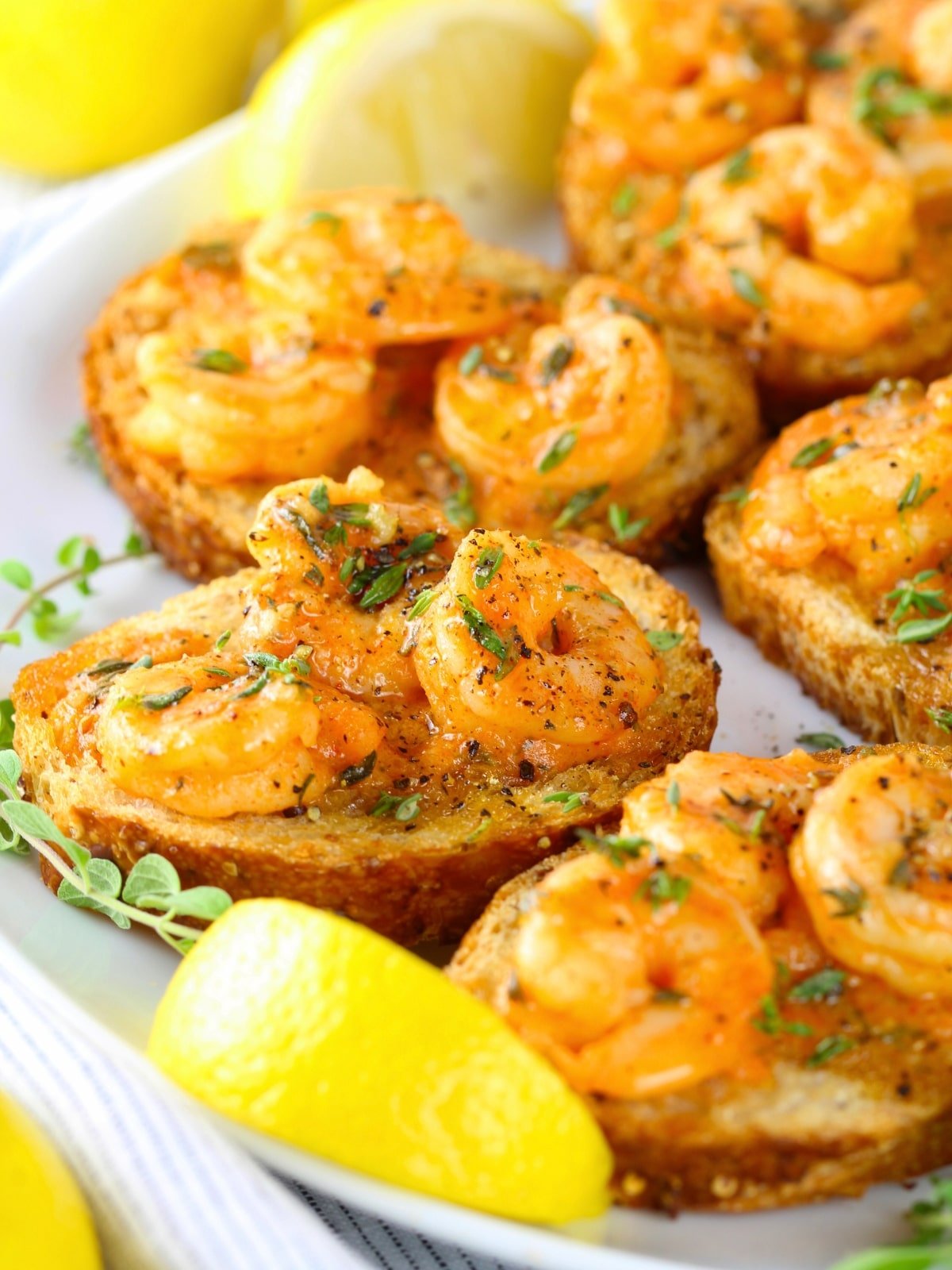 This Easy Cajun Shrimp Toast Appetizer is a super easy and delicious recipe for your next game day soiree or get-together with friends! Tender shrimp coated in a creamy Parmesan garlic sauce with Cajun spices served over toasted 5-grain French bread equals home-gating perfection!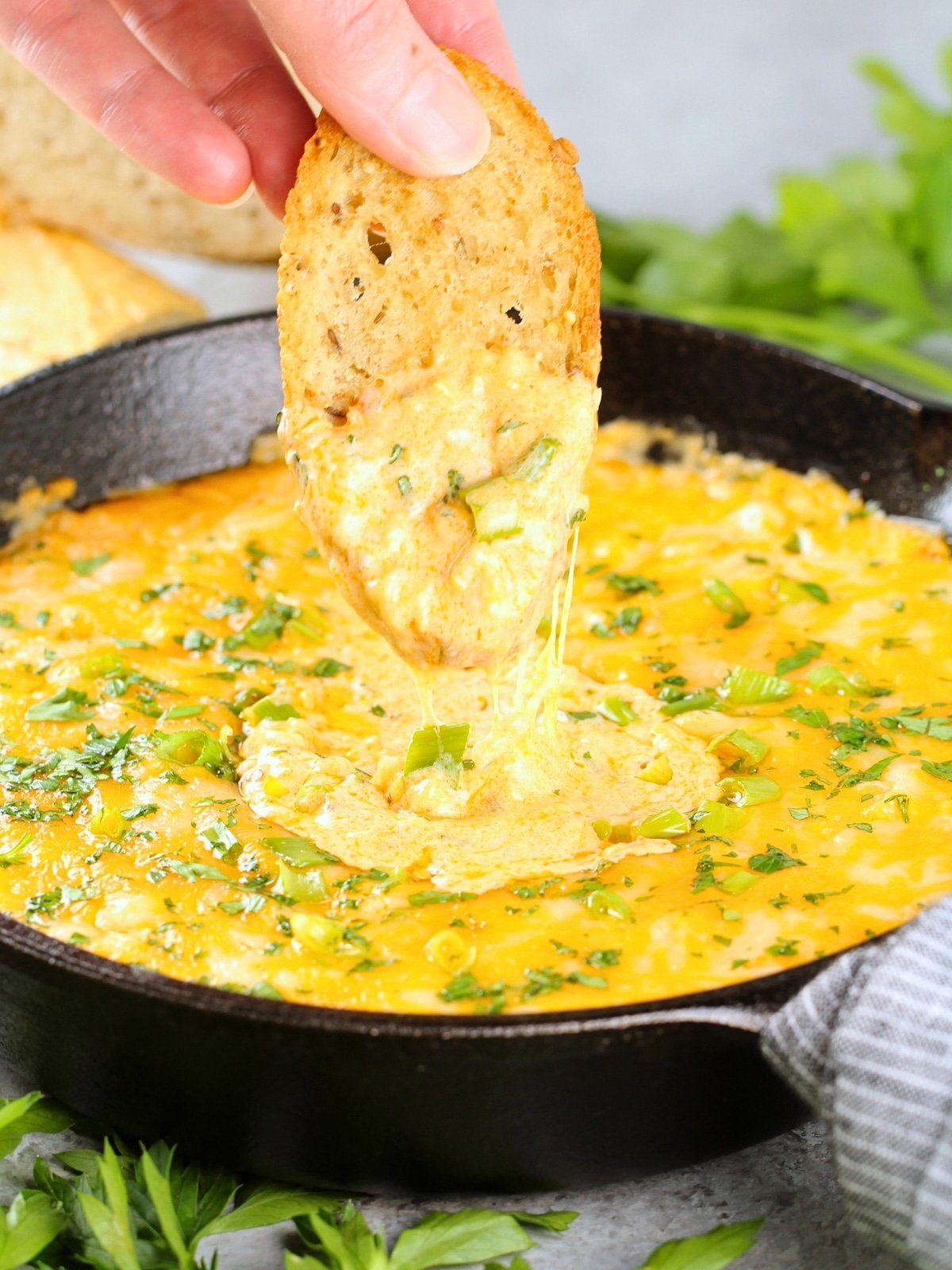 Cheesy Buffalo Shrimp Dip - your new go-to holiday appetizer ready in less than 15 minutes! This yummy shrimp dip recipe is full of creamy cheesy goodness and only requires 5 ingredients - Gorton's Garlic Butter Shrimp Scampi, hot sauce, cream cheese, shredded cheese, and green onions.
Brussels Sprouts Recipe Appetizers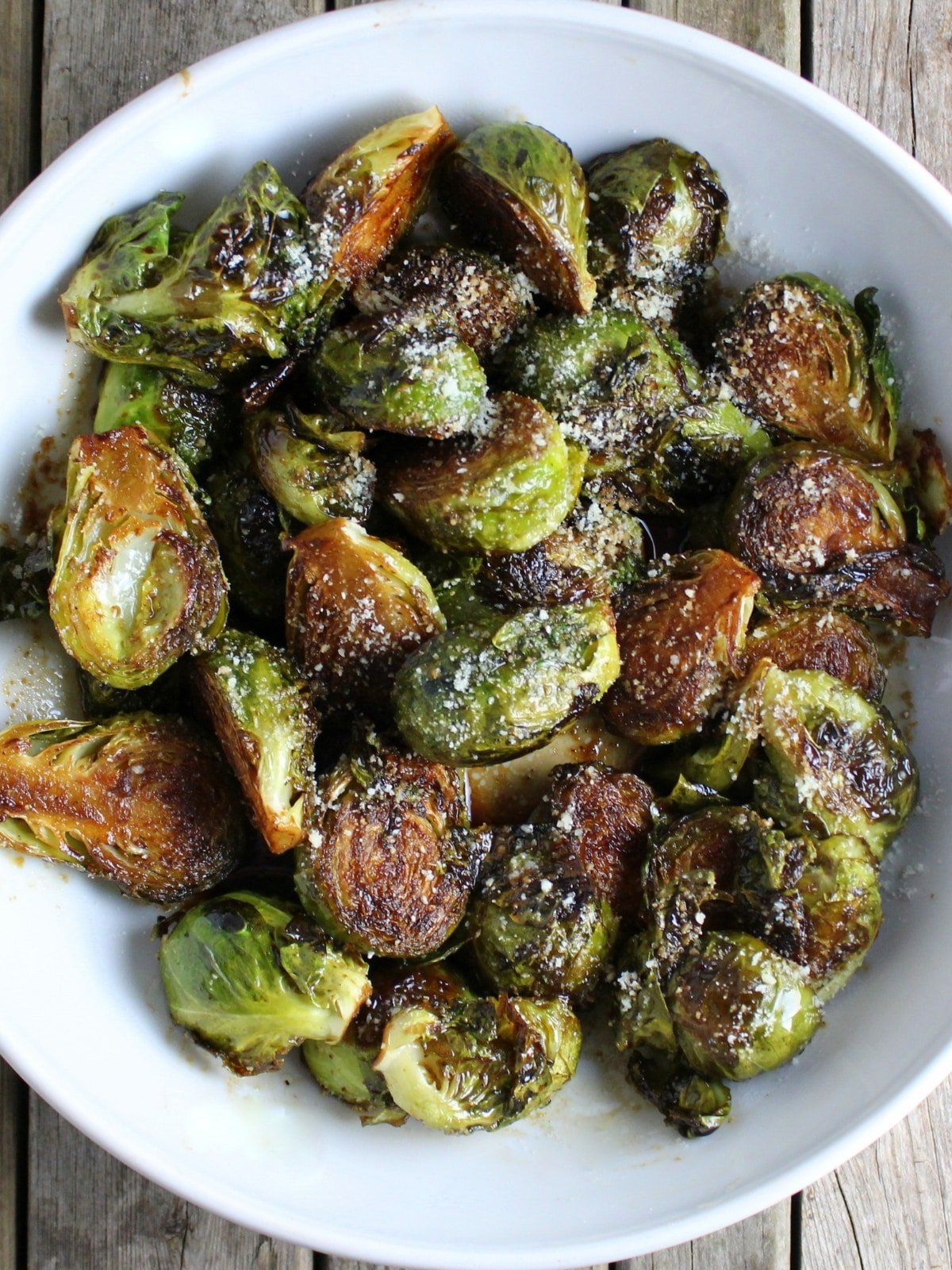 These Balsamic Glazed Brussels Sprouts are the perfect balance of savory and sweet! They're a delicious gluten-free and dairy-free appetizer or an easy side dish for any meal!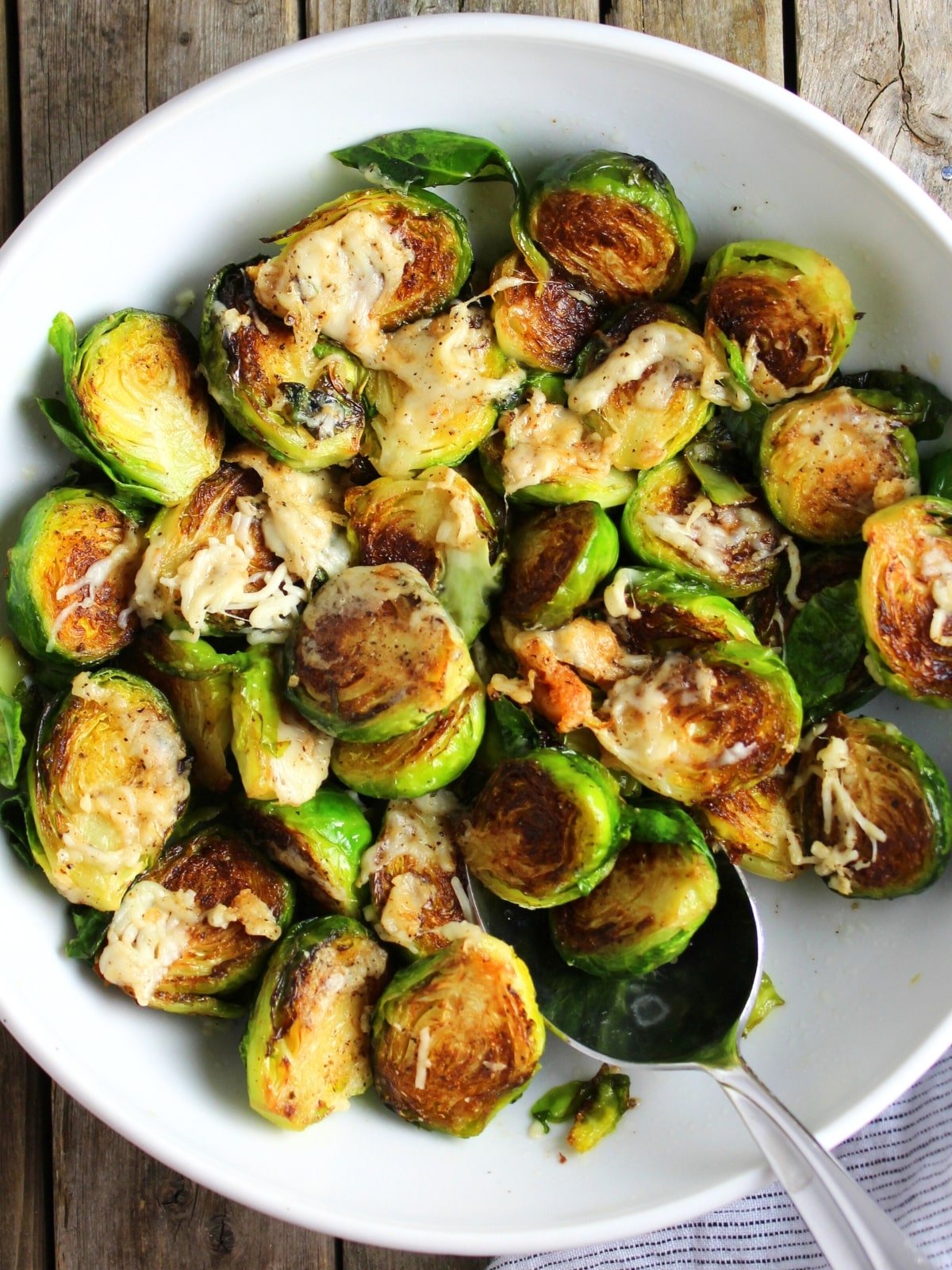 These Asiago Cheese Brussels Sprouts are quickly pan-fried until golden, then seasoned with salt and pepper and topped off with shredded Asiago cheese! They're the most delicious side dish or appetizer, perfect for a Sunday dinner or any Holiday meal.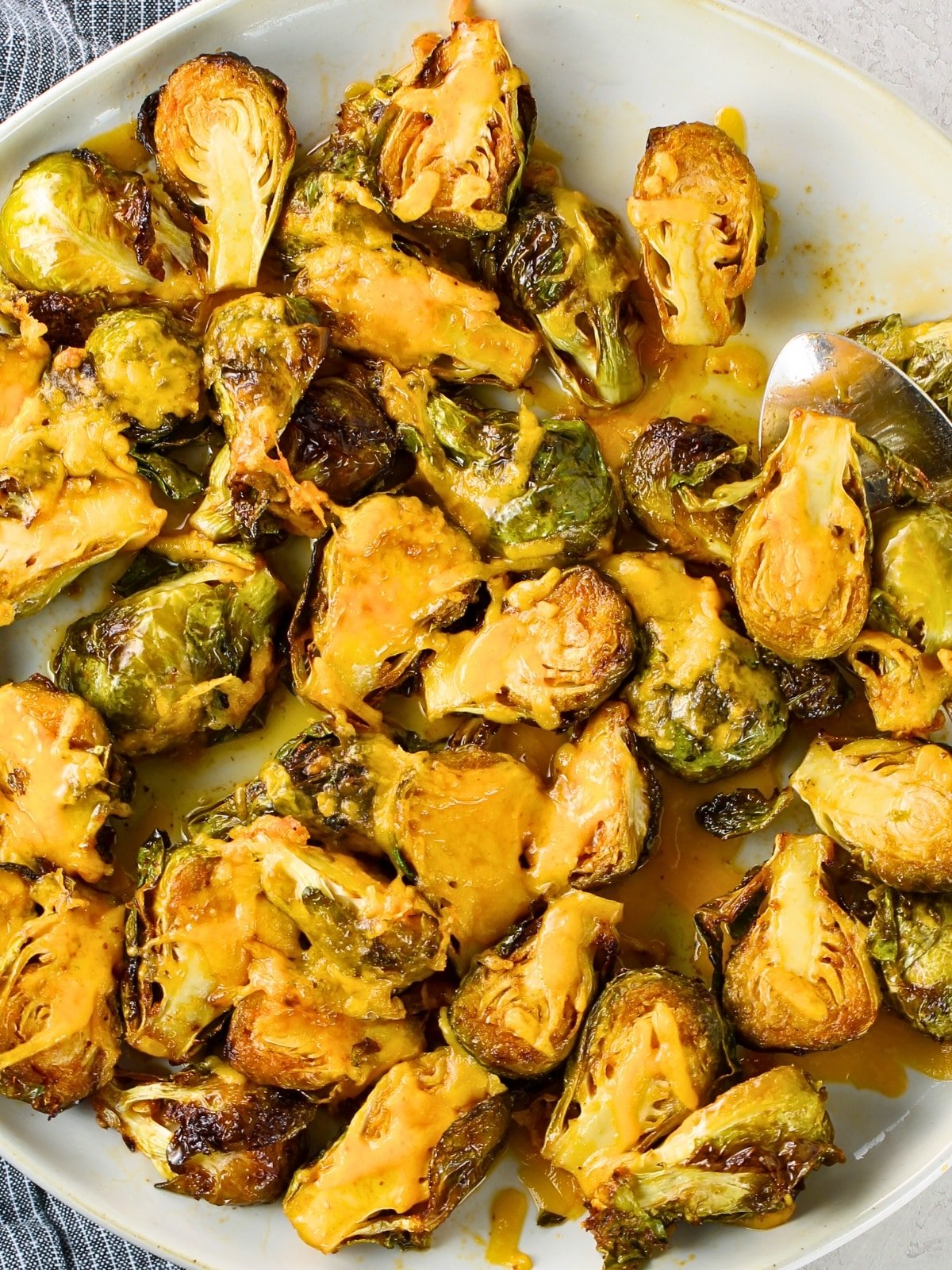 These Air Fryer Buffalo Brussels Sprouts with cheddar cheese are tangy and flavorful with a nice kick, and the air fryer makes them even easier! You'll love these delicious zippy flavor bombs and bonus – they're packed with nutrients too.
Dip Appetizers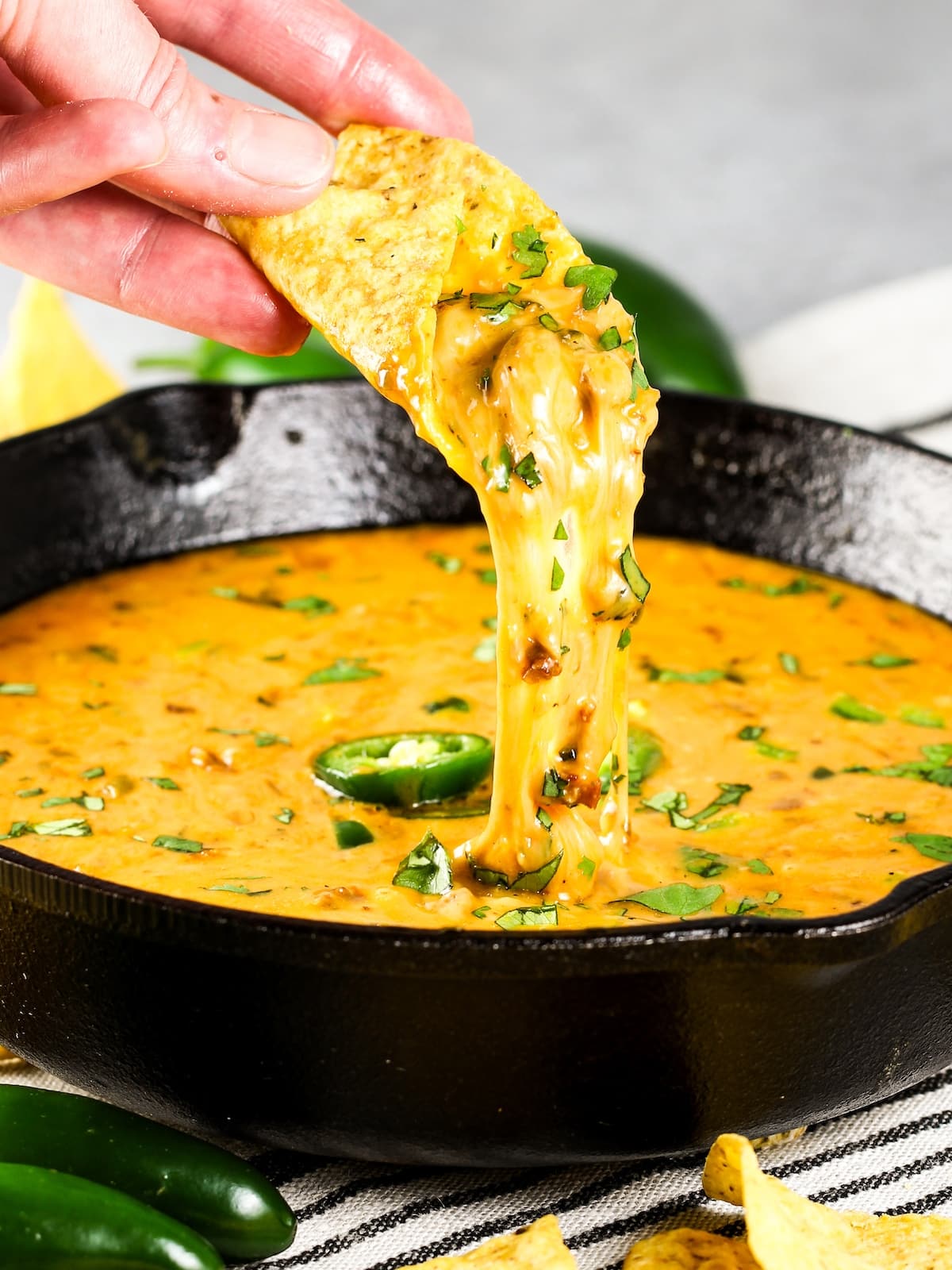 If you're looking for a homerun in the delicious appetizer department then you are in the right place! Queso Fundido with Chorizo has it all... melted Mexican cheese, spicy chorizo sausage, jalapeños, beer, and Mexican seasonings. What on earth is better than this ooey, gooey, melted Queso Fundido recipe served with crispy tortilla chips?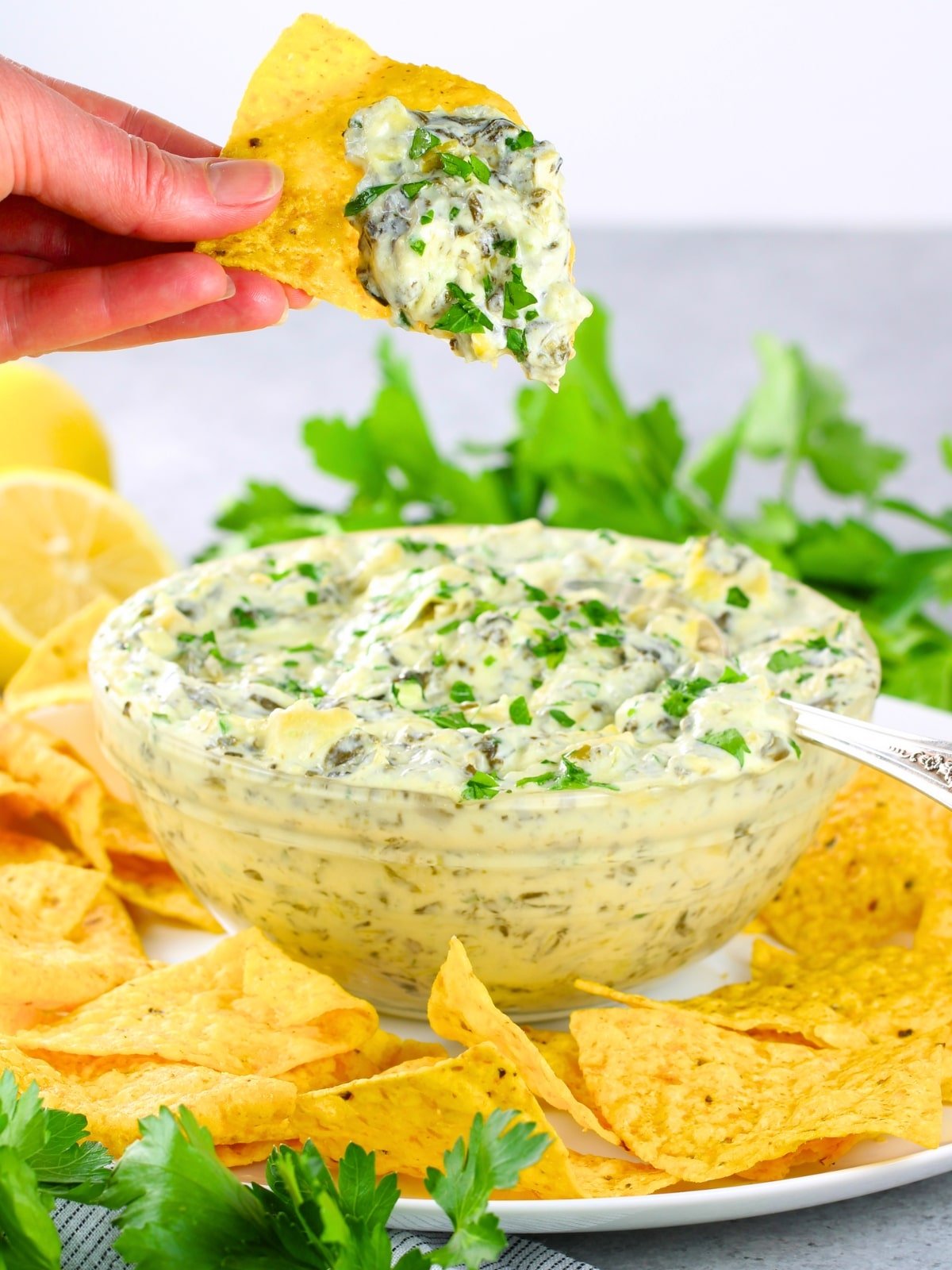 Easy Instant Pot Spinach Artichoke Dip – the easiest and most delicious appetizer ever! This cheesy spinach artichoke dip recipe only requires 3 minutes of pressure cooking in the Instant Pot and you don't even need to thaw or drain the frozen spinach! Plus, it's gluten-free, low-carb, and keto-friendly!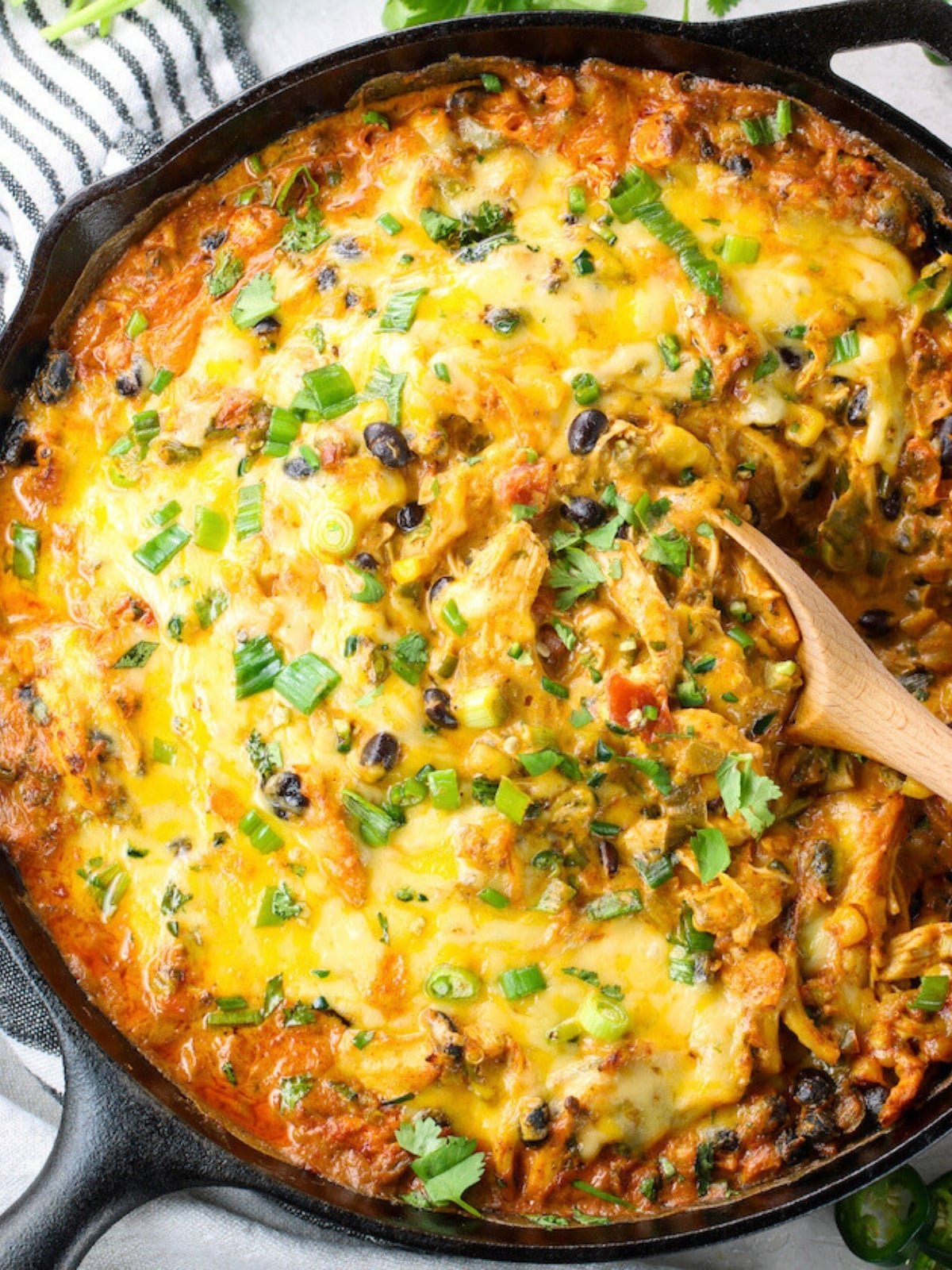 This Chicken Enchilada Dip is one of the most tasty cheesiest appetizers ever! It's such a crowd-pleaser - with shredded chicken, cream cheese, corn, black beans, tomatoes, jalapeños, green chilies, enchilada sauce, and yummy Mexican spices. This taco dip recipe will be the winning dish on game day, or at any get-together you have!!
Wing Appetizer Recipes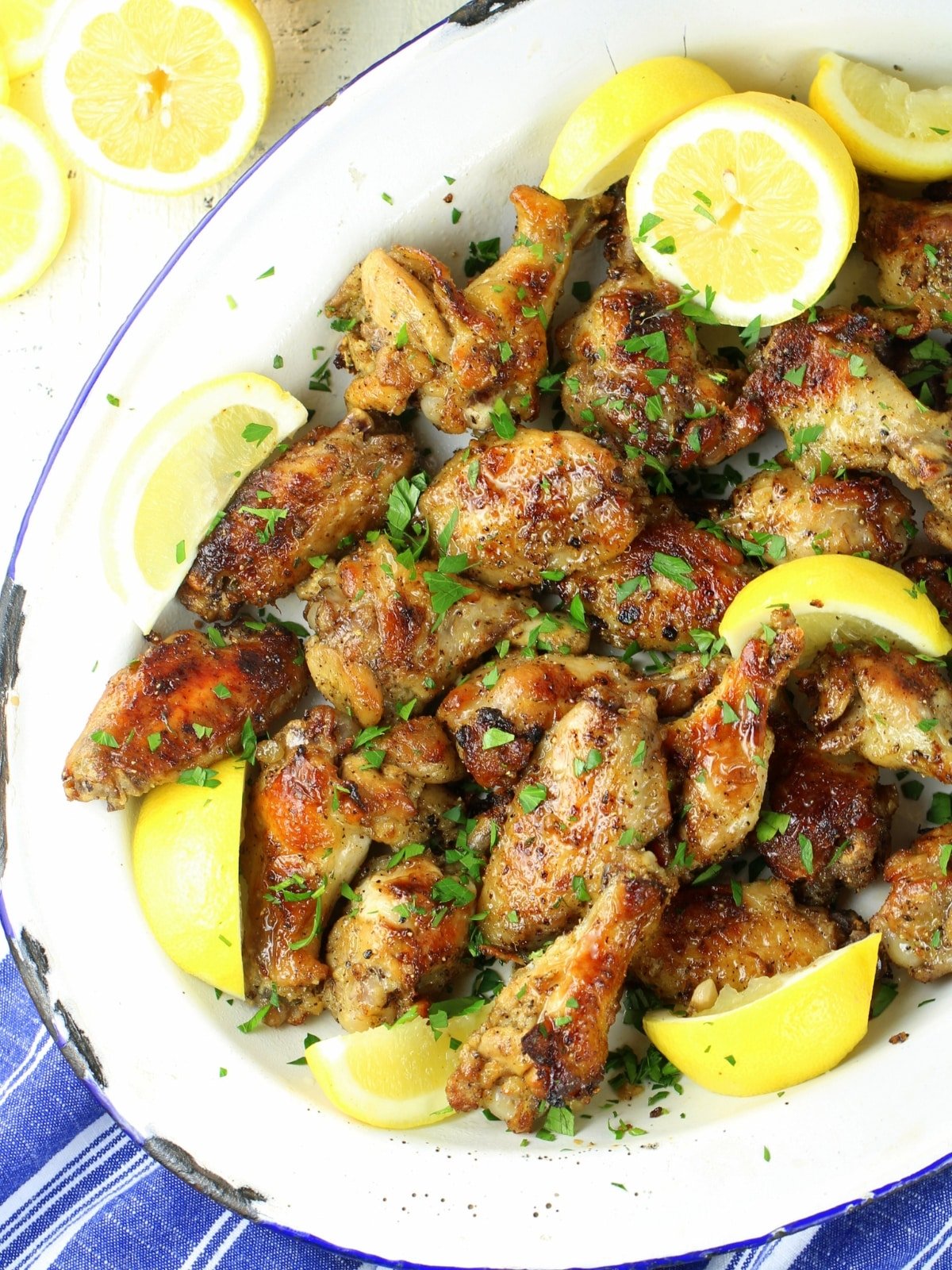 These Lemon Pepper Wings are full of the most delicious and balanced lemon pepper flavor! They're tender and moist on the inside, and golden with some crispy bits on the outside! The perfect finger food for any get-together!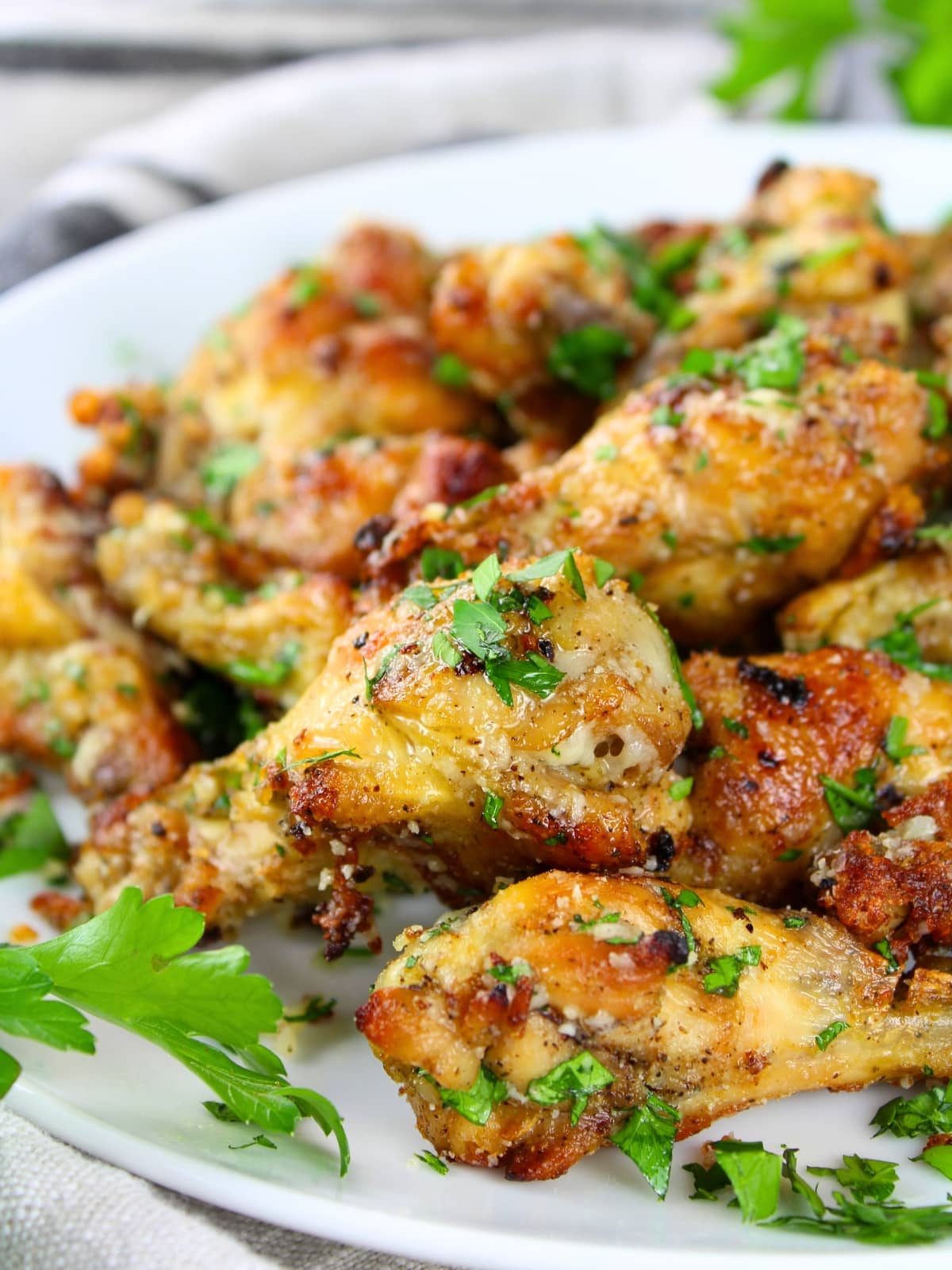 These Instant Pot Garlic Parmesan Chicken Wings will be your new favorite chicken wing recipe! They're tender on the inside, crispy, and golden on the outside, with no frying involved. Plus, the cheesy garlic flavor is so delicious, and it's a tasty combination for the kiddos or any chicken wing lover! Mmmm.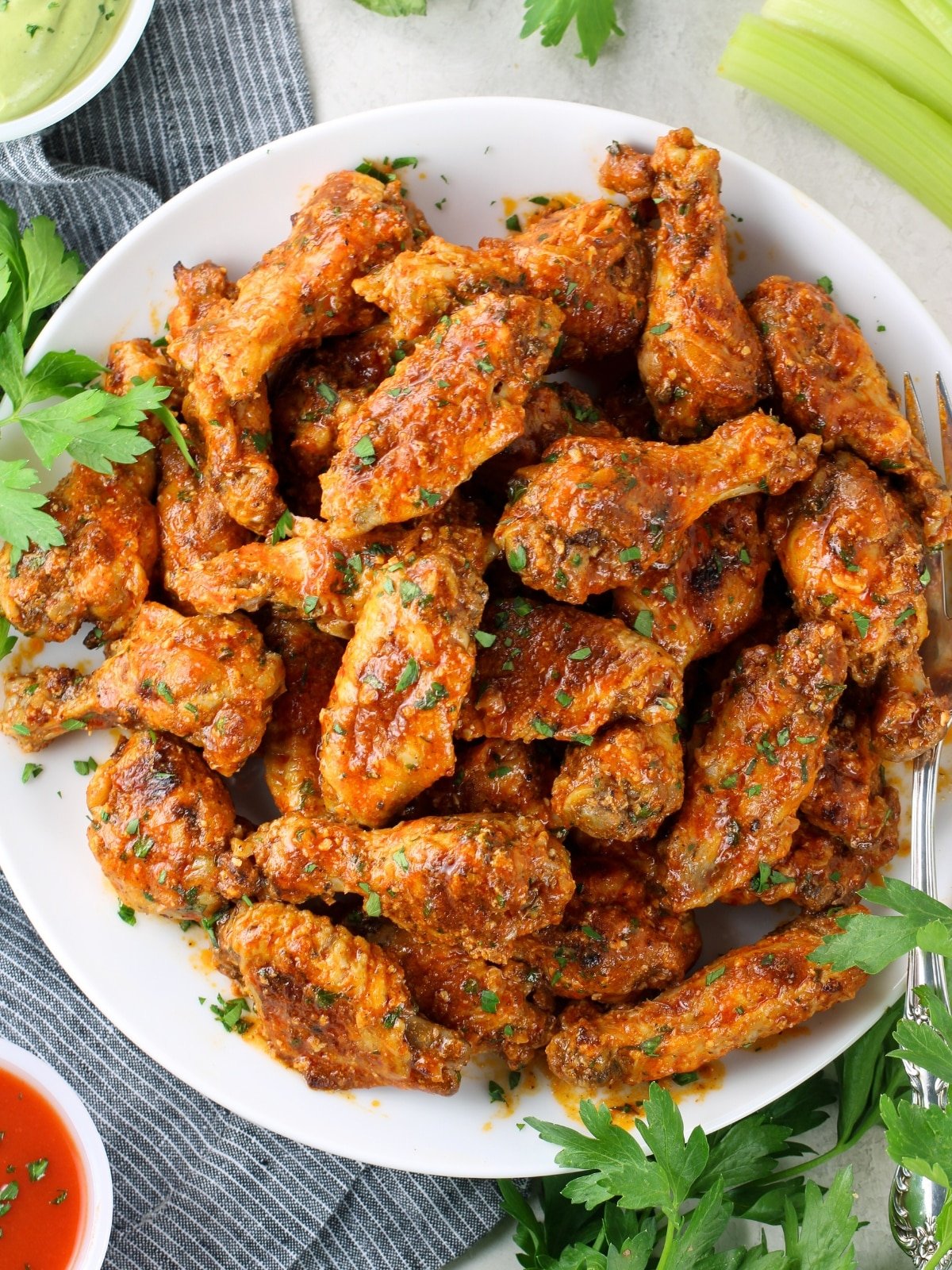 These Instant Pot Buffalo Wings with Avocado Ranch Dip are so easy and so delicious! They're tender on the inside, crispy and golden on the outside, and there's no frying involved. They have a nice kick from the hot sauce that pairs perfectly with the cool avocado ranch sauce! You're gonna love them!
Bite Size Appetizers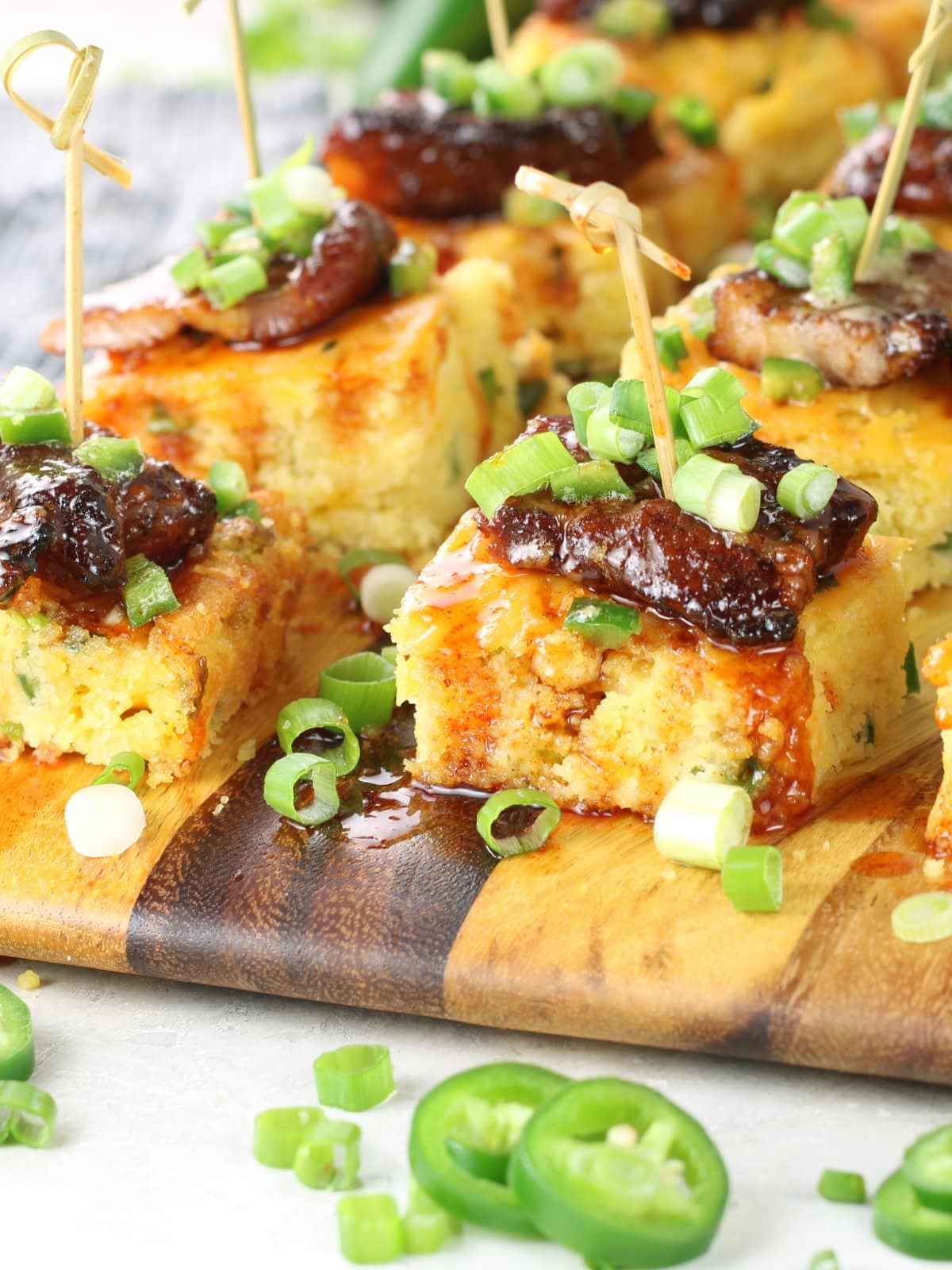 Here's an amazing holiday appetizer that will wow all your guests. It's a Crispy Pork Belly with Jalapeño Cheddar Cornbread and Hot Honey! The pork belly is so tender with a crispy outside layer. Placed on moist and zesty cornbread with a drizzle of hot honey for a delectable combination.
These Smoky Deviled Bacon and Eggs are so perfectly delicious! It's definitely food that angels like you would eat! With egg yolks, mayo, Dijon, a squeeze of lemon, green onions, bacon, and smoked paprika…then topped off with more smoked paprika, bacon, and green onions - yumma-licious!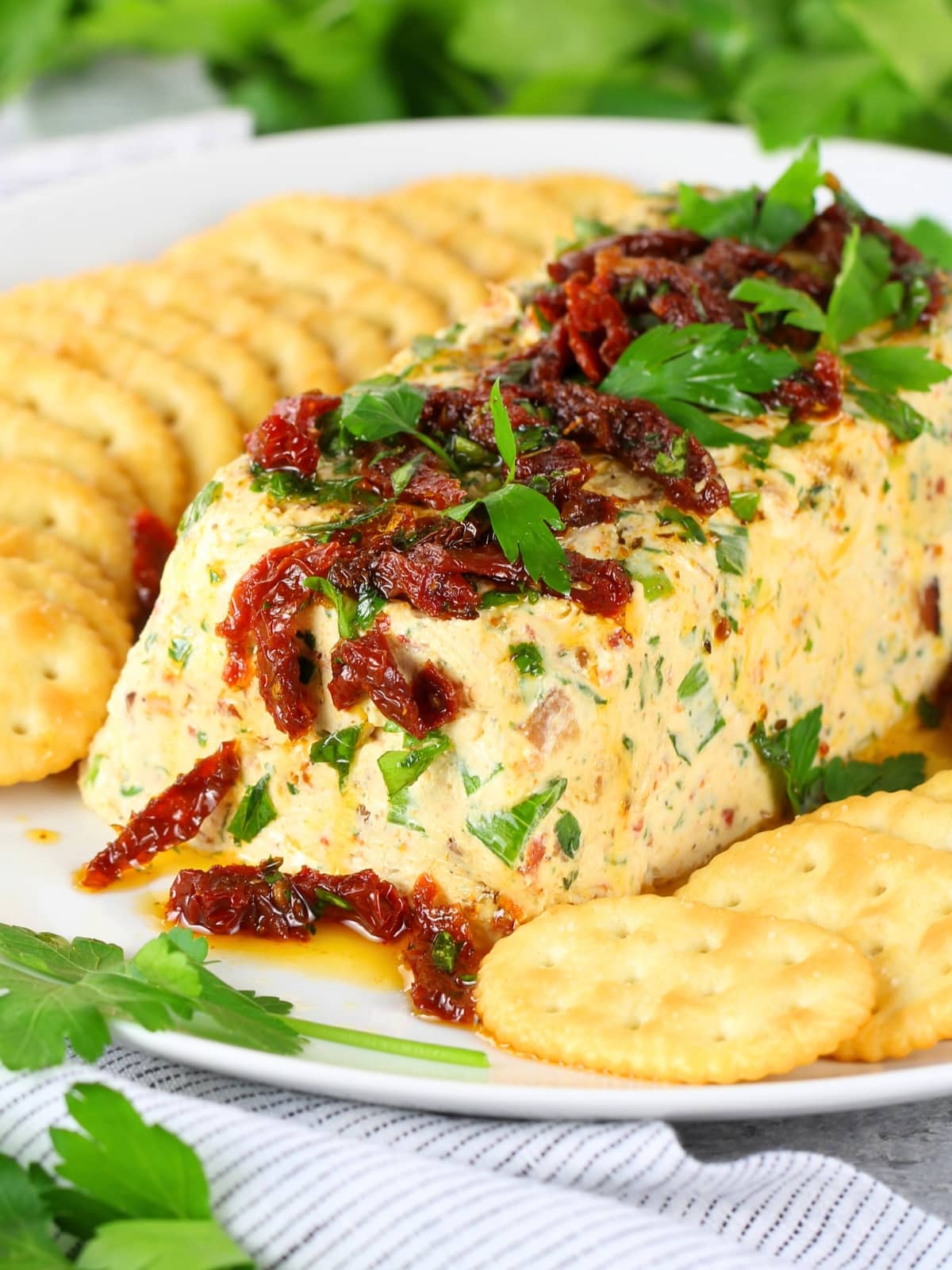 This Bacon Ranch Cheese Log Appetizer is quick, easy, and delicious… perfect for any festive celebration! With ranch seasoning, cream cheese, sour cream, parsley, green onions, sun-dried tomatoes, and cooked bacon - what's not to love!?
Slider Recipe Appetizers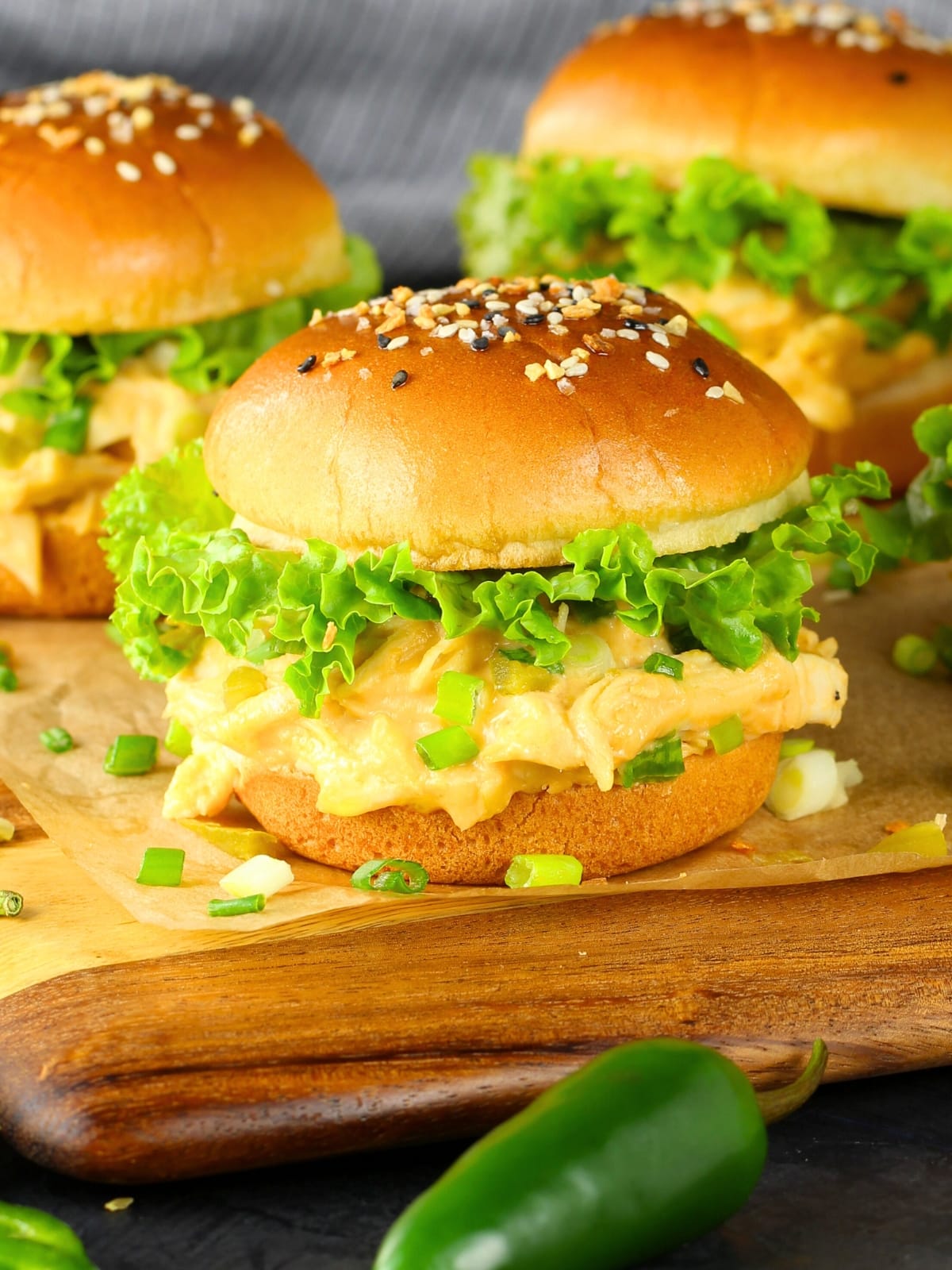 Instant Pot Jalapeño Popper Chicken – your new go-to party appetizer! It's loaded with rich cream cheese, spicy diced jalapeños and jalapeño brine, sharp cheddar cheese, and tender chicken breasts… a completely drool-worthy creamy cheesy creation!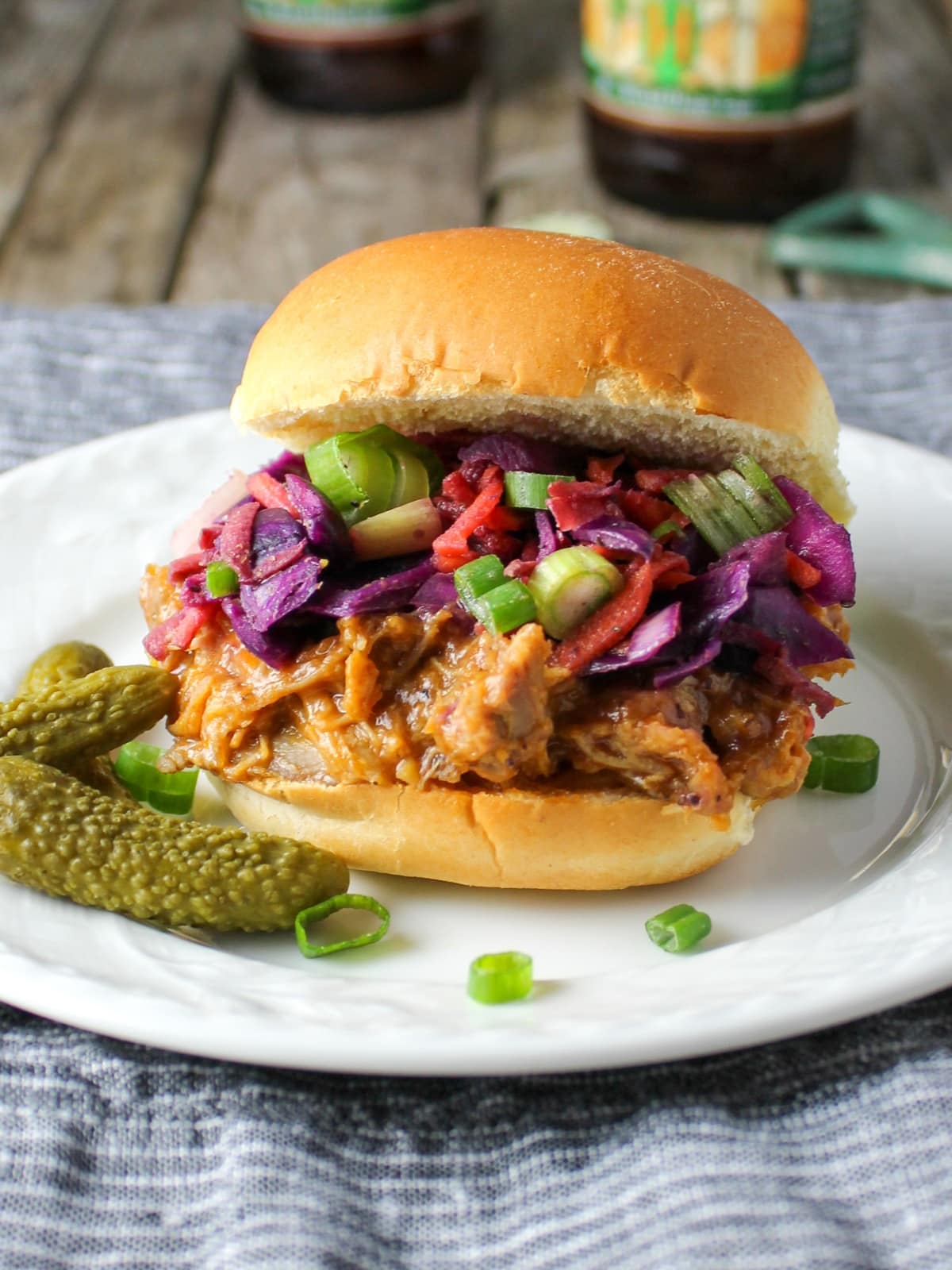 These BBQ pulled pork sliders are made with tender, juicy pulled pork tossed with BBQ sauce, and topped with tangy and sweet warm coleslaw. This BBQ pulled pork recipe is perfect for your cookout menu, game day parties, holiday events, and an easy family meal!
These Slow-Cooker Meatball Chili Sliders are easy, hearty, and so delicious! Just add all your chili ingredients to the slow cooker – swap out the traditional ground beef for either Italian Turkey Meatballs or premade meatballs from the grocery store - a few hours later voila… the tastiest appetizer to wow your crowd! Serve them in slit-top buns, dinner rolls, or straight-up crockpot chili in a bowl!
These appetizer recipes are the key ingredient to turning your game day, holiday party, or any gathering into an unforgettable experience.
As I like to say... the food we eat is not meant to be a fuel stop, it's a celebration! I hope these appetizers when shared on any occasion will be more than just food; but a catalyst for laughter, connection, and shared memories.
I know this collection of recipes will inspire you to create the perfect spread for your next event. Cheers to creating unforgettable memories around the table!
Enjoy my friend!