Scalloped Yukon Gold and Sweet Potato Gratin… thinly sliced sweet and Yukon gold potatoes topped with a creamy herbaceous, silky cream sauce and shredded gruyere cheese. It's a decadent and delicious recipe, sure to become your new favorite side dish!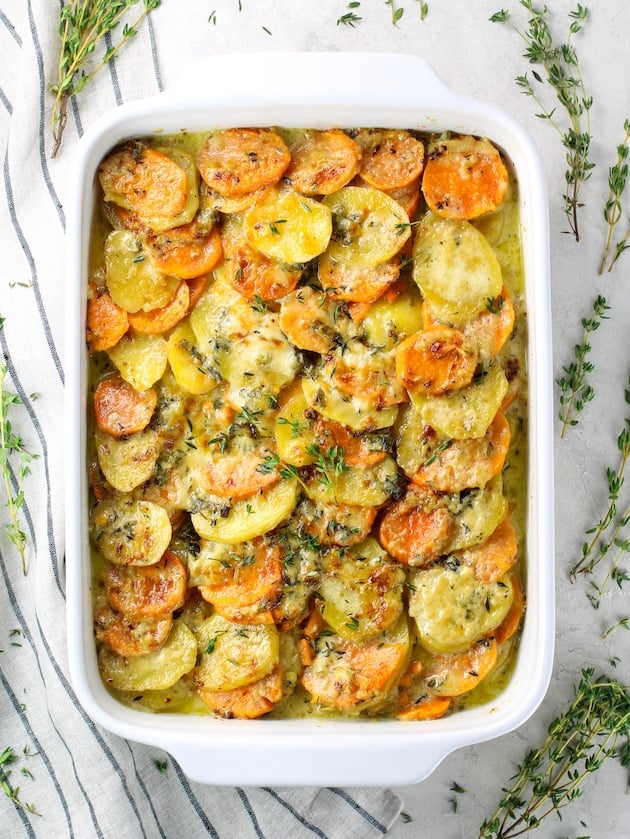 If you're looking for a new fall side dish, I've got just the thing… Scalloped Yukon Gold and Sweet Potato Gratin!
All I can say is get ready to be wowed by this deliciousness!
This dish is a tasty twist on tradition scalloped potatoes.
It's creamy and cheesy with a hint of sweetness from the sweet potatoes. It would be perfect for a family dinner or a Sunday supper alongside a whole roasted chicken or even some yummy parmesan crusted chicken.
If you're like me and you're up for trying out some new recipes for your holiday meals, this potato gratin would be completely worthy of your Thanksgiving menu.
Not only is this side dish delicious but it's beautiful as well, with the alternating golden and orange hues. Wouldn't you agree?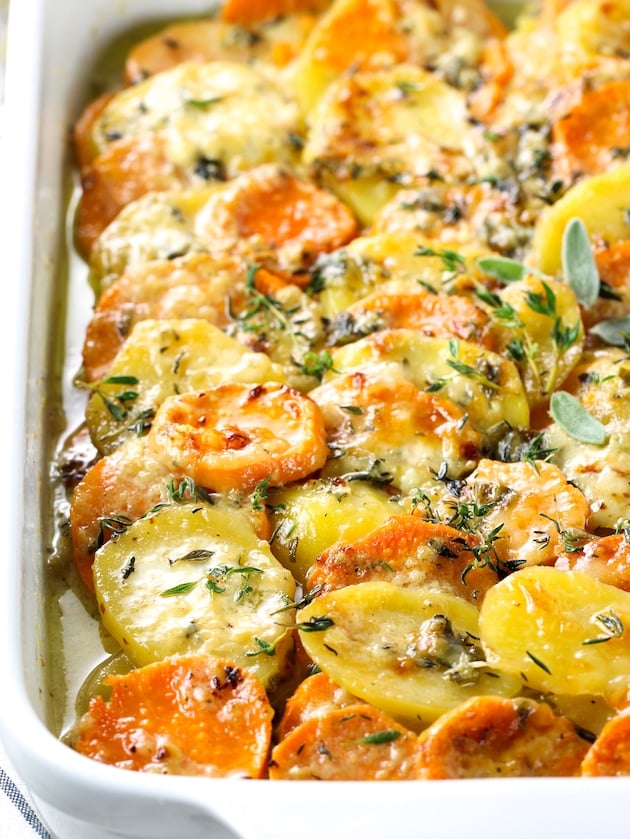 Personally, I'm not a big fan of the traditional sweet potato casserole - it's much too sweet for me. That's why this gratin is a delicious alternative… it's a nice balance of savory and sweet.
You might not be familiar with the term gratin or au gratin and what the difference is between scalloped potatoes and Potatoes au gratin.
"au gratin" seems to be given several alternative definitions. Today we're going with the Webster's dictionary definition referring to a dish that is baked with a topping of breadcrumbs and cheese.
What is the difference between scalloped potatoes and au gratin potatoes?
Both dishes are rich and creamy, including round slices of potatoes baked in a casserole dish. But there are a few things that set them apart.
The first one being - cheese!
Scalloped potatoes are usually made with thin potato slices layered in a casserole dish and baked with heavy cream, milk, or both. Often the cream is accented with some additional flavors like garlic or fresh herbs.
In comparison, potatoes au gratin use cheese to create a richer, more indulgent dish. The grated cheese is sprinkled between potato layers, and breadcrumbs are also often sprinkled on top of the dish before it goes into the oven.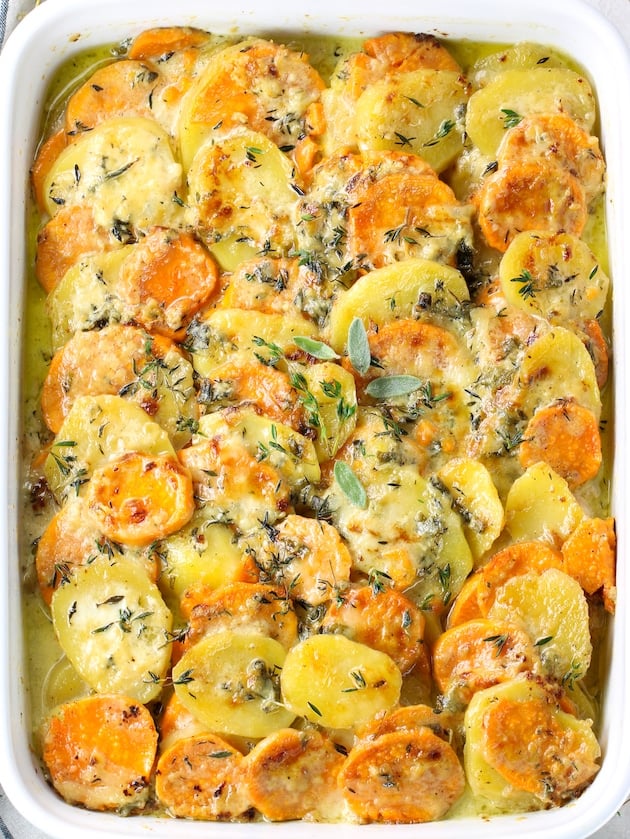 Also, both dishes use round potato slices, but au gratin potatoes often use a thinner slice.
Over the years, these definitions have come to be used very loosely and often you'll find recipes that don't actually use the original ingredients or methods. It's ok. Any combination of potatoes, cream, and cheese is just fine with me.
I took some liberties with today's recipe. You know I can't help myself! 😀
It's actually a hybrid of the two dishes with the addition of sweet potatoes as well regular potatoes.
Let's talk how to make this scrumptious potato recipe – shall we?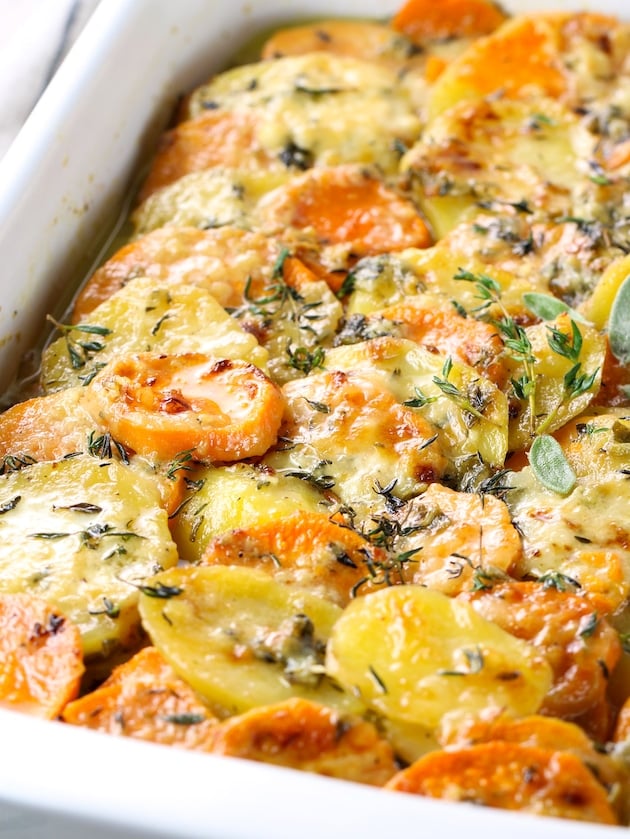 How to make scalloped potatoes:
First heavy cream is simmered for a few minutes with butter, fresh minced garlic and chopped herbs like thyme and sage. Then taken off the heat and set aside.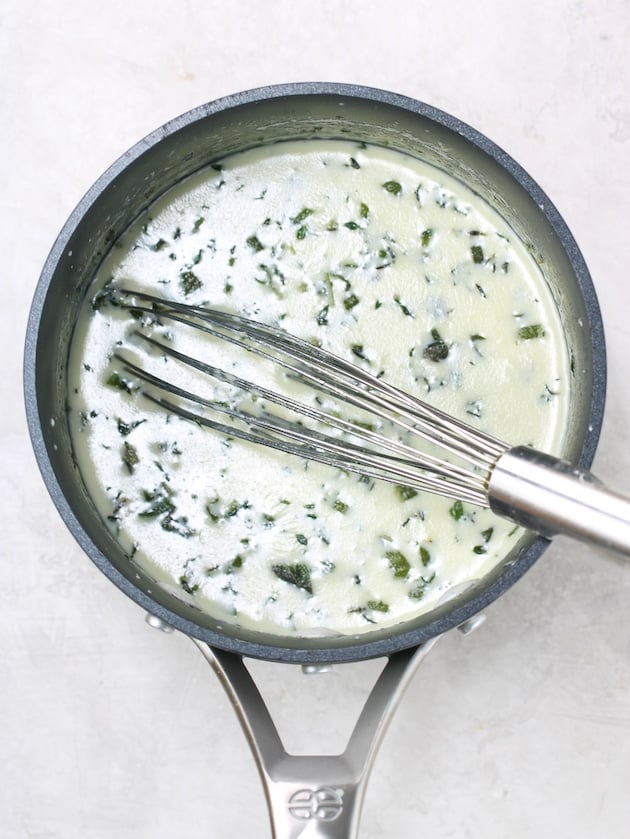 Next, the skins from the potatoes are removed. Then they're thinly sliced and tossed in salt and pepper.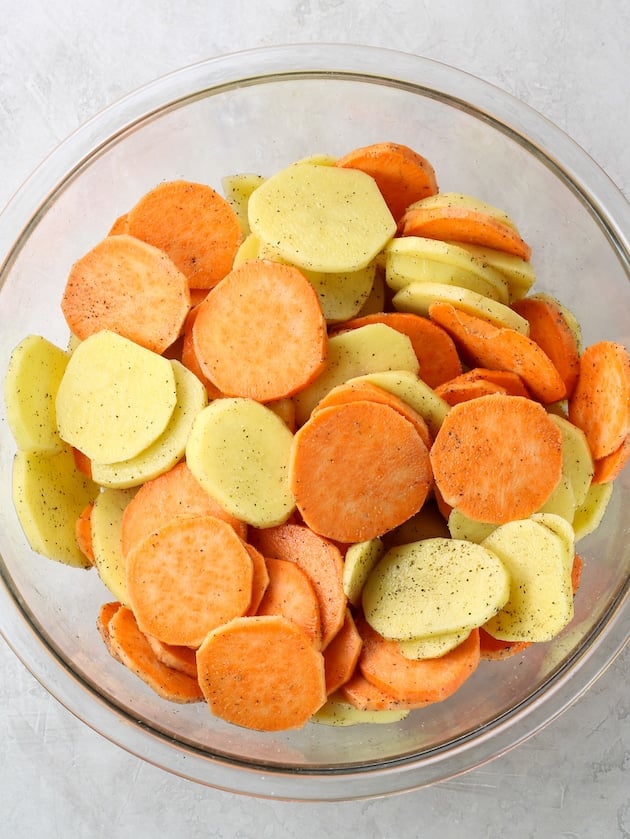 The potatoes are arranged in a 9x13 casserole dish. Alternating the two potato types and overlapping them.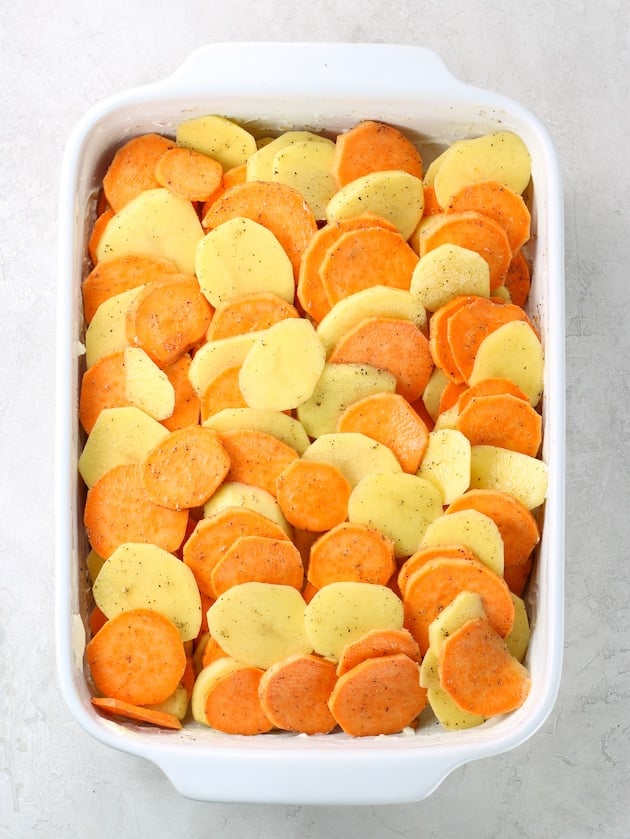 Then they're topped with the heavy cream mixture.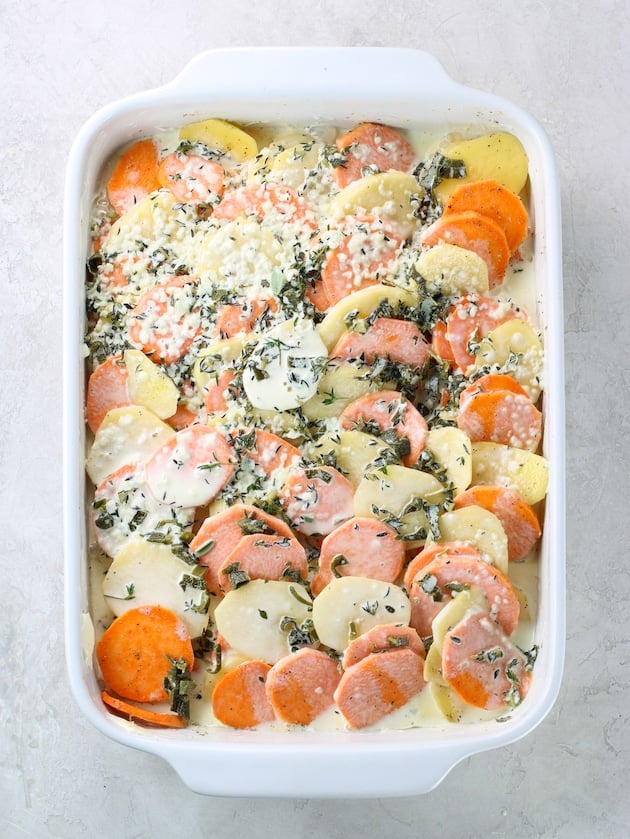 And finally sprinkled with gruyere cheese...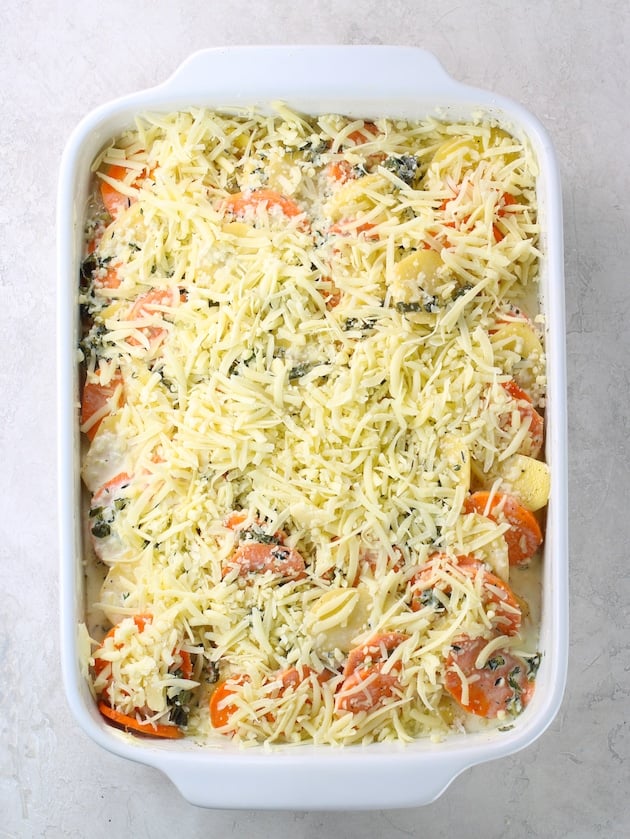 ... covered and baked for 30 minutes, then uncovered and baked for 15 more minutes until the potatoes are tender and the cheese is slightly browned or golden.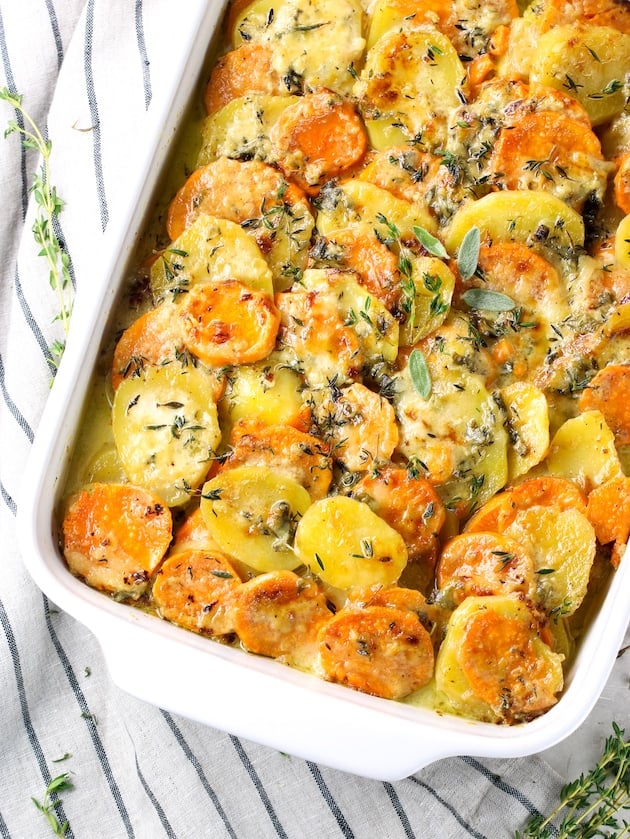 Is your mouth watering yet? Because mine certainly is!
This Yukon Gold Sweet Potato Au Gratin is one creamy and delicious side dish. It's sure to become your new favorite way to enjoy potatoes this fall!
Yield: 12 Servings
Scalloped Yukon Gold and Sweet Potato Gratin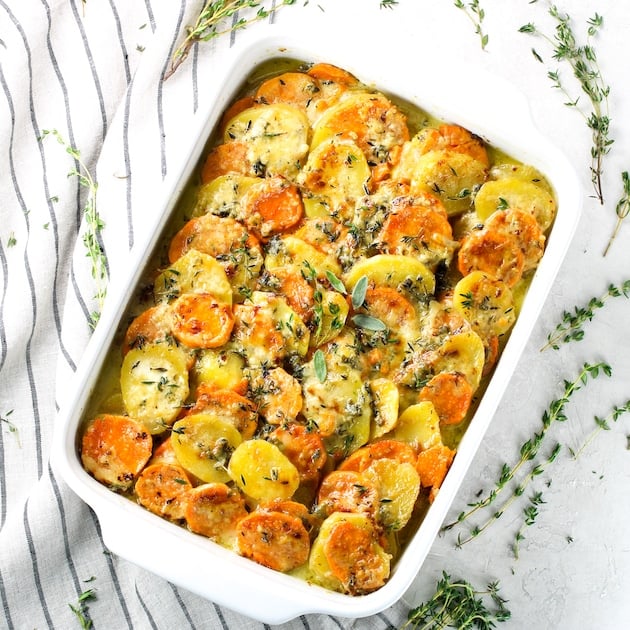 Scalloped Yukon Gold and Sweet Potato Gratin… thinly sliced sweet and Yukon gold potatoes topped a creamy herbaceous, silky sauce and shredded gruyere cheese. 
Total Time
1 hour
10 minutes
Ingredients
¼ cup or ½ stick of butter + 1 tablespoon
4 garlic cloves, minced
2 cups heavy whipping cream
2 tablespoons minced fresh sage
2 tablespoons minced fresh thyme
1 ⅔ pounds medium Yukon Gold potatoes
1 ⅔ pounds medium sweet potatoes
2 teaspoons sea salt
1 teaspoon ground black pepper
6 ounces shredded Gruyere cheese
Instructions
Preheat oven to 400°F.
Add the ½ stick of butter to a sauce pan over medium heat and melt. Add the garlic and allow to simmer for 1 minute. Add the cream and herbs to the pan and bring to a simmer. Remove the cream mixture from the heat and set aside.
Peel, then slice the potatoes and sweet potatoes into ¼-inch-thick rounds. Add the potatoes to a large mixing bowl and toss with salt and pepper.
With a tablespoon of butter, grease a 13x9x2-inch baking dish. Arrange sliced potatoes in rows overlapping in the pan and alternating between the two potato types.
Pour the cream mixture over the potatoes, pressing lightly to submerge the potatoes into the liquid.
Sprinkle on the cheese, cover with tin foil and bake for 40 minutes. Then uncover and bake until top of gratin is golden and most of liquid is absorbed, about 10-15 minutes longer. Let stand 10 minutes then serve.
Notes
This recipe can be prepped 6 hours ahead. Cover with foil and chill. Allow to sit out on the counter for 30 minutes -1 hour before baking.
For a slightly different variation of this dish you can make this recipe with just Yukon gold potatoes or just sweet potatoes.
This recipe was adapted from recipes by our friends at bonappetit and Epicurious.
Nutrition Information
Yield
12
Serving Size
4-5 ounces
Amount Per Serving
Calories

355
Total Fat

24g
Saturated Fat

15g
Trans Fat

1g
Unsaturated Fat

7g
Cholesterol

73mg
Sodium

539mg
Carbohydrates

28g
Fiber

4g
Sugar

6g
Protein

9g
This nutrition card uses an estimate provided by an online nutrition calculator. This estimate is not a substitute for a professional nutritionist's advice!